Do you have your heart set on a Caribbean cruise? You're not alone. This is one of my favorite ways to enjoy some of the most beautiful beaches in the world.
Here's how to plan a Caribbean cruise – everything from researching destinations and shore excursions to planning your cruise packing list.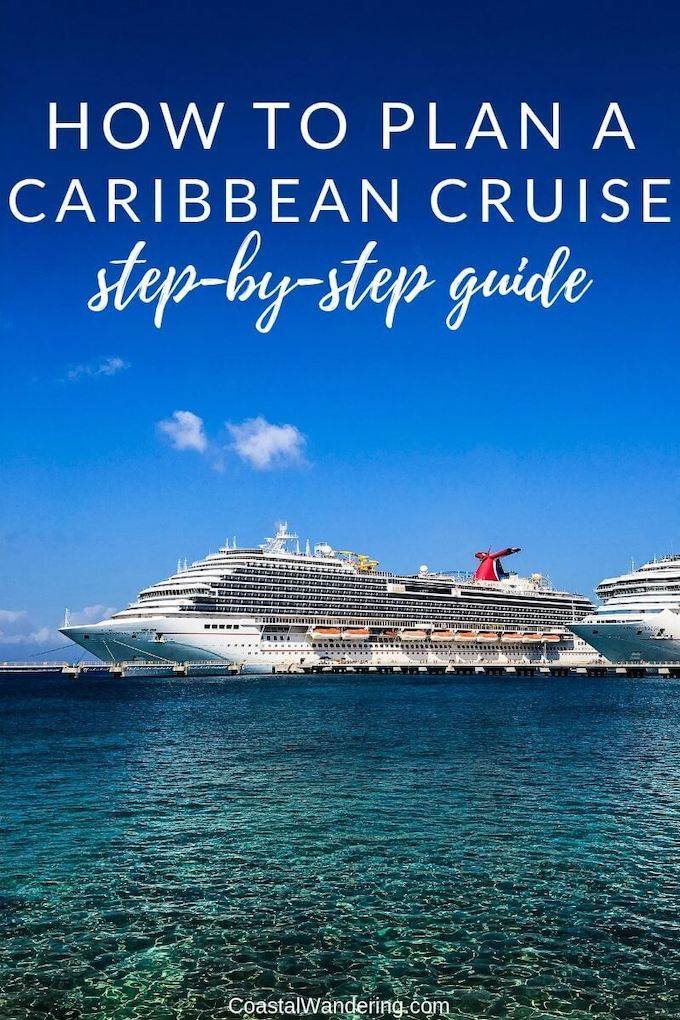 If you love being on the water, beautiful beaches and warm Caribbean sunshine, there's nothing like a Caribbean cruise. But whether you're a first-time cruiser or an experienced cruise traveler, there are so many little details that go into planning the perfect Caribbean cruise vacation.
You'll need to consider when you want to travel, your destinations, what you'll do at your ports of call, where you want your room to be, what you'll pack, and even the dos and don'ts for your cruise line.
To search for the best cruises to the Caribbean, click here.
Your Step-By-Step Guide To Planning A Caribbean Cruise
If you've never been on a cruise, this guide will walk you through how to book a cruise for the first time.
This is the three-part process I use for planning my Caribbean cruises. I'll walk you through everything from researching your destinations and cruise lines to planning your cruise packing list.
Let's get started.
Part 1: Planning The Details of Your Caribbean Cruise
This is quite possibly the most important (and most fun) part of planning your Caribbean cruise. During this part of the planning process, you'll be figuring out when you want to travel, how long you'll travel for, where you're traveling, which cruise lines cater to your needs, and where you'll embark on your cruise.
Decide When You'll Go On Your Caribbean Cruise
First things first, it's time to decide when you'll be traveling. Since you've set your sights on a Caribbean cruise you'll want to take the following details under consideration.
In the Caribbean, hurricane season officially lasts from June 1 to November 30, but the peak of the season is seen in early September. This is when you'll also see the lowest cruise fares, so it's important to be aware that the fare, in this case, is reflecting the risk of traveling at that time. I tend to avoid cruising to the Caribbean during this window of time.
If you have the flexibility in your schedule, planning your trip during a shoulder season or off-season can help you save on both cruise fare and any necessary airfare. I've found particularly good deals on repositioning cruises – this is when they move a ship from one departure port to another (Buenos Aires to Fort Lauderdale or the Mediterranean to Miami, for example). I took one from San Juan to New York. We visited several Caribbean islands then sailed into New York harbor past the Statue of Liberty. It was quite the experience!
You'll see the highest fare rates during peak holiday and cruising seasons. This means that you will typically pay a premium if you're sailing during the December holidays as well as from late January through to the spring break period (which usually falls around Easter).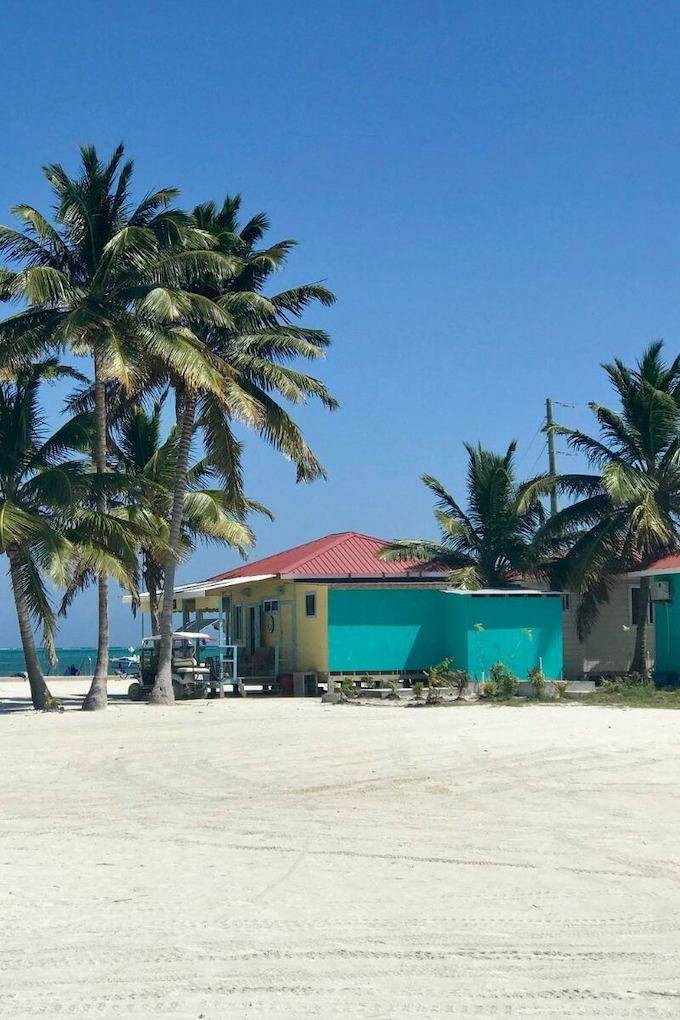 Decide How Long You'll Travel To The Caribbean
After you've decided when you'll travel, you'll want to determine how long your cruise will be. Some might be surprised to learn that you can find cruises as short as a couple of days, though most will last one week...or longer!
You'll notice that most short cruises departing from the US will remain in the Western Caribbean area or the Bahamas, Florida, and Mexico). On the other hand, taking a longer cruise will allow you to see more varied areas within the Caribbean.
Pro Tip: Don't forget to account for the transit time you may need in order to travel to and from your embarkation port. I usually leave one to two days on either side of my cruise for that additional travel time or port city exploration. For example, if you decide that you'll take a week vacation, that may only result in a 5 or 6-day cruise.
Decide Where You're Going In The Caribbean
This is my favorite part of the research phase in planning a Caribbean cruise. Where are we going to go?! While the Caribbean region is covered by many cruise lines, you'll notice that Caribbean cruise itineraries are usually split into Western, Eastern, and Southern cruises. It's important to note that your desired destinations might be serviced by only particular types of ships.
Depending on your cruise line, your itinerary may also include a stop at the cruise line's private island beach. For example, Carnival Cruise Lines owns Half Moon Cay and Princess Cays in the Bahamas and Royal Caribbean owns Labadee in Haiti and Royal Caribbean Coco Cay in the Bahamas.
Here's an overview of each of the primary cruising regions within the Caribbean.
Western Caribbean Cruises
Western Caribbean cruises typically include destinations like Grand Cayman, Jamaica, Cozumel, and Costa Maya, Mexico. You might also see ports of call in Belize and Roatan on longer cruises.
You should find lots of selections in choosing an itinerary for this region. Practically all of the big-ship cruise lines cover this area. And while you'll primarily see one-week itineraries, this is also your best bet for finding a short itinerary if you've decided to cruise for only a couple of days.
You can expect plenty of sunshine and beautiful sandy beaches on a western Caribbean cruise. Of course, if your itinerary allows, you might also squeeze in a visit to some ancient Mayan ruins and temples. Your choice of excursions in this area is varied – you'll see everything from off-road ATV adventures to glass bottom boat tours to snorkeling and beach days. Perfect for a larger group with a variety of interests!
Pro Tip: A western Caribbean cruise might be the perfect choice for you if your dream destination list includes Bahamas, Costa Rica, Dominican Republic, Grand Cayman, Honduras, Jamaica, Mexico, Panama, Belize, Colombia, Guatemala, Haiti, or Turks and Caicos.
Eastern Caribbean Cruises
Eastern Caribbean cruises typically cover areas like San Juan, St. Thomas in the US Virgin Islands, Grand Turk in the Turks and Caicos, Tortola in the British Virgin Islands, and St. Maarten. (I have a soft spot for St. Maarten – it's one of my favorite islands with both Dutch and French sides to explore.)
Much like the western Caribbean cruises, there are a number of cruise lines covering this area. You'll see the majority of itineraries in the range of 5 to 7 nights, but there are (of course) others that run longer. You won't typically find short cruise itineraries for this area of the Caribbean.
While you'll find a nice mix of rich colonial history, sandy beaches and beautiful views, most of these itineraries stop at only the most popular ports. If you'd like to venture off the beaten path, you'll need to book excursions to nearby islands. The unspoiled beauty of St. John's, for example, is a short boat ride from the bustling port of St. Thomas but feels like it's world's away. You can also look at smaller luxury and adventure cruise lines if you're in the mood for a trip that's a little more exotic.
Pro Tip: Explore eastern Caribbean cruises if your bucket list includes destinations like Antigua, Barbados, Dominica, Grenada, Haiti, Virgin Islands (both British and US), Puerto Rico, Guadeloupe, St. Bart's, St. Kitts, St. Lucia, St. Maarten, Anguilla, as well as Bahamas, Dominican Republic, or Turks and Caicos.
Southern Caribbean Cruises
Last but not least are the southern Caribbean cruises. These are probably my favorite itineraries with islands like Antigua, St. Lucia, Barbados, Aruba, and Curacao. These itineraries tend to be longer, due to the distance from US mainland ports of embarkation. But if you have the time and budget to allow for a longer cruise vacation, you'll be rewarded with a more exotic and unique Caribbean cruise experience.
You'll find that both larger cruise lines like Carnival and Royal Caribbean, as well as smaller cruise lines like Windstar and SeaDream Yacht Club, offer itineraries in this area of the Caribbean. Many of these itineraries require that you travel to a Caribbean port for embarkation (like San Juan). Keep in mind that if you're hoping to leave from a US embarkation port, your choices will be limited. Typically, you'll only see 10+ night itineraries setting sail from Floridian ports.
Southern Caribbean cruises offer a wide variety of port excursions. You'll see everything from eco-adventure options like a jeep safari to visit some of Aruba's natural pools to a market and distillers tour in St. Lucia.
Pro Tip: Southern Caribbean cruises are a great choice if your must-see travel list includes countries like Aruba, Trinidad and Tobago, St. Vincent, Bonaire, Curacao, Grenadines, Martinique, Nevis, Saba, Venezuela, as well as Grenada, St. Bart's, St Kitts, St. Lucia, St. Vincent, Anguilla, Puerto Rico, Antigua, St. Maarten, the British and US Virgin Islands, Guadeloupe, Colombia, Dominica, or Barbados.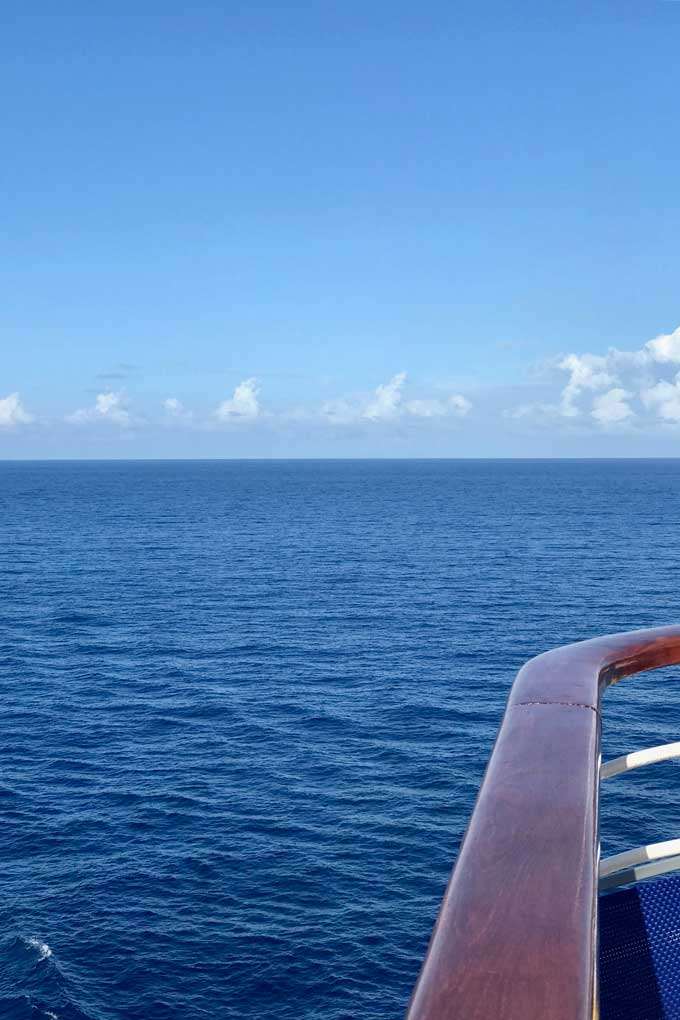 Research Caribbean Cruise Lines
Caribbean cruises are popular, so you should have plenty of cruise line options no matter where you cruise. Deciding on a general area of travel within the Caribbean will often help you eliminate certain cruise lines from consideration. That said, if you're set on traveling with a specific cruise line, you may want to flip this step and the previous step around.
In this stage of planning, you'll want to consider the type of experience you want on your vacation. For example, if you travel on a mega-ship with cruise lines like Carnival or Royal Caribbean you might have a wide variety of onboard amenities but find limitations in the ports of call that you visit. If you're after a bit more variety in your destinations, you'll want to look at smaller ships and luxury cruise lines.
RELATED: Carnival Cruise Tips You Need to Know Before Booking
Consider Your Available Cruise Embarkation Ports
While most Caribbean cruises leave from Miami, Fort Lauderdale, Port Canaveral, or Tampa, you might also find itineraries setting sail from US ports in Galveston, New Orleans, Jacksonville, Charleston, Baltimore, and even New York. I've sailed to the Caribbean from most of the Florida ports, as well as from San Juan in Puerto Rico.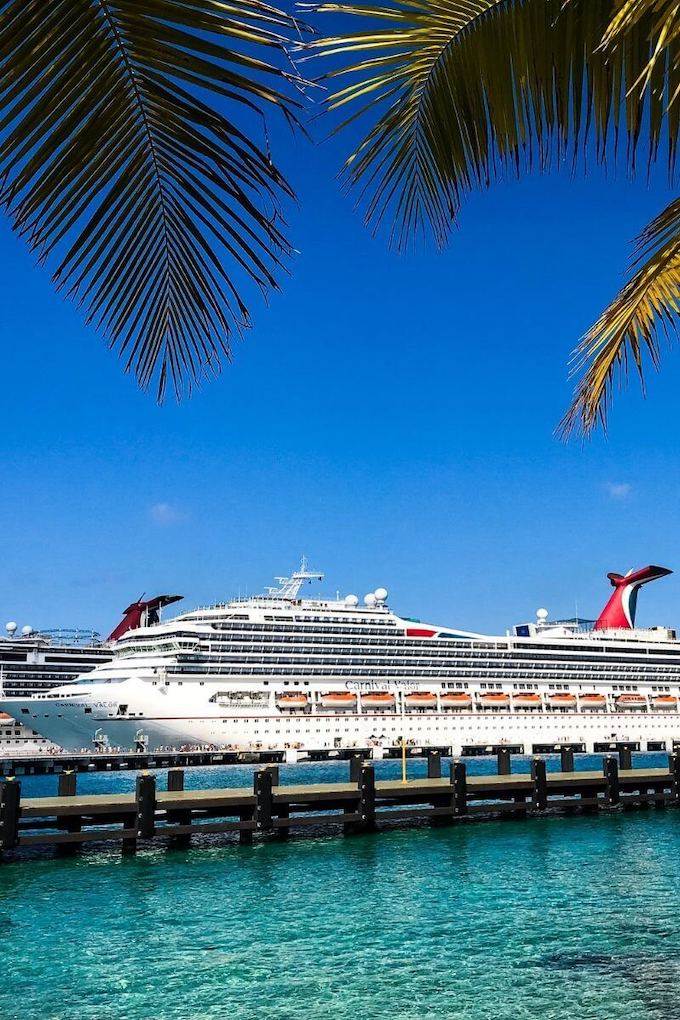 Keep in mind that if you're traveling on a smaller ship, you'll likely see embarkation ports within the Caribbean. The major advantage of leaving from within the Caribbean is that your itinerary will often cover more ground. Of course, this will also often call for more expensive and complicated travel plans in order to arrive at your embarkation port with time to spare before you set sail.
Pro Tip: If you're looking for a wide selection of on-shore excursions, try looking at southern itineraries leaving from San Juan. They generally have fewer sea days and more island ports of call.
Part 2: Book Your Caribbean Cruise
You've done your research and settled on a travel timeline, duration, destination, and cruise line. It's time to start booking your Caribbean cruise!
Finalize Your Cruise Ship & Dates
Now is the time to narrow down your choices and do a final price and itinerary comparison. For example, if you want to do a week-long Western Caribbean cruise on Carnival leaving from Miami in February, you'll find there are several options to choose from.
With this cruise search tool you can customize where you're going, the date range, departure port, cruise length, and cruise line and it will show you all the cruises that fit your criteria. And from there you can see all the details about the ship, the exact itinerary (which islands and how many sea days), and pricing for each cruise option.
Choose Your Cabin Type & Location
Much like booking a seat on a plane, you'll pick your exact cabin on the ship map when you book your cruise. As you might have guessed, you'll want to carefully consider both the type of room and its location to make sure you have an enjoyable trip on board.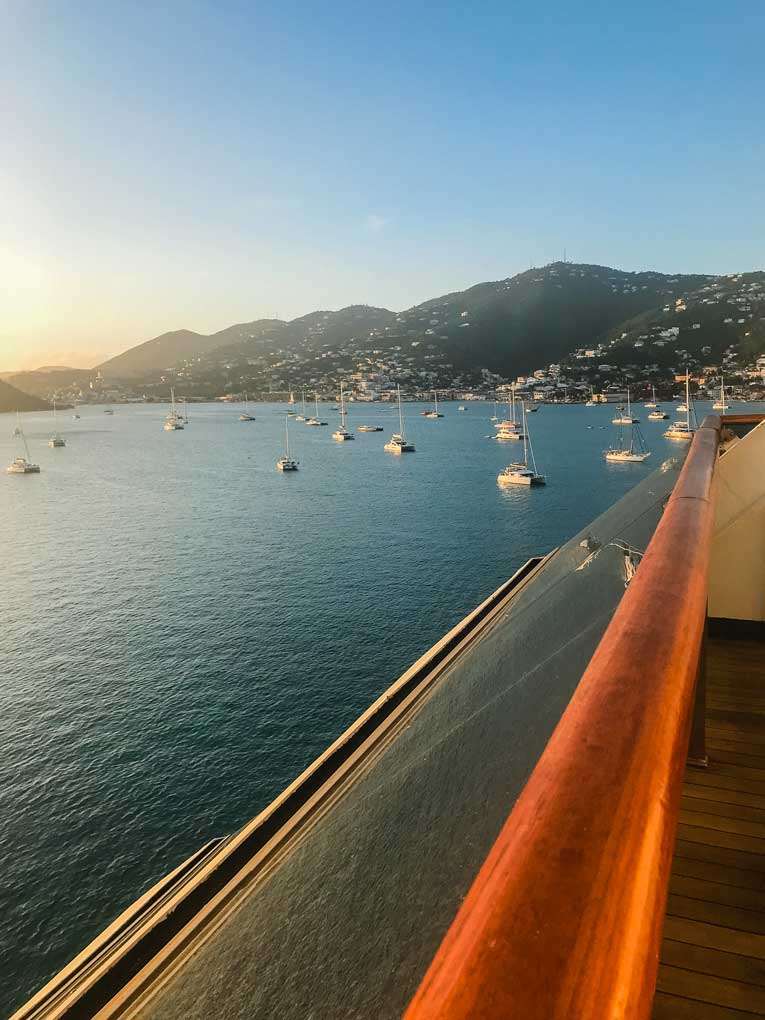 When it comes to the types of rooms, you'll typically see a choice of inside room, exterior room, and suites. It's important to note that while they are budget-friendly, those inside rooms have no windows. If you need a little bit of sunlight to get you up and moving in the morning, an inside room may not be a good choice for you.
Exterior rooms will have windows or a balcony. I always get an exterior room with a balcony – preferably an extended balcony. It's one of my favorite places on the ship to watch the waves!
Pro Tip: Most cruises have room service included. Order breakfast to enjoy on your balcony while watching the ship pull into port.
The other consideration you'll want to look at is the location of your room. You'll see options of midship, forward, or aft, as well as higher or lower deck. Your best bet is to consider the restaurants, pool, spa or other amenities onboard that you plan to use and choose a room that's relatively close by.
Pro Tip: Look for forward (front of the ship), aft (back of the ship) or corner rooms as they will often have more space or an extended balcony. Or conversely, the center of the ship will have the least motion so choose a midship cabin closer to sea level if you're concerned about seasickness.
Plan Travel Arrangements For Your Embarkation City
Your embarkation port will determine your necessary travel arrangements. For example, if you're leaving from San Juan, you'll likely need to give yourself extra time and budget to allow for traveling to Puerto Rico. At this point, you'll also want to decide if you'll stay overnight in your embarkation city before or after your cruise.
Pro Tip: My rule of thumb is the further I'm traveling for embarkation, the longer I'll give myself in the city itself. The breathing room in your itinerary is great for alleviating stress in the case of any travel mishaps.
Booking Your Caribbean Shore Excursions
It's time to figure out what you're going to do while you're cruising! Yes, we're talking about shore excursions. If you're a beginner cruiser, "shore excursion" refers to a wide variety of activities and tours that you can enjoy at each port of call.
As you might imagine, shore excursions vary from spending a day at the beach to zip-lining through Mayan ruins. No matter which type of shore excursion you choose, this is a great way to get out and experience the various destinations you'll visit during your Caribbean cruise vacation.
Port stops are typically in the range of 8 to 10 hours long, but you'll want to double-check that with your ship's itinerary. That's where you'll find both your arrival and departure times for each port of call.
It's important to keep in mind that, while some luxury cruise lines include shore excursions in their cruise fare itineraries, most cruise lines do not include them. Shore excursions can range anywhere from a few dollars to several hundred dollars. It all depends on the type of tour you choose and the port of call you're visiting. Bottom line? You will pay extra for these experiences, so be sure to save a little room in your vacation budget!
The 4 Main Types of Shore Excursions During Your Caribbean Cruise
There are 4 main types of shore excursions that you'll want to consider when researching your options. Let's take a closer look.
Adventure Tours in the Caribbean
These are the tours for thrill-seekers! You'll find a wide range of activities falling into this category. They tend to be on the pricier side, but you won't want to miss these if you're an adrenaline junkie.
Here are a few adventure-style shore excursions to consider:
Harrison's underground cave tour
Sightseeing & Historical Tours in the Caribbean
The Caribbean has a rich history. If you're a history junkie, you'll want to schedule in at least a couple of these tours during your cruise vacation. These can range from a bus tour to a walking tour, and everything in between. Be sure to consider your own physical abilities when booking these tours – injuring yourself isn't a fun way to spend a vacation!
Here are a few historical shore excursions to consider:
English Harbour & Nelson's Dockyard tour in Antigua
Cultural Tours in the Caribbean
There's no better way to get a taste of your surroundings than with a cultural tour. These shore excursions vary from cooking classes to wine tours, and even a craft class or two. This is a fun way to experience your port of call's culture and meet locals living in the area.
Here are a few cultural shore excursions to consider:
Cook like a Bajan cooking class
Mount Gay rum tasting tour in Bridgetown
Leisure & Beach Days in the Caribbean
Pack your reef-safe sunscreen – it's time for a day at the beach! I always make sure to spend a couple of shore excursions at the beach. These are typically more relaxed days and may even allow you enough time to wander through the local city. This category also includes tours like snorkel catamaran cruises and grabbing a day pass for a local resort.
Here are a few leisure excursions to consider:
Reef snorkel & beach day in Costa Maya
Lunch cruise & small-group snorkeling
Private beach club & city tour in Roatan
How To Book Your Shore Excursions
The first thing you'll need to do in planning out your shore excursions is deciding how long you want to be onshore. From there, decide how much of that onshore time will be allocated to a shore excursion. It might help to keep in mind that most excursions run for between 3 to 5 hours, though you'll likely see some that are full-day excursions as well.
Once you've decided on your shore excursions, there are a couple of ways you can go about purchasing them. Here are the 3 main ways to book your shore excursions:
1. Book directly with your cruise line.
Typically you'll be able to book shore excursions once you've paid a deposit on the cruise. This is done directly through your cruise line's website. You can also book your excursions onboard at the excursion desk once you've checked in.
This is the easiest way to book – and it's particularly great for new cruisers. Tours are easy to find and typically sorted by type, which makes it quite quick to hone in on your preferred travel style.
You might pay a bit more for these tours, but the big advantage of booking this way is that you're guaranteed to get back on the ship. Your ship will wait for you if you happen to be on a delayed cruise line-arranged tour.
2. Book through a third-party shore excursion vendor.
Of course, you're not required to book directly through your cruise line. There are also a handful of third-party vendor websites that will help you purchase shore excursions. These vendors include sites like Shore Excursions Group, Viator, or Resort for a Day.
If you're worried about getting back to your ship in time, these operators will often guarantee that they'll get you back on time or pay for travel arrangements to your next port of call. Just be sure to read the fine print before you confirm your booking, so you understand what's covered (and what's not!).
The big advantage of booking with these companies is that they are typically running smaller tours with fewer travelers. Overall, this typically gives you a more varied experience at your destination.
3. Book your shore excursion directly with the tour company.
There's nothing stopping you from booking directly with a local tour company. This is perhaps the riskiest of the three options and I would only recommend it to experienced cruisers.
If you book your shore excursion using this method you will not have any protection from your cruise line or a third party vendor. It will be vital that you carefully read your fine print and the company policies about cancellations, payment methods, and travel guarantees for returning you to your ship on time.
As with all shore excursions, pricing will vary. The biggest advantage in booking directly is that this is typically the best way to partake in local experiences at lower costs. That said, booking using this method may not always save you money. These shore excursions can still be quite expensive and you will also have to factor in travel arrangements to and from the ship, such as a taxi or ferry.
Tips & Tricks To Keep In Mind While Planning Your Shore Excursions
Here are a few of my best tips and tricks for planning shore excursions.
1. Research Your Ports of Call
Your best bet for a great day in your port of call is to plan ahead. There may be some ports where you can just walk from the dock to the town to explore. But others will be miles from anything to do and you will be disappointed if you haven't planned an excursion.
Research your destinations and decide what you're most interested in doing at each port of call. For example, if you're port of call is particularly well-known for its beautiful sandy beaches, you may want to consider a beach day excursion.
2. Set A Budget
Touring at every port can very quickly bust your vacation budget. I recommend reserving a percentage of your total vacation budget specifically for your shore excursions. I know others use $100 per person per port of call as their rule of thumb for setting the shore excursion budget. Whatever you decide, make sure that you plan your budget properly.
3. Decide Whether Booking In Advance Or Waiting Is Best For You
While I've covered a number of ways that you can book your shore excursions in advance, you don't need to go this route. You can always wait to see how you feel once you're onboard.
Here's what I would recommend for deciding whether you'll book in advance or wait:
Book limited-availability excursions and must-do tours in advance. Do not wait to book the excursions you would be heartbroken if you missed.
Wait to book excursions that you're uncertain about or you would be happy with a variety of options. This allows you to adjust accordingly for the weather and your own energy levels.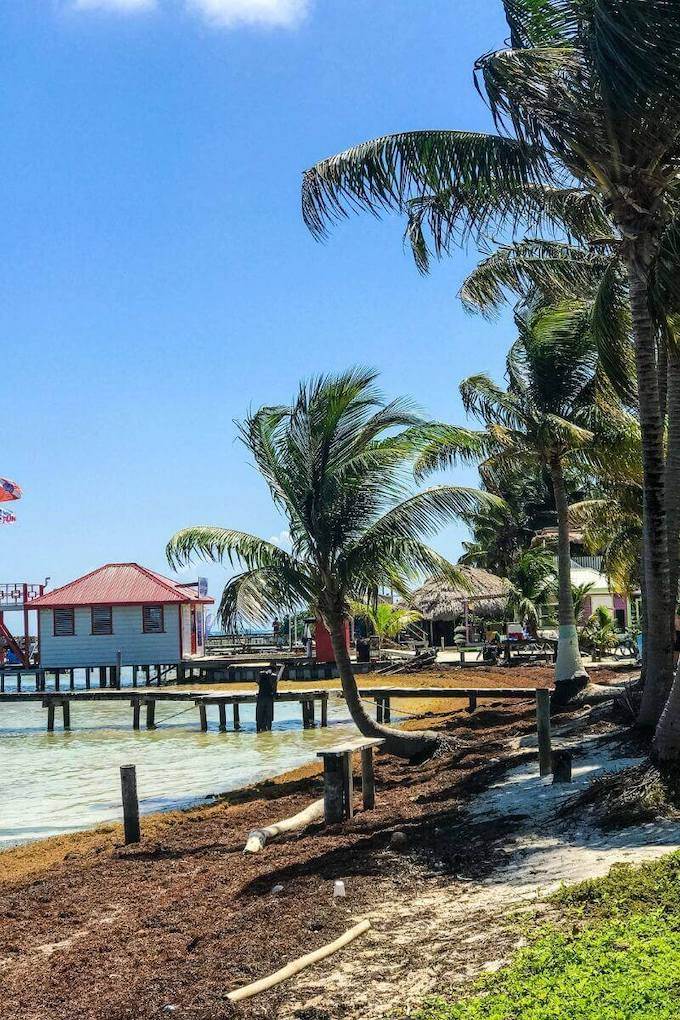 Part 3: What You Should Do After You Book Your Cruise
Now that you've finished planning the bulk of your Caribbean cruise, it's time to start thinking about those little details that make your travels smooth and stress-free. These are things like holding your mail, planning for the care of any pets or plants, and (my favorite part) deciding on your Caribbean cruise packing list!
Ensure Your Vaccinations & Travel Documents Are Up-To-Date
When it comes to vaccinations and travel documents, it's always best to plan early (check here for State Department cruise recommendations). It's hard to rush these details, so thinking ahead will save you plenty of stress.
You'll want to have all of your vaccinations up to date by about 2 weeks before departure. It's best to have your vaccination history on hand and research your port destinations to better understand what you'll need prior to your visit with your travel doctor.
And, of course, don't forget your passport! You might not be required to show your passport if you board in the states, but most cruise lines require you to have your passport on hand. And even if they don't, it's a good idea to have it handy for port excursions or in case of an emergency.
For example, if you run into bad weather, like a hurricane, you may want to fly out earlier than you had initially planned. Without your passport, you will not be allowed to fly out of whatever country's airport is closest. Likewise, the same applies if you get hurt (or sick) and need to seek medical help off the ship in another country.
Pro Tip: It's also a good idea to make sure you have cash in different denominations. Most countries with cruise ports accept US dollars, but it's likely that you will receive it back in the currency of that country. Carrying a variety of denominations helps ensure that you will limit the amount of loose foreign currency you're carrying during your travels.
Arranging Care for Your Home, Pets & Plants
Of course, you'll need to make sure that your home, as well as any pets or plants, are cared for while you're traveling. The first thing you'll want to do here is to consider how long you're cruising for.
If you're setting sail for a short trip (up to 4 days), you may not need anyone to check in on your place or plants. Of course, you may still need to arrange for a pet sitter or boarding.
If you're traveling for a longer period of time (upwards of 4 days), you'll likely need to arrange for someone to check in on your home, water plants, or you may even want to have someone housesit. Depending on how you arrange for the care of your home will help you decide how your pets will be cared for.
Pro Tip: I like to start planning these details at least a month before departure. You may need a longer lead time if you're traveling during the holidays or peak travel seasons.
Create Your Caribbean Cruise Packing List
Whether you're traveling in a carry-on only, or with a larger suitcase, you'll want to carefully consider the weather you're likely to encounter and the excursions you've planned during your vacation. Along with these factors, you'll also want to confirm dining attire while you're sailing – some cruise lines offer formal dinners or theme nights! Knowing this sort of information in advance will allow you to make the most of all the fun your cruise line has to offer.
If you're still feeling a little stuck on what to include on your packing list, you should check out these packing resources:
Pro tip: Even if you've decided to travel with a larger suitcase, you'll still want to plan your carry-on carefully. When you arrive at the ship your suitcase will be checked and you likely won't see it again until just before dinner. Make sure to pack what you need for the day in your carry-on so you can start enjoying the ship immediately!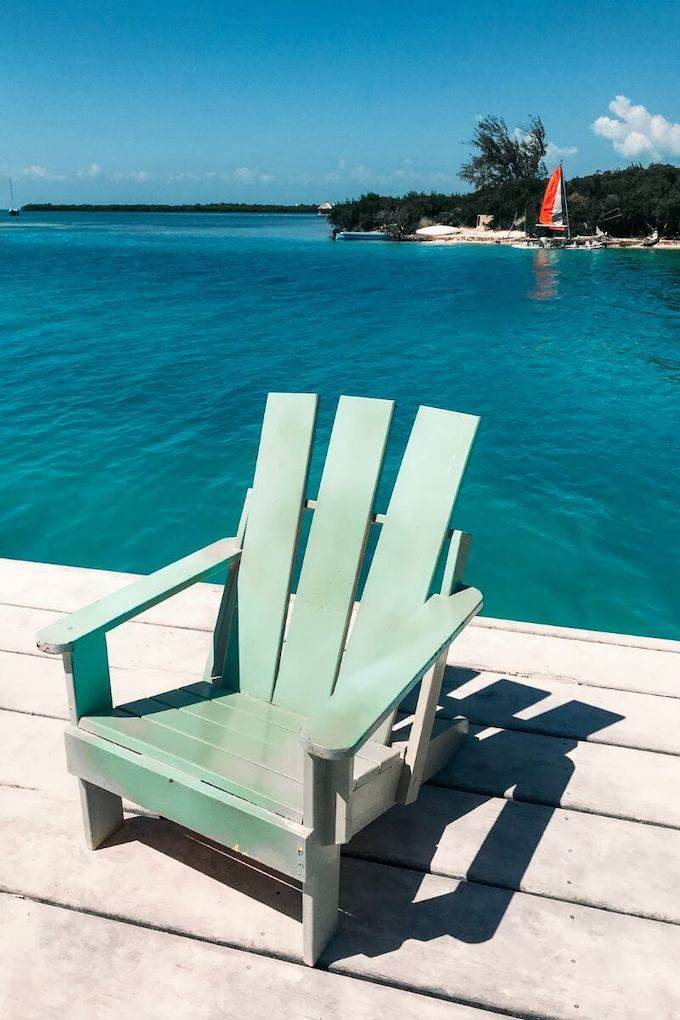 Now You're Ready To Start Planning Your Caribbean Cruise
That's it. This is how I plan my Caribbean cruises and how I recommend that you plan yours. With a little planning and research, you're sure to have a fantastic time soaking up the sunshine and enjoying the beautiful blue water of the Caribbean!
Ready to start planning your Caribbean cruise? Start searching for the best cruise vacations here.