Aruba is a beautiful Caribbean island with amazing beaches. There is so much to do and see on this island paradise - but with so much going on where do you begin?
Here are the best things to do in Aruba, from the beaches to adventures and unique activities.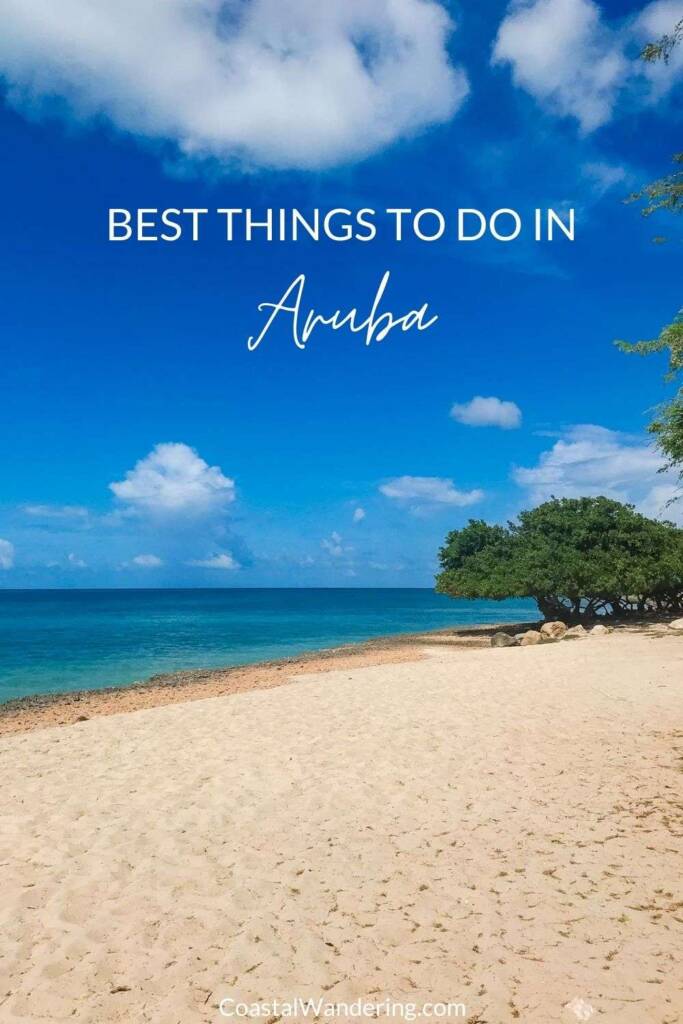 Located just off the coast of Venezuela, near Bonaire and Curaçao, is the tropical island country of Aruba. Aruba is known for its sandy white Caribbean beaches with clear turquoise water, making it the ultimate beach lover's getaway.
But there's more to do than just lie on the beach when visiting this southern Caribbean island. There's something for everyone in Aruba, so let's dive in!
Things For Beach Lovers To Do In Aruba
If you're looking for white sand beaches and crystal-clear waters, this island is for you. These are the best beaches in Aruba that you should stay at or visit.
Ready to start planning your visit to Aruba now? Book your tour here.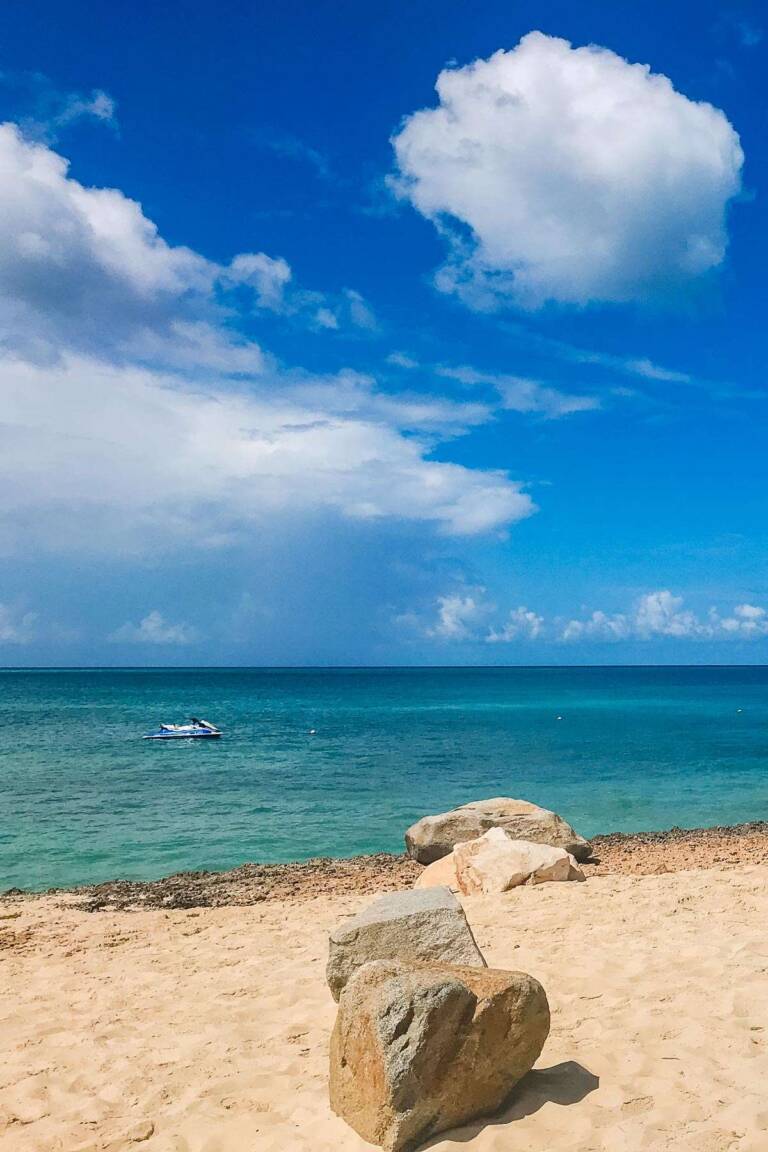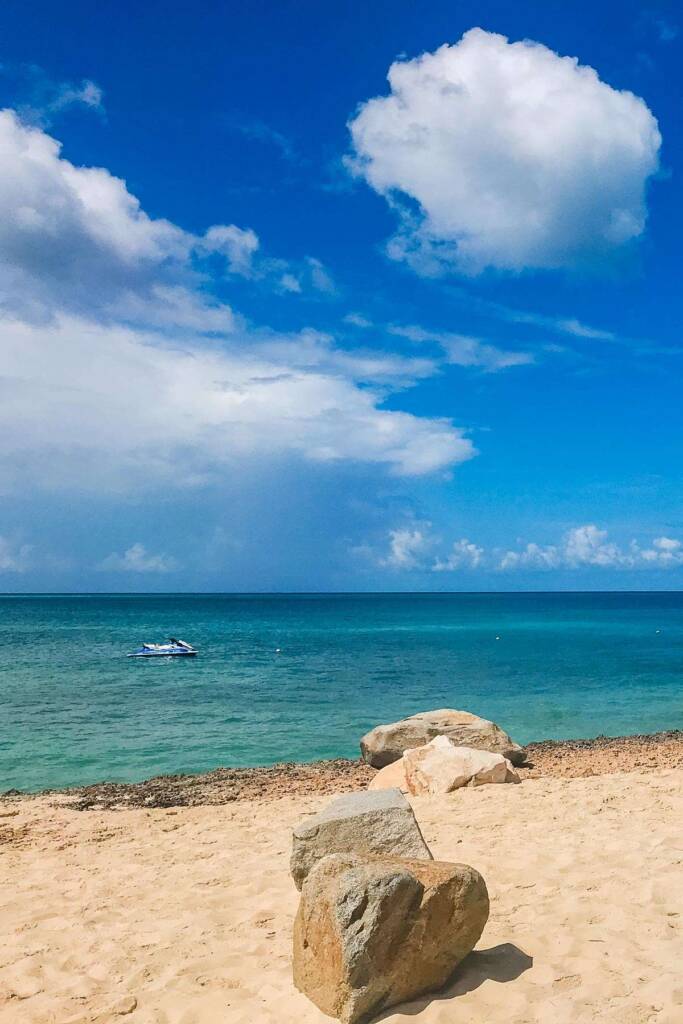 1. PALM BEACH
Palm Beach is located on the northern coast of Aruba. It is a resort area beach that is action-packed, full of hotels, shopping, and restaurants, giving beach lovers the best of both worlds.
Step outside onto the sandy white beach and pull up a lounger for the day. When you're ready to go shopping or out to eat, just walk to your favorite spot.
Palm Beach also has a wide variety of watersports to choose from, including wakeboarding, banana boat rides, and parasailing.
2. BABY BEACH
Baby Beach is perfect if you have small children to take to the beach. Known for its shallow, crystal-clear water, Baby Beach is ideal for kids to play in the water. The beach has a small, shallow bay that is generally always calm. Just make sure to stay within the bay because the currents outside of the bay can become strong.
Baby Beach is located on the southern tip of Aruba and is about 45 minutes from Palm Beach. Southern Aruba is less populated than northern Aruba, making this a great location to get away from the action.
3. EAGLE BEACH
Eagle Beach is located just south of Palm Beach and is the widest beach in Aruba. It's often considered the best beach in Aruba because of how big it is and where it's located. Nearby are many resorts and hotels, some of which have cabanas and loungers on Eagle Beach that they provide their guests.
What makes Eagle Beach a popular choice among beach-lovers is that it has something for everyone. There is plenty of space to enjoy lying on the beach, or you can partake in one of the many water sports offered on Eagle Beach.
If you aren't staying in a nearby resort, there is plenty of parking, so you don't have to worry about where you'll park when you get there.
Eagle Beach also offers your best chance of seeing sea turtles in Aruba. You can find the most sea turtle nests on Eagle Beach.
4. FLAMINGO BEACH
To reach Flamingo Beach, you have to visit Renaissance Island. This is a private island featuring dense mangroves where the flamingos live. If you stay at the Renaissance Hotel, you can visit Flamingo Beach as much as you want for free. Otherwise, you will have to purchase a day pass. The price for the day pass is around $125 per person and includes lunch and a drink.
5. ARASHI BEACH
Arashi is a tranquil and secluded beach known for snorkeling and various water activities, including windsurfing and scuba diving. Arashi Beach can be found on the northwestern tip of Aruba in the Noord district. It is close to Malmok, Kudarebe, and the California Lighthouse.
The reef of Arashi Beach runs parallel to the shoreline and, when snorkeling, offers you the opportunity to see coral and colorful fish. This beach is a favorite with locals because of its gentle current and underwater life.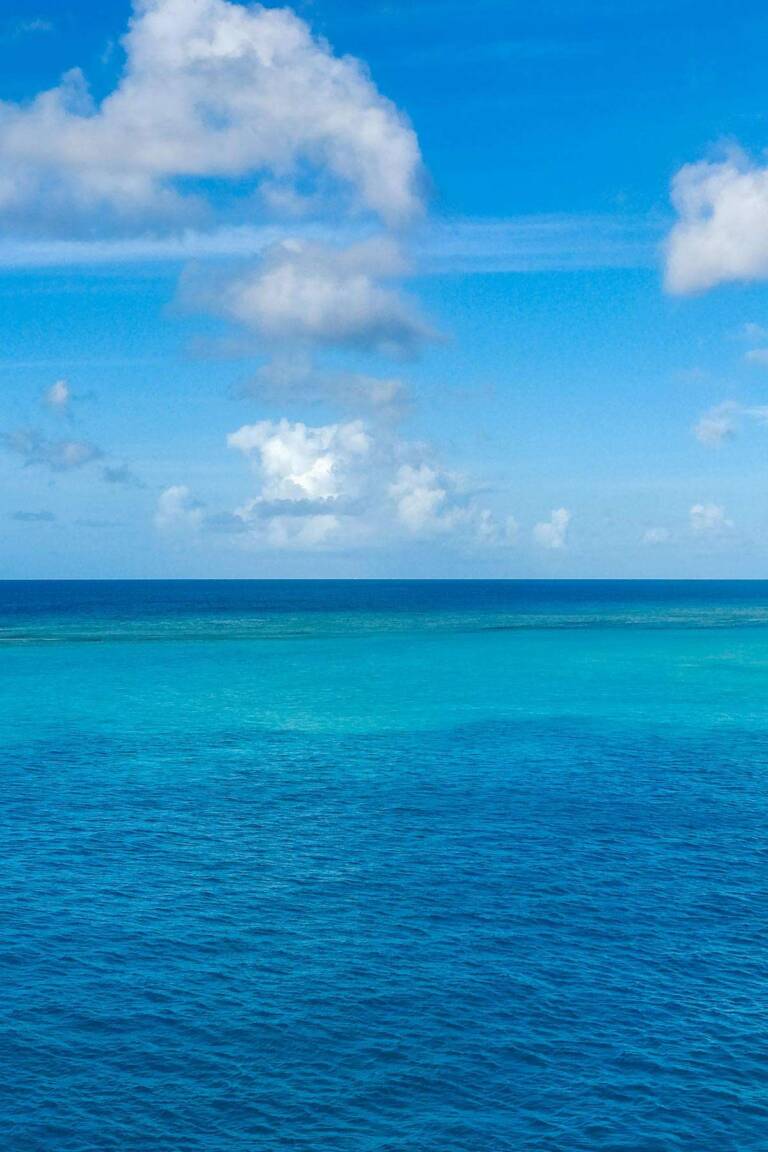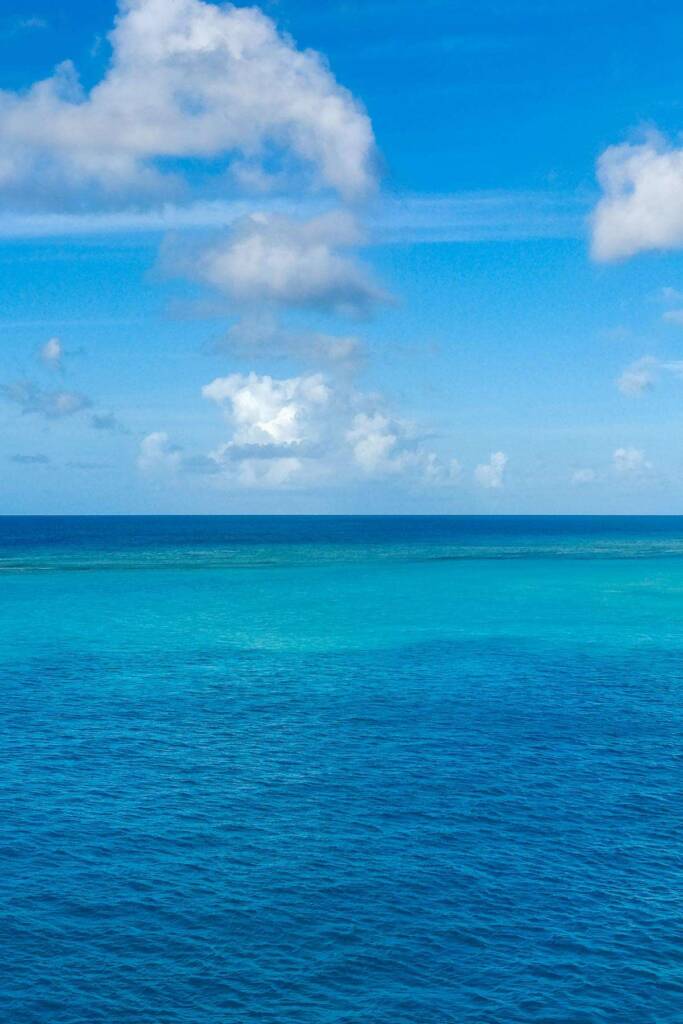 Things For Adventurists And Outdoor Enthusists
Visiting an exotic Caribbean island is the perfect place to go on an adventure. You can snorkel sunken ships, hike one of Aruba's National Parks, or go horseback riding. There is something for all types of adventurists and outdoor enthusiasts to do in Aruba.
One of the most unique experiences in Aruba is snorkeling the various ships in Aruba. You can snorkel several wrecks: the Antilla, the Baboo, the Kappel and the Pedernales.
6. ANTILLA SHIPWRECK
The Antilla is located on the northern end of the island, just off the coast of Boca Catalina beach. The front of the boat lies about 60 feet deep and is home to various coral and marine life, making it a great location to snorkel. You will need to sign up for an Antilla snorkel tour to snorkel the SS Antilla, as it is too far off the coast to safely access.
7. BABOO SHIPWRECK
The Baboo shipwreck is great for beginners. It is located just off Malmok Beach, and part of the ship is now exposed after Hurricane Lenny washed it to shallower waters. The water around this wreck is calm, and you can see many colorful fish in this area.
8. KAPPEL SHIPWRECK
The Kappel shipwreck in Mangel Halto is the most recent wreck you can snorkel in Aruba. No coral reef has yet to really form on it, but marine life has begun to call this ship home. You can access the Kappel in the Mangel Halto lagoon.
9. PEDERNALES SHIPWRECK
The SS Pedernales was a WWII tanker that was sunk off the coast of Palm Beach. This relatively shallow site with lots of sea life and clear waters is a popular spot for beginner divers.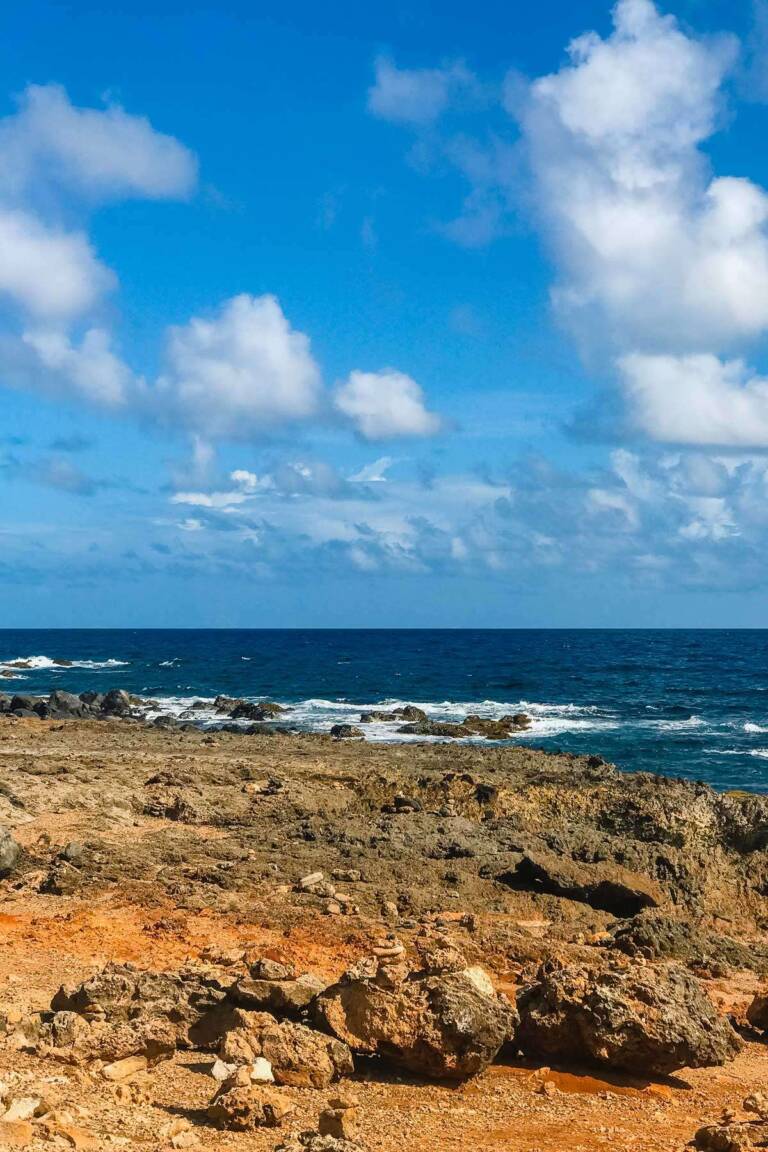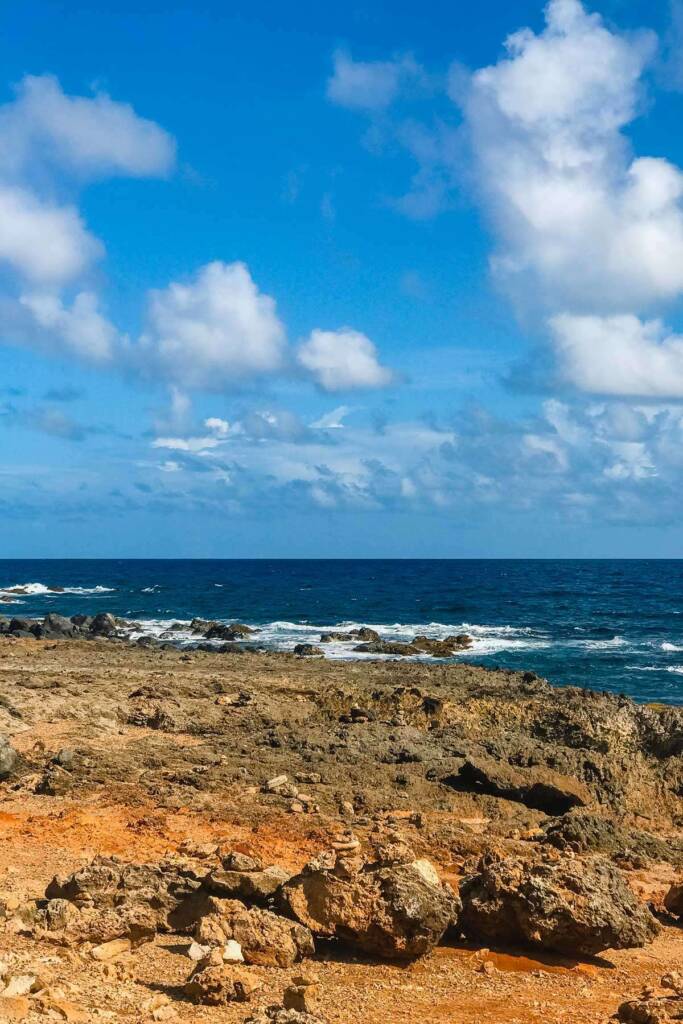 Hiking Opportunities
Aruba offers many different hiking options, both inland and near the coast.
10. ARIKOK NATIONAL PARK
The first option on our list is hiking in Arikok National Park. This is where most of the island's best hiking trails will be, mainly because they are clearly marked and don't require a tour guide.
Arikok National Park takes up 20% of Aruba and is located on the island's windward side, so it's filled with rugged terrain and deserts. One of Aruba's most iconic spots, Conchi ("The Natural Pool"), is part of Arikok National Park.
There are hiking trails of all types in Arikok National Park. There are sand dunes, caves, hills, and cliffs. Aruba's highest point, Mount Jamanota, is located in Arikok National Park, and you can hike to the top of it, giving you a 360° view of the island. All the trails can be hiked independently or with a tour guide.
11. ALTO VISTA TRAIL
Outside of Arikok National Park, near the north end of the windward side, is the Alto Vista Trail. Hiking this trail will lead you to the Peace Labyrinth, a tranquil area located behind the Alto Vista Chapel.
12. AYO and CASIBARI ROCK FORMATIONS
Aruba's rock formations are giant boulders that you can explore. The Ayo rock formation is quieter and less crowded than the popular Casibari. You can see ancient rock drawings at Ayo. Or climb the trail to the top of the rocks at Casibari for gorgeous 360° views of the island.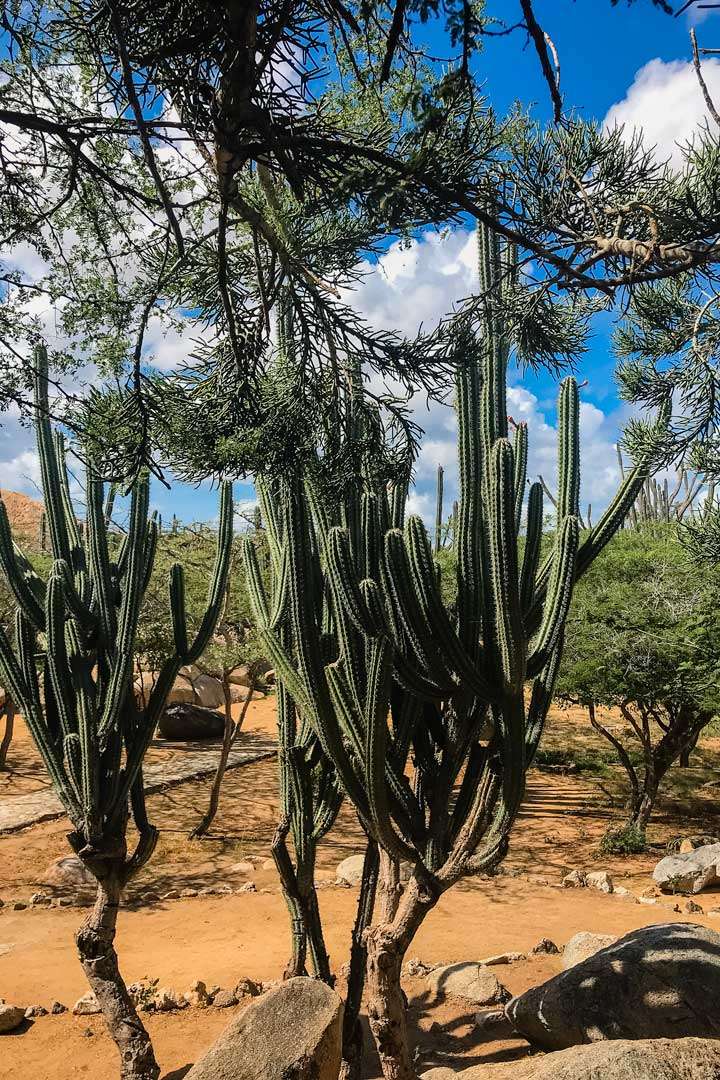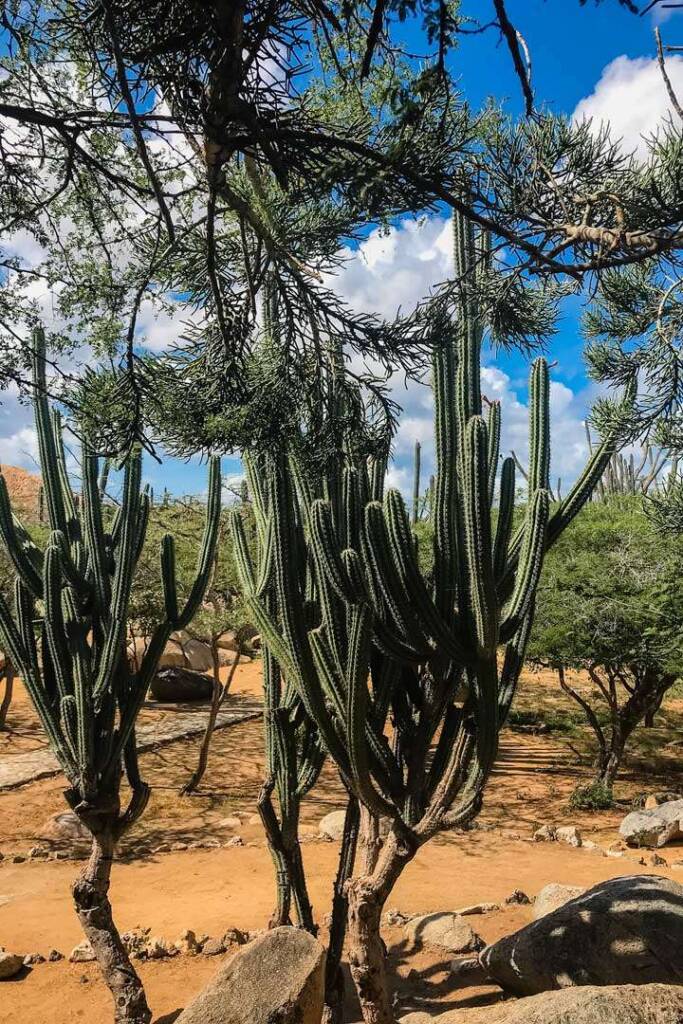 More Ways to Explore
13. HORSEBACK RIDING
There are horseback riding excursions throughout the island, taking you to different landmarks in Aruba. Some horseback riding tours are during the day, while others are available at sunset.
The horseback riding tour you choose should be chosen based on your experience as a horseback rider, as some of the excursions are for intermediate or advanced riders only.
14. UTV/ATV TOURS AND RENTALS
You can tour via UTV, ATV or Jeep by renting your own or riding with a tour guide. UTV or ATV tours will take you on different trails throughout the various terrain of Aruba.
Tours visit the natural bridge, baby bridge, natural pool and north coast areas. Some UTV or ATV tours come as a package with an additional experience, like snorkeling or cave tours.
If you don't want to ride with a tour guide, you can rent your own UTV or ATV, typically for 4-hour increments. Just make sure you only take UTV/ATV access trails when renting a UTV or ATV.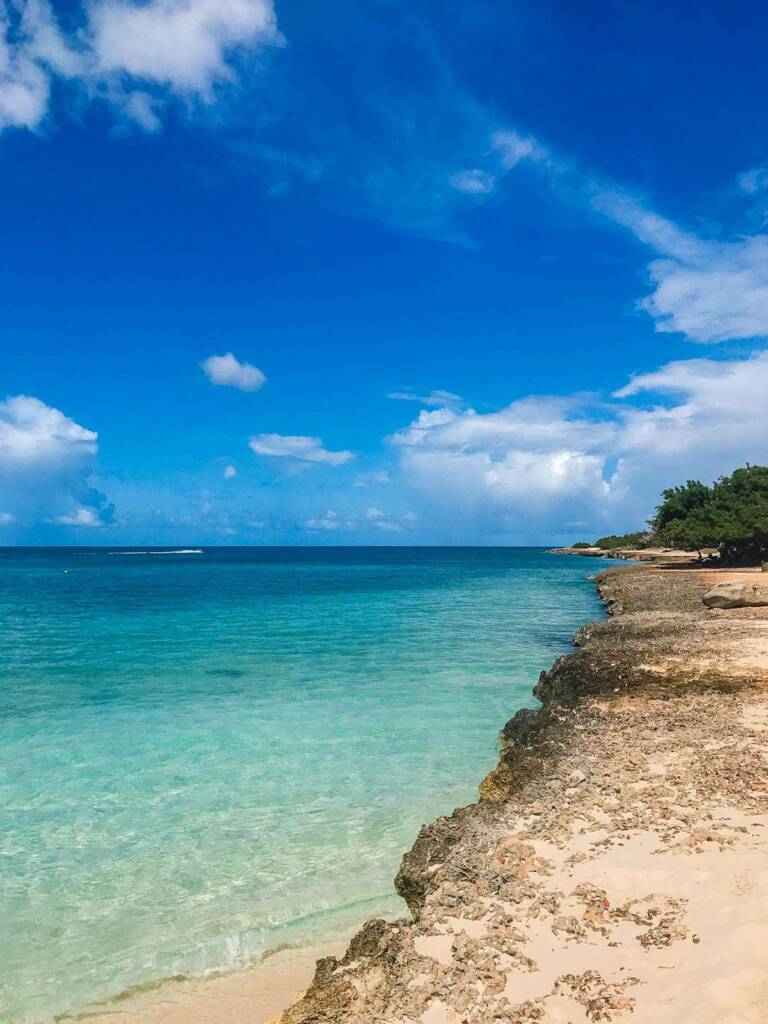 Water Adventures
15. ARUBA ATLANTIS SUBMARINE EXPEDITION
Have you ever wanted to take a ride on a submarine? Well, now you can! The Aruba Atlantis Submarine Expedition is a nearly 2-hour trip in a real submarine that takes you 130 feet underwater to view sea life, wrecks, and the Barcadera coral reef before returning to the surface.
Once returning, you'll receive an official dive certificate commemorating your experience on the submarine.
16. BRUNCH, LUNCH, OR DINNER BOAT RIDES
There are various boat rides you can take for lunch or dinner. In the morning, you can take a champagne brunch boat ride. During the day, you can take a dolphin tour boat ride that includes a light lunch. At night, you can take a sunset dinner tour complete with a full dinner and drinks. Many of these boat rides sell out quickly, so make sure to purchase one in advance if you're planning on going.
17. FISHING CHARTERS
Aruba offers a variety of fishing charters that will take you off the coast and guide you to reel in a big catch. Most fishing charters are four hours and accommodate up to four people. Fishing charters often sell out and need to be booked in advance to secure your spot.
18. PRIVATE CATAMARAN WITH ROPE SWING AND WATER SLIDE
The Dolphin Catamaran is a fun thing to do and will take out 15 people on a catamaran that has a rope swing and water slide, giving you the perfect day on the water. The catamaran will take you to various snorkeling locations to jump off the boat and view the underwater world underneath the surface.
When you're not snorkeling or jumping off the rope swing, you can enjoy sitting on the catamaran with a tropical drink and Caribbean music.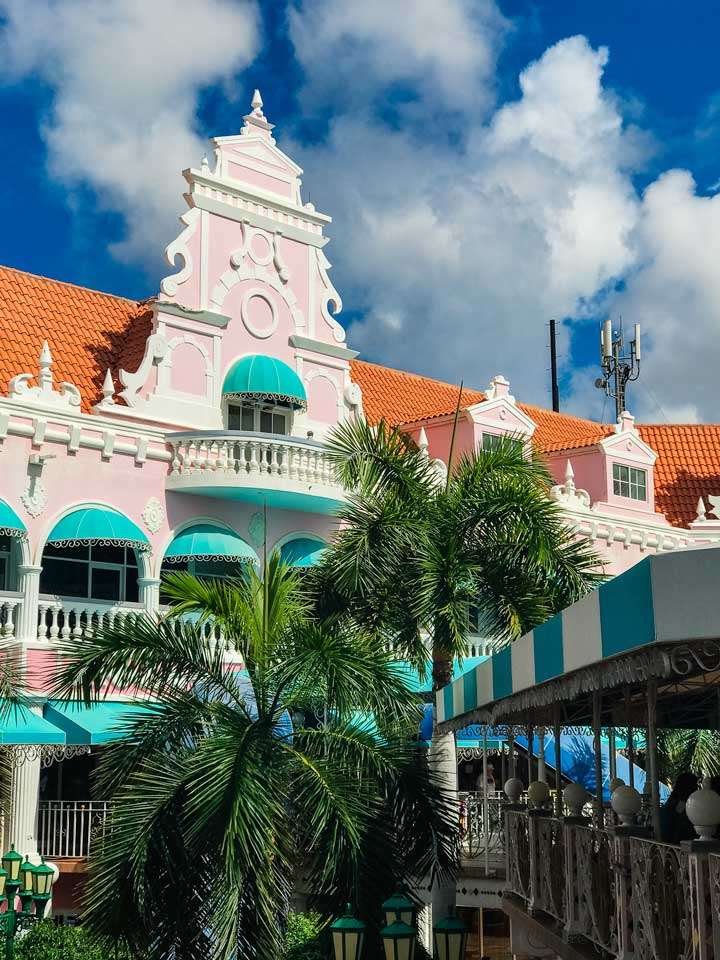 Dining Options
19. 2 FOOLS AND A BULL
This restaurant is located in Aruba's restored Old Cunucu House. Chefs Roger and Roy entertain 17 guests around a circular bar while dishing out a five and a half course meal − wine pairing optional. It is like being invited into someone's home and the atmosphere is comforting and inviting. With over 40 years of experience between the two chefs, you are sure to have a great time. Just make sure you reserve a spot in advance due to the popularity of this locale.
20. ATARDI
If you are looking for a beachfront restaurant, journey into Atardi. Once known as Simply Fish, Atardi is the best spot if you want a romantic dinner. The tables are right on the beach, providing you with the best view. The menu for Atardi focuses on fresh fish and seafood.
21. PINK IGUANA
Don't miss Aruba's Pink Iguana frozen drink. It's like a cross between a pina colada and a strawberry daiquiri made with strawberries, coconut milk and rum. Head to Iguana Joe's and enjoy one overlooking the harbor in Oranjestad. Also try the keshi yena, coconut shrimp and "greatest burger in paradise" for a beach-inspired lunch.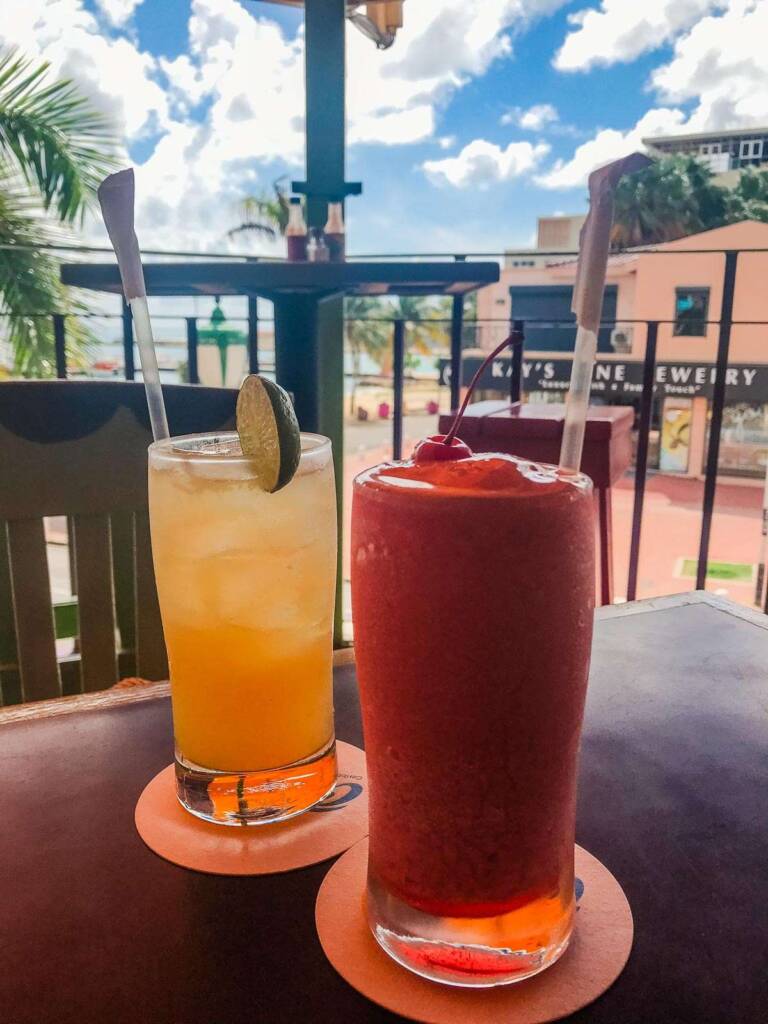 Other Fun Activities To Do In Aruba
Here are a few other attractions and things to do in Aruba after hitting the beach and snorkeling.
22. ARUBA OSTRICH FARM
Visitors can take a guided tour of the Aruba Ostrich Farm to see the ostriches and emus. It is open daily, and guided tours are conducted every half hour. This Aruba tour is $14 per adult and $7 per child.
The tour duration is between one and two hours. You can choose from a Unique Tour and Lunch experience and the Aruba Hidden Treasures and Ostrich Farm UTV Tour.
23. ARUBA ALOE FACTORY
The Aruba Aloe Factory takes you on a tour of the museum and factory and teaches you about Aruba aloe production, the process, and its 160-year history of aloe cultivation. The tours are guided and complementary and are offered in English, Dutch, Spanish, and Papiamento every fifteen minutes.
24. ARUBA DONKEY SANCTUARY
At the Aruba Donkey Sanctuary, you can encounter about one hundred of Aruba's donkeys in their safe home environment at Bringamosa. It is a safe haven for injured and abused wild donkeys. There is also a gift shop, and the sanctuary offers tourists an opportunity to feed the donkeys as well.
25. FORT ZOUTMAN HISTORICAL MUSEUM
Fort Zoutman Historical Museum is the ideal spot for visitors to learn more about Aruba's past. It is a military fortification at Oranjestad, Aruba that was originally built in 1798 by African slaves. While touring the museum, you are sure to experience much of Aruba's history while learning more about its heritage.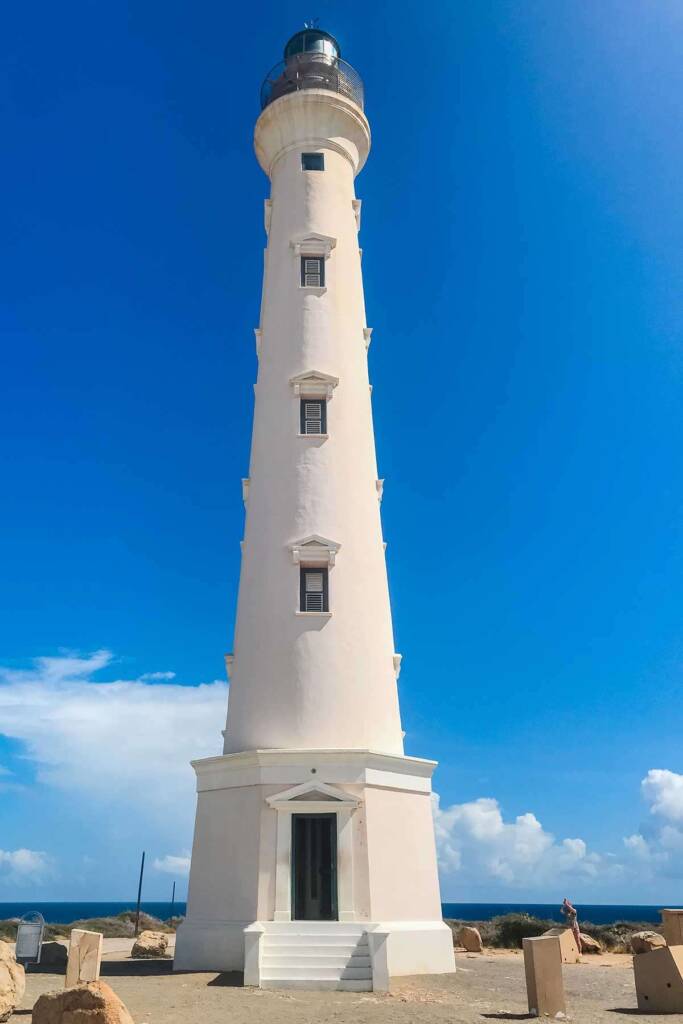 26. CALIFORNIA LIGHTHOUSE
Located on the northwest tip of the island, this white stone lighthouse makes a stunning photo set against the blues of the sky and ocean. It's near Arashi beach so you can stop along the way to take in the view.
27. BUTTERFLY FARM
Visit the Butterfly Farm near the Palm Beach area for a magical experience. Learn about these beautiful creatures and photograph them in a lush tropical rain forest garden with flowers and a waterfall.
28. SAN NICOLAS MURALS
If you're on the south end of the island, don't miss the murals in San Nicolas. Artists from all over the world have painted artwork on the buildings around Main Street. It's a great side trip if you're heading to Baby Beach.
29. GOLD MILL RUINS
The gold mill ruins are a remnant of Aruba's gold rush. The historic gold mines are located in Arikok Park, but you can see the ruins of the two gold mills at the Bushiribana and Balashi sites.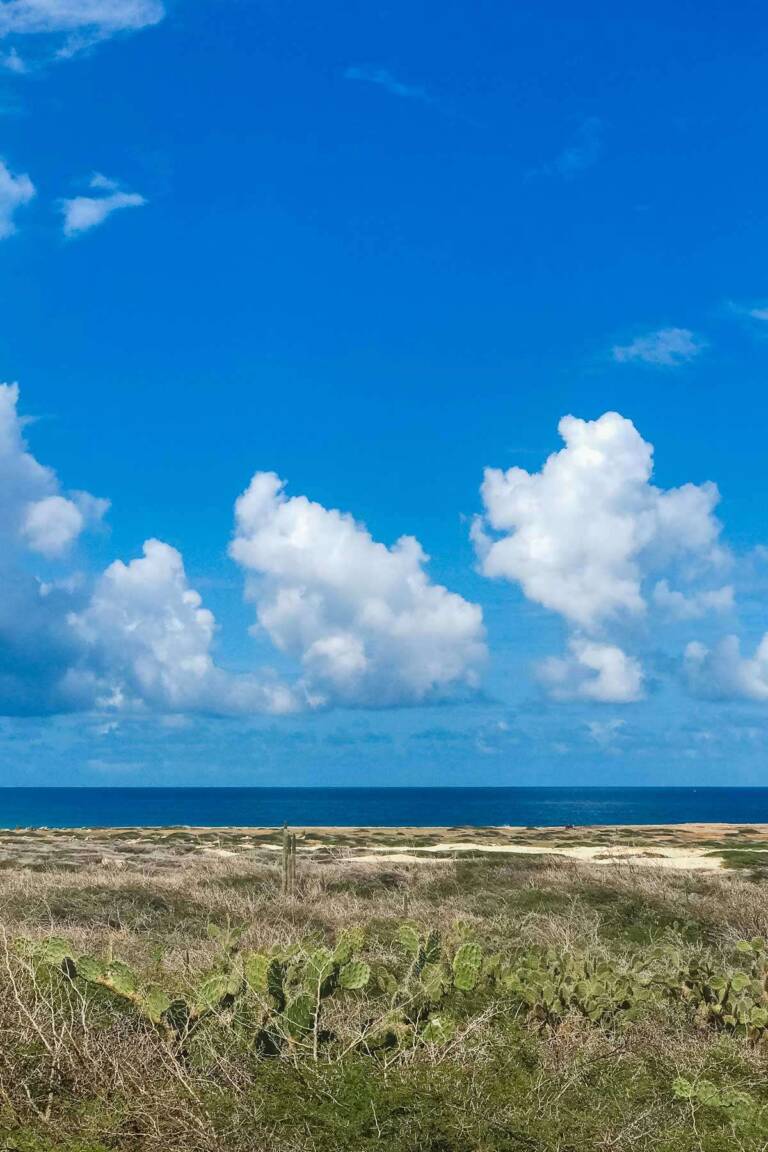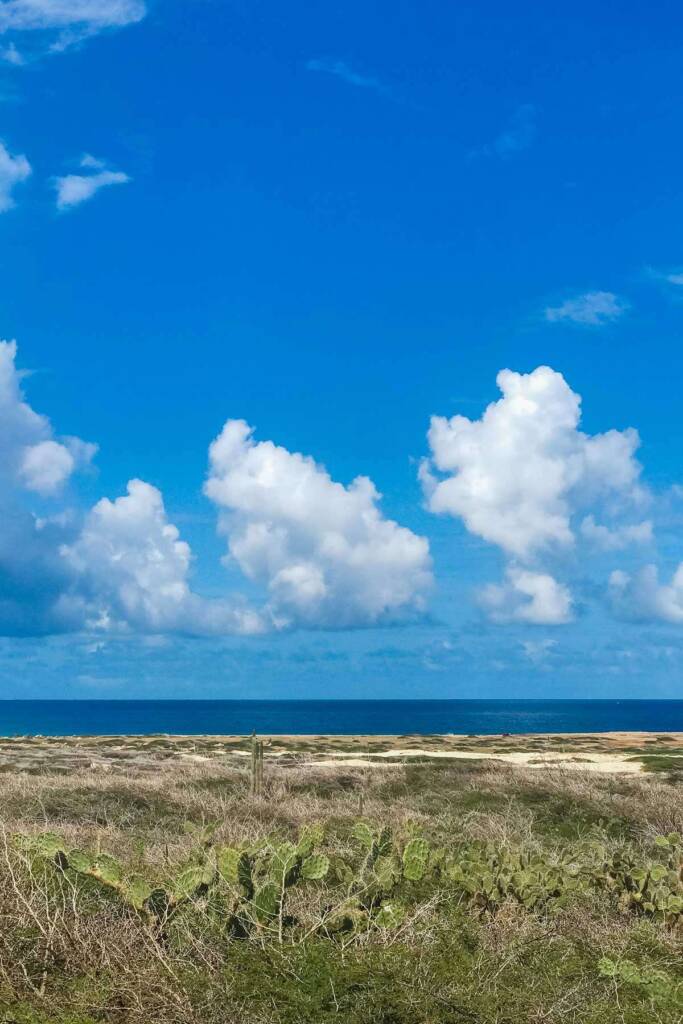 Know-Before-You-Go Facts About Aruba
Aruba is located in the southern Caribbean Sea, so it always has a warm climate with temperatures that stay in the mid to upper 80s year-round. This means you can book a January vacation to Aruba and dress like it's summer while you're there, making packing easy.
Because Aruba is warm all year long, it's not uncommon for rain or thunderstorms to pop up during the day. These showers are often short bursts, especially during the summer months. The rainy season is from October to January, but the precipitation pattern continues to be short bursts that are often unpredictable.
One of the best things about Aruba's location is that it is often further south than many hurricanes that come through the Caribbean. The last hurricane to touch Aruba was Hurricane Felix in 2007, a category 2 hurricane that only caused minor damage.
For currency, Aruba uses the Aruban Guilder (AWG), but the US dollar is also accepted in Aruba. There are both local currency and US dollar ATMs located throughout the island, so you shouldn't have to worry about not having access to cash while you're traveling.
Ready to start planning your trip to Aruba? Book your tour here.
Now that you know the many different things to do, you can plan your Aruba vacation around the things you want to do while you're there. Whether it's lying on a beach for some much-needed rest and relaxation or going on an adventure to explore the island, Aruba is "one happy island" for everyone.