Whether you are a first-time cruiser or have been on a dozen cruises, there are a few things to remember when cruising. Here's a short list of cruise do's and don'ts that you need to know. These tips will help you make the most of your cruise vacation!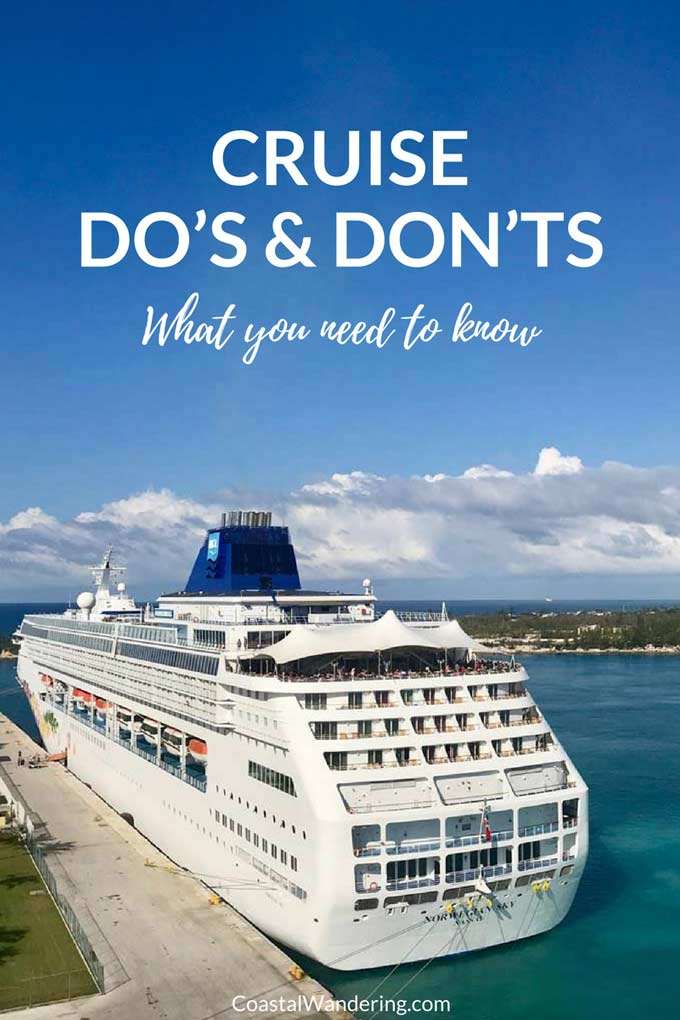 Cruise Do's and Don'ts
Be sure to follow these cruise do's and don'ts for a fun and relaxing time cruising whether it's your first cruise or you've been cruising for years.
Planning your cruise is not complete until your sitting on the deck sipping a tropical drink. These cruise travel tips and hacks are just what you need for a perfect cruise.
Do's
Be sure to pack a change of clothes in your carry-on bag, especially some flips, a swimsuit, sunscreen, and something airy to wear. It will be a minute before the stewards are able to get your luggage to your room to change. Prepping ahead helps you get right down to the business of relaxing before the cruise sails!
When you first board the cruise ship take a tour and get your bearings. If you want to see the whole ship, start at the top and take the stairs down to each level. Learn where the restaurants are that have what you love, find the bars with the vibe you like, plus locate the nooks and crannies that you can just chill out in. And make sure you check out the cruise newsletter for any free activities the first night.
Of course, start out with a frozen drink topped with a little umbrella! Don't assume though that it is free! Do buy a souvenir card or soft drinks and alcohol package on your first day. Check the math though to make sure it is a good deal for you in the long run.
Speaking of relaxing, book your spa and salon appointments early. Take a spa tour and see just how many different ways there are for you to relax. I like to book a massage for the first sea day to get into vacation mode.
Make sure to take a ton of photos! Grab the family together and take a picture near the railing with the deep blue ocean behind you. Snap a pic of your gorgeous stateroom before it becomes a disaster by day three.
Before your trip begins you can make reservations for the specialty dining restaurants. Don't wait too long as the best time slots can sell out quickly.
Do pre-book your shore excursions, if you didn't have a chance, head over to the tour desk. Some tours will sell out early. If you are an independent traveler, you can book your excursions directly with the companies instead of going with who the cruise ship suggests. Trip Advisor is great for researching destinations and information on your ports of call.
RELATED: 26 Carnival Cruise Tips You Need to Know

Don'ts
Don't forget to have your passport with you when you check in for your cruise. You won't be able to board the ship without it.
The most crowded place on the ship the first day is the buffet! People have traveled all day and come on board hungry. The smaller cafes are a better bet to grab a quick bite and not fight the crowds. Dinner though, it is game on!
If you can help it, steer clear of the elevator, especially on embarkation day. It will be jam-packed with the crew getting the luggage to your room and passengers finding their way around. Taking the stairs will make it so you don't think twice about grabbing another piece of pie for dessert!
Don't grumble over a dinner seating that doesn't work for you. Talk to the maitre d' in the dining room as they can make changes and schedule a time that works better for you. If you have any food allergies or dietary restrictions let them know. They will make sure your needs are taken care of.
Don't forget to take your passport with you on port days. You will need it to get through security at the cruise terminal in many countries. And you will need your cruise card to re-board the ship so don't forget to bring that with you as well.
RELATED: 30 Awesome Cruise Gift Ideas For Your Favorite Traveler
Do you have any other cruise do's and don'ts? Share them in the comments below!