Whether you're vacationing for a week or stopping for the day, you won't want to miss these St. Thomas beaches and excursions. This gem in the U.S. Virgin Islands has something for everyone.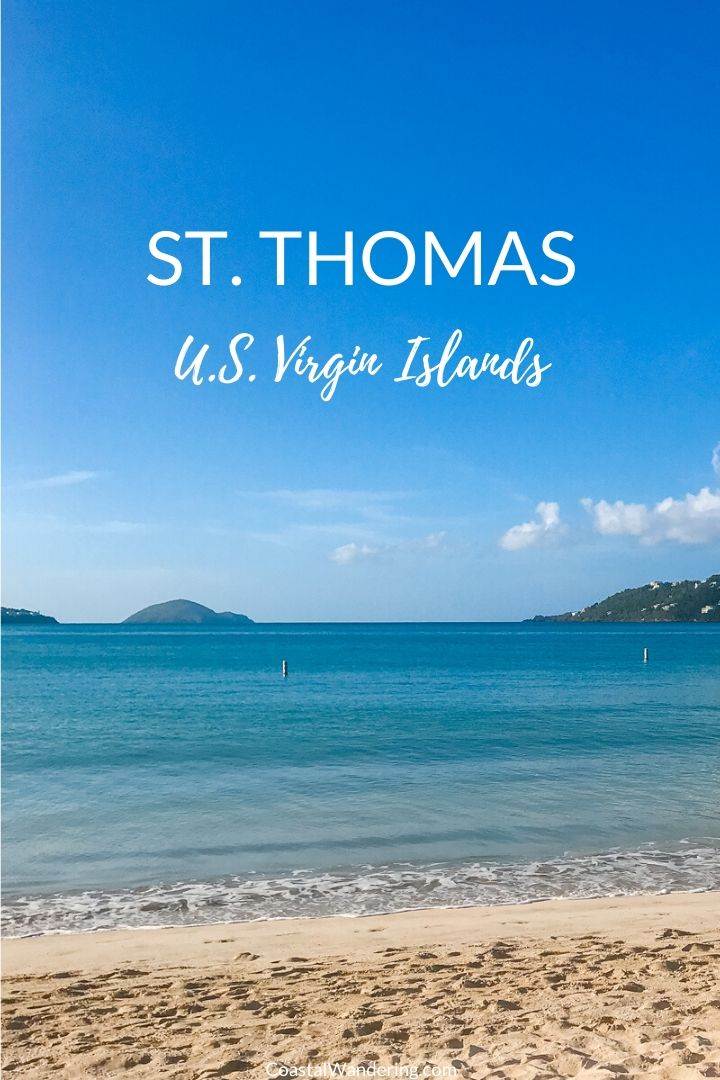 I've been to a lot of Caribbean Islands . Enough to know what makes a perfect Caribbean vacation destination.
If you've been following along, you won't be surprised that beautiful sandy beaches are my top priority. But there has to be more than beautiful beaches to make it a great destination. After all, the sun goes down and sometimes you have to eat. 🙂
The perfect Caribbean Island has a combination of beautiful beaches, historic island charm, friendly people, great restaurants, duty-free shopping, a town with quaint streets to wander down, gorgeous views and lots of options for water sports activities (I'm partial to catamaran snorkeling trips).
St. Thomas checks all of those boxes. And because of all it has to offer, many cruises to the Eastern or Southern Caribbean include St. Thomas as a port of call.
The weather is a sunny year-round with temperatures averaging 77 degrees in the winter to 82 in the summer. And it's centrally located in the Caribbean making it a perfect home base for visiting other islands.
Because it's one of the US Virgin Islands, no passport is needed for US citizens to travel to St. Thomas. The official language is English and the currency is the US dollar making it easy for American visitors. (Find the latest US Virgin Islands travel requirements here.)
After visiting St. Thomas on three separate vacations, I can say it has it all. Here are my favorite things to do in St. Thomas, Virgin Islands.
St. Thomas beaches
No trip to St. Thomas is complete without some quality beach time. Luckily, the island has 40 beaches to choose from. You'll find soft sand, coconut palms and sea grape trees bordering several of these beautiful beaches. Here are some of the best beaches in St. Thomas.
To search for the best hotels in St. Thomas, click here.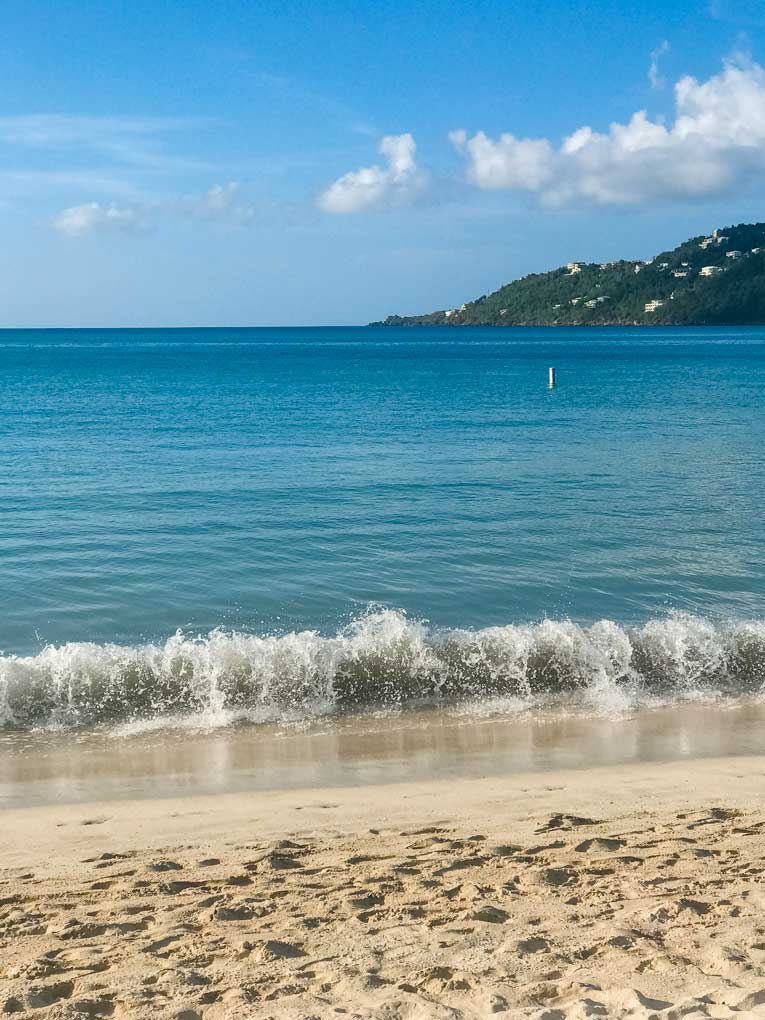 Magens Bay Beach
My favorite beach is Magens Bay. I was curious to see how it might have changed after the hurricanes, but it was just as beautiful on my last visit. Picturesque Magen Bay is in a cove on the north side of the island making it feel very secluded.
The water is calm, crystal clear and unbelievably blue. It's a perfect spot for walking on the beach, lounging, sunbathing, swimming and watersports. There's also a restaurant, bar and gift shop.
You can easily take a taxi from the St. Thomas cruise port to Magen's Bay. Keep in mind there is an entrance fee to the popular beach park, so you'll want to have cash for that.
Coki Point Beach
Coki Beach is known as one of the best beaches in St. Thomas for snorkeling. While you're in the area, check out Coral World Ocean Park to learn about conservation and get up close and personal with the local marine life.
Secret Harbour Beach
Secret Harbour is a small beach with palm trees and white sand located on the east end of the island. Go for great snorkeling, food, and other amenities - plus stunning sunsets.
Honeymoon Beach
Honeymoon Beach is actually on Water Island, a tiny island just off the coast of St. Thomas---across from the Charlotte Amalie harbor. It's a short ferry ride to get to Water Island and an easy 10-minute hike to Honeymoon's white sand beach and calm waters.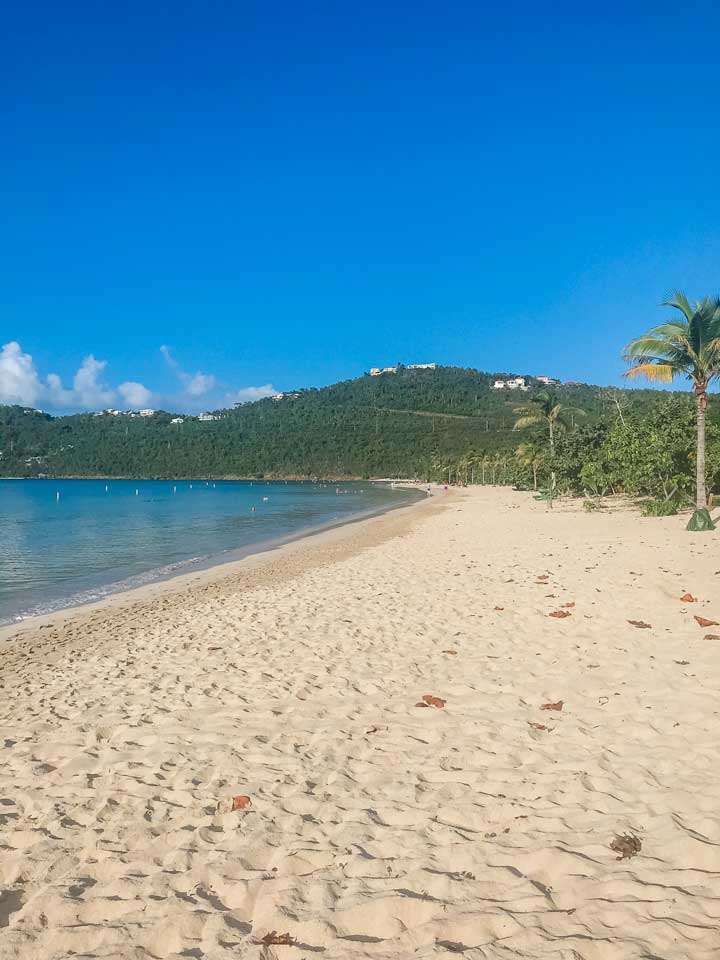 Lindquist Beach
To escape from the crowds, head to Lindquist Beach. Part of the protected Smith Bay Park, it's is a beautiful stretch of white sand that's perfect for swimming and beach activities.
Limetree Beach
Limetree Beach, on the south coast, is just a 12-minute taxi ride from the St. Thomas cruise port. It's on a natural cove known for spotting iguanas and quiet sunsets.
Sapphire Beach
Sapphire beach is great for families with its wide beach and calm waters by the Sapphire Beach Resort. It also has views of St. John and good snorkeling.
Hull Bay
Hull Bay is on the north shore near Magens Bay. This secluded beach attracts surfers and fishermen. Go for fish tacos at the open-air bar and restaurant.
Brewers Bay
Brewers Bay Beach has a wide strip of sand and shallow waters that makes it great for kids and families. You may also spot sea turtles if you go snorkeling. It's located near the airport so you can watch the planes.
Bolongo Bay
Bolongo Bay, on the south side of the island, offers calmer waters and is perfect for a relaxing beach day. You can rent snorkel gear, kayaks and paddle boards there. It's just a short distance from the Havensight cruise terminal.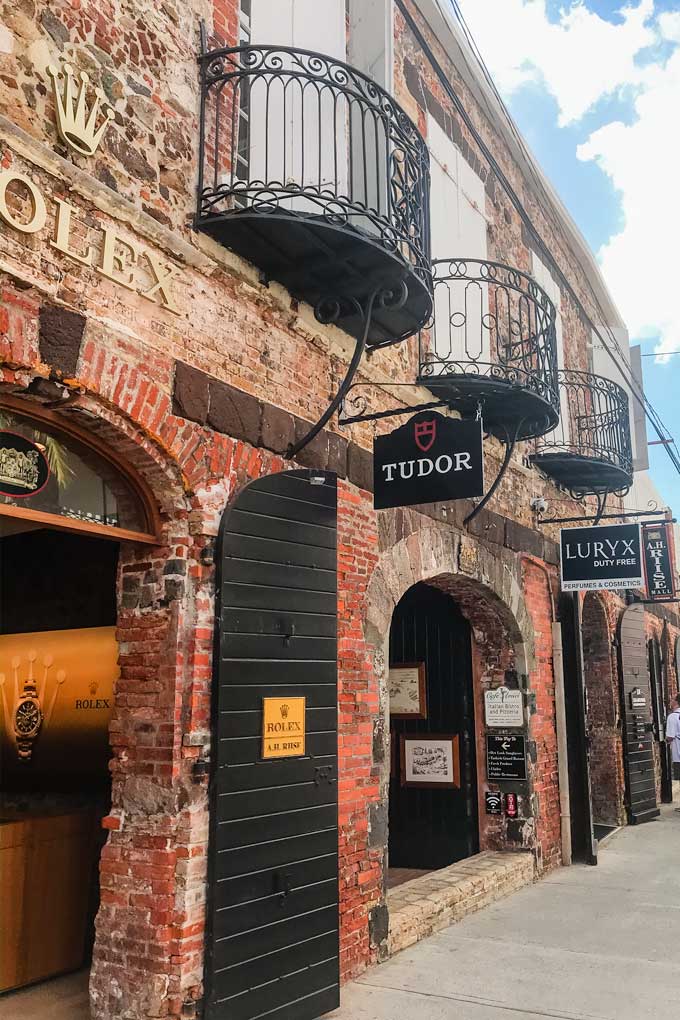 Historic downtown Charlotte Amalie
Exploring historic island towns is one of the best things to do in the Caribbean. Each island has its own character and flavor (not to mention shopping!) which adds to your beach vacation experience.
One of my favorite tours to date is the Charlotte Amalie food tasting and cultural walking tour I took on my last visit to St. Thomas. We started at Fort Christian and learned the history of Charlotte Amalie while walking the charming streets and alleyways. The tour includes stops at several restaurants and tasting traditional St. Thomas food and drinks.
The highlights were coconut rum cake at My Brothers Workshop Bakery, kalaloo soup at Gladys' Cafe and the local signature frozen drink, the Bushwacker, at the outdoor bar in Palm Passage. We never would have found and tasted all the unique food St. Thomas has to offer, let alone heard the fascinating history, without our fantastic tour guide.
The historic downtown area is very walkable and great for shopping as well. While the Havensight Mall is closer to where the cruise ships dock, you'll want to take the short 5-10 minute taxi ride into Charlotte Amalie for shopping.
Amazing views of the Virgin Islands
You can see several of the British Virgin Islands from the scenic overlooks on St. Thomas. The British and US Virgin Islands are so close together it's an easy boat ride to visit BVI while you're in St. Thomas. Jost Van Dyke, Tortola, Virgin Gorda and many of the smaller islands can be reached by ferry or on a day cruise.
The Skyride to Paradise Point is walking distance from the cruise ship dock at Havensight. It takes you up 700 feet to see the views from Paradise Point. There's shopping, a restaurant, and a bar at the top where you can sample a Bushwacker while taking in the view.
Or take in the panoramic views from the highest point on St. Thomas at Mountain Top. You can also enjoy their world-famous banana daiquiri, and shop for duty-free gifts.
To search for the best St. Thomas excursions, click here.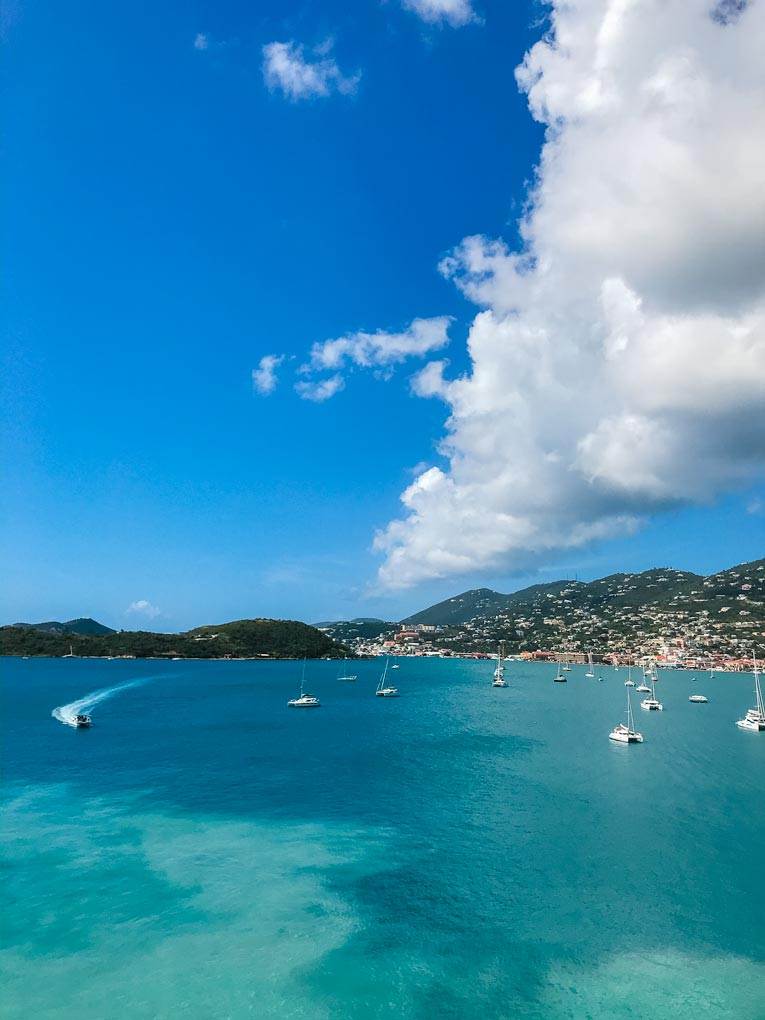 Other St. Thomas excursions
One of the best excursions is to take a catamaran from St. Thomas to St. John for snorkeling. This sail to rustic St. John was a highlight of my first trip to St. Thomas and an experience I'll never forget.
Another popular excursion is the mangrove lagoon kayak tour. Paddle through the mangrove lagoons and learn about the local wildlife with this unique experience.
If you love getting out on the water, there are so many options available on St. Thomas. From full-day luxury boat charters to sport fishing to sunset dinner sails, you're sure to find something perfect for your trip.
If you're visiting with a cruise line like Royal Caribbean, Norwegian, or Carnival, be sure to check their St. Thomas excursions as well.
What to know before you go
To help preserve the natural habitat and coral reefs, the law in USVI bans sunscreen containing toxic chemicals. Here's what you need to know about reef safe sunscreen, including my favorite brands. Be sure to bring plenty with you since the tropical sun is intense.
Thank you to Visit USVI for hosting my latest tour of St. Thomas!