Looking for a fun treat? Try one of these creative desserts made with jello for an update on the classic childhood snack. From cheesecake to pie to no-bake treats, you'll love these recipes for holidays and family gatherings.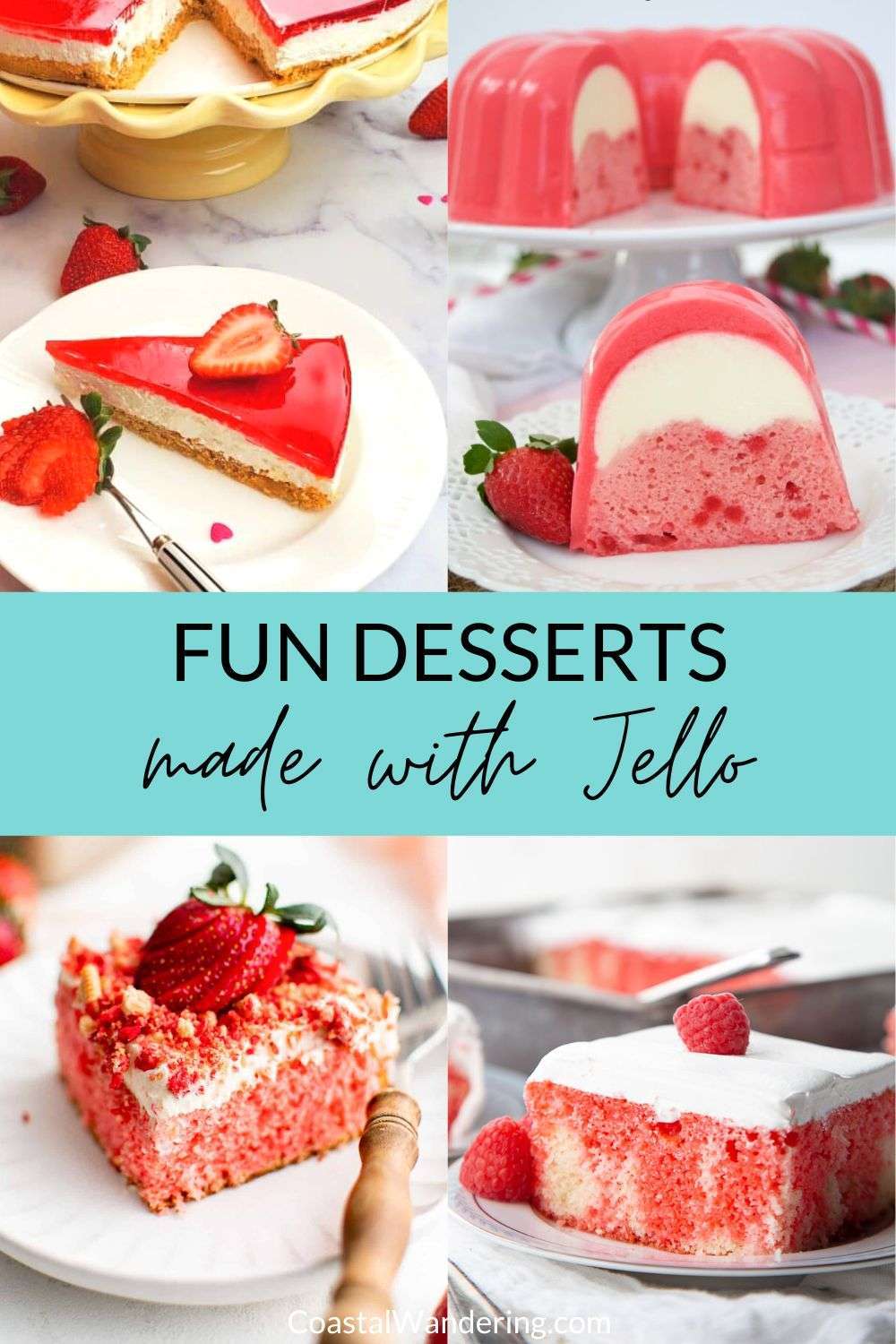 You probably remember the old school Jell-O box and jiggly flavored gelatin from childhood.
Get ready for some fun new desserts and snacks made with jello as the star ingredient. The classic gelatin is combined with other ingredients like whipped cream, cream cheese, pudding, cake mix, pie crusts, and more to make these fantastic jello desserts.
Because it's festive, tasty, and colorful, any of these dessert recipes with jello make the perfect party or picnic dish. Get inspiration for your next family dinner, BBQ, or potluck with these fun jello recipes.
Best Jello Dessert REcipes
These fun and easy recipes give you plenty of options from no-bake desserts to those that stir together with just minutes of prep.
Photo Credit: hoteatsandcoolreads.com
This salad made with strawberry jello, tapioca, cool whip, and fresh strawberries is a pretty pink delight that you are sure to love.
Photo Credit: inthekitch.net
Homemade gummies are just the thing to make with a box of Jell-O in your favorite flavor and some unflavored gelatin powder. Try orange, lime, or cherry - kids love these sweet treats!
Photo Credit: belleofthekitchen.com
If you love those iconic ice cream bars, then this cake is just the thing to make. Of course, it is made with strawberry Jell-O in the cake mix! Golden Oreo cookie crumbs and freeze-dried strawberries add a crunchy texture.
Photo Credit: midwexican.com
This no-bake dessert is perfect for summer. Make it easy with a graham cracker walnut crust, a gelatin mixture with fresh raspberries for the filling, and whipped topping for a unique treat.
Photo Credit: deliciouslysprinkled.com
Nothing says summer like a sweet strawberry pie. The creamy jello pie filling is made with strawberry jello, boiling water, cold water, whipped topping, and fresh berries.
Photo Credit: livingsweetmoments.com
This dessert is a mash-up of great things! Cake, jello and flan all in one!
Photo Credit: giftofhospitality.com
You can't go wrong with a poke cake! Use your favorite flavor for a perfect dessert to share.
Photo Credit: thesaltandsweet.com
This cheesecake needs no baking and it has a sweet layer of fruit thanks to the jello!
Photo Credit: plattertalk.com
Jello is just the thing to add to strawberry pie to get that gorgeous color that makes for an eye-catching dessert. Serve with whipped cream and chocolate shavings to take it over the top.
Photo Credit: tinyvintagekitchen.com
Photo Credit: cincyshopper.com
7UP jello salad is a jiggly good dessert to share with your family after dinner. Unique ingredients like soda, cream cheese, mayonnaise, pineapple, and maraschino cherries go in this lime jello mold.
Photo Credit: www.findingzest.com
Lemon jello is just the thing to add to a poke cake for a bright and fruity dessert. Top each piece with a small lemon slice before serving.
Photo Credit: www.smalltownwoman.com
This jello salad is packed with fruit for a festive holiday treat. This might be a new favorite cranberry side dish to fo with Thanksgiving dinner.
Photo Credit: balancingmotherhood.com
This no-bake Christmas treat is so festive for the holidays. You will appreciate this after so many indulgent goodies!
Photo Credit: www.littlesweetbaker.com
These are a little sweet, a little salty, and very tasty! Take these to potlucks and watch them disappear!
Jello is a great way to add color, flavor, and fun to the typical dessert. If you're looking for something different, try these recipes for fun desserts made with Jello.