Planning your next beachside vacation? With wide sandy beaches, plenty of great restaurants, interesting historic attractions, and an abundance of fun outdoor activities, Tybee Island beach in coastal Georgia is the perfect spot for a relaxing weekend getaway.
Here are the best things to do in Tybee Island.
Located just a short 30-minute drive away from downtown Savannah, this small coastal community is the perfect place to visit no matter whether you're planning a beach getaway, a day trip from Hilton Head or Savannah, or weekend stop on your Atlantic Coast road trip.
Tybee Island was actually previously known as "Savannah Beach." Located at the mouth of the Savannah River which divides Georgia and South Carolina, Tybee is just south of neighboring coastal islands Hilton Head and Daufuskie Island, SC.
This charming barrier island boasts over three miles of exquisite sandy shorelines – three oceanfront beaches and two river beaches. And all are open to the public. This seaside getaway is a beach lover's paradise!
Ready to start planning your Tybee Island beach vacation? Start searching for the best hotels now.
Tybee Island Beach Guide
Tybee Island is regularly named one of the top-rated beach locations in the entire country, so pack your beach gear for the day. We're going to the beach!
Whether you head to North Beach, Mid Beach, South Beach, the Savannah River Beach, or the Back River Beach, you're sure to enjoy the beautiful views and relaxing coastal vibe that you'll find across all of Tybee Island. And while the Tybee Island beaches are not pet-friendly, you should check out the nearby dog parks and wildlife trails if you're traveling with your canine pal.
Here's a quick guide to each of the main beach areas on Tybee Island.
North Beach
North Beach is the first beach you'll see as you arrive on Tybee Island. Given its proximity to Savannah, you won't be surprised to learn that this is a favorite spot among the Savannah locals.
If you have a chance to visit all of the main beaches on the island, you'll notice that North Beach sand isn't as soft as South Beach. But the beach is much quieter. This is a great place to read a book, enjoy the bird-watching, or count the cargo ships as they enter the nearby ports of Savannah.
Of course, you can also enjoy faster-paced activities like deep-sea fishing, jet-skiing, sailing, kayaking, or you can even sign up for a surf lesson or two! As far as visitor amenities go, North Beach has a paid parking lot, as well as nearby restrooms and foot washing stations.
In addition to being Tybee Island's primary shopping district, the North Beach area also offers a wide range of boutiques and fun eateries. Be sure to check out Sundae Cafe!
Mid Beach
This is the quietest of the three main beaches, mainly due to its location and limited beachside amenities. But don't let that stop you from enjoying a secluded main Tybee Island beach experience. This stretch is definitely the place to get the best of both worlds.
Mid Beach is a particularly great spot if you like to collect seashells for crafts. You might even spot a shark tooth or two as you search for the perfect seashell!
To find Mid Beach you'll follow Highway 80 to just south of Lovell Avenue. And while many might consider this beach to have limited amenities, you'll still find a healthy handful of dining options in the area, including The Deck Beach Bar & Kitchen.
South Beach
This is considered to be Tybee Island's downtown district. South Beach is absolutely loaded with fun things to do – shops, restaurants, bars, the Tybee Pier, and plenty of other neat attractions. But, of course, the beach is always the star of the show in my books.
Of the three main beaches, South Beach has the softest sands and mildest waves, typically making it the busiest beach and the most popular with island visitors. You'll find a large parking lot nearby and a lifeguard almost always on hand.
With all of this in mind, you won't be surprised to learn that this is a favorite hangout for families on vacation. It's the perfect spot to kick back, relax, and enjoy a fun-filled day in the heart of Tybee. Take a walk, shop for a beach souvenir, and enjoy the view!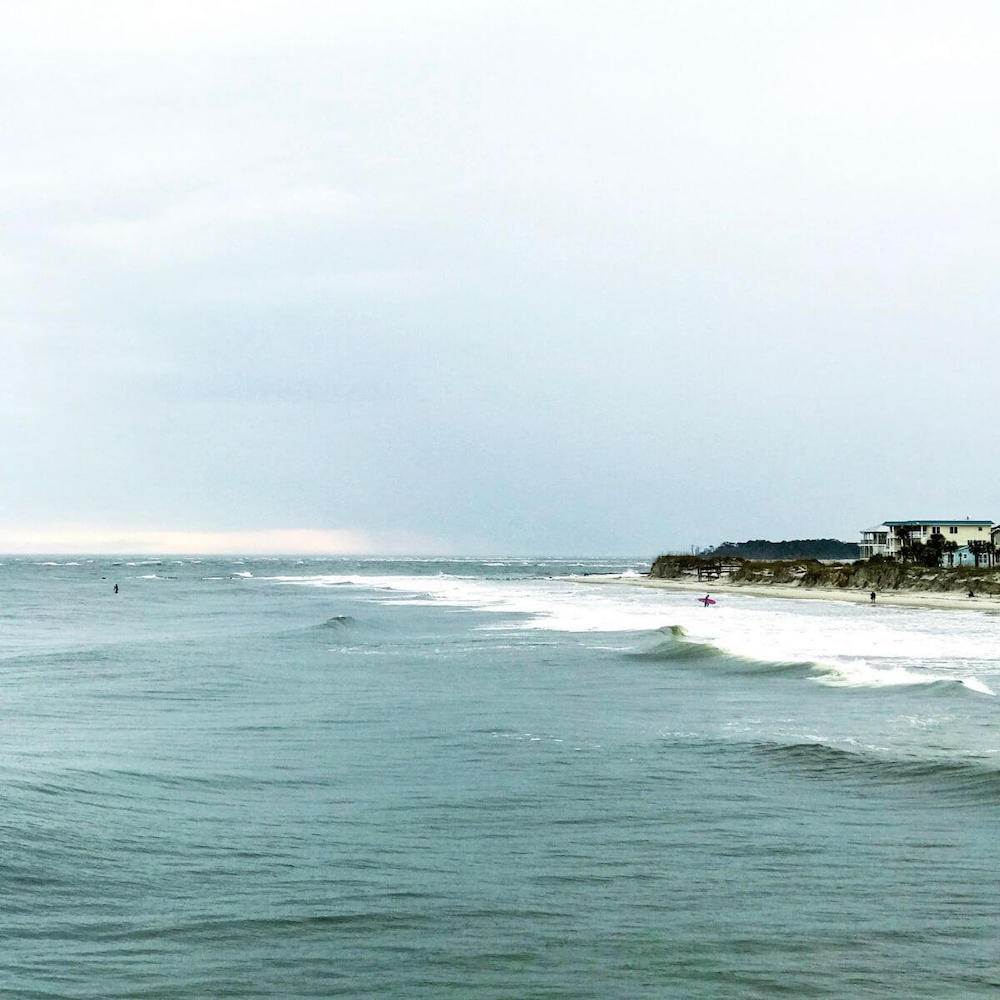 Savannah River Beach
This quiet beach is located just a stone's throw away from the more popular North Beach. You can even park in the North Beach parking lot to access it! From the parking lot, you'll need to find the north bridge, and turn left to walk on the beach past the jetties.
This peaceful river beach can be a little tricky to find, but it's worth the short walk. Especially if you're tired of the main beaches.
Back River
Some call the Back River beach Tybee Island's secret beach...and rightly so. This is the perfect spot to visit when you need to escape the main beach crowds. You'll find this secluded stretch of sand at the end of Highway 80. It may require a short drive, but you'll be glad you hopped in the car when you catch a glimpse of the wide sandy shores and gentle waves. You might even spot of dolphin!
There are plenty of nearby restaurants (including The Crab Shack), so this is easily an area of the island where you could spend a whole day away from the hustle and bustle of the main drag.
RELATED: Must See Savannah Georgia Beach Locations
Tybee Island Restaurants
There are some wonderful restaurants on Tybee Island, no matter whether you're hanging out in North Beach, Mid Beach, South Beach, or around the Back River Beach area. Here are a few favorites to visit while you're on the island.
The Deck Beach Bar and Kitchen
Cap off your day on the North end of the island with cocktails and dinner at The Deck Beach Bar and Kitchen. And if you want your dinner with an oceanfront view? Then The Deck is the only restaurant on Tybee Island you should look to.
One glance at The Deck's menu and you'll see plenty of dishes inspired by the coastal cuisines of Australia, Mexico, and Hawaii. You'll have your choice of smaller dishes like crispy calamari, shrimp tacos, or shrimp ceviche (my favorite!) or larger plates like the shrimp po-boy or the fresh market fish, plus options for kids.
Sit back, relax, sip on your favorite tropical cocktail and enjoy the view!
Sundae Cafe
You'll find Sundae Cafe tucked away near North Beach in a strip mall. But don't let that fool you. This is where the locals go. And you know it has to be good if the Tybee Islanders love it!
You can expect to find an eclectic mix of southern classics on their menu. Choose between dishes like Oysters Rockefeller, fried green tomatoes, crab cake sandwiches, fish taco wraps, or even a delicious-looking sweet and spicy pistachio-crusted tuna.
Be sure to make a reservation if you decide to visit Sundae Cafe. There's limited seating!
The Crab Shack
As you might have already guessed by its name, The Crab Shack has a colorful and rich history dating back to the early 1930s as a local fishing camp. You'll find this gem located a little further inland in the Back River area of Tybee Island.
You'll find simple fresh seafood options like raw or steamed oysters, baby clams, crawfish, and mussels, but it's the entrees you really need to check out. Seafood lovers will go crazy over the Snow Country Boil (snow crab plus a classic Low Country Boil) and the Captain Crab's sampler platter of shrimp, snow crab, rock crab, mussels, crawfish, corn, potatoes, and sausage. And while there's plenty of seafood dishes to choose from, you'll also find classic pub dishes like nachos, ribs, and roast chicken.
It might require a bit of time away from the main Tybee Island beaches, but this is a must-visit if you're in the mood for delicious seafood!
Historical Tybee Island Attractions
Much like the nearby city of Savannah, Georgia, Tybee Island is steeped in American history. Tybee is particularly well-known for its historic events dating back to the Civil War. Between Fort Pulaski, Fort Screven and the Tybee Lighthouse, there are plenty of fun historic sites to visit when you get tired of the beach.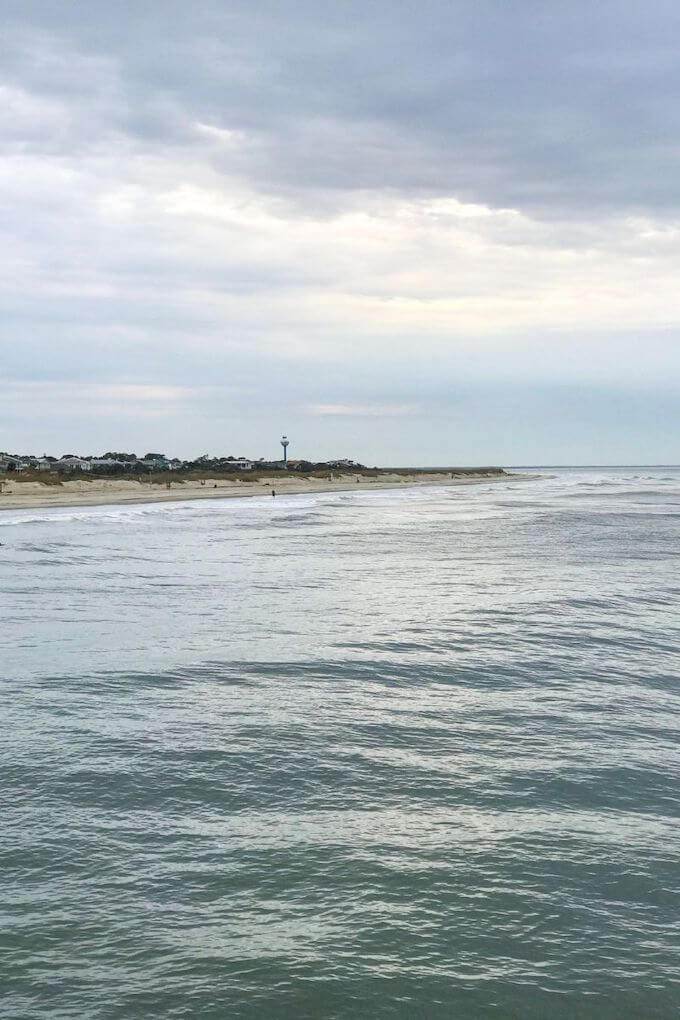 Fort Pulaski
You'll find Fort Pulaski located between Savannah and Tybee Island, on Cockspur Island. While the fort is primarily known for the Siege of Fort Pulaski during the Civil War, this national monument dates back to just after the War of 1812. It was at this time that President James Madison ordered new coastal fortifications to fend off possible foreign invaders. After 18 years of construction, the fort was finally completed in 1847.
Today, visitors can enjoy plenty of outdoor activities on the national monument grounds – hiking, biking, fishing, and even bird watching are fair game at Fort Pulaski! You can even bring your furry friend to enjoy the day outside.
If you love hiking, then the Fort Pulaski nature trails are a must-do while you're in town. While there are several trails to choose from, the Lighthouse Overlook Trail and Historic Dike System Trail are the standouts. You'll catch views of the Savannah River, Tybee Island and a fantastic look at the Cockspur Island Lighthouse.
The Fort Pulaski National Monument is open from 9:00 AM to 5:00 PM daily, except for major holidays like Thanksgiving, Christmas, and New Year's Day. There is a small entrance fee, but it's valid for an entire week. Fantastic if you're hoping to squeeze in multiple hikes!
Fort Screven
Fort Screven, located on the North end of Tybee Island, was built around 1875. It was used during three wars - the Spanish-American War, World War I and World War II.
Although the fort was never restored, it's worth visiting for the panoramic views of the Savannah River and the Atlantic Ocean. It's also where you'll find the Tybee Island Light Station and Museum.
Tybee Lighthouse
Why not visit Georgia's oldest (and tallest!) lighthouse during your visit? While the current lighthouse was built in 1916, the origins of the Tybee Island light station date back over 285 years!
The original lighthouse construction was ordered by General James Oglethorpe in 1732 and the lighthouse was even used as a signal tower to warn of possible British attacks during the War of 1812. Today, the lighthouse stands 145 feet tall. Visitors can climb up the stairs (178 steps) to get a birds-eye view of the nearby light keeper's cottages and plenty of the surrounding coastal area.
The Tybee Lighthouse is open daily from 9:00 AM to 5:30 PM, with the last tickets sold daily at 4:30 PM. Your admission fee also includes access to the Tybee Raised Cottage and the Tybee Museum in Battery Garland. Take note that the lighthouse closes on Tuesdays and major holidays, so plan your visit accordingly.
Other Attractions On (Or Near) Tybee Island
And if the beautiful beaches, coastal restaurants, and local historical sites aren't enough to fill out your beach vacation itinerary, here are a few more Tybee Island attractions to check out during your visit.
Tybee Island Beach Pier & Pavilion
If you're hanging out in the South Beach area, you'll want to take a walk over to the Tybee Beach Pier. Entrance is free! This is the place to catch spectacular panoramic views of the Atlantic Ocean and all of the action in the surrounding South Beach area. And the seaside pavilion provides picnic tables, shade, and snacks when you're ready to take a break from the beach.
Tybee Marine Science Center
If you have a soft spot for sea turtles (and marine wildlife in general), then you'll love the Marine Science Center. No matter whether you join the Turtle Talk, Sift 'n' Seine marsh tour, or take a guided walk along South Beach, this is the perfect place to learn more about your favorite seafaring creatures and how we can help preserve their natural habitat, as well as Georgia's coastal resources.
The Tybee Island Marine Science Center is open daily for drop-in activities from 10:00 AM until 5:00 PM. You'll find it located near the Tybee Island Pier.
Little Tybee Island
If you're looking for a little solitude in the great outdoors, then Little Tybee Island is the spot to visit. Contradictory to its name, this nearby island is actually twice as large as the main island. This beautiful, completely uninhabited barrier island nature preserve is pet-friendly and perfect for camping, fishing or an evening picnic under the stars.
Visiting Little Tybee Island is also a great excuse to get out on the water. The island is only accessible by boat! You can hop in your kayak, set out on your jet-ski, or rent some boating gear at a nearby shop. But if I were you, I would recommend visiting by kayak because this is the best way to see the salt marshes.
If you decide to visit Little Tybee Island, you'll want to make sure you take note of the upcoming tide changes. As one would expect on a coastal island, they change rather drastically every six hours.
Sunset Cruises & Dolphin Tours
Tybee is an excellent place to get out on the water. Whether you're a fan of deep sea fishing, marine life watching, or sunset watching, you'll find an informational guided tour or relaxing boat tour to explore. Check out Captain Mike's Dolphin Tours.
And if you love more active attractions, try a water sports excursion. Rent a jet ski, take surfing lessons, or paddle a sea kayak.
Historic Savannah District
If you're looking for a short day trip excursion, look no further than Savannah's Historic District. The 30-minute drive is worth it when you catch a look at the quaint cobblestone streets, lush parks filled with Spanish moss-laden trees, and plenty of historic sites.
You could spend an entire vacation in Savannah, but if you're just in town for the day then be sure to check out Forsyth Park and Savannah's historic squares. You'll definitely get your fill of beautiful greenery and southern charm between these two tourist attractions.
Tybee Island Is The Perfect Beachside Getaway
Whether you want to play in the surf, build a sandcastle, bike your way along the shoreline, or simply kick back with a good book, Tybee Island is the place to go.
Ready to start packing your beach bag? Start searching for the best beachfront vacation rentals in Tybee Island now.