Planning a beach vacation? Look no further than the beautiful coastal destinations of Georgia. The cities of Atlanta and Savannah might spring to mind first, but Georgia's shoreline is home to some of the most beautiful beaches in the United States! Here are the key details you need to know about visiting the best Georgia beaches.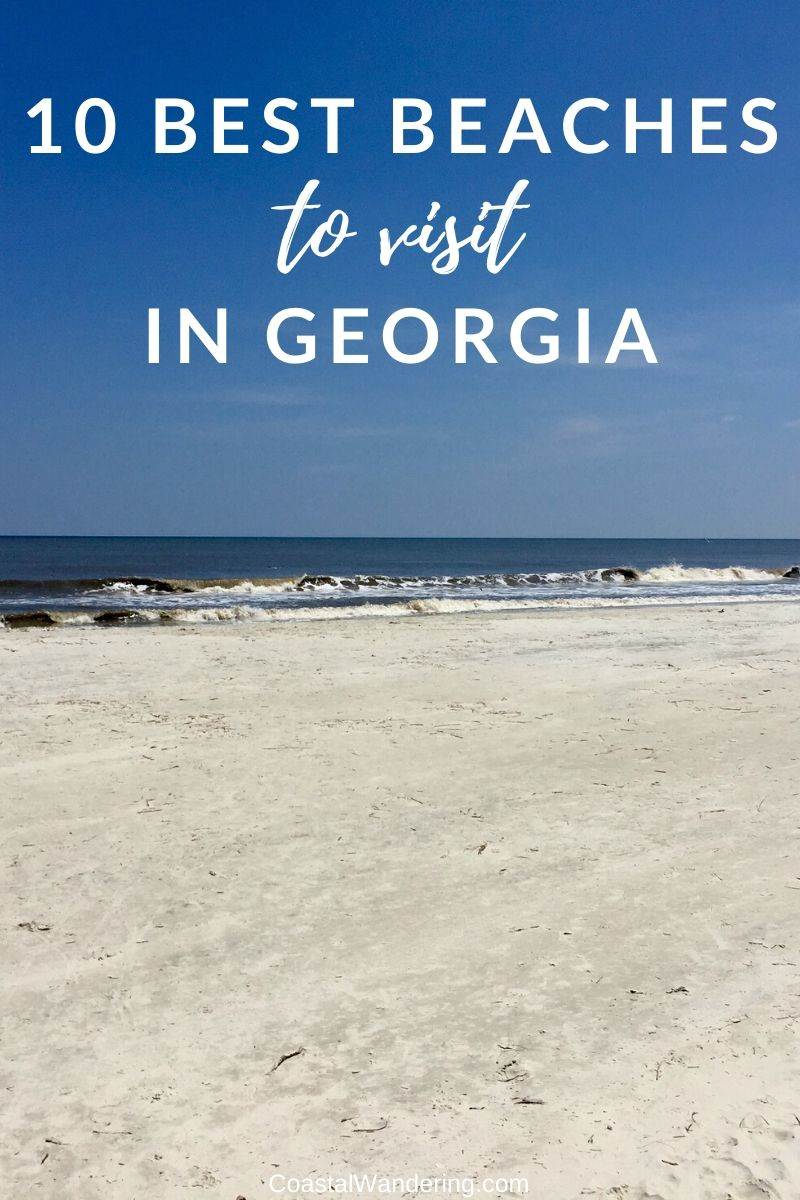 Sometimes you just need to get out of the city. Toes in the sand, wind in your hair and ocean spray on your skin. And if you're looking for the perfect place for a beautiful beach getaway, there's no need to venture to the Caribbean or the ever-popular Florida! But why not look at coastal Georgia instead?
Whether you're planning a day trip or a weekend getaway, the best Georgia beaches offer plenty of choices. Sunbathing? Yes. Fishing? Yes. Boating? Yes. Shelling? Absolutely. No matter what type of traveler you are, there's plenty to do and see on the Georgia coast.
Jump to:
10 Top Beach Destinations on Georgia's Barrier Islands
With about 100 miles of Atlantic Ocean shoreline between South Carolina and Florida, is it any wonder that Georgia boasts a fantastic selection of quaint coastal towns and beautiful beach destinations. There are plenty to choose from throughout the state parks, but you'll find some of the best Georgia beaches on the small barrier islands located just off the coast.
The barrier islands offering the best beaches are:
St. Simons Island
Tybee Island
Jekyll Island
Sapelo Island
Cumberland Island
To search for the best hotels in Georgia, click here.
Here's a closer look at the beautiful beaches that each of these barrier islands offers.
St. Simons Island
St. Simons is the largest of Georgia's Golden Isles and it offers plenty of attractions for beach-goers. The island also offers fresh seafood, historic architecture, and streets lined with live oaks dripping with Spanish moss.
Planning a beach getaway to St. Simons puts you near not only the local East Beach but also the nearby beaches on Jekyll Island, Sea Island, Little St. Simons Island and Brunswick. Making it a great home base for your adventures in the Golden Isles with easy access to dining, shopping and excursions.
East Beach
Also known as St. Simons Island Beach, you'll find East Beach stretching along the ocean side of the island. There are over 40 public beach access points along East Beach, though one of the most popular beach sections is found at Massengale Park.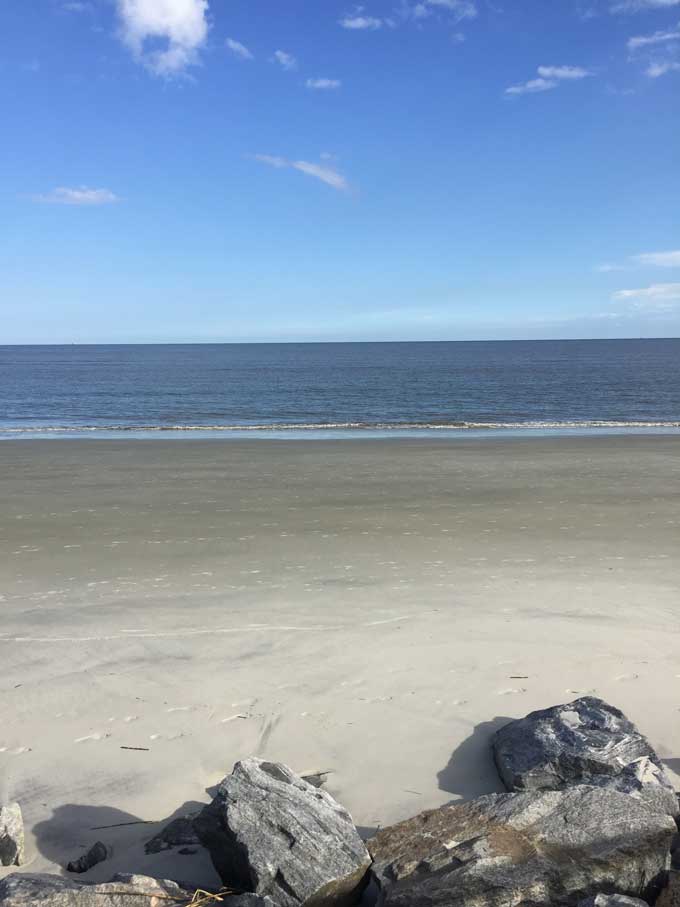 This beach destination is popular with beachcombers and bird watchers, because of the wide variety of wildlife you can find on the island.
If you love learning about local wildlife, you'll definitely want to check out the Georgia Beach Walks–perfect for learning more about your natural surroundings and the history of the barrier island! Likewise, the marine life is equally exciting. You might see whales, dolphins or even a manatee during your visit!
If you're planning to kick back with a book on the beach, pack a comfy beach chair with your beach gear. East Beach has notoriously hard-packed sand. It's perfect for riding a bike but decidedly uncomfortable for sunbathing.
Other points of interest on St. Simons Island include:
Pier Village
St. Simons Lighthouse
Neptune Park
Fort Frederica National Monument
Gascoigne Bluff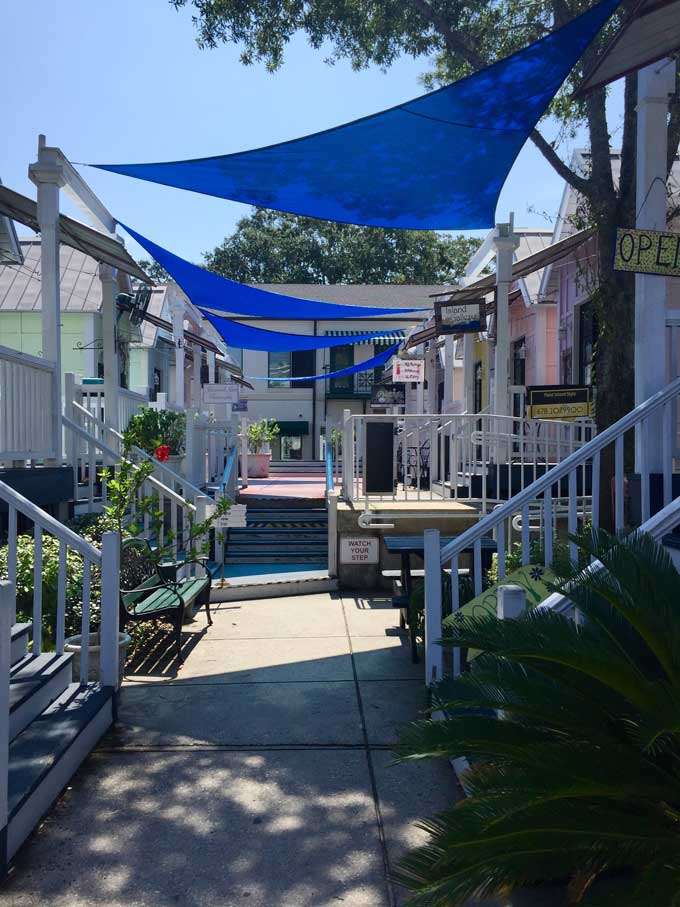 You can read more about the top things to do in St. Simons Island here.
Tybee Island
If you find yourself in Savannah, you owe it to yourself to visit Tybee. Located just 30 minutes outside the heart of Savannah, it's no wonder it was called "Savannah's Beach."
On Tybee Island, you'll have a selection of three ocean-facing beaches and two river beaches. But they're not just the best Georgia beaches, these are some of the top-rated beaches in the U.S.!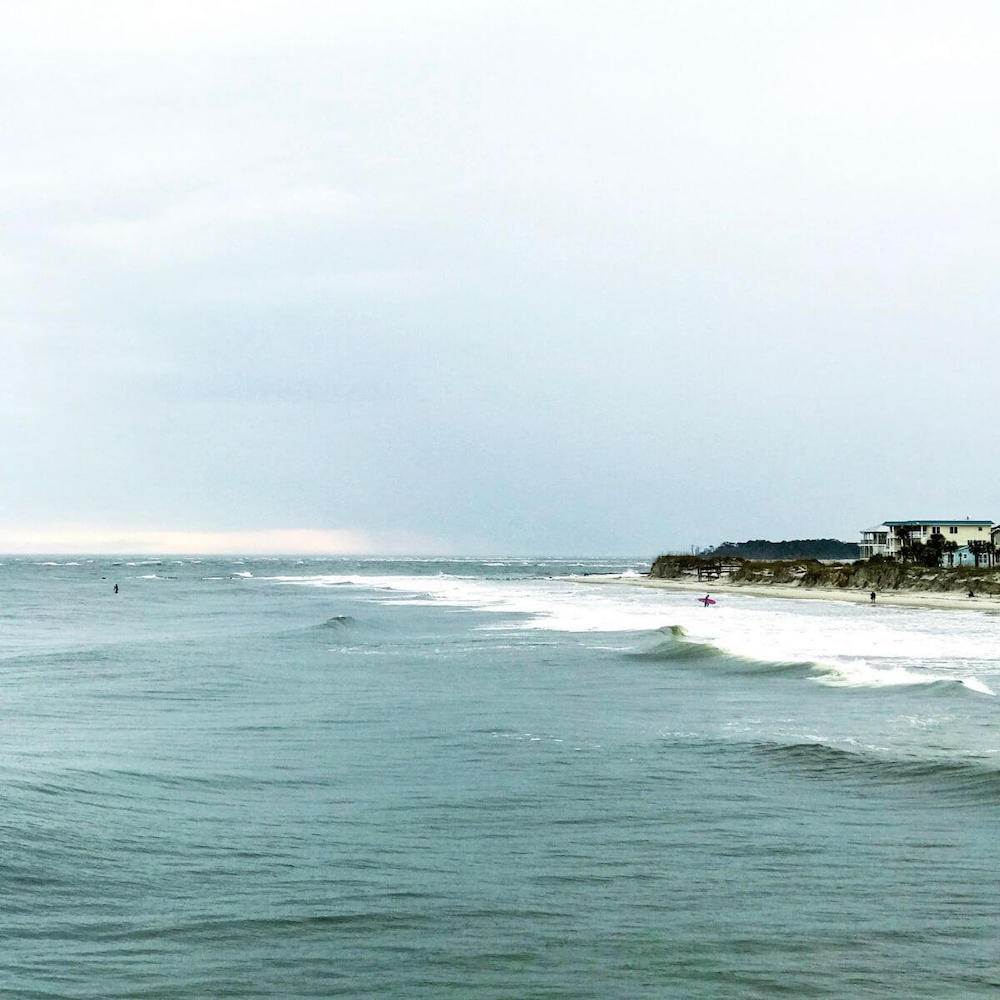 While the Tybee Island public beaches are not pet-friendly, you will find nearby dog parks and wildlife trails to explore alongside your four-legged companion. Likewise, if you paddle over to Little Tybee Island, it's also pet-friendly.
North Beach
North Beach is the first beach you'll see as you arrive on Tybee Island. It's near Tybee's shopping district, so if you love to shop (or you're traveling with a shopaholic) this will be a great place for you. Beachside you can expect to see a variety of water activities to enjoy, including sailing, surfing, kayaking, and jet skiing.
The sand isn't as soft on North Beach as it might be on South Beach, but North Beach is much quieter. If you're after a relaxing day spent with a good book, this is the beach for you.
You'll also find Georgia's oldest and tallest lighthouse nearby. You can explore over 400 years of island history between the Tybee Island Lighthouse and Museum!
Mid Beach
Located between North Beach and South Beach, Mid Beach is the quietest of all the Tybee Island Beaches. This is likely because of its primarily residential location, limited beachside amenities and more difficult to locate the entrance. But it's easy to find once you know where to look—just follow Highway 80 to just south of Lovell Avenue.
Beachcombers take note—Mid Beach is the best Tybee beach for collecting seashells. You might even spot a shark tooth!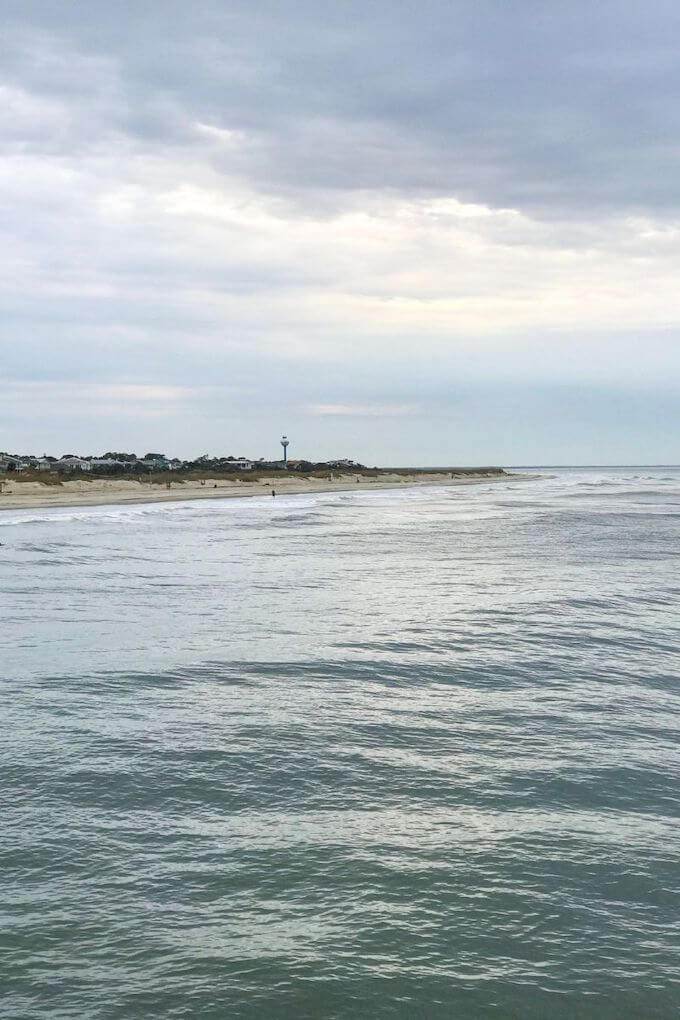 South Beach
If you're looking for downtown Tybee Island, this is where you need to be. Considered Tybee's downtown district, South Beach offers plenty of selection in shops, restaurants, bars and the Tybee Pier and Pavillion picnic areas, and the Tybee Island Marine Science Center.
Of the three ocean beaches, South Beach is known for gentle waves and soft sand. It also has the biggest parking lot of the three beaches and you'll almost always see a lifeguard on duty. Of course, these factors make it the busiest beach on the island and a particular favorite for those looking for a family-friendly beach.
If you're on Tybee Island, you may also want to check out:
Savannah River Beach
Back River Beach
Fort Pulaski National Monument and nature trails
Tybee Lighthouse
Little Tybee Island
Local tip: For another river beach option even closer to Savannah, check out Butterbean Beach.
Jekyll Island
Here's another gem among the Golden Isles of Georgia. You'll find Jekyll Island just a short drive off the I-95, located just south of St. Simons Island and connected by a bridge to the mainland of Georgia (near Brunswick).
Whether you're looking for a day outside the city or a longer beach getaway, the Jekyll Island Georgia State Park offers plenty of natural beauty, southern charm and over 10 miles of pristine white sand beaches. It's also the home of the Georgia Sea Turtles Center.
And for history buffs, the island has plenty of historic sites with the Jekyll Island Club Resort and cottages that were once owned by Vanderbilts, Rockefellers, Pulitzers, and Carnegies.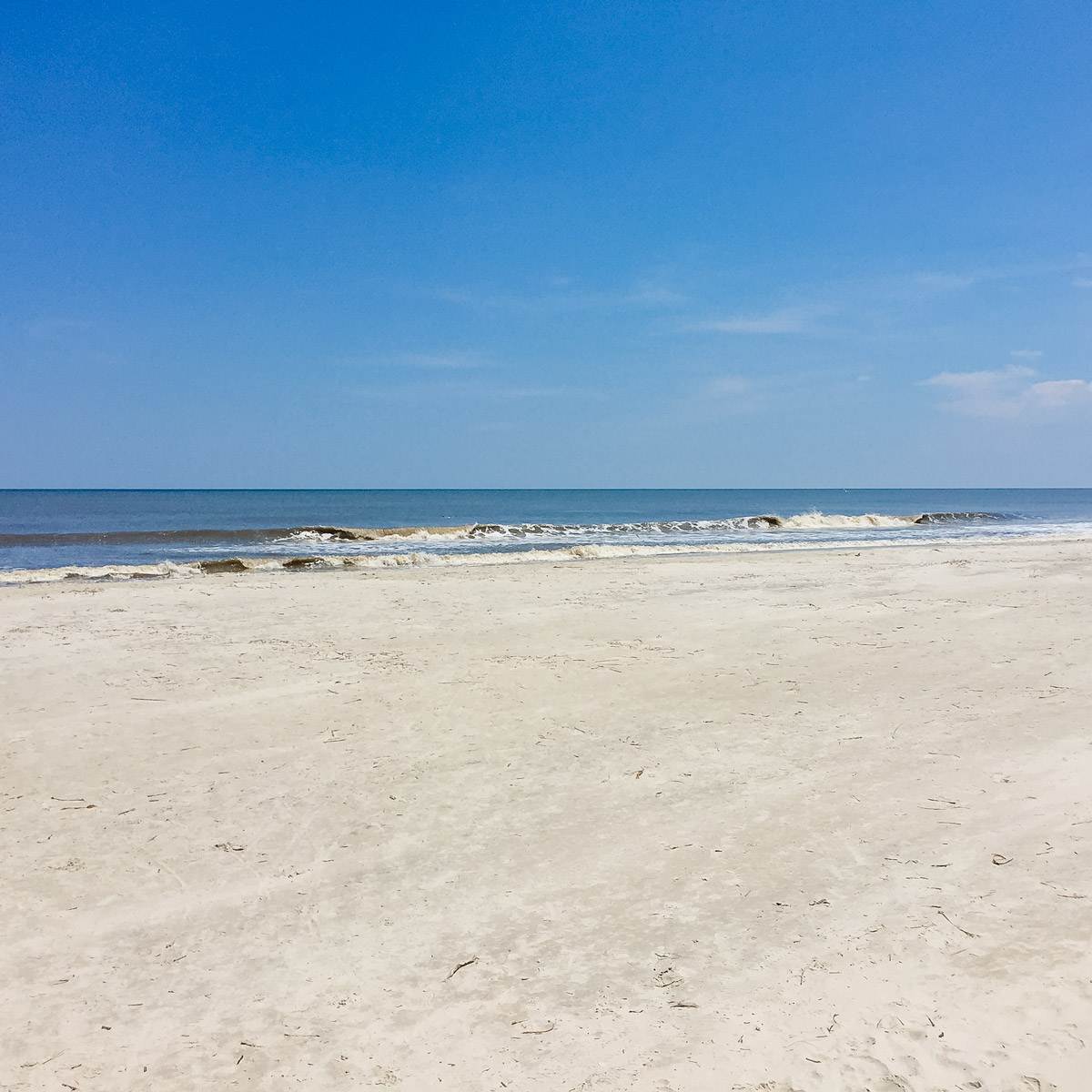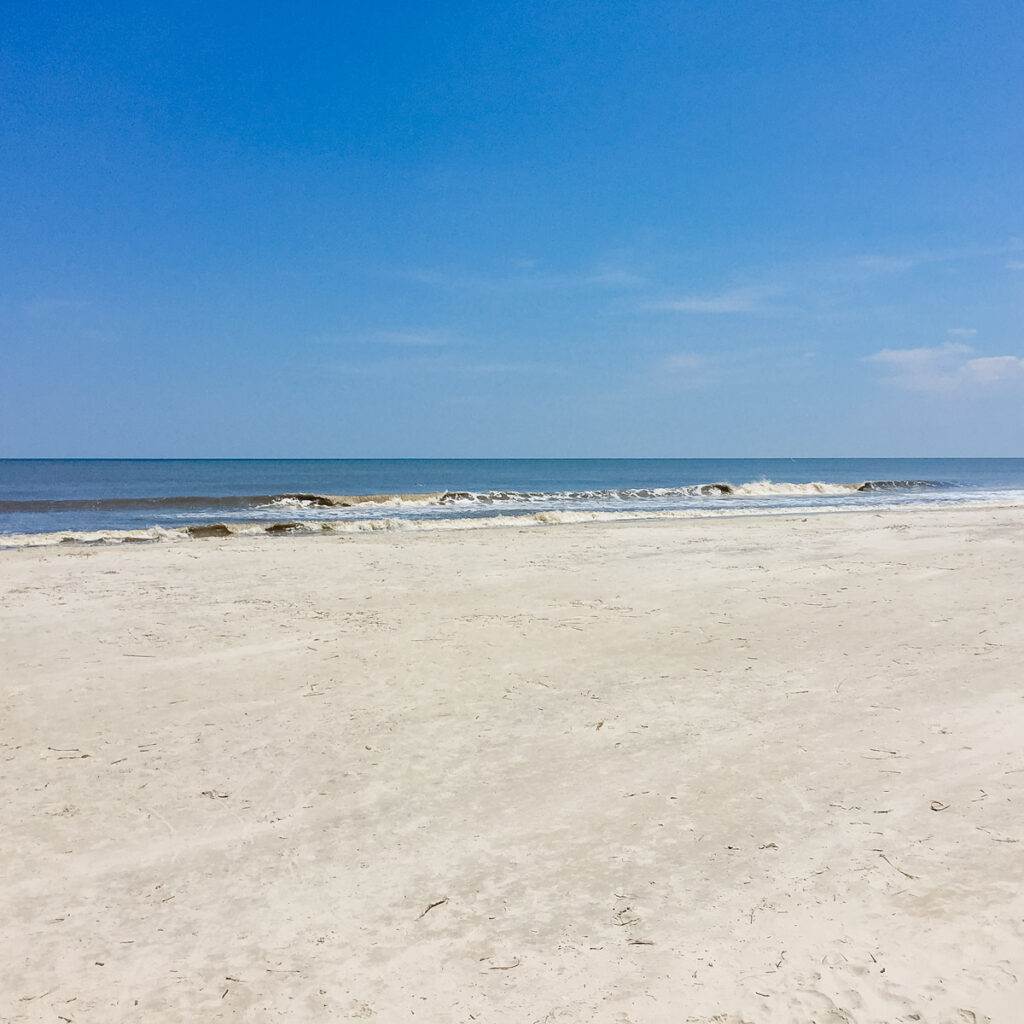 Here are the best Georgia beaches to visit on Jekyll Island.
Glory Beach
You might recognize this sandy beach as a key filming location for the Academy Award-winning film, Glory. Located on the south end of the island, just south of South Dunes, you can access this beautiful Georgia beach by the boardwalk near the Jekyll Island Soccer Complex.
Besides the golden sand dunes, visitors are also likely to spot local wildlife and birds. In fact, this beach is a bird sanctuary and is a favorite for birdwatchers. Important to note that due to the nesting shorebirds, this beach is a year-round no-pet area.
Driftwood Beach
While Driftwood Beach might be a little off the beaten path, it's incredible sculpture-like trees make it a must-see destination while you're on the island. You'll find a short path connected to a small parking area on Beachview Drive North–this is your pathway to the beach!
While the beach is named for the driftwood that washes up on shore year-round, you'll notice that the trees growing along this beach look unusual–they grow downwards! This is because of various environmental changes and local soil erosion.
The result? Trees that appear to be falling. Both these unusual looking trees and washed up driftwood make for an almost art-gallery like viewing of Mother Nature's finest sculptures.
Pro Tip: Try to time your visit to Driftwood Beach during low tide so you can see more of the beach and stunning natural scenery. And don't forget to pack some bug spray in your beach bag!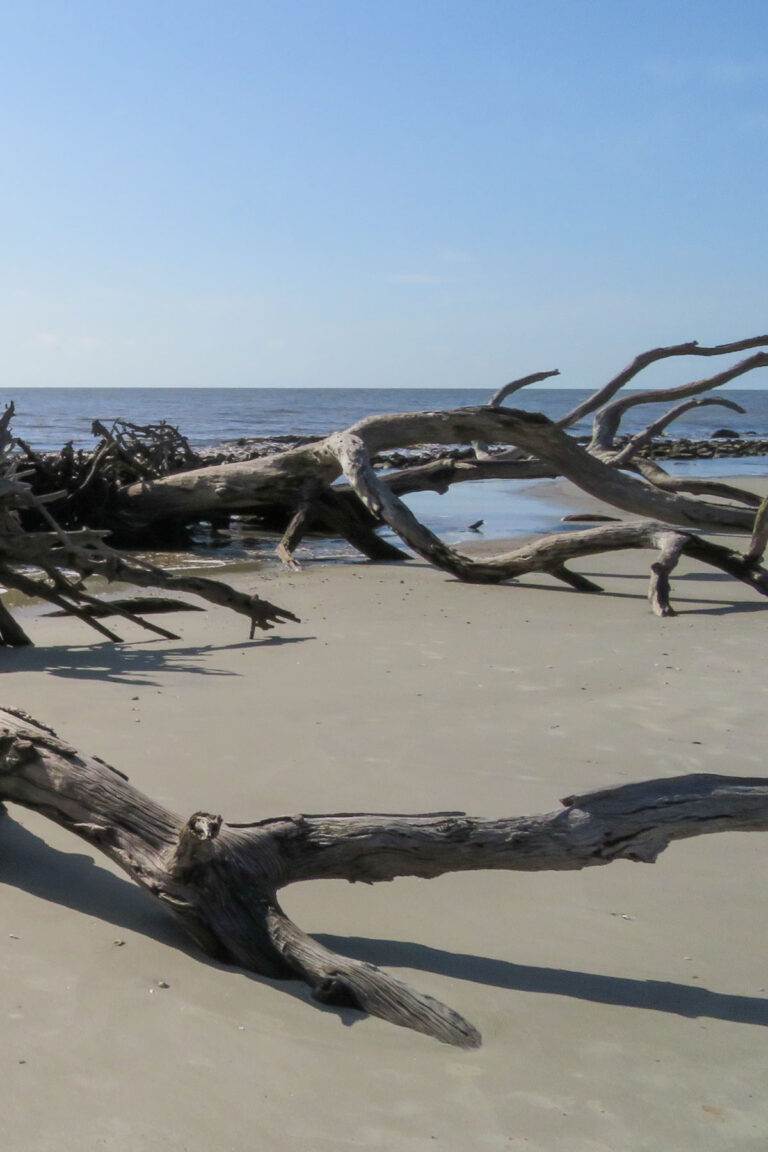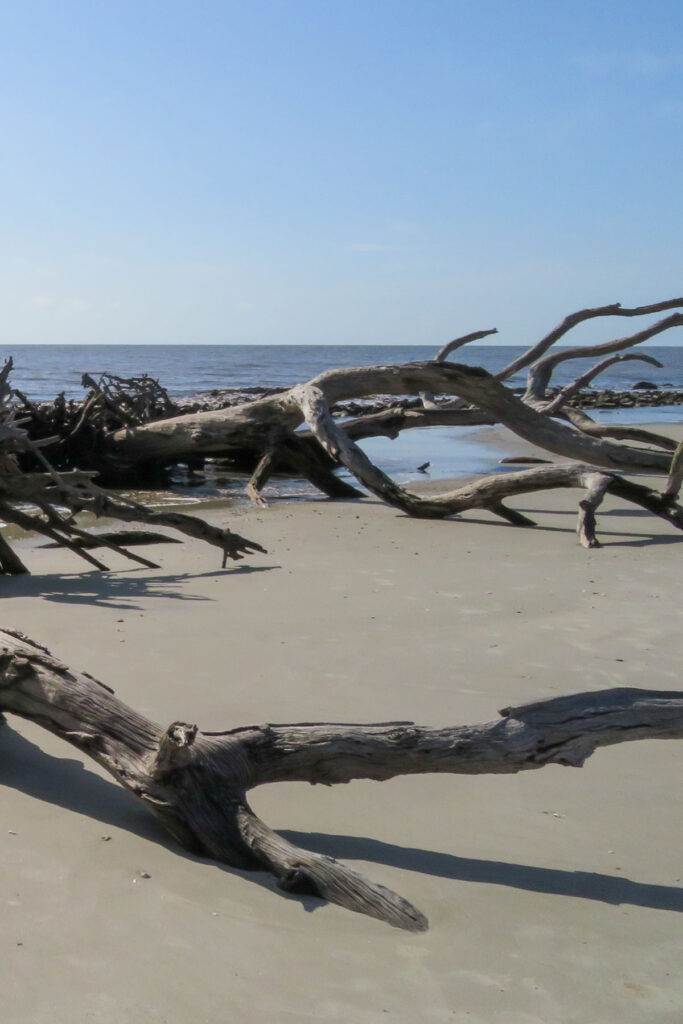 St. Andrews Beach
St. Andrews Beach may not be the best place to swim but it is absolutely the place to be if you're at all interested in bird-watching, dolphin watching or shelling. St. Andrews Beach overlooks Jekyll Sound on the riverside of the island, located just a short walk from Jekyll Point on the southern end of the island.
St. Andrews Beach also features plenty of local driftwood, though the beach itself is much smaller than Driftwood Beach. As with Driftwood Beach, try to time your visit during low tide as there's not much shoreline when the tide comes in.
While visiting Jekyll Island you may also want to check out:
South Dunes Beach
Oceanview Beach
Great Dunes Beach Park
Georgia Sea Turtle Center
Wanderer Memorial
Beach Village
Scenic golf courses
You can read more about the best things to do on Jekyll Island here.
Sapelo Island
Unlike the previous barrier islands mentioned, Sapelo Island is a state-protected island that requires you arrive with an approved tour group.
Sapelo Island is only accessible by ferry departing from Sapelo Island Visitors Center or plane. I recommend the ferry–it's only a short trip! All in all, a visit to the island requires a little more planning, but the Sapelo Island beaches are worth the forward thinking.
Nanny Goat Beach
You'll find Nanny Goat Beach on the southeast side of the island. This beach is often used by the Sapelo Island National Estuarine Research Reserve, so you may see groups out and about on beach walks.
With nearly 2 miles of shoreline, Nanny Goat Beach is a fantastic place to visit if you love beach-combing–there are plenty of whelk shells and sand dollars along the beach. Likewise, with no coastline commercialization, the local wildlife is plentiful.
Blue heron, osprey, and even bald eagle sightings are fairly normal here! Nanny Goat Beach is a fantastic spot to take a quiet walk and soak in your beautiful natural surroundings.
Don't forget to walk the nearby trail that connects this beach with the Reynolds Mansion grounds!
Cabretta Beach
North of Nanny Goat Beach you'll find Cabretta Beach and the Cabretta Campground. If you love camping, spending a weekend at a Cabretta campsite is a must-do. You'll trade in the hustle of more populated coastal destinations for a unique experience on one of Georgia's most remote (and most beautiful) islands.
As with Nanny Goat Beach, Cabretta's hard-packed sands are better for walking and exploring the shoreline than it is for swimming.
If you find yourself on Sapelo Island, you might also want to check out:
Hogg Hammock
Sapelo Lighthouse
Reynolds Mansion
You can read more about day-tripping on Sapelo Island here.
Cumberland Island
Incredible sandy shorelines, clear blue lakes, and stunning southern greenery make Cumberland Island is a nature lover's dream come true. This is the best Georgia beach to visit if you love exploring hiking trails and spotting local wildlife.
Cumberland Island National Seashore
Spanning across most of Cumberland Island, the Cumberland Island National Seashore has 17 miles of beaches. Like Sapelo Island, this island is only accessible by boat. You can catch a ferry over in the nearby town of St. Marys. There's limited space on the ferry though, so it's best to make reservations in advance!
Managed by the National Park Service, the total island capacity is a maximum of 300 people. While this requires some extra planning, the major perk here is that it never gets crowded! Though you may see wild horses walking down the roads and trails.
For great views of the forest beach and salt marshes, you'll want to check out Sea Camp Beach. If you're looking for a more backcountry experience, make your way to Stafford Beach–it's particularly well-liked by beachcombers for its coquinas, shark teeth and moon snails.
If you're visiting Cumberland Island, also look at:
Cumberland Island National Seashore Museum (in St. Marys)
Ice House Museum
Plum Orchard and Dungeness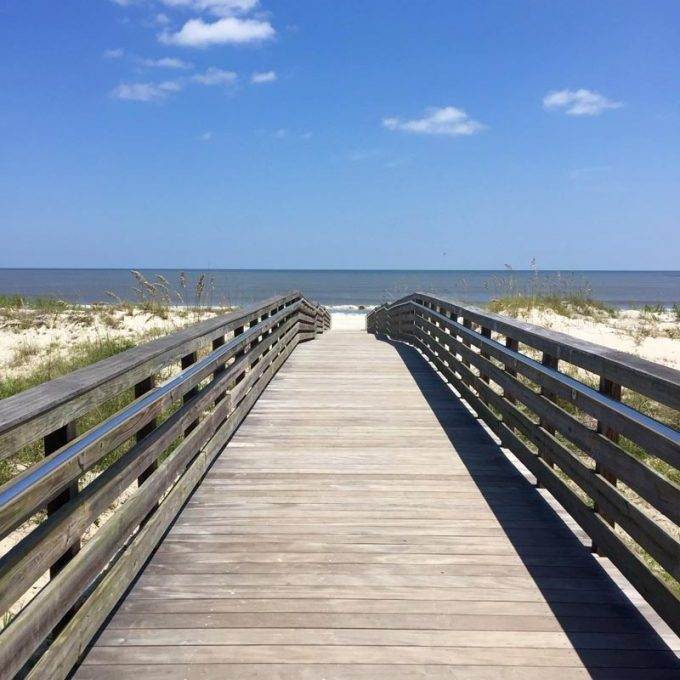 Visit Coastal Georgia Towns, Islands and Beaches
Whether you're looking for a relaxing beach getaway spent sunbathing or exploring a quaint coastal town, there's a beach destination in Georgia for every type of traveler. From Saint Simons to Tybee Island and beyond, there are plenty of options for both day trips and longer beach vacations.
Now that you know the best Georgia beaches the only question left is which coastal island will you visit first?
Ready to plan your beach vacation in Georgia? Start searching for the best hotels here.