Air fryer fish recipes are a great way for you to make a delicious seafood meal in no time at all.
From fish sticks to blackened salmon, they're perfect for those busy weeknights or when you don't want to cook a long and complicated meal.
The air fryer itself has made it such an easy way for us to save some time when it comes to cooking. And with that time being saved, we can spend more quality time together doing the things that we love to do so much.
An air fryer is essentially a mini convection oven that circulates air to bake the fish quickly on all sides. This makes recipes crispy and seals in the moisture like with deep frying, but without all the oil. In fact with most recipes, you just need a quick spray of oil on the food before adding it to the air fry basket.
Fast fish recipes for your air fryer
These air fryer fish recipes are easy to make and delicious. They're perfect for a quick weeknight dinner or will make a delicious dish to serve to friends and family for a casual dinner.
Lemon Dill Salmon
A refreshing salmon dish that you're sure to love, this air fryer lemon dill salmon is full of flavor and cooked just right. Recipe here.
RELATED: What To Serve With Salmon
Air Fryer Blackened Salmon
Easy and delicious, this crispy blackened salmon is made in the air fryer for a tasty dish the whole family will love. Recipe here.
RELATED: 20 Easy Leftover Salmon Recipes
Golden Fish Fillets
Cooked until perfectly crispy, these golden fish fillets are ready in just 20 minutes and makes for a delicious weeknight dish. Recipe here.
Airfryer Fish Sticks
Another quick and easy lunch, dinner, or snack, these fish sticks are made in the air fryer for a quick and easy meal. Recipe here.
RELATED: How To Make The Best Air Fryer Baked Potato
Baja Fish Tacos
If you enjoy a good Baja taco, these Baja fish tacos are easy to make and full of flavor. Recipe here.
Southern Fried Catfish
Full of southern flavors, this air fryer southern fried catfish is made using a flavorful fish fry mix everyone is sure to love. Recipe here.
Cajun Salmon Foil Packets
This low carb seafood recipe is cooked in a foil packet with broccoli and corn in the air fryer until just perfect. Recipe here.
Air Fryer Honey Teriyaki Salmon
Easy to make, this delicious honey teriyaki flavored salmon is made in the air fryer for a delicious dinner dish you are going to love. Recipe here.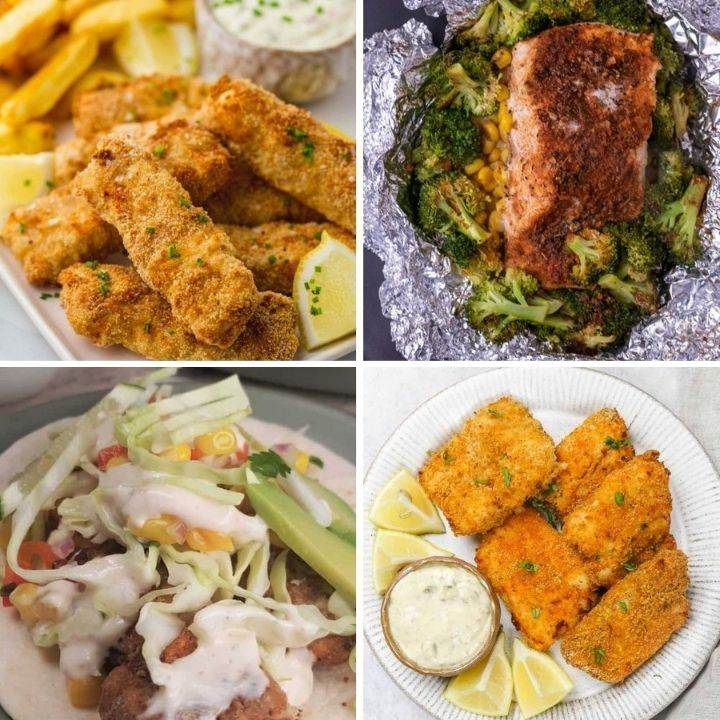 Air Fryer Chilean Sea Bass
Wrapped in prosciutto and placed on basil grits with sauteed eggplant, this tasty air fryer sea bass is a delicious dinner dish. Recipe here.
Cheesy Tuna Air Fryer Flautas
These cheesy tuna air fryer flautas will make a great way to mix up taco night! They will also make for a delicious dinner or a party appetizer. Recipe here.
Air Fryer Tilapia with Herbs and Garlic
You don't know what you are missing until you try this tasty air fryer tilapia that is made with fresh herbs and garlic. Recipe here.
Garlic Butter Salmon Bites
The perfect party appetizer, these garlic butter salmon bites will be a delicious treat to serve to friends and family. Recipe here.
Air Fryer Salmon Patties
A healthy meal that is also quick and easy, these air fryer salmon patties are crispy on the outside and tender on the inside. Recipe here.
Golden Air Fryer Fish Fillets
With this recipe for crispy golden Cajun air fried fish, you can indulge in a healthier version of super delectable, crunchy fish fillets without the guilt. Recipe here.
Catfish with Spicy Tartar Sauce
The perfect combination, this air fryer catfish is served with a delicious spicy tartar sauce that you are sure to love. Recipe here.
Looking for more easy seafood recipes? Try these: