How do you serve a tasty salmon dinner? Here are 20 delicious ideas recipes for side dish recipes to go with salmon, including sauces, salads and more perfect sides.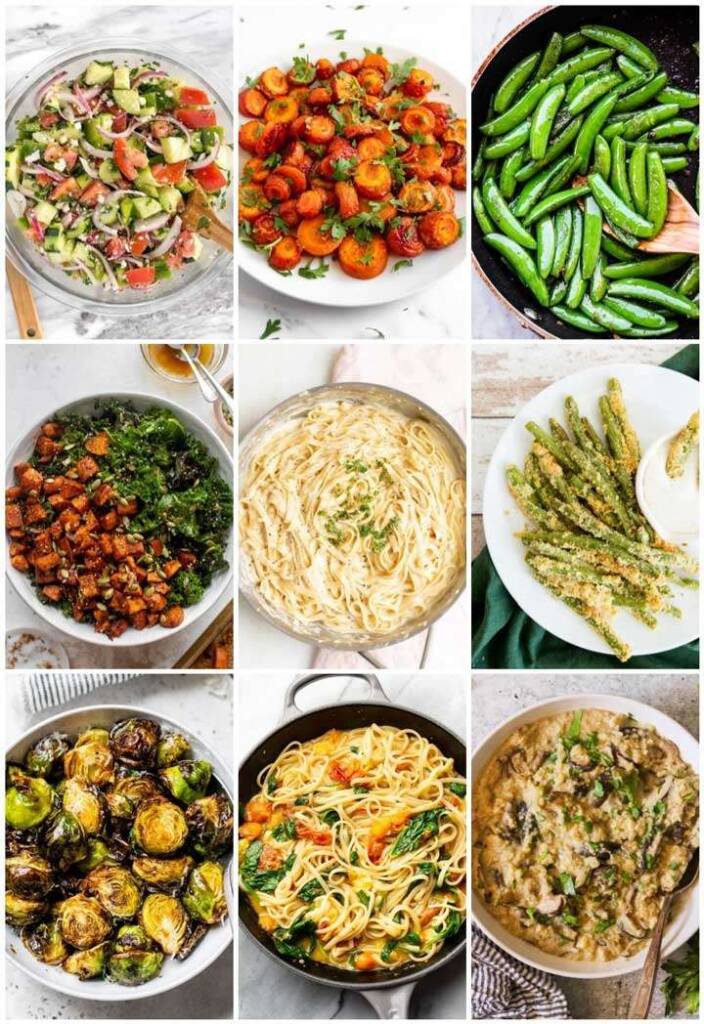 Salmon is quick and easy to cook, and easy to find in most markets. But what do you serve with salmon? Look no further than this collection of classic and creative salmon side dishes.
Rice, potatoes and pasta are delicious sides when flavored with herbs and other tasty ingredients that pair well with seafood.
You'll find easy and healthy recipes for vegetables such as cauliflower, peas, asparagus, broccoli and Brussels sprouts. As well as veggie "fries" to go with your salmon steak.
Fresh and seasonal salads are also a healthy side dish option that add variety, flavor and crunch to your meals.
Best Side Dishes For Salmon
Whether you're looking to enhance salmon leftovers or to round out an elegant dinner, you'll find savory ideas in this selection of best side dishes for salmon fillets.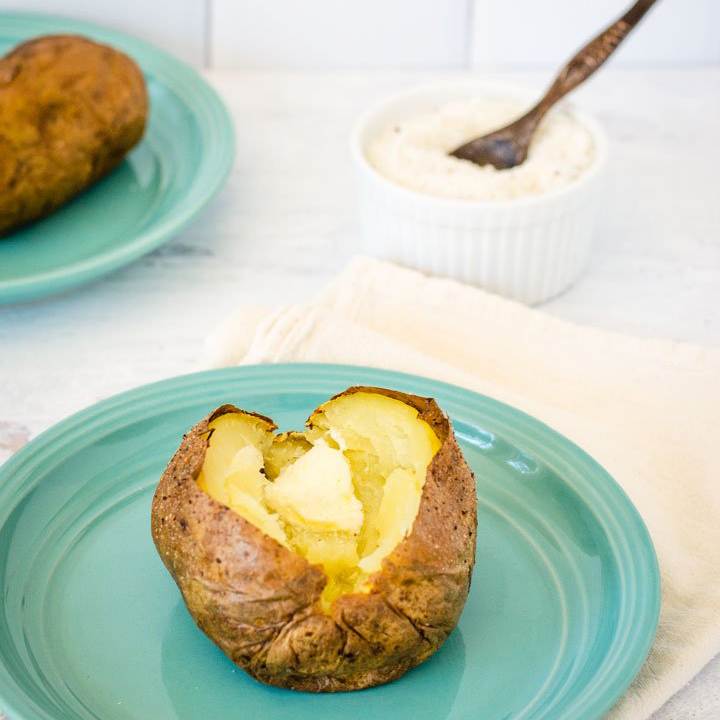 Air Fryer Baked Potato
The secret to a crispy outer baked potato shell is to coat the potato skin with a mist of oil and salt before adding to your air fryer to "bake" to tender perfection. Faster than the oven method of baking, you'll be delighted with these steamy potatoes just ready to split open and season with butter, fresh herbs and sour cream.
Recipe by Coastal Wandering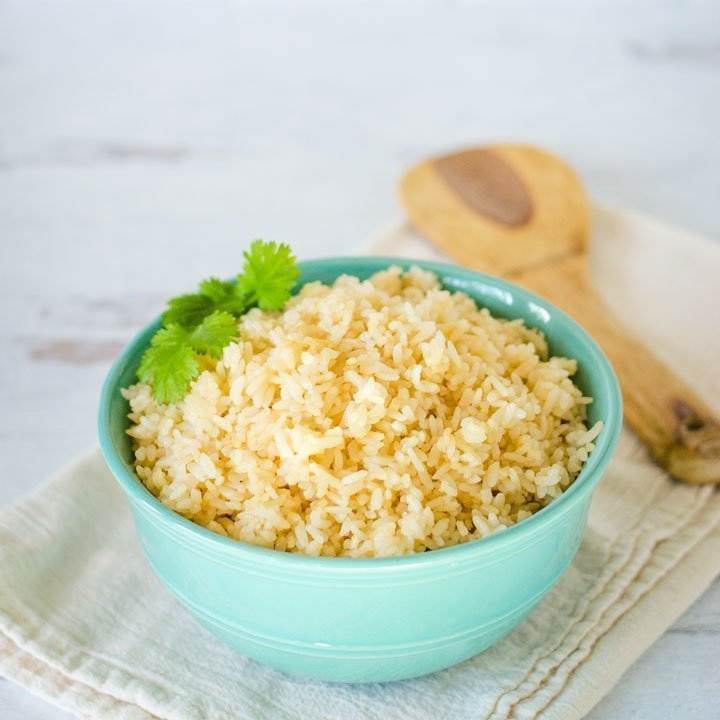 Carolina Gold Rice
Authentic southern rice from the low country of South Carolina is a delicious side dish for seafood. Cooking this rice in chicken stock gives this grain extra flavor and its golden color. Plate it up center-style and nestle a salmon filet right in the middle of this scrumptious rice.
Recipe by Coastal Wandering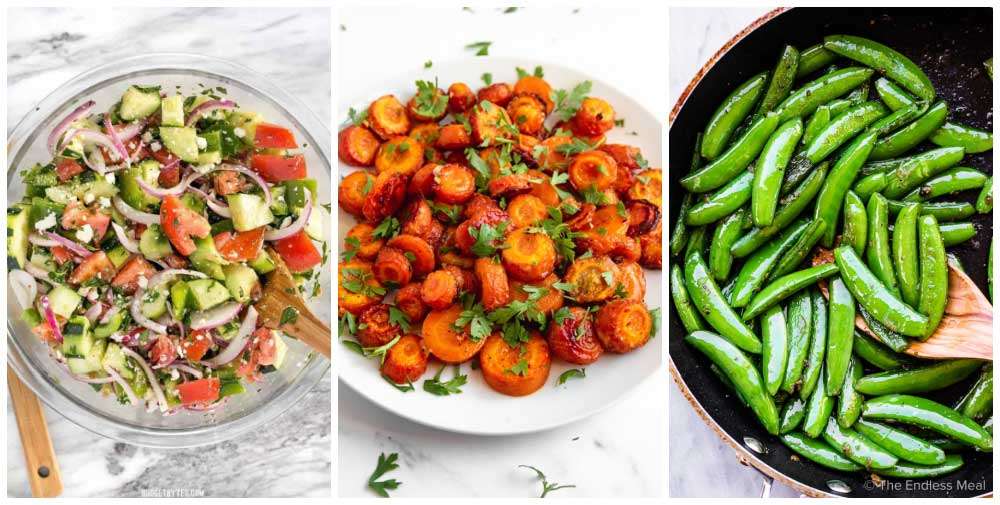 Cucumber Salad
Full of zesty flavors, this fresh vegetable salad includes diced cucumber, bell pepper, tomatoes, red onion, freshly chopped parsley and feta cheese. Give it a light toss of an olive oil, lemon juice and red wine vinaigrette. It's a crisp and tangy side salad recipe that's perfect serve with your grilled salmon steak dinner.
Recipe by Budget Bytes
Roasted Carrots
Sliced fresh carrots are tossed with olive oil, minced garlic, and a dollop of maple syrup before their sheet pan session in the oven. The maple syrup will add just a hint of sweetness and help with caramelization. Bake until tender and garnish with fresh parsley before serving.
Recipe by Simple Vegan Blog
Sugar Snap Peas
Vibrant green with the perfect tender crunch, these pan sautéed snap peas are lightly buttered and seasoned with a dash of salt and pepper. Finely minced garlic adds that extra special savory flavor. And the best part? It's a quick, 5 minutes of stove time before plating it up!
Recipe by The Endless Meal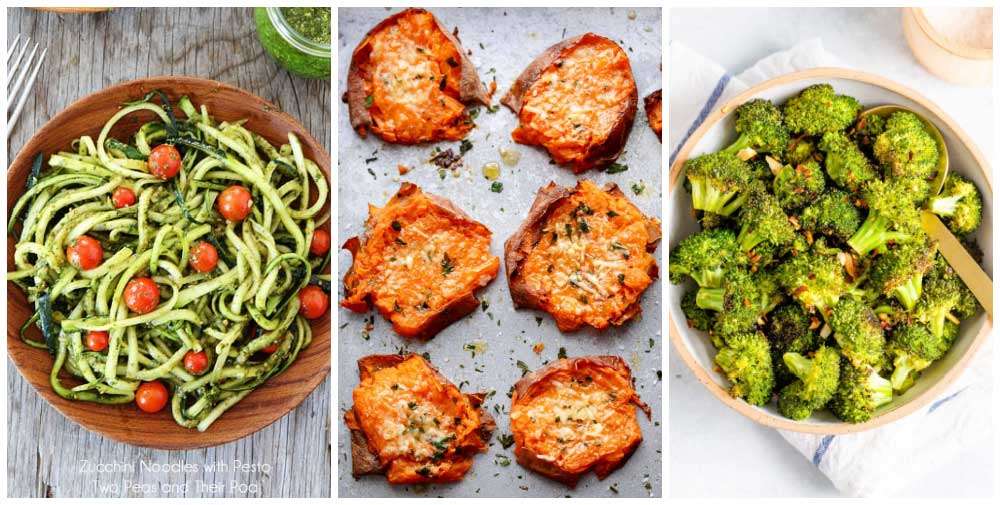 Zucchini Noodles With Pesto
Go green with spiralized zucchini and freshly made pesto that combine for a veggie-inspired side item for your salmon meal. The best part about zoodles is that you can choose to eat them raw or lightly sauté them for a few minutes for a bit of tenderness. Toss them with pesto and plate them up next to your cooked salmon for a delicious meal.
Recipe by Two Peas And Their Pod
Garlic Butter Sweet Potatoes With Parmesan
Sliced sweet potatoes are baked on a sheet pan before getting a gentle fork mash and being drizzled with melted garlic butter. Place under the broiler until crispy and then garnish with parmesan cheese. This side dish is a delightful taste sensation that checks all the right boxes.
Recipe by Cafe Delites
Healthy Broccoli
Rather than steaming, try roasting broccoli for a slightly different taste profile from this healthy vegetable. Toss fresh broccoli florets in a little oil, crushed red pepper flakes and finely minced garlic. Bake on a sheet pan for 25 minutes to tenderize and lightly caramelize the broccoli. So good!
Recipe by Eating Bird Food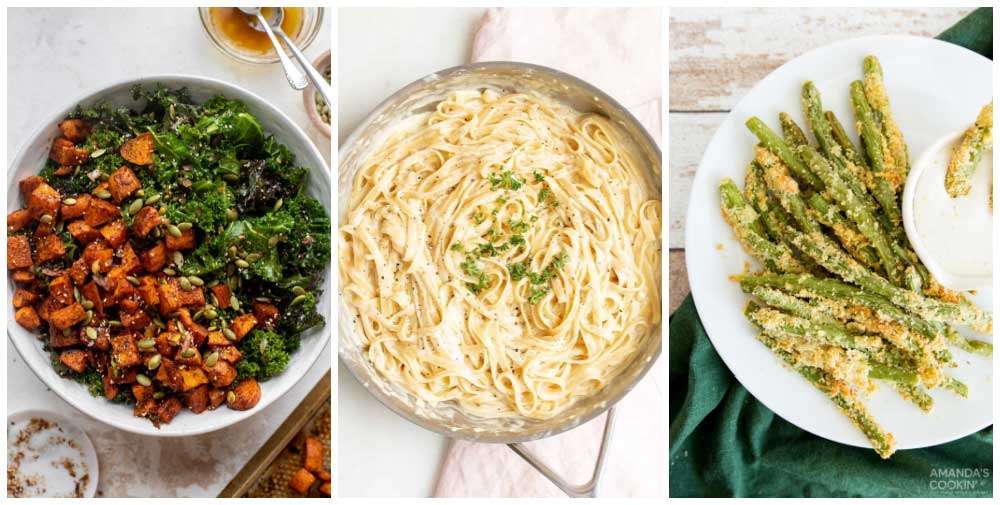 Sweet Potato Kale Salad
Roasted garlic-seasoned sweet potato cubes are mixed with curly kale for a salad that's flavored with a warm and spicy homemade ginger dressing. The heat of the dressing helps wilt the kale making it tender and delicious. Serve this salad with salmon and drizzle the fish with some of the zesty ginger dressing, too!
Recipe by How Sweet Eats
Fettuccine Alfredo
A rich cheesy sauce for your fettuccine is just minutes away with this easy stovetop recipe. Egg yolk, butter and heavy cream help keep it rich while freshly ground parmesan cheese is a must for authentic flavor. Garlic makes it all come together in delicious side item that pairs beautifully with salmon.
Recipe by Julie Blanner
Air Fryer Green Bean Fries
Fresh green beans are coated in an egg and seasoned almond flour and parmesan cheese mixture before being added to the air fryer basket. These "fries" will cook and crisp up in as little as 5 minutes for a healthy and crunchy side item for your seafood meal.
Recipe by Amanda's Cookin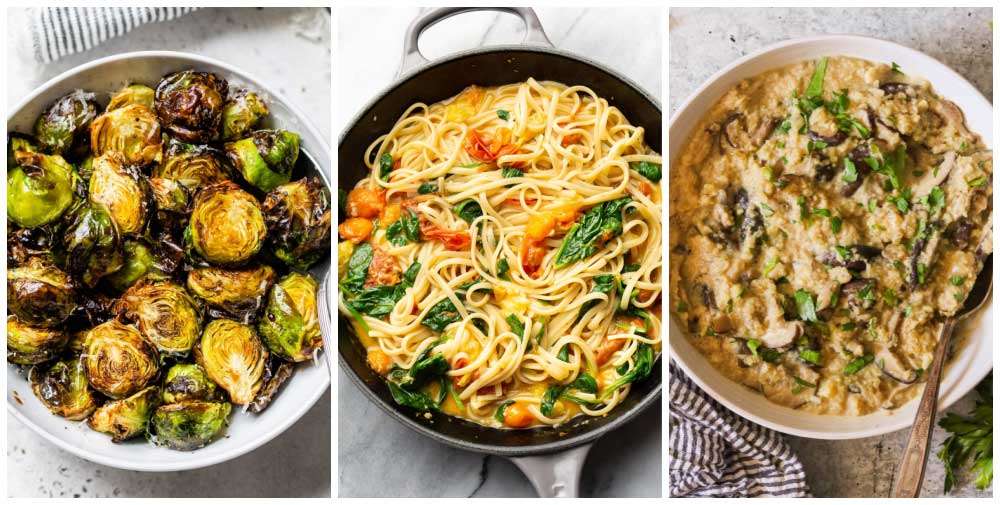 Air Fryer Brussels Sprouts
If you love roasted Brussels sprouts, but don't love oven cooking time, get the same crispy result by using an air fryer. If you like a more tender sprout, just soak them in water for 10 minutes and drain. Toss them with olive oil and seasonings and air fry for 10 minutes, stopping to shake the basket half way through. Garnish with your favorite toppings for an even more tasty side dish.
Recipe by Well Plated
Garlic Butter Pasta With Tomatoes And Spinach
Salmon and pasta are best friends and here, a simple toss of linguine in a garlic butter, fresh tomato and spinach sauce is all you need for a sumptuous meal. Add in freshly grated parmesan cheese before serving for a nutty and creamy finish to the sauce.
Recipe by Salt And Lavender
Instant Pot Cauliflower Mushroom Risotto
Go grain-free with this delicious Instant Pot risotto recipe that uses riced cauliflower as the base. Bone broth along with coconut milk, mushrooms and nutritional yeast keep this side dish healthy. You'll love the taste of this risotto as well as the super short cooking time!
Recipe by What Great Grandma Ate
Mashed Potatoes
Mashed potatoes and salmon are a great match and here, this Whole30 recipe adds a savory touch to the potatoes. In vegan butter, sauté chopped garlic and fresh herbs and add this seasoned mixture to the cooked potatoes when ready to mash. Keep it creamy with unsweetened almond milk as you mix these potatoes to smooth perfection.
Recipe by Little Sunny Kitchen
Greek Lemon Rice
Long grain white rice gets sautéed with onion and garlic before being cooked in chicken broth. Lemon juice and zest are stirred in at the end for a bright flavor boost. Stir in freshly chopped herbs of dill and parsley for a side dish that's a tasty pairing for salmon.
Recipe by Recipe Tin Eats
Charred Asparagus With Lemon
Let your air fryer cook asparagus spears to charred perfection before seasoning them with lemon pepper, garlic and sesame seeds. Between preparing and cooking the asparagus, you can have this side item plated in just 10 minutes. Win-win!
Recipe by That Girl Cooks Healthy
Broccoli Slaw
Aromatic, colorful and crunchy, this broccoli slaw includes shredded carrot, raisins, sliced almonds, diced red onion and cilantro. You can shred the veggies yourself or take a short cut with a store bought broccoli slaw mix. An apple cider, honey, fresh ginger and mustard vinaigrette brings it all together for an outrageously tasty zing. And it's even better the next day.
Recipe by Detoxinista
Marinated Tomatoes Salad
If you've ever had a fresh homegrown tomato, you know how special they are. The taste is rich and succulent and they make the perfect side dish with just a little enhancement. Here, infuse them with a marinade of olive oil, red wine vinegar, crushed garlic, chopped red onion, and freshly chopped herbs. The result is positively swoon-worthy.
Recipe by Five Heart Home
Pea Salad
Low carb and gluten free, this pea salad makes the perfect side item for almost any meal. Fresh or frozen peas will work for this recipe. To the peas, add in crumbled cooked bacon, grated cheddar cheese and finely chopped red onion. Toss it with a homemade sour cream and cider vinegar dressing for a tangy finish. Make this ahead and keep it refrigerated until ready to serve.
Recipe From A Pantry
Whether you are cooking salmon in the oven, on the grill or using a smoker, there are tons of great side dish ideas to accompany your salmon.