Love baked potatoes? Here's how to make the best air fryer baked potatoes with crispy skin and light fluffy potato inside. It doesn't get any better - or easier - than this!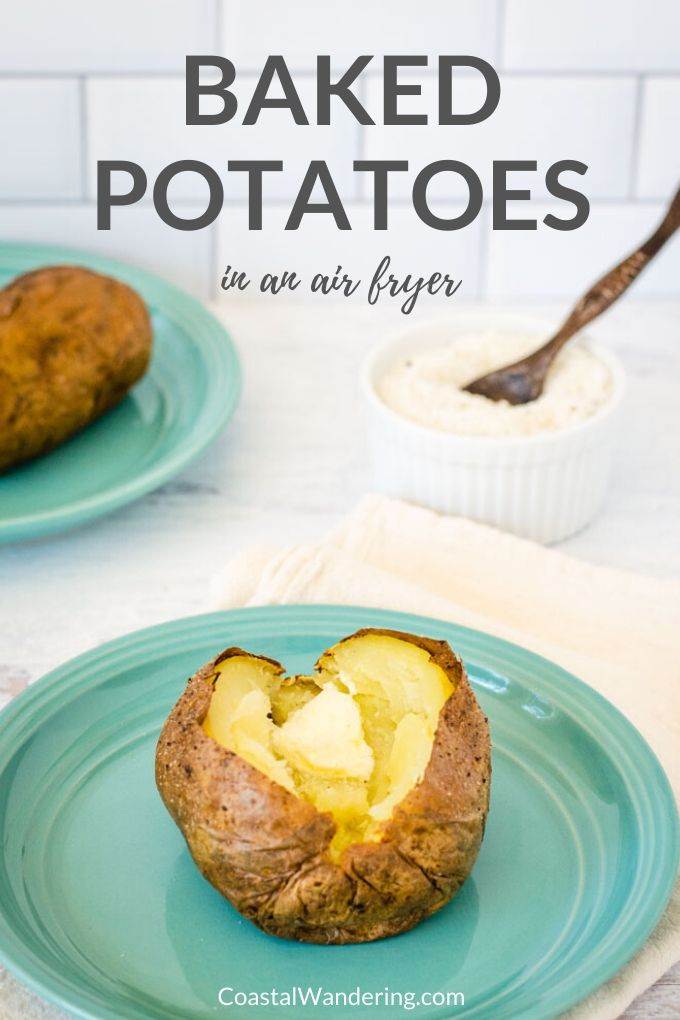 Air fryer baked potatoes are so easy to make. And the best thing about them is the air fryer makes the skin crispy while the insides stay soft and fluffy.
The reason for this is the way air fryers are designed. They are basically compact countertop convection ovens with a fan that moves the hot air around to create the air fried effect. The air fryer basket lets the hot air circulate around all sides of the potato to make the skin crispy.
How to air fry baked potatoes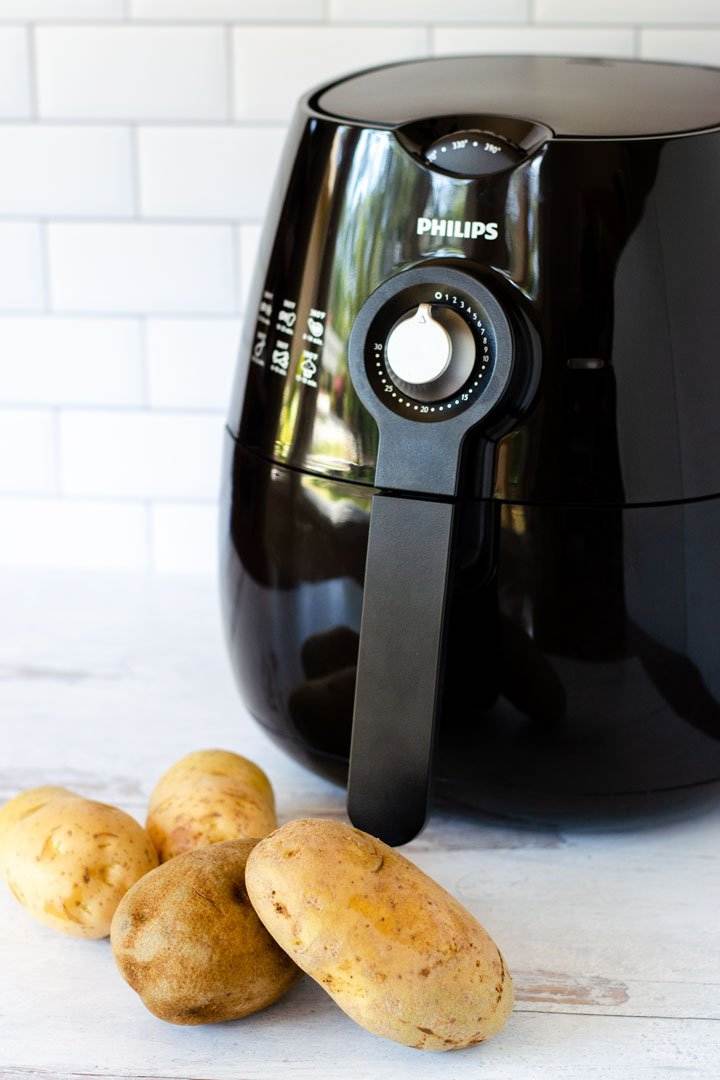 Start with medium-sized baking potatoes. Russet potatoes are the best potatoes for this, but other all-purpose potatoes like Yukon Gold work well for air frying.
This air fryer recipe couldn't be easier - just lightly oil the potatoes and put them in the air fryer basket. Use an avocado oil cooking spray or a mister filled with olive oil, so the potatoes are just lightly coated. 
There is no need to use a baking sheet or wrap them in aluminum foil like you would with a traditional oven-baked potato recipe.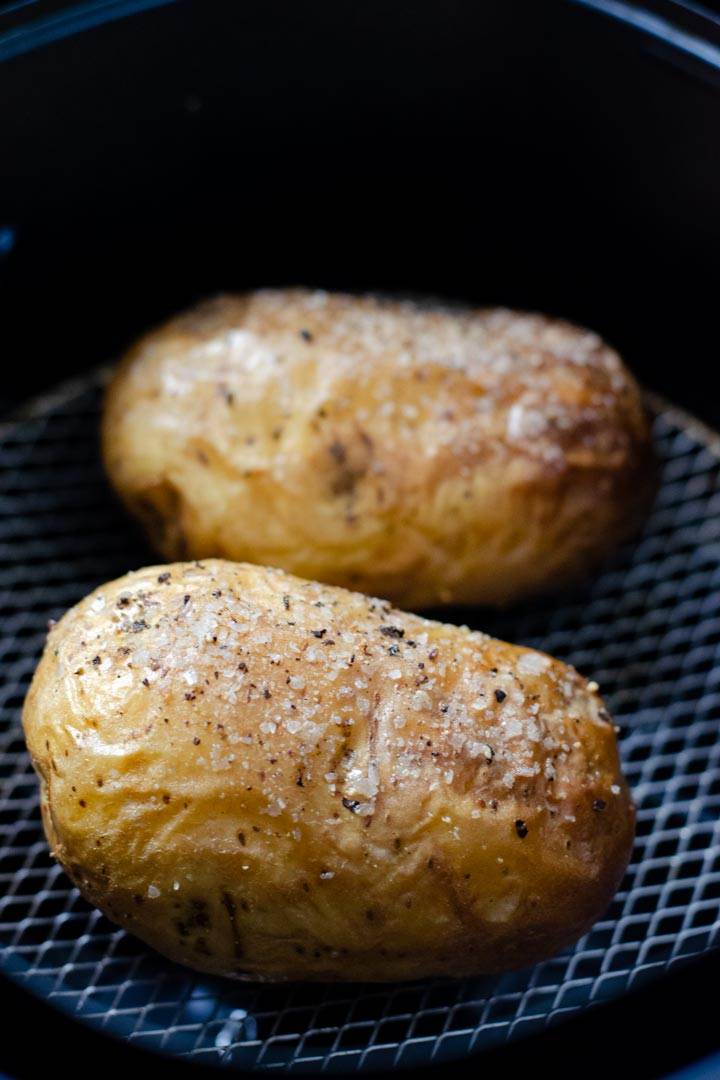 How long to air fry baked potatoes really depends on the size of the potato. Usually, it takes about 45 minutes of cooking time for a medium-sized potato. Smaller potatoes may cook more quickly and large potatoes could take up to an hour until they're fork tender.
Set your air fryer to 400 degrees, or as close as you can get to that temperature. My air fryer only goes up to 390 degrees, but it still works perfectly for baking potatoes.
It's important to pre-heat the air fryer according to the directions for your air fryer model. For my air fryer, I just turn it on and set the timer to let it heat up for 5 minutes before putting the potatoes in the air fryer basket.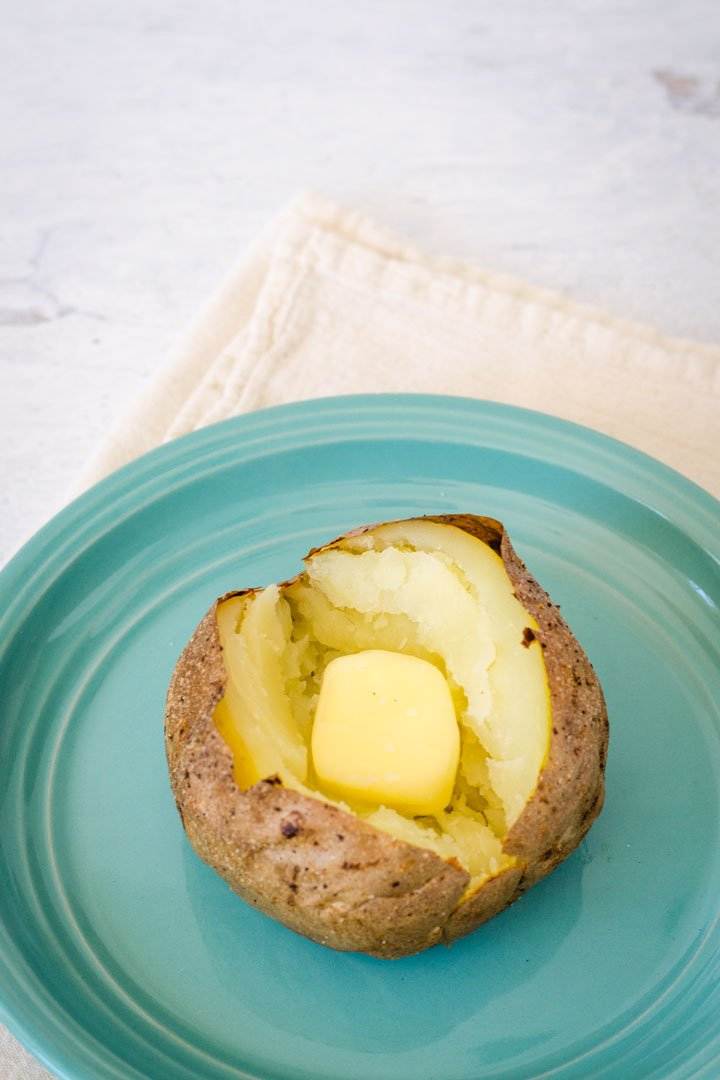 Make sure the potato are in a single layer and have room for the hot air from the convection fan to circulate all the way around them, so you get that delicious crispy skin. Turn the potatoes halfway through the cooking time to make sure they cook evenly.
The best way to tell if your potatoes are done is to check them when they get close to the time you have set. Look for the potato skins to be browned and getting crispy on the outsides. A fork or knife should pierce the potato easily.
Once you take them out, split them open and top with a pat of butter and truffle salt for the best simple classic baked potato.
Of course, you can always load it up with your favorite toppings. You can even set up a baked potato bar with amazing toppings so everyone can make their own ultimate baked potato. Here are some different toppings to try:
sour cream, chives and bacon bits
shredded cheddar cheese and green onions or diced jalapenos
parmesan cheese and cracked black pepper
creamy ranch dressing and a sprinkling of fresh herbs
a little bit of garlic powder and kosher salt or sea salt mixed into the butter
And don't limit your type of potato choices. Try this method for air fryer sweet potatoes!
This easy air fryer baked potato recipe is a perfect side dish with steak, grilled chicken, or your favorite shrimp recipe.
Whether you need an easy weeknight side or a quick dinner after a long day on the beach, try this easy baked potato recipe.
Pro tip: if you take your air fryer camping you can set it up on the picnic table at the campsite. Just let the potatoes cook while you grill the rest of your dinner.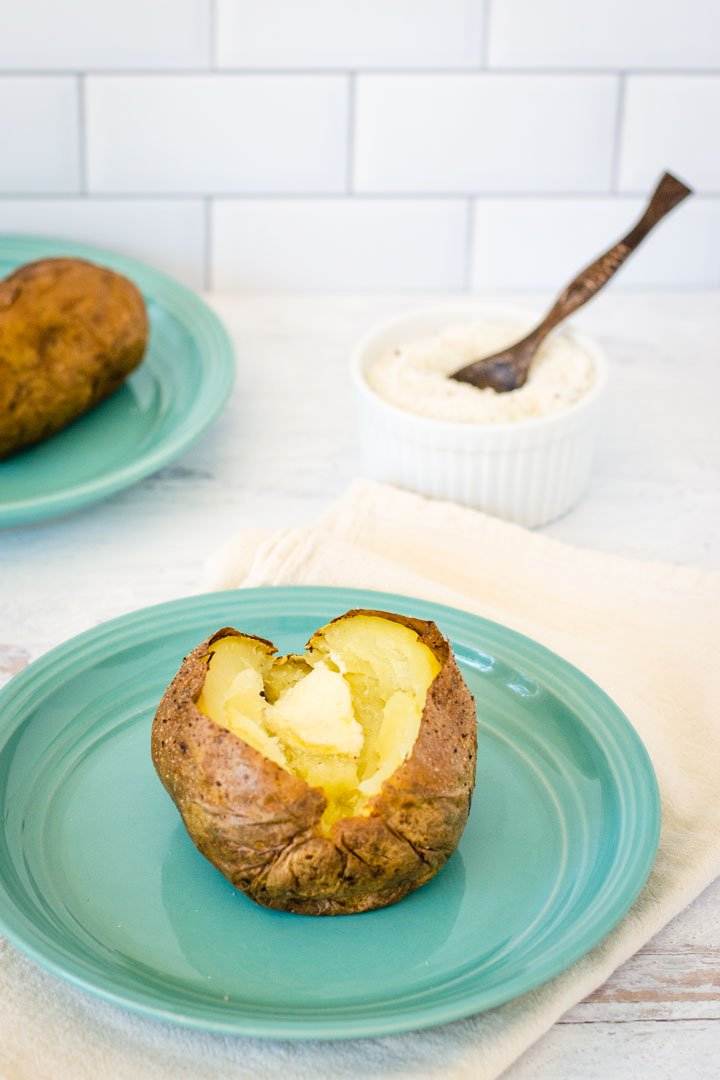 No matter how you top them, you will love these easy air fryer baked potatoes – one of the easiest air fry recipes you can make!
More easy recipes to try: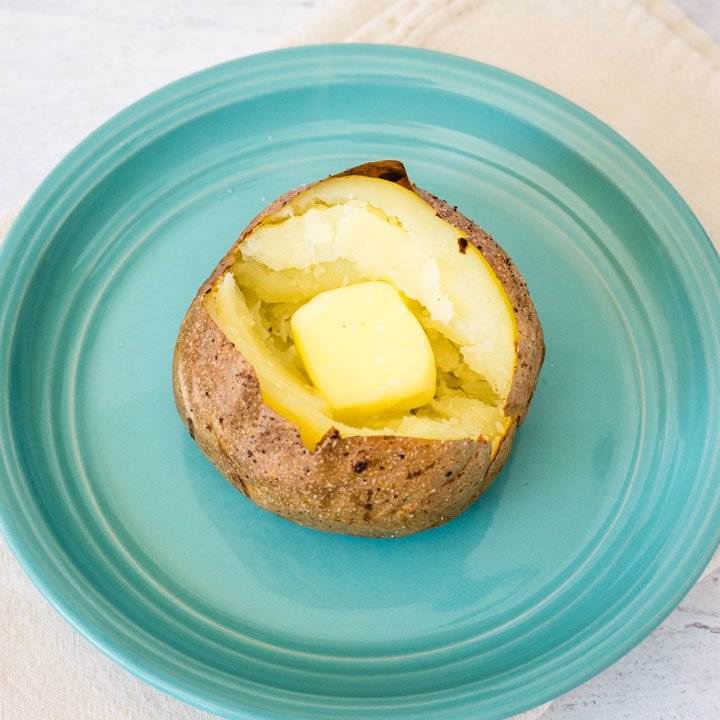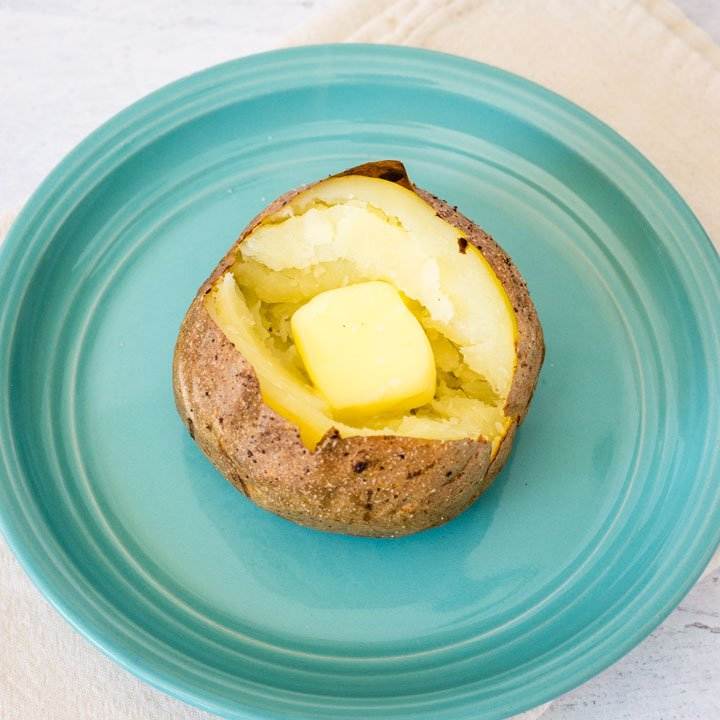 Air Fryer Baked Potatoes Recipe
This easy air fryer recipe makes the best baked potatoes in a fraction of the time!
Instructions
Preheat the air fryer to 400 degrees (or 390 degrees depending on your airfryer model).
Wash, dry, and lightly spray the skin of the potato with oil. Sprinkle with salt.
Cook until the skin is crisp and the potato is baked through and soft in the middle.
Top with butter and truffle salt to taste.
Recommended Products
As an Amazon Associate and member of other affiliate programs, I earn from qualifying purchases.
Nutrition Information:
Yield:

4
Serving Size:

1
Amount Per Serving:
Calories:

233
Total Fat:

8g
Saturated Fat:

3g
Trans Fat:

0g
Unsaturated Fat:

4g
Cholesterol:

9mg
Sodium:

188mg
Carbohydrates:

38g
Fiber:

4g
Sugar:

3g
Protein:

5g
Note: nutrition data provided here is only an estimate.