Wondering what to serve with fish tacos? Here are the best quick, easy and delicious sides for fish tacos!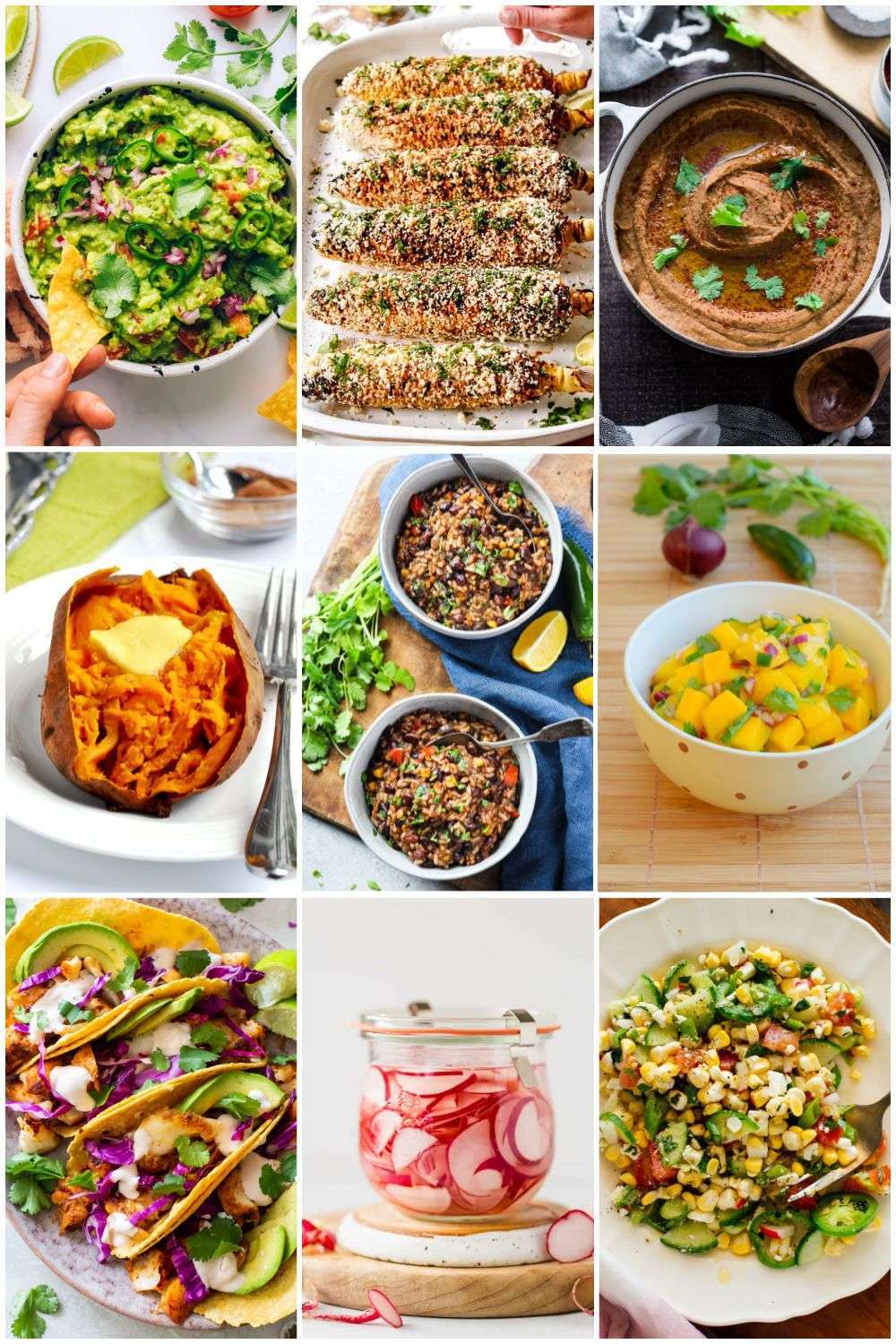 Seafood tacos range from shrimp to salmon as well as almost any variety of white fish. And while fish tacos are always a protein-packed dinner idea, serving the perfect side items will up-level any meal.
These quick and easy sides for fish tacos will eliminate any confusion about what to serve with fish tacos. You'll find tasty inspiration with sauces, salads, soups and salsas as well as flavorful ways to include rice, beans, sweet potatoes and corn.
What To Serve With Fish Tacos
These side items are easy to make and many can be made ahead. You'll find a range of ideas that will offer complimentary flavors for fish tacos and will make taco night a favorite dinner option that everyone will enjoy.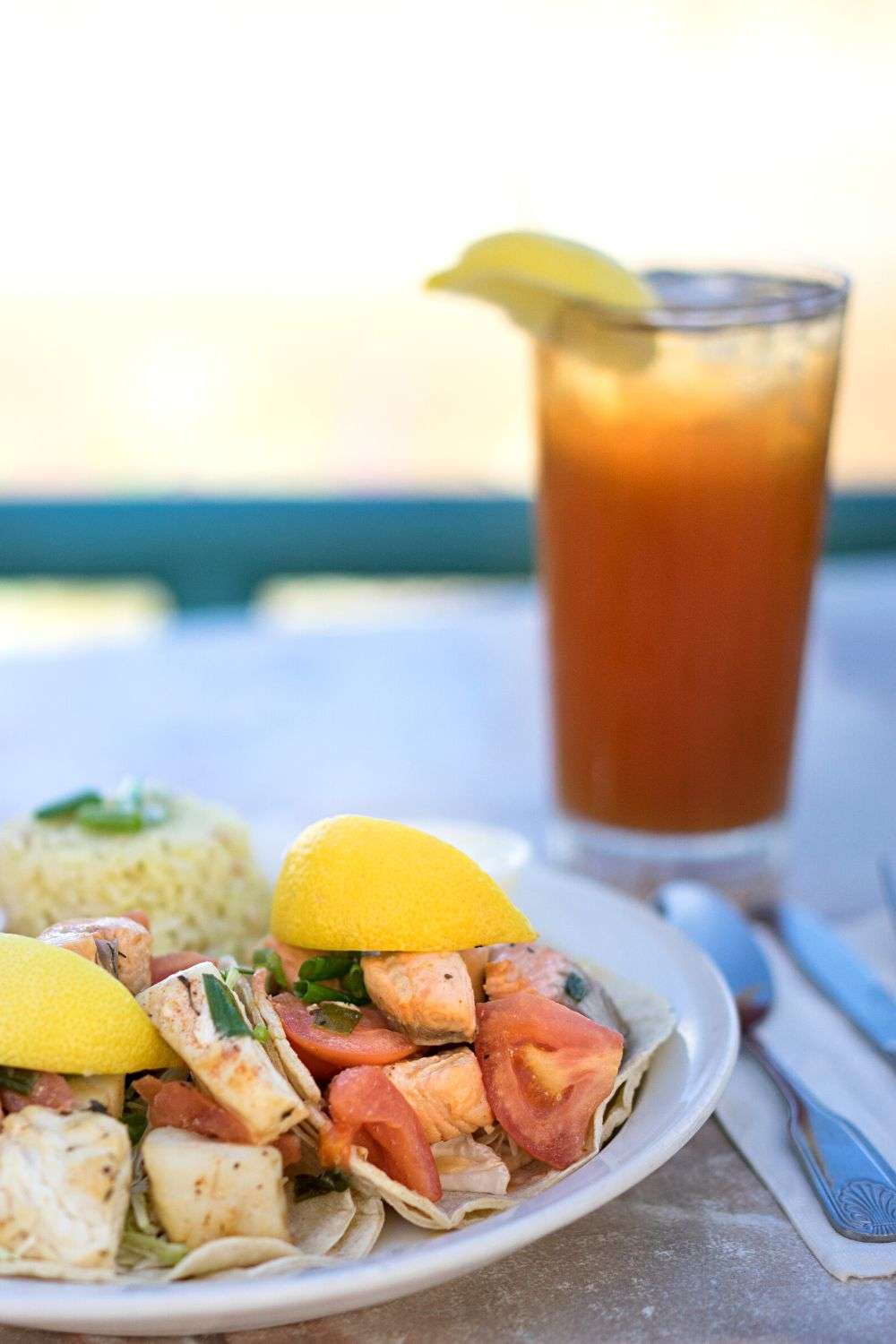 Easy Instant Pot Rice
This simple rice recipe will become your go-to side dish for everything seafood. Just cook flavorful Carolina Gold rice in your electric pressure cooker in chicken stock until done. Then fluff with a fork and stir in butter.
Garnish with fresh cilantro, your favorite fresh herbs or even pico de gallo. So easy and so good!
Recipe
Mango Salsa
Fruity, juicy and bright, mango salsa is always the perfect sweet and spicy condiment to serve with fish tacos. Chop the mango small and add in finely diced jalapeño pepper, minced garlic, finely chopped red onion, a squeeze of lime juice and freshly chopped cilantro.
A smidge of kosher salt is all it needs to bring all the flavors together. Have tortilla chips on hand, too, for any leftover salsa after you've topped your tacos with it!
Recipe by Simple Joy
Fish Taco Sauce Over White Fish
Using your choice of halibut, tilapia, mahi mahi or cod, these seasoned white fish tacos are topped with crisp and crunchy red cabbage, fresh cilantro, and sliced avocado. Serve this deliciousness in warm flour tortillas.
The best topping though is the spicy fish taco sauce made with Greek yogurt, lime juice, sriracha, and garlic. Drizzle it on for the perfect finishing touch.
Recipe by Kristina's Kitchen
Garden Fresh Corn Salad
Perfect for summer meals, this corn salad makes a tasty side dish for fish tacos. Use fresh corn off the cob to create this garden salad along with cucumber, green onion, radish, tomato, fresh herbs, chopped avocado, finely diced jalapeño peppers and crumbled feta cheese.
All it needs is a simple oil, garlic and red wine vinegar dressing.
Recipe by Cookie And Kate
Instant Pot Mexican Rice And Beans
Let your pressure cooker help make this savory Mexican-inspired rice and beans side dish that up levels your fish taco to an extravaganza of a meal.
Brown rice and black beans are cooked in vegetable broth and salsa with spices of smoked paprika, black pepper, chili powder, garlic powder, salt and chopped cilantro. Add in onion, red bell pepper, and frozen corn for an outrageously flavorful side item that's both vegan and gluten-free.
Recipe by Garden In The Kitchen
Citrus Slaw For Shrimp Tacos
Shrimp tacos encased in corn tortillas are the perfect vehicle to top with a crunchy citrus slaw. Or if you prefer, enjoy the slaw on the side. Use a pre-made slaw mix and add lime and pineapple juices along with diced red onion, salt and chopped cilantro.
Drizzle it all with a chipotle sauce made with mayonnaise, adobo sauce and honey. What could be better?
Recipe by Lemon Tree Dwelling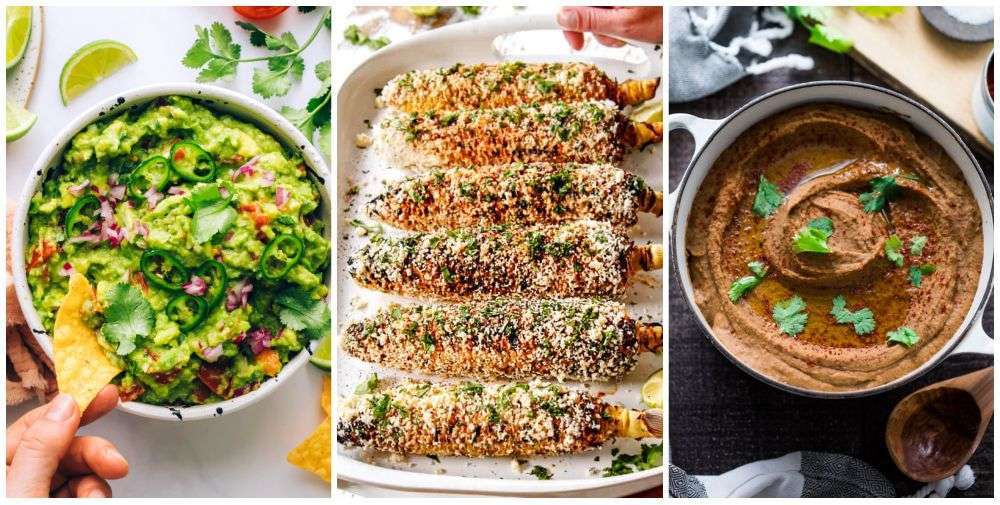 Homemade Refried Beans
Create the perfect side dish for fish tacos with these homemade refried beans using dried or canned versions. Pinto beans are a popular choice and need minimal work to turn these into a spicy and creamy side for tacos.
They're seasoned with chili powder, cumin, smoked paprika, garlic powder and chipotle powder for a satisfying kick of spiciness. The cooked, tender and seasoned beans are pureed using an immersion blender or a food processor. Refried beans are also a great make ahead side item that will last for several days in the fridge.
Recipe by Feasting At Home
Lime Crema For Fish Tacos
Perfect to serve atop white fish tacos, this creamy dressing is full of tart citrus flavor. Make it with a base of sour cream and mayonnaise and infuse it with the tartness of fresh lime juice and lime zest.
Make the easy crunchy slaw topping with shredded cabbage, green onions, garlic and cilantro before drizzling on the lime crema.
Recipe by Ahead Of Thyme
Elote Mexican Street Corn
Grilled Mexican street corn is the perfect side dish to serve with tacos and here, this charred vegetable is rolled in a creamy lime and chili sauce before being garnished with Cotija cheese.
Finish it off with a smattering of chopped cilantro for a visually stunning effect and serve this irresistible Mexican corn side dish with fish tacos for a completely delicious Mexican-inspired meal.
Recipe by Carlsbad Craving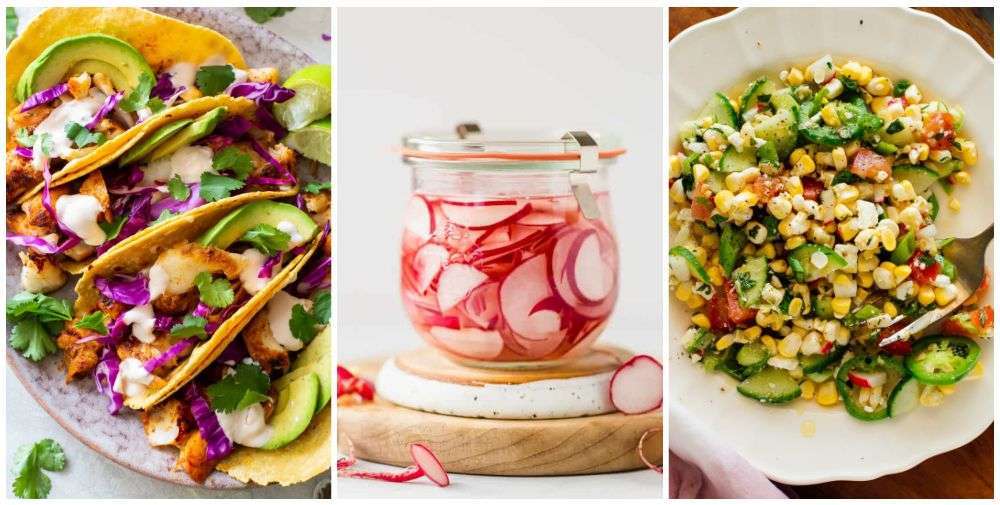 Queso Dip
Perfect as an appetizer, this spicy and cheesy dip is the perfect starter course for a taco meal. Take the time to shred your own cheddar cheese for the best melting outcome. A little sautéed onion and garlic add flavor. Chopped tomato, evaporated milk, shredded cheese, diced green chiles, cumin and cayenne pepper all simmer over low heat until melted goodness is achieved.
When ready to serve, top with fresh cilantro and have plenty of corn tortillas on hand for dipping!
Recipe by The Chunky Chef
Baked Sweet Potatoes
Fish and sweet potatoes are always a delightful combo and here, you can have tender and steamy ones in record time, thanks to your Instant Pot. Just add water to the bottom, place the sweet potatoes on a trivet, close the top, and pressure cook them.
In less than 30 minutes, you'll have a tasty side dish to serve with fish tacos. Serve with butter and your favorite toppings.
Recipe by A Pinch Of Healthy
Quick Pickled Radishes
We love them fresh and crunchy, but radishes are also an easy and spicy little vegetable that's perfect for pickling. And it only takes 15 minutes! All you need are sliced radishes, rice vinegar, kosher salt and hot water.
Combine all the ingredients in a glass jar and let sit for at least 15 minutes. Longer will give you more flavor, but if you can't wait to garnish your fish tacos with these tasty radishes, dig in and enjoy!
Recipe by Lena's Kitchen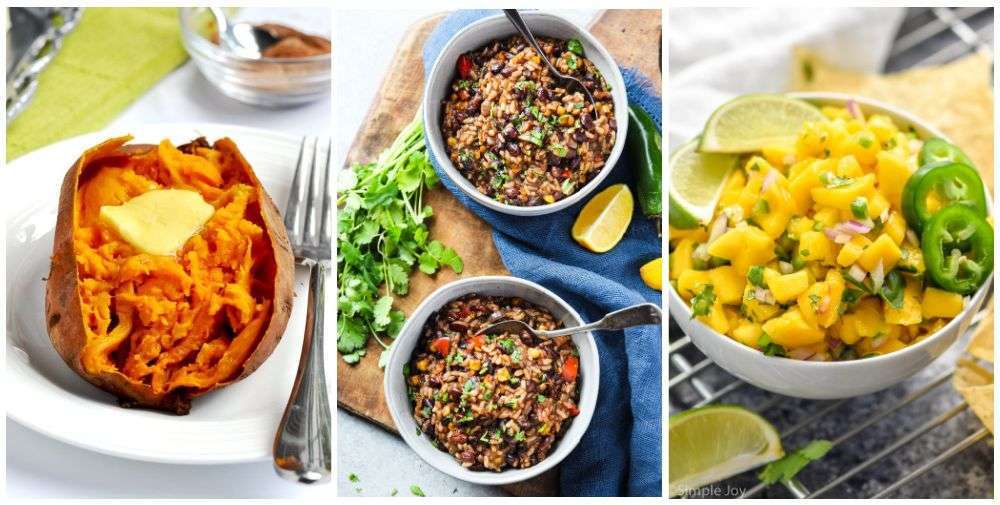 Guacamole
This easy guacamole is the perfect side dish for any type of fish taco. Serve it as a topping or a dip for chips and/or fresh veggies. Ripe avocados are joined by fresh grape tomatoes, red onion, garlic, jalapeño pepper, cilantro and lime juice.
Make it with a mortar and pestle for a touch of authenticity and perfect texture.
Recipe by Eating Bird Food
Black Bean Soup
Super easy and tasty, use canned black beans along with vegetable broth as the base for this hearty soup that makes a filling side dish for fish tacos. Season it with onion, carrot, celery, red pepper, cumin and oregano. Let it all simmer on the stovetop.
If you want a slightly thicker consistency, use an immersion blender to puree just a cup or two of the soup. Serve with fresh cilantro.
Recipe by Two Peas And Their Pod
Hot Sauce For Blackened Tilapia Tacos
If spicy is what you need, these white fish tilapia fillets that are cooked in a skillet over medium-high heat and seasoned with a chili powder mixture will be a taco night favorite. Cook until opaque, flipping once. Shred the cooked tilapia with a fork and load it into your soft flour tortillas and top with shredded lettuce and colby jack cheese.
Make the hot and spicy sauce that's the perfect topping by blending chopped jalapeño, garlic, chili sauce, fish sauce, Dijon mustard, rice vinegar and chopped cilantro. It's a savory and spicy way to enjoy fish tacos.
Recipe by A Family Feast
Tomatillo Salsa Verde
Whether you drizzle it on or use it as a dipping sauce for fish tacos this green and flavorful salsa is always a favorite. It starts in the oven as you roast the tomatillos, jalapeño pepper and yellow onion with a drizzle of olive oil.
To a food processor, add fresh garlic, fresh lime juice, the roasted vegetables and chopped cilantro with a pinch of salt. Pulse until the desired texture is achieved. For a creamier salsa, add in a small ripe avocado.
Recipe by Love And Lemons
Spanish Red Rice
Red rice is an easy side dish to make by cooking rice with onions, garlic, tomato paste and chicken broth. Season with paprika and oregano.
Use your favorite long-grain rice and cook this stovetop in about 30 minutes. It's a popular side for tacos that can be garnished with lime wedges and parsley.
Recipe by Sugar Salt Magic
Easy Quinoa Salad
This easy make-ahead quinoa salad is loaded with veggies that pair perfectly with any type of taco you may be serving.
Cooked quinoa is loaded with spinach, chopped cucumber, cherry tomatoes, sliced green onions, and chopped avocado and dressed with a simple olive oil, garlic, and lemon juice vinaigrette. Keep it in the fridge until ready to serve.
Recipe by Two Peas And Their Pod
Pico de Gallo
Finely diced vegetables and herbs of tomatoes, onions, jalapeño, garlic and cilantro tossed with lime juice and a dash of salt make an irresistible pico de gallo that's always a spicy topping for fish tacos of any kind.
It's also the perfect dip for tortilla chips, so win-win!
Recipe by House Of Nash Eats
Mexican Roasted Sweet Potatoes
Sweet and spicy side items make for a flavor taco meal and here, this health and gluten-free potato dish checks all the boxes. Leave the skins on as you slice the sweet potatoes and toss them with a few tablespoons of olive oil before seasoning them with a blend of chili powder, cumin, salt and pepper.
Roast in the oven on a lined baking sheet until tender. Drizzle with honey and garnish with pepper flakes before serving.
Recipe by Nyssa's Kitchen
Adobo Fish Taco Sauce
This taco sauce is perfect for drizzling on any fish taco or for dipping chips in it. It can be made ahead and stashed in the fridge until ready to enjoy. It's a simple recipe in a base of sour cream and mayo that gets a little heat from chipotle adobo sauce.
Season it with minced garlic and salt. Brighten it with lime juice and zest and add cilantro for an unmistakable herbal component. Mix it all by hand and serve this perfect side item for taco night.
Recipe by The Endless Meal
These tasty sides and sauces for fish tacos are perfect for a weeknight dinner or any type of entertaining you might have planned. This is a fun, easy dinner that everyone loves.