Swordfish is one of the easiest fish to prepare, especially when baked. Try these simple and delicious recipes your family will love and let the oven do all the work!
Swordfish is a firm fish with a mild taste and sometimes sweet flavor. Because of this, it's delicious on its own, whether you pan sear it, grill it, or in this case, bake it in the oven. To enhance its already delicious flavor, using vinaigrettes, compound butters, marinades and sauces are easy ways to season this popular fish.
In this collection of baked swordfish recipes, you'll find zesty pairings that include peppercorn butter, herb-infused butter, tomato compote, infused olive oils, citrus and herb marinades, pesto toppings, nut toppings and more.
Simple Baked Swordfish Recipes
These recipes range from complete oven roasting from start to finish to a short sear in a skillet before being baked to perfection in the oven. Explore these tasty ways of seasoning swordfish.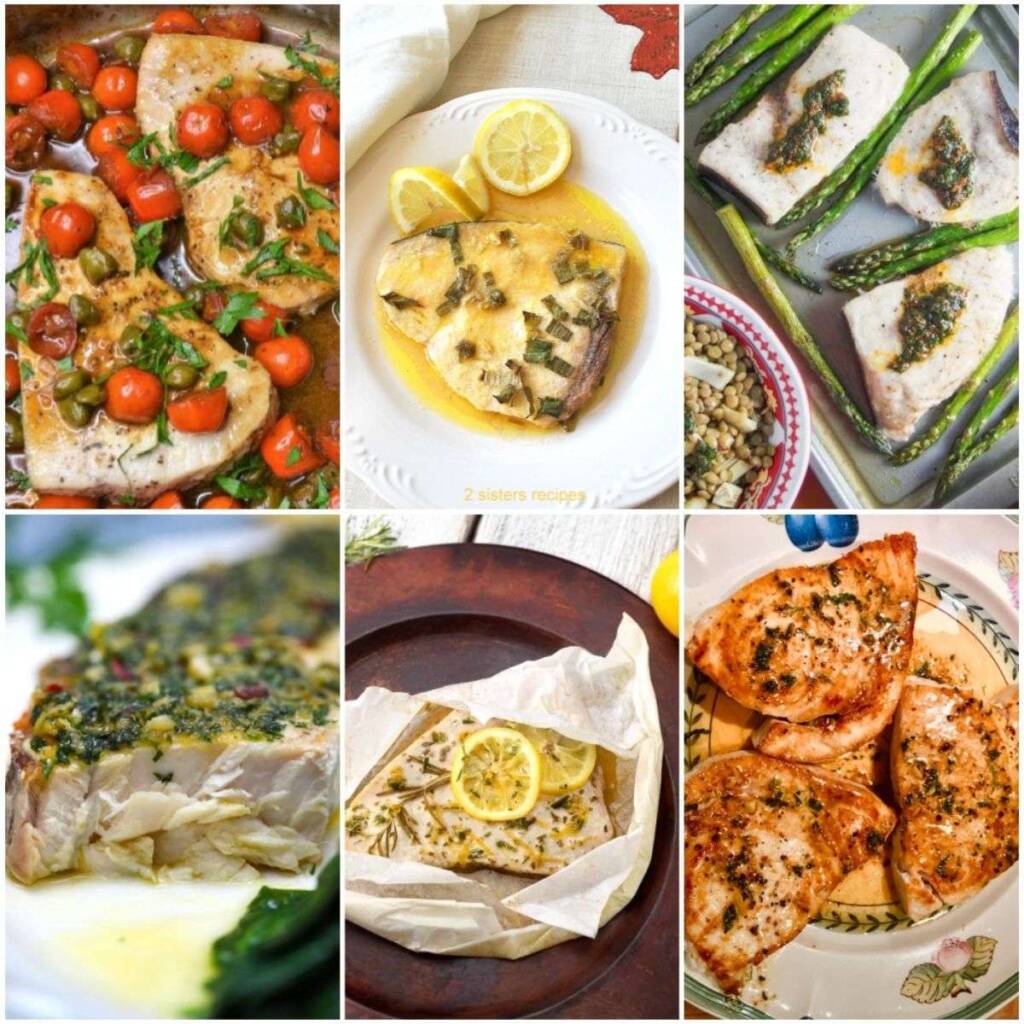 Swordfish With Cherry Tomatoes And Capers
These thick pan-roasted swordfish steaks get a tasty topping of roast cherry tomatoes and capers for a delectable way to enhance the fish. A quick one-hour marinating session of the swordfish will add additional savoriness to the dish. Pan-sear the swordfish before finishing the cooking process in the oven.
Recipe by Jersey Girl Cooks
Swordfish Steaks With Mixed Peppercorn Butter
Thick swordfish steaks sprinkled with salt and mixed peppercorns get a quick pan-sear in a little olive oil before being transferred to the oven to finish cooking. Before serving, and add a mixture of butter, garlic, lemon peel, flat leaf parsley and ground peppercorns to the skillet to melt and transform into a luscious buttery sauce. Pour over the swordfish and devour.
Recipe by Heron Earth
Swordfish With Lemon
The secret to this swoon worthy swordfish is the marinade, which infuses the fish with flavor and keeps it moist while it bakes in your oven, Combine olive oil, white wine, lemon juice, garlic powder and sliced green onions for the marinade and let the swordfish absorb it for at least 15 minutes before baking. Delish!
Recipe by 2 Sisters Recipes
Baked Swordfish With Lentils And Chermoula
Make this stellar meal that includes lentils and asparagus as side items to the baked swordfish that's topped with chermoula, a spicy herb and garlic infused sauce. Here, the olive oil-drizzled swordfish and asparagus cook together on a sheet pan. The cilantro, cumin and parsley chermoula is the perfect zesty and herbal accompaniment to this satisfying meal.
Recipe by Caroline's Cooking
Lemon Rosemary Swordfish en Papillote
Bake your swordfish in a wrapping of parchment paper, which is also an elegant way to serve the fish, especially when entertaining. Give the swordfish a short session in a marinade of lemon juice, white balsamic vinegar and freshly chopped rosemary before wrapping it in parchment. Bake for approximately 15 minutes and serve to the delight of your friends and family.
Recipe by Seasoned Kitchen
Swordfish with Spicy Olive Oil Poached Tomatoes
You'll adore this one pan meal of luscious poached tomatoes with a dash of hot sauce that cook low and slow in a skillet before being infused with basil and mint. You'll add and sear your swordfish before finishing it all in the oven. It's a spicy and flavorful meal that will become a favorite.
Recipe by Baker By Nature
Lemon Garlic Roasted Swordfish
Swordfish fillets are pan-seared in olive oil before taking a turn in the oven. They'll bake quickly so have your amazing topping of softened butter, lemon peel and juice, chopped parsley, three cloves garlic, and crushed red pepper all mixed and ready to go in a small bowl once you plate the cooked swordfish. Delish!
Recipe by 30 Minute Meals
Baked Swordfish with Citrus Cilantro Marinade
You'll savor this fragrant and citrusy marinade that adds a layer of sweetness to your baked swordfish. Chopped cilantro, olive and sesame oils combine with a dash of soy sauce and zests of orange and lemon for an easy 30 - 60 minutes marinade. Bake it to deliciousness and serve with a side salad for a simple and satisfying meal.
Recipe by Scrumpdillyicious
Ginger Garlic Compound Butter On Roasted Swordfish
The spicy and hot combination of ginger and garlic are right at home as a flavorful topping for baked swordfish. Here, you'll create a compound butter with these ingredients plus lemon peel, crushed red pepper and freshly chopped parsley. Pan-sear the fish and oven bake to doneness. Add the tablespoons of butter mixture to a skillet and cook for a few minutes before pouring over the swordfish. Delicious!
Recipe by Ask Chef Dennis
Whole30 Swordfish Salmoriglio
You'll love this feast of a meal that's Whole30 compliant. Oven-baked swordfish is served on a bed of riced cauliflower before being topped with an outrageously tasty mixture of salmoriglio. Salmoriglio is an easy and quick mixture of chopped parsley and oregano, capers, minced garlic, lemon zest and juice, black pepper and olive oil. It's a savory, quick and easy meal that's sure to impress.
Recipe by Barre Eat Repeat
Swordfish With Roasted Onion Vinaigrette
Sliced red onion, sliced red bell pepper and fresh thyme leaves are combined with olive oil and apple cider vinegar to create a vinaigrette that's roasted to flavorful perfection. Add the swordfish to the dish and bake for another 10 minutes or so until the swordfish is done. Zesty!
Recipe by Recipe Girl
Swordfish With Pesto And Tomatoes
Swordfish get slathered with homemade fresh basil pesto and then topped with cherry tomatoes, minced garlic and a drizzle of olive oil before being roasted in the oven. Serve with the reserve pesto for an even more tasty punch of flavor.
Recipe by Buzz Chomp
Swordfish With Lemon, Garlic And White Wine Sauce
This fragrant and delectable white wine sauce flavored with lemon and garlic is a swoon worthy way to enjoy baked swordfish. Lemon juice and zest infuse and flavor the olive oil along with garlic, red pepper flakes, butter and white wine. Make the sauce while the swordfish is baking and drizzle over the cooked fish before serving. Garnish with parsley.
Recipe by The Grateful Girl Cooks
Pistachio Crumb Crusted Swordfish With Mint Salsa
Swordfish steaks are coated with a mixture of crushed pistachios, bread crumbs and olive oil before being baked to crispy deliciousness. Serve with a garlic and mint infused olive oil to drizzle over the top for an extra layer of flavor.
Recipe by A Sicilian Peasant Table
Baked Swordfish With Olive Relish
A savory and salty relish is the perfect fit for baked swordfish. Here, you'll combine a mixture of black and green olives, chopped roasted red peppers, capers, anchovies, garlic, parsley, red wine vinegar and olive oil to create this spectacular relish. Make it ahead for more intense flavor. Top the baked swordfish with it when ready to serve.
Recipe by Liny Sez
Buttery Lemon Garlic Swordfish
Seared and baked swordfish is elevated by this luscious sauce that gets a citrus lift from the juice and zest of lemon. Add some freshly chopped chives and ground pepper to this buttery sauce that's an easy and delicious way to flavor the fish.
Recipe by Chew Out Loud
Swordfish With Mushrooms, Lemons And Capers
While your swordfish steaks are baking, sauté an amazing buttery mushroom accompaniment that's flavored with white wine, lemon juice and sliced green onions. Serve it over the swordfish and garnish with capers and freshly chopped parsley for a truly spectacular seafood meal.
Recipe by Something New For Dinner
Swordfish With Asparagus Foil Packets
You'll appreciate this packet of swordfish with asparagus and cherry tomatoes that is wrapped in foil for its short duration in the oven. To a sheet of foil, add fresh asparagus spears and halved cherry tomatoes. Drizzle on a mixture of olive oil, garlic, mint, and basil to the swordfish steaks and place on top of the veggies. Top with lemon slices, fold up the foil and bake. What could be easier?
Recipe by Delishably
Parmesan Crusted Swordfish
Bake up this crispy swordfish entree by dredging the fish in an egg and flour, then garlic and parmesan cheese mixture. Place on a baking sheet for its session in the oven. Make a heavy cream, vermouth and capers sauce in a skillet and flavor it with lemon juice, chives and garlic. It's a sumptuous meal that's sure to please your family and friends.
Recipe by Blythe's Blog
Fish With Lemon Mustard Caper Sauce
This Dijon and caper sauce is a quick and easy way to jazz up swordfish or any white fish. While your fish is baking, mix Dijon mustard, chopped capers, minced garlic, olive oil, pepper and chopped parsley. Served with lemon wedges, i t's simple and outrageously tasty!
Recipe by Jill Weisenberger
As you can see from this list, swordfish is such a versatile fish. If you're looking for an alternative way to serve seafood, try these easy recipes.