Wondering what to do with leftover salmon? Or looking for easy salmon dinner ideas? These leftover salmon recipes include everything from salmon cakes to pasta to salmon salad or a sandwich.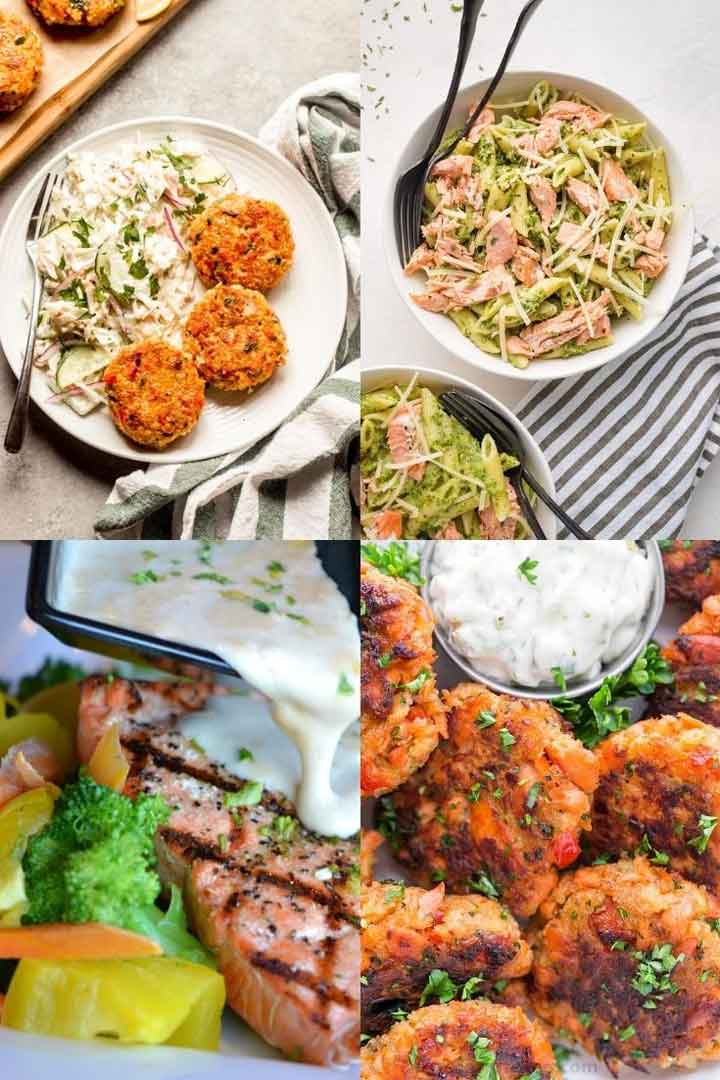 Salmon gets a second chance to shine in this collection of recipes that give you delicious ideas on how to use leftovers with this popular fish. From pasta meals to salad recipes and from sandwiches to tacos, you'll find tasty ways to use leftover salmon for easy meal options.
Whether you're using leftover grilled salmon or cooking your fish in the air fryer, these quick and easy recipes using cooked salmon will give you plenty of dinner ideas for busy weeknights!
Pro tip: keep your freezer stocked with frozen wild-caught sockeye so you can cook up an easy salmon dinner any time. They will thaw quickly in a large bowl of cold water so you don't have to plan ahead.
These savory salmon recipes will help you whip up a delicious seafood breakfast, lunch or dinner using this versatile protein. Explore the various ways you can combine salmon with other ingredients for salmon burgers, chowders, frittatas and more.
Easy recipes using cooked salmon
If you love salmon, you'll appreciate this collection of unique and awesome recipes for leftovers.
Don't have any leftover cooked salmon in the fridge? Try this quick and easy oven-baked salmon with Dijon mustard! It takes just 15 minutes and once it's cooked you can use it in an easy salmon recipe.
Salmon Fried Rice
Make yummy use of leftover salmon and leftover rice (easy to cook in the Instant Pot!) by combining the two and giving them a quick stir-fry. Add some chopped aromatic veggies, soy sauce and other seasonings to your skillet. Add in beaten eggs, rice, frozen peas and salmon and stir-fry. It's a super fast and tasty meal!
Recipe by Simply Recipes
Corn Salmon Chowder
This hearty soup is the perfect way to use leftover salmon for a comforting soup full of veggies and warming goodness. Corn, potatoes, shallots and garlic join salmon in this creamy soup made with milk, half and half, butter and flour. Best of all, you can have it on the table in about 30 minutes!
Recipe by Reluctant Entertainer
RELATED: Easy Cioppino Seafood Stew
Salmon & Avocado Stuffed Lettuce Wraps
This easy and healthy salmon salad uses grilled or baked salmon filets to make a twist on tuna salad. And the combination of salmon and avocado is a great way to gets healthy fats in your lunch or dinner. Serve this 5-minute salmon salad in lettuce cups for a crunchy texture. You can also make a canned salmon salad with this delicious recipe if you don't have leftover salmon.
Recipe by Tried and Tasty
Salmon Cobb Salad
Hearty and flavorful, this gorgeous Cobb-style salmon salad recipe is the perfect vehicle to use with your extra salmon fillets. Hard-boiled eggs along with chunks of pink salmon sit on a bed of assorted salad greens along with arugula, chopped tomatoes and chopped scallions. The homemade red wine vinegar and olive oil dressing gives this salad a healthier topping.
Recipe by Salt And Lavender
Salmon Cakes Recipe
Leftover salmon is perfect for making crispy pan-fried salmon cakes. Just add a dollop of mayo, bread crumbs, finely chopped onions and bell peppers to the leftovers and mix. Form into patties and pan-fry. Serve with the awesome homemade tartar sauce and garnish with fresh dill. Delish!
Recipe by Natasha's Kitchen
RELATED: 22 Easy Crab Cake Recipes Take You Back To The Beach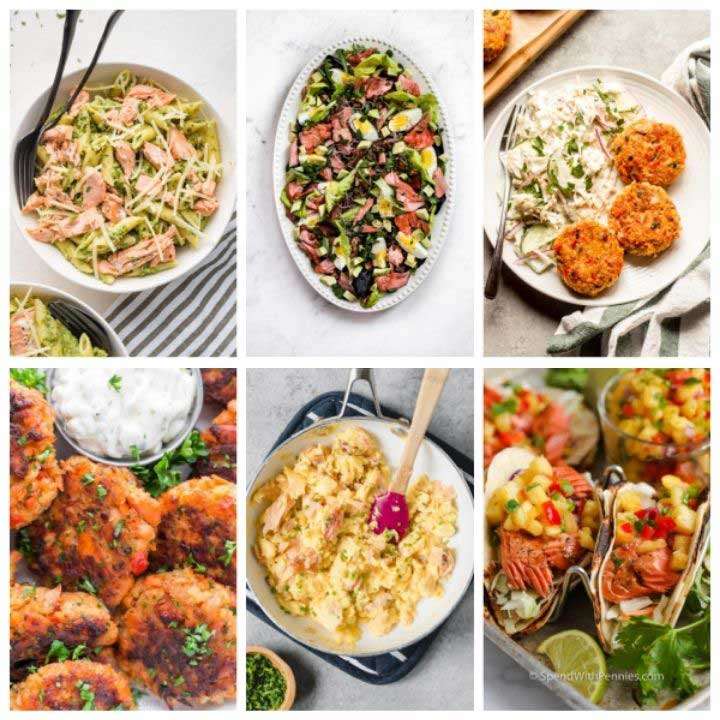 Salmon Quinoa Cakes
For a nutritious twist on salmon cakes, try this mixture that incorporates cooked quinoa, lemon juice and zesty spices. These salmon patties practically pan-fry themselves in short order. It's a protein-packed little cake that tastes awesome on its own, hot or cold, topped on a salad or sandwiched in a bun for a tasty hand-held meal.
Recipe by Little Broken
Salmon Pesto Pasta
It doesn't get any easier than topping your favorite pasta with pesto (jarred is fine!) and adding your warmed-up leftover salmon chunks to it. Garnish with some freshly grated parmesan cheese. These flavors work so well together that this will become a favorite way to enjoy leftover salmon pasta.
Recipe by Nourish And Fete
Easy Salmon Risotto
Peas, broccoli and your leftover salmon are right at home in this creamy risotto recipe. Not a quick recipe, but a labor of love, this rice, broth and parmesan meal will cook to a creamy perfection under your watchful eye. The veggies and salmon will enhance this comfort food meal making it a family favorite.
Recipe by A Mummy Too
Smoked Salmon Breakfast Bagel
If you have a package of smoked salmon that you need to finish using, these breakfast bagels will benefit from a mouth-watering slice. Layer your bagels with hummus, smoked salmon and sliced avocado. For some crunch, add thinly sliced cucumbers. Or try red onion and sliced tomato. Perfect for a quick and nutritious breakfast or lunch.
Recipe by Kathryn's Kitchen Blog
RELATED: 20 Quick & Easy Breakfast Sandwich Recipes
Salmon Tacos With Pineapple Salsa
Tacos are a tasty vehicle for flaky leftover salmon. Top them with some homemade pineapple salsa and presto - you have an instant meal. Add in lettuce, cheese, and any of your other favorite toppings if you're trying to make a little salmon go further. Quick and easy!
Recipe by Spend With Pennies
Salmon Black Bean Nachos
You must try these seafood nachos, which are a zesty idea for using leftover salmon. it requires minimal prep. Top nachos with cans of drained and rinsed black beans and corn, a jar of salsa, leftover salmon chunks and grated cheddar cheese. Bake until heated through and then dig in!
Recipe by Recipe From A Pantry
Creamy Salmon Asparagus Pasta
Seafood pasta is always a welcome meal idea and here you can up-level leftover salmon by adding it to this simple pasta dish. Saute garlic and add a little flour and milk to create a roux. Add Parmesan cheese to turn it into a rich sauce. Toss cooked spaghetti and cooked asparagus tips with the sauce and add your heated leftover salmon chunks. Outrageously good!
Recipe by Lavender And Macarons
Blackened Salmon Wraps With Avocado Slaw
Wrap your salmon leftovers in a flour tortilla along with a homemade avocado and cabbage slaw for a delicious hand-held lunch or dinner. If your leftover salmon wasn't blackened, to begin with, no worries! Just add a dash of blackening season to the flaked leftover salmon and mix. Zesty and quick!
Recipe by Delicious Little Bites
Salmon And Zucchini Burgers
These delightful burgers consist of shredded zucchini and your leftover salmon as well as seasonings. It's all held together with beaten eggs. Form into burgers and coat with bread crumbs. Pan fry in a skillet and serve in buns or on top of a salad. Awesome either way!
Recipe by The View From Great Island
Smoked Salmon Scrambled Eggs
On the occasion that you might have smoked salmon leftovers, one of the best ways to enjoy that amazing flavor is to incorporate it into scrambled eggs with fresh herbs. It's a simple way to turn breakfast into a delicious treat! Plus, this protein-packed meal is a healthy way to start your day.
Recipe by House Of Nash Eats
Wild Sockeye Salmon Salad
Flake your leftover salmon into a bowl and add in diced cucumber, sliced scallions and sliced almonds. Skip the mayonnaise and use Greek yogurt instead. Gently mix it and serve on a bed of lettuce or make a scrumptious sandwich with it. Or add some cooked pasta shells for a salmon pasta salad.
Recipe by Five Minute Meals
Salmon Burritos
Make a lettuce, avocado and tomato salad as part of the filling for these burritos. Your leftover salmon will get a hit of taco seasoning before joining the salad as a filling for these burritos. It's drizzled with a homemade creamy dressing before being rolled in tortillas.
Recipe by Hungry Healthy Happy
Keto Salmon Cream Cheese Egg Roll Up
Mix your leftover flaked salmon with cream cheese and sliced green onions and add it to the middle of an egg crepe. You'll love this simple recipe for breakfast, light lunch or dinner. Top with sliced avocado and enjoy this low carb meal.
Recipe by Low Carbing Asian
French Lentil Spinach Salad
Easily create the wonderful flavor profile of lentils, spinach and salmon with this hearty cold salad. It's a delicious way to use your leftover salmon. Add bite-sized chunks of salmon to the spinach and lentil salad. Add onions and feta cheese and drizzle with the homemade toasted cumin vinaigrette. Divine!
Recipe by Zestful Kitchen
Salmon and Caramelized Onion Frittata
Make this awesome frittata for a weekend brunch or a weeknight dinner. Your leftover salmon joins mushrooms, feta cheese, chopped kale and caramelized onions as filling for this delectable frittata. Serve it with a side salad and crusty bread.
Recipe by Garlic And Zest
Salmon, Arugula, And Feta Frittata
Your leftover salmon will be in good company with this quick recipe. If you love feta cheese, you'll love it paired with salmon, arugula and eggs in this colorful and delicious frittata. It's chock full of savory goodness that can be ready to devour in about 20 minutes.
Recipe by Bowl Of Delicious
With so many recipes to choose from, you'll never get bored with leftovers. So try one of these easy salmon dinner ideas this week!