Love sushi? Here are 20 delicious sushi recipes that are easy to make at home.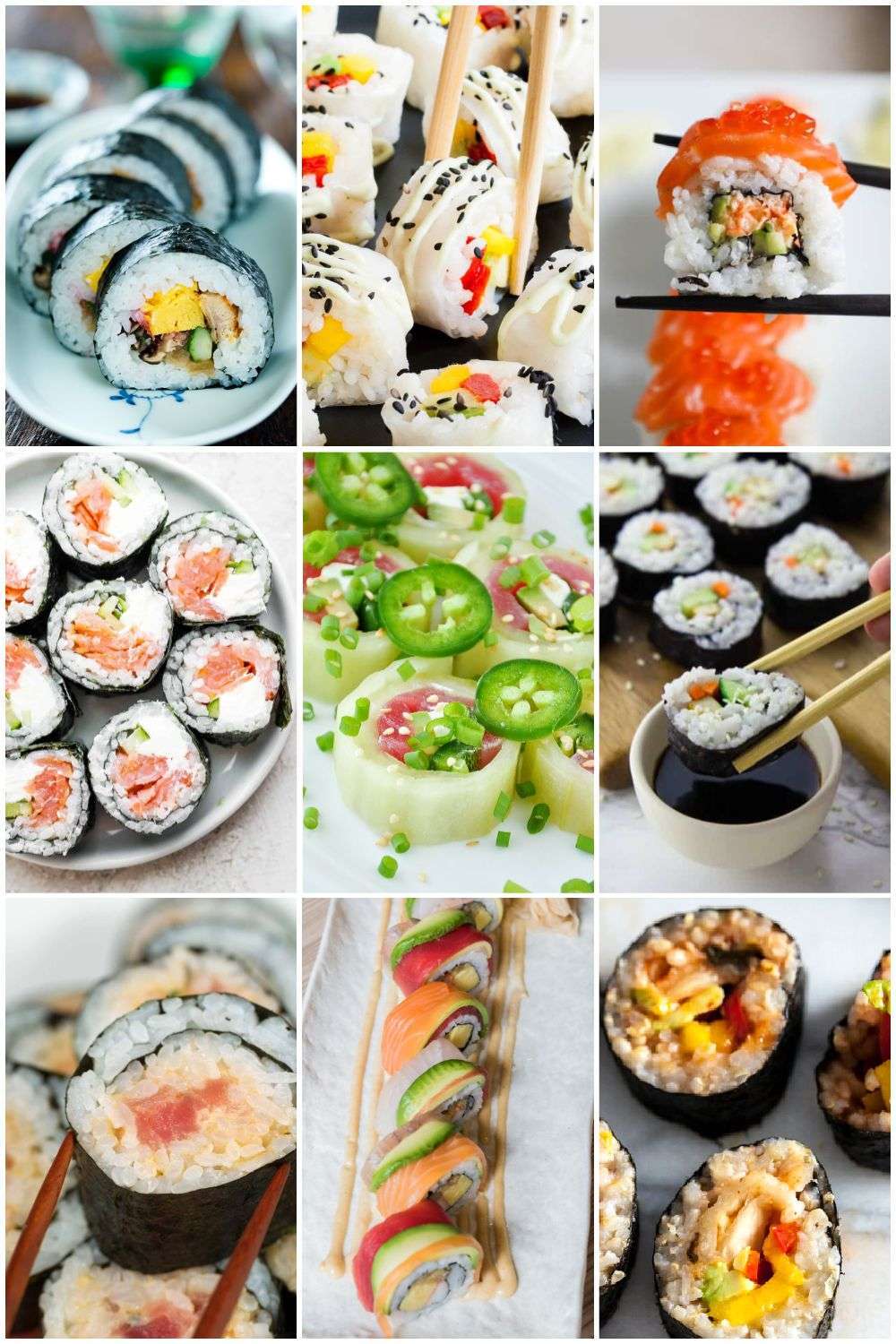 If you're a fan of sushi, that irresistible Japanese cuisine that incorporates seasoned rice with a range of raw fish or cooked seafood and other ingredients, all delicately rolled in a seaweed sheet, you'll want to browse these sushi-making ideas.
You can easily recreate your favorite sushi roll with these homemade sushi recipes. Learn how to make authentic short grain sushi rice and season it with a vinegar mixture. Discover how to use sushi-grade fish to create classic rolls or the popular uramaki, also known as inside out rolls, where the rice is one the outside of the rolled sushi.
Easy Sushi Recipes You Can Make At Home
From spicy tuna, salmon, and crab to mango, cucumber, and avocado, this collection of easy sushi recipes will show you ways to use these ingredients to create various types of delectable sushi rolls, right in your own kitchen.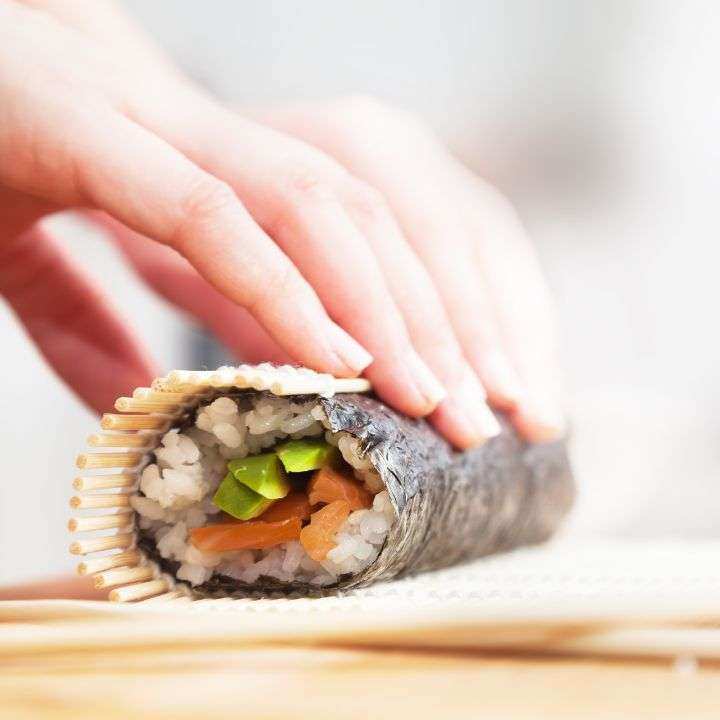 Philadelphia Roll
Master the classic Philadelphia sushi roll with this tasty recipe. Nori seaweed sheets are layered with sushi rice and flattened with the back of a spoon. Next, layer on cream cheese, smoked salmon and cucumber slices.
Roll into a log following these step-by-step instructions on how to use the bamboo sushi mat to help keep everything tight and intact. Cut the roll into 1-inch pieces using a sharp knife. These beautiful sushi rolls are ready for serving with a little wasabi for a spicy touch.
Recipe by The Wooden Skillet
Alaska Sushi Roll
This sushi roll is a seafood delight with its inside filling of Kani kamaboko, or imitation crab meat, mixed with kewpie mayonnaise. It shares space with sliced cucumber and avocado and is surrounded by nori with an outer layer of sushi rice, making it a delicious inside out sushi roll.
More seafood tops the roll with sushi-grade salmon and a smattering of ikura, or salmon roe. Beautiful and tasty!
Recipe by The Heirloom Pantry
Tempura California Roll
Get creative with a California roll by making an inside out version with a crunchy outer shell. This maki sushi is made with either imitation crab or shrimp tempura as well as avocado.
Lay out your bamboo mat with a layer of plastic wrap. Add sushi rice to a nori sheet and then carefully flip it over so it becomes the outside layer. Now add your shrimp or imitation crab and avocado slices before rolling up. Add crunchiness to the outside layers by spooning toasted panko crumbs over the roll. Slice and drizzle with unagi sauce
Recipe by Plated With Style
Nigiri Sushi
You'll love this nigiri sashimi recipe that's made with vinegar rice and smoked salmon. A characteristic of nigiri is that it is bite-sized so it can literally be eaten in one bite.
Shape the rice with your hands into an oval shape with a flat bottom so it will sit without falling over. Smear wasabi on the top of the rice. Add a thin slice of the smoked salmon that you've sliced with a sharp knife so that it fits perfectly over the shaped rice. Serve with a small bowl of soy sauce and pickled ginger.
Recipe by Chef Jar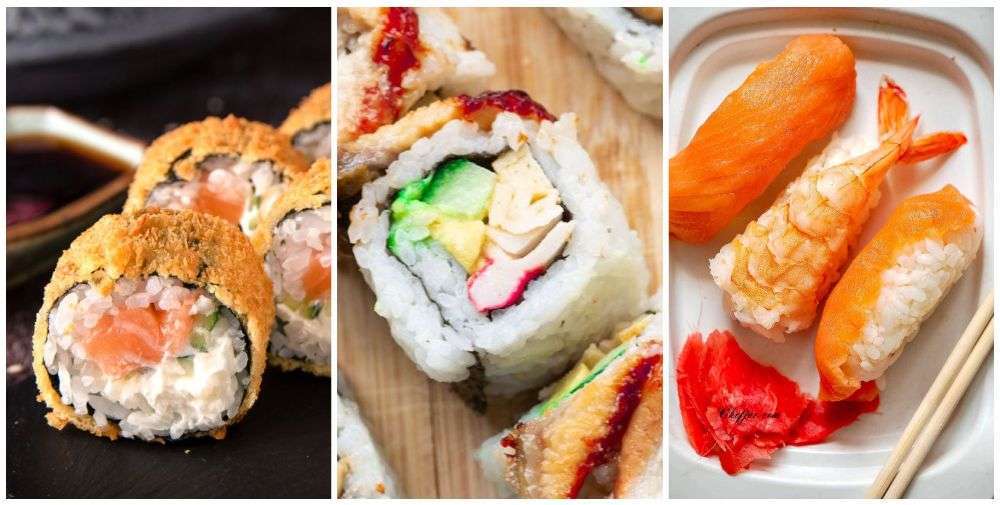 Naruto Sushi Rolls
With not a nori sheet in sight, you can still make delicious sushi that's rolled in cucumber strips. Fresh seafood is the filling consisting of a combo of sashimi-grade tuna and salmon along with green onion, sliced avocado and jalapeno, all held in place with a smear of cream cheese.
Roll each up, individually, and sprinkle with sesame seeds. Serve with sriracha for a spicy kick.
Recipe by Peas And Crayons
Creamy Crab Sushi Roll
It's perfectly acceptable and totally delicious to use imitation crab in this creamy inside out sushi roll. The trick to make the sushi rice stick to the nori seaweed wrapper before you flip it over is to use a rolling pin, over a layer of plastic wrap, to help compress the rice.
Mix the crab with mayo and cream cheese and add it down the middle of the nori wrap. Next, add cucumber slices followed by a drizzle of sriracha. Roll carefully, slice and serve with spicy mayo.
Recipe by Fly Peach Pie
Rainbow Roll Sushi
This rainbow sushi roll is a colorful bite-sized offering with its filling of various seafood and veggie items for a delicious and flavorful experience. It's an inside out roll with the nori on the inside that holds together cucumber, crab meat and avocado.
When rolled, the outside sushi rice layer is the perfect base to layer on sashimi grades of tuna, salmon and or yellowtail filet. Give it a little more color on the outside with a green slice of avocado. It's an irresistible rainbow of ingredients that everyone will enjoy.
Recipe by Izzy Cooking
Yellowtail Roll
Get your taste buds ready for this spicy tuna roll that's so much cheaper than restaurant sushi. It uses raw sashimi-grade tuna in the tekka maki style.
Prepare your bamboo mat with plastic wrap before laying the nori sheet on top. Add the seasoned rice, made with short-grain rice that's been cooked and seasoned with sushi vinegar. Follow with a sprinkle of sesame seeds. Finally, add the sliced tuna. Roll it up and squeeze tightly before slicing and serving.
Recipe by A Spectacled Owl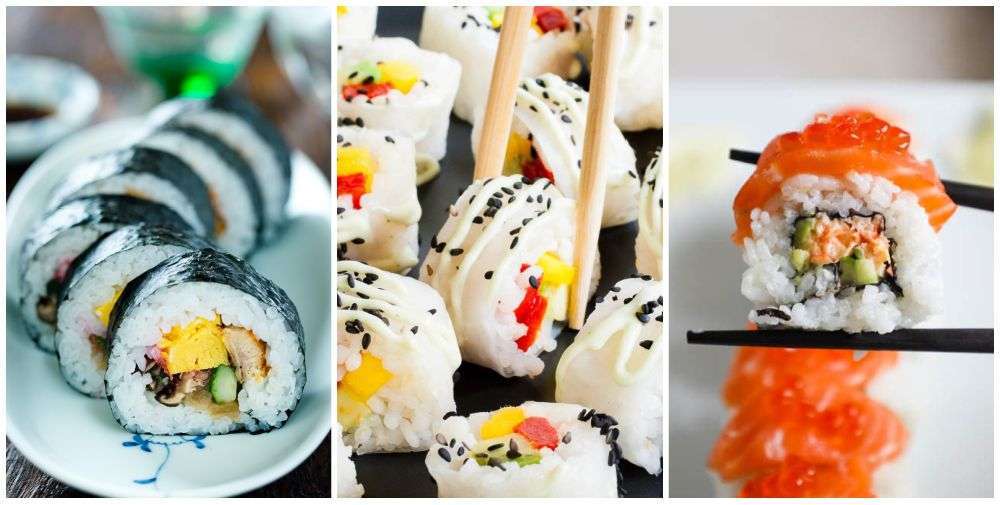 Dragon Roll
The main ingredient in a dragon sushi roll is unagi or freshwater eel. Here, an eel fillet is baked and drizzled with a simple 3-ingredient eel sauce made with soy sauce, sugar, and mirin. Make the sushi rice and season it with rice vinegar before layering it on top of a nori sheet.
Then, layer on the sliced avocado, cucumber matchsticks and imitation crab. Drizzle with a few tablespoons of spicy mayo before rolling it all up. Place the cooked unagi on top, lengthwise, and cut into slices. Drizzle with more eel sauce.
Recipe by The Big Man's World
Avocado Mango Kimchi Sushi Rolls
Keep it vegan with this zesty and fruity sushi roll that combines seasoned brown rice with mango, avocado, bell peppers and kimchi. Make sure your bamboo mat is wrapped in plastic wrap before laying down a sheet or nori.
The rice is added first, followed by sliced and thin strips of mango, avocado, and bell peppers. The kimchi goes on last. Roll it up tightly and slice and serve.
Recipe by Keep It King
Tempura Shrimp Sushi Rolls
Encased in these shrimp tempura rolls, you'll find a deliciously crunchy shrimp, creamy avocado, cucumber, and tobiko filling waiting to be dipped in soy sauce or a spicy mayonnaise sauce. Dip the deveined fresh or frozen shrimp in the homemade tempura batter and either deep fry it in a skillet or conveniently use an air fryer.
To make the roll, smear a nori sheet with cream cheese, and spread sushi rice on top before arranging the fried tempura shrimp, slices of avocado, cucumber, and tobiko over it. Roll it up and slice it into sections with a sharp knife. Serve with a small dish of soy sauce or a spicy mayo.
Recipe by Sarah's Coop
Philly Roll With Cucumber
You'll love this Philadelphia roll where a thinly sliced cucumber serves as the outer roll. Inside, you'll find the delectable sashimi-grade salmon, cream cheese and more cucumber.
Cut the salmon, cream cheese and more cucumber into small chunks that can be easily encased in the long cucumber slices when rolled. Garnish with sesame seeds and serve with soy sauce for dipping. It's crunchy, cheesy and savory all in one bite!
Recipe by Low Carb Asian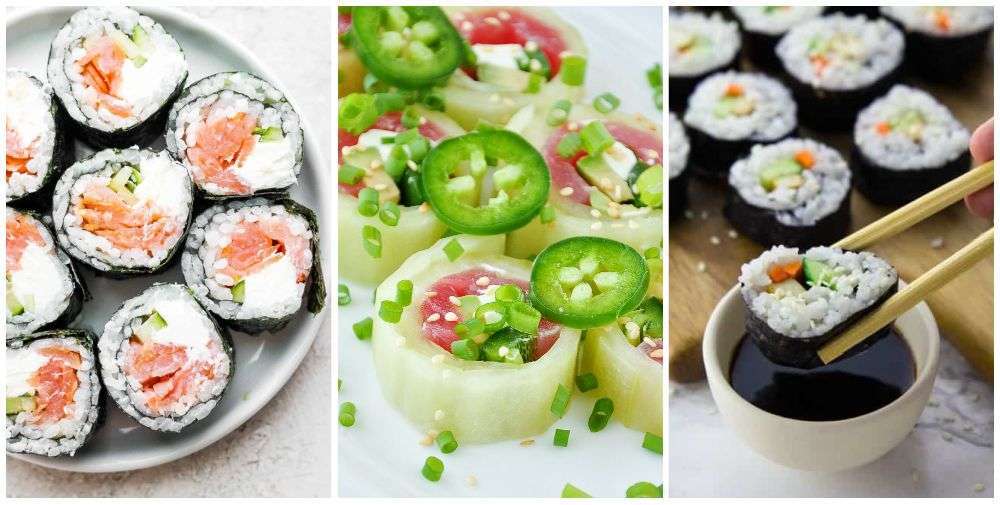 California Roll
Prepare your bamboo mat for this classic sushi recipe! This sticky sushi rice that's seasoned with rice vinegar becomes the outside layer of the sheet of nori. A mayo and imitation crab mixture joins with thin strips of cucumber and avocado.
Roll it all into a log before slicing. Garnish with sesame seeds and serve with ginger, soy sauce, and wasabi.
Recipe by Dinner Then Dessert
Vegan Sushi
Free of seafood but full of delightful and crunchy veggies, this sushi roll uses tofu as a protein source. It's also filled with sliced avocado, carrot and cucumber matchsticks.
Start with a nori sheet and layer on the sushi rice before adding the cooked tofu along with the vegetables. Roll it, slice it and serve it with soy sauce.
Recipe by Vegan Heaven
Tamago Sushi
You'll love this classic egg sushi that's perfect to serve for breakfast. Tamagoyaki, which is a Japanese rolled omelet, is served over sushi rice. Thin layers of the egg mixture consisting of eggs, sugar, mirin, and rice vinegar are cooked, rolled and folded together.
It's then cut to fit on top of the sushi rice that's been shaped into bite-sized oval forms. It's all secured with a nori seaweed wrap that's been cut into wide strips and that surrounds the rice and egg duo. Serve with soy sauce.
Recipe by Izzy Cooking
Futomaki
Colorful ingredients peek out of these delicious futomaki, or maki for short, sushi rolls. Wrapped in nori, the inside is lined with seasoned sushi rice, dried shiitake mushrooms, gourd strips, unagi (eel), cucumbers, and seasonings. It's rolled into a log, sliced and served with sushi ginger.
Recipe by Just One Cookbook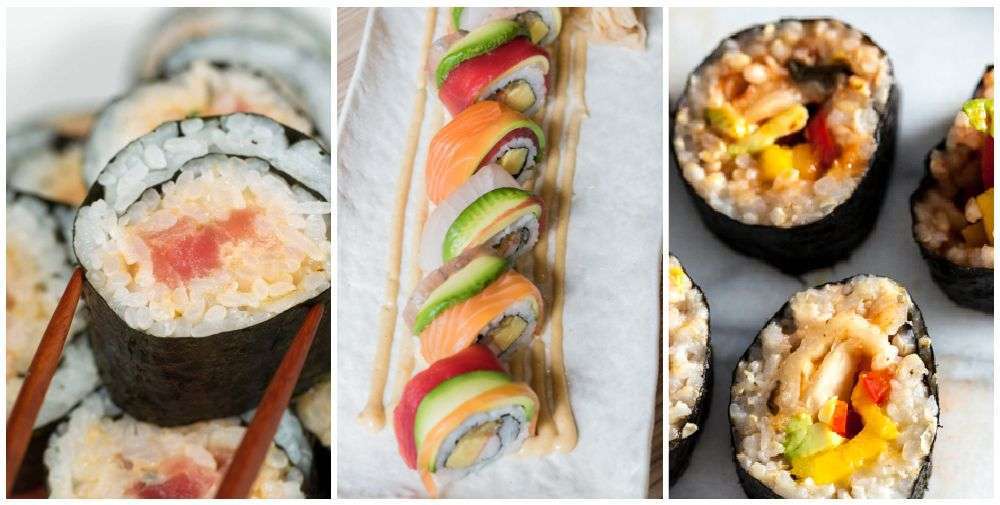 Rice Paper Sushi
Try this vegan riff on traditional sushi by foregoing the umami flavor of nori sheets and use rice paper instead. You'll love the colorful presentation that's made from the vinegar sushi rice that goes down on soaked rice paper first.
It's followed by roasted red bell pepper slices, fresh mango slices and avocado slices. Roll it up into a log and drizzle with wasabi mayo. Sprinkle black sesame seeds on top before slicing and serving.
Recipe by My Pure Plants
Spicy Tuna Roll
This budget-friendly and kid-friendly sushi uses canned tuna that's spiced with sriracha sauce and chili oil before being mixed with mayo and sliced green onions. It's a tasty filling that goes down on the vinegar-seasoned sushi rice that's layered on a nori sheet. Use your bamboo mat to help roll it into a log and serve with soy sauce and wasabi.
Recipe by Pickled Plum
Spicy Crab Roll
Strips of avocado and cucumber join crab sticks, or Kani, that's been mixed with sriracha sauce and mayonnaise for the tasty inner filling for this sushi roll. A sheet of nori is spread with sushi rice before being flipped over for an inside outside roll. Add the crab and vegetables down the center and roll securely before slicing and serving with kewpie mayo.
Recipe by Honest Food Talks
Inside Out Mango Sushi
You won't miss the seafood in this scrumptious inside out uramaki mango sushi that incorporates seasoned panko, sesame seeds and a spicy mayo mixture to its taste profile. Add the sushi rice to a nori sheet and press in toasted sesame seeds before flipping it over.
Add the chopped mango along with panko crumbs for a little crunch as well as sriracha mayo for some heat. Roll, slice and serve with sushi ginger, soy sauce and wasabi.
Recipe by Cinnamon And Coriander
These delicious homemade sushi rolls come together quickly. They're also easy enough for beginners.