Looking for the best way to cook swordfish? Here are 20 of the best swordfish recipes to give you plenty of easy and delicious options!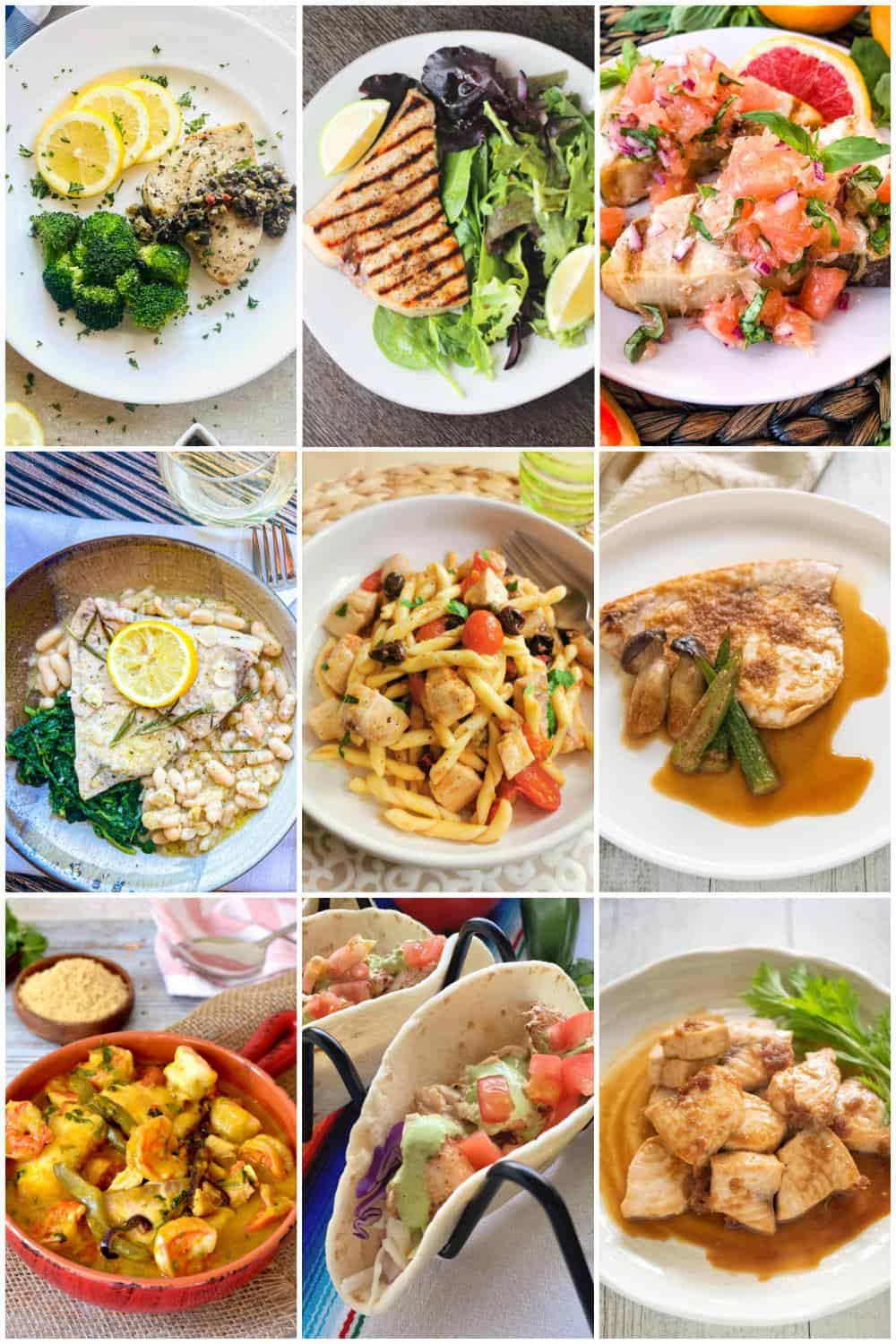 Swordfish is a whitefish that's perfect for seafood dinners and can be prepared in just minutes. With its mild flavor and meaty texture, swordfish steaks are perfect for flavor boosters using tasty sauces and seasonings.
Here, you'll find easy and delicious recipes for how to cook swordfish. From grilling to broiling and from oven baking to pan frying, swordfish is a quick fish to cook. And swordfish is packed with protein making it a nutritious choice for a seafood meal.
Best Swordfish Recipes
Whether you're using fresh or frozen seafood, you're sure to find an easy way to cook your next fish dinner using any one of these best swordfish recipes.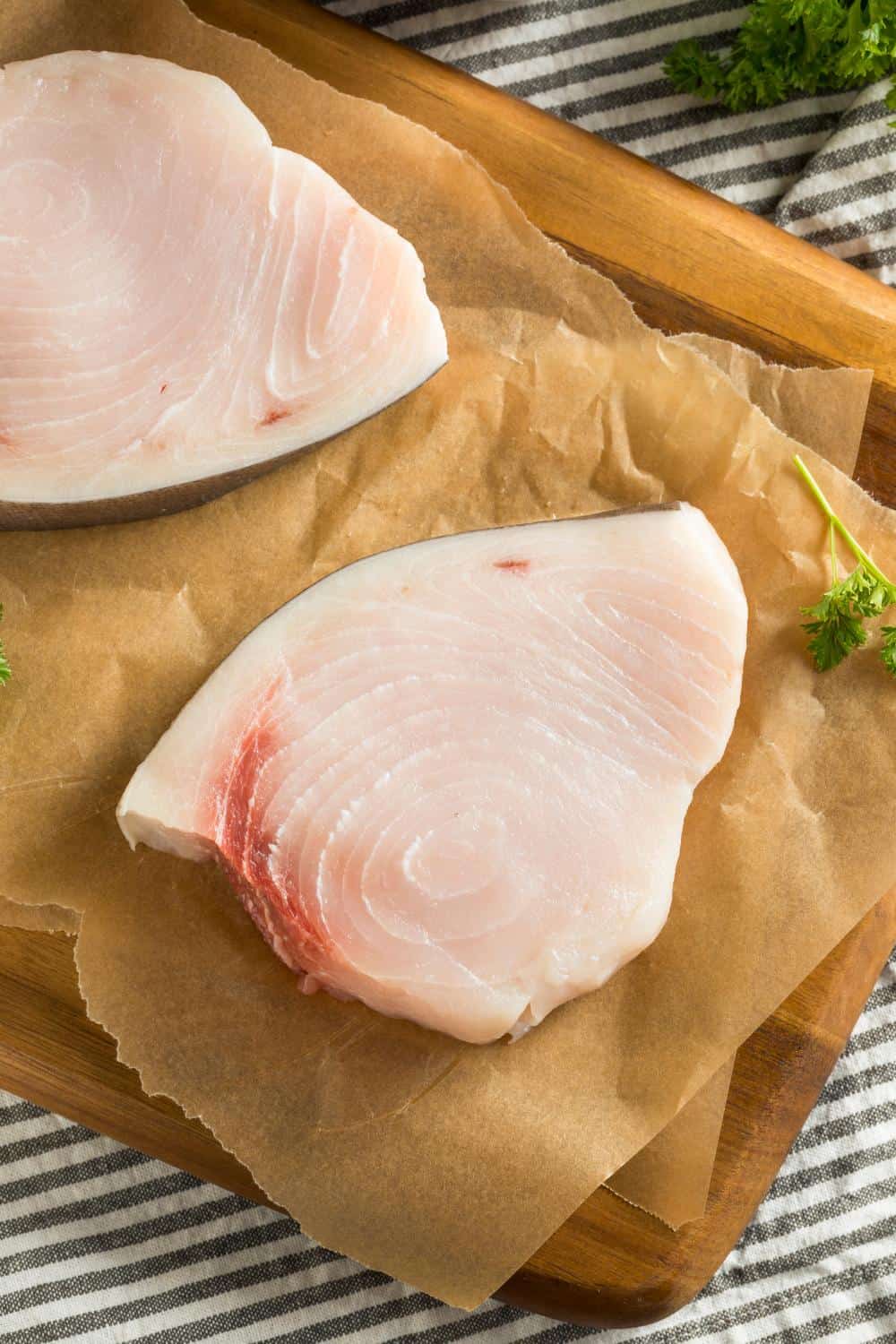 Air Fryer Swordfish
Perfect for frozen or fresh swordfish, let your air fryer cook seafood in less than 15 minutes with little cleanup or effort on your part. Just brush the steaks with olive oil and your favorite seasonings, such as lemon pepper or blackening seasoning. If your swordfish is already thawed, you can marinate it for an hour before air frying.
Cook for 10 minutes, flipping halfway if thawed. Add an additional 5 minutes for frozen swordfish. The internal temperature should be at least 145° before serving. Use a digital thermometer for an accurate reading.
Recipe by Aubrey's Kitchen
Grilled Swordfish Kabobs
Chunk up thick swordfish steaks and let them marinate before threading them on a skewer for a quick session on the grill. The easy marinade is made with olive oil, garlic, lemon juice, white wine and herbs. Give the swordfish at least an hour to absorb these tasty flavors before adding them, along with chunks of onion, fennel, cherry tomatoes and lemon, on skewers.
Place the kabobs on the grill for about 10 minutes of direct heat, turning throughout the cooking to make sure all sides are cooked to perfection.
Recipe by 2 Sisters Recipes
Sicilian Swordfish
You need very little time to make this savory seafood dish that pairs pan-seared swordfish steaks with an olive relish for a Sicilian-style meal that's not only delicious but impressive. The swordfish takes just minutes to sear in avocado oil seasoned with salt and freshly ground black pepper.
The star of the meal is the briny relish consisting of olives, capers, toasted pine nuts, chopped tomatoes, golden raisins, freshly chopped parsley, olive oil and red wine vinegar. The relish can even be made days in advance and stashed in the fridge. Top your swordfish steaks with it and serve with lemon wedges.
Recipe by Well Seasoned Studio
Strawberry Guacamole Swordfish with Coconut Cauliflower Rice
Perfect for a summer lunch or dinner, this tasty seafood meal is fast and easy. A quick sear in a cast iron skillet with coconut oil will get the salt and pepper-seasoned swordfish steaks going before moving the skillet to the oven to finish cooking.
Prepare fresh guacamole with avocado, lime juice, onion, and jalapeño and give it a touch of sweetness with freshly chopped strawberries. Coconut cauliflower rice makes the perfect base for serving this refreshing explosion of flavor. Add the swordfish on top of the rice and dollop with the fruity guacamole.
Recipe by Barre Eat Repeat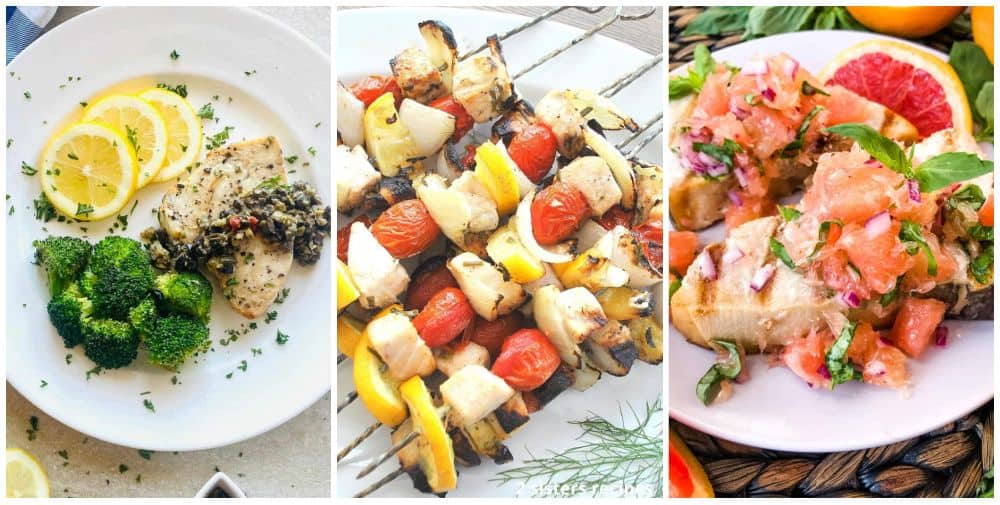 Easy Swordfish Tomato Curry
Enjoy a spicy fish dinner by adding cubes of swordfish in a fire-roasted tomato and coconut milk base that's spiked with seasonings of turmeric, cumin and chili powder. Onion, ginger and garlic add another layer of spiciness to this thick sauce that coats the bite-sized pieces of swordfish as they simmer on the stovetop. Serve over your favorite rice.
Recipe by Savory Spin
Pineapple Mango Swordfish Ceviche
Let the citric acid of juices of lemon, lime and orange "cook" this seafood dish. This ceviche recipe pairs raw shrimp with uncooked swordfish in this refrigerated mixture. Other ingredients besides citrus juices include mango chunks, chopped pineapple, diced red onion, diced red pepper, finely chopped poblano pepper and chopped cilantro.
Make this ahead of time as it needs at least 7 hours in the fridge. Serve this extravaganza of seafood flavors with plantain chips for some crunch.
Recipe by The Whole Smiths
Strozzapreti With Swordfish
Pair swordfish with this Italian pasta dish that's full of Mediterranean flavors. Begin by sautéeing garlic and tomatoes in olive oil before adding in capers, black olives and red chili pepper flakes. Cut the swordfish steaks cut into cubes and add them to the sauté pan and cook on low until done.
Serve over cooked strozzapreti pasta, which is an elongated pasta that can also be swapped out for penne or rigatoni. Garnish with finely chopped parsley.
Recipe by The Pasta Project
Crispy Swordfish Nuggets
Cut a swordfish fillet into cubes for a breaded seafood nugget meal that's not only delicious but a little crispy, as well. Use fresh breadcrumbs seasoned with parsley, lemon zest and chopped red chile pepper to coat the swordfish pieces after they've been dunked in a beaten egg mixture.
Pan fry them in olive oil over medium high heat until golden brown. Place them on a paper towel to absorb any additional oil before serving.
Recipe by Italian Food Forever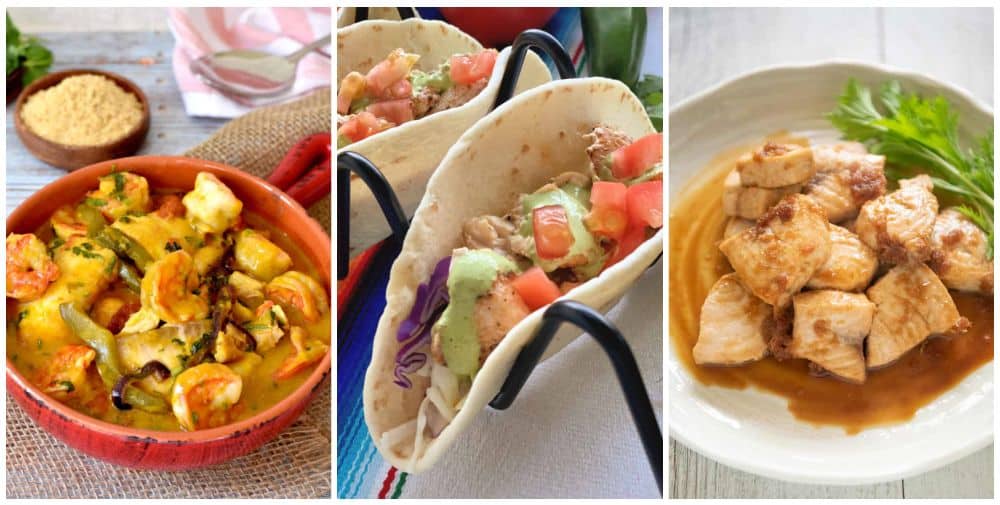 Swordfish Steaks With Avocado Mayonnaise
Top your perfectly grilled swordfish steaks with this zesty avocado mayonnaise that's simple to mix up on the fly. You just need mashed avocado, mayo, lime juice, salt and a dash of hot sauce. Let it chill in the fridge along with the swordfish steaks as they marinate in a mixture of olive oil, onions, cilantro, lime juice and spices.
When ready, grill the swordfish, about 4-5 minutes per side. Serve with a dollop of the avocado mayo on top.
Recipe by Recipe Girl
Swordfish Tacos
Use a blackening seasoning to amp up your swordfish steaks before adding them to a baking dish and cooking in the oven for as little as 15 minutes. When done, cut them into bite-sized pieces and serve them in warm tortillas for a delicious seafood taco meal. Garnish with shredded cabbage, diced tomatoes and a creamy cilantro dressing.
Recipe by Katie's Cucina
Grilled Garlic Swordfish
Start with marinating your swordfish steaks in soy sauce for at least 30 minutes before either grilling them or pan-frying them. You'll want to serve them with a delectable ginger and garlic glaze made with brown sugar, soy sauce, freshly grated ginger, minced garlic, rice vinegar, and sesame seed oil.
Heat in a small saucepan until reduced. Spoon over the swordfish and top with a mango salsa for a sweet and savory meal.
Recipe by Tatyana's Everyday Food
Blackened Swordfish Sandwich
Keep it casual with this handheld meal of blackened swordfish fillets sandwiched in a bun. Use either fresh or thawed fillets and pat them dry with a paper towel before brushing them with butter and sprinkling with your favorite dry seasoning.
Pan sear them over medium high heat for 2-3 minutes on each side. Add them to your bun and top with a cabbage slaw or lettuce and tomato.
Recipe by Girl Carnivore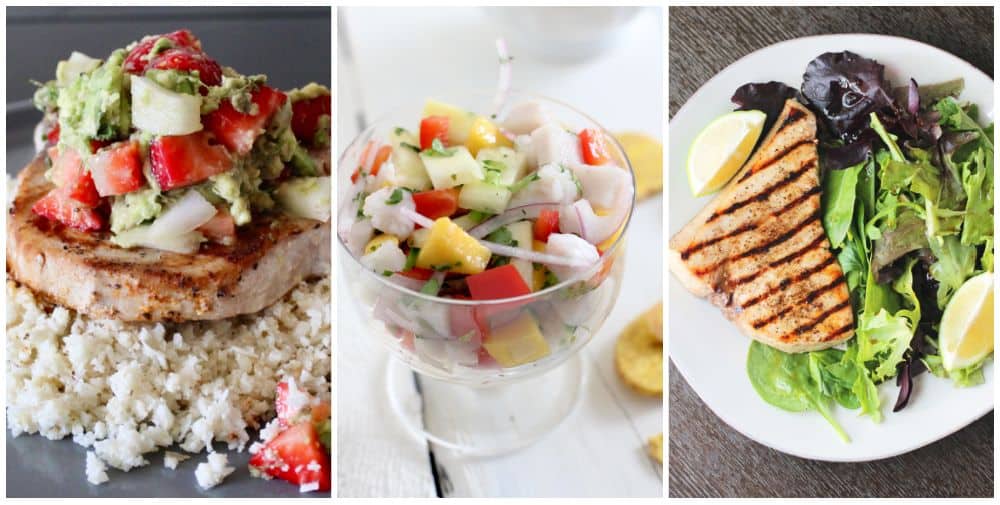 Baked Swordfish With Lemon
The firm yet tender texture of baked swordfish fillets lends its mild flavor to this baked seafood recipe that pairs white beans with this white fish. Prepare the swordfish in a seasoned marinade of olive oil, lemon juice, lemon zest, sliced garlic, fresh rosemary and red pepper flakes. Season cooked white beans in an onion and garlic mixture in a cast iron skillet before adding vegetable stock.
Add in the marinated swordfish and top with a layer of fresh lemon slices and sprigs of fresh rosemary. Oven bake this meal for about 12 minutes or until the fish flakes easily with a fork. Cooled leftovers can easily be stored in the fridge for a few days.
Recipe by Weekday Pescatarian
Baked Swordfish Braciolette
Perfect as an appetizer or an entree, this breaded whitefish is grilled to crispy deliciousness. Bite-sized swordfish meat is tossed in olive oil before being rolled in a seasoned breadcrumb mixture of crushed garlic, parmesan cheese and finely chopped parsley.
Thread them onto a skewer and grill them, turning halfway to ensure even cooking. Use an indoor counter grill or your outdoor grill. You can also use the same breading recipe on swordfish steaks and oven bake them in a dish.
Recipe by Your Guardian Chef
Basil Grapefruit Grilled Swordfish
Citrus and herbs add bright flavor to grilled swordfish steaks in this easy recipe. Coat the steaks with olive oil and season with salt and pepper before adding them directly to the grill grates to cook, on each side, for about 5 minutes.
Prepare the grapefruit salsa by cutting it into chunks and adding to a bowl along with diced red onion, fresh basil, lemon juice, salt, pepper and olive oil. You can also swap out the grapefruit for fresh orange for a sweeter citrus salsa. Serve over the grilled swordfish steaks.
Recipe by Three Olives Branch
Brazilian Seafood Stew
Whitefish, such as swordfish, join shrimp in this savory coconut milk-based stew. It's a stovetop effort that's flavored with tomatoes, bell pepper, onion, garlic, and lime juice, all simmered to deliciousness in a dutch oven. Just before serving, garnish with fresh cilantro to bring all the flavors together in this Brazilian fish dish.
Recipe by Simple Living Recipes
Ginger Lime Marinated Swordfish
Citrus juice of lime is the perfect backdrop for the spiciness of fresh ginger and salty soy sauce as a marinade for swordfish steaks. Let the swordfish soak up this flavorful marinade for at least 30 minutes before adding it to your preheated grill pan or skillet.
Sear each side for about 4 minutes, depending on the thickness of the fish. This fish dish pairs wonderfully with a green salad for an easy summer meal.
Recipe by The Gourmet Gourmand
Pan Seared Swordfish With Ginger Sauce
Swordfish fillets with a spicy ginger and soy sauce make for an easy and tasty seafood dish. Start by drizzling the swordfish with cooking sake and salt and letting it sit for 10 minutes for patting the fillets dry.
Pan fry the swordfish for a minute on each side before adding a zesty sauce consisting of freshly grated ginger, mirin, cooking sake and soy sauce. Cover the pan and let the sauce reduce before serving with your choice of vegetables.
Recipe by Recipe Tin Eats
Swordfish with Mustard Basil Butter
Give grilled whitefish a boost of flavor with an easy and buttery topping. Start by grilling your swordfish steaks for several minutes on each side. When done, top them with a simple mixture of room temperature butter, Dijon mustard and freshly chopped basil that you'll whisk together in just seconds.
Serve with your favorite sides such as easy instant pot rice and steamed veggies. What could be easier?
Recipe by Recipe Girl
Broiled Swordfish With Roasted Cherry Tomatoes
Add a boost of flavor to broiled swordfish by adding a roasted and savory mixture of olive oil, lemon zest, lemon juice, cherry tomatoes and freshly chopped parsley to the cooked fish. Start by roasting the tomatoes in the olive oil mixture until they burst open. Add in minced garlic and red pepper flakes for additional spicy flavor and continue roasting for a few more minutes.
Remove and add the seasoned swordfish steaks to a broiler-safe pan and broil them for about 4 minutes on each side. When finished, add them to the olive oil and tomato mixture before plating the and serving with the roasted cherry tomatoes.
Recipe by Martha Stewart