Looking for the perfect cocktail to celebrate with? You will love the classic French 76 or French 75 drink topped off with champagne. Learn how to make this easy, yet sophisticated sparkling cocktail at home.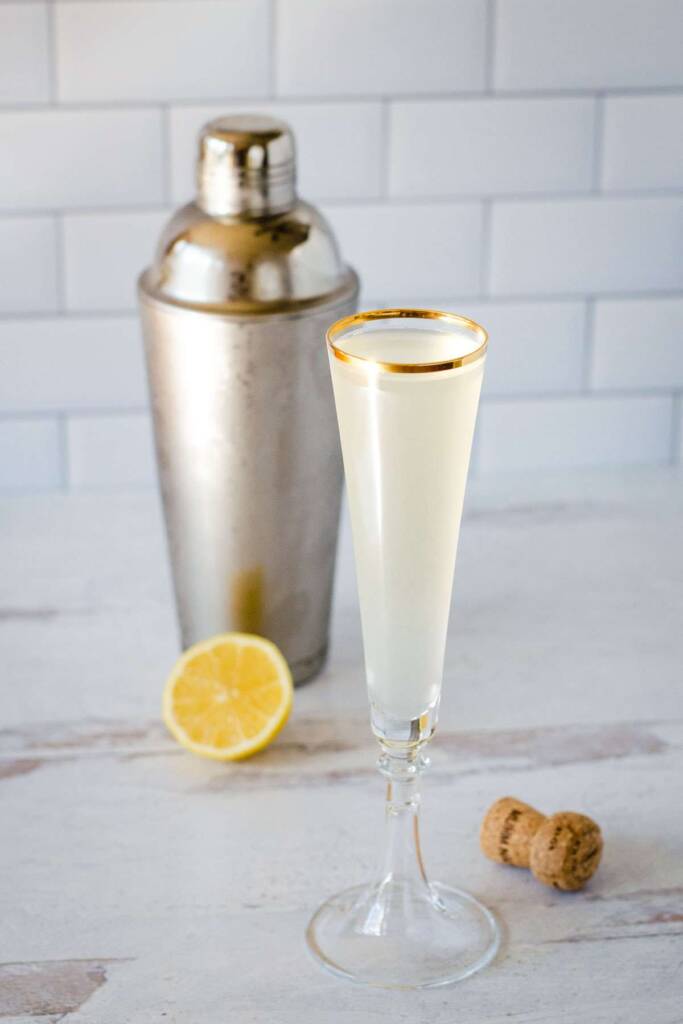 The French 76 may become your new favorite cocktail! This classic drink has a hint of lemon and a touch of sweetness that pairs well with the flavor of the champagne. It's perfect for celebrating everything from New Year's Eve to birthdays, an anniversary, or just a weekend brunch.
And for an easy twist, try the French 75. The French 76 and French 75 cocktails are related drinks. The key difference is the French 76 uses vodka and the French 75 is made with gin. They are equally delicious, although I slightly prefer the taste of the vodka version.
This refreshing champagne cocktail pairs well with seafood like this easy air fryer lobster tail or these crab appetizers.
Ingredients
Just 4 simple ingredients are required for this classic sparkling wine cocktail.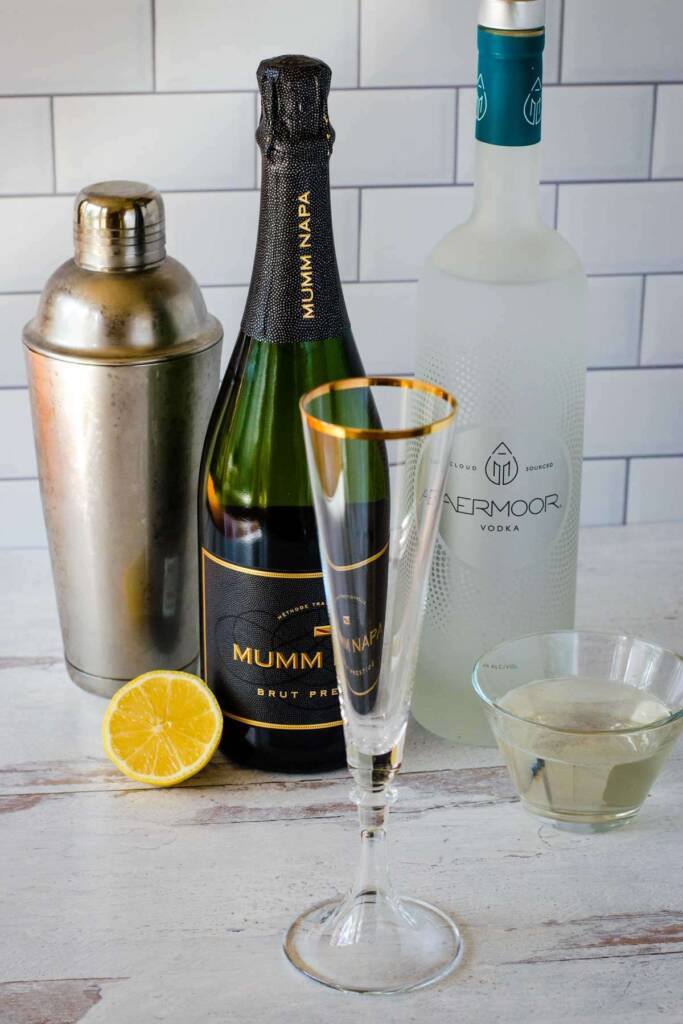 Vodka - a plain vodka is traditional, but you can always change it up with a flavored version if you like.
Lemon juice - be sure to use fresh squeezed lemon juice for the best flavor. You only need a little bit, so it's easy to squeeze a lemon for this.
Simple syrup - you can buy simple syrup, but it's so quick and easy to make. Just heat equal parts sugar and water in a small saucepan until the sugar is completely disolved.
Champagne - a dry champagne or sparkling wine gives this drink its fizz. You can also use cava or prosecco.
See recipe card for quantities.
Bar Equipment
Cocktail shaker – you'll need a cocktail shaker to to mix the base of this drink (I like this one with a built-in strainer).
Champagne glasses - while you can serve this in a highball glass, I like to use a tall champagne flute to show the bubbles for the full effect.
Mini measure shot glass – this clear shot glass with ounces marked on the side is the best for measuring cocktail ingredients.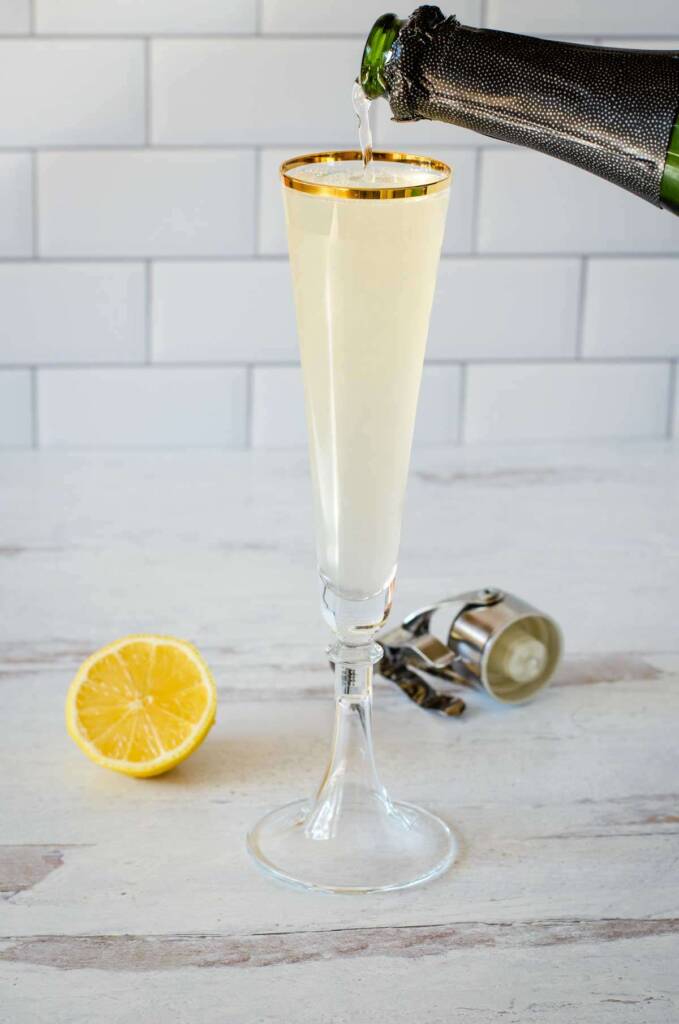 How to Make It
Whether you're making French 76s or French 75s, this drink recipe is a two-step process.
Mix the cocktail base. Shake together the vodka, lemon juice and simple syrup. If you're making drinks for a crowd, you can make a large batch of the base ahead of time and store in the fridge.
Make the drink. To serve the drink, strain the drink base into the glass and and pour a couple ounces champagne to top off the glass.
If you'd like to add a garnish, try a lemon twist or add a maraschino cherry to the glass before pouring the cocktail.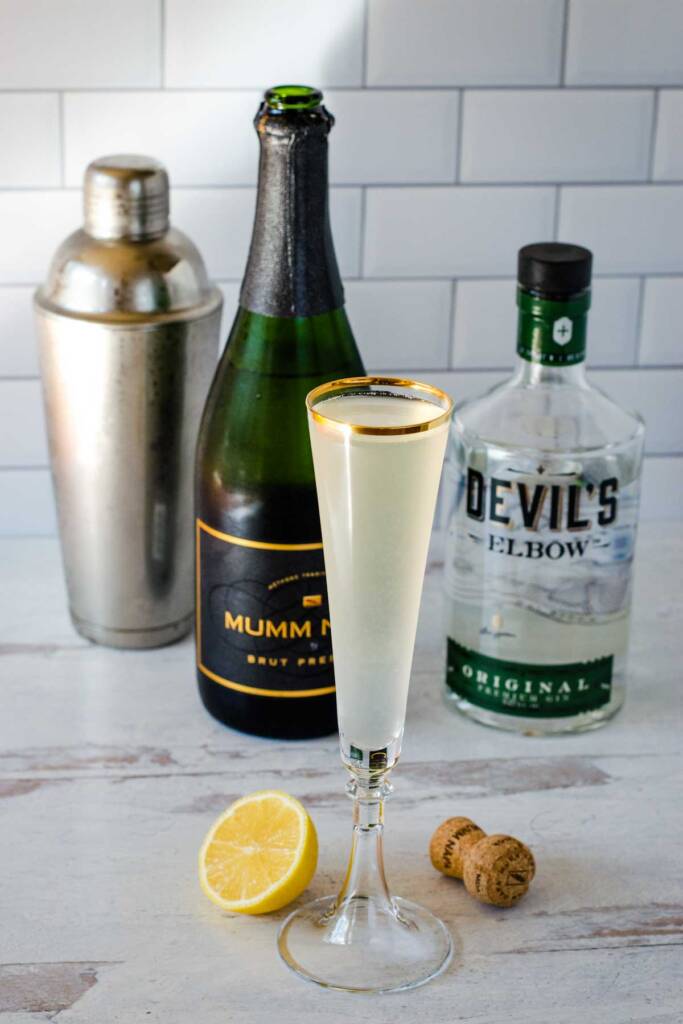 Variations
There are many recipe variations to this cocktail. Try mixing up the citrus, sweetener, spirits, or sparkling elements to make your own version.
French 75 - to make a French 75, simply substitute gin for vodka.
Elderflower - use St Germain elderflower liqueur instead of vodka
Rosé - substitute sparkling rosé for the champagne
Sparkling Margarita - subsitute tequila for vodka, use lime instead of lemon and agave nectar in place of the simple syrup
For a fruity champagne cocktail with less alcohol, try this pomegranate mimosa!
More fruity cocktails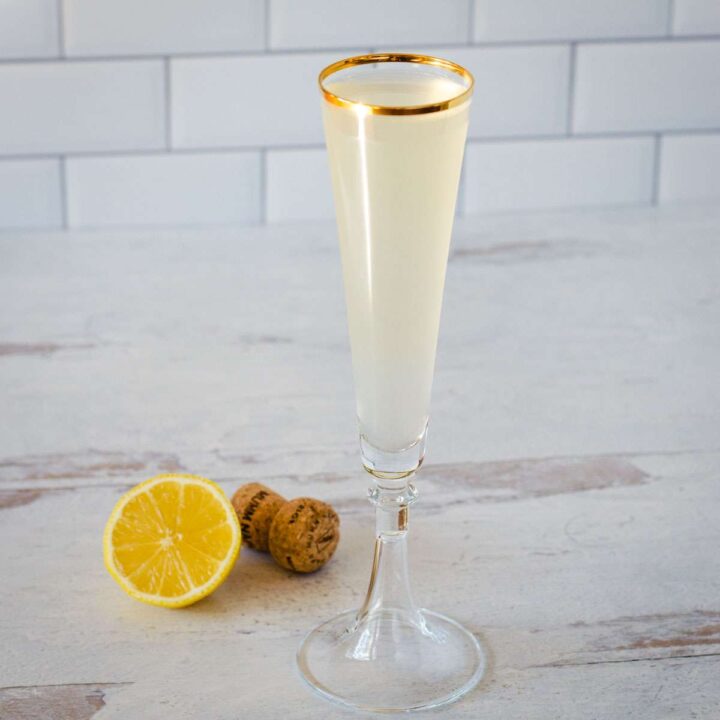 French 76 Cocktail
This simple elegant French 75 is the perfect champagne cocktail to celebrate with!
Ingredients
1 ounce of vodka
½ ounce of lemon juice, fresh squeezed
¼ - ½ ounce of simple syrup, to taste
Ice cubes
2 - 3 ounces of champagne, depending on size of glass
Instructions
Add vodka, lemon juice, simple syrup, and ice to a cocktail shaker and shake until blended. Strain into a champagne glass.
Add champagne to top up the glass.
Recommended Products
As an Amazon Associate and member of other affiliate programs, I earn from qualifying purchases.