Do you know how to make a vodka sunrise? It is the perfect summer drink! It's a great cocktail that echoes the colors of tropical sunrise from deep red to bright orange. And it's refreshing, fruity, and delicious.
It's so easy and fun, this vodka sunrise recipe should be on your list of go-to cocktails! All you need are three ingredients, a tall glass and your favorite garnishes.
If you want to learn how to make a vodka sunrise, then keep reading. And don't miss the tips and tricks below to make sure you get a perfect sunrise! Here are the ingredients and instructions for how to mix up your very own drink.
The sunrise is one of the most popular classic cocktails. And this vodka version is a great alternative to the famous tequila sunrise. It's like a classic screwdriver with a splash of grenadine that adds the red layer to the bottom of the drink for the sunrise effect.
Best vodka for mixing
Vodka is a distilled alcohol that can be made from potatoes, grains, grapes, or even apples! The original vodka that most people are used to is made from grain ingredients like corn, wheat or rye.
The majority of vodkas only have a subtle or neutral flavor of their base ingredient. But some are better and with a bit more character. If your drink is going to have other strong flavors in it, like fruit juices, you'll probably want to use an unflavored vodka for a smooth taste without any competing undertones.
Or if you want to use a flavored or infused vodka, then try using one that complements the other flavors in your drink.
Some vodkas to try that would be good in this vodka sunrise recipe include:
Ciroc Vodka is made from French grapes and is a wonderful choice for a vodka sunrise. It's soft and sweet with crisp and clean notes of citrus.
Tito's Handmade Vodka is distilled from corn and is known for its smooth, sweet taste. It's clean tasting with a peppery finish that works well in cocktails.
Ocean Vodka is made from organic sugar cane, making it a great choice for any cocktail with orange juice. The vodka has notes of crisp minerality from deep ocean mineral water. Fun fact: you can visit their organic farm and distillery on Maui if you're traveling to Hawaii.
Hangar 1 Vodka uses grains and wine grapes to produce this crisp vodka. It's clean, smooth, and crisp with floral notes of honeysuckle and pear.
Smirnoff No. 21 Vodka is a nice choice for vodka sunrise because it has a neutral flavor with a touch of sweetness. The smooth finish is perfect in a cocktail where you want to add lots of other flavors.
What is grenadine?
Grenadine is a sweet syrup made from pomegranate juice. The word "grenadine" actually comes from the French word for pomegranate, grenade. Variations can also include cherry, raspberry, or other berry flavors.
Grenadine is often used to make martinis and other mixed drinks pink but it can be used any time you would want a little extra sweetness or color in your drink.
Ingredients
Here's what you'll need to make this easy vodka sunrise recipe.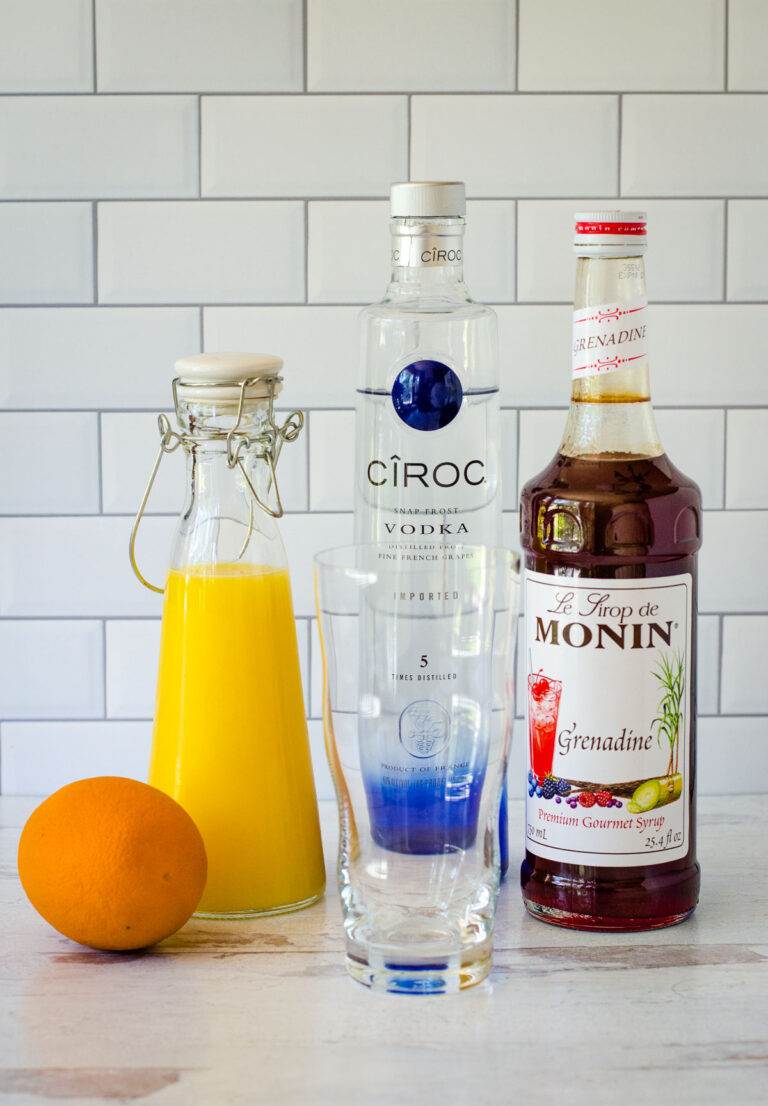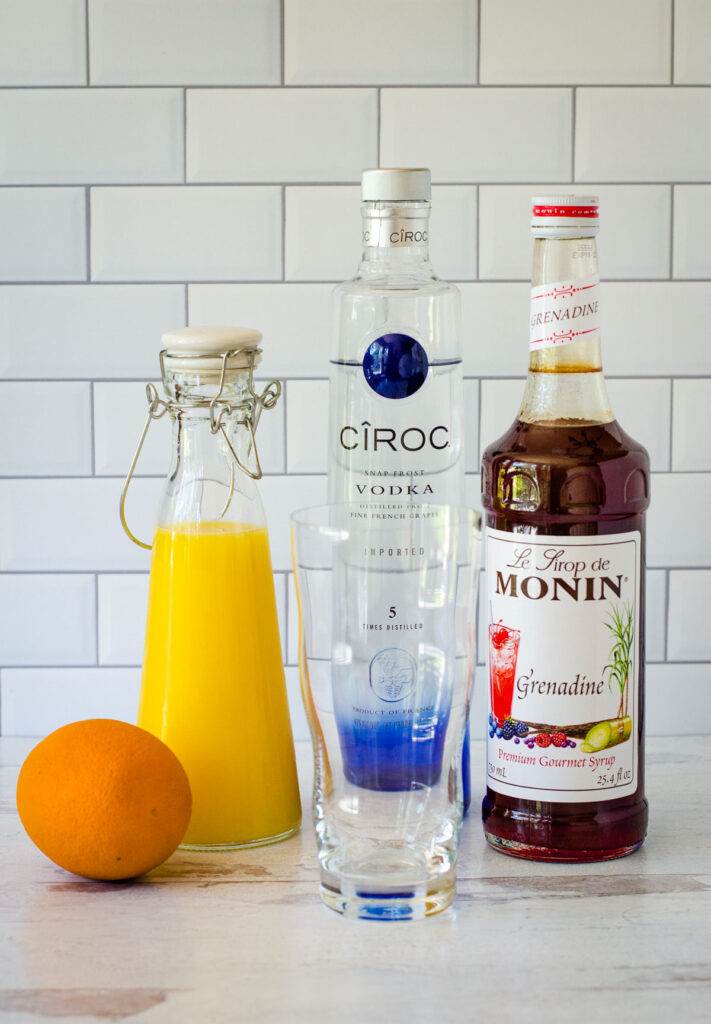 Vodka - of course, start with unflavored vodka or try a citron or orange vodka to reinforce the flavors in the drink.
Orange juice - You can use fresh or bottled juice, but it's best to use a pulp-free version or strain it so your sunrise doesn't have pulp floating in it.
Grenadine syrup - a high-quality grenadine will have a more natural fruit flavor.
A few slices of orange - you can use any type of orange, but I like how the blood orange plays off the colors of the sunrise.
Ice cubes
See recipe card for quantities.
Instructions
The vodka sunrise is best served with ice in a tall or highball glass.
Add the vodka and orange juice to the tall glass, then slowly drizzle grenadine into the glass to create the stunning gradient effect.
If you want even more color, add a little more grenadine (but don't pour too much because it can overpower the drink).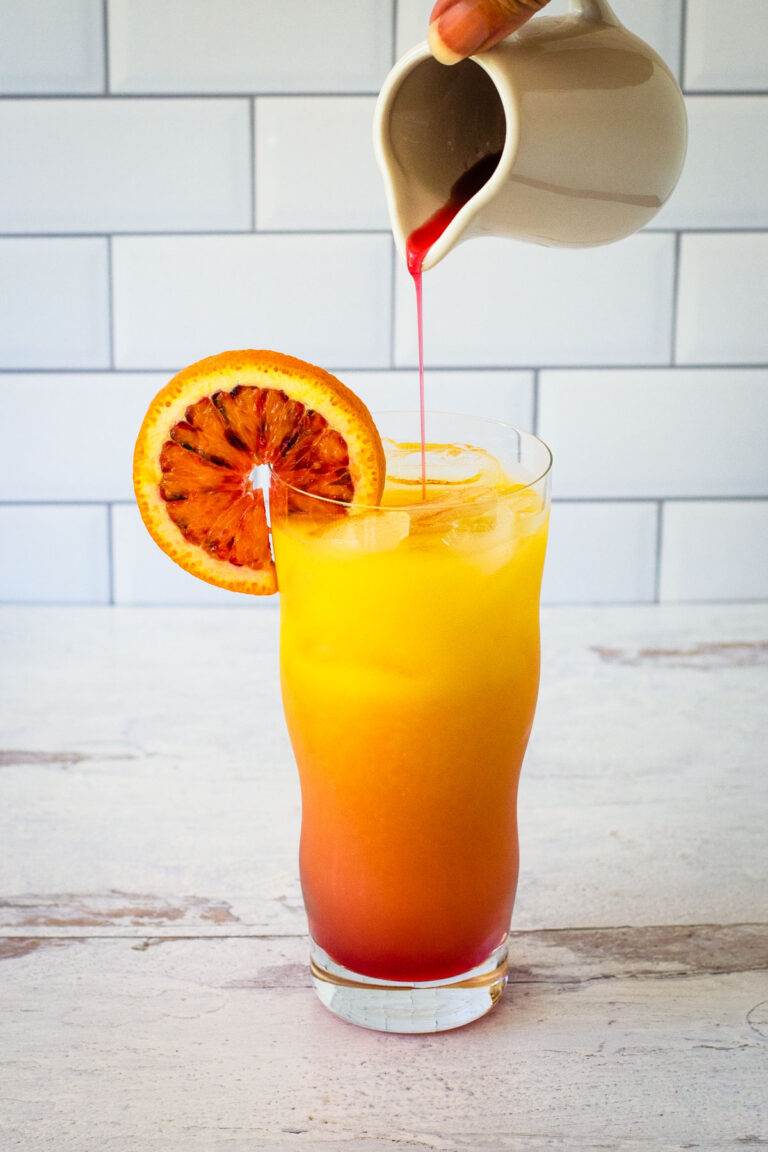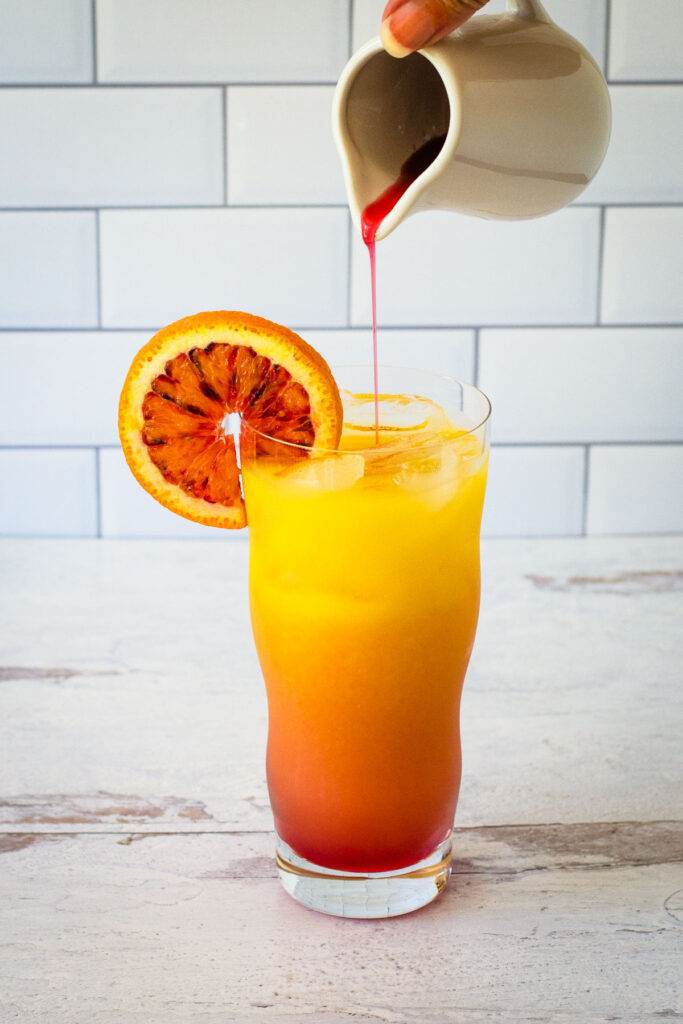 Garnish with an orange slice and your perfect vodka sunrise ready to enjoy!
Variations
Vodka sunrises are incredible for any time of day - from brunch to happy hour. And you can even change the flavor by swapping out the vodka. Or make different vodka cocktails by trying different kinds of juice.
Tequila sunrise - To make the classic tequila sunrise cocktail, simply make it with tequila instead of vodka.
Vodka sunset - Swap the grenadine for a less sweet option like blackberry brandy.
Malibu sunset - The Malibu sunset is a variation on the cocktail, replacing vodka with Malibu coconut rum and using pineapple orange juice. The Malibu sunrise recipe uses rum, orange juice, and cranberry juice.
Pineapple sunrise - You can also replicate this cocktail recipe using pineapple juice for a different flavor. Swap the orange slice for a pineapple wedge and add a maraschino cherry.
Grapefruit sunrise - If you like grapefruit juice, then replace the orange juice for grapefruit for a slightly bitter taste that will be sure to wake up your taste buds!
Vodka lemonade - If you want to make this lemony cocktail, simply add vodka and lemonade. If you prefer a sweeter drink, try adding more grenadine and less lemonade for an even stronger color. If you want it less sweet, add a squeeze of lime juice or lemon juice.
Mocktail - For a non-alcoholic cocktail, just add more orange juice, then top with lemon soda or sparkling water and stir before adding the grenadine.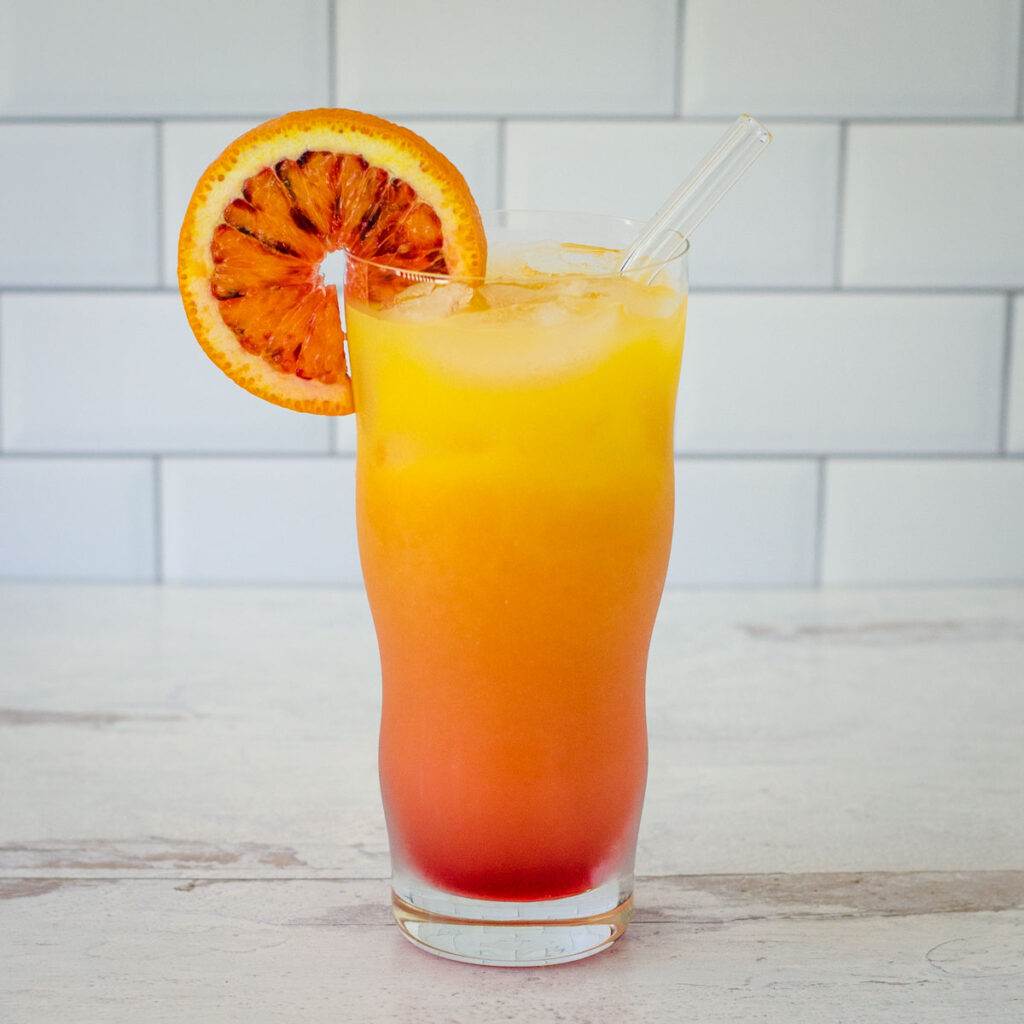 If you're looking for a simple and delicious cocktail that is perfect for any occasion, then this vodka sunrise drink recipe is just what you need. Cheers!
Other cocktails to try
Looking for more fun and fruity summer cocktails? Give one of these delicious recipes a try!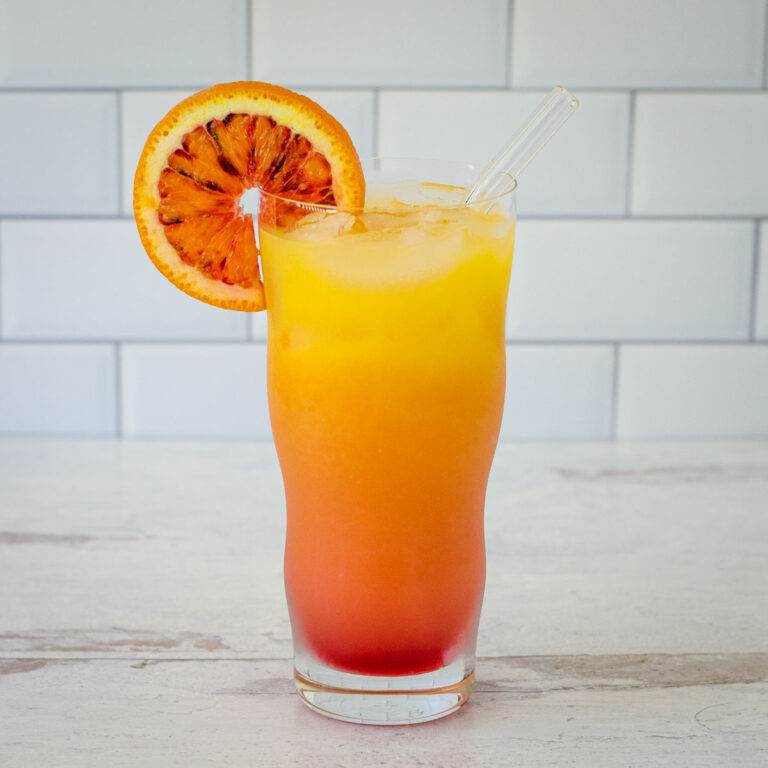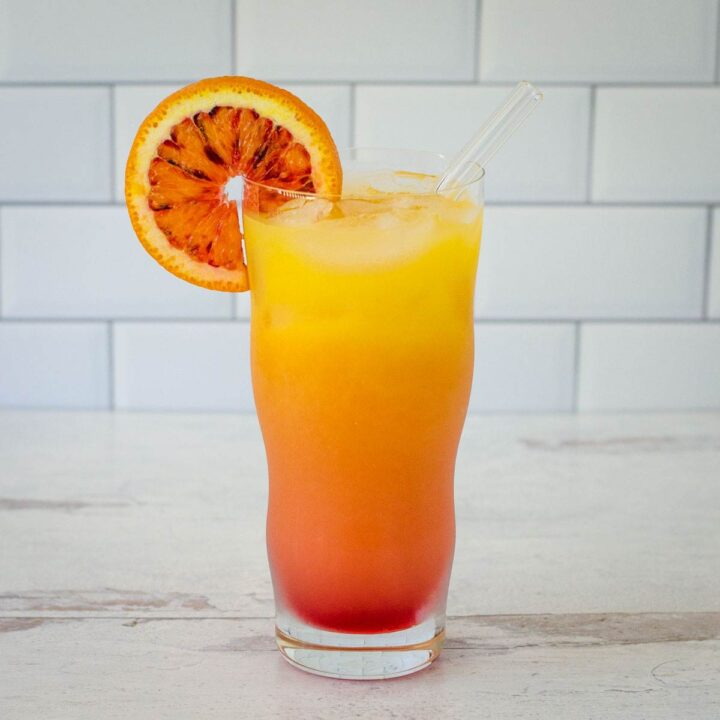 Vodka Sunrise Recipe
This beautiful classic cocktail echoes the colors of tropical sunrise from deep red at the bottom of the glass to bright orange at the top.
Ingredients
ice cubes
1-½ ounces vodka
5 ounces orange juice
1 orange slice for garnish
Instructions
Fill a highball glass or tall glass with ice cubes.
Pour the vodka, then orange juice over top of the ice. Slowly drizzle in the grenadine to make the sunrise.
Cut a slit halfway through the orange slice and place it over the edge of the glass.
Recommended Products
As an Amazon Associate and member of other affiliate programs, I earn from qualifying purchases.
Nutrition Information:
Yield:

1
Serving Size:

1
Amount Per Serving:
Calories:

245
Total Fat:

0g
Saturated Fat:

0g
Trans Fat:

0g
Unsaturated Fat:

0g
Cholesterol:

0mg
Sodium:

7mg
Carbohydrates:

28g
Fiber:

1g
Sugar:

21g
Protein:

1g
Note: nutrition data provided here is only an estimate.