Love coffee and desserts? With these delicious coffee desserts, you can have both.
From cakes to pies to truffles, these amazing desserts will wow your taste buds. If you love coffee, don't miss these sweet treats!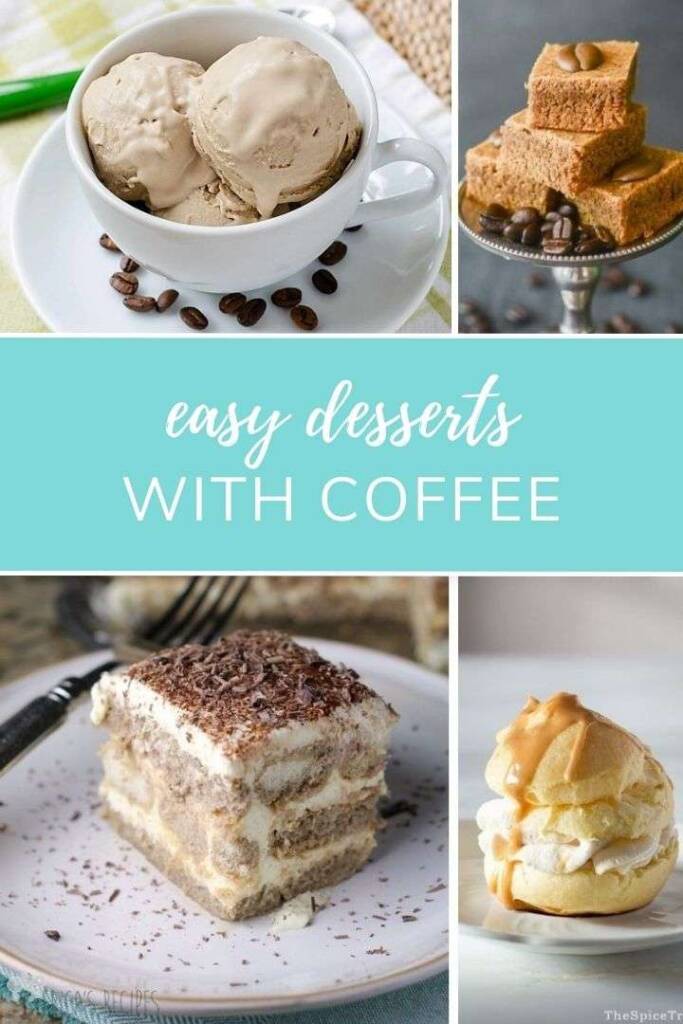 Coffee and desserts make the perfect after dinner treat or pick me up when you are feeling a little sluggish. And there is nothing better than having your coffee in a delicious dessert form! Full of flavor and easy to make, these delicious caffeinated sweets are sure to be a hit. 
Whether you are looking for a small dessert to enjoy after dinner or a dessert for an upcoming holiday or dinner party, these coffee desserts are sure to impress. Easy to make and loaded with your favorite coffee flavor, these desserts are a must-try!
And since coffee and chocolate are perfect together, why not pair your dessert with a chocolate martini?
Easy Coffee Dessert Recipes
From an alternative take on tiramisu to cookies and cupcakes, these are some of the best coffee-flavored desserts.
Coffee Ice Cream
If you love an iced latte or café au lait, you'll love this super simple coffee ice cream. It has just 5 ingredients and it's vegan and dairy-free. kip the bowl and serve it like a cup of coffee with a side of biscotti! Recipe here.
RELATED: 21 Tempting Boozy Milkshakes That Make Dessert Worth It
Tiramisu Cheesecake
A no bake dessert you are going to love, this coffee flavored dessert is a stunning treat that is so simple you won't believe it's keto-friendly and gluten-free. Just spoon the cheesecake filling over the and almond flour and coffee mixture crust and pop it in the fridge. Recipe here.
RELATED: How To Make A Tiramisu Martini
Espresso Macchiato Tiramisu
Not your traditional Italian dessert, this tiramisu adds a little bit of latte and boozy flavor to the ladyfingers layers to wake you up. And replaces the mascarpone with cream cheese and whipping cream to make it. Recipe here.
RELATED: Easy Espresso Martini With Baileys and Kahlua
Affogato
This classic Italian dessert couldn't be easier. Just fill a tall glass with vanilla ice cream or gelato and pour a couple of fresh shots of espresso over the top for a hit of caffeine!
Coffee Liqueur Cream Puffs
Filled with a fluffy coffee liqueur cream, these cream puffs are a delicious coffee dessert that everyone will enjoy. Want to add some chocolate flavor? Try topping them with chocolate ganache! Recipe here.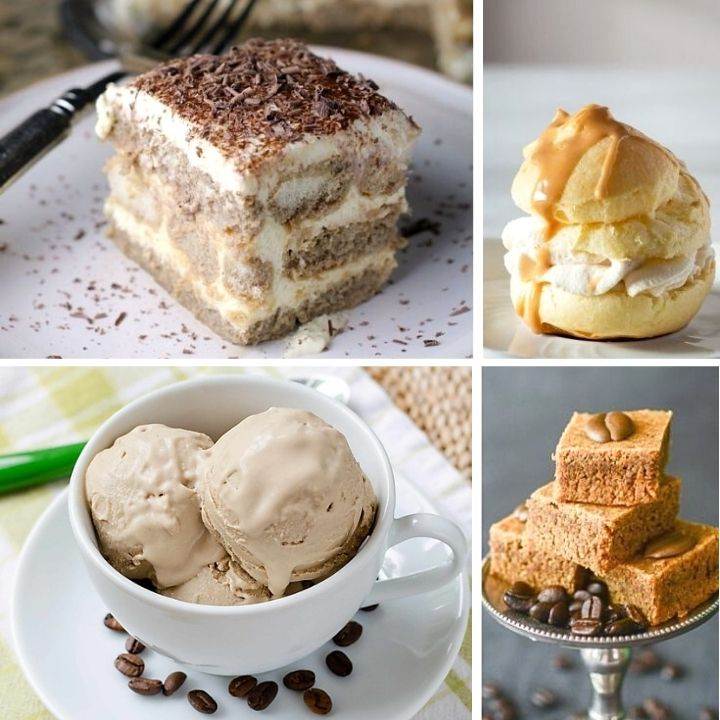 Cold Brew Coffee Granita
This frozen dessert is a delicious and easy to make dessert that you are sure to love. Top it off with whipped cream for extra flair. Recipe here.
RELATED: 21 Easy Iced Coffee Recipes For Anytime
Cappuccino Blondies Bar Cookie Recipe
A basic snickerdoodle blondie cookie is taken to a whole new level by adding new coffee flavors and turning it into a delicious cappuccino dessert. Don't forget to garnish with coffee beans. Recipe here.
Coffee Mousse
A delicious coffee dessert recipe that is sure to impress, these coffee mousse cups are perfect for a quick after dinner treat. And easy to make with instant espresso powder and heavy cream. Recipe here.
Spice Coffee Bars
These spice coffee bars are soft and crunchy. Flavored with dates and walnuts, the coffee bars are topped with a coffee glaze for extra flavor. Recipe here.
Espresso Brownies
These fudgy espresso brownies are made with fresh ground espresso and nutty brown butter. The ultimate espresso flavor brownie indulgence! Recipe here.
Vegan Coffee Cake
Moist and delicious, this coffee cake is topped with a delicious buttercream frosting and infused with a subtle coffee flavor. Recipe here.
Chocolate Coffee Cupcakes
A tasty after dinner treat or party dessert, these chocolate coffee cupcakes are sure to be a hit with coffee lovers. Recipe here.
Irish Car Bomb Cake Balls
Add a bit of Guinness to these delicious cake balls and you have the perfect Irish dessert. Dangerously addictive, these cake balls are sure to be a hit. Recipe here.
Espresso Cupcakes
Easy to make and delicious, these espresso cupcakes are sure to please any coffee lover! They will also make a great party treat for guests to enjoy! Recipe here.
Mocha Cake
Moist and delicious, this mocha cake is drenched in a coffee syrup and then drizzled with chocolate for an impressive dessert. Recipe here.
Coffee Caramel Macadamia Pie
Stunning and easy to make, this macadamia pie is flavored with a delicious coffee and caramel mixture that you are sure to love. Recipe here.
Frosted Chocolate Java Cake
Topped with a sweet cream cheese frosting, this frosted chocolate java cake is a delicious way to enjoy your favorite coffee. Recipe here.
Looking for more easy dessert recipes?