Try these creative s'mores recipes for delicious treats any time. Whether you're sitting around the fire pit or just dreaming of summer, you can have s'mores all year long.
From the traditional toasted marshmallow and chocolate graham cracker sandwich to a smores cupcake recipe, here's how to get that gooey chocolatey flavor in all your favorite desserts.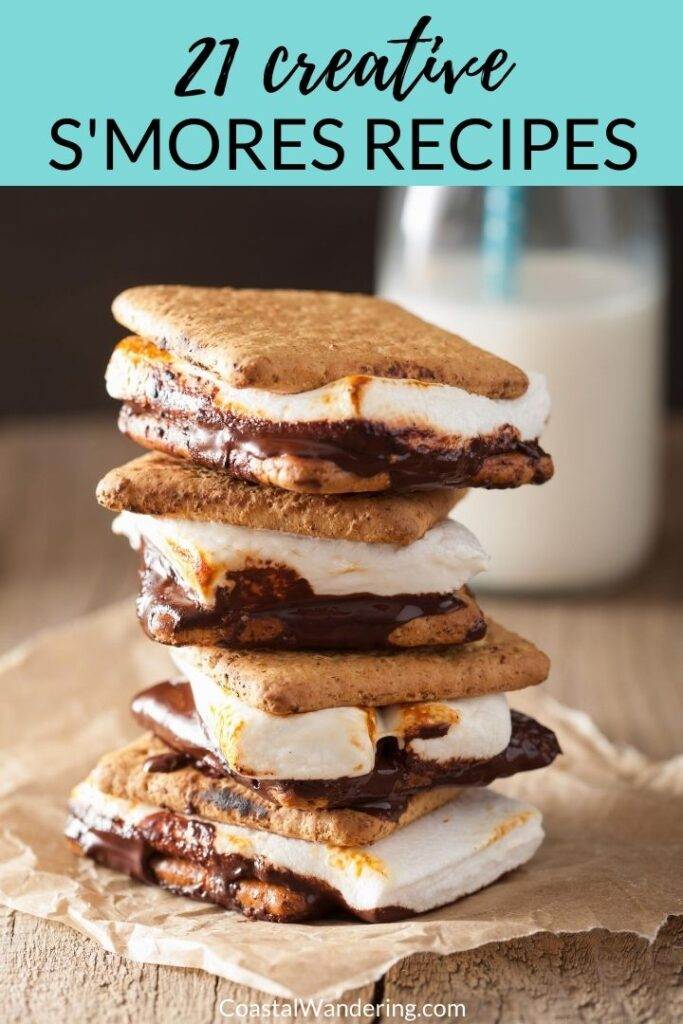 Who else loves s'mores? They are the quintessential summer campfire treat. I remember making them on camping trips to the beach as a kid.
Graham crackers, a chocolate bar (Hershey's milk chocolate bar is the classic), and big fluffy marshmallows roasted on a stick are all that's needed for this old school dessert. Toast the marshmallows over the flame until they are golden brown and sandwich them between the graham cracker halves with a square of chocolate.
These days, I tend to dress them up a little more by using dark chocolate and adding raspberries. Or using homemade almond butter chocolate chip cookies to sandwich the toasted marshmallow. Or upgrade them with different flavors of marshmallows (like these).
A DIY s'mores bar is great for entertaining a crowd. Just set out different types of graham crackers and cookies, chocolate squares, and marshmallows and let everyone build their own. Ice cream toppings like nuts, sprinkles, berries, and sauces let the kids (young and old) get creative. Extra long metal barbecue skewers can take the place of sticks.
You can even use your s'mores fixings to top decadent milkshakes (try these boozy shakes for the adults!).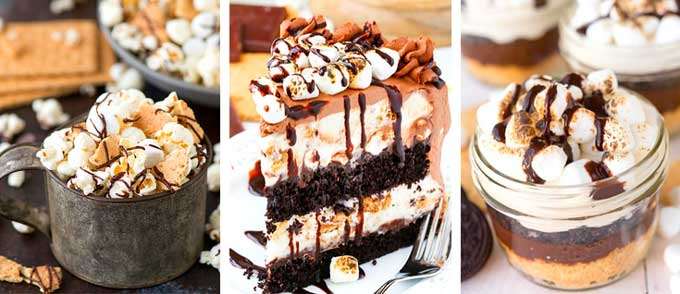 And if you don't have a fire handy, don't worry. Here are plenty of s'mores desserts and treats you can make indoors. There are options in the oven, microwave, stovetop, or freezer.
From popcorn to cupcakes, cheesecake, ice cream, cookies, and cake---even lattes, French toast, and donuts. You can satisfy your s'mores craving with these creative recipes. They deconstruct the s'mores and use graham cracker crumbs, melty chocolate, marshmallow fluff, and even meringue to give you gooey, decadent treats you can make any time.
Delicious & Creative S'mores recipes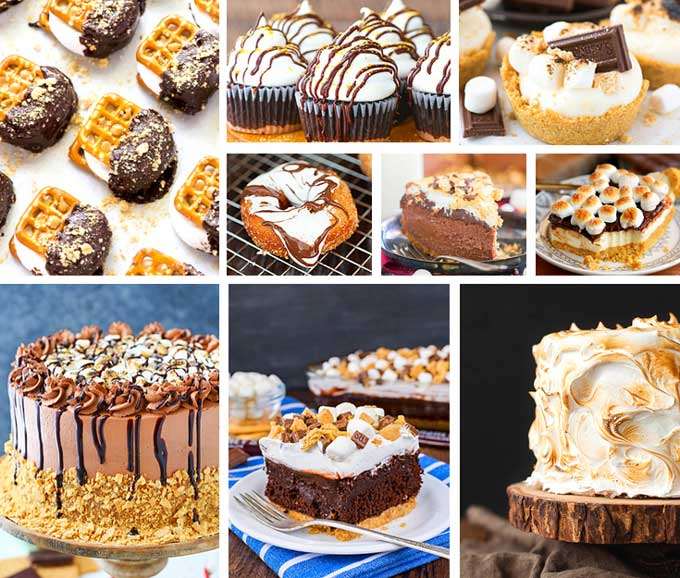 Here are 21 s'mores desserts and treats to try at home! With so many to choose from, it's hard to decide what to make first.
So don't wait to try these creative s'mores recipes for breakfast, snacks or desserts. Gooey melted marshmallows and chocolate are the perfect treat any time of the year!
What's your favorite way to eat s'mores? Share the love and let us know in the comments below.