Whether you're having snow crab legs, Alaskan king crab legs or Dungeness crab, the simplicity of sweet tender crab meat doesn't need much adornment. Just pair them with a tasty dipping sauce and some classic side dishes that everyone will love.
Here are 20 ideas for what to serve with crab legs for a delicious and easy seafood dinner—no need to wait for special occasions!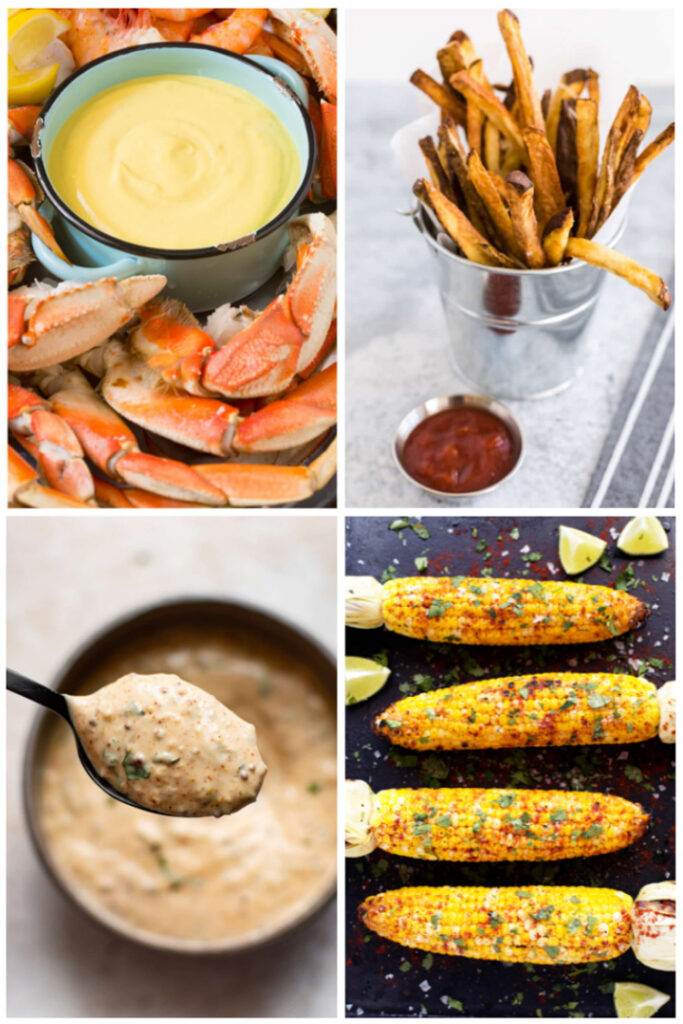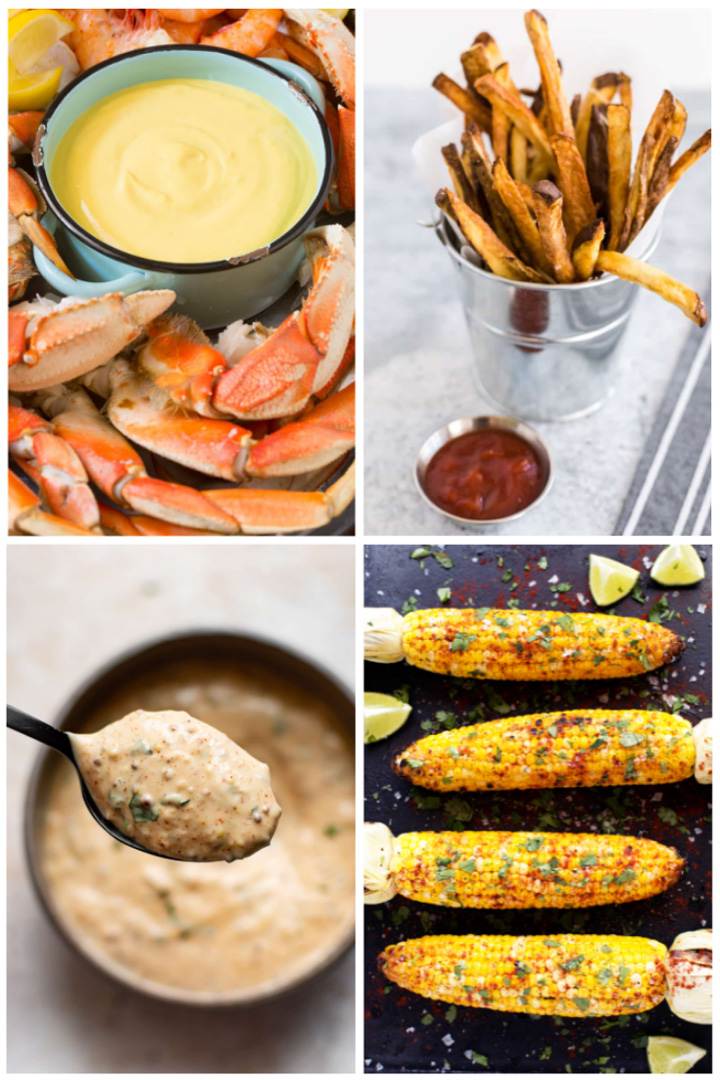 Wondering what to serve with crab legs? Crab tastes delicious served with just a side of melted butter, lemon wedges, and a crab cracker. But here, you'll find sensational ideas for sauces and sides that will elevate your meal to a seafood lovers feast.
From spicy and garlicky to herbal and mayonnaise-based sauces, these mouth-watering accompaniments are the perfect pairings for all different types of crab.
Crowd favorites like French fries, potato salad, Caesar salad, corn on the cob, and Brussels sprouts are savory sides that let the main course shine while rounding out your fabulous crab feast.
Crab side dishes
These easy side dishes will make your crab leg dinner a meal to remember.
Carolina Gold Rice
The low country of South Carolina claims this tasty rice dish as its own because of the unique variety of rice that's used. Sweet and nutty, it's a versatile rice that works equally as well for risotto as it does for sticky rice. Here, you can easily cook it in an Instant Pot with chicken stock to create a beautiful golden color as well as a perfect texture and flavor. It's a hands-off recipe for the best side dish that you'll make again and again.
Recipe by Coastal Wandering
Air Fryer Baked Potato
If you're looking for those soft and steamy baked potatoes with crispy outside skins, then baking them in an air fryer is a foolproof way to achieve that. Oil and salt the skins of Russet potatoes before placing them in the air fryer basket. Give your fryer about 45 minutes to circulate that hot air and bake the potatoes to luscious tenderness. (This method works with new potatoes and fingerling potatoes too, just use a shorter cook time.) Get your butter and sour cream ready and dig in!
Recipe by Coastal Wandering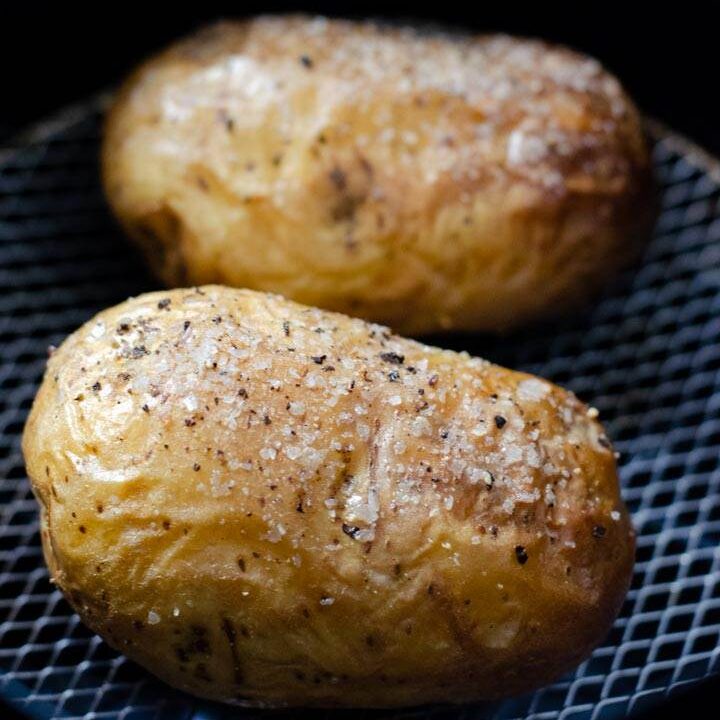 Raw Kale And Brussels Sprouts Salad
Keep it crisp and green with this crunchy salad that combines chopped kale and shredded Brussels sprouts. Add toasted sliced almonds for even more crunch and dress it with a simple tahini, vinegar and maple syrup dressing. Garnish with freshly shaved Parmesan cheese for a sensational side salad.
Recipe by Cookie And Kate
Air Fryer Or Instant Pot French Fries
Homemade French fries are made easy with the help of your air fryer or Instant Pot. Potatoes, olive oil and salt are all you need to easily fry everyone's favorite side item. Slice, soak, dry, season the potatoes and then decide on your method of cooking. They turn out crispy and perfect every time!
Recipe by Recipes From A Pantry
Sautéed Green Beans
A simple side of green beans gets a boost from being sautéed over medium heat with butter or olive oil, garlic and just a spritz of fresh lemon juice for good measure. How tender you like your green beans is up to you: just leave them on the heat a little longer for a softer texture or keep them vibrant green for a bit of crunch. Try a simple sauté with asparagus too!
Recipe by Cafe Delites

Dill Potato Salad
This tangy and herbal potato salad is a delight and pairs well with practically any meal. Red potatoes, hard boiled eggs, fresh dill and seasonings are tossed with a creamy mayo and Dijon mustard sauce. Add an irresistible tang with a few tablespoons of dill pickle juice. It's a game changer!
Recipe by Julie's Eats And Treats
Grilled Cilantro Lime Paprika Corn On The Cob
Cook your ears of corn on the grill in or out of their husks - your preference. When tender, remove the corn from the grill and husks, slather with coconut oil and generously garnish with paprika, salt and pepper, chopped cilantro and a squeeze of fresh lime juice. Simply delicious!
Recipe by Blissful Basil
Roasted Root Vegetables
Roasting root vegetables is the best way to add these earthy sides to your dinner table. Diced sweet potatoes, carrots, parsnips and even beets can be paired with onions, bell peppers, cauliflower and garlic for a sheet pan full of goodness ready to be roasted. Drizzle with a little oil and a dash of salt and pepper. What could be easier?
Recipe by Eating Bird Food
Sweet And Spicy Brussels Sprouts
A 30 minute session in your oven will bring these Brussels sprouts to savory and tender perfection with a hint of sweet from a dash of honey in the simple marinade. Soy sauce, chili garlic paste, sesame oil and hoisin sauce combine with honey for this sensational flavor pairing.
Recipe by How Sweet Eats
Smashed Potatoes
Try trading your mashed potatoes for smashed potatoes! Easy to prepare and delicious to eat, these skin-on small red potatoes are boiled to tenderness before being tossed in melted butter with garlic and herb seasonings. Add them to a baking sheet and then lightly smash each of them with a potato masher. Roast until deliciously crispy. Add cheese, chives and other toppings and serve.
Recipe by Carlsbad Cravings
Classic Caesar Salad And Dressing
You can't go wrong with crunchy green salads like this one with romaine lettuce, croutons and freshly shaved Parmesan cheese. Dress it with the flavors of a homemade Caesar salad dressing that's made without eggs but is still garlicky and full of classic flavor.
Recipe by Five Heart Home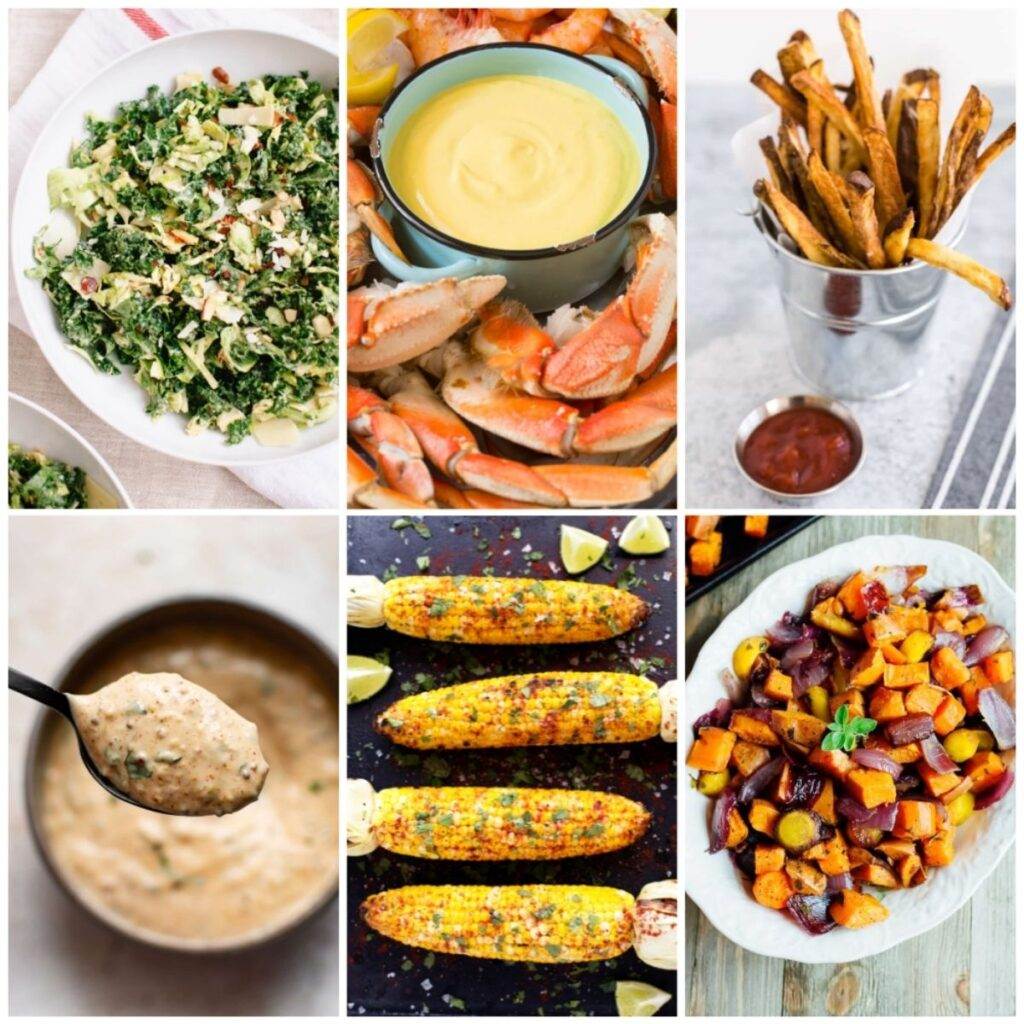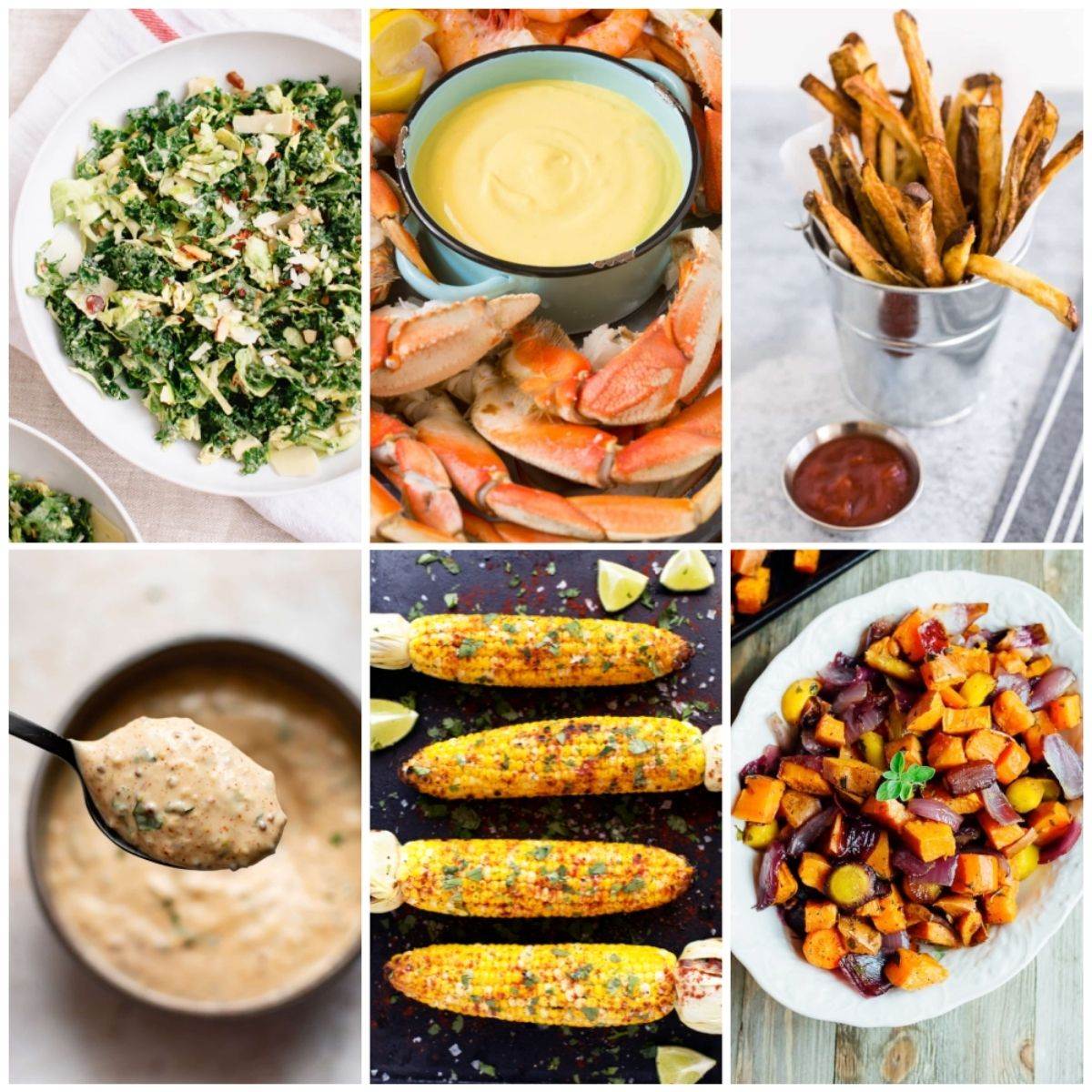 Dipping sauces for crab legs
Try one or all of these different ways to amp up the flavor of your crab legs recipe.
Cajun Remoulade Sauce
This Louisiana-inspired mayonnaise sauce gets a punch of flavor from Cajun spices, horseradish, Dijon mustard, Worcestershire sauce, cayenne pepper and host of other tasty seasonings. It's best served cold and is a versatile sauce for not only crab cakes and other seafood, but practically anything that's dippable. It's spicy and irresistible!
Recipe by Salt And Lavender
Cocktail Sauce
This classic cocktail sauce pairs well with almost all seafood. This homemade version is a healthy way to indulge in this zesty favorite that includes ketchup and creamy horseradish. You can whip this up in under two minutes so you always have a fresh batch to serve with your favorite fresh seafood.
Recipe by Seeking Good Eats
Beurre Blanc Sauce
White wine, lemon juice and cold butter combine to create this spectacular sauce right on your stovetop. Add in shallots and a little cream for a thick and rich sauce that will rival any 5 star restaurant's version. Perfect for crab, lobster, and even steak, this sauce is always a special treat.
Recipe by Savory Experiments
Bang Bang Sauce
Sriracha, cayenne pepper and red pepper flakes give this mayo-based sauce its appropriate moniker. Garlic and ginger round out the seasonings. It's hot and full of spice, making it an awesome sauce for crab legs, shrimp and more.
Recipe by Wicked Spatula
Spicy Mustard Seafood Sauce
Super easy and zesty, you'll taste the tang of mustard in this spicy sauce that pairs beautifully with crab legs. Mix yellow mustard with mayonnaise, horseradish, Worcestershire sauce and shallots. Chill well before serving. Bonus: This is also an amazing sauce for sandwiches!
Recipe by A Spicy Perspective
Zesty Dill Yogurt Sauce
Tangy yogurt mixed with garlic, seasonings, fresh dill and lemon juice will give you a tasty sauce for seafood, potatoes, and veggies. You can even use dairy free yogurt and this sauce will still knock it out of the park in the flavor department.
Recipe by Minimalist Baker
How To Make Ghee (Clarified Butter)
Butter is awesome on its own, but for a nuttier and deeper flavor, you'll want to try this recipe. When you cook and remove the milk solids from butter, you get ghee, or clarified butter. Ghee has a higher smoke point than regular butter, so this makes it perfect for many recipes that require high heat, Plus, ghee is shelf stable, with no refrigeration required. And melted ghee? The flavor is perfect for seafood drizzling and dipping!
Recipe by Recipe Tin Eats
Garlic Butter Sauce
Sometimes the most simple sauce is all you need to enhance a dish. Melted or clarified butter, freshly minced garlic and a pinch of salt are all that's needed for a swoon-worthy sauce that's perfect as an accompaniment for crab legs. You can make this quickly on the stovetop. Any leftovers can be easily stored in the fridge.
Recipe by Sauce Fanatic
Tartar Sauce
Mayonnaise, lemon juice, finely chopped dill pickles and freshly chopped dill combine to make a tangy sauce that's a guaranteed crowd pleaser. This homemade version will always beat a grocery store version. Make it a little ahead of time so the flavors can meld in the fridge before serving. From crab legs to fish sticks, tartar sauce is a classic that's always appreciated.
Recipe by Natasha's Kitchen
Want more crab dinner ideas? Try one of these favorite recipes next!