Looking for the best beach snacks? Spend a carefree day at the beach with these tasty make-ahead food ideas that are perfect for stashing in your cooler or beach bag as you head toward the sea and sand.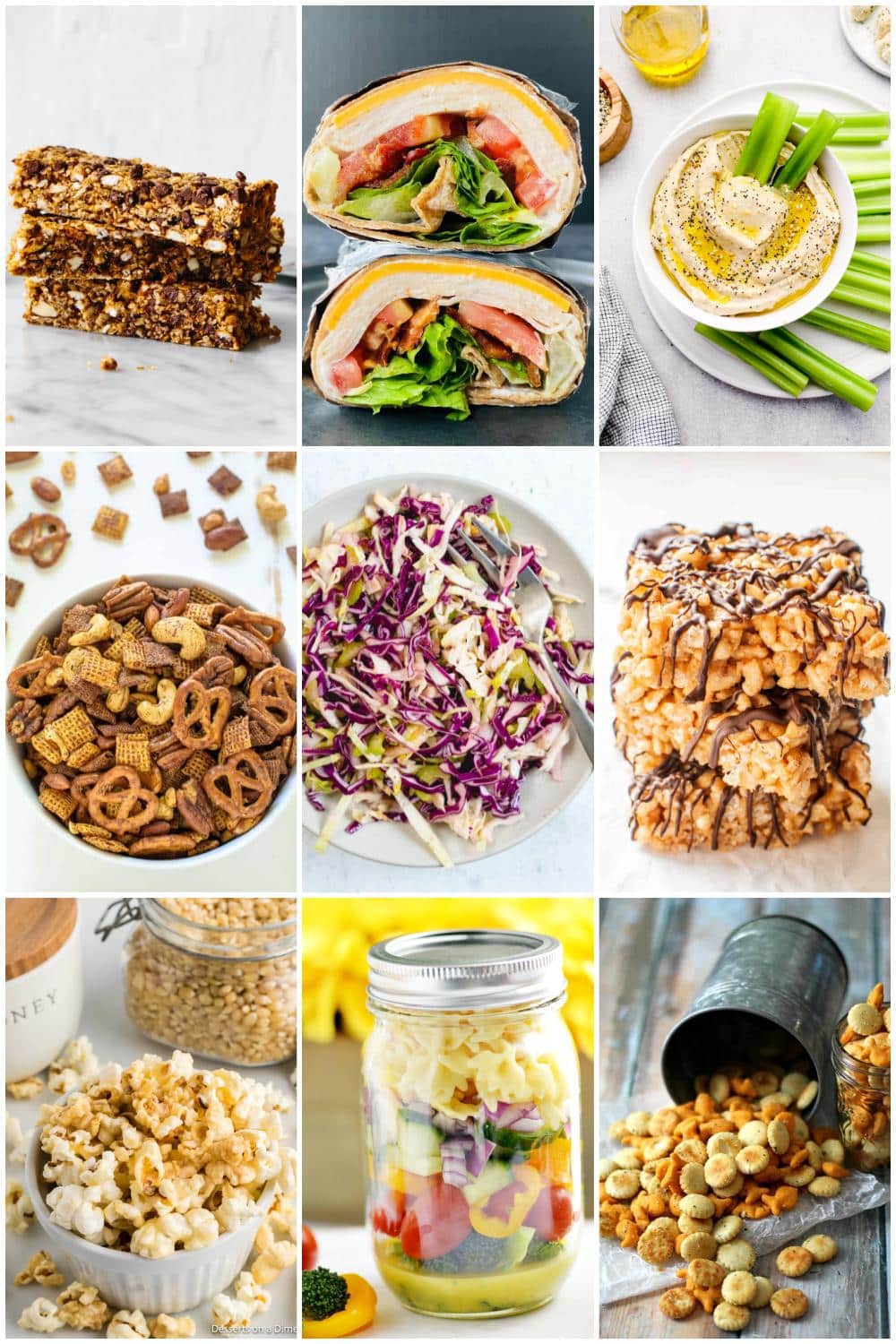 This collection of recipes will give you inspiration for the best beach snacks to pack for a day at the shore. From sandwiches to pasta salads and from trail mix to dips and chips, you'll find easy to make recipes that are portable and delicious.
Easy Beach Snacks
The best snacks to take to the beach are not only easy but are travel-friendly. You need protein-packed food to keep your energy going as well as fun treats to munch on.
Here, you'll find easy beach snacks that you can prepare ahead of time and have them ready to enjoy not only at the beach but during travel time. Check out these beach snacks that both kids and adults will enjoy.
Spicy Chex Mix
Grab a handful of this spicy cereal mix to munch on while enjoying your visit to the seashore. It's an easy snack to customize to your tastes, but start with a mix of fiber-filled wheat chex, honey nut chex and small pretzels for a crunchy base. Choose your favorite combo of nuts like almonds, peanuts, cashews, or pecans.
Mix them together and then add a whisked egg white, a dash of maple syrup and spices of chipotle, chili, cumin and cinnamon to add warmth to this treat. Spread it on a lined baking sheet and bake for an hour. Cool well before packaging.
Recipe by Well Plated
Healthy Rice Krispie Treats
Light, airy and full of crunchy goodness, these no-bake rice krispie treats come together with just 4 ingredients. These treats are favorites of kids as well as adults, so make them with confidence. Puffed rice cereal is mixed with melted peanut or almond butter along with a dollop of maple syrup for sweetness.
Press into a lined 8x8 pan and give it a short session in the freezer to firm up. Drizzle melted chocolate chips over the top for a truly irresistible sweet treat that's portable, delicious and perfect for a day at the beach.
Recipe by This Healthy Table
Trail Mix
Make this trail mix snack full of healthy fats, protein, dried fruits, nuts and dark chocolate. Nuts are rich in vitamins as well as protein, so choose your favorites, like walnuts, cashews, almonds and/or pecans.
Dried fruit such as raisins or unsweetened cranberries and/or pineapple bits are always a tasty choice. Banana chips and coconut flakes are great, too. Add your favorite unsweetened chocolate chips and keep a stash of this trail mix handy for your day at the beach.
Recipe by Five Heart Home
Easy Fruit Salad
This naturally sweet salad is full of fresh fruit like pineapple, blueberries, strawberries, grapes, bananas, kiwi and more. Sure, it takes a little time to cut and dice the fruits, but you'll be rewarded with its scrumptious flavor. Along with the natural juices from the fruits, a simple dressing of lime juice and honey coats the ingredients to keep them fresh and delicious.
Make this a day ahead and let it chill in the fridge until you're ready to pack this healthy snack in the cooler and go.
Recipe by Life Love And Sugar
Chewy Chocolate Chip Granola Bars
Mix up these no-bake homemade granola bars that are full of protein and crunch. Quick cooking oats, puffed rice cereal, flaxseed, chopped nuts, mini chocolate chips, salt, honey and coconut oil are held together with the help of almond butter.
Mix it, press it into a lined 8x8 pan and let them firm up in the fridge before slicing into bars. They're a delicious alternative to cookies for a quick protein bite as you enjoy your day at the seashore.
Recipe by Downshiftology
Italian Sub Sandwich
Sink your teeth into this hearty Italian sub sandwich to keep you fueled and satisfied as you enjoy the sun and sand. Choose your favorite sub roll and layer on a variety of sliced meats such as capicola and salami and then top it with cheese like provolone or mozzarella.
Add on plenty of vegetables - shredded lettuce, thinly sliced tomatoes and onions as well as pepperoncini. Keep the Italian dressing on the side in a travel container and drizzle it on when you're ready to enjoy this substantial sub sandwich.
Recipe by Spend With Pennies
Air Fryer Chickpeas
Snack on these protein-packed chickpeas that you can quickly make in your air fryer. Use canned chickpeas that you've drained and rinsed. Pat them completely dry before seasoning and air frying.
They need just a scant drizzle of olive oil before choosing your seasonings. Go with spicy, sweet, smoky, curry, or garlic and herb. Or make a batch of each! They're perfect for snacking on the way to your destination as well as once you arrive.
Recipe by Living Smart And Healthy
Mason Jar Pasta Salad
For the ultimate portable pasta salad, layer the ingredients in a large mason jar (one for each person) so you don't worry about the salad becoming too soggy as you travel. Cook your pasta, drain and let it cool. Prep the fresh veggies and make the mustard, vinegar and olive oil dressing.
Add the dressing to the mason jars first and then layer in the veggies of broccoli, tomatoes, mini peppers, cucumber, onion, pasta, Parmesan cheese and finish with more pasta. Seal the jars and keep refrigerated until ready to go. What could be easier?
Recipe by Finding Zest
Cucumber Watermelon Salsa
Nothing says summer like watermelon, and here, sweet chunks of melon combine with diced cucumber, bell peppers, onion, serrano peppers and fresh cilantro. Combine these fresh ingredients and season with a dash of salt and a drizzle of lime juice. This sweet, spicy and crunchy salsa is the perfect item to serve with tortilla chips for dipping.
Recipe by Wonky Wonderful
Turkey Ranch Club Wrap
Turkey, bacon, lettuce and tomatoes make up the interior of this easy sandwich wrap that will be a welcome meal at the beach. Use your favorite deli turkey (or ham), your favorite sliced cheese, cooked bacon, Romaine lettuce leaves and sliced tomato to layer on a medium-size wrap of your choice. You can either drizzle on your favorite ranch dressing before wrapping or keep it on the size as a dip for when you're ready to eat. Keep the wraps refrigerated and then in a cooler while traveling.
Recipe by Organize Yourself Skinny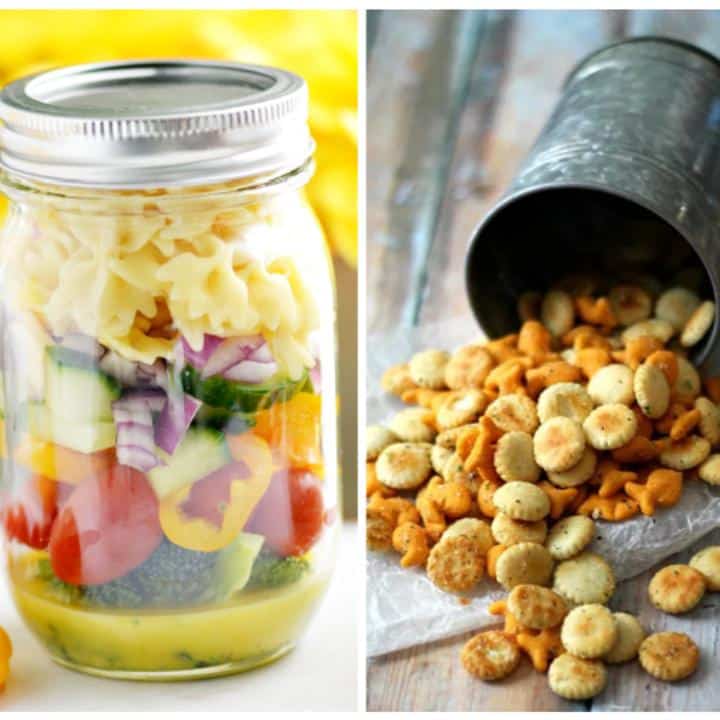 Peanut Butter Chocolate Bark With Pretzels
Make this nutty and crunchy chocolate bark ahead of time and freeze it overnight so it's ready to be cut and packaged for your beach trip. Chocolate chips and coconut oil are melted and poured on parchment paper before being frozen. Once frozen, spread on a peanut butter mixture and top it with crushed pretzels before freezing until set. It's super easy and super satisfying, and kid-approved, too!
Recipe by Meals With Maggie
Fresh Cabbage Slaw
You'll want this easy-to-make cabbage slaw that will be a great summer side item for a picnic lunch or dinner. It's vinegar-based dressing makes it a worry-free dish that works well in warm weather. Slice red and green cabbage along with celery and red onion for the ultimate zesty crunch. The dressing is a simple mixture of apple cider and rice vinegar along with seasonings. Keep the dressing on the side and drizzle on when you're ready to serve it.
Recipe by A Couple Cooks
Chocolate Covered Potato Chips
Ridged potato chips get a gourmet coating of melted chocolate and a sprinkle of sea salt for a tasty snack for beach day. Chocolate chips are melted, the potato chips are dipped half way and left to set and dry on parchment paper. If you like them extra salty, feel free to sprinkle with a little more sea salt. What could be better?
Recipe by Dinner Then Dessert
Morning Glory Muffins
Not just for breakfast, these healthy and sweet muffins will be a welcome treat for your day at the shore. In a whole wheat batter, you'll add apple sauce, honey, shredded apple, shredded carrots, raisins and chopped pecans. Lightly sweet and full of healthy ingredients, the muffins are lightly spiced with cinnamon and ginger, making them an irresistible snack to enjoy in the sun.
Recipe by Sally's Baking Addiction
Veggie Pinwheels
There's nothing easier than grabbing a handheld pinwheel sandwich full of colorful, crunchy veggies rolled up in your favorite wrap. They're healthy and full of fiber and perfect for a day at the beach. Choose your wrap, spread on your favorite hummus and add on strips of red and green bell pepper, carrots, sliced purple cabbage, baby spinach or lettuce and any other vegetable that your family likes. Roll them up, secure in plastic wrap and chill until ready to slice and/or pack.
Recipe by My Plant Based Family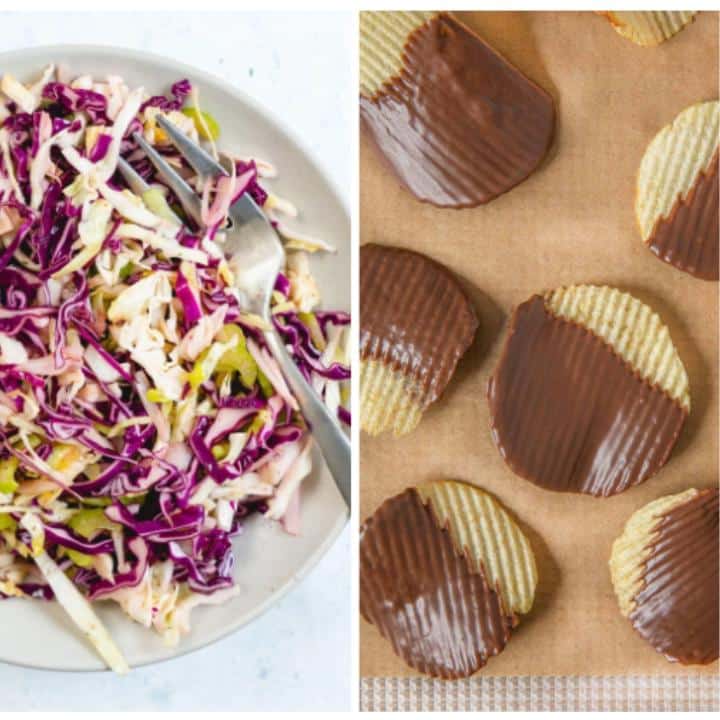 Everything Bagel Hummus With Celery Dippers
Layer on the flavor with this homemade hummus recipe that's a tasty dip for celery sticks. Chickpeas, tahini, garlic, olive oil, lemon juice and cumin make up the creamy base of this hummus before being spiked with the unmistakable savory everything bagel seasoning. Add the hummus to your container and sprinkle the top with more everything bagel seasoning. Cut your celery into sticks so you'll have an easy way to enjoy this hummus with a little crunchy goodness.
Recipe by Darn Good Veggies
Air Fryer Apple Slices
Freshly sliced apples get a short session in an air fryer to make them crisp and perfect for transport as a healthy beach snack that's enjoyed by kids as well as adults. Use a mandolin to easily cut cored apples into thin rings before sprinkling them with ground cinnamon and air frying for 10 minutes. Flip them once and cook for a few more minutes. What could be easier?
Recipe by Salty Side Dish
Avocado Egg Salad
Skip the mayonnaise in this egg salad recipe that uses a creamy ripe avocado to help mix the chopped hard-boiled eggs. The mixture is made flavorful and spicy with a dollop of dijon mustard, apple cider vinegar, dill, salt and garlic powder. Make it into sandwiches or roll it up in a wrap for your day at the beach. Keep it refrigerated until ready to stash in your beach cooler.
Recipe by Happy Healthy Mama
Honey Butter Popcorn
Sweet, buttery and crunchy are the hallmarks of this flavored popcorn recipe. Make your popcorn and set aside. Add honey to melted butter along with vanilla extract. Stir to combine before drizzling over the popcorn. Make sure all of the popcorn is coated. Let it cool before packaging for travel. It's a naturally sweetened snack that kids and adults will enjoy.
Recipe by Desserts On A Dime
Easy Ranch Snack Mix
Perfect for beach days, oyster crackers and goldfish crackers get tossed with a savory blend of ranch dressing mix, oil and garlic salt. Bake them for just 20 minutes for a golden and tasty mix that's perfect for stashing in your beach bag for a quick snack for the kids as well as adults. Want more variety? Add your favorite nuts and pretzels to the mix!
Recipe by Life With The Crust Cut Off
Pin It For Later
Save this collection of simple beach snacks to pack for your next day at the beach!