Are you looking for the best restaurants on Shem Creek? Here are the best places to eat on and near Shem Creek and the waterfront boardwalk.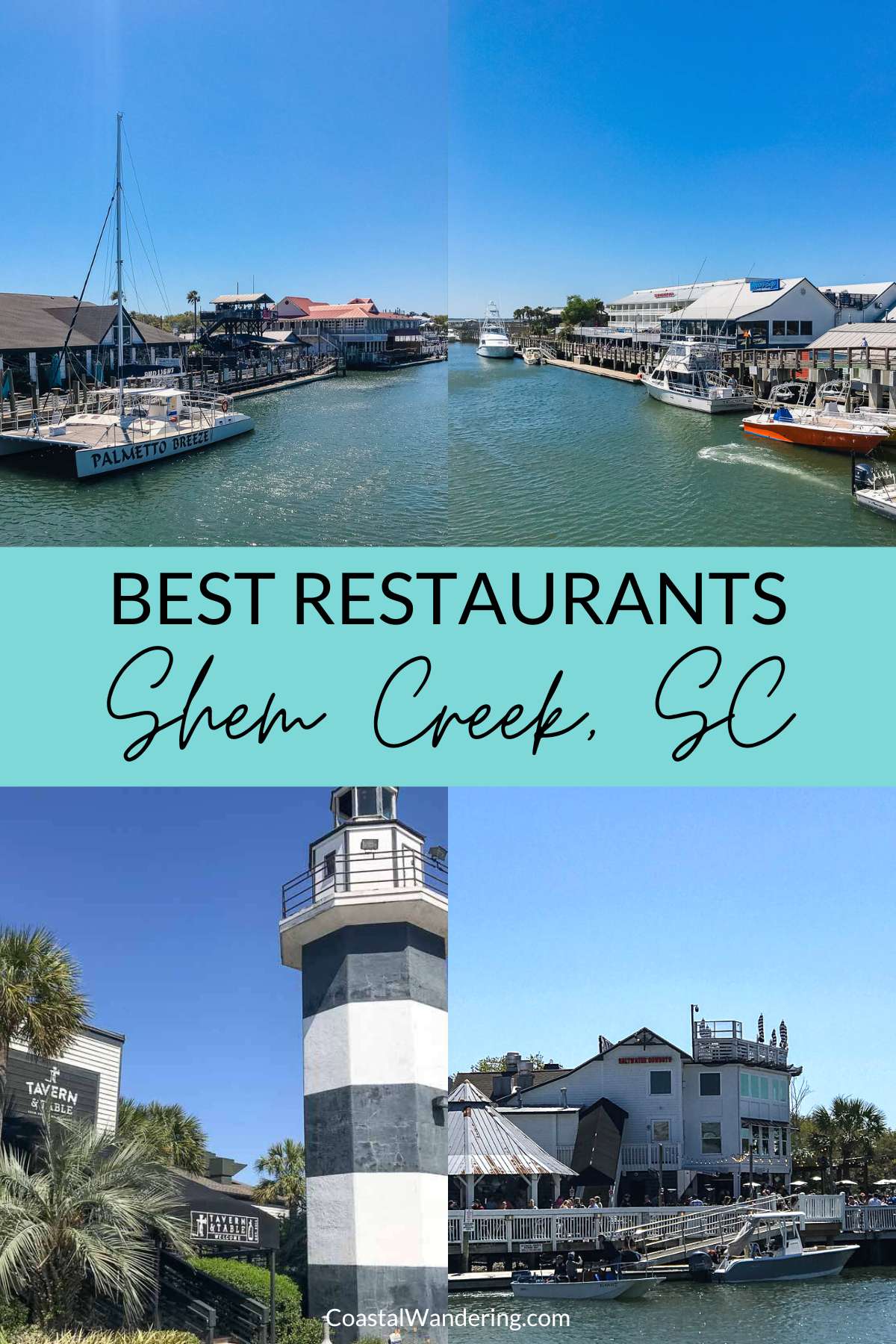 Located just across the bridge from downtown Charleston in Mount Pleasant, South Carolina the Shem Creek Boardwalk has beautiful waterfront views, seafood restaurants, and a fun atmosphere that makes it a favorite spot for locals and visitors.
Take a stroll on the dock that runs along the banks of Shem Creek for the best view (and maybe spot a dolphin). Then enjoy some great food at one of the waterfront restaurants at historic Shem Creek. Or try one of the unique restaurants just a stone's throw from Shem Creek Park.
You can visit the top-rated eateries in the area and sample Lowcountry staples, southern bites, and fresh local seafood. Kids and adults alike will enjoy these delicious restaurants with creek views. Read on to discover the best Shem Creek restaurants.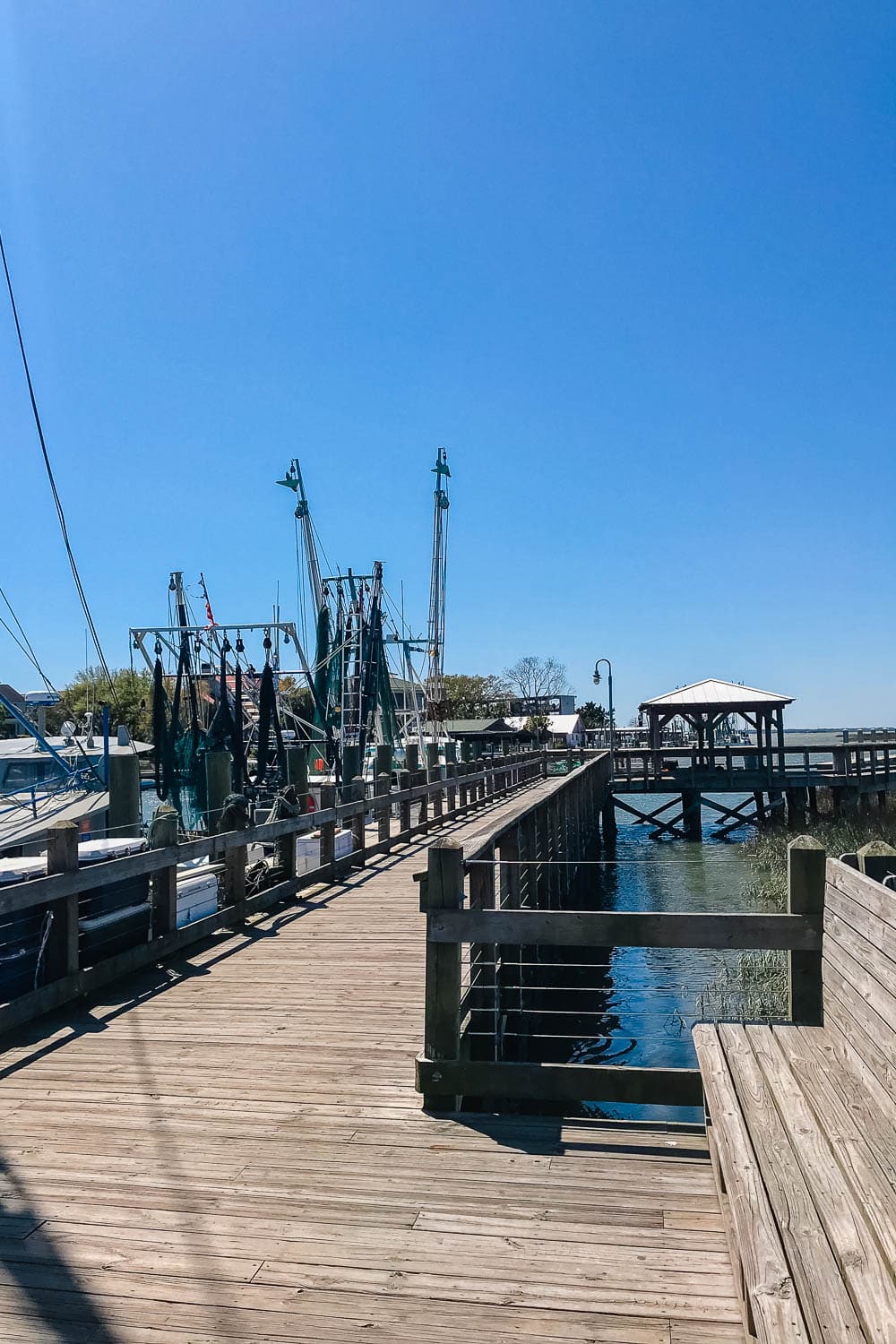 Tavern & Table
Tavern & Table is a casual restaurant with New American cuisine. It has a waterfront patio with beautiful views of the creek, and the restaurant is a perfect place for watching the sunsets with a cold beer.
The restaurant is rustic yet chic and has a classic tavern menu with a modern flair. Don't miss the pimento cheese and bacon jam (so good!). Try Southern specialties like shrimp and grits, Nashville hot fried chicken sandwich, fresh oysters on the half, and crab and artichoke dip. You can also visit for Sunday brunch and try a crab cake benedict, hash brown bowl, or the specialty brunch drinks menu.
This restaurant on the waterfront has some of the best seafood in the area. You can't miss the dynamite fried shrimp dish with chili honey and pickled banana peppers.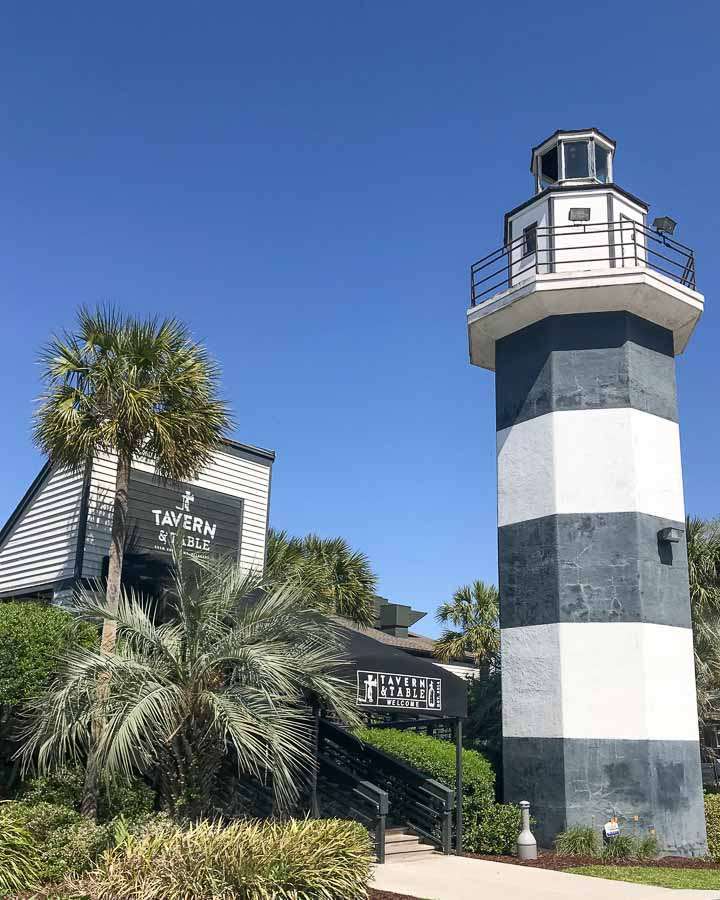 Saltwater Cowboys
Head down to the south side of the creek and grab a bite at Saltwater Cowboys, a cozy tavern with local seafood. It's right on the waterfront, across the river from Shem Creek Park. There's a deck overlooking the water, and you can also gaze at the creek from indoors through the restaurant's creek view windows.
Saltwater Cowboys is authentic Charleston dining, with a lively atmosphere and a welcoming staff. The diverse menu includes creative cocktails, classic barbeque favorites, and freshly caught local seafood.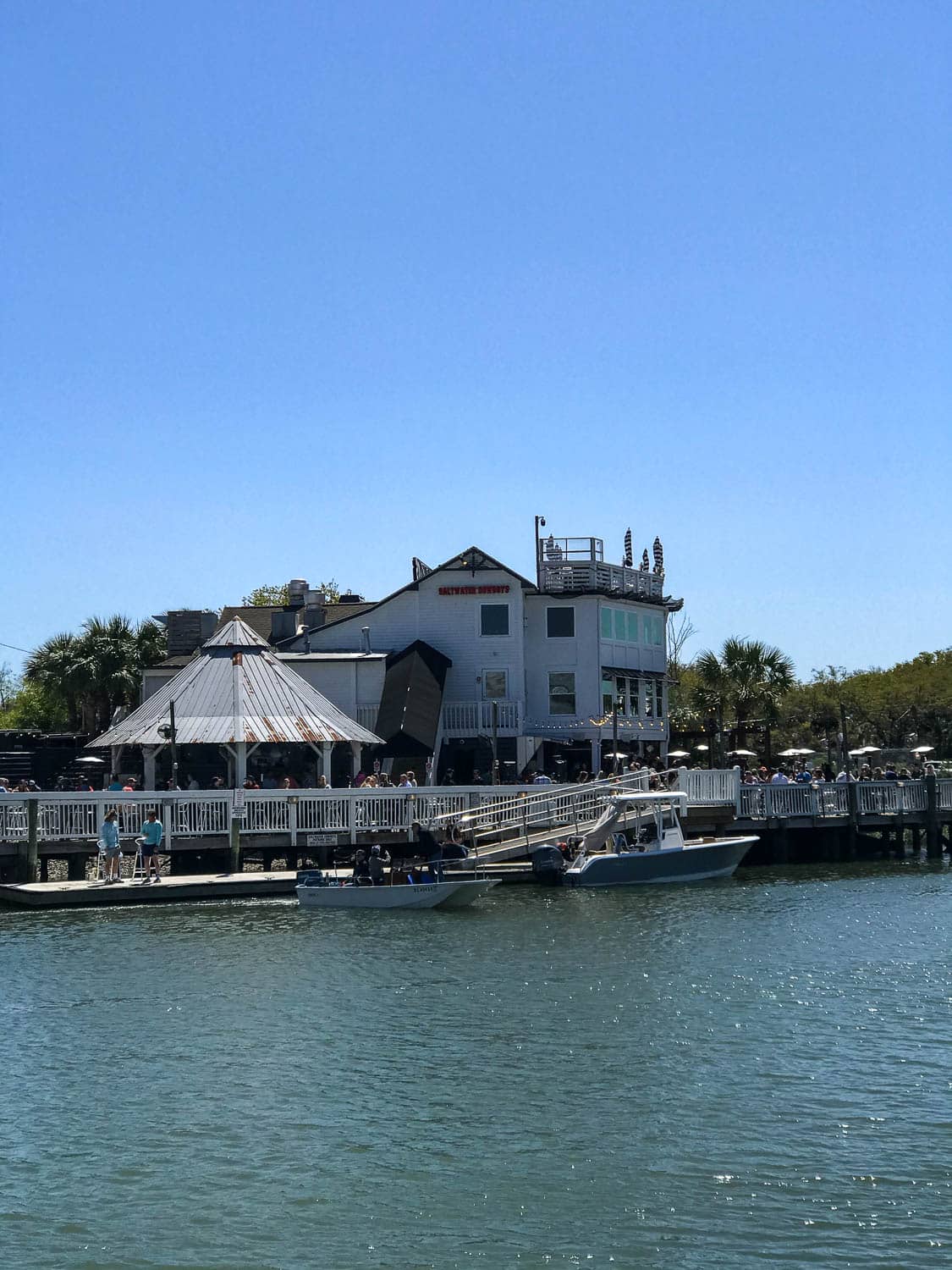 Red's Ice House
If you're looking for a place to watch the game or listen to live music on the creek, you can't go wrong with Red's Ice House. It's a no-frills fish shack with a busy atmosphere, and the waterfront bar is popular with locals and tourists alike.
Consider ordering a bowl of pimento cheese, a staple of Lowcountry cuisine. The hush puppies are also delicious, and you can't miss the lobster mac and cheese. The restaurant is famous for its signature dessert jars, and you can try the indulgent key lime pie with homemade crust or a Hershey chocolate pie jar.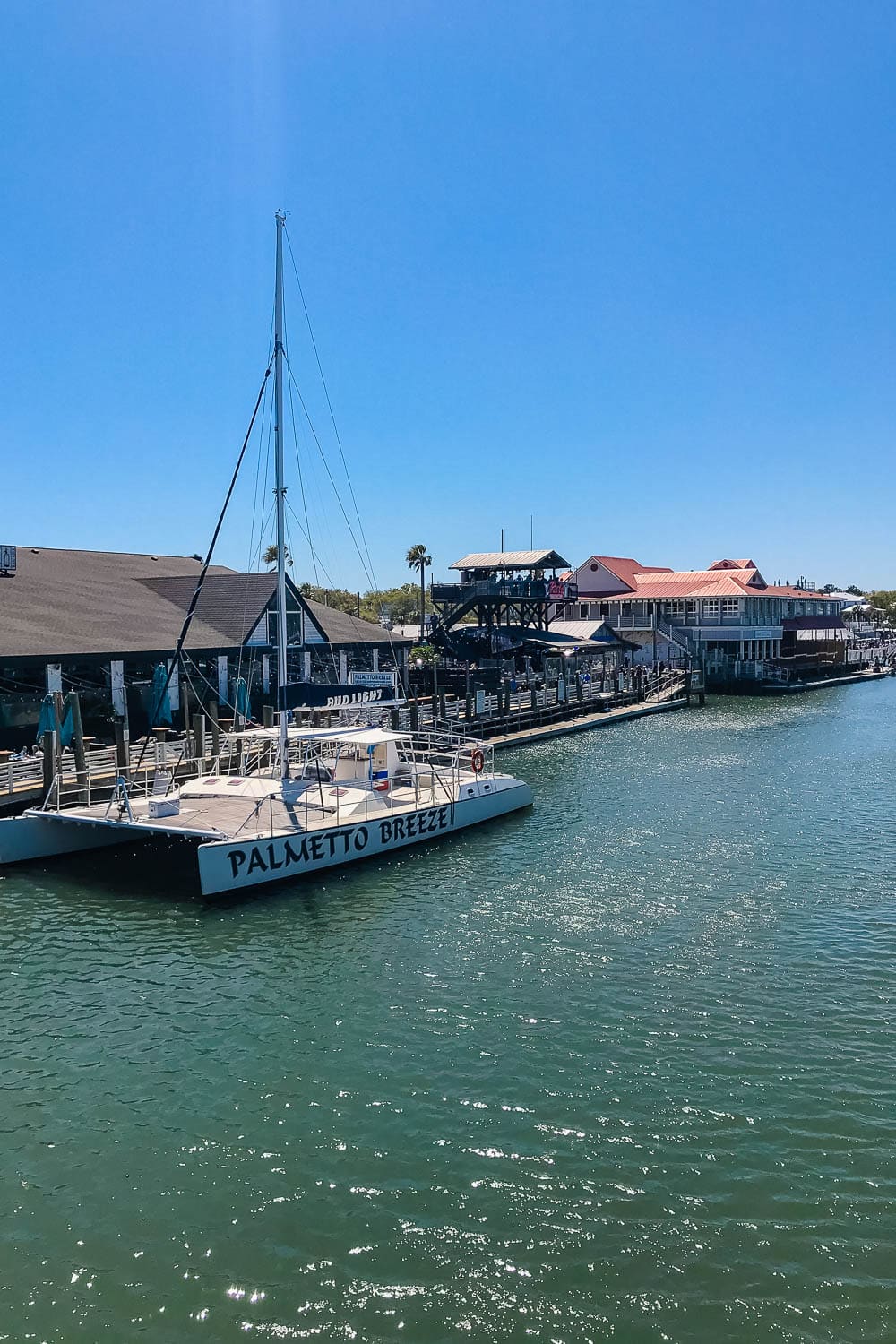 Vickery's Bar & Grill
Vickery's Bar & Grill is one of the best Shem Creek restaurants for burgers, and this casual joint serves hearty portions of authentic Southern cuisine. It's the closest restaurant to Shem Creek Park, and you can sample their award-winning oyster bisque along with salads, sandwiches, and other seafood dishes.
Check out the grilled cayenne chicken salad and seafood jambalaya, or try a Southern burger with fried green tomatoes. The bourbon shrimp with garlic butter and crusty dipping bread is also a great choice.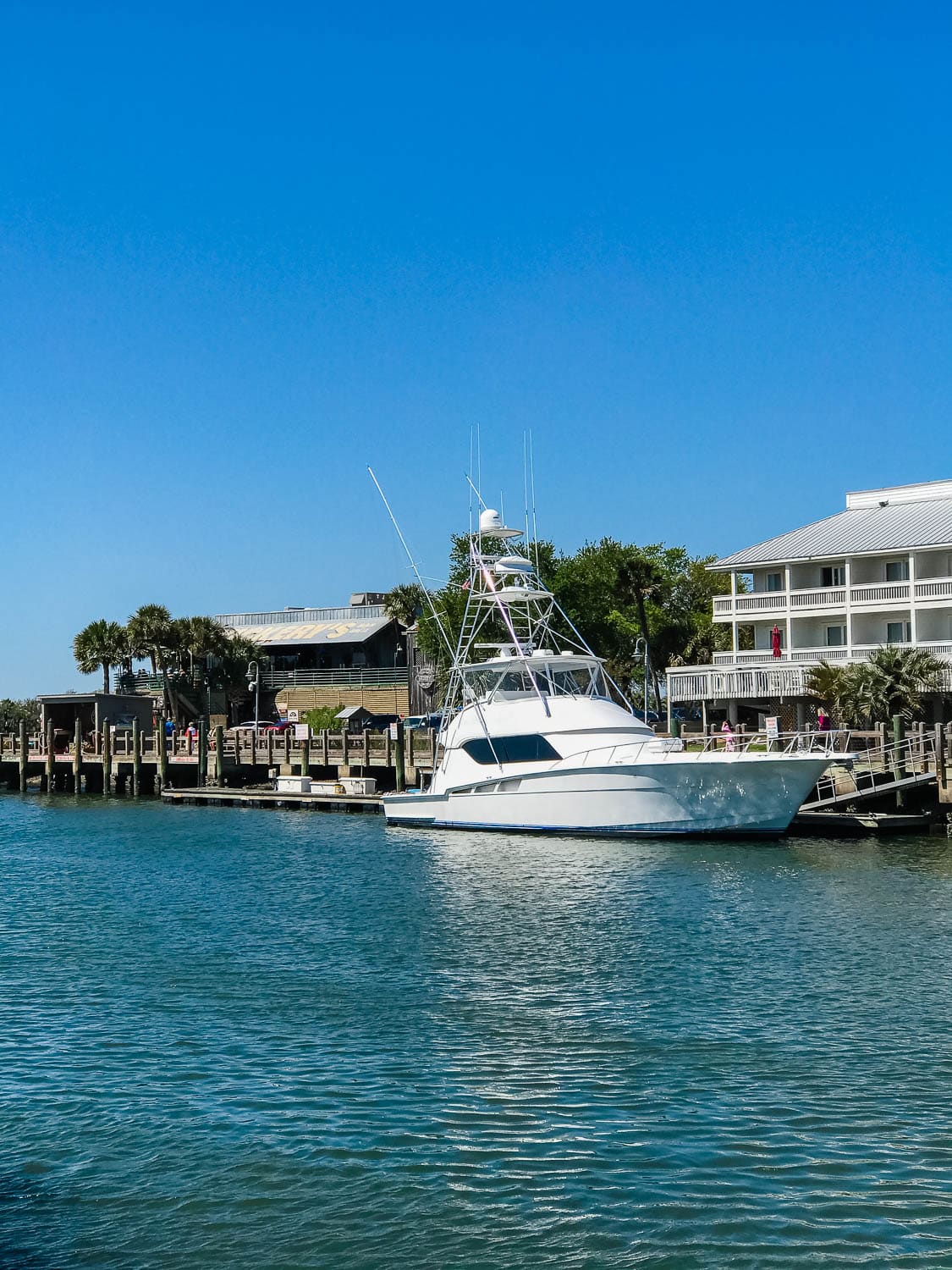 Shem Creek Crab House
Shem Creek Crab House is a relaxed restaurant with creek views. It's one of the most popular restaurants on Shem Creek (they also have locations in the Charleston Historic District and James Island.) Order golden fried hushpuppies, grilled oysters with garlic butter, and delicious cheesy crab stuffed mushrooms.
This restaurant can get pretty busy, so you might want to book a table ahead of time. Before you leave, try a world-famous steam pot, like the Lowcountry shrimp boil with sausages or the Alaskan snow crab with corn and potatoes.
Water's Edge
Water's Edge is on the north side of Shem Creek, right next to the Shem Creek Boardwalk. The chefs serve Southern staples like seared ribeyes, seafood pasta plates, and Lowcountry crab cakes.
This refined restaurant is ideal for small groups or couples. It has an upscale atmosphere and puts a gourmet spin on seafood in Shem Creek. Check out the Southern fried chicken sandwich on a lightly toasted brioche bun, and try a side of cheddar grits or collard greens.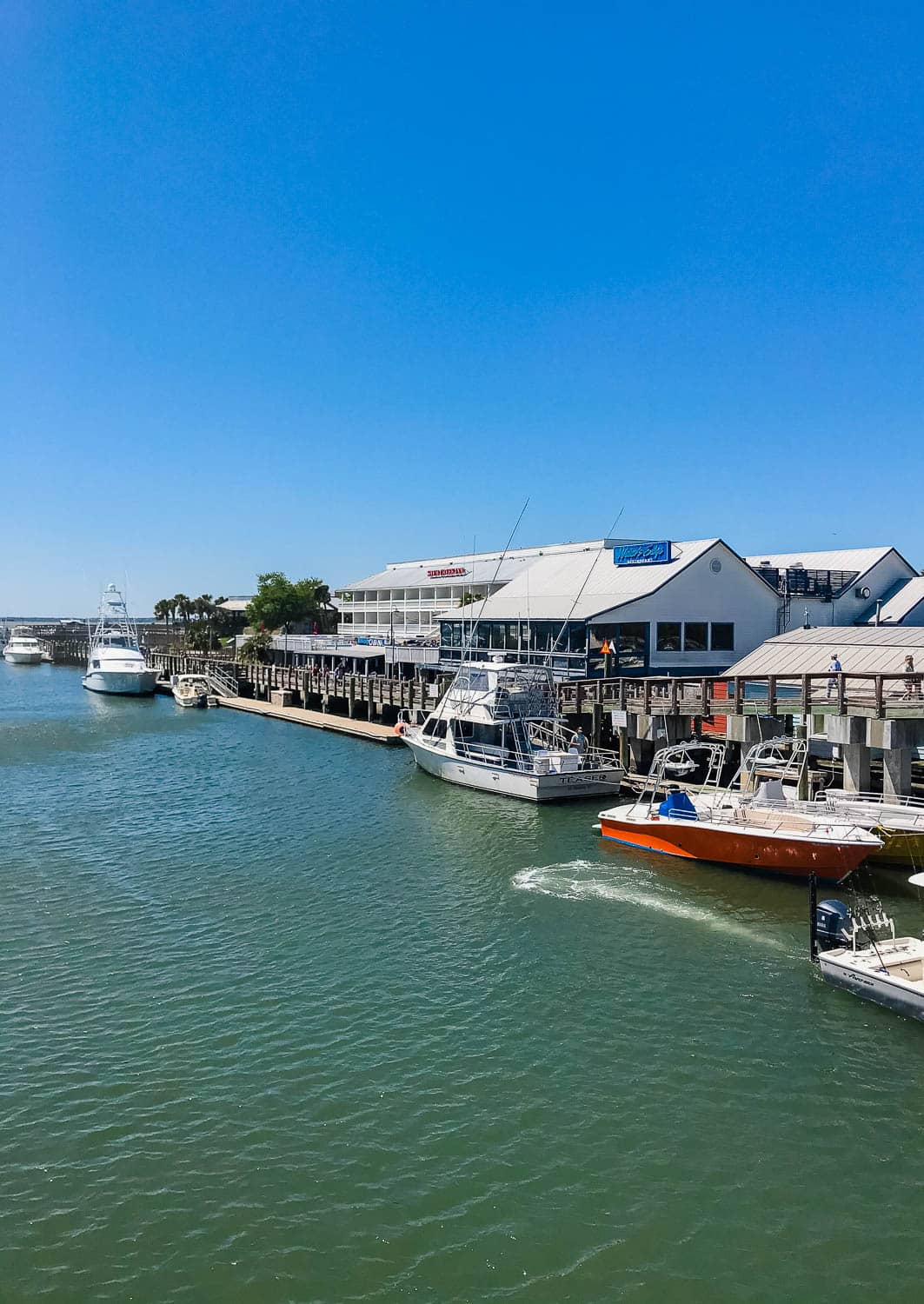 The Wreck of the Richard & Charlene
One of the most unique Shem Creek restaurants, The Wreck of the Richard & Charlene was built on the site of the wreck of the ship it was named for. The spot is an institution in the Shem Creek area and is popular with locals.
The Wreck of the Richard & Charlene, a family-owned restaurant, serves dinner only, and the menu centers around Lowcountry fried seafood. You can choose fried seafood platters and explore everything from Mahi Mahi to flounder.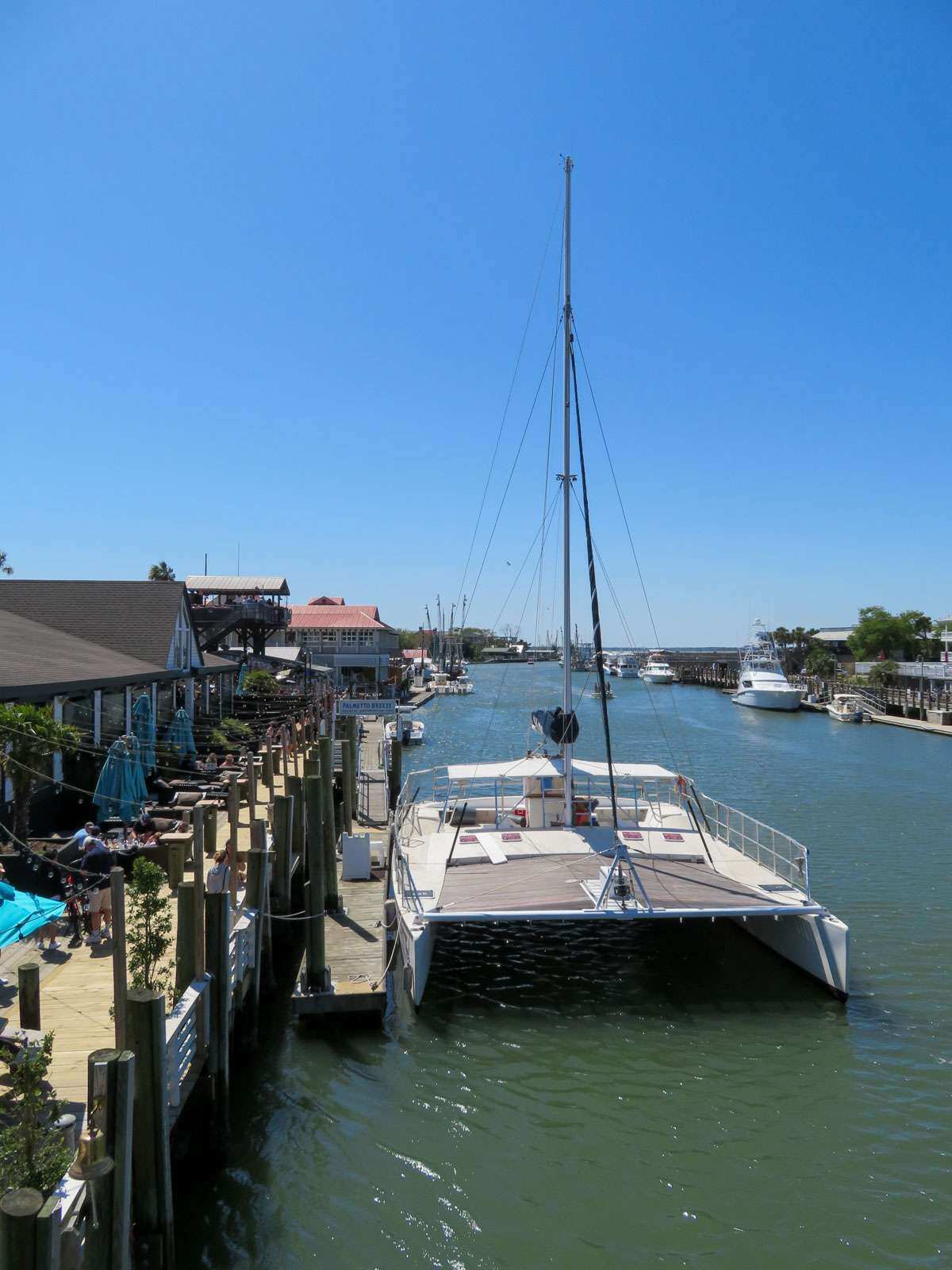 The Mill Street Tavern
The Mill Street Tavern is one of the best places to eat with views of the Ravenel Bridge that crosses Charleston Harbor. It serves tavern-style American cuisine, daily brunch, sushi, and drinks.
Check out the riverside terrace, or sit inside the cozy wooden dining area. Try the local shrimp and grits, fried chicken and waffle plate, or house-smoked pulled pork.
The Shem Creek Po' Boy is a favorite menu item. It's a Southern staple with fried oysters, jalapeno slaw, and French lemon remoulade.
NICO Oysters + Seafood
NICO Oysters + Seafood is an upscale restaurant with French cuisine just down the street on Coleman Blvd. The chefs put a creative twist on classic French recipes, and you can try everything from wood-fired mussels provencal to a tomato salad with French cheeses. Chef Nico Romo runs the kitchen and has a background in French culinary techniques.
Visit for brunch and order a ham and gruyere croissant at this classy French destination. The French toast with fresh peaches has a Southern feel and comes with maple syrup and sweet cream.
The Shelter Kitchen and Bar
If you're looking for a casual laid-back dining spot, The Shelter Kitchen and Bar is one of the best destinations. It has a beach bar with a deck, live music performances, and a friendly staff.
The Shelter Kitchen and Bar isn't directly on the waterfront, and this spot is closer to Mount Pleasant's neighborhoods. However, if you're trying to find if Shem Creek restaurants that have outdoor dining, The Shelter Kitchen and Bar fits the bill.
This spot has excellent seafood, Shem Creek-style. Try the local fried shrimp and flounder with fries.
Page's Okra Grill
Page's Okra Grill is a family-owned restaurant in the Mount Pleasant residential area. It's a few streets over from Shem Creek and a perfect destination if you're tired from an afternoon on the paddleboard.
Tuck in a comforting plate of Southern food, like ribs, okra stew, and fried shrimp. The fried clams are among the best menu items, and you'll want to try the gravy-covered fried chicken with buttery homestyle biscuits.
Post House
Post House is a historic bed and breakfast with a delicious coastal menu. The inn is close to the Mount Pleasant historical district, a few minutes away from Shem Creek.
Craft a fancy brunch plate with golden overnight oats, housemade Bloody Marys, and veggie quiche. Top off your meal with a citrus-cheese coffee cake.
Kids will love the children's menu with chicken fingers and mac and cheese bowls, and adults can sample flank steak or red curry. If you're a fan of wine, Post House has one of the best wine lists in the area.
The Pickled Palate
The Pickled Palate is a cozy little cafe a few streets over from Shem Creek. It has American cuisine, a casual atmosphere, and modern decor.
You can stop by for a cold beer and fine wine. Try salads, craft paninis, and gourmet roasted red pepper soup.
The Pickled Palate has outdoor seating on a little garden patio, and the restaurant is a great place to take a small group of friends. There are plenty of healthy and vegan options, so everyone in your group will feel accommodated.
Vintage Coffee Cafe
Vintage Coffee Cafe is a quaint coffee shop with breakfast, snacks, and lunch menu options. The espresso is the best in the city, and we love the cappuccino with hot milk foam. If coffee isn't up your alley, why not try an iced matcha latte or a Moroccan mint tea?
The cafe is great to visit before going for a morning walk down Shem Creek. You can grab a bite or a cup of coffee and start your day in this little cafe with rustic vibes.
The menu includes tasty items like the farm egg sandwich, avocado toast, and breakfast burrito. Also, consider a classic waffle with honey butter and maple syrup.
Coleman Public House
Coleman Public House is slightly north of the waterfront, by Shem Creek Park. It's a casual tavern with a hip atmosphere and a modern American menu.
The quaint little bar has rotating beers on tap. You can try some of the best draft beers in town, like the Low Tide South Carolina, a brown beer, or the Guinness Dry Stout from Ireland.
The menu includes authentic Lowcountry cuisine, from pimento cheese dip to fried chicken sandwiches. The Southern burger is fantastic with French remoulade, pepper jack cheese, and fried green tomatoes. We suggest pairing your burger with a hearty bowl of grits.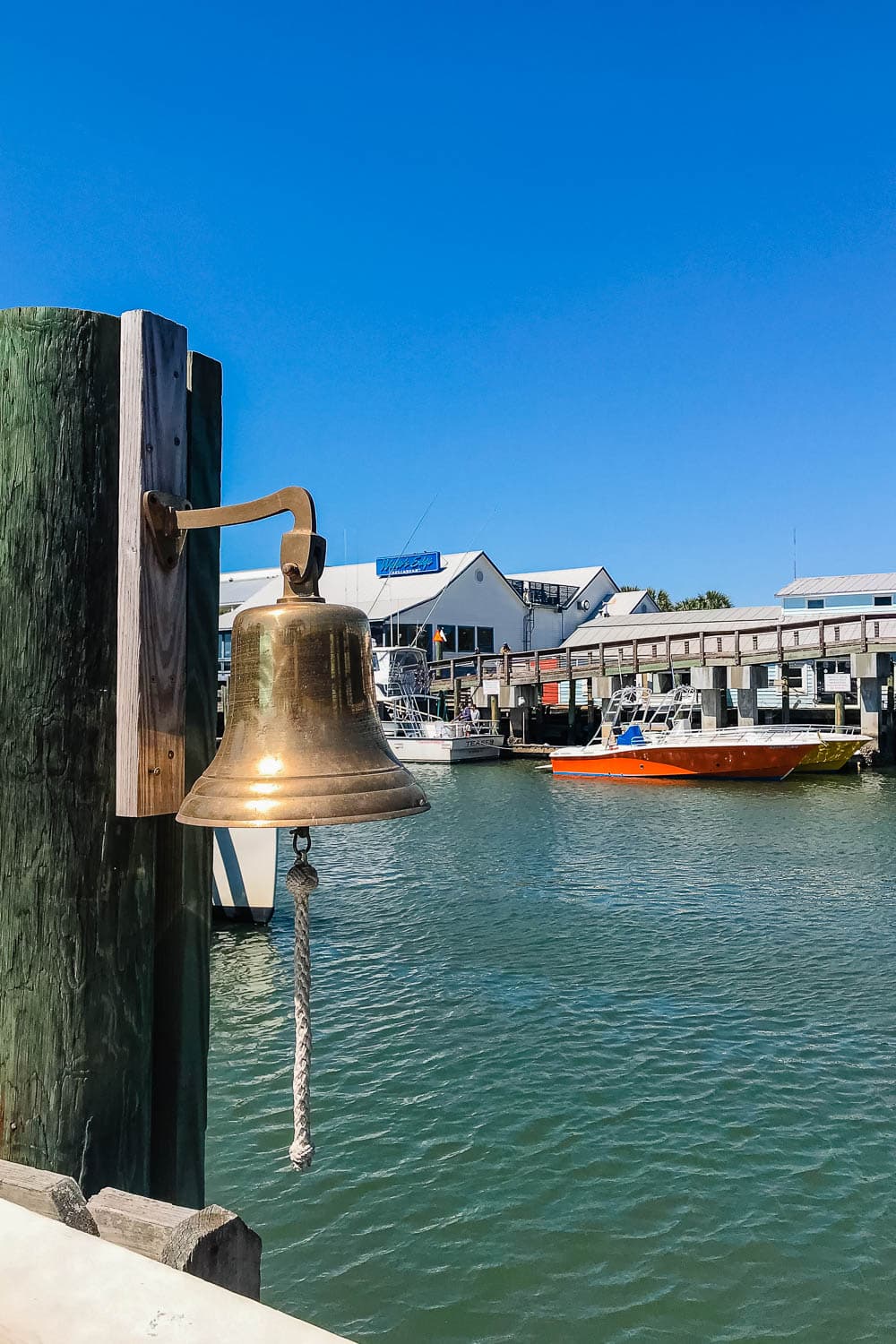 So Many Great Options
Shem Creek's restaurants have something for everyone, from hearty Southern comfort food to upscale seafood dishes. After a long day enjoying the Charleston beaches, paddling out on the kayaks or touring the city, you can dine on a waterfront deck and relax while you take in the sunset views.