This is the best 1800 coconut tequila recipe margarita recipe! So simple and so good. It's the perfect cocktail to take you back to the islands with a hint of coconut, lime and a splash of pineapple juice.
This coconut margarita recipe will become your go to margarita for tropical vacation pina colada vibes!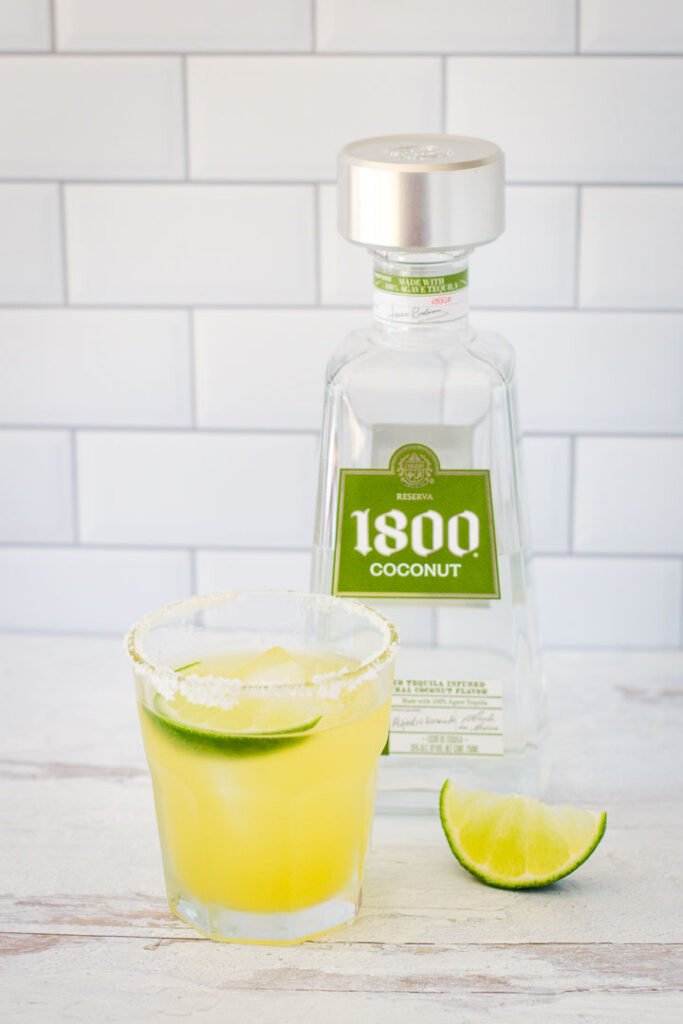 Who else loves a margarita? It's the perfect drink for everything from taco Tuesday to lounging by the pool on vacation. There are so many variations and so many ways to make it, but this coconut margarita is quickly becoming my favorite.
If you like coconut rum, give this drink with coconut tequila a try.
What is a margarita?
A traditional margarita has tequila, triple sec (orange-flavored liqueur like Cointreau), lime juice, and sweetener - either simple syrup or agave nectar.
The classic cocktail is shaken with ice and can be served up (no ice) in a cocktail glass like a martini, over ice in a rocks glass, or blended with ice as a frozen drink. It usually has salt on the rim, especially if it's not blended. That picks up on all the elements of a classic tequila shot-tequila, lime juice and salt-and blends it into a sweet, tart, fruity, salt-kissed drink.
A skinny margarita swaps the triple sec for orange juice, reducing the sugar and alcohol a little bit. My margarita of choice is close to this. I take it one step further and skip the sweetener altogether. The orange juice makes it just sweet enough to be refreshing without it being too sweet.
The twist today is using flavored tequila. This 1800 coconut tequila has a light tropical flavor that reminds you of vacation. Swapping the orange juice for pineapple juice gives it a pina colada vibe making it perfect for an island-inspired coconut margarita.
Types of tequila
Tequila, of course, is the star of the show in a margarita. It's a Mexican spirit made from the blue agave plant. There are several different types of tequila:
Blanco tequila or silver tequila - unaged clear tequila
Reposado tequila - aged in oak barrels less than a year to impart flavor notes
Anejo tequila - aged at least one year, has some color to it. Usually served neat for sipping or in drinks that use a whisky flavor
Flavored tequila - flavor-infused silver tequila
1800 Coconut Tequila is made from 100% blue agave silver tequila infused with natural slightly sweet coconut flavor. So it's perfect for this coconut margarita recipe.
Here's what you'll need to make it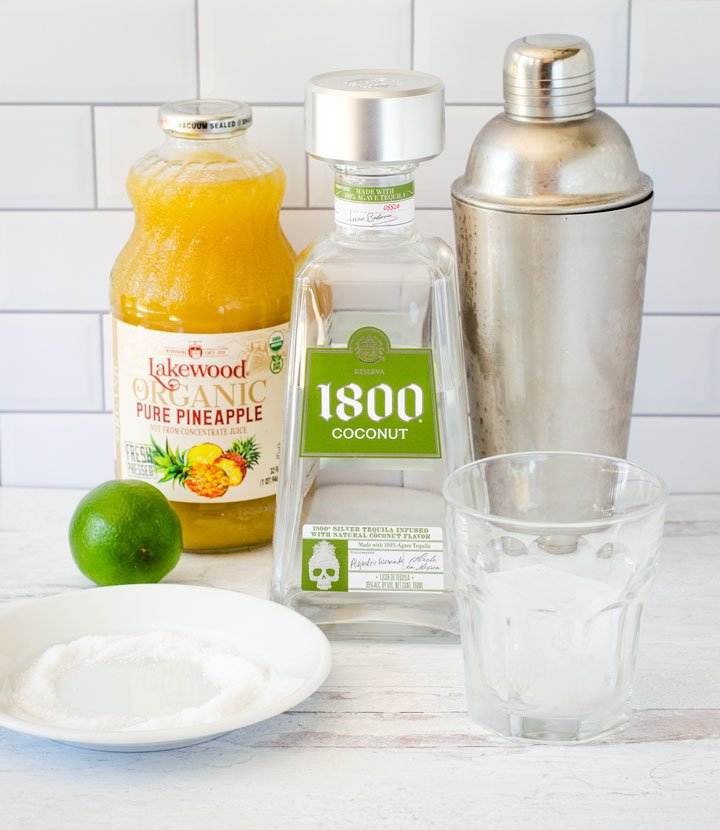 For this coconut margarita, you'll need a few simple ingredients. Just three ingredients make up this tasty tropical cocktail. Whether or not you add salt on the rim is up to you!
1800 coconut tequila - this is what gives the cocktail its subtle coconut flavor. You can substitute plain silver tequila, but you'll need to add the coconut flavor with coconut water or a splash of coconut milk.
Fresh lime juice - do not skimp here! Bottled lime juice will not give you the same flavor as fresh lime juice. It's worth it to use a citrus juicer and squeeze a couple of limes.
Pineapple juice - you can use bottled juice or fresh pineapple juice. Fresh is better if you have it, but bottled pineapple juice is fine in this cocktail. Just get one that is 100% pineapple juice with no added sweeteners or other juices.
Sea salt - use a coarse ground salt to rim the glass
Cocktail shaker – you'll need a cocktail shaker to make your drink extra cold (I like this one with a built-in strainer).
Cocktail glasses – and be sure to serve it in a cocktail glass. You can use a traditional margarita glass (this one is insulated to keep it cold), tall glass, on the rocks glass, or a coup cocktail glass.
How to serve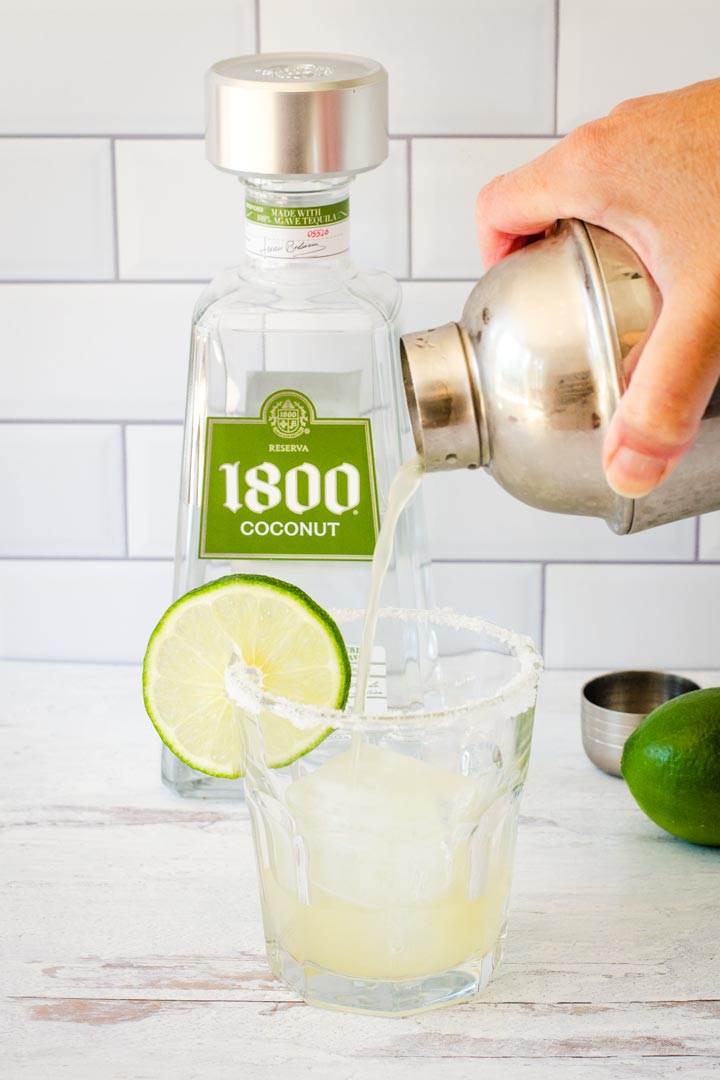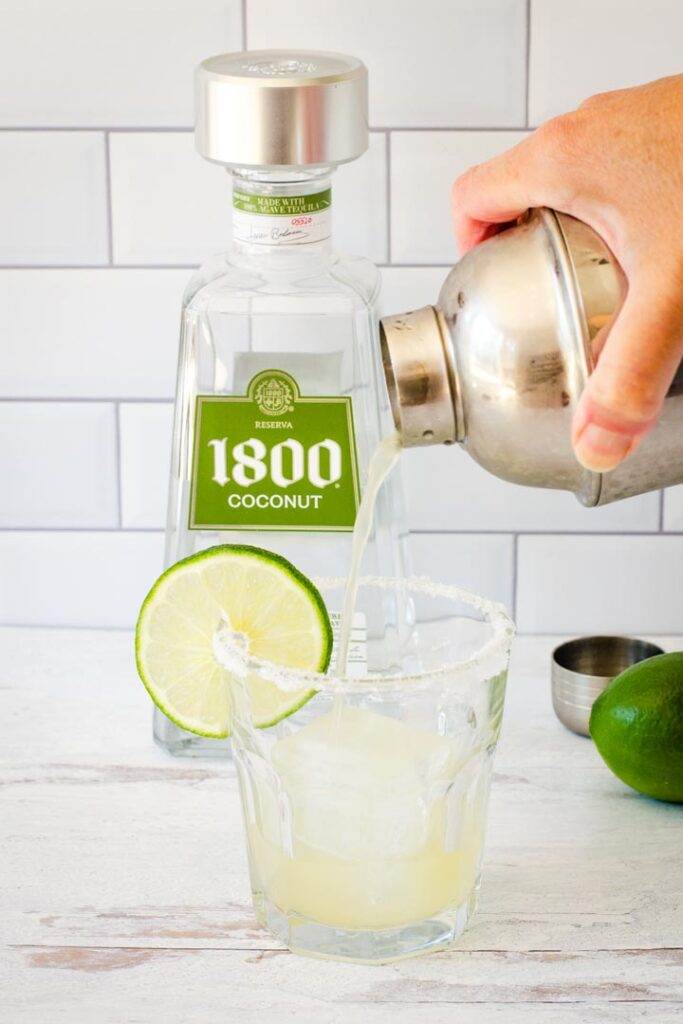 The classic way to serve a margarita on the rocks is with salt on the rim of the glass. To rim with salt just run a lime wedge around the rim then dip the glass in a shallow plate of salt.
Or get creative with your garnish and rim the glass with toasted coconut. Then add a lime wheel or wedge. Whether you serve it over ice or pour it straight up, you will love this margarita!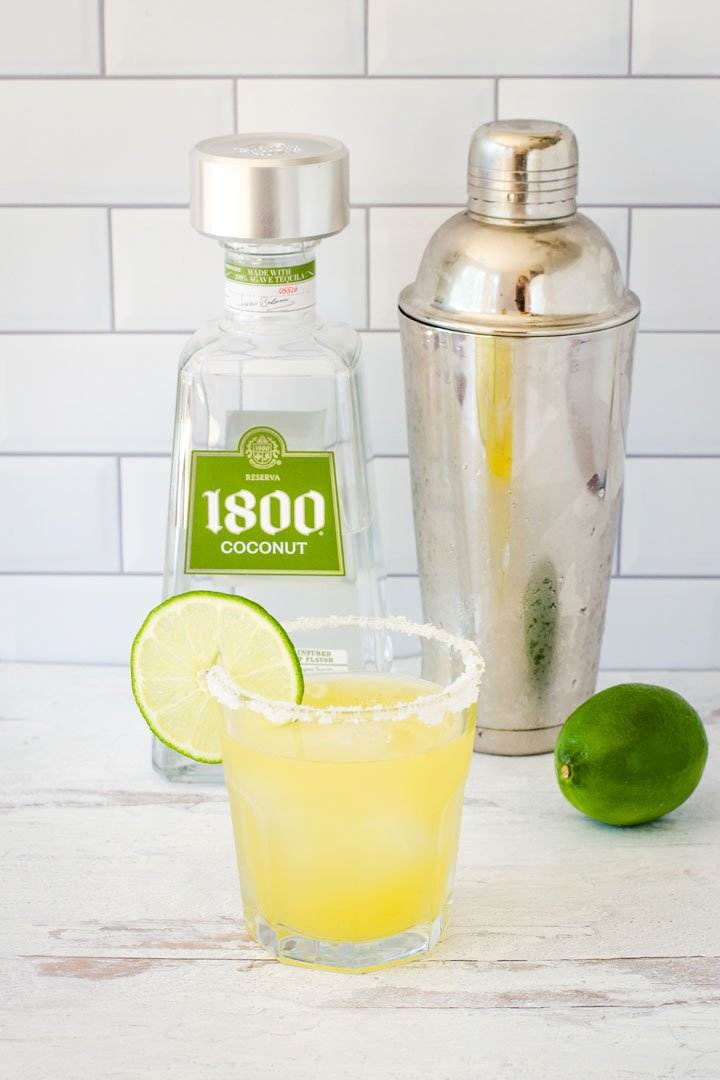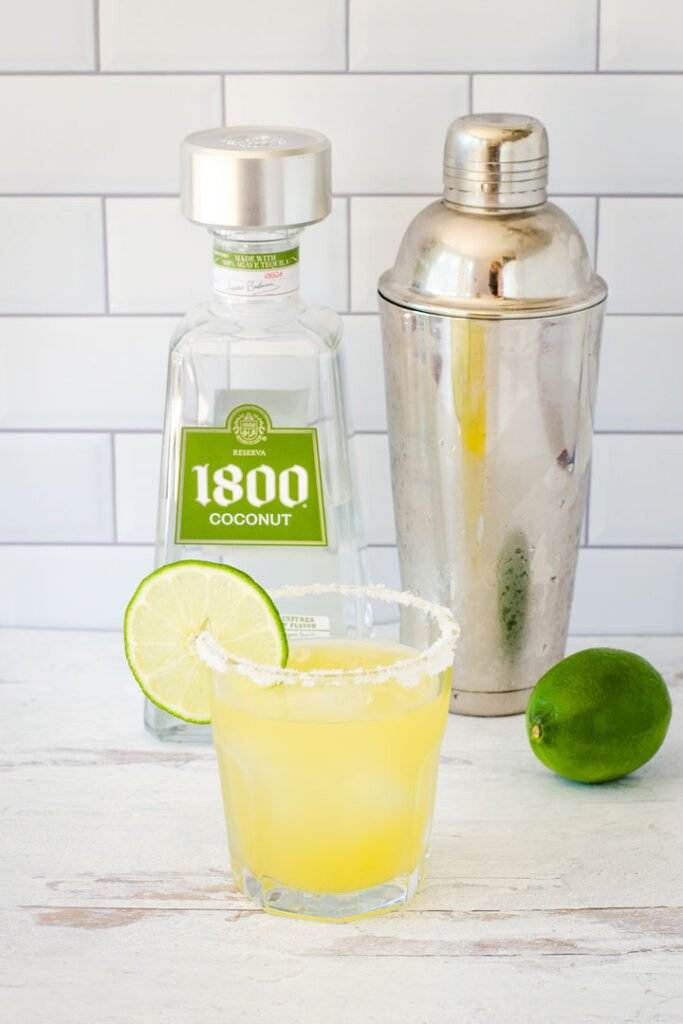 Variations
Start with just a few basic ingredients and you can get creative with an island-inspired margarita!
Want to amp up the coconut flavor? Add a splash of fresh coconut water for a light and refreshing version.
Want a creamy coconut margarita? Add a little coconut cream when you shake it up.
Want to skip the pineapple? Omit the pineapple juice and add a bit more lime juice for a coconut lime version. Sweeten with a little agave to taste.
How about a sparkling version? Top it off with club soda or flavored sparkling water like pineapple or coconut La Croix or Spendrift.
More easy drink recipes to try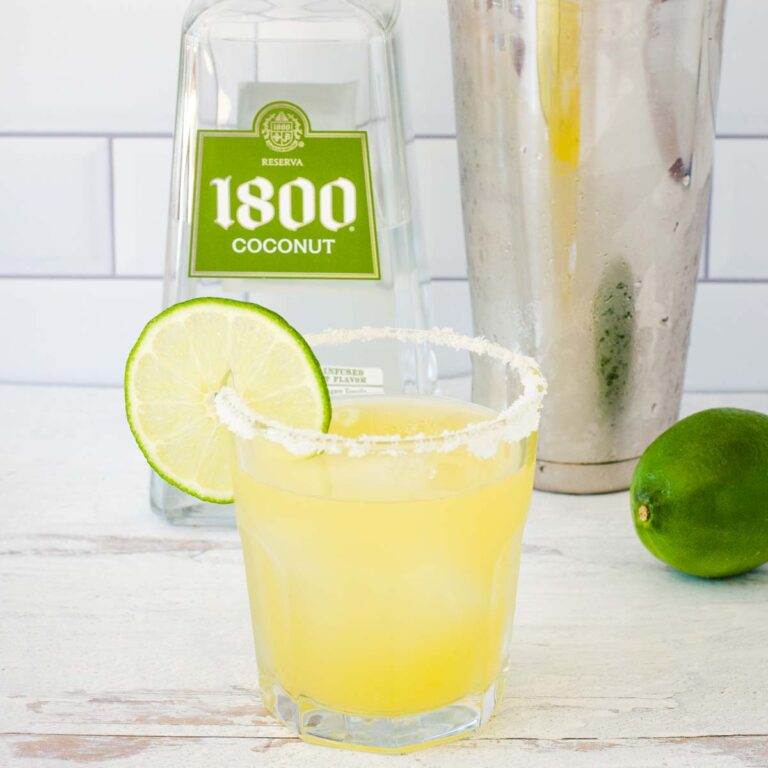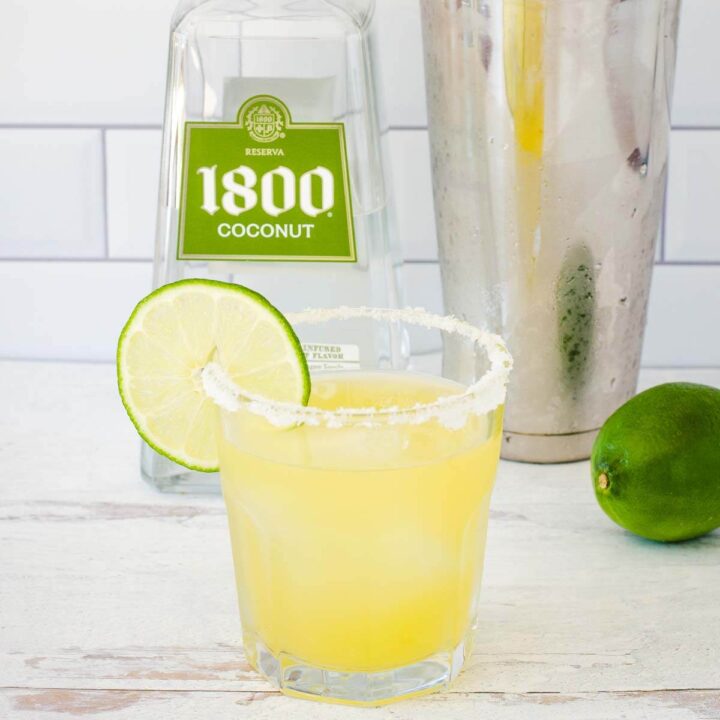 Coconut Tequila Margarita Recipe
This tropical take on a margarita is like vacation in a glass!
Ingredients
Ice cubes
2 ounces 1800 coconut tequila
1 ounce pineapple juice
¾ ounce lime juice
lime wedges
sea salt to rim glass
Instructions
Rim a margarita glass by running a lime wedge around the edge then dipping it in a shallow plate of sea salt.
Add ice, coconut tequila, pineapple juice and lime juice to a cocktail shaker. Shake until blended.
Strain the cocktail into the prepared glass and garnish with a lime slice or lime wedge.
Recommended Products
As an Amazon Associate and member of other affiliate programs, I earn from qualifying purchases.