Looking for an old fashioned fudge recipe? Look no further than this collection of melt-in-your-mouth easy fudge recipes in all your favorite flavors!
Indulge in a sweet treat with old fashioned fudge that reminds you of your favorite seaside fudge shop. Known for being rich and creamy, chocolate fudge is a classic candy that's always in style.
This collection of fudge recipes explores traditional flavors and combinations of ingredients that are time-tested and family-approved. There are even some healthier alternatives that reduce the refined sugar component and still taste amazing!
From stovetop versions to quick and easy microwave fudge, you'll find scrumptious recipes that are sure to win you rave reviews for your efforts in the kitchen.
Whether you're making these tasty confections for yourself, a party, or as gifts for friends, you're sure to find something for every occasion in this sweet collection of old fashioned fudge recipes.
Tasty fudge recipes to try
With so many flavors to choose from, these recipes are perfect for the holidays and all year long.
Salted Caramel Fudge
Enjoy the buttery caramel flavor topped off with just a dash of sea salt in this stovetop fudge recipe. White chocolate, butter, and sweetened condensed milk make up the base for this delectable candy. Try stirring up some for yourself and making gift a batch to those you love!
Recipe by Sugar Salt Magic
Best Chocolate Fudge Recipe
This fudge is infused with rich flavors and a smooth texture that's only found in old-fashioned chocolate fudge. It uses the traditional stovetop cooking method (you'll need a candy thermometer) to bring together sugar, milk, unsweetened chocolate, and more to a deliciously sweet treat worthy of being shared with friends and family. It's a classic!
Recipe by Sugar Spun Run
Gingerbread Swirl Fudge
Make the holidays merry with this beautiful swirled gingerbread fudge. It's an easy recipe that just requires a simple white chocolate mixture and a gingerbread-flavored mixture. Pour them in a pan in layers and then swirl with a knife to create an enchanting design. Chill in the fridge before cutting and serving.
Recipe by Sally's Baking Addiction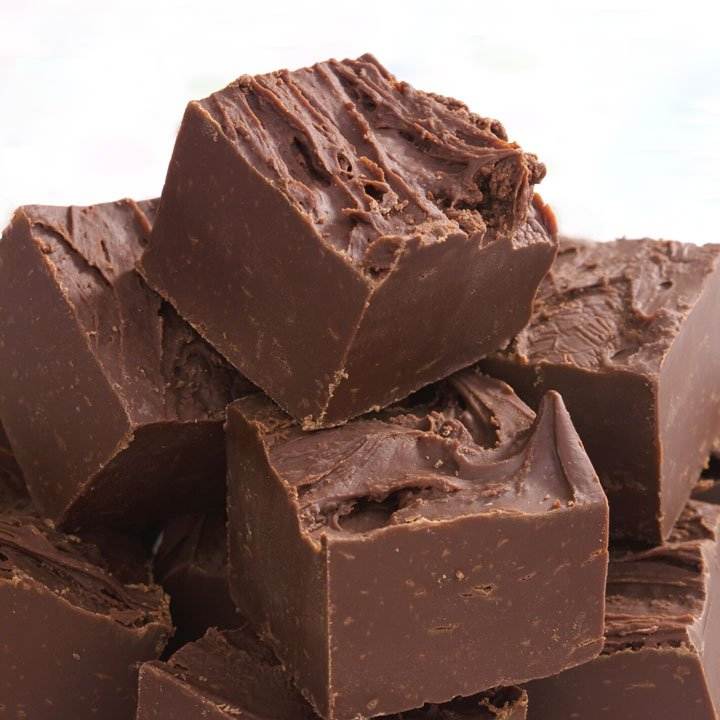 Toasted Coconut Fudge
Fans of coconut will adore this fudge. It combines toasted coconut with a simple recipe of melted chocolate chips and sweetened condensed milk. Pour into a pan and top with more toasted coconut. It's a swoon-worthy recipe that's perfect for any occasion where you need a fudgy chocolate and nutty fix!
Recipe by What The Fork Food Blog
Brown Sugar Walnut Fudge
Melted toffee combines with sugar, milk, marshmallows, butter, and chopped walnuts to produce this outrageously tasty fudge. From stovetop to the pan, it gets an extra garnish of toffee bits on the top for double yummy goodness.
Recipe by Melissa's Southern Style Kitchen
Mint Chocolate Fudge
Impress your friends and family with this pretty swirled mint fudge candy. It's an easy recipe that uses sweetened condensed milk along with milk chocolate and white chips. Add a dash of green food coloring and mint extract to the white chips mixture. Add both mixtures to the pan and use a knife to swirl them together. Let set and chill before slicing and serving.
Recipe by Simple Joy
RELATED: Boozy Mint Chocolate Shamrock Shakes
Easy Eggnog Fudge
Make your holiday dessert table complete with this scrumptious eggnog fudge. White chocolate pairs with eggnog, butter, and rum extract to make this irresistible fudge. Pour it into a pan and chill well. Add a dash of ground nutmeg to the top and slice into small squares. You won't be able to eat just one!
Recipe by Just So Tasty
Tiger Butter Fudge
Peanut butter and chocolate are best friends and here, they're swirled together in perfect harmony for an eye-catching and scrumptious Tiger Butter fudge candy. And best of all, you need only 3 ingredients - white chocolate, milk chocolate, and peanut butter. You can melt the chips in the microwave to keep it simple. Pour, swirl, and let set. So good!
Recipe by Princess Pinky Girl
Christmas Fudge
Christmas wouldn't be Christmas without fudge. And this holiday fudge is a delightful swirl of red, white green chocolate. Easily make this with the help of your microwave, white chocolate chips, and food coloring. It's a fun melt, pour and swirl fudge that's perfect for a Christmas party!
Recipe by Like Mother Like Daughter
RELATED: Easy No-Bake Christmas Cookies
Fantasy Fudge
This classic fudge recipe goes out all to produce a taste that's out-out-this-world delicious. Marshmallow creme, chocolate chips, sugar, milk, and chopped nuts contribute to its heavenly flavor and texture. It's a quick stovetop recipe that you can whip up in a saucepan for a quick dessert for the holidays and beyond.
Recipe by Cincy Shopper
White Chocolate Pecan Praline Fudge
If you love old fashioned praline candy, you'll want to make this tasty fudge version that uses white chocolate. The praline mixture is made on the stovetop and poured between the two layers of white chocolate fudge. No chilling required - just let it set at room temperature until firm.
Recipe by Living Sweet Memories
Healthy 4-ingredient Pumpkin Fudge
When pumpkin season rolls around this is the fudge to make. Easily mix it together with pumpkin puree, cashew butter, coconut oil, spices, and maple syrup. It's healthy, delicious, and perfect for the autumn holidays!
Recipe by The Big Man's World
RELATED: Easy Pumpkin Cheesecake Dip
Pistachio Swirl Fudge
Nut lovers will adore this sweet and salty fudge that uses chopped pistachios as well as pistachio pudding in the mix. It's a simple recipe that is paired with dark chocolate, marshmallow cream, and sweetened condensed milk. A quick cook in a pot on the stovetop, a swirl of a knife, and a session in the fridge will produce this awesome fudge, perfect for the holidays!
Recipe by Accidental Happy Baker
Old Fashioned Peanut Butter Fudge
Peanut butter lovers will adore this creamy and sweet fudge that mixes mini marshmallows with creamy peanut butter, sugar, milk, and butter. The stovetop method produces a scrumptious fudge that makes a perfect bite-sized peanut butter treat. No special occasion needed to make this!
Recipe by Spaceships And Laser Beams
6 Ingredient Butter Pecan Fudge
Toasted pecans, brown butter, and cinnamon pair with white chocolate for this amazingly rich fudge. The flavors mingle perfectly for a fudge that's perfectly spiced, luxuriously buttery, and deliciously nutty. Store in an airtight container or make ahead and stash in the freezer.
Recipe by Baker by Nature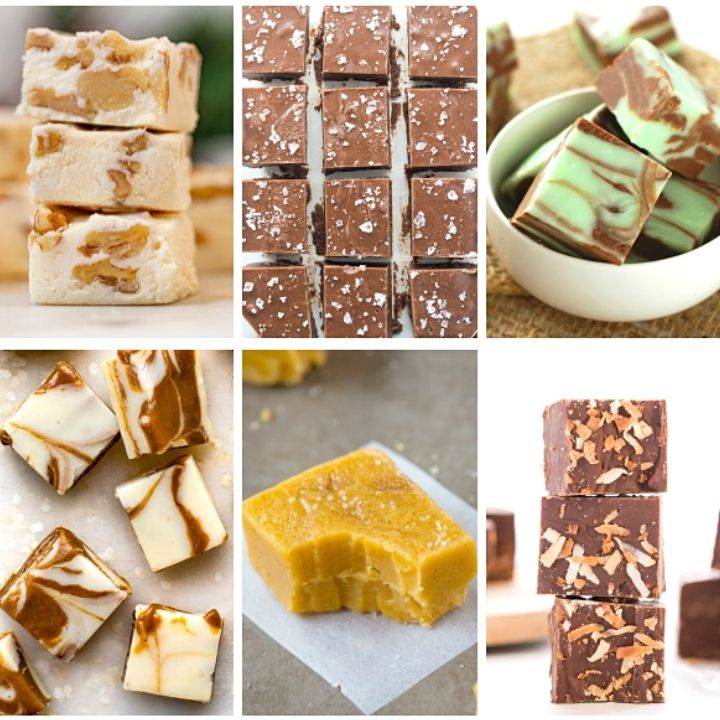 Maple Walnut Fudge
Maple and walnuts are a time-tested combination that work perfectly for a fudgy treat. White chocolate, sweetened condensed milk, maple extract, and toasted walnuts make this easy mouth-watering fudge a must-make candy recipe. It's so easy even the kids can help!
Recipe by Kitchen Fun With My 3 Sons
No Bake Salted Tahini Cookie Dough Fudge
It's totally okay and even healthy to eat this cookie dough! It's in the form of fudge, but still... cookie dough! It's made with tahini, coconut oil, and real maple syrup, none of the fake stuff! A dash of vanilla extract and chocolate chips completed the mix. Press into a prepared pan lined with parchment paper and garnish with sea salt. Awesome!
Recipe by Ambitious Kitchen
Easy Keto Fudge
There's no need to miss out on yummy fudge when you can make a healthier version with cocoa powder, coconut oil, vanilla extract, and a sugar substitute. There's no stovetop or microwave involved - just a hand mixer for combining the ingredients. Press into a pan, chill, and garnish with optional sea salt before slicing. Delish!
Recipe by Wholesome Yum
Salted Caramel Turtle Fudge
Chocolate, nuts, and caramel combine to make this mouth-watering fudge that quickly comes together. Use sweetened condensed milk, caramel bits, chocolate chips, chopped pecans to heat and melt all on the stovetop. Pour in a pan and let set. Garnish with coarse sea salt.
Recipe by High Heels And Grills
See's Vanilla Walnut Fudge
Make this decadent fudge with evaporated milk, white chocolate, marshmallow creme, butter, vanilla extract, and of course, chopped walnuts. It's an easy recipe and if you don't like nuts, just leave them out. This recipe makes a rich and delicious vanilla fudge without any crunchy additions. Perfection!
Recipe by Dinner Then Dessert
Fudge is a chocolatey treat that's easy to make at home and one of the most popular Christmas sweets. Make a few batches of these old fashioned recipes to give away as presents this year!
What's your favorite old-fashioned fudge flavor? Share in the comments below!