Looking to try the best places to eat on Tybee Island? From seafood to breakfast to pizza, here's where to find a good meal on Tybee Island, Georgia.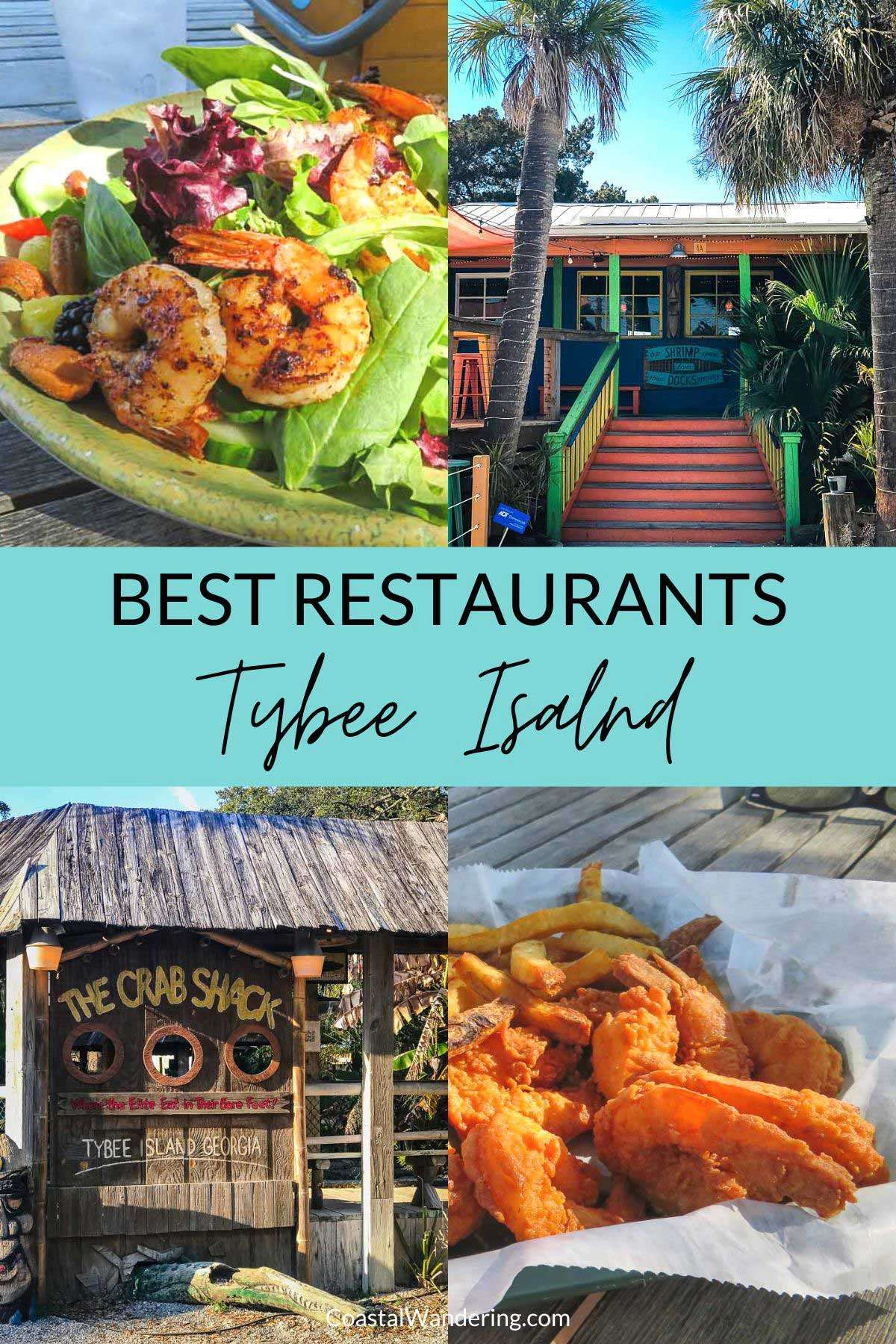 If you're planning a Tybee Island beach vacation, the island's proximity to Savannah (just 18 miles away) may be part of the draw, with the iconic Southern city's well-known restaurants, shopping, and nightlife. However, there is so much to do and see and EAT on Tybee, you may not leave the island at all!
This laid-back beach town is loaded with dining options, including abundant fresh fish, blue crabs, local shrimp and low country boil. There are plenty of family-friendly spots as well as watering holes beloved by the locals, quick bites and sweet treats, and of course, pizza once you've had your fill of seafood.
Best Tybee Island Restaurants
Here's my roundup of all the best restaurants to check out on beautiful Tybee Island. There are plenty of waterfront and outdoor dining options, so you can take advantage of the wonderful weather you'll experience when traveling during the best times of the year.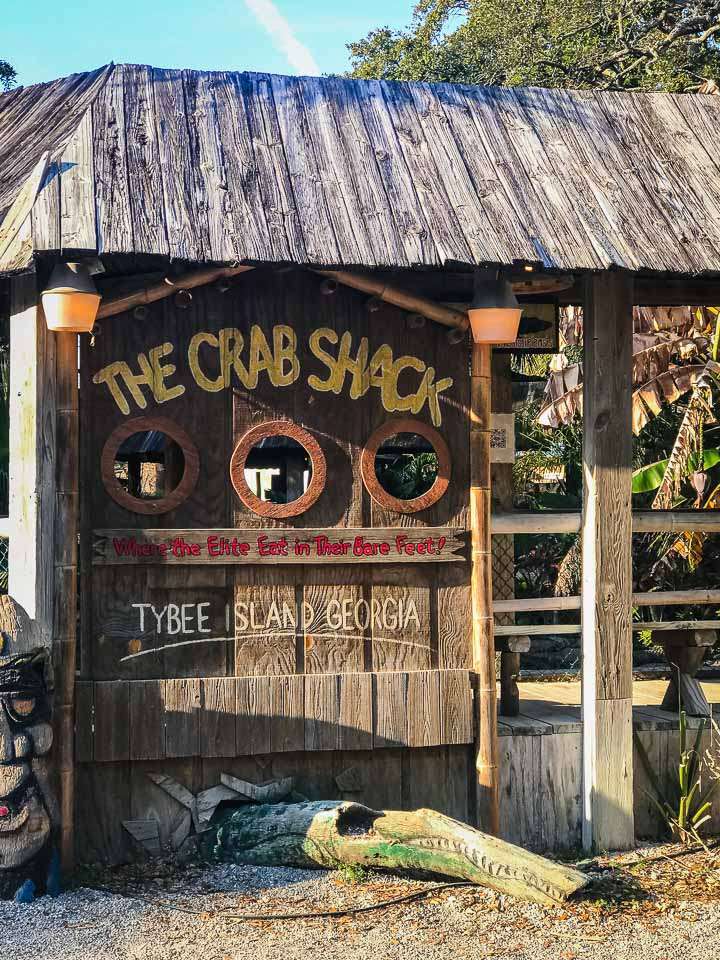 This rustic, creekside restaurant is a Tybee Island restaurant favorite for open-air dining with a beautiful view. Crab Shack favorites include deviled crab, Dungeness, and snow crab, as well as barbecue and brisket platters, crawfish, mussels, and peel and eat shrimp.
Don't miss the interactive Gator Lagoon with live baby alligators. There's a "gift shack" on-site to pick up souvenirs to take home, and the restaurant opens at noon, seven days a week.
Nothing feels quite as authentic as eating seafood next to the shrimp docks, and that's what you will be doing at Bubba Gumbo's at the Tybee Island Marina. Open daily, Bubba Gumbo's serves all your favorite shrimp dishes (such as Lowcountry Boil and shrimp and grits) and also features crab cakes, burgers, and fried flounder on the menu.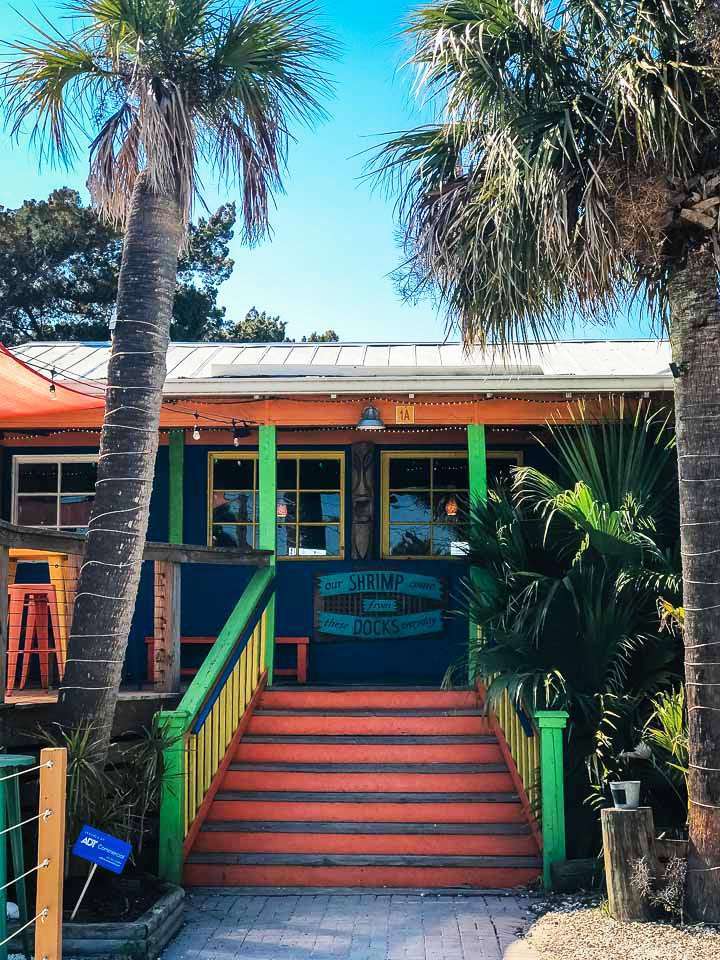 Coco's Sunset Grille
The views from this Lazaretto Creek Marina restaurant are perfect for sunset lovers, and the refreshing signature cocktails are perfect after a long, hot day on the beach. They own their own ship boats, so you know the shrimp is fresh and local.
Other menu favorites at Coco's Sunset Grille include crab stew, fried flounder, and the ahi tuna wrap. A kids' menu is also available; the restaurant is closed on Mondays and Tuesdays.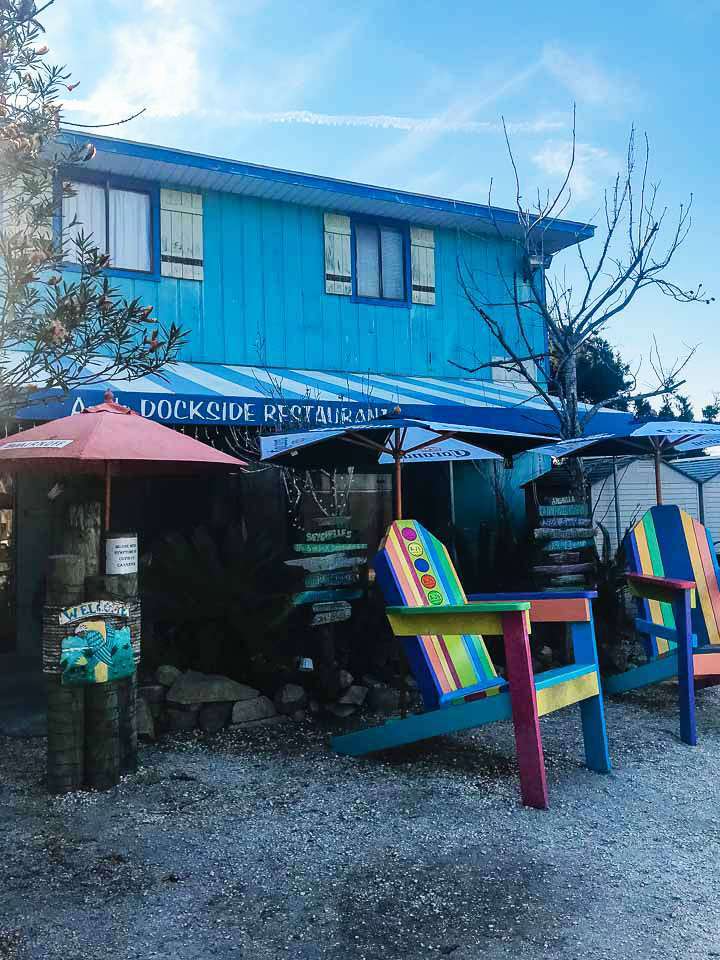 With its beautiful views of the Back River, AJ's Dockside restaurant has been an outdoor dining favorite on the island for two decades. Lunch and dinner are served seven days a week, with fried seafood and snow crab legs as the consistent menu favorites.
AJ's also serves salads and a nice selection of appetizers and desserts, along with a kids' menu. Reservations are required, and you can also call in advance to place to-go orders from this popular spot.
Another Tybee favorite, Salt Island serves up fresh fish, oysters and other popular seafood dishes along with craft beers from local breweries.
Try the beer cheese hush puppies, salt and pepper shrimp, or blue crab poutine for something different. They also have several veggie and gluten-free options. Open Wednesday through Monday until 10 p.m. (closed on Tuesdays).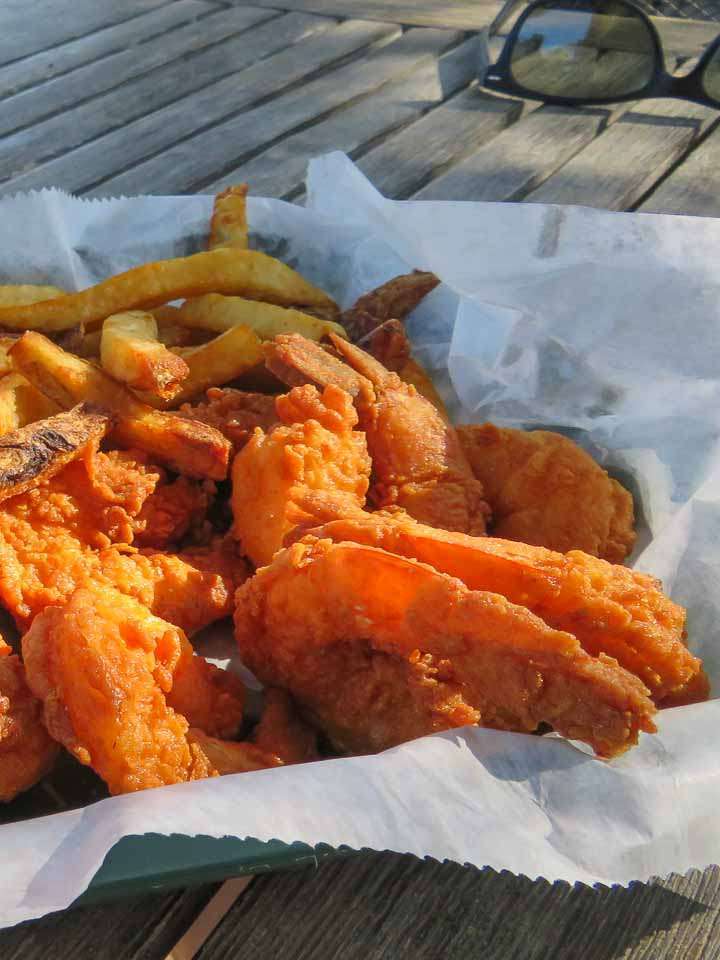 Located close to the island's iconic lighthouse, North Beach Bar & Grill strives not only to serve delicious food but also to make environmentally conscious choices, such as converting cooking oil into biodiesel, offering to-go orders in compostable containers, and recycling as much material as possible.
They also serve delicious fish tacos, jerk chicken, and other casual favorites with a Caribbean flair in a friendly atmosphere. They're open daily except for Tuesdays.
While the name gives a nod to the location's former ice cream parlor, today's Sundae Cafe serves upscale and elegant Southern fare in a warm and cozy atmosphere. Lunch and dinner are served Monday through Friday, with dinner only on Saturdays. Reservations are recommended for the dinner service, which features such popular dishes as pan-seared scallops, jambalaya pasta, and filet mignon.
Food is sourced from local purveyors, ensuring the freshest possible ingredients with local and seasonal flavors. The Sundae Cafe also has an extensive cocktail, beer, and wine list; this is one of the best spots on the island for a date night dinner or for celebrating a special occasion.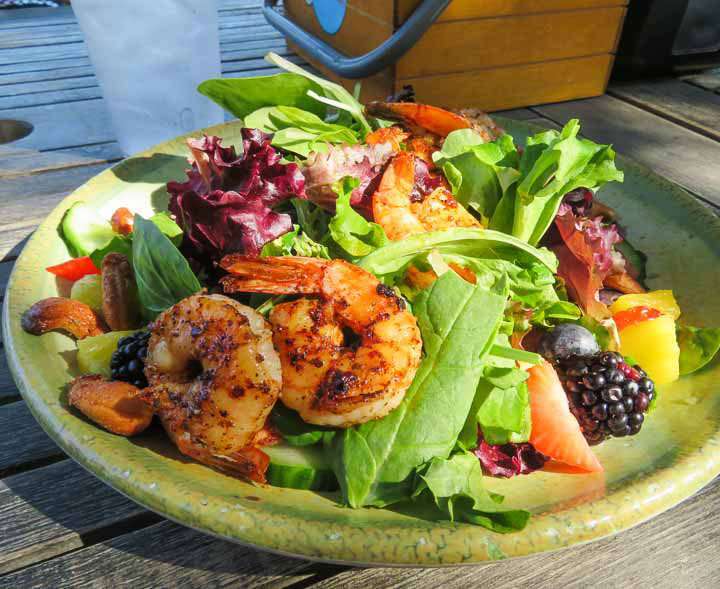 This open-air spot is known for beach views, live music, and their signature bloody marys. Tybee visitors and locals flock here for lunch, dinner, and Sunday brunch with a lively atmosphere and a delicious selection of entrees from burgers to snow crab clusters.
Part surf shop and part taqueria, Chamacos serves up delicious street tacos along with other Mexican favorites like street corn and chips and guacamole, all while you browse the latest surf gear and boards. Live music is another great feature of this eclectic spot at the south end of Tybee Island, open daily from noon until 9 p.m.
Catering and private events are also available and perfect for feeding large crowds at family reunions and other events on the island.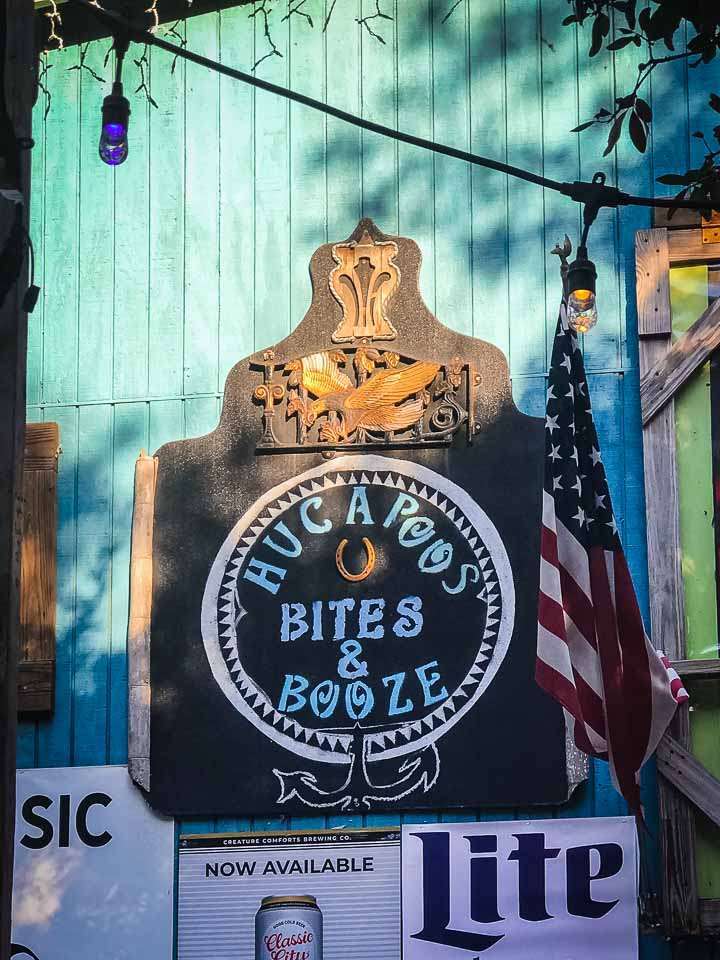 A favorite North Beach spot for "bites and booze," Huc-a-Poos describes its hours as "11:00 a.m. to whenever" and serves up unique specialty pizzas in a lively, come-as-you-are atmosphere.
Single slices "bigger than your face" are available for $5, or you can enjoy a whole pie like the Santa Cruz (Cali style with ham, tomato, red onion, and spinach), the Hot Tamale (with jalapenos, crushed red pepper, and hot sauce), or the Shep Suprise (whatever the chef wants). Open mic nights and other seasonal entertainment make this a fun place to be during your Tybee vacation.
Located at the south end of Tybee, Bernie's has a neighborhood tavern feel, with a menu featuring fresh and fried oysters (of course!), steamed shrimp, and homemade gumbo as well as loads of other coastal favorites, such as Lowcountry Boil, hush puppies, and shrimp tacos.
The Breakfast Club is a no-frills diner on Butler Avenue that's popular with locals and tourists alike - it was a Trip Advisor Traveler's Choice award winner in 2021. It gets busy so be prepared to wait in line.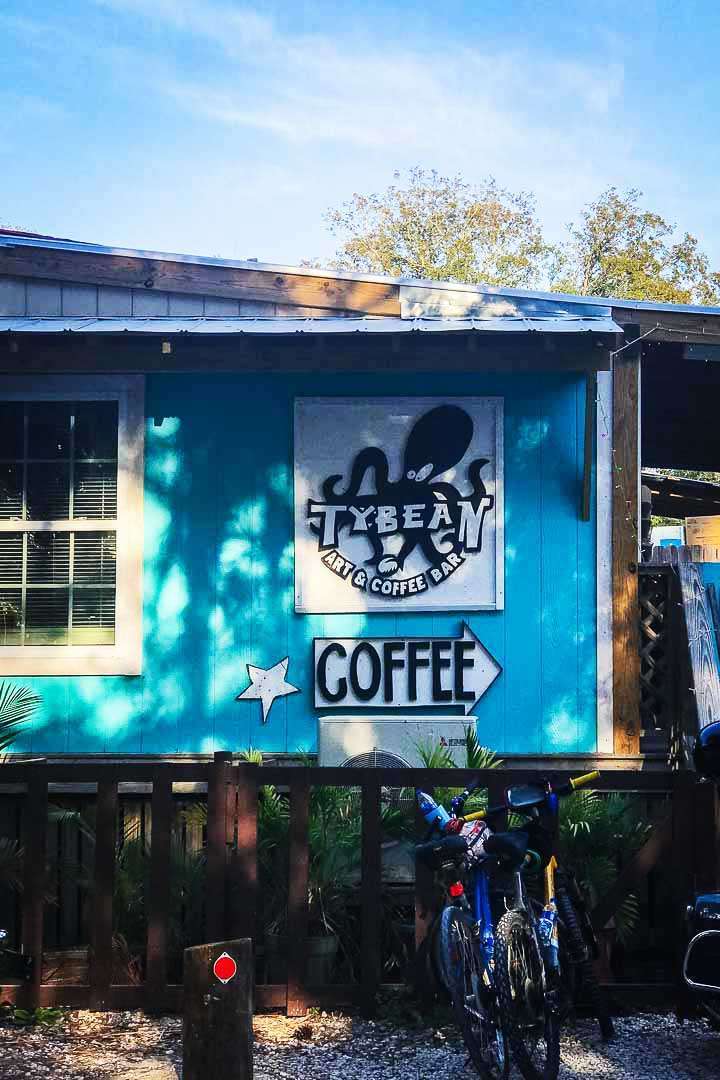 For a quick java jolt on the North End of Tybee, stop by Tybean Coffee and Art Bar, open daily (except Tuesdays) from 7:30 a.m. to 12:30 p.m. Here you will find specialty coffees and teas along with delicious smoothies in an art-filled cottage with a patio and gift shop.
Sunrise Restaurant
For a hearty breakfast before a full day on the beach, you cannot beat Sunrise on the South end of Tybee. Early birds love that this place is open daily at 6 a.am. Come early to beat the crowds for omelets, waffles, steak and eggs, or stop by for delicious burgers, sandwiches, and salads at lunchtime. After you dine, it's a short walk to the Tybee Pier, where you can fish, stroll, or just take in the beautiful ocean views!
Another great option for a delicious pie on Tybee is Lighthouse Pizza, with traditional and sweet options. They're located at the South End next to Bernie's. Both takeout and delivery are available seven days a week.
If you find yourself craving tacos and a margarita while visiting Tybee, Agave is your spot. This casual Mexican restaurant serves lunch and dinner daily, with all your favorites from nachos and fajitas to huevos rancheros, and they have a nice selection of vegetarian items as well.
This neighborhood watering hole is known for its hot dogs but also serves an ever-changing seasonal menu with oysters, vegan food and other items, as well as some creative signature cocktails like the "recombobulator" if you overindulged during your Tybee vacation and need a cool and refreshing pick-me-up.
Located near the visitor center in the middle of the island, Sea Wolf Tybee is open on weekdays at 4 p.m. and on weekends at 11 a.m.
With three area locations (Savannah, Pooler, and Tybee), Spanky's is an island favorite for chicken fingers, burgers, wraps, salads and seafood baskets in a casual atmosphere. Ice-cold tropical drinks also make Spanky's a fun spot for happy hour after a beach day.
When it comes to beachfront dining, The Deck Beach Bar and Kitchen puts you as close to the ocean as possible, serving up a delicious coastal menu (try the salmon poke bowl) and refreshing cocktails to enjoy while savoring the views. Closed Tuesdays and Wednesdays, the Deck is open every other day of the week for lunch and dinner within the Beachside Colony Resort in the middle of Tybee. Reservations can be made in advance on Open Table.
This bustling South End restaurant has outdoor tables under umbrellas on the deck where you can enjoy the salt air while feasting on favorites like coconut shrimp, Buffalo shrimp, po'boys, and Gulf Coast oysters. Or try the Tybee Island Gumbo made with shrimp, sausage, and chicken.
Live music outside draws crowds, and the indoor bar features TVs, so you do not miss your favorite game. As a bonus, Sting Ray's is pet friendly, so you can bring your four-legged family members to dinner with you.
The SugarShack
This family-owned restaurant and Tybee landmark has been around since 1971. The Sugar Shack offers many American staples along with creative ice cream flavors and outdoor seating.
This neighborhood dive on the South End serves up cold beer and classic all-American favorites such as burgers, wings, and Philly cheesesteaks. Delicious daily specials include shrimp tacos, homemade soups, country-fried steak, barbecue pork, and other comfort-food favorites.
Gerald's Pig and Shrimp
This quirky food truck-turned Tybee Island restaurant became a Tybee Island favorite for slow-cooked brisket and pork along with seafood favorites such as fried shrimp and simple classics like tomato sandwiches, hot dogs, and baked potatoes. Rumor has it Gerald's has been sold, so we'll have to see what's next.
If you need a place to grab breakfast or lunch before you go to the beach or a looking for a new place for dinner, try one of these favorite places to eat on Tybee Island.