Here are 3 key things you need to know before you book your Atlantis Bahamas day pass. This includes knowing the best things to do and see, taking a closer look at each of the day pass options, and understanding when and how you should book your day trip.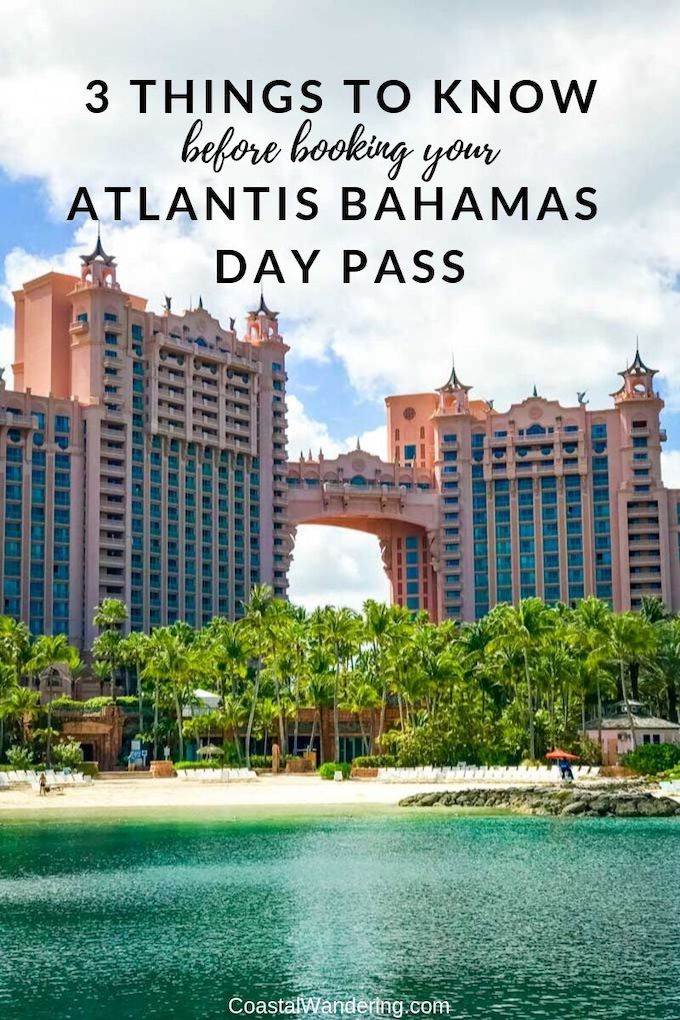 If you're planning a Caribbean cruise with Nassau listed as one of its ports of call then you're likely to see the Atlantis Bahamas day pass as one of your choices among the shore excursion packages.
No matter whether you're a beach lover, water park-loving thrill-seeker, first-time cruiser, or aquarium junkie, this huge action-packed resort truly offers something for every type of traveler.
It's the perfect choice if you're cruising the Caribbean! But before you start booking your day trip, you'll need to know what you want to do and see at the Atlantis Bahamas resort.
The day passes aren't created equally and there's no "All Access" pass that gives you unlimited access to everything on the resort, so you'll need to consider your options carefully and decide what type of day you'd like to have onshore.
With that in mind, this guide is intended to help you understand your activity options, what the Atlantis Bahamas day passes do (and don't) cover, as well as where and when you should book your day pass.
Ready to start planning your visit to Atlantis Bahamas now? Book your day pass here.
1. Learn The Best Things To Do At Atlantis Bahamas Resort
Whether you're in the mood to kick back at the beach or zip down a waterslide, Atlantis Paradise Island offers plenty of activities for every type of traveler.
Here are some of the best things to do during your day onshore:
Soak Up The Sun On The Atlantis Bahamas Beaches
You'll find five miles of breathtaking beaches along the edge of the resort – beautiful white sandy shores and exquisite blue waters split across three pristine beaches and one lagoon beach. It's truly any beach-lover's paradise!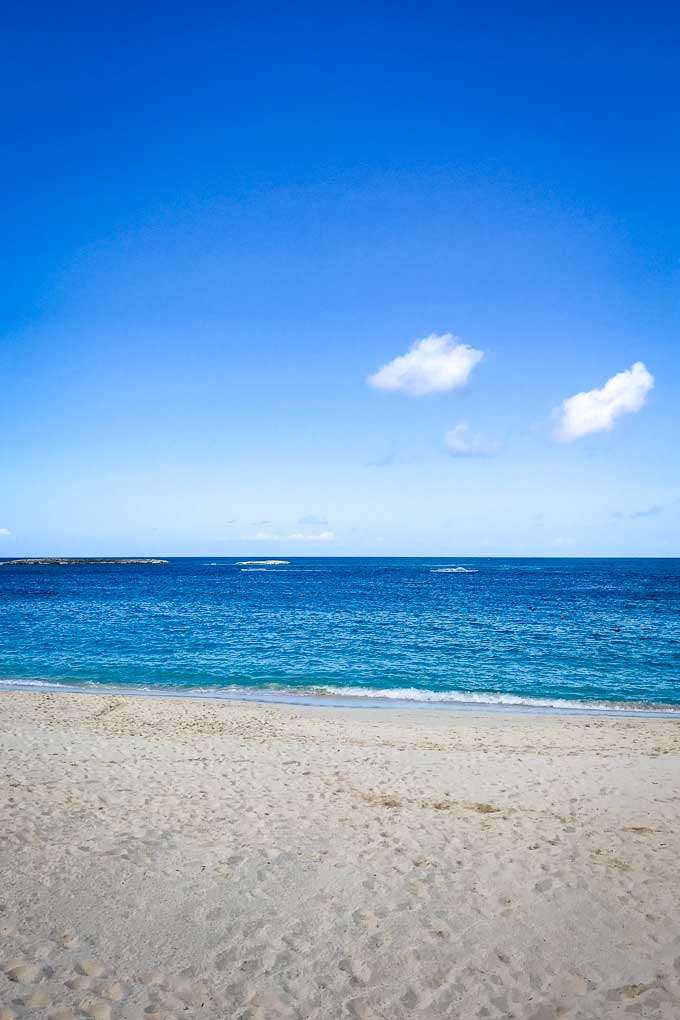 Whether you visit Cove Beach, Atlantis Beach, Paradise Beach or the Lagoon Beach, you're sure to find a beach vibe that suits your style. While Cove Beach and Paradise Beach are a little more tranquil and laid-back, Atlantis Beach is the action-packed destination, located right at the heart of the Atlantis resort.
And if you're in the mood for a water activity or two, you'll want to visit Paradise Lagoon Beach. This sheltered environment is a great place to snorkel, go for a paddle in a paddleboat, or enjoy one of the other nearby water sports.
Here's a little glimpse of the beautiful ocean views on the main beach:
Explore The Dig & Other Atlantis Marine Habitats
The Dig and Atlantis marine habitats are an absolute must-see if you're even remotely interested in marine wildlife. And you're reading this...so you probably are. Why is this a must-see? Because Atlantis Bahamas houses the biggest open-air marine habitat in the entire world!
The Atlantis marine habitats cover 14 lagoons with more than 50,000 (!!!) aquatic sea creatures, which when combined, span over 250 different marine species. And those 14 lagoons hold more than eight million gallons of seawater. This aquarium is serious business. It's probably the next best thing to visiting a coral reef!
And among these marine habitats is none other than "The Dig". This very popular habitat offers its visitors a look at over 100 venomous Indo-Pacific Ocean lionfish, Moray eels and all sorts of iridescent jellyfish. All in all, the Dig offers a pretty spectacular sight to behold!
Take just a few steps outside the Atlantis aquarium and you'll find yourself in front of the Stingray Lagoon. This is where you'll have a chance to get a closer look at some spectacular rays.
Wondering what else you can see in the Atlantis marine habitats? Enormous groupers, "Jewel Habitats" of beautiful tropical fish, and special exhibits with lobster, seahorses, clownfish, triggerfish, Bermuda chubs and more. You'll even have the rare opportunity to get an up-close-and-personal look at Great Hammerhead sharks, Caribbean Reef sharks and Smalltooth Sawfish.
If you'd prefer to steer clear of the more dangerous species in the aquarium, you should make your way over to the Green sea turtles. And if you're hoping to get really close to some marine wildlife, you'll want to check out the interactive tank filled with conch, starfish, sea urchins, sea cucumbers and crabs.
No matter what your favorite tropical sea creature is, there are probably at least a couple of them that call the Atlantis marine habitats home.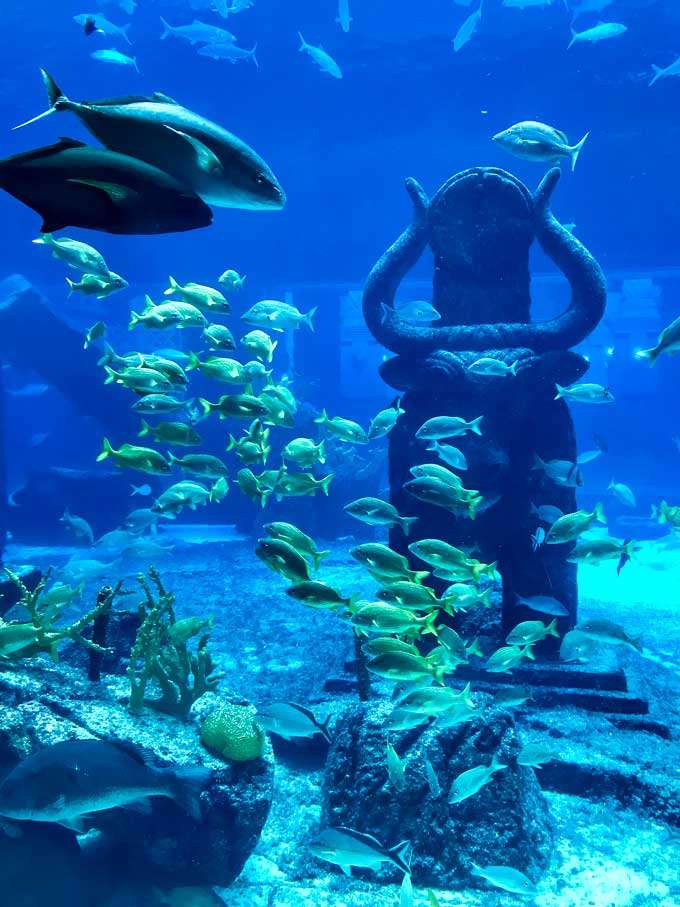 Spend A Day With The Dolphins At Dolphin Cay
If you love dolphins, you'll need to check out Dolphin Cay while you're at Atlantis. This open-air marine mammal habitat stretches over 14 acres of man-made environment.
This is not an entertainment facility. Originally opened in 2007, Dolphin Cay was created to fill a need in providing a safe home to 17 homeless dolphins. The Dolphin Cay lagoon, coves, sandy beaches and pools are the perfect response to this need. And Dolphin Cay also offers an animal rescue-rehabilitation hospital, animal pharmacy, and even provides a safe home for some lucky sea lions in the separate sea lion center.
So, what can you do when you visit Dolphin Cay? There are plenty of different ways to spend your day with the dolphins. Guests can swim, play, snorkel, kayak or paddleboard alongside the dolphins. And you can even spend a day working alongside one of the trainers!
Splash Around At The Aquaventure Water Park
This highlight is for the thrill seekers in the crowd! The Aquaventure water park is a completely unique, ginormous (141-acres!) water park. It's one of the largest in the world, so if water parks are your thing, you'll need to make sure you stop by!
Guests and day pass holders can enjoy over 18 different water slides, a mile of river-riding fun, 20 different swimming areas and 11 beautiful swimming pools. For those that are curious, this huge water park has over twenty million gallons of water...that's a lot of water! And, of course, the entire park keeps with the Atlantis-themed surroundings. Impressive towers that look like they could be part of an incredible ancient city!
Other Things To Do & See With At Atlantis Bahamas
Of course, the beaches, the Dig, Dolphin Cay and Aquaventure are just a couple of my favorite highlights at the Atlantis Bahamas resort. You can also:
Spend a day at Atlantis' Mandara Spa
Game at the Atlantis casino
Snorkel with the Cownose stingrays with the Stingray Experience
Take a self-guided underground tour of Atlantis
With plenty of activity options to choose from, you might just wish you were spending more than a day!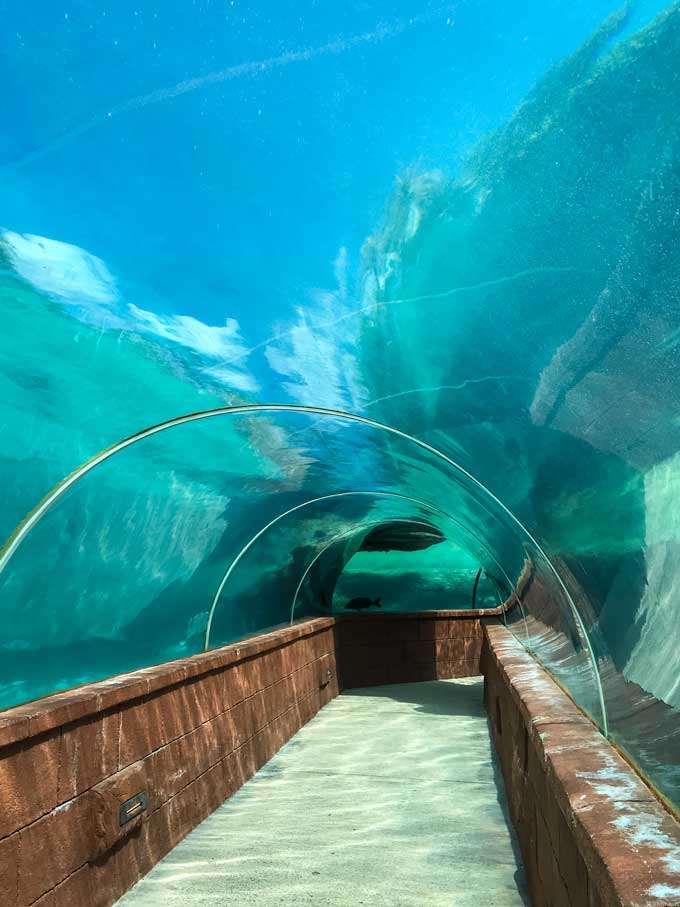 2. Understand Your Atlantis Bahamas Day Pass Options
No matter how you imagine your perfect day in paradise, you'll find the right Atlantis Day Pass to suit your style. While all of the Atlantis Bahamas day passes provide access to the casino, shopping and dining, you'll need to decide what type of activities you would like to do while you're onshore. This will determine which day pass and day pass add-ons you'll need to purchase.
Your 3 Core Atlantis Bahamas Day Pass Choices
You'll have 3 core choices for your Atlantis Bahamas day pass. Here's what each of those day passes does (and doesn't) cover:
Atlantis Beach Day Pass
This day pass gets you exclusive access to the beautiful beaches of Atlantis. While quantities are (of course) limited, you will also have access to the onsite lounge chairs and towels. Pack your beach bag with some reef-safe sunscreen and a good book and you're all set for the day!
You'll have access to:
All of the Atlantis beaches, as well as Paradise Lagoon Beach
The Discover Atlantis Aquarium Tour
The Dig
Plus all other Atlantis marine habitats
The casino
Shopping and dining
You will not have access to:
The Atlantis pools
Aquaventure slides and river rides
Private Atlantis lagoons
Aquaventure Water Park Day Pass
The Atlantis Aquaventure day pass gets you unlimited access to enjoy a day at one of the largest water parks in the world! Perfect if you're a thrill-seeker or are just in the mood for a fun water adventure!
You'll have access to:
The entire Aquaventure waterpark
20 swimming areas, including 11 pools
The Atlantis beaches
The casino
Shopping and dining
You will not have access to:
The Dig
The Atlantis marine habitats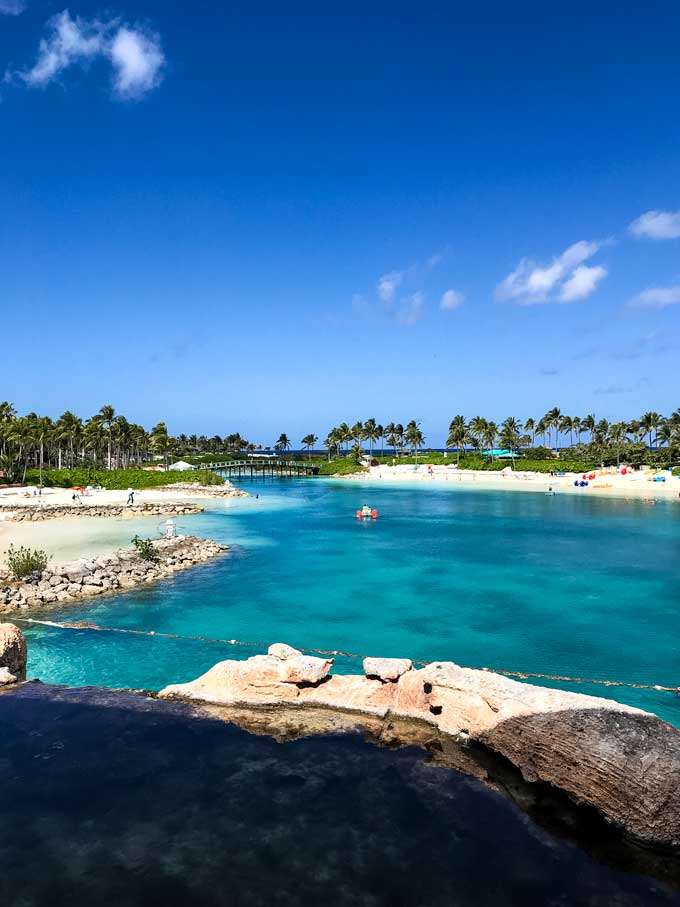 Discover Atlantis Day Pass
This day pass gives you access to The Dig and the Atlantis marine habitats. Perfect if you're looking for an educational day learning about your favorite sea animals!
You'll have access to:
A self-guided tour through the underwater city of Atlantis
The Dig
The Atlantis marine habitats
The casino
Shopping and dining
You will not have access to:
The Atlantis pools
Any of the Atlantis beaches
Aquaventure water park
Other Adventures To Enjoy With Your Atlantis Day Pass
Want to take your day trip to the next level? Here are two options to try in combination with your Aquaventure Day Pass:
Snorkel the Ruins at Atlantis: Enjoy 60 minutes of fun as you snorkel through the Ruins Lagoon. You'll get an up-close look at the sunken ruins of the lost city. This is a particularly fun activity for kids (they must be over the age of 8) and those that are young at heart.
Stingray Experience: This is a unique opportunity to have a (literal) hands-on experience with the Atlantis Cownose stingrays. Learn about these incredible creatures and then go for a snorkel among them. This is the best way to get close to these incredible animals.
Or, if you'd just like to spend a little time with the dolphins, you can simply book a Dolphin Cay adventure. There are plenty of different ways to spend a day with these local dolphins and sea lions, including:
Swimming with the rescued bottlenose dolphins
Playing with the sea lions
Spending a day in the life of a trainer
Or kayak, paddleboard or snorkel with the dolphins to your heart's content
These Dolphin Cay activities are the only adventures at Atlantis resort that do not require a day pass (but you won't have access to any other part of the resort either).
Whether you choose one (or a couple!) of these add-on activities, you're sure to have a blast during your visit and a fantastic memory to carry with you when you return home.
3. How To Purchase Your Atlantis Day Pass
If your cruise line has a port of call at Nassau, then it's very likely that you'll have the choice of a day trip to Atlantis as one of your onshore excursion packages. There are usually a few different options depending on what you want to see and what time you want to go.
You can also purchase your day pass directly through the Atlantis resort, but you'll have to get your own transportation to and from Paradise Island. (It's a short distance---we could see the Atlantis towers from the ship when we docked.)
No matter which way you choose to purchase your day pass, you'll want to read the pass description and fine print very carefully. As you've already seen there isn't one day pass that offers access to every part of Atlantis. You'll need to decide what you want to do and then choose your day pass accordingly.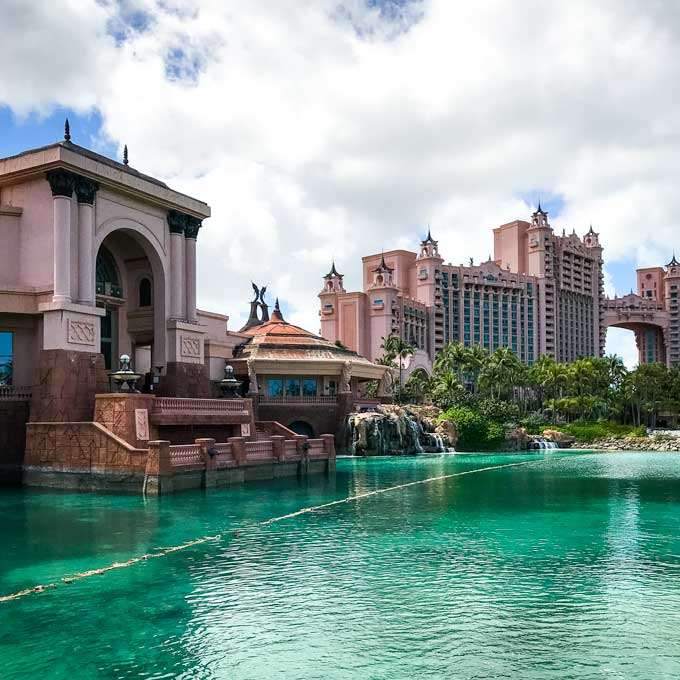 Other Important Details About Booking Your Day Pass
Here are a few key details to note about booking your day pass:
No matter whether you book your day pass in advance or on the day you visit, you'll need your cruise line ID or partner hotel room key to redeem your pass.
Day pass availability is limited, so you should book your pass in advance if Atlantis is a must-see on your excursion list (it should be!).
You'll need to call in advance or take your chances and buy in-person if you decide to book a last-minute day pass. You will not be able to make a same-day reservation online.
If you keep these key details in mind, you'll be sure to have a fantastic day exploring paradise.
Enjoy A Day In Paradise With Your Atlantis Bahamas Day Pass
Looking to spend a day enjoying some of the most beautiful beaches? Head to Atlantis.
Hankering for a fun day learning about your favorite underwater sea creatures? Head to Atlantis.
In need of an adrenaline rush as you zoom down a water slide? Head to Atlantis.
No matter what your version of paradise looks like, the Atlantis resort on Paradise Island is sure to deliver a spectacular day of fun in the sun.