Looking for a no-stress summer dinner? Here are 20 easy kabob recipes you can make on your backyard grill (or grill pan). These BBQ skewers with chicken, shrimp, steak, and vegetables will give you plenty of options!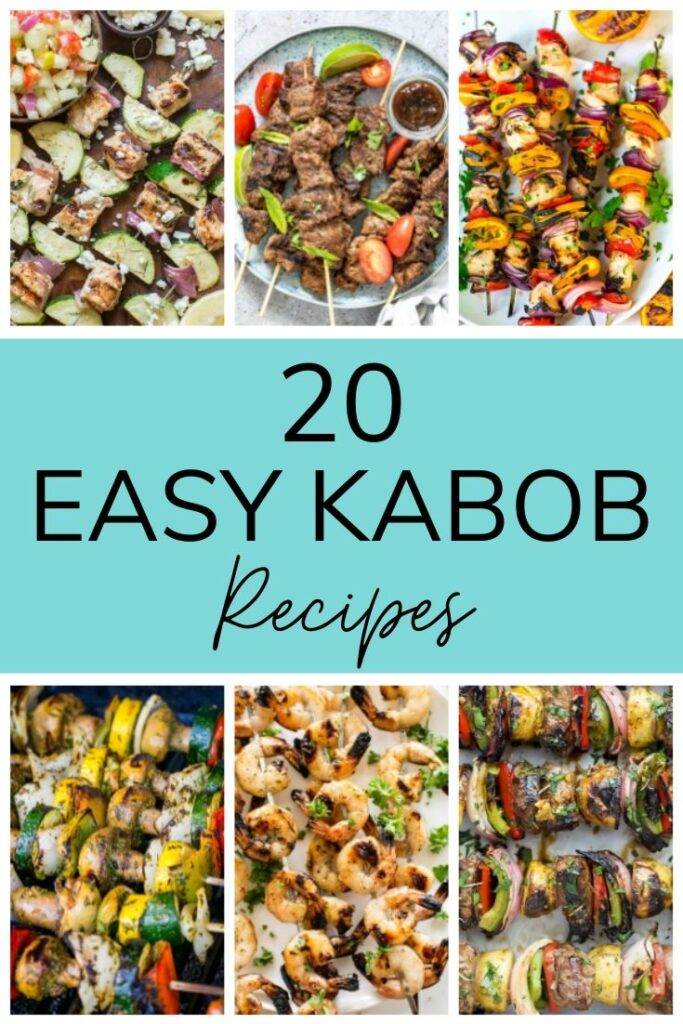 There's nothing like that smoky flavor that you get from cooking on the grill. Make some time to enjoy these awesome BBQ skewer recipes this season. With minimal work, you can have these kebabs ready for their session on the grill.
This collection showcases meats, seafood, veggies, and fruits. You'll find ideas for skewering chicken, beef, lamb, bacon, ground turkey, salmon, tuna, shrimp, and more. Summer veggies like zucchini, peppers, onions and tomatoes make great additions, too. Fruit and cheeses even get in on the action! You'll find amazing marinades that will flavor these items to savory perfection.
What you'll need
Here are a few items that will make it easy to prep and grill your kabobs:
20 easy kabob recipes
Whether you're grilling for a crowd or just your family, you're sure to find your next skewer recipe right here in this tasty collection.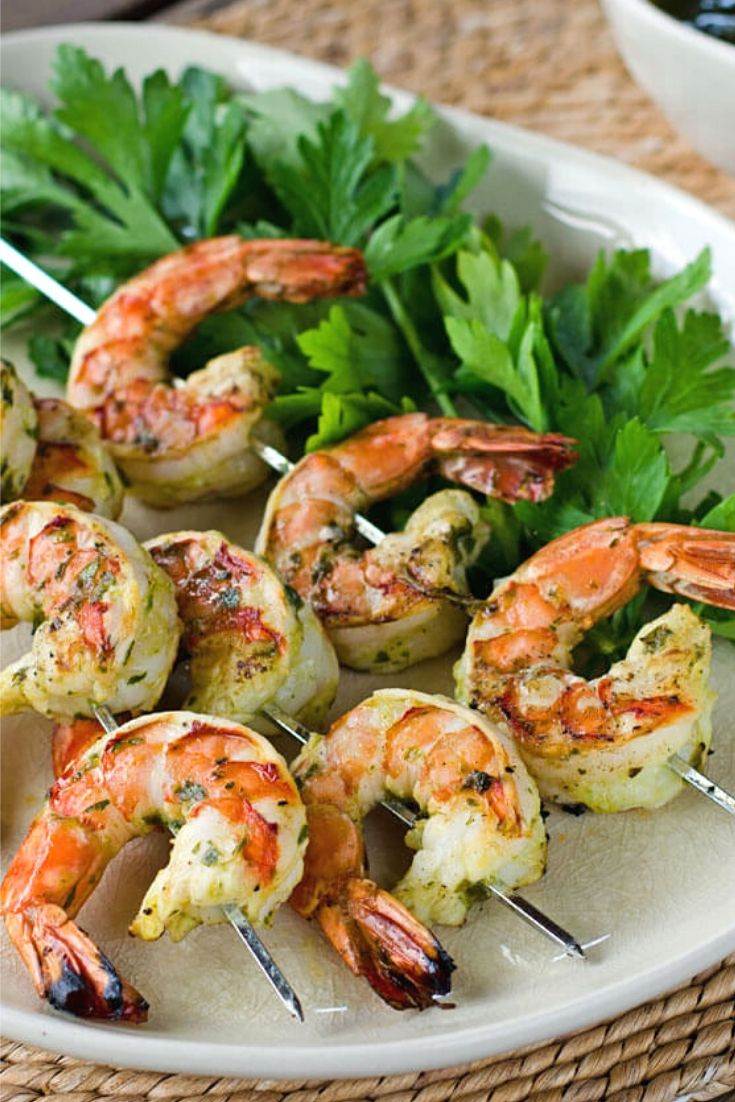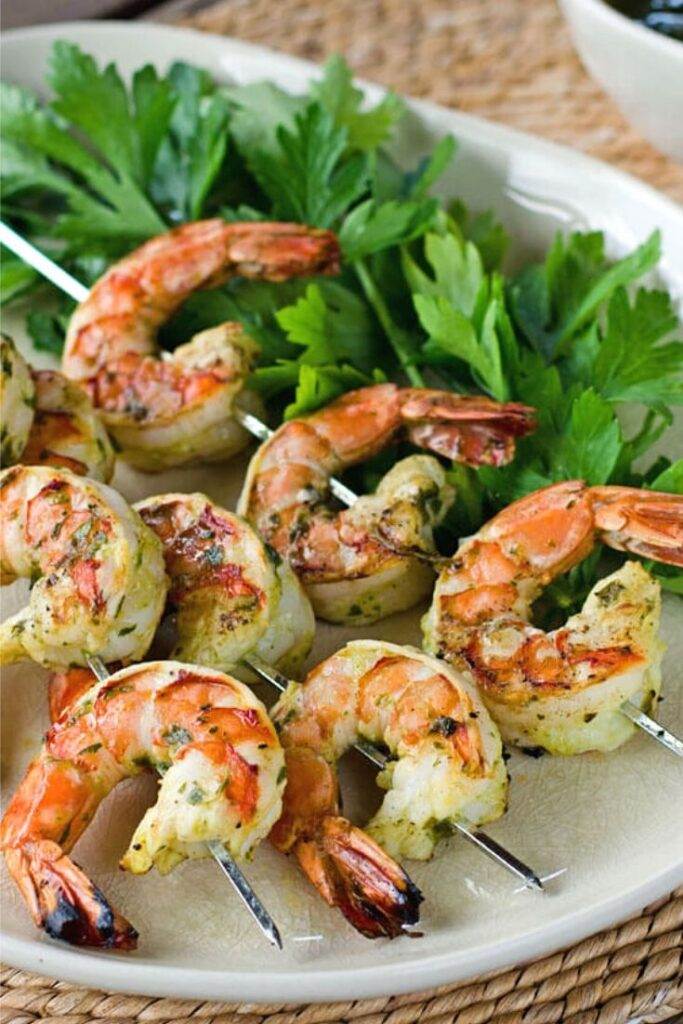 If you love shrimp recipes, shrimp is perfect for a last-minute grilling option. You need just 15 minutes to infuse the shrimp with a zesty marinade. For this recipe combine soy sauce, honey, garlic, BBQ sauce, and olive oil for a quick marinade. Skewer the shrimp, grill for 2 minutes per side, and serve. Tasty!
Grilled Honey Garlic Shrimp by Salt And Lavender
You'll love the citrus profile of these chicken kabobs that thread orange slices along with red peppers and onions. Just marinate the chicken in orange juice soy sauce and honey for at least 30 minutes. (Make this easy rice side dish while you're waiting.) To thread the orange slices on the skewer, just fold each slice in half and thread through both layers.
Grilled Orange Chicken Kebabs by Well Plated
Steak cut into cubes will get a tasty flavor thanks to this simple Asian marinade honey, soy sauce, powdered garlic, and ground ginger. Skewer, grill, and serve with your choice of sides such as air fryer baked potatoes or fries. Adding a side salad is always a good idea, too. Easy and delicious!
Asian Steak Kebabs by Julie's Eats And Treats
Peeled shrimp get a short session in a teriyaki sauce marinade before making their way to the grill. They'll cook quickly, so don't walk away! Along with zucchini, pineapple, and peppers, these kabobs are the perfect summer feast. Serve them up with your favorite tropical cocktail for an incredible island-inspired meal that feels like a vacation.
Teriyaki BBQ Shrimp Skewers by A Spicy Perspective
You can have your steak and eat it too, with traditional sides of potatoes, onions, peppers, and mushrooms, all skewered and grilled to perfection. Thirty minutes of marinating in a savory combo of Worcestershire sauce, dijon mustard, olive oil, and herbs will season the steak before its session on the grill.
Best Marinated Steak Kabobs by Joyful Healthy Eats
No marinating needed for this stellar kebab meal of steak filet, baby potatoes, peppers and onions. All the flavor you need comes from the homemade chimichurri sauce that provides a rich herbal seasoning guaranteed to be your new best friend. It will win you rave reviews!
Steak And Potato Skewers by How Sweet Eats
The lemon, garlic, dill, and Greek yogurt marinade provide the perfect flavors for these salmon kabobs. Best of all, you'll only need 30 minutes to marinate this seafood feast. Thread the salmon on skewers along with chunks of zucchini and red onion. Serve with extra lemon and dill. Delish!
Grilled Salmon Kabobs With Greek Marinade by Maebells
Adults and kids alike enjoy these chicken satay skewers with its classic Thai curry peanut sauce. These work well as an appetizer or as a meal entree. Serve with rice and a salad and enjoy this easy grilled chicken dish for your next BBQ party.
Thai Chicken Satay Skewers by Seasoned Sprinkles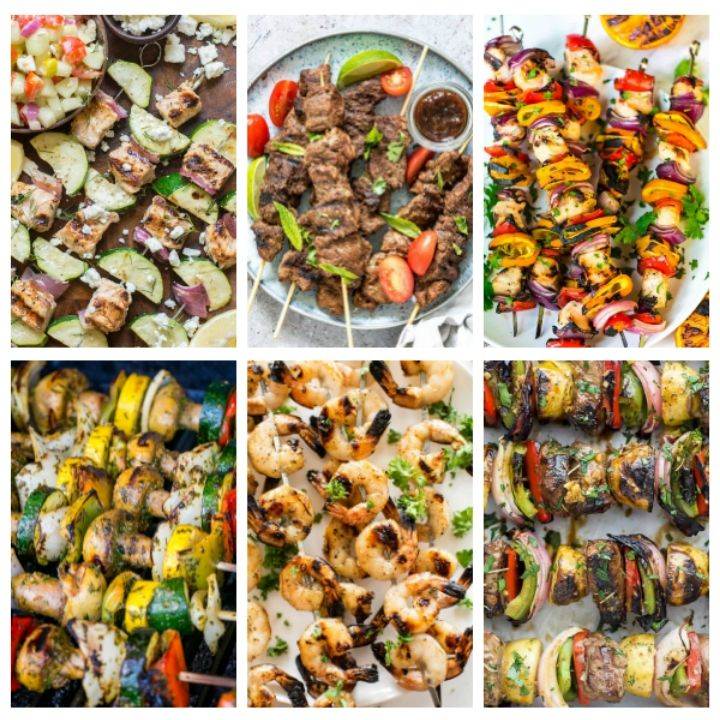 These classic Moroccan veggies will be a mainstay in your summer grilling repertoire because they're so delicious and go with just about everything. Zucchini, small mushrooms, peppers, and sweet onion get a spicy marinade to hang out in before being skewered for the grill. Your family will love these!
Grilled Moroccan Vegetable Skewers by Natasha's Kitchen
It's hard to say which is tastier: the chicken skewers or the goat cheese dip that accompanies this tasty kabob. Artichokes and tomatoes are grilled along with chicken chunks for a savory meal, but it's the dip that makes it swoon-worthy! Make these soon.
Grilled Chicken, Tomato And Artichoke Skewers by How Sweet Eats
Fresh tuna gets a rosemary and herb marinade before being skewered with mushrooms, peppers, and onions. This combo will grill up quickly and is a tasty idea for a quick meal when you're short on time. Awesome flavor!
Grilled Tuna Kabobs by Simply Recipes
This is the marinade to make when you're short on time but want a zesty grilled chicken and veggies meal. A cilantro-based marinade of olive oil, soy sauce, garlic, and pineapple juice make quick work of seasoning the chicken. Skewer it all up and grill to perfection!
Marinated Pineapple Cilantro Chicken Kabobs by Zesty Olive
Skewered pasta? Yes, it can be done! Skewer cooked tortellini along with peppers, zucchini, and halloumi cheese and baste with a sweet chili sauce before grilling. This is a fun and delicious way to serve pasta and veggies!
Sweet Chili Tortellini And Vegetable BBQ Skewers by A Mummy Too
Cubed lamb gets an easy marinade of basic pantry items to season this delicious meat. The longer you can marinate, the more flavorful. Skewer and grill. Serve with a salad or rice cauliflower.
Grilled Lamb Kabobs by Recipes From A Pantry
Grilling meatballs is a great way to ensure you get all the sides cooked since you can easily rotate the skewers. Here, ground turkey gets seasoned and rolled into meatballs. Skewer them along with veggies and brush on a balsamic glaze before grilling.
Grilled Turkey Meatball Kabobs by Sugar Free Mom
For a tasty flavor infusion, use a spicy dry rub on these chicken kabobs before wrapping them in bacon slices. Oh, my! Skewer them along with peppers, onions, and pineapple chunks. Halfway through grilling, basting them with bbq sauce. You'll adore these caramelized kabobs!
Grilled BBQ Chicken Kabobs by The Chunky Chef
The highly seasoned ground lamb kebabs are easy to make. Even better, they cook up super fast, so you can actually make these ahead of time and just warm them up when ready to serve. Serve with rice and Greek tzatziki sauce or a cucumber salad.
Grilled Ground Lamb Kofta Kebab by Wholesome Yum
This easy seafood combo of shrimp and scallops will delight your friends and family. No marinade needed - just some fresh lemon juice to serve with it. It's also a quick last-minute meal if you're stuck on what to make for dinner. Grill some veggies, too, so you'll have a complete meal.
Grilled Shrimp And Scallop Kabobs by Culinary Ginger
You'll love these chicken kebabs that are hot off the grill, literally! Sriracha adds the spicy hot flavor while honey adds a touch of sweetness to the marinade. Soy sauce and garlic kick it up, too. Let the chicken marinate overnight for outrageous flavor, but just a mere 3 hours will still give you delicious taste. Grill them and serve with cilantro lime rice. So tasty!
Honey Sriracha Chicken Skewers by Recipe Tin Eats
Summer just wouldn't be the same without some juicy sweet fruit. Take a step further by skewering pineapple and watermelon chunks and grilling them for a mild smoky flavor. Brush them with a coconut and pineapple juice mixture to bring out the flavors even more. Sweet!
Grilled Pineapple Watermelon Fruit Kabobs by A Night Owl
Which recipe will you try first? Share your favorite grilled kabob recipe in the comments below!