Who doesn't love Oreo cookies? You can use them to make some fun and delicious desserts. Here are 21 of the best Oreo dessert recipes you can make with this classic chocolate and cream cookie.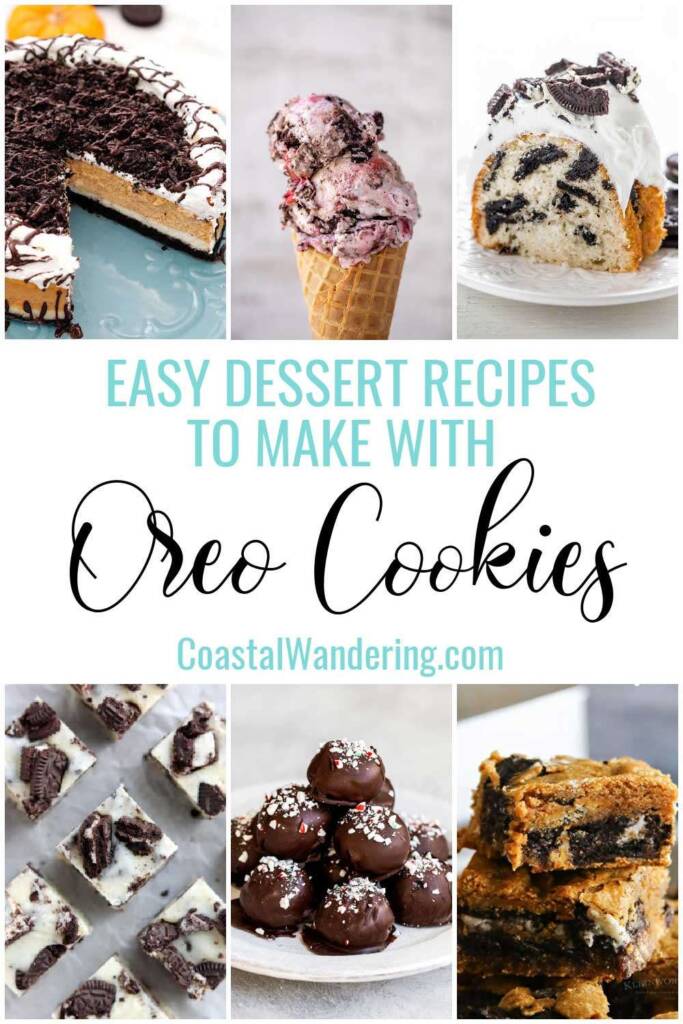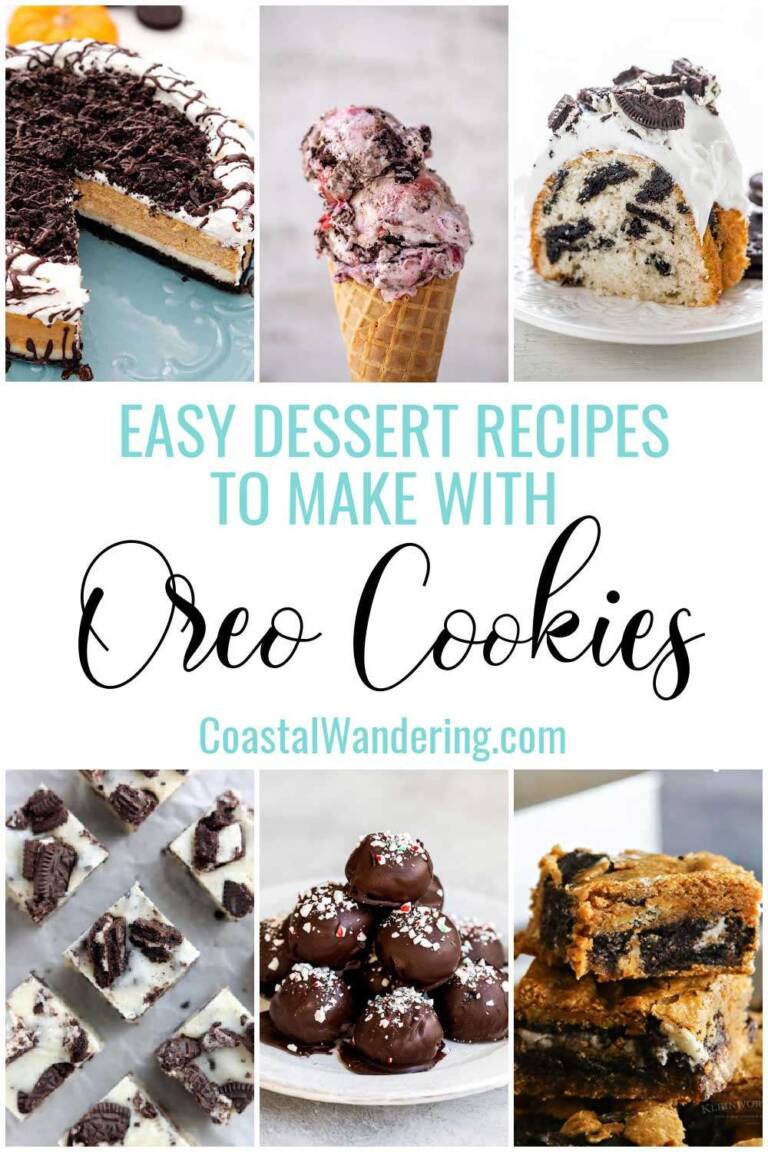 Oreo cookies are a sweet treat right out of the package, but they've also managed to find their way into many recipes, making them a delicious ingredient to include in desserts.
Many of these Oreo desserts are no-bake efforts that can take a classic treat to over-the-top status in just minutes. From cakes and pies and from milkshakes and popsicles, Oreos cookies offer a range of textures and flavors that make dessert time a dreamy affair.
Oreo Dessert Recipes
Oreos pair well with everything from chocolate and peanut butter to cream cheese and pudding. By incorporating these sandwich cookies into your recipes, you'll create tempting and impressive desserts that will be irresistible.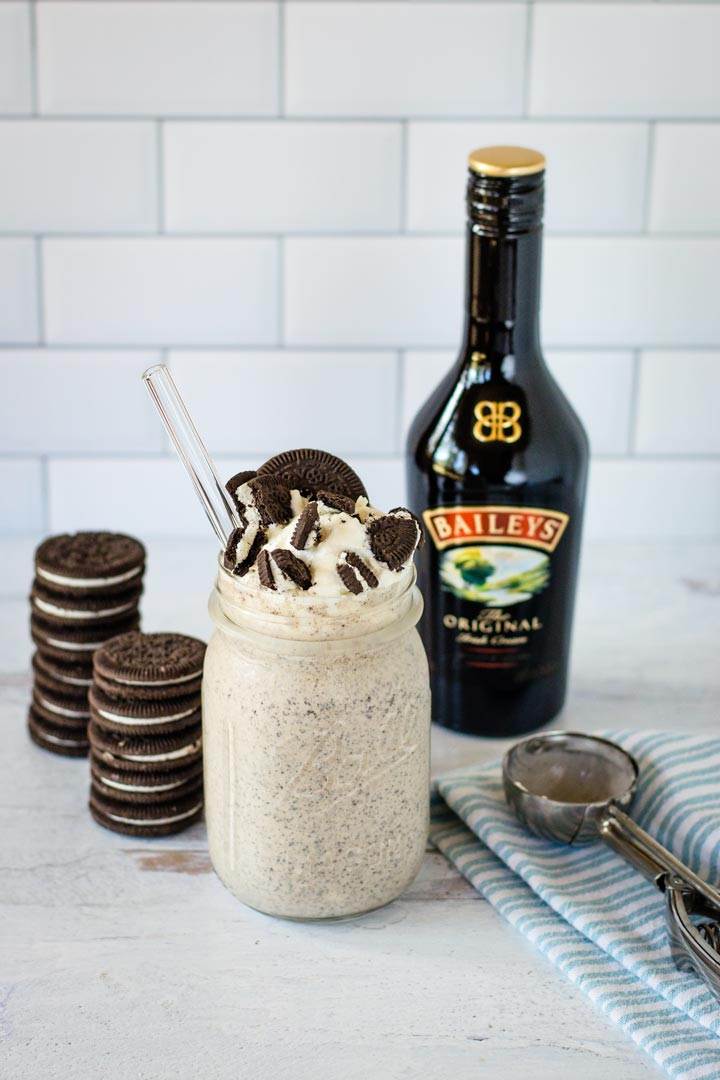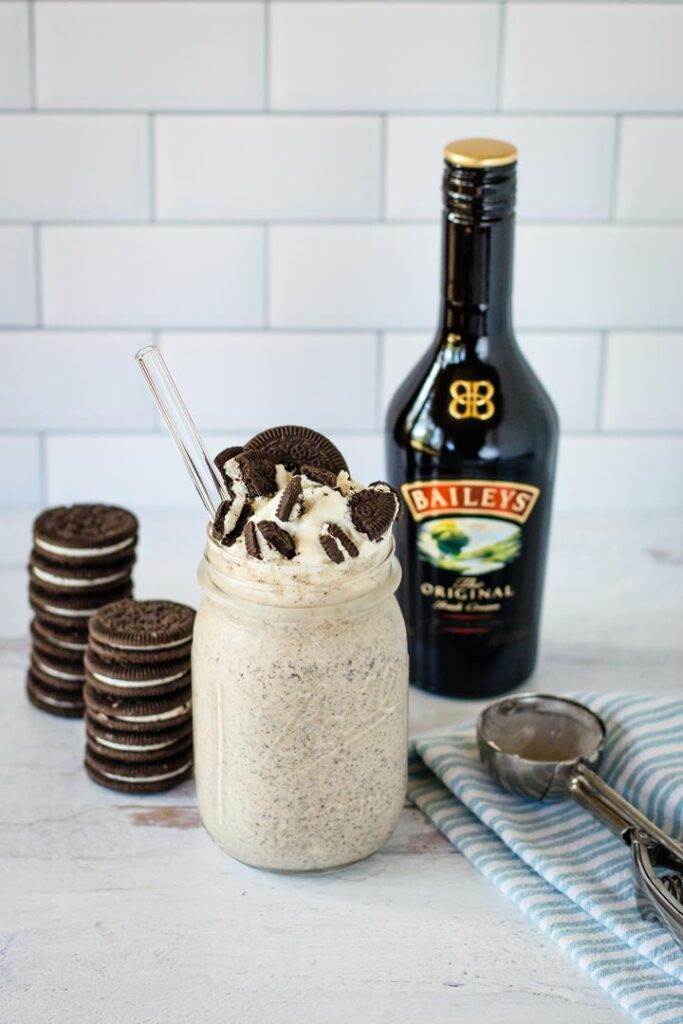 Bailey's Cookies And Cream Milkshake
You'll love the grown-up version of this Oreo milkshake that will have you slurping it with delight. Ice cream, chocolate Oreo cookies and Irish cream are blended until smooth.
Pour it into your favorite glass and top with whipped cream and crushed Oreo cookies. You'll need a straw, a long-handled spoon, and probably a napkin to enjoy this cool and delicious cookies and cream treat!
Recipe by Coastal Wandering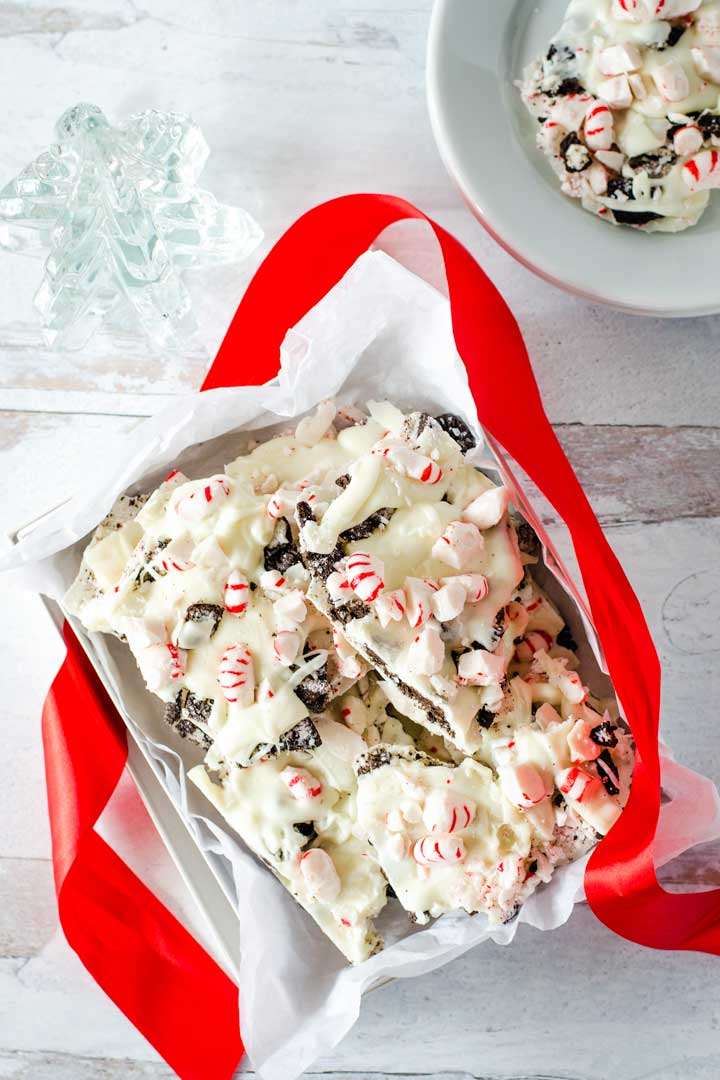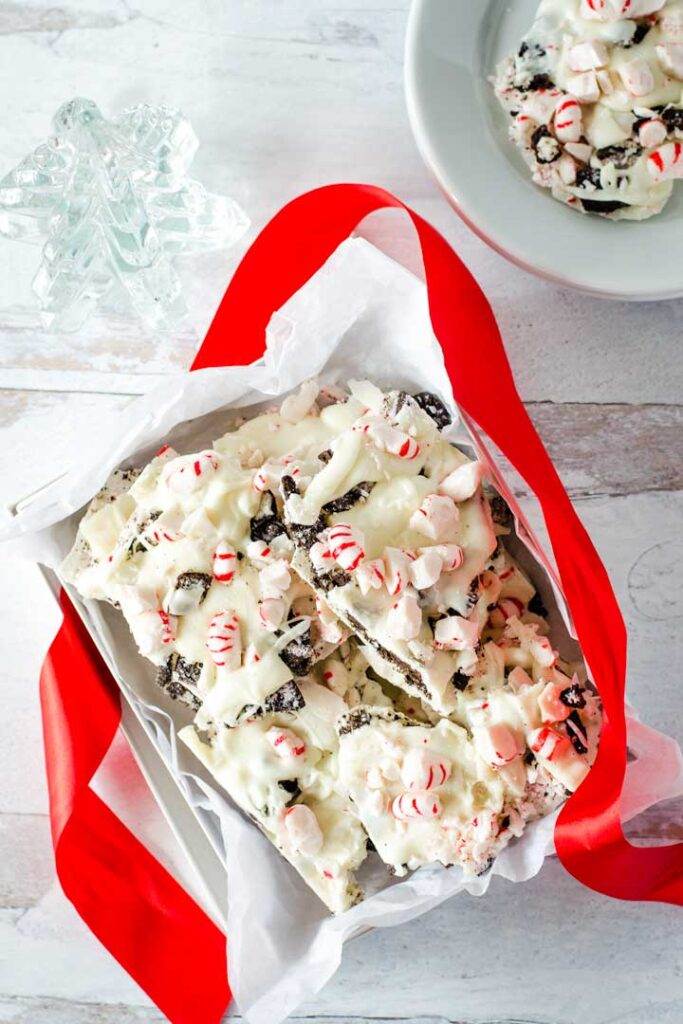 Oreo Peppermint Bark
Oreos lend their sweetness to this peppermint bark candy that's perfect for the holidays. White chocolate baking chips are melted and spread on parchment paper before being garnished with crumbled Oreo cookies.
The final touch comes with a sprinkle of crushed peppermint candies. Let it harden completely before breaking into pieces. With its festive colors, this candy makes a wonderful holiday gift for friends, neighbors and co-workers.
Recipe by Coastal Wandering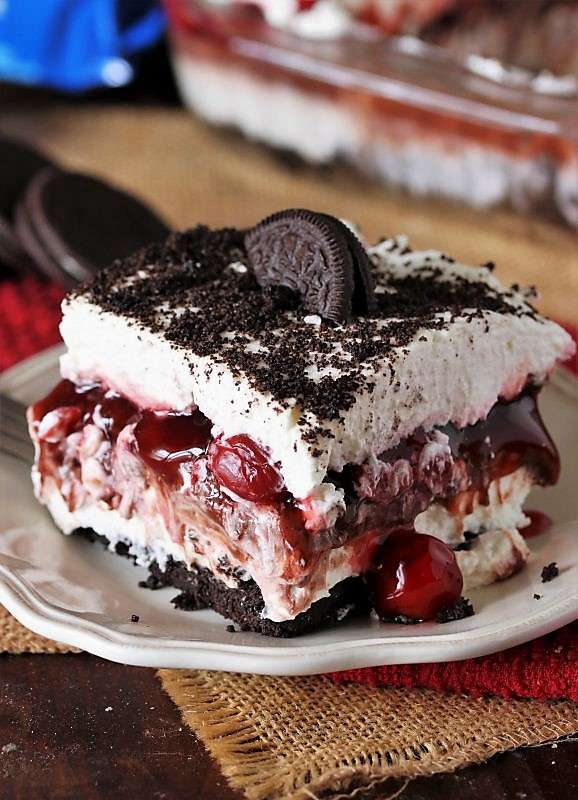 Black Forest Yum Yum
This Black Forest Yum Yum has all the chocolate, dark cherries and cream flavors you love in Black Forest cake. It has layers of cherry pie filling and chocolate fudge pudding and is made with a no-bake Oreo cookie crumb crust and topping. Everyone will love this fluffy deliciousness!
Recipe by The Kitchen Is My Playground
Oreo Fudge
With just three ingredients, this Oreo fudge is super easy to make. Melt a package of white chocolate chips with a can of sweetened condensed milk in a saucepan on your stovetop.
Stir in chopped Oreo cookies and pour it all into a baking pan. Let it cool and firm up on your countertop or in the fridge until ready to slice. It's an easy Oreo treat that your whole family will appreciate.
Recipe by Dessert Now Dinner Later
Related: 20 Old Fashioned Fudge Recipes
Cookies And Cream Bundt Cake
Bundt cakes always make a pretty presentation and here, the white frosting on top of the cake is garnished with crushed Oreo cookies. But that's not all!
This easy-to-make boxed vanilla cake mix is studded with crushed cookies in the batter for a surprise cookies and cream Bundt cake that bakes up like a dream. Serve this to rave reviews!
Recipe by Averie Cooks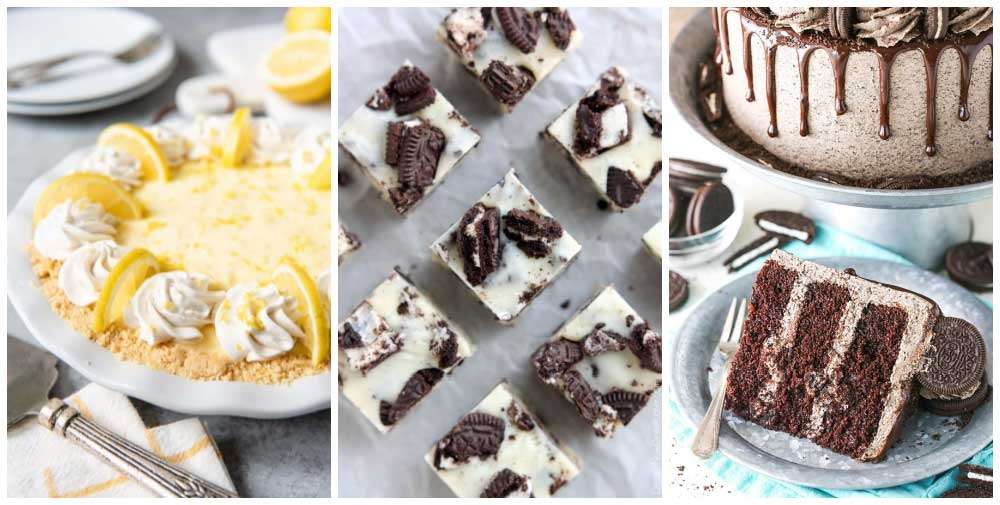 Mint Oreo Brownies
Chocolate and mint are best friends in this brownie dessert that uses mint-flavored Oreos for a luscious dessert that's sure to be a hit. This rich batter holds unsweetened chopped chocolate, unsweetened cocoa powder, and chocolate chips along with roughly chopped Oreo mint cookies.
You want to leave large enough chunks of the minty cookies in the batter so you can see the pretty minty color peeking out of these chocolatey brownies. Bake and serve with a glass of milk, of course!
Recipe by The Little Epicurean
No Bake Sour Cream Lemon Pie
Butter and golden Oreo crumbs make a sweet crust for this no-bake pie that's perfect for summer potlucks. The 10-minute homemade stovetop filling is a tangy lemon custard that gets the addition of sour cream to make it creamy and rich.
Pour it into the prepared Oreo cookie crust and refrigerate the pie until completely chilled and set. Garnish the top with whipped cream, lemon zest and sliced lemon wedges for a refreshing dessert.
Recipe by House Of Nash Eats
Chocolate Oreo Cake
This stunning cake is perfect for a celebratory event and will certainly earn you rave reviews! Grab a large mixing bowl to put together the chocolate batter for this 3-layer cake. The frosting is where the Oreos come in.
The icing is made with powdered sugar, butter, shortening and crushed Oreo cookies. You'll have enough to frost between the cake layers, plus the top and sides. Garnish with a chocolate ganache and decorative cookies on top. This is an Oreo's lover's dream dessert!
Recipe by Life Love And Sugar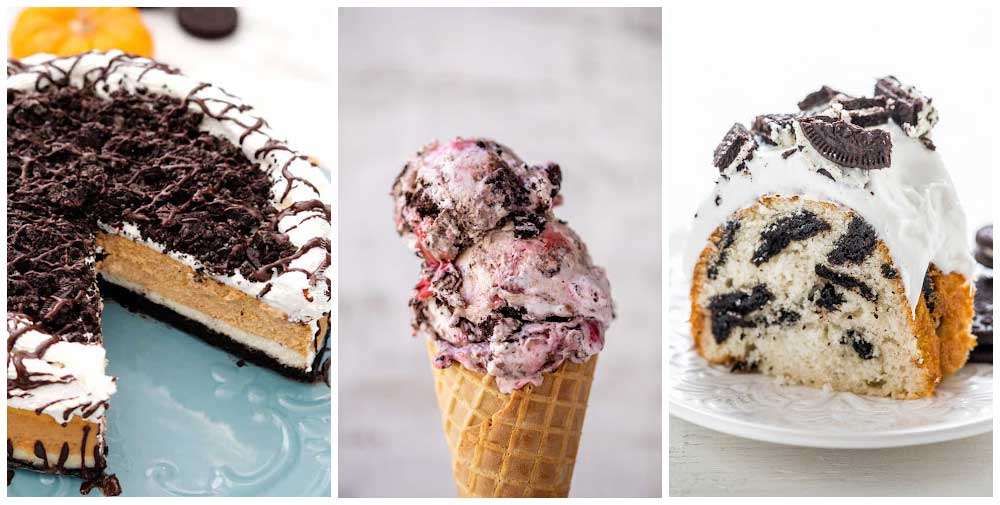 Double Layer Pumpkin Oreo Cheesecake
Crushed Oreos provide the crust for this decadent pumpkin cheesecake. Just pulse the cookies in your food processor or use a rolling pin to crush them while in a zip lock bag. It's a double layered dessert of vanilla cheesecake topped with pumpkin spiced cheesecake and then baked.
Make a homemade topping using heavy whipping cream and sugar. Spread with a spatula over your cooled cheesecake and sprinkle the top with crushed Oreos and a drizzle of melted chocolate.
Recipe by Carlsbad Cravings
Strawberry Oreo Ice Cream
Strawberry season is the right time to make this homemade ice cream that combines a fresh strawberry puree with a vanilla ice cream base.
Take it up a notch and fold in crushed Oreo cookies to this no-churn ice cream and place in the freezer until fully chilled. No one will be able to resist this gorgeous strawberry, chocolate and vanilla frozen treat that's perfect for summer!
Recipe by How Sweet Eats
Easy Chocolate Mousse Pie
When you need a crowd-pleasing no-bake pie that chills to delicious perfection right in your refrigerator, make this chocolate mousse pie. It takes just minutes to whip up two boxes of instant chocolate pudding mix with milk and heavy cream before spreading it into a store-bought Oreo pie crust.
Top it with crushed Oreo cookie crumbs and stash it in your fridge to chill for at least an hour. This might be the easiest Oreo dessert you've ever made!
Recipe by Courtney's Sweets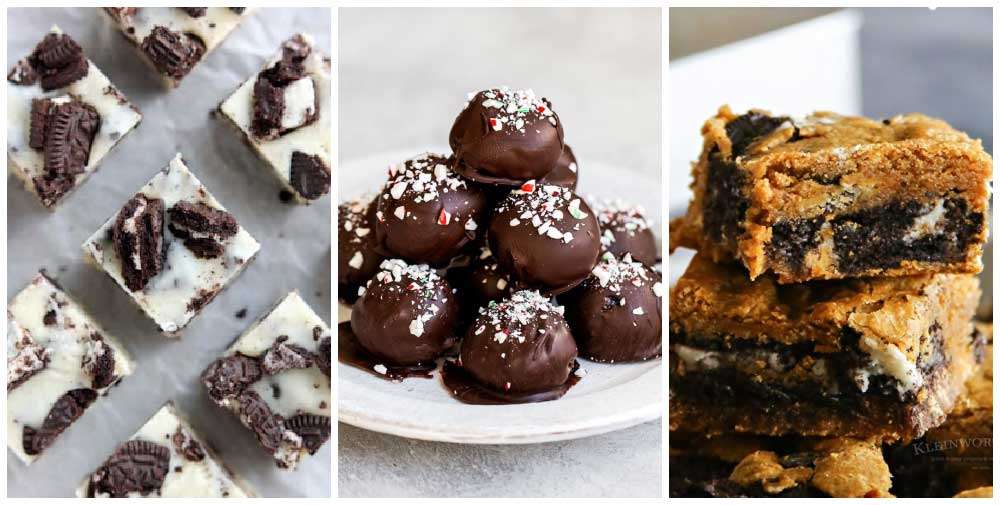 Oreo Cheesecake Cookie Dough Bars
You'll love this dreamy dessert that uses crushed Oreo cookies for its crust. Top the baked crust with a cream cheese layer that includes crushed Oreos.
Top the cream cheese layer with a chocolate chip cookie dough layer. Bake this extravaganza and let it cool before slicing and indulging.
Recipe by Two Peas And Their Pod
Oreo Banana Bread
Banana bread comes in many variations and this one is perfect for those who love those chocolate sandwich cookies.
Just add chopped Oreos to the banana bread batter and bake up this deliciousness. After the bread cools, add a vanilla glaze and garnish with chopped Oreos. Oh, my!
Recipe by Chelsweets
Cherry Cheesecake Lush
A golden Oreo cookie crust holds layers of a sweetened cream mixture, an instant cheesecake pudding mixture, and cherry pie filling in this scrumptious no-bake dessert.
Top it all with a layer of whipped cream and garnish with chopped pecans. Refrigerate until well chilled before serving this extravaganza of a dessert.
Recipe by Spaceships And Laser Beams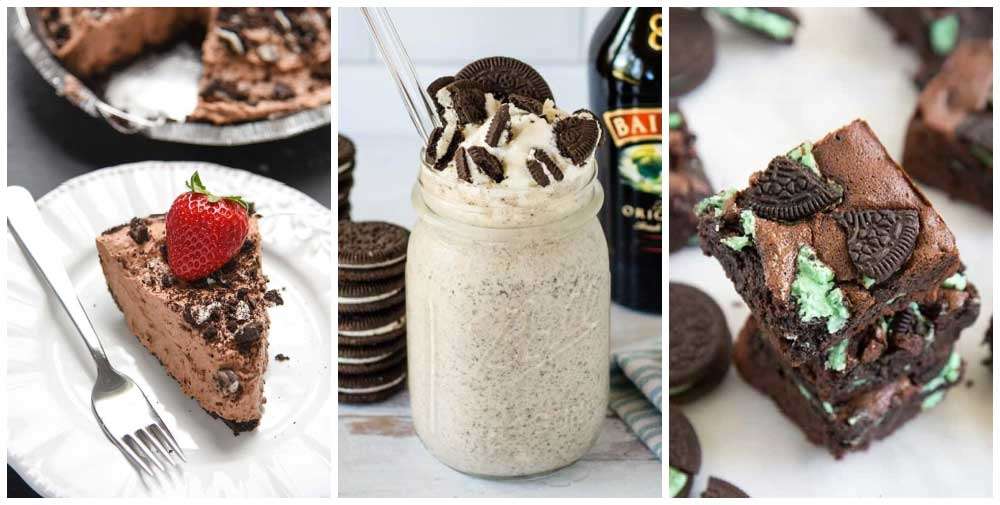 Oreo Stuffed Peanut Butter Blondies
These blondie bars will be a crowd-pleaser, especially for peanut butter fans and those who love Oreos. Here, those ingredients combine in this super easy recipe.
Take this blondie batter that includes peanut butter, add half to your baking pan, top it with Oreo cookies, peanut butter chips and white chocolate chips and then add the rest of the batter. Bake this decadent dessert to the delight of your friends and family.
Recipe by Kleinworth And Co
Peppermint Oreo Truffles
Whether you're making these for the holidays or because you love chocolatey minty treats, these no-bake Oreo cheesecake truffles are bite-sized delights. Combine Oreo cookie crumbs with cream cheese and peppermint extract, scoop into small balls, and place on a cookie sheet.
Freeze them before dipping each in a mixture of melted chocolate and coconut oil. ​​Sprinkle each truffle with crushed candy canes and refrigerate until set. So good!
Recipe by Handle The Heat
Oreo Cookies And Cream Popsicles
Milk and cookies are joined together into this swoon-worthy warm weather treat that comes together quickly with the help of your blender. Oreos, milk, whipped topping and sweetener are combined before pouring in popsicle molds. Freeze completely and then enjoy this frosty treat.
Recipe by Wonky Wonderful
Caramel Oreo Pie
If you're looking for a decadent dessert, here it is! Rather than a baked effort, this one requires several sessions in the freezer before being ready to serve.
The rich Oreo cookie and melted butter crust is pressed into a pie dish before being filled with the homemade caramel sauce. Cool and freeze before adding the chocolate ganache topping. Chill this rich caramel and Oreo pie before slicing and serving.
Recipe by Something Swanky
No Bake Tiramisu Oreo Icebox Cake
Try this outrageously delicious take on tiramisu by using Oreo cookies rather than ladyfingers for that coffee-inspired flavor. The cookies are soaked in coffee and sandwiched between a layer of cream cheese mousse that's topped with shaved chocolate.
Repeat these decadent layers several times and finish with a garnish of whipped cream and chocolate curls. Refrigerate overnight for best results.
Recipe by The Domestic Rebel
Oreo Cupcakes
These hand-held desserts are perfect for parties and potlucks and will delight the adults as well as kids! Crushed Oreos are added to a homemade vanilla cupcake batter, but before pouring into the pan to be baked, you'll add a whole Oreo cookie to the bottom of each lined cupcake well.
The buttery frosting gets the addition of crushed Oreos, too. These Oreo cupcakes will be irresistible!
Recipe by Amanda's Cookin
Chocolate Peanut Butter Lasagna
Cooling and refreshing, no-bake desserts are perfect for summer and this Oreo crust layered treat is one that everyone will love. Crushed Oreos and butter make up the crust that's topped with a peanut butter, cream cheese and whipped topping mixture.
An instant chocolate pudding layer is next, followed by a layer of cool whip. Garnish the top with chopped peanut butter chips and chocolate chips. Swoon!
Recipe by Spend With Pennies
Oh, and this is hardly the time to be counting calories, so go ahead and indulge in any of these easy Oreo dessert recipes that are guaranteed to be outrageously delicious.