These coastal dining rooms will inspire you to create a cozy and relaxing, beach-inspired dining room for your home!
Seaside, lakeside or beachside, your coastal home is the perfect place to get creative with coastal decor ideas. If you've been considering how to style your dining room, let these relaxed dining room ideas inspire you.
With the right materials, you can create an interior designer look for almost any space in your home. You can source many designer looks right from your local furniture store, or turn to online retailers such as Etsy for one-of-a-kind items with coastal flair.
Styling your dining area is made even easier when you can take a peek at beautiful designs that others have created. From artwork to accessories and from color palettes to natural wood and textures, you'll find inspiration for how to create a coastal style dining room with this collection of ideas.
Coastal Dining Rooms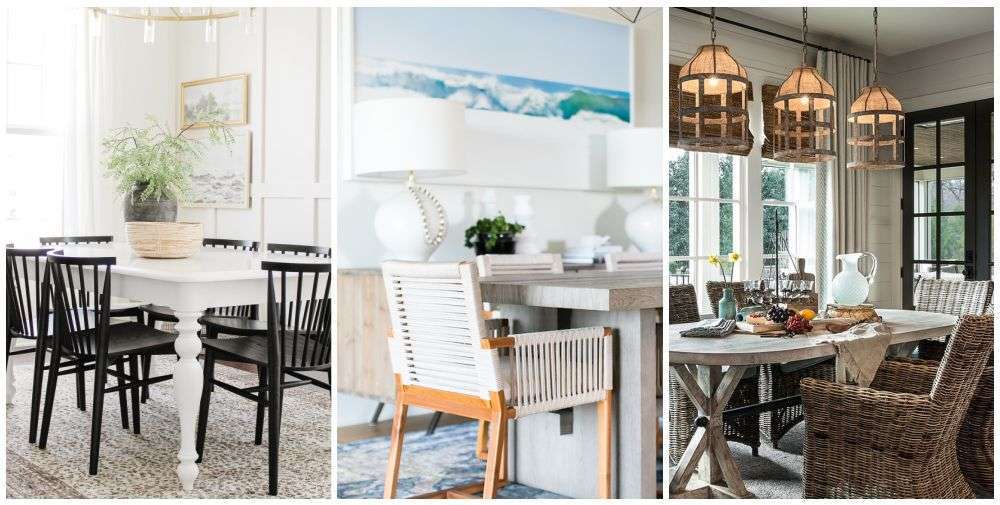 Gray And White Dining Room
White slate back dining chairs join with wicker end chairs to create a coastal feel for this rectangular wood dining table. White window drapes compliment the gray wall color while an open lantern-inspired chandelier in black offers a modern touch to this room. An abstract seashore canvas painting anchors the room with shades of blue, beige, green and gray.
Inspiration by Cass Design Co.
Coastal Modern Dining Room
Light and neutral tones with splashes of blue and green keep this room casually formal. The white walls add brightness while the distressed driftwood-washed table and china hutch offer a natural seashore vibe. The linen slipcovered dining chairs offer a clean look.
A large abstract art print in shades of blue adorns the white wall while picking up the tones in the blue, gray and beige rug. Splashes of greenery from plants in wicker baskets and ceramic table pottery add the perfect finishing touches to this coastal modern room.
Inspiration by Life On Virginia Street
Black Dining Chairs Go Coastal
When white walls in a large open dining space need a little color relief, adding black dining chairs can have a dramatic effect. These Serena and Lily arm chairs fit perfectly as end chairs. They feature handwoven natural abaca for the back and seating sections which are attached to a natural wood frame.
To keep it budget-friendly, the existing white Windsor side chairs were repainted in black to match the new chair purchase. The light-stained wooden flooring offers the perfect natural grounding element for a coastal kitchen and dining area.
Inspiration by The Lily Pad Cottage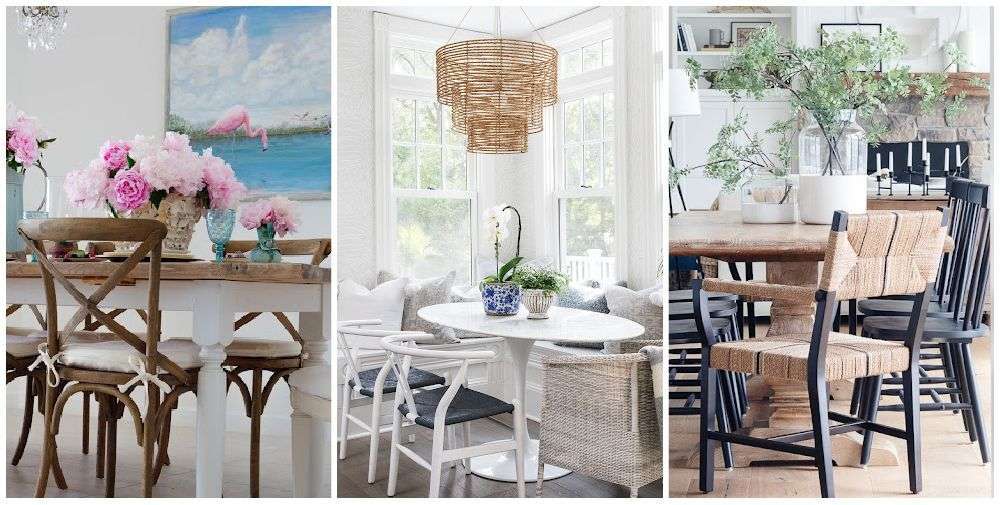 Summer Decor Dining Room
Sometimes all you need is the perfect shade of paint and a wood dining table to set the tone for a relaxed coastal dining room. Here, a pale wall paint in Benjamin Moore Wythe Blue offers a beachy backdrop that inspires complementary decor.
Touches of turquoise dot the space with vases, dishes, and napkins. Natural elements of shells and driftwood are included, as well. Seating around the table is a combination of a wooden bench, wicker end chairs and crossback chairs for a rustic and relaxed look.
Inspiration by The Turquoise Home
Statement Piece Coastal Chandelier
A hallmark of coastal grandmother style is patterned wallpaper. This blue and white floral design plays off the blue and white patterned cloth dining chairs.
Giving a nod to coastal style in this dining room is the eye-catching statement piece of a white coral chandelier. Its shape hangs perfectly over the dark wood round dining table.
Inspiration by Grace Hill Design
Botanical Dining Room
Live plants, palms, and greenery set in rattan baskets and hung in floating vases on the wall adorn this space. Shades of gray and blue are present in the dining chair seat upholstery. The weathered oak floors hold a round jute rug under the round dining table complementing the bamboo Roman window shades in this soothing beach style dining room.
Inspiration by Sand And Sisal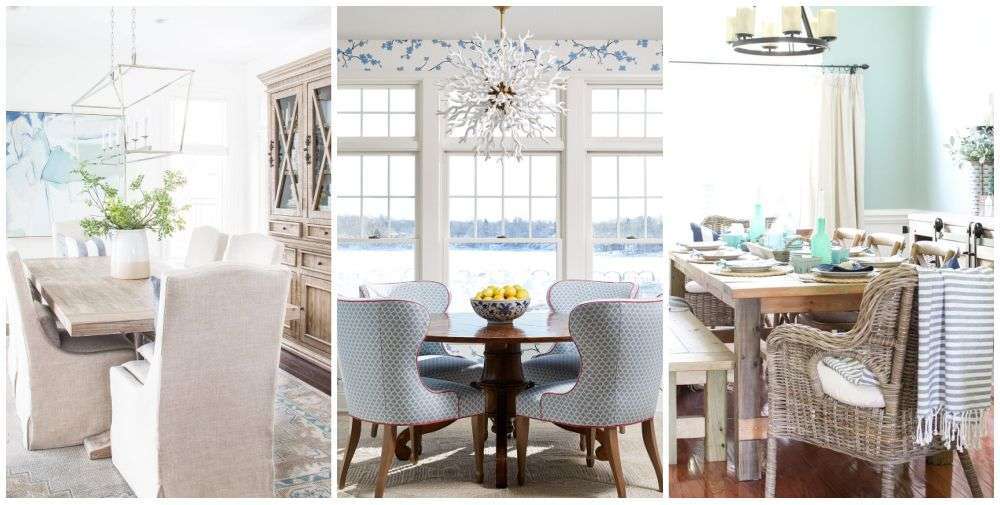 Rustic Table With High Back Chairs
White walls and built-ins contrast with dark wood flooring in this relaxed space that houses a rectangular wood table and high back woven wicker chairs. Pops of color in blue and turquoise add coastal vibes to this room with decorative accents of vases and bottles. A subtle blue and white rug anchors the color palette.
Inspiration by Artsy Chicks Rule
Modern Dining Room In White And Black
Light and airy, this coastal modern dining room goes with a color palette of white, black and beige tones for a fresh feel. White walls and a white table are offset with black spindled Shaker-style dining chairs. Overhead, a statement piece chandelier hangs in a brass finish with fluted glass, giving a touch of modern elegance to the space.
A patterned area rug in beachy shades of beige and brown offers an appropriate ground that solidifies the color scheme. Framed artwork in shades of white, gray and black give a nod to the coastline. Green makes an appearance with foliage in a pottery vase on the table.
Inspiration by Caitlin Marie Design
Casual Breakfast Nook
Blue, gray and white offer a clean look in this cozy breakfast nook that's the perfect dining space to enjoy your morning cup of coffee. The white wishbone chairs with a dark gray seating cushion offer another option from the L-shaped pillowed bench seats along the back walls.
A natural element 3-tier chandelier hangs over the white oval table. The large corner window remains without shades to keep the kitchen bright. A large palm provides a touch of greenery in its wicker floor planter. It's a casual coastal style for a kitchen dining corner.
Inspiration by Palm And Prep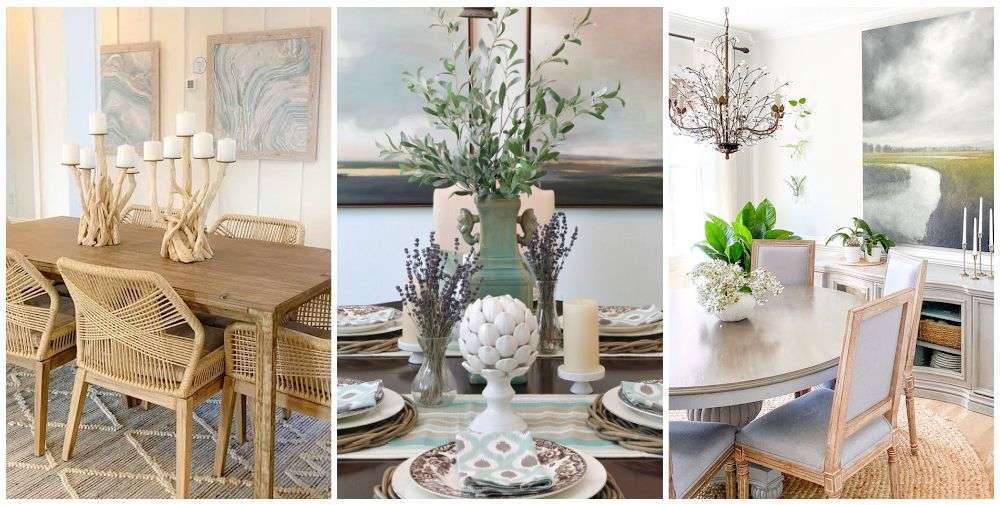 Beach View Dining Space
Light streams through the large windows in this beach house making it the perfect subject for a coastal look, especially in the dining space. White walls and a white rectangular table play host to the woven side chairs and the blue and white striped slipcovered end table dining chairs. It's the perfect room to enjoy the full beach views and hold festive celebrations.
Inspiration by Elements Of Style
Nautical Dining Room
Clean and modern decor works with this nautical inspired dining area that sports a blue and white striped upholstered seating area under large windows. A pair of oars are mounted over the tall windows. The cushioned banquette seating area is separate from the dining table with matching cross back cane-bottom chairs.
White walls keep it clean and uncluttered while letting the minimal blue and white color palette along with the view of the water solidify the theme.
Inspiration by Hatch Interiors
Clean And Modern
Oceanic blues bring a beach vibe to these white walls and wood floors in this modern designer dining room. A bold blue and white area rug gives a nod to abstract ocean waves that are echoed in wall art of the same theme. A rustic wood dining table offers chair seating designed with a woven marine rope giving it a modern look.
A duo of large glass pendant lights serves as statement pieces over the rectangular table. Clean, simple and modern are the hallmarks of this coastal dining space.
Inspiration by Becki Owens
Round Dining Table
A breakfast nook receives a coastal makeover that includes a pedestal base round table to fit the dining space. For a more expansive table, the round becomes oval by inserting leaves when the seating capacity needs to be expanded. The creamy white table is surrounded by sand colored rope woven chairs with cream seat cushions keeping it casual and comfy.
A Serena and Lily beaded chandelier with hemp-wrapped detail hangs over the table. The simple neutrals of cream and sand shades are enhanced with the pastel artwork that brings in a touch of blue and green to this charming kitchen dining area.
Inspiration by The Coastal Oak
Black And Whicker
Brown, black, blue and wicker define this modern dining area. Black Serena & Lily Windsor chairs share space with end table chunky wicker chairs to offer textural interest. The light gray walls and wooden floors get a touch of blue from the area rug under the large dining table.
Palm greenery in a ceramic vase adds a hint of a tropical vibe. The Serena & Lily 3-tiered chandelier made with wood beads is a statement piece that helps defines this modern coastal dining space.
Inspiration by Pretty Domesticated
Blue And White Bistro
This kitchen dining space keeps its beach vibes with blue and white and a sandy beach inspired artwork for a defining element. Bistro chairs from Serena & Lily surround the white pedestal table keeping the look casual and inviting. A blue and white striped rug ties this beach style dining area together.
Inspiration by Lemon Stripes
Coastal Chic Dining
This reclaimed wood dining table offers a decidedly natural element to this neutral toned multi-textured coastal dining area. A bohemian vibe is inspired by the blue and beige area rug.
The wicker rattan dining chairs keep the natural textures going along with the driftwood candle holders that serve as a centerpiece for the dining table. An accent wall in blue ties in beautifully with the abstract artwork in shades of blue, gray and white.
Inspiration by Beach Life Bliss
Beach Dining Room
This modern coastal dining room has a Florida vibe with its blue water and pink flamingo artwork that hangs on the wall. A driftwood-inspired DIY dining table is surrounded by cross-back chairs with tie-back linen cushions in a creamy shade. A chandelier with touches of blue crystals hangs over the table for a whimsical look.
It's a clean look for a beach house that can be accessories with blue and pink vases and flowers to keep the Florida beach theme alive.
Inspiration by Shabby Fufu
Subtle Coastal Decorating
A well-chosen rug can be the defining element that pulls a dining room together and sets the theme. Here, the blue and white sea coral motif anchors the theme. A large oyster shell chandelier offers beach vibes while remaining casually elegant.
A dark wood rectangular table is complemented with white cross-back dining chairs. The wall's pale blue paint color is the perfect neutral to keep this room's ambiance coastal in an understated way.
Inspiration by Jones Design Company
Dining Room Goes Coastal
Going from a classic dining room to a coastal style dining area is made possible with the help of a sea foam bluegrass white paint shade to anchor the color palette. Two large abstract wall paintings compliment the palette with light blue, green and gray tones.
Linen high back upholstered chairs surround the rectangular Pottery Barn pedestal dining table. Accents in touches of pale turquoise, greens, whites, and browns adorn the table runners and vases to set the tone for this updated dining area.
Inspiration by The Creativity Exchange
Coastal Farmhouse Style
If your style is a mix of farmhouse chic with a touch of coastal, let this dining room decorating idea inspire you. A rustic gray-washed table is surrounded by wicker woven armchairs over which iron and burlap lantern-inspired pendants hang.
The wall of windows received brown wicker woven Roman shades. The shiplap walls keep it relaxed with a little gray tone. Accessories in sea glass shades give the nod to a beach element.
Inspiration by Home Bunch
Eating in a relaxed atmosphere makes most meals feel more enjoyable, and these coastal dining room decor ideas can bring this mood to life in your home.