Nothing says cozy quite like a fireplace. Take your inspiration from coastal decor and make it stunning with these fireplace tile ideas.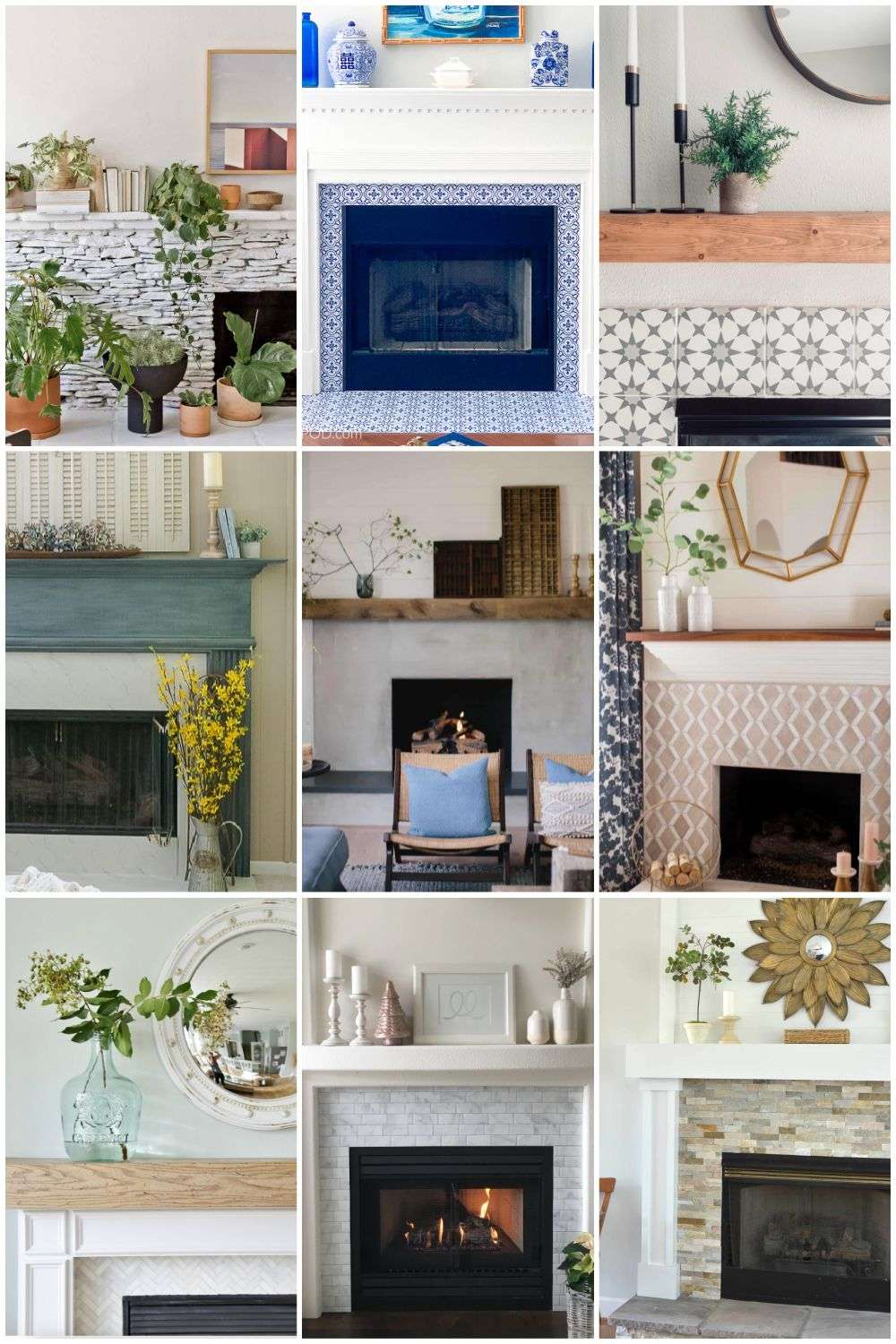 When you're considering updating your fireplace, these coastal tile Ideas will give you plenty of inspiration. Using ceramic tile, stone, paint, wood and other materials, you can transform a dated fireplace into a beautiful and cozy focal point.
Ranging from easy DIY projects that you can complete in an afternoon to full renovation endeavors, these modern fireplace tiling ideas will help you decide on just the right look and mood for your remodel.
With so many decor choices for a coastal feel, your fireplace and hearth can keep it neutral with understated materials and classic colors, or go with an eye-catching look using patterns, bold colors, modern materials and more.
Coastal Fireplace Tile Design Ideas
These coastal fireplace tile design ideas will help you decide how to create a cozy and relaxing room space that works for your unique space. From white fireplaces to natural stone tile to herringbone patterns, you'll find tile fireplace ideas to fit all types of interiors.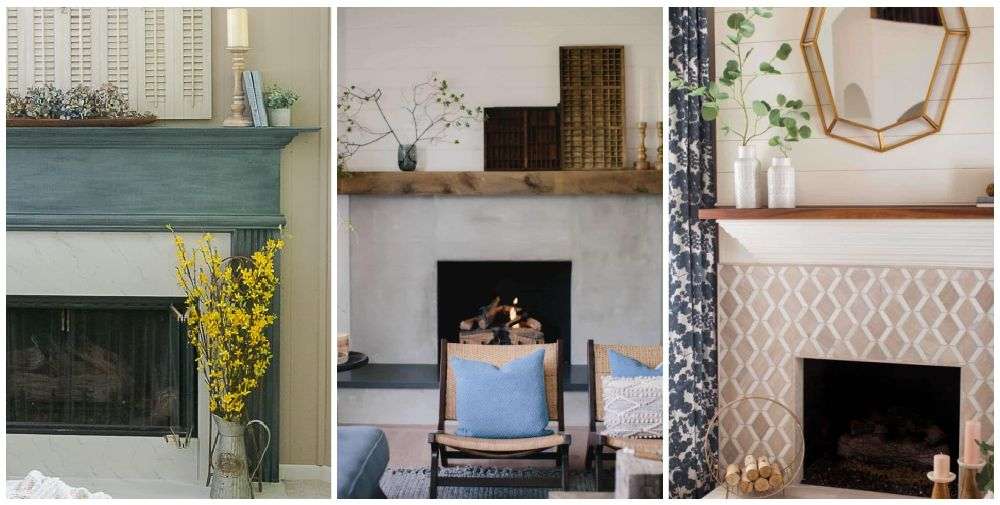 Herringbone Surround
As part of a home remodel, the old brick fireplace, hearth and mantel were ripped out and a new marble herringbone tile pattern surround was installed in a fresh and modern white and gray palette.
With this type of major makeover, you'll want to draw and chart out how the tiles will be laid for the surround and hearth. Apply your new design with mortar. Once dry, use a sealer specifically for marble. White grout was applied for a look that keeps this living room fresh, clean and ready for any coastal decor for the new natural wood mantle.
Inspiration by Sand And Sisal
Honeycomb Pattern
An inexpensive way to makeover any fireplace surround is a DIY stencil project. Here, a marble surround was painted over with several coats of chalk paint before using a honeycomb stencil to create a new and stylish surround. A neutral shade of beige was used to tamp on the color within the design, leaving behind white faux grout lines.
Once dry, it was fInished off with a layer of soft wax for a protective finish. This new fireplace surround design and neutral color blend perfectly with the existing coastal shade of light blue on the living room walls.
Inspiration by East Coast Creative
Natural Stone
Tackle a DIY project and add beautiful natural rectangular stone tiles in shades of sand, beige, gray and brown for a fresh coastal feel to your fireplace surround. With a raised fireplace platform, you can elevate a floor-level hearth giving you more options for design.
Here, a gray stone hearth adds substance and blends seamlessly with the new stone tile surround. A new wood mantle painted white offers a clean look for this nature inspired fireplace.
Inspiration by At Home With The Barkers
Painted Mantel In Blue
Sometimes a coat of paint is all you need to bring a coastal vibe to your fireplace. Here, the existing dark brown wooden mantle and surrounding wood was painted in a dark stone-washed blue and gray shade.
Next, the fireplace surround was repainted with white primer and then hand-painted veins in gray were drawn to resemble marble. This lightened up fireplace changes the mood of this room from dark and formal to coastal-inspired, just through the use of paint.
Inspiration by Postcards From The Ridge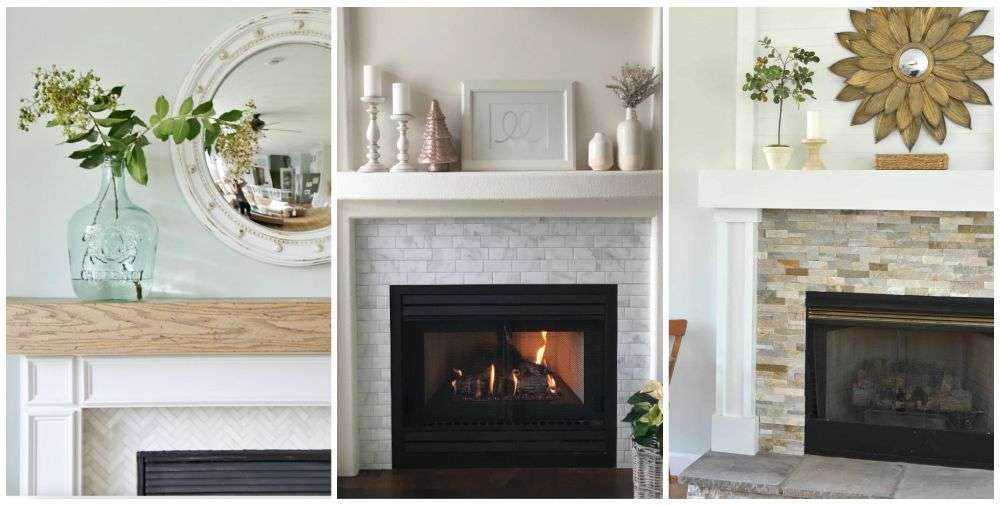 Concrete
An unsightly brick fireplace wall receives a modern makeover with concrete. The existing situation was framed over for the new look with shiplap above the mantel and concrete below. Cement board was installed for the concrete surround. Ardext Feather Finish concrete was applied to complete the look.
The shiplap above was painted a dark gray. It's a modern look that combines rustic and beachy for this new fireplace design.
Inspiration by Cherished Bliss
Pebble Tile Surround
What's more beachy than a pebble tile fireplace surround? Choose your pebble color palette and get to work applying the pebble tile sheets over your existing surround. Sand the existing surround, cut the pebble sheets and apply using a trowel and mortar.
When dry, apply a stone sealer. Use unsanded grout to finish the new surround and apply a final coat of sealer. It's the perfect choice for beach themed decor that will no doubt be the focal point of the room.
Inspiration by Our Storied Home
Marble Herringbone
Rather than tearing old brick surrounds out, you can just frame and box-build a new surround over the existing situation. Here, a marble herringbone was installed over brick and white subway tiles with white grout replaced the hearth.
The full mantle and surround were built from scratch to fit the scale of the wall and existing built-in bookcases. Painted white, it shines with elegance and is an example of an updated and modern look with a coastal vibe.
Inspiration by Jenna Kate At Home
All White Stone Fireplace
This dated stone fireplace needed a coat of white paint to transform its floor to ceiling magnificence. Glidden Swan White in semi gloss completed the transformation. Removing the mantle modernized the look.
The hearth is the right place to add cozy and coastal touches. This is an easy DIY project that builds on existing natural elements of stone that just needed a contemporary touch.
Inspiration by Greige Design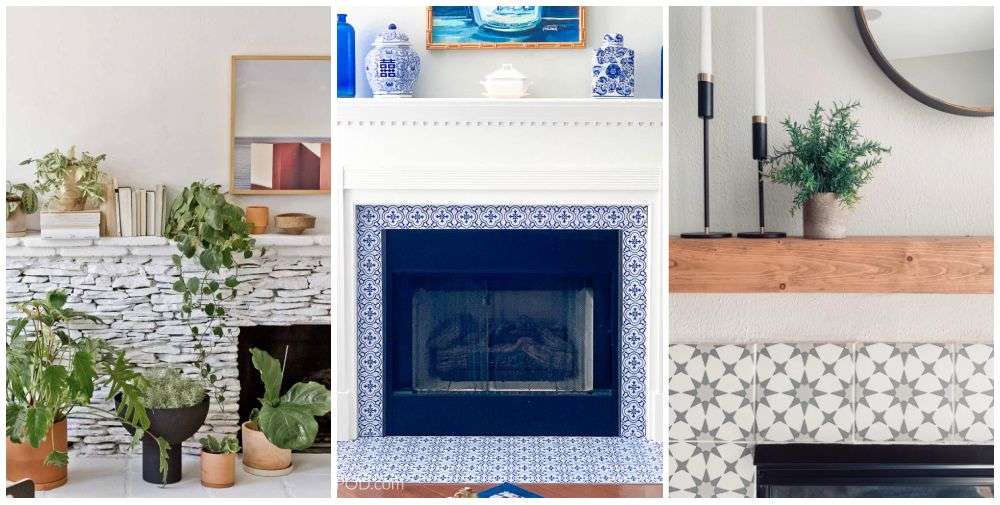 Sticker Tiles
Give your fireplace a dramatic makeover with these blue and white tiles that are actually a stick-on effort. Keep it mess free by choosing your design and using scissors to cut the vinyl and waterproof tiles to fit just perfectly.
Keep the look going and add them to your hearth for an eye-catching design that's fresh and vibrant.
Inspiration by 2 Bees In A Pod
Marble Mosaic
This marble mosaic tile has a polished look in a hexagon shape that adds interest to this fireplace makeover. The tile also extends to the hearth. Its palette of white and gray is elevated with light gray grout.
The white trim and mantel keeps it pristine and ready for any coastal touches of sea glass to warm up the marble and offer a beach vibe.
Inspiration by The Handmade Home
Painted Brick Fireplace
Old, dated and dirty brick gets a fresh and clean look with a coat of white paint for this new fireplace design. The eggshell finish provided the perfect texture without the glare of gloss.
Because it was on an already white wall, the color chosen blends seamlessly with the wall, making the dark mantle seem like its floating. It's a clean and interesting look that elevates the room with a modern look.
Inspiration by Lovely Indeed
Subway Tiles
The classic look of subway tiles replaces black glass tile in this fireplace makeover. The smart tiles used here are a peel and stick method of updating your fireplace with minimal effort or expense. Just place them right over the existing tile.
Here, the Metro Carrera tiles in a white and gray marble design were used. The look blends perfectly with the existing white mantel and trim.
Inspiration by Life Is Better At Home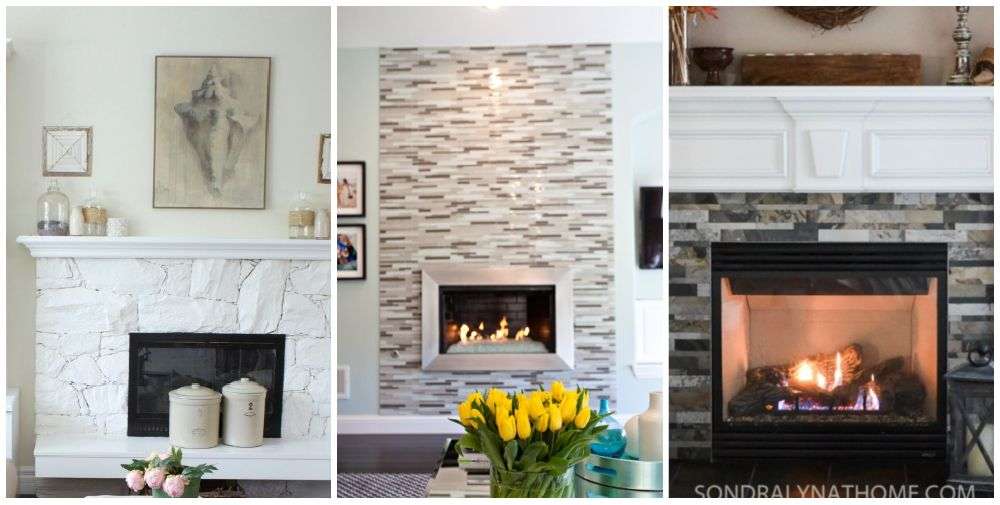 Stone Fireplace Surround
Skip the mortar and grout and use this realistic peel 'n stick stone overlay that looks like the real deal. It's actually thinly sliced stone with an adhesive backing. It's textured and available in a variety of color palettes.
An eye-catching medley of beige, brown, and light and dark grays give this fireplace surround a natural look. The white wooden frame and mantel provide a striking look for this coastal inspired fireplace wall.
Inspiration by Sondra Lyn At Home
Cozy Fireplace
A drab fireplace surround was demolished and replaced with a cozy fireplace that now sports fun square tile in a black, gray and white color palette. The same tile extends outward on the floor for the hearth.
With a simple natural wood mantel that adds warmth to the small fireplace wall, it's the perfect look for a relaxing family room.
Inspiration by Meredith Gipson
Painted Stone
If your large stone fireplace is stuck in the 80s with a peach color rocking the retro look, grab a can of spray paint and bring it into this century. Yes, spray paint! Add primer first and then a few coats of your choice of white that will work with your existing color palette.
It's a simple way to immediately render your stone fireplace with a fresh look, ready to take on any coastal decor you choose to set on its white mantle. How easy is that?
Inspiration by So Much Better With Age
Glass Mosaic Fireplace
Make a statement with this floor-to-ceiling wall of glass mosaic tiles in neutral shades of beige, brown and white. Placed flat on the wall, the mosaic tiles turn this into a contemporary fireplace idea.
Keep it pristine with no mantel to obscure the play of light on the wall tiles. From an installation standpoint, it's an easy DIY project that would be stunning in the right room.
Inspiration by Studio Ten 25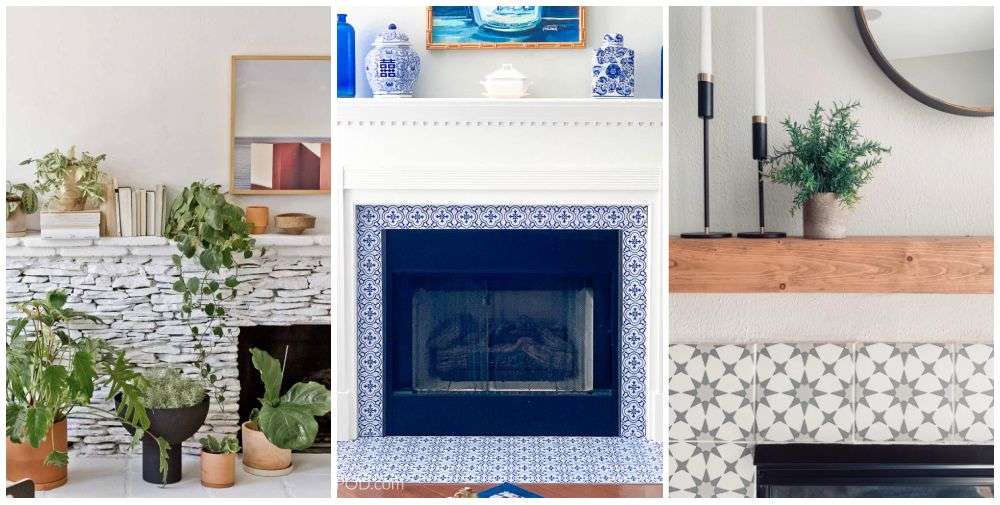 Slate Fireplace
This makeover adds a slate tile look to a dated fireplace using recycled scrap materials designed to look like slate. The benefit is that it's an economical and earth friendly material, plus it's lightweight and easy to work with. It's available in many colors and depths to give it a realistic appearance.
The slates are easy to attach using clear silicone caulk. It's a great look for a surround or to take it up the wall to the ceiling for a dramatic effect.
Inspiration by Home Talk
Limestone Tile
Turning a dated room into a transitional showplace included a fireplace makeover. Adding shiplap in white above the stained wooden mantle left the surround as a place to install limestone and marble tile in earthy tones.
The geometric pattern features a wide grout line in white to give it a diamond pattern. Navy blue and white patterned curtains on either side of the fireplace lend a coastal vibe to this makeover.
Inspiration by Sugar And Cloth
Brick To Cement Makeover
From a brick surround to a cement surround gives this fireplace a modern transformation. A wood mantel adds an organic element over the brick that was smeared with concrete. A piece of dark gray remanent stone replaced the existing hearth.
This is a great transitional style fireplace to add to any home since it's easily accessorized with any style of decor, including coastal.
Inspiration by Boxwood Avenue
Fireplace Stone Makeover
This fireplace of stacked stone is a statement piece in the living room. However, the naturally dark ledger rock needed an update. Painting it with a gentle whitewash of latex paint immediately refreshed the stone and added light to the room.
It's an easy and inexpensive way to transform a room into a space that can easily transition into a coastal oasis with the right accessories.
Inspiration by Paper Stitch Blog
If you're planning to upgrade your fireplace, these interior design ideas will make it come alive. From the accent colors to the materials, you can make it cozy and coastal in no time!