When you're ready for a kitchen makeover, consider these coastal-inspired ideas to give your space a clean and bright refresh. Inspired by seashore hues and a relaxed beach feel, these kitchen remodels range from major renovations to budget-friendly DIY projects.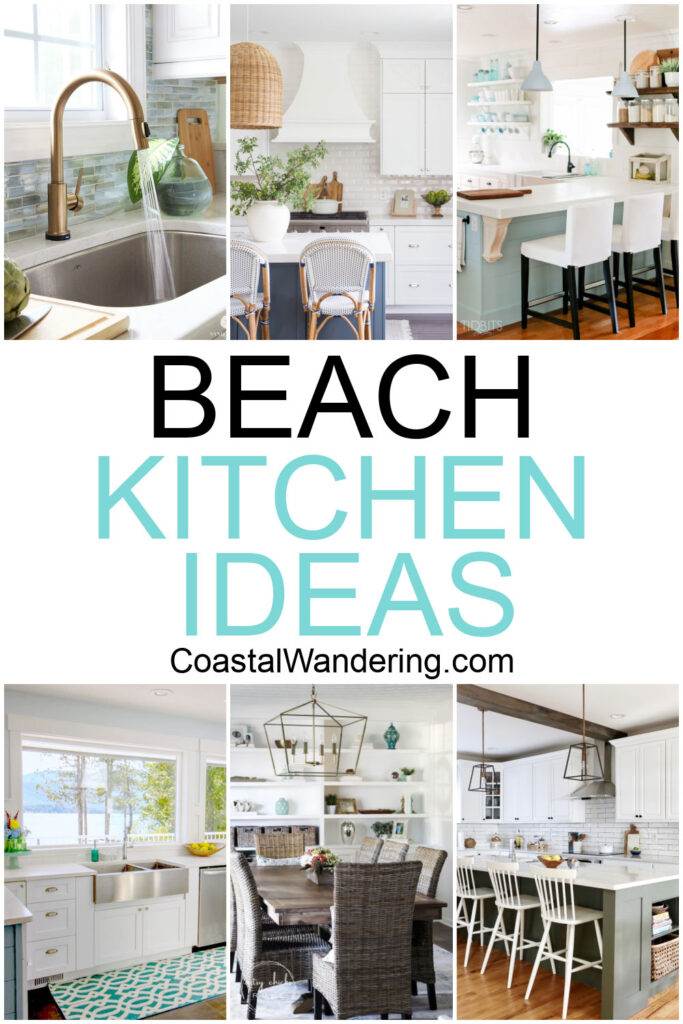 You'll see transformations that include the use of natural materials, open shelving, white-washed tones as well as sea glass touches of color, windows that help brighten and lighten the space and plenty of ways to use paint to help create your dream beach house kitchen.
And lots of ideas for beach themed kitchen accessories to complete your coastal look.
Coastal Kitchen Ideas
While aesthetics are key, functionality is also a factor when upgrading your kitchen. Don't miss these creative kitchen corner cabinet ideas to maximize your space. Learn from these redesigned spaces so that you can create the coastal kitchen of your dreams with these fresh ideas.
Blue And White Kitchen Renovation
Painted cabinets plus a new backsplash and countertops provide a fresh look for a formerly dark kitchen. The upper cherry cabinets were painted white while the dark countertops were replaced with white quartz with a subtle grey veining. The cherry-colored lower cabinets were transformed by paint to a deep gray shade with decidedly blue tones, which works seamlessly to recreate this space into a coastal-themed kitchen.
Tying it all together is a white subway tile backsplash and stainless steel appliances. Sea-colored touches of countertop accessories continue the beach theme.
Inspiration by Southern Hospitality Blog
Backsplash Upgrade
An all white kitchen gets an upgraded backsplash giving it a cool and colorful relief from a monotone palette. Lush glass subway tile is appropriately named surf as its color represents the translucent hue of a cool seafoam green. It's the perfect backdrop to replace the white tile, giving this space a coastal flair.
The original black and white flooring stayed, adding more visual interest to the room. Drawer and cabinet pulls were switched in this minimal reno that added a big impact to this beachy kitchen.
Inspiration by The Effortless Chic
Cabinet And Countertop Makeover
Sometimes just a facelift to your cabinets and countertops is all you need to transform a kitchen into the perfect backdrop for any splash of colorful accessories you choose to use. Here, yellow oak cabinets were refinished and painted a beautiful light grey while the dark counters were upgraded to a white quartz.
Stainless appliances were kept, although the sink and faucet were upgraded for a modern touch. From a lackluster color scheme to a light and bright kitchen, this space would be perfect to showcase sea glass colors or deeper blues and greens for a coastal feel.
Inspiration by I Heart Vegetables
White Shaker Kitchen Makeover
When you're making major layout changes and adding windows during a renovation, you're going to need a contractor, but when you're creating your dreamy coastal kitchen, you'll be glad for the expertise. Here, a bank of large windows stretching across a long wall allows the natural light to stream in. The addition of windows now provides a lovely view of the water.
This white and pale aqua kitchen boasts stainless steel accessories for a clean and beach-inspired coastal look. Darker aqua touches appear in accessories and a throw rug to bring the entire look together.
Inspiration by The Happy Housie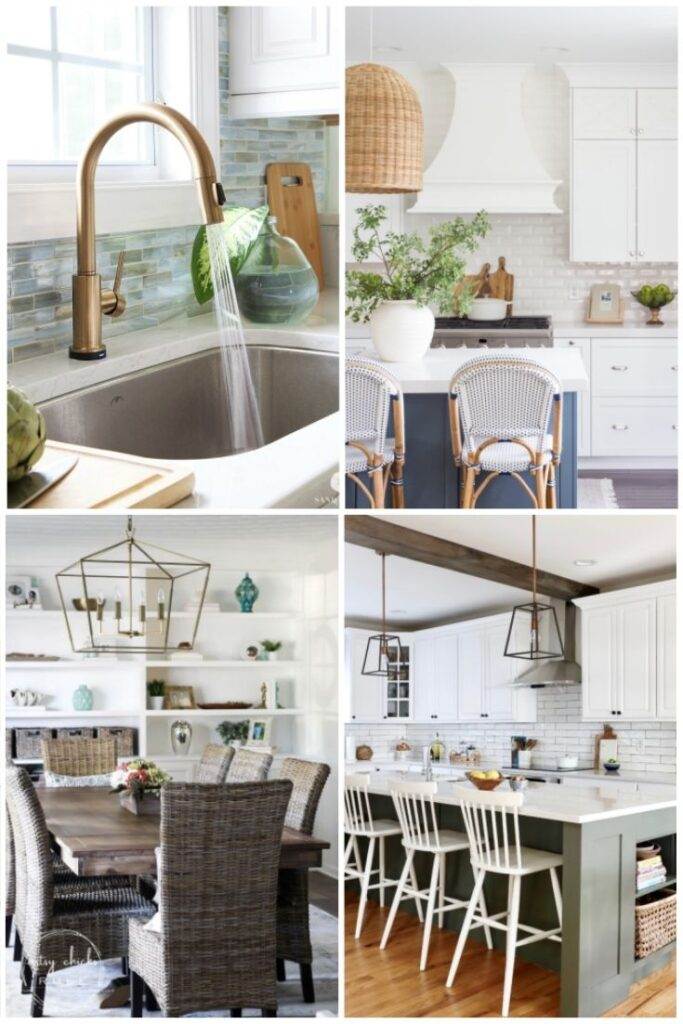 Boho Kitchen
The easiest way to make a small kitchen design feel larger is to remove the upper wall cabinets and opt for open shelves. Here, the beach cottage style kitchen went from dark brown to white, touches of gold-tone, and stainless steel, all on a small budget. Light wood shelving with gold brackets adds visual interest to the small wall space.
Because the countertop space was small, a budget-friendly quartz remnant in white was used to replace the old brown countertops. A new backsplash of white hexagon tile was installed with a grey grout to make it stand out. If you have a small cottage-style kitchen, this budget-friendly boho coastal style with your choice of color accents is a great idea to consider.
Inspiration by Emily Welch Style
Oak To White Kitchen Makeover
One great way to transform a kitchen is with paint. Here, walls and oak cabinetry are given a new palette of white that instantly brightens the space in this budget-friendly re-do. One bank of upper cabinetry got a modern renovation with the simple removal of the cabinet doors to create an open shelving look.
It's a simple change, but one with a big impact. New knobs and drawer pulls in brushed silver completed the look to blend with the existing stainless appliances. The window over the sink received a shade in a natural element, eco-friendly bamboo, to contrast the white walls.
Inspiration by Saffron Avenue
Budget Kitchen Refresh
If you're in need of a refresh of your current kitchen, sometimes a coat of paint is the best way to change the mood of your space. Here, the upper cabinets of this kitchen received a fresh coat of white paint while the lower cabinets got a bold kick of green color which instantly changed this black and white kitchen into a coastal color scheme that's fresh and inviting.
The existing backsplash was temporarily and creatively covered with pressed ceiling tiles in white to keep the look cohesive. A change of lighting fixtures and drawer pulls completed this budget-friendly refresh.
Inspiration by Blesser House
Dark And Dated To White And Light
Harvest gold original cabinets were replaced with new white and grey glazed custom cabinetry in this complete kitchen renovation. Quartz countertops with a white and grey motif blend perfectly, while a water glass tile for the backsplash offers a translucent sea glass focal point to the kitchen.
Mercury glass pendant lights complete the look over the open counter space that divides the room. Ample pull-out storage space such as spice racks and cutlery drawers were custom made for this kitchen that boasts a coastal flair.
Inspiration by The Creative Bite
Flood Disaster To Full Kitchen Renovation
A water disaster led to this beautiful kitchen renovation that's a decidedly coastal design. A light hardwood floor was installed setting the perfect tone for the creamy white cabinets with solid and glass doors. A quartz countertop echoes the white tones. The walls are a serene grey and sea salt shade.
The kitchen island and half wall bar area adds a touch of color with a pale oyster green-blue color that coordinates with this seaside palette. The gorgeous tile backsplash of swirled sea glass colors adds a pearlescent sheen to the space. New stainless steel appliances were added and pops of gold tone in the faucet and lighting add a charming mixed metal element to this brand new kitchen.
Inspiration by Sand And Sisal
Cottage Kitchen Makeover
Painted kitchen cabinets, walls and backsplash contributed to this cottage kitchen makeover that utilizes a seaside blue and white theme. The upper cabinets were painted a creamy white hue while the lower cabinets were painted a smokey blue-grey shade adding a pop of color.
Rather than replacing the backsplash, it was painted a creamy white. The dark countertops were replaced with white quartz. A new sink, faucet and drawer pulls were also installed. Beach-themed artwork and accessories complete this cozy look.
Inspiration by Sustain My Craft Habit
White, Light And Blue Re-Do
From a dark and closed off white and black space to a fresh white and blue theme, this kitchen makeover lets the light in. White shaker-style cabinets were installed as well as a large kitchen island. The island is painted a providence blue shade for a spot of color. White quartz countertops keep the look crisp along with the stainless steel appliances.
A glossy white subway tile backsplash works seamlessly with the theme. A new set of windows was added where a bank of cabinets used to be, brightening up the area as well as making it appear larger. Rattan pendant lights over the island keep the look casual and coastal. Rattan-framed barstools and raffia and seagrass accessories complete the fresh and breezy look.
Inspiration by Life On Virginia Street
Dark To Light Makeover
This kitchen has gone from dark to light colors over the years during several makeovers. In this current renovation, it received a new floor, recessed lights, cabinetry and island painted white, white and grey-veined quartz countertops, new appliances and an open floor plan to give this well-loved kitchen a breath of new life. The subtle blues and greens in the glass-tiled backsplash give it a charming coastal feel.
Inspiration by Artsy Chicks Rules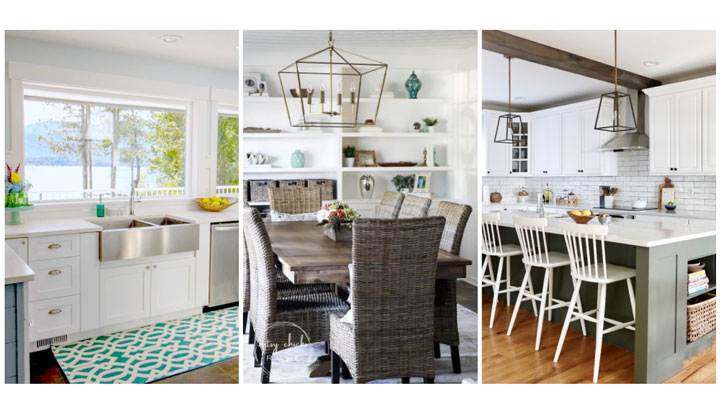 From Vintage Oak To Minty Coastal
From vintage oak and bland to white, minty aqua, open and airy, this DIY renovation is a nod to a coastal theme. Removing a bank of cabinets, both lower and hanging, gives an open concept to the kitchen that now flows seamlessly into the dining area.
Upper white cupboards work with the lower pale mint-colored cabinets and new center island. A white diagonal subway backsplash compliments the grey granite countertop that includes subtle aqua flecks in the design. Stainless steel appliances and brushed nickel fixtures complete the look.
Inspiration by Mabey She Made It
Smoky Blue And White And Open Shelving
Dated and drab, this cottage kitchen gets an updated feel that's seashore ready with its white cabinetry and smoky blue splashes of color. Upper cabinets on either side of the farmhouse sink were removed and replaced with open shelving. Existing cabinets were whitewashed and white Corian countertops replaced the old ones.
The eating bar lower cabinets were painted a muted blue shade which matches beautifully with the blue accessories and dishes displayed on the open shelving.
Inspiration by Tidbits Cami
Seashore Vibes
Brown and black are replaced with white and turquoise in this kitchen makeover. White cabinets replaced the brown, white quartz countertops replaced the black, and a lovely subway-tiled backsplash in a sea-glass turquoise transforms this kitchen into a coastal dream space.
New stainless steel appliances modernize this functional look. The one relief of a sea of white comes from the custom-made island that's stained in oak, adding a natural touch to this renovation.
Inspiration by Deep Thoughts by Cynthia
Dark To Seaside Coastal Charm
This previously dark kitchen received a light and bright re-do of white, grey and coastal blue for seaside charm. Painted cabinets with the addition of beadboard on the island make this a less formal and more casual space. Glass panels were added to a few of the upper cabinets for a lighter vibe. The cabinets were white-washed while the island received a splash of coastal light blue to complete the look.
Walls were painted a complimentary light grey color which helps anchor the existing black countertops to the theme. A gorgeous mother-of-pearl tile backsplash adds a delicate shimmer that's perfect for a coastal kitchen.
Inspiration by Confessions Of A Serial DIYer
Earthy Coastal White Kitchen
If the thought of choosing color schemes that you might not be able to live with down the road has you rethinking a kitchen makeover, opt for earthy tones that allow you to add colorful accessories to suit your changing style and moods. Here, this kitchen makeover keeps it neutral with white cabinetry, white quartz countertops and a white subway tile backsplash with gray grout for a smidge of relief from a monochromatic palette.
The kitchen island also offers color relief with the earthy shade of cast iron gray with a tinge of green to it. The wooden beams on the ceiling are done in a dark stain add a natural element to the space.
Inspiration by City Farmhouse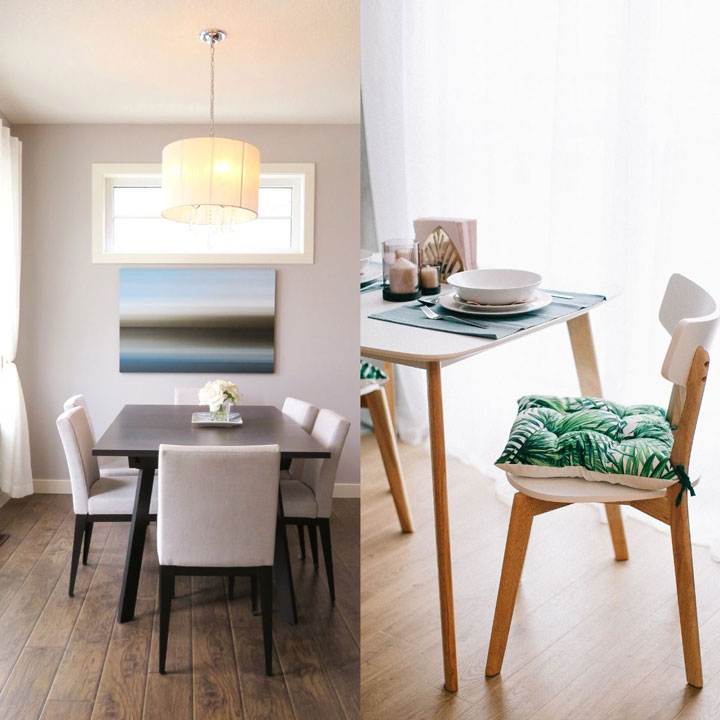 Dining Room Ideas
Here's some inspiration for continuing the beachy style into your dining room.
Dining Room Coastal Reveal
Using a canvas of white for the walls and bookcase, this dining room goes coastal with its dark wood floors anchored by a large muted blue and creamy white rug. Natural design elements such as wicker baskets, a large driftwood wall clock above a dark blue dresser, as well as the dark wood dining table and wicker and rattan chairs add to the clean and coastal theme.
Touches of translucent blue glass accessories help create a beach feel making this a light and airy room for entertaining.
Inspiration by Artsy Chicks Rules
Modern Coastal Dining Room
Combining a modern take on a coastal theme, this dining room was transformed into a casually elegant space to entertain. A farmhouse dining time is painted white and decked out with high back seagrass chairs to set the tone.
The walls were painted a pale sea salt color and the open whitewashed hutch holds accessories that contain natural elements and touches of blue. Throw pillows with coastal designs accent the corner chairs.
Inspiration by Four Generations One Roof
Neutral Palette Dining Room
The natural elements in this formal dining room give it a casual feel that's friendly and welcoming. The dark hardwood flooring holds a neutral wool and jute rug that sits underneath the rustic dining table. High back chairs in a sandy linen fabric surround the table. The walls above the white chair rail and molding are painted a neutral light brown and linen shade. Using a palette of neutral colors creates the coastal tone to allow for more color with artwork and accessories.
Inspiration by Casually Coastal
I hope these beautiful beach kitchen designs inspire you to bring some coastal decor to your home.