Replace the traditional red and green this holiday season by incorporating coastal colors of blue, green, and ivory in your Christmas decor. Let this collection of beach theme DIY crafts and ideas help you create seaside magic this season.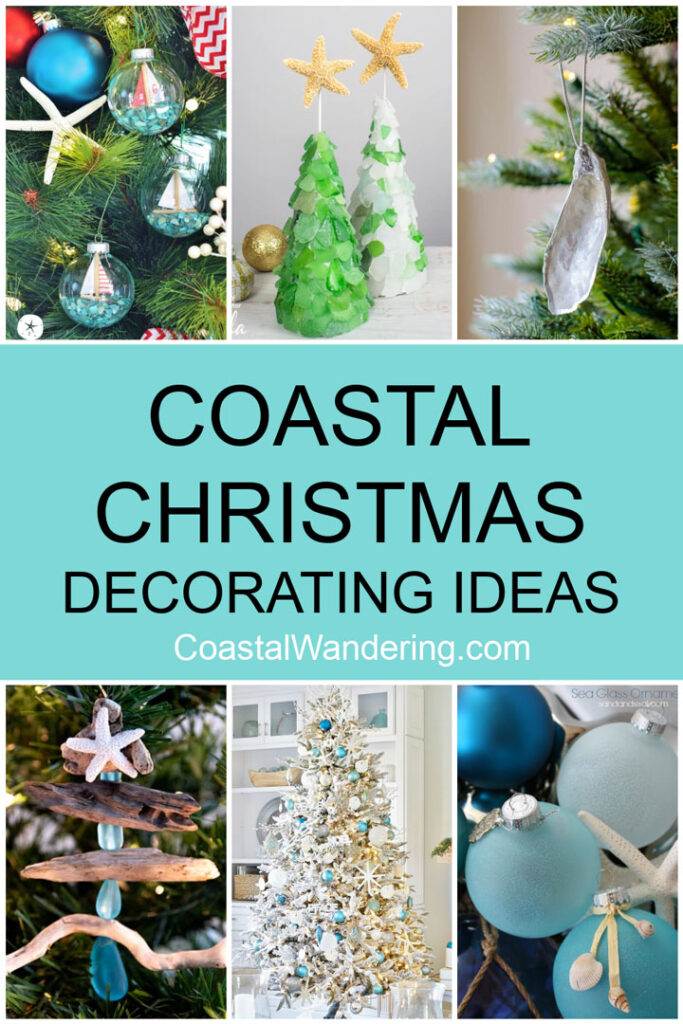 Coastal Christmas decorations are the perfect way to bring beach house style to your holiday home decor.
From themed ornaments to wreaths and from garlands to tablescapes, you'll find inspiration on how to include natural elements, oceanic blues and sandy hues with a touch of elegance and shimmer in your holiday decor. Driftwood, sea glass and sea shells, and nautical theme accents will add a relaxed beach feel while still adding festive cheer.
Beach Inspired Christmas Decor
These coastal creations will offer waves of inspiration for creating the perfect seaside Christmas tree and accessories to help you celebrate the season.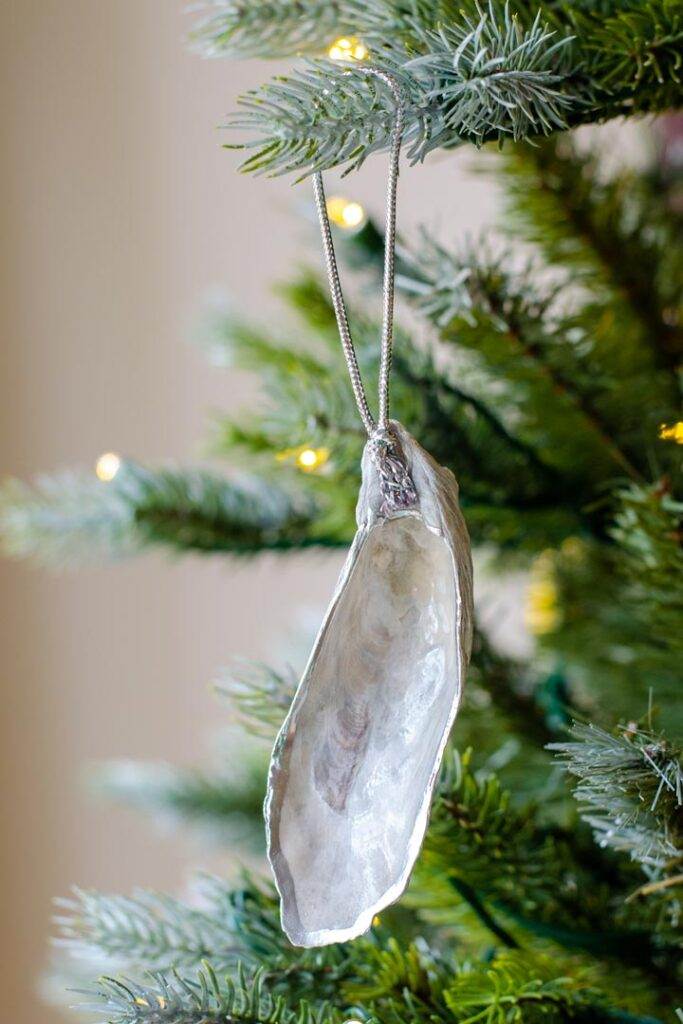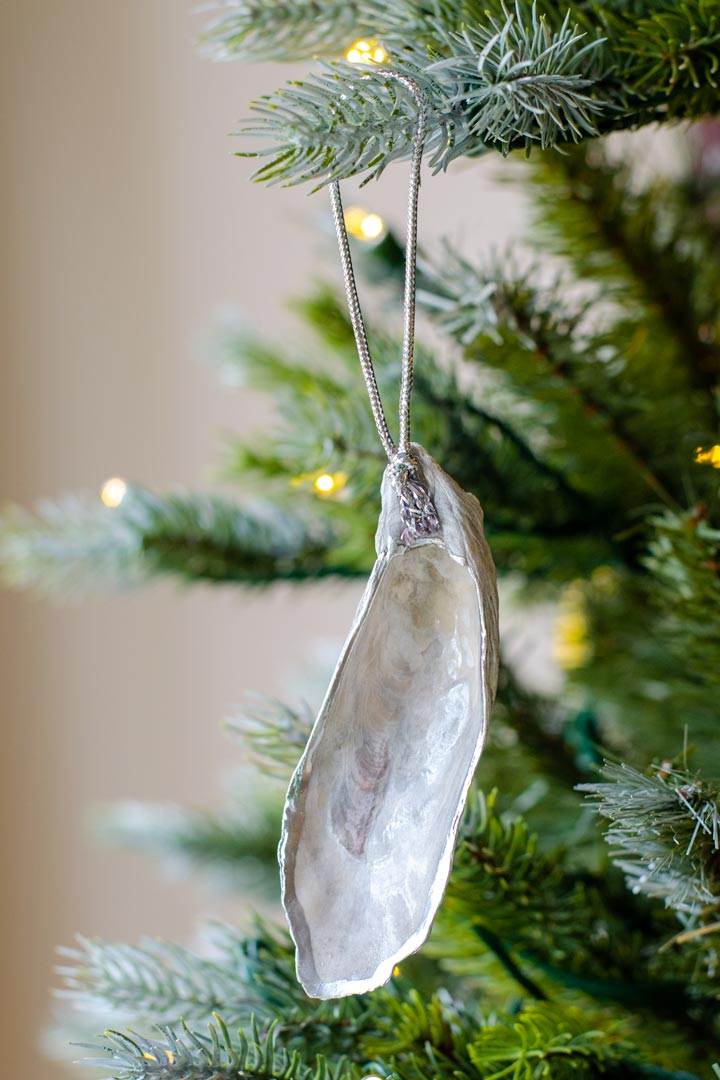 How To Make Oyster Shell Ornaments
Make these gorgeous and easy coastal Christmas ornaments from your collection of oyster shells. The natural beauty of these shells will add a simple elegance with just a little help on your part. Coat each shell with clear polish for a sleek sheen. Use a silver metallic marker to outline the edges of the shell for a little sparkle. Hot glue the looped cord to the oyster shell for hanging. Stunning!
Oyster Ornaments by Coastal Wandering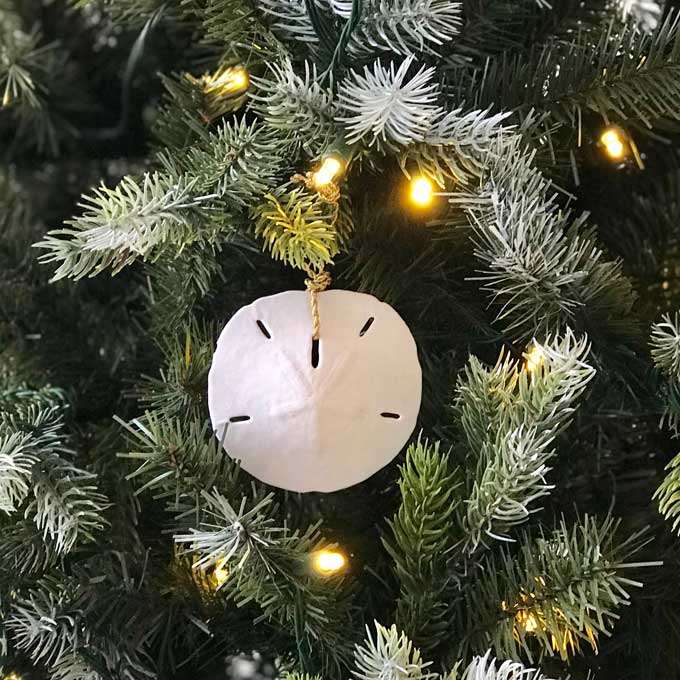 Easy Beach Christmas Ornaments To Make
Your souvenir seashells can be turned into an ornament collection that's perfect for your holiday tree. Sand dollars, starfish and spindle shells can easily be made into a beach-themed adornment with just a few simple craft items. Using hot glue and metal ornament hooks, strings can be attached to the shells in just minutes. So lovely!
Shell Ornaments by Coastal Wandering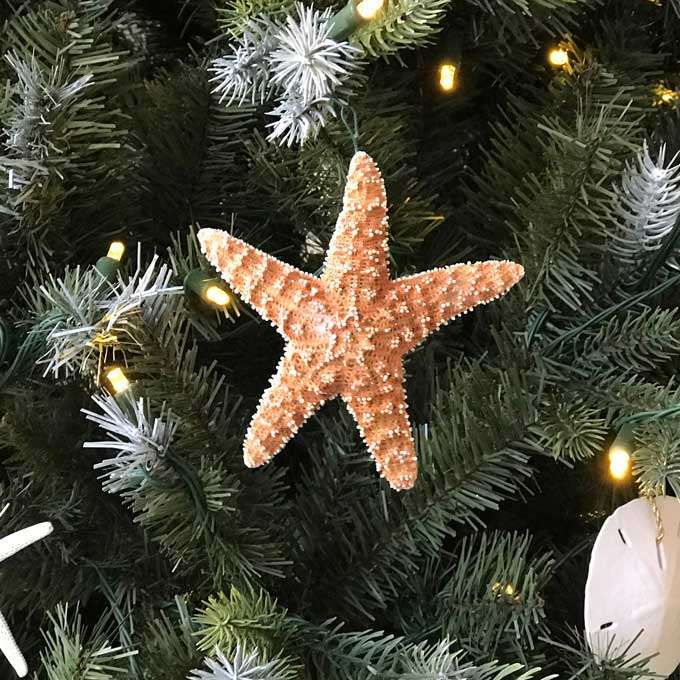 DIY Seashell Wreath
A collection of seashells are neatly glued to a grapevine wreath form to create an eye-catching decoration with a rustic coastal feel. Using sand dollars, starfish, spiral and clam shells, arrange the shells in a unique pattern and simply glue them on. Add a pretty cream and blue ribbon to the top for hanging. Suitable for using indoors or on your front door.
Wreath by Coastal Wandering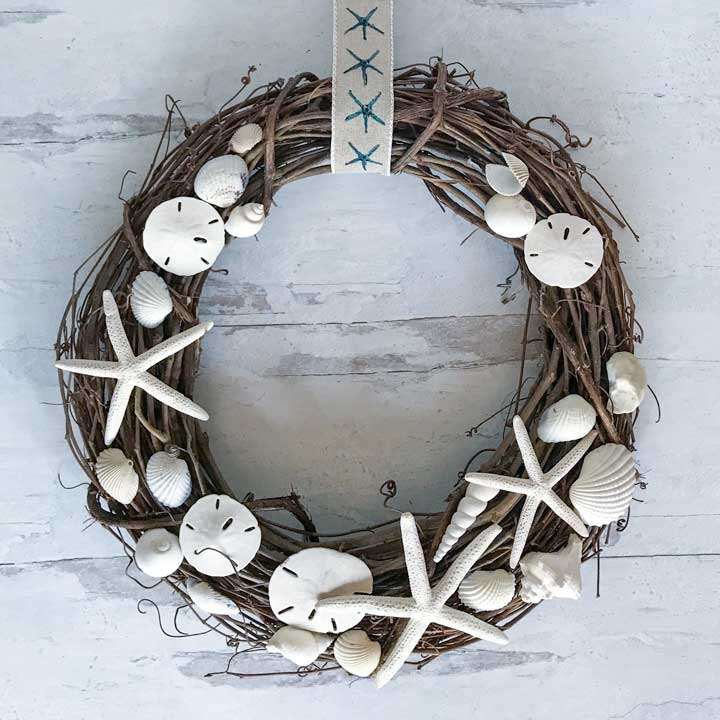 Nautical DIY Burlap Wreath
Red and ivory make this nautical wreath perfect for Christmas. This easy DIY project requires a styrofoam wreath form, burlap ribbon in ivory and red, a wooden anchor shape and hot glue. It's simply a matter of wrapping the wreath with the fabric and securing the anchor sign. Hang it inside or out for a colorful, yet coastal splash of color.
Project by Consumer Crafts
Coastal Christmas Wreath
Fashion a blue and white coastal wreath proclaiming "Seas & Greetings" out of a simple styrofoam circle. Wrap the circle in strips of beige drop cloth with blue burlap accents and secure with hot glue. Glue rope around the outside of the wreath and add a few starfish to the front. Finish it by attaching the cheery red greeting sign.
Project by H2O Bungalow
DIY Seashell String Lights
Take your collection of small seashells and create this adorable string of lights that's perfect for your holiday mantel, tablescape or can even be used on your tree. Using a hot glue gun, attach two shells together to encompass each LED light. How easy is that? And the end result? A super easy string of lit shells.
Lights by By Wilma
DIY Sailboat Ornament
Make this one-of-a-kind tree decoration by placing crushed blue shells and a miniature DIY bamboo and paper sailboat inside a glass ornament. It's a fun project that even the older kids might like to help with. You can personalize those little sail boats for unique looks and colors, too!
Sailboat by Sand And Sisal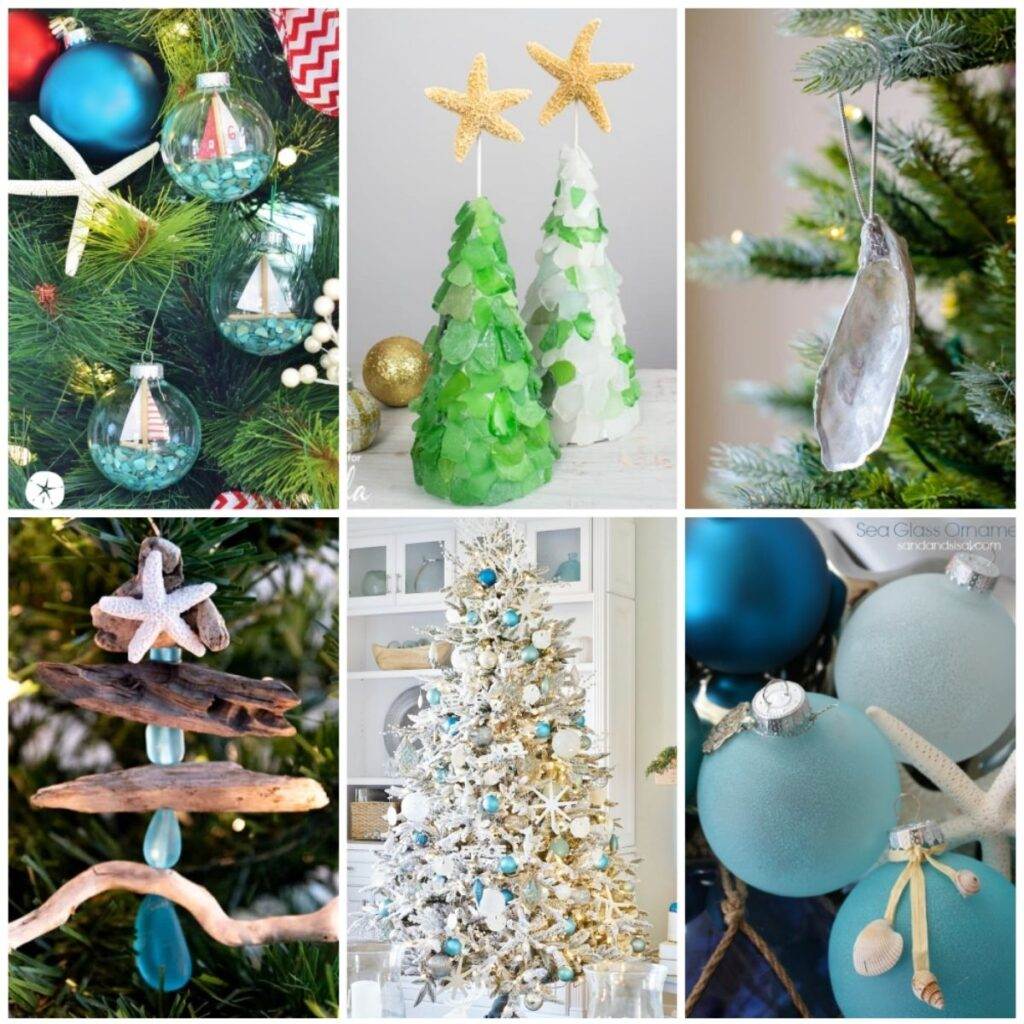 Sea Glass Ornaments
Bring those calming tones of blues and greens inside with this gorgeous DIY sea glass ornament project. Starting with a clear glass ornament, you'll paint it with acrylic sea glass paint with a textured sponge dabber. Let dry and adorn with charms or other seaside baubles. So pretty on white Christmas trees!
Project by Sand And Sisal
DIY Driftwood Christmas Tree Ornament
Combine driftwood, sea glass and small starfish for this rustic coastal tree ornament. A hot glue gun, clear fishing line and a small drill will help you assemble this beautiful piece of art. Make each ornament unique by using different colors of sea glass. The foraged driftwood pieces will also be different, making these a true one-of-a-kind ornament.
Project by The Handyman's Daughter
DIY Wooden Anchor Ornaments
Wooden craft ornament anchor forms from the craft store are painted turquoise, or your choice of color, and sprinkled with a little glitter for a festive sparkle. Thread a ribbon through the pre-cut hole and the top and these nautical ornaments are ready to hang!
Project by Crafts By Courtney
Starfish Ornaments
Create a beach-themed holiday tree with these lovely DIY starfish ornaments. You'll combine multi sizes and colors of starfish and secure them together with twine, ribbon and hot glue for a unique look. Use blues, greens and creams for the twine and ribbon and add beads and charms for sparkly embellishments.
Project by Across The Blvd
Coastal Farmhouse Wood Bead Garland
A string, beads and paint stain are all you need to make this versatile garland. You can use it for your coastal Christmas tree, weave it through your tablescape design, drape it from your mantel or add it to a glass container with other coastal baubles. You'll paint the various-sized beads in your choice of color, thread the beads on the twine and finish with a tassel on each end of the garland. Beautiful!
Garland by My Wee Abode
Sea Glass Christmas Tree
Nothing says coastal like sea glass, and here, colorful glass chips are used to make cone-shaped trees that will look stunning in your tablescape or on a table in the living room. Using paper mache craft cones, paint them white and then hot glue the sea glass to the cones, slightly overlapping each row. Finish the small tree with a starfish as a tree topper. Lovely!
Project by Crafts By Amanda
DIY Rustic Driftwood Christmas Tree
Perfect for your front porch or even to be used inside, this driftwood Christmas tree adds a rustic touch to your holiday coastal theme. Make this as tall as you like using a metal rod or rebar for the center column. You'll drill a hole in the center of each piece of driftwood and thread it on the metal rod to create the "tree." Use a small branch stump for the base. Impressive!
Woodcraft by Sustain My Craft Habit
No Sew Ombre Ruffled Tree Skirt
You'll love this fun no-sew project using gradient tones of material to create a one-of-a-kind tree skirt. Here, the skirt is shown in beachy shades of blue and green, resembling the sea. You could switch it out for a more neutral shade using white, beige, tan and brown for a sandy theme. Create a matching pillow cover for throw pillows to complete your themed decoration. Your hot glue gun is your friend, so stock up on the glue sticks for this creative project!
Project by DIY Showoff
DIY Burlap Stocking Tutorial
This do it yourself burlap stocking pattern is perfect for hanging from your fireplace. It's a simple pattern with a liner that you can stitch together in minutes. The fun part comes with the embellishments! You can hot glue shells, starfish, sea creatures, sea glass-inspired trinkets or whatever beach-themed items will work with your coastal decor. It's an easy project and totally customizable.
Project by Everyday Megan
Oyster Shell Garland Centerpiece
This oyster shell garland centerpiece will add coastal elegance to your holiday tablescape. Use pine clipping for a natural green runner and a large piece of coral for the center focal point. Place oyster shells and candles or votives strategically down the length of the greenery. For a more dramatic look, weave mini lights through the greenery. Try this technique using sea horses or starfish garlands as well.
Inspiration by Simple Nature Decor Blog
Coastal Christmas Tablescape
From its minimal color scheme to its well-placed holiday adornments, this festive tablescape says Christmas while keeping a decidedly coastal feel. Using a driftwood garland running the length of a simple beige runner, the center of the dining table holds a seashell-encrusted mini Christmas tree. A few starfish and sea glass-colored ornaments enhance this seaside theme. White dishes and wine glasses with a touch of gold sparkle complete this simple yet chic coastal tablescape.
Inspiration by Happily Ever Adventures
Coastal Beach Tree SVG Cut File
Decorate your wall or mantel with this beach-themed holiday tree print. In calming tones of green and blue colors, set on a white background, this holiday Christmas tree print evokes the holiday spirit that comes from coastal celebrations.
Art by Cutting For Business
DIY Coastal Christmas Starfish Hanging Art
Using a wooden board, starfish, a hot glue gun and teal and gold baubles for festive accent notes, this DIY project can be made in just 10 minutes! You'll hot glue the starfish to the board, add and glue the pretty accent items, as many or as few as you like, and secure rope or twine to the back so you can hang and enjoy your coastal holiday artwork.
Art by Champagne And Sugar Plums
Looking for more holiday ideas?