A beach-themed living room can be both luxurious and functional without the cost of buying a beach house. Learn how to create a relaxing coastal living room for a fraction of the price.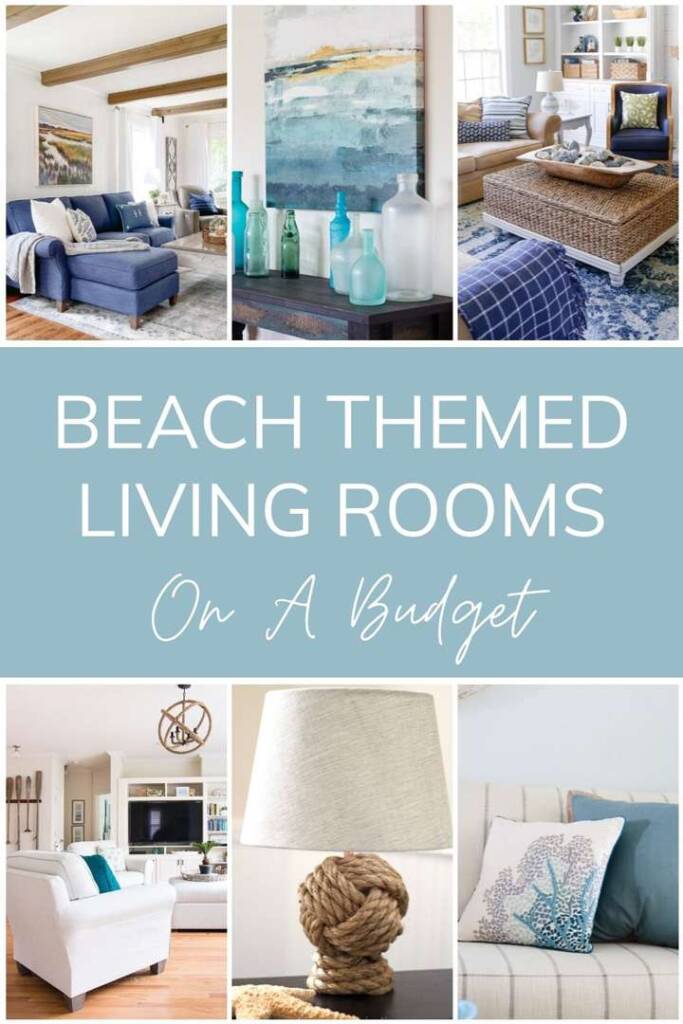 We all have the dream of having a living room overlooking the ocean. Here's how to get the beachy look without breaking the bank, including plenty of simple tips and examples on how to achieve it.
Transform your living room into a relaxing coastal retreat using beach-themed tones, textures, and decorative elements. Blue hues, neutral sand colors, driftwood, sea glass, rattan, and nautical elements can all help to define this space.
From sofa choices to paint colors and from decorative accessories to floor coverings, you'll find seashore inspiration from this collection of beautiful ideas.
Navy, turquoise, sky blue, translucent green, and whitewashed tones can be mixed and matched with stripes and patterns that are characteristic of coastal design. Pillows, throws, lamps, rugs, artwork, baskets, and seashells artfully displayed also play a prominent role in defining a beach theme.
20 Beach Themed Living Rooms On A Budget
Whatever your beach style is, from contemporary to casual, you'll be able to create an ocean-inspired living room with these budget-friendly coastal decor ideas.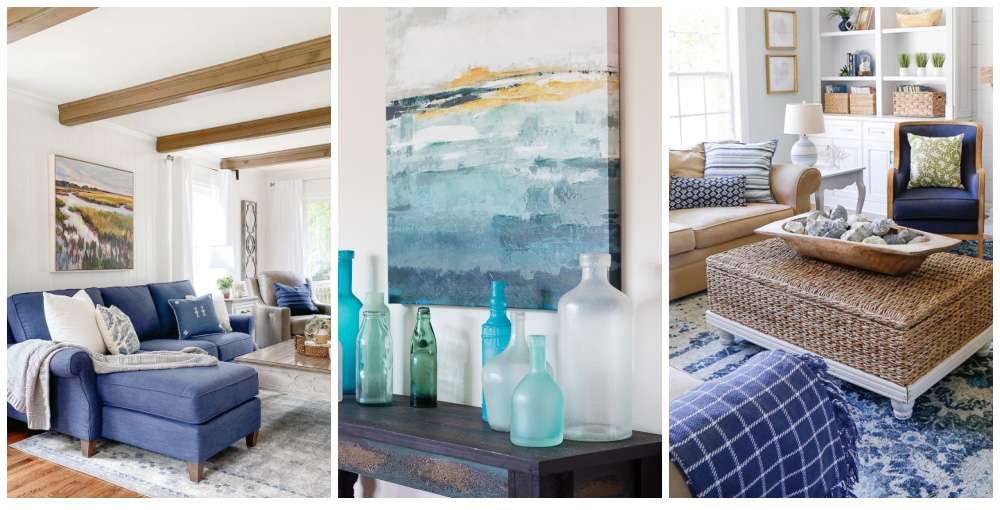 Sea Glass, Clean Lines And Natural Elements
This living room keeps it clean and sleek with its hardwood floors, white sofas, and sea glass colors for accessories. Blues and turquoise show up in throw pillows, vases, bottles and art work while natural elements of wicker are showcased in baskets and lamps. It's a minimalist look for a coastal-inspired room.
Inspiration by The Lily Pad Cottage
Navy Blue Living Room
From the jute rug to the seagrass storage trunk, this living room utilizes a navy blue and natural-toned palette to achieve its theme. Touches of cream, denim and pale blues work seamlessly to support this look. An abstract painting in corresponding hues helps anchor the sea-inspired feel, as well.
Inspiration by Four Generations One Roof
White Sofa Slipcovers
Opt for budget-friendly white slipcovers for your current sofa and chairs when you're redesigning your space. White gives you the luxury of being a blank canvas so you can switch out accessory colors with ease. If you're worried about keeping them clean, you'll find a few helpful tips in this post.
One way to keep them clean is by using pillows and throws which can be draped on armrests that tend to be high-dirt areas. Most slipcovers are washable, so don't hesitate to launder them when spot cleaning has been exhausted.
Inspiration by Starfish Cottage Blog
Blue Sectional Living Room
Cool tones of blue combine with creamy white and driftwood gray to create a beach-themed living room that is casual and livable. Here, a sectional sofa in blue helps define the theme along with natural woven baskets and seashore accessories scattered on the distressed coffee table and shelves.
Inspiration by Blesser House
DIY Sailboat Accessory
A piece of driftwood and blue and white striped cloth inspire this DIY nautical accessory, perfect for displaying on a mantel, bookshelf, or coffee table. Make this sailboat with a drill, hot glue, wood, eyelet screws, and fabric cut in triangles for a 15-minute project that will be a defining accessory for your seaside space.
Inspiration by House Of Hawthornes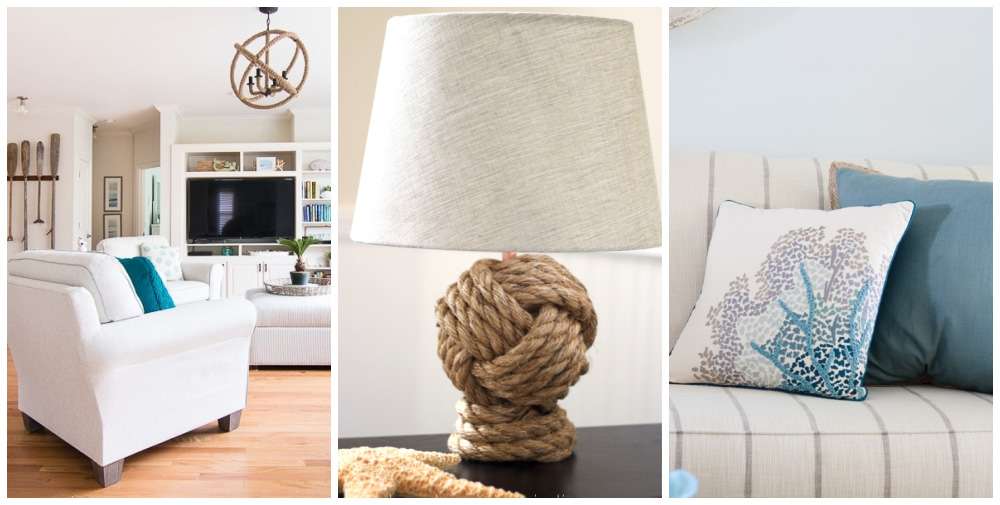 Ocean DIY Art Canvas Tutorial
Let your inner artist guide you in creating a large modern ocean waves scene on a canvas drop cloth. Using a palette of blues and creams, this art could be hung on a wall or above a mantel. Its minimalist look will be stunning in a coastal-themed living room.
Inspiration by Shabby Fufu
DIY SeaShell Candles
Oyster shells make a gorgeous accessory and here, when you turn them into small votive-style candles, you'll have a unique way to showcase these jewels of the sea. To the candle wax, you can add blue candle dye to make them extra special and coordinate with your color scheme. These seashell candles would also make a beautiful gift.
Inspiration by Pillar Box Blue
Blue Hues
Linen window treatments in an indigo and white striped pattern help anchor this nautical look that incorporates this color palette throughout the room. Blue and white pillows and blankets are draped on the sand-colored seating while a splash of turquoise breaks with the theme on the coffee table. A round jute-style area rug along with woven natural element baskets offer the perfect accessories to help define this coastal style.
Inspiration by The Happy Housie
Light and Airy
Neutral hues of cream, sand, and light blue define this room along with wood and sea glass accent pieces. An abstract mantel painting is a nod to the ocean while other accessories pick up shades of the seashore. If you're looking for a coastal feel through the use of color and natural light, this room is a great example.
Inspiration by House Of Hoff
Natural Textures In Neutral And Blue
Creams, blues, greens and natural elements all add up to a cozy beach retreat right in your own living room. Natural colored linen sofas pair with blue accent chairs and an abstract cream and blue rug to anchor the room.
A wicker coffee table, along with shells and baskets adds a seaside element. Greenery, either in real plants or artwork, will add a touch of the tropics to your retreat.
Inspiration by Sand And Sisal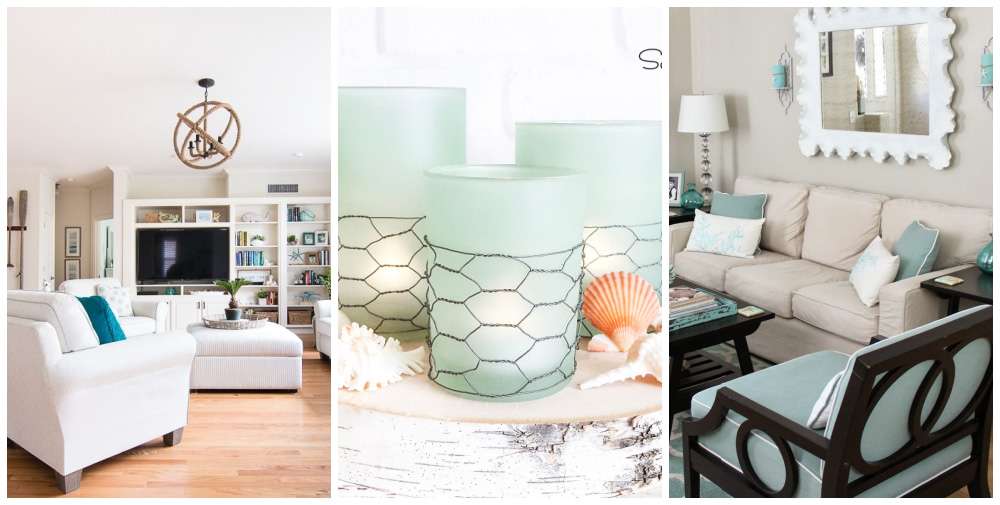 DIY Envelope Pillows
You can personalize your living room by sewing your own pillow coverings using this easy envelope pattern. There's no zipper involved, so the sewing is simple. The best part? You can choose your own fabric that matches your theme perfectly. What could be better or more budget-friendly?
Inspiration by Simple Nature Decor
DIY Sea Glass Candles
For a coastal farmhouse look, you can easily make these sea glass-inspired candles using chicken wire rather than fishnet as a decorative element. Transform clear glass candle holders with a coat of sea glass spray paint and slip on the chicken wire "sleeves." They're perfect for a mantel or table.
Inspiration by Sadie Seasongoods
DIY Rope Knot Lamp
Bring natural and nautical elements to your living room lighting with this rope knot lamp. The knot is an impressive look for the base of a lamp and is simple to achieve with this tutorial that walks you through each step of how to create it using a lamp repair kit. It's economical and on point for a beach-themed room.
Inspiration by Down Home Inspiration
Striped Sofa
Sofas with a white ground and thin blue stripe set the tone for this nautical-inspired living room. Pale blue walls blend effortlessly into the background while teal-toned accents appear in pillows, the coffee table, and other accessories. Wicker baskets add a natural element, as well.
Inspiration by The Lily Pad Cottage
Beachy Boho Living Room
This color palette is cream, black and blue. The black accents give this space a modern yet casual feel. Cozy pillows in blue, cream, and a striped design give it a relaxing beach vibe. A brown natural-textured rug keeps it informal.
Seashell accents adorn the tables and artwork while palm fronds add a splash of green. This is an easy and simple way to enjoy a relaxed coastal theme.
Inspiration by Starfish Cottage
Modern Beach Cottage Palette
Go bold with ceiling to floor window treatments that sport a navy and white stripe to define your area. A light blue sectional sofa, cream ottomans, and box-style wicker chairs blend harmoniously over the neutral textured rug. Accessories of baskets and seashells reinforce the theme.
Inspiration by The House Of Silver Lining
Thrift Store Find
If you love rummaging through thrift stores and antique shops in search of that perfect accessory or piece of furniture that you can makeover, keep this post handy. Here, you'll learn how to strip and sand wood and whitewash it for a coastal feel.
Learn how to counteract any undesirable color tones so you'll get the shade that you desire. Easy, fun, and a great way to make a one-of-a-kind piece for your space.
Inspiration by Artsy Chicks Rule
Coffee Table Makeover
Found, sanded, painted, distressed, and personalized with a seashore-inspired graphic on top are the transformative steps applied to this thrift store coffee table. This budget-friendly DIY project is a great inspiration for your next thrift store outing.
Don't just stop at coffee tables. You can use these same ideas for end tables, lamps and chairs, too.
Inspiration by Confessions Of A Serial DIYer
Turquoise And Cream
Decked out in sea glass, turquoise, and cream, you're sure to relax in this cottage. This color palette is carried throughout the house, but you can achieve this look in your living room by sticking to a neutral wall color, cream sofas, and turquoise accent chairs, tables, and pillows. Bring in a pop of black or dark brown for a bit of color relief and accessorize with sea glass artifacts and seashells.
Inspiration by Fox Hollow Cottage
Seashell Shadow Box
All those seashells that you've collected deserve to be showcased and this shadow box is a unique way to display them. Using a vintage printer's tray or a similar box with small compartments, paint it and add each shell using mounting tape. Set your shadow box on your mantel or table for a one-of-a-kind beach-inspired decorative element.
Inspiration by Blesser House
Living rooms should be a reflection of the people living in them. If you dream of living on the water, making a beach-themed home doesn't have to break the bank. Try these creative and affordable coastal living room ideas in your own interior design.