Make your dining table glow like summer's bright, lazy days with these coastal table setting ideas for a casually elegant beach theme!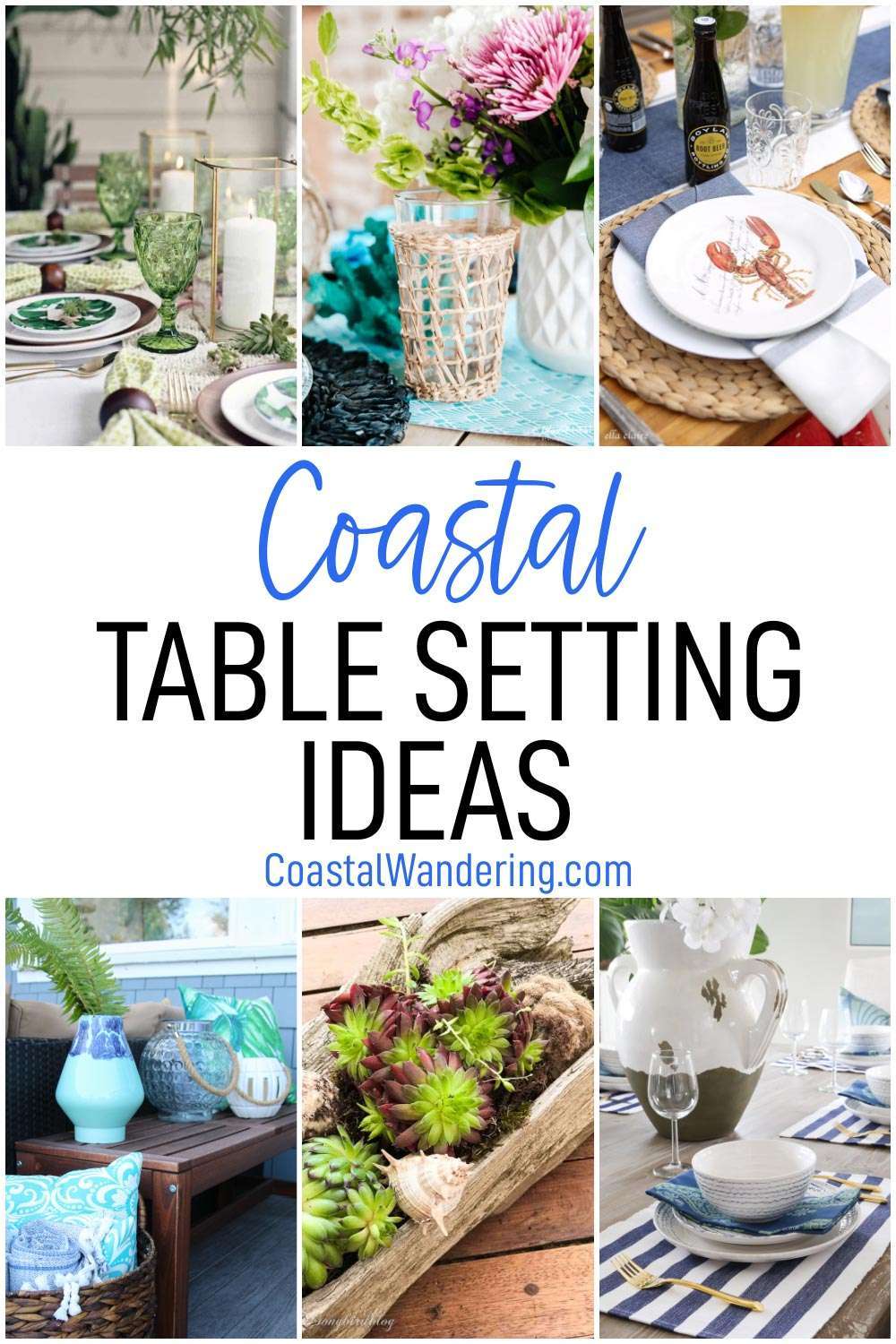 Decorating your home with a coastal theme is easy when you have amazing inspiration. This collection of coastal table setting ideas will help you visualize ways to incorporate a beach theme for your eating areas.
From kitchen to dining room and from front porch to patio, you'll find plenty of coastal tablescapes that range from casual to elegant.
All of these ideas are achievable with many items you probably already own. A few easy DIY projects are included for one-of-a-kind decor that you can personalize for your home. You can easily extend the design to a coastal living room if you have an open floor plan.
Beach Table Decor Ideas
The great thing about table decor is that it isn't permanent. You can change it whenever you find new inspiration, desire a different color scheme or want to decorate for a specific season. Use these coastal design ideas to create the perfect beach decor for your home.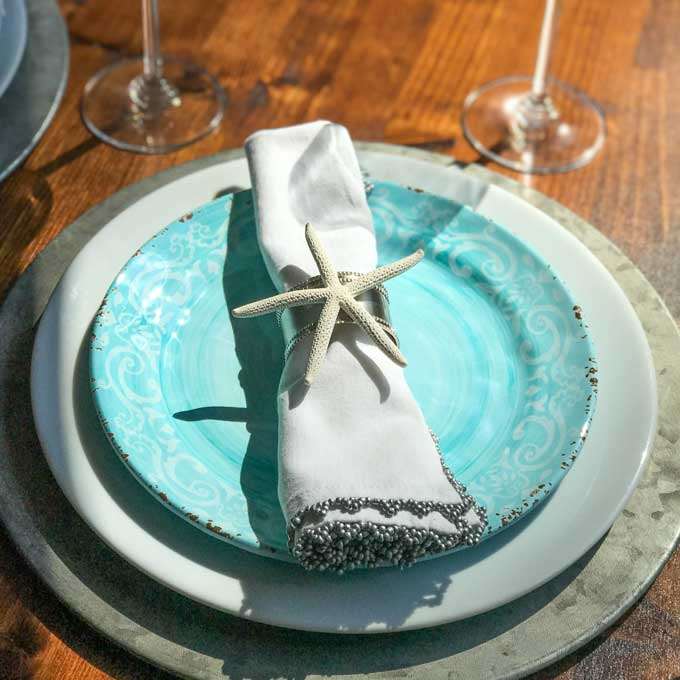 DIY Starfish Napkin Rings
Any coastal dining tablescape will benefit from these easy-to-make starfish napkin rings. For this DIY project, you'll need hot glue, napkin rings and starfish. Use napkin rings of your choice to coordinate with your desired look, such as rope, wood, galvanized or brass rings.
Play with neutrals, textures, blues and whites for your napkins, chargers, dishes and cutlery. You could also add corals and seashells to the table linens for beach-themed decorations.
Inspiration
Coastal Farmhouse Tablescape
Mingle your love of farmhouse and coastal style with this understated neutral tablescape. Perfect for a wood dining table, a textured jute runner and placemats add just the right rustic feel to this look. A dough bowl filled with netted baubles, rope monkey fists and starfish serve as a focal centerpiece.
Small pieces of driftwood create a threaded garland for another natural element. Sea glass bottles in shades of blue and green complete the coastal idea. Simple white dishes and napkins let the table decor take center stage with this calming look.
Inspiration by Lauren McBride Blog
Summer Coastal Tablescape
The fresh tones of white and aqua create a clean look to this farmhouse coastal-style table. Letting the beauty of the natural wood table show, place settings are defined by woven mats topped with white dinner plates that are accentuated with aqua salad plates. A white starfish placed on the center of each plate defines this idea as coastal.
Distressed white vases that hold white flowers and greenery act as the focal table runner, keeping the look fresh. It's an easy coastal look to achieve through minimal color and a well-placed starfish accessory to anchor the look.
Inspiration by Fox Hollow Cottage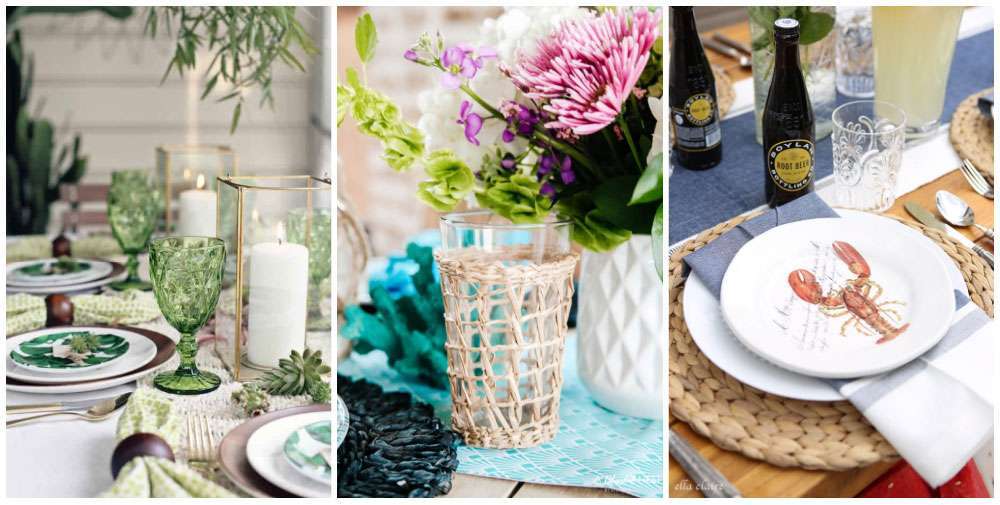 Tropical Green Tablescape
Embracing the tropics with this green, white, brown and beige color scheme sets the tone for a breezy dinner party. Place settings are a layered look of brown wooden chargers, white dinner plates and a printed tropical leaves motif on the top salad plates. Gold-tone forks, knives and spoons add a touch of elegance to the tropical scene.
Colorful succulents serve as the horizontal centerpiece flanked by two chunky white candles. Green stemware and green napkins complete the look. Carry the tropical look upwards by draping the dining chandelier with greenery.
Inspiration by Celebrations At Home
Navy and White Stripes For A Dining Room
Understated interior design with a nautical look is easy to achieve for your dining room with these simple ideas. Anchor the room with a navy blue and white striped rug and follow through with that pattern and color with the placemats. Use beige slipcovers for your dining chairs and add throw pillows in a complementary shade on the end chairs.
Keep it clean with a white floral arrangement for the centerpiece. Coordinate with white or subtly patterned blue and white dinnerware. This home decor idea is the perfect four season look for a coastal home.
Inspiration by Life On Virginia Street
Teal Blue Coastal Table Decor
Bright splashes of teal blue accentuate the coastal decor of this patio table. A light wood table receives a runner in a patterned teal shade and is set with netted glass mason jar vases that serve as candle holders. Netted drinkware also adds a seashore vibe to the table.
Black woven placemats are topped with aqua patterned melamine tableware to keep the color theme going. A floral centerpiece with a splash of pink, white and green offers a colorful relief that makes this outdoor dining table inviting.
Inspiration by A Blissful Nest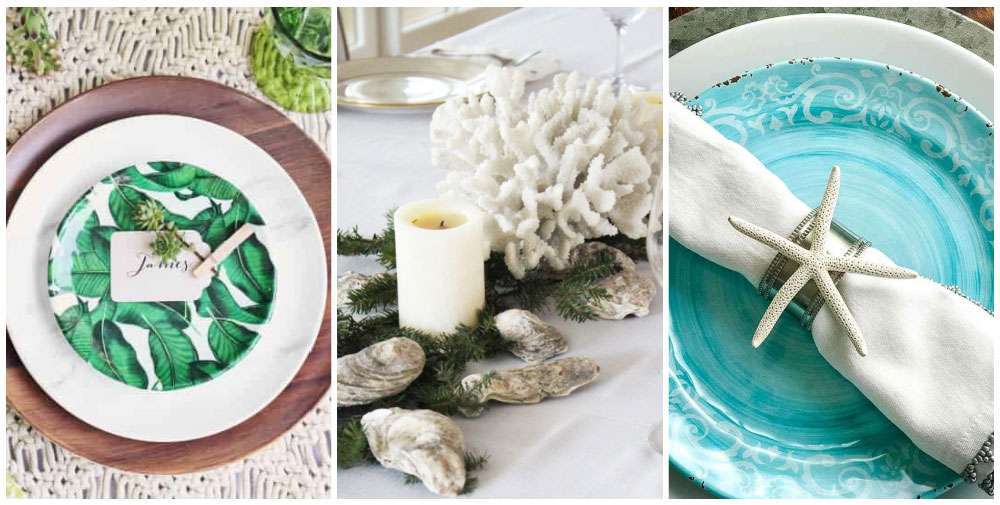 Casually Elegant Coastal Table
Outdoor dining is made easy and elegant using minimal touches to define your dining theme as decidedly coastal. Start with a blue and white striped table runner and matching striped napkins. Use a neutral woven placemat with white dishes accentuated by a salad plate with a seashore motif.
Here, a colorful orange lobster print on the plate gives the guests a hint at the theme of the party menu. Clear glassware keeps it elegant while glass vases hold unobtrusive white flowers to keep it natural. This table decor has an effortless coastal feel that's easy to replicate.
Inspiration by Ella Claire Inspired
DIY Oyster Shell Garland And Centerpiece
Use your collection of oyster shells to craft an easy and elegant garland that's perfect for a Christmas tablescape. Clean your shells before placing them between pine needle branches for a green and white nature-inspired look down the center of your table. A white tablecloth will help highlight the look.
A large white coral in the center of the greenery creates a dramatic focal point. Use white pillar candles on either side to complete the look. White dinnerware and clear glasses keep it holiday-ready with a minimal yet stunning coastal holiday design.
Inspiration by Simple Nature Decor
Driftwood DIY Sailboat Table Decor
These adorable DIY driftwood sailboats set the tone for a seashore table setting using blue and white as the color palette. White plates, patterned blue napkins and the mini rustic sailboats set at each place setting are a nod to coastal decorating.
To keep the blue and white theme going, use other serving pieces in white and blue to solidify the theme. Keep it casual or add name tags to the sailboats for a formal seating arrangement.
Inspiration by She Holds Dearly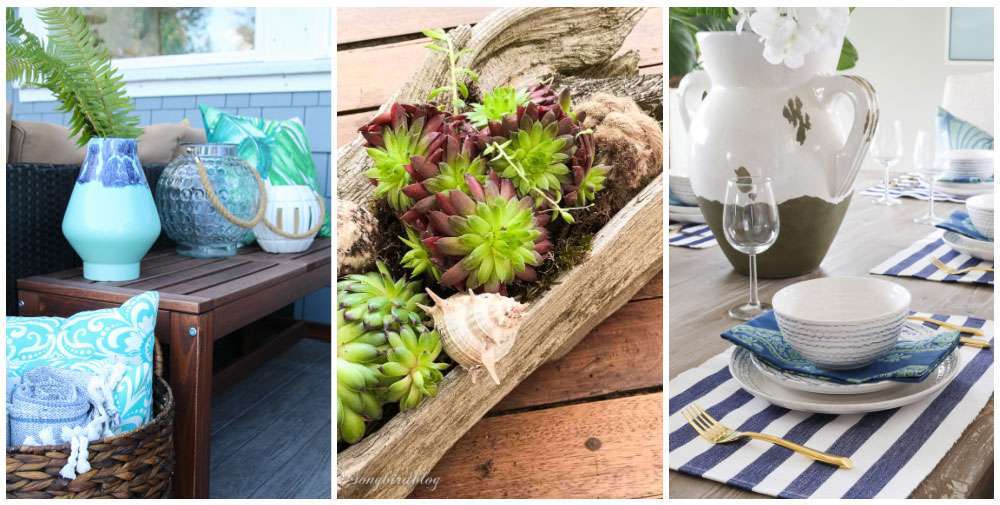 Succulent Centerpiece In Driftwood
Create a stunning centerpiece by planting succulents in a driftwood planter. It's an easy DIY project that can elevate your dining table, coffee table or console table into a beautiful coastal element that's seasonless.
Find your driftwood vessel and choose a variety of succulents for a visually interesting look. Tuck in a few collected sea shells here and there to complete this beachy look.
Inspiration by Songbird Blog
Beachy Outdoor Dining Area
Shades of blue give this outdoor dining area a beach feel that's relaxed and comfortable. It's the perfect space for entertaining as it contains a seating area for an outdoor sectional sofa. Sandy brown cushions host an array of blue patterned pillows to carry through with the color scheme. The seating area is anchored with a blue patterned jute rug.
Large rope and sisal baskets are available to hold blankets and pillows when not in use. The outdoor dining table echoes the colors with its patterned tablecloth and melamine blue plates and aqua plastic stemware. It's a beach-themed table and deck area that's perfect for summer entertaining.
Inspiration by The Happy Housie
Nautical Cape Cod Tablescape
Go for a bold nautical look with a navy blue tablecloth that holds an easy-to-make centerpiece using a clear cake stand that's scattered with seashells. Add a rustic sailboat accessory to it to complete the look.
Top white dinner plates with a salad plate sporting a colorful crab and lobster motif for a touch of bright orange to accentuate a seafood theme. Carry the coral color through with napkins accented with jute and starfish napkin rings. It's an easy beach look for indoor or outdoor dining.
Inspiration by Pizzazzerie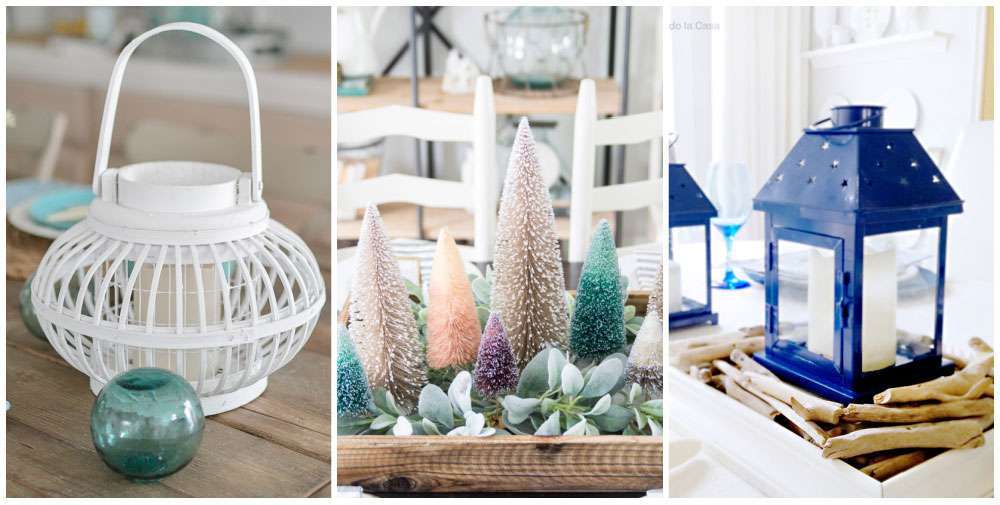 Holiday Coastal Inspired Centerpiece
To achieve this designer look for a holiday table that says coastal without being overly done, it's as easy as adding a centerpiece of small bottle brush trees in shades of the sea. Lay down a textured beige table runner in burlap or jute. Use a wood tray to contain the mini trees in tones of aqua, blue, coral, beige and white.
Surround them with eucalyptus and sea shells. Keep your place settings simple and add a blue and white striped napkin on white plates. This decor is simple, elegant and on point for the holidays.
Inspiration by House Of Hoff
Nautical Party Look
Using a deep blue, beige and white color scheme, you can set up a nautical table that's perfect for a themed party. The look starts with sisal rope chargers set with white dinnerware and topped with dark blue salad plates. They're accentuated with crisp white napkins wrapped with rope for a napkin holder with a wooden anchor ornament attached.
A creamy table runner covered with fish netting for a textured look is scattered with starfish. Wine bottles sprayed dark blue serve as vases for flowers. A galvanized bucket tray becomes a centerpiece that holds white candles and seashells.
Inspiration by Craft And Sparkle
Tropical Table Setting
Add a tropical flair to your table decor with this idea's bright colors that incorporate greens and reds with floral and beach accessories. Perfect for an outdoor experience, overlay a white tablecloth with matchstick placemats for a beach vibe. Coordinated floral napkins and tropical printed plates add a splash of color that's echoed with orange finger bowls and green stemware.
Large clear fish bowls serve as dual centerpieces, including white pillar candles surrounded by seashells. Bamboo flatware completes this tropical look.
Inspiration by Table Twenty One
Sea Urchin Succulent DIY Planters
When you need that extra little beach touch to create a coastal feel, use the adorable DIY succulents as an accessory for your dining table, coffee table, bathroom counters and more. This project uses sea urchin skeletons as planters which are available online or from your local craft store.
You also need a little potting soil, baby succulents and a glue gun to cover and close any holes in the sea urchin vessels. Just plant your miniature live plants and have fun placing them around your space.
Inspiration by A Cultivated Nest
Beach Inspired Artwork And Decor
This kitchen table area is a great look for a beach house that wants to keep it minimal and cozy while still being coastal. The weathered wood table uses netted sea glass vases, jars and lanterns to set the tone. Equally important is the artwork on the wall which is inspired by the ocean.
These paintings could even be a DIY project using a gradient idea with tones of the sea and shore. The chandelier gives a rustic vibe to the space that works well for casual beach house decor.
Inspiration by The Lilypad Cottage
Coffee Table Decor
A round rattan tray is the perfect natural element container to hold coastal items to adorn a coffee table. In the tray, place pieces of collected items such as driftwood, sea shells, sand dollars, coral and more.
It's always great to have beach-inspired books or magazines, as well. A vase with flowers, succulents or greenery will add a pretty touch of color to this coffee table defined space.
Inspiration by Simple Nature Decor
Blues And Shells Table Decor
Colorful yet elegant, this outdoor patio dining table was inspired by the sea with its watery blue glass baubles scattered down the length of the table. The blue and white striped tablecloth is the background for the large white hydrangeas in a muted blue large glass vase.
Sea shells and blue baubles create a runner down the center of the table. Natural element placemats hold white plates topped with patterned napkins in blue, red, ivory and green. It's a summery coastal look for an indoor or outdoor dining area.
Inspiration by Maison De Cinq
Coastal Family Kitchen Table
This open concept kitchen houses the family dining table which is decorated with a blue and white coastal theme. The light wood table features a blue and white patterned runner, white place settings, blue glass tumblers, and white metal chairs with blue and white striped seat cushions. It's a comfy coastal look for family gatherings.
Inspiration by The DIY Mommy
Blue And White Nautical Table
A dining table gets a burst of color with this nautical decor that uses bright blue to define the look. A white tablecloth is the backdrop for blue lanterns, white rope and driftwood pieces that run the length of the table.
The place settings consist of blue chargers topped with white plates and salad plates with a prominent anchor motif. Blue and white checked napkins complement the look. Blue glass goblets offer a pretty finish to this nautical look.
Inspiration by Remodelacasa
A beautiful and inviting tablescape is the perfect way to make your guests feel welcome. Use these tips to create the perfect table setting inspired by the beach.
Pin It For Later