Create a beach themed bedroom that's a relaxing retreat with these inspiring beach house style decorating ideas.
From coastal bedroom design to DIY beachy accessories, here are 20 unique and creative ideas to get you started.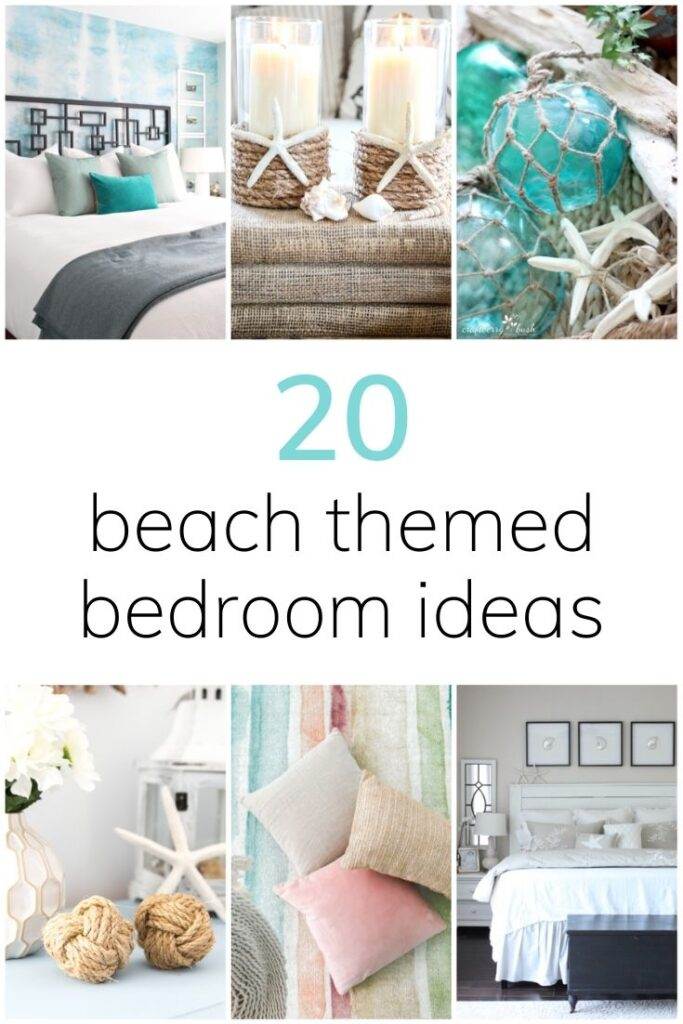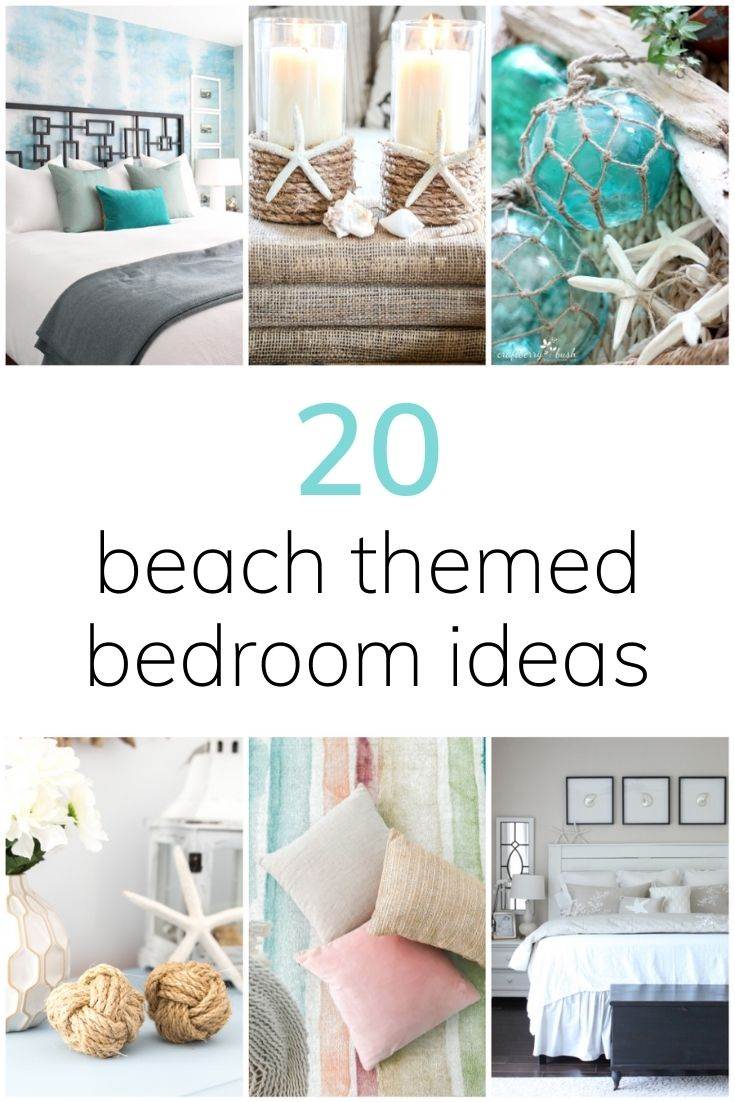 From wall decor to light fixtures and from accent pieces to up-cycled wooden furniture, you'll find many different ways to blend old and new for a coastal style that's unique to you. Natural materials, fabrics and colors can be combined with patterns and accents to create a personalized space that blends effortlessly with modern or vintage touches.
Let the beautiful shades of blue and green along with the neutrals of white and the color of sand provide a soothing atmosphere for your beach bedroom. Deeper shades or vibrant colors can provide a pop of color while still creating a calming feeling that mirrors the lull of ocean waves.
Coastal Bedroom Inspiration
Here, you'll find plenty of beach themed bedroom ideas including colors and textures that work well together to create just the right design for your bedroom retreat.
Beach Condo Bedroom and Bath
This bedroom makeover is proof that you don't need to spend a lot of time or money to create a calming coastal vibe. Or a light and airy bathroom.
A fresh coat of paint in a neutral off-white tone or a light and subtle grey shade can make a room seem larger and more airy. A switch of bed linens, pillow and lamp with an understated nautical theme will bring this room to life. Even a bit of whitewashing of paint on heavier bedroom furniture can make a world of difference.
Design by The Lilypad Cottage
Tie Dye Mural Bedroom Retreat
Two major elements turn this bedroom into a beach retreat. First, a beachy tie-dye mural in soothing watercolor shades of blue acts as an accent wall. The same effect could be obtained by a crafty artistic painter. The remaining walls are painted a corresponding solid light shade of blue.
The second element that ties the interior design together is the large area rug that extends under the bed as well as the walking area. It mimics the blue colors of the mural for a cohesive look. Neutral bedding with throw pillows in different shades of blue create a serene atmosphere in this beach-inspired room.
Design by Dans Le Lakehouse
Natural And Neutral Bedroom Makeover
For an easy elegance and soothing vibe, this bedroom makeover combines neutral tones with off-white and a touch of black as an accent color. This room is proof that all you need for a beach theme are a few well-placed little touches of coastal decor.
Note the three nautilus art shadow boxes above the bed, the embroidered coral and starfish throw pillows and coral-inspired duvet cover . It's simple and on-point for a seaside retreat.
Design by Starfish Cottage Blog
Beach Vibe Bedroom Makeover
Turning a girl's previously pink theme into a beach-inspired oasis for a teen's bedroom included white washing the accent wooden wall and painting the other walls a bright sea shade of blue. New wood floors were also installed. A watercolor and sea-striped rug adds a splash of vibrancy and whimsy to the room.
White furniture offers relief from the bright wall color along with white and blue understated bedding. A rope hammock hangs from the ceiling for important downtime and relaxation that every teen needs in their own special space.
Design by Duke Manor Farm
Modern Coastal Bedroom
Dark colors can provide a sense of calm, and a great color scheme, as shown in this DIY makeover. Deep teal shiplap walls are a bold way to anchor this coastal bedroom theme.
Natural flooring is covered by a large colorful area rug that's tempered by the cool white and natural tones of the bed frame and bedding. The hanging hammock egg chair tucked into a corner offers a relaxing place to read and relax in this beach style bedroom.
Design by The DIY Mommy
Beachy Boho Bedroom
Touches of white, black and green give this room a casual feel that's both boho and beachy. This economical makeover features large banana leaf white and green curtains for a splash of color that frames the bamboo roman window shades.
Using thrift finds and repurposing current furniture kept costs low. White quilt bedding is accented by small patterned black and white pillows for a neutral look. A fringed throw was repurposed and hung on the wall giving it a distinct boho vibe. A neutral and black throw rug anchors the design scheme making this an inviting room for guests, teens or young adults.
Design byThe Homespun Styling Co.
Coastal Inspired Bedroom On A Budget
This bedroom makeover is all about repurposing items already in your own home. Decorated in calming tones of gray and navy blue, the look has an understated coastal theme. Here, the iron bed was from a guest bedroom, the artwork from another room and the remaining furniture repurposed from around the home.
The rug, bedding and wall paint were the only purchases needed to create this relaxing beach theme bedroom.
Design by Duke Manor Farm
Beach House Master Bedroom
Here's proof that you can turn a small room into a homey retreat with a fresh coat of white paint on the walls and trim to open up the room. Bamboo roman shades adorn the windows with white curtains to soften the look.
A pine grooved headboard was made and painted white to define the area and add beach charm. White and navy plaid bedding and coastal artwork drive home the theme. A jute rug anchors the look for this relaxing beach decor.
Design by The Homespun Styling Co.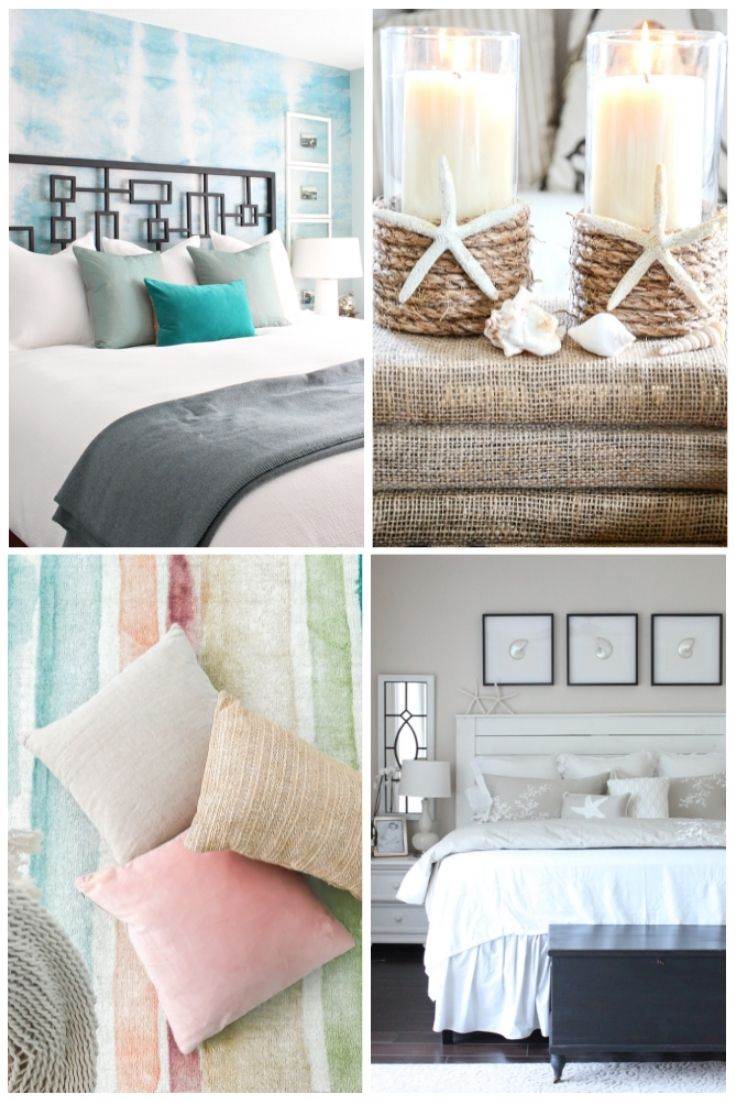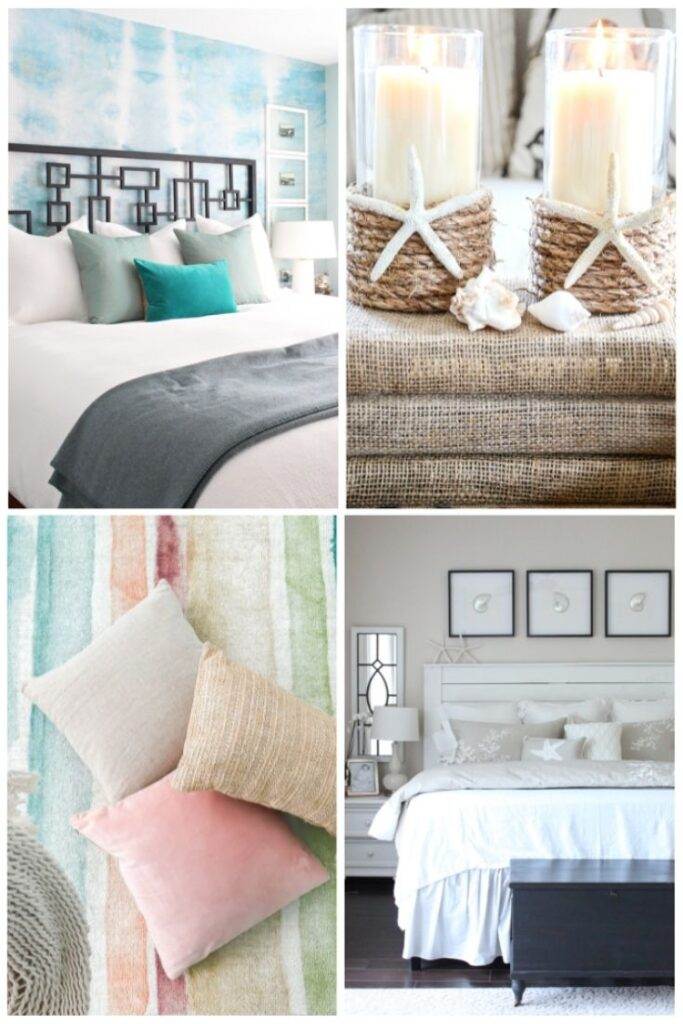 DIY Beach Themed Accessories
These DIY projects put the perfect finishing touch on your coastal bedroom design.
How To Make A Gorgeous Sea Glass Lamp
Get that quintessential sea glass color using this economical way to up-cycle glass items, including lamps. Using spray paint, you can apply layers of paint to achieve just the right shade to complement your coastal bedroom decor.
Use it on clear glass lamp bases, bottles, glasses, vases and more. A little goes a long way and you'll love the dreamy and tranquil vibe that this color will inspire.
Project by Lovely Etc.
Fishnet Glass Buoys
The easiest way to bring a coastal feel into a room is to add elements of the sea. In this case, adding decorative fishnet to round containers or orbs is an easy and quick way to add a beachy feel.
Learn how to easily dye the glass containers and tie the fishnet around them. Display these gorgeous orbs on a tray or tucked into a bookcase for maximum visual appeal.
Project by Craftberry Bush
DIY Waves Painting
How perfect would this beach waves artwork be in your bedroom to inspire peace and tranquility? Here, the artist is creating a triptych, but even just one panel would be a lovely piece to display in your retreat.
Using a large canvas, paint brushes and acrylic paints, you can relax as you swoosh on the white splashes and bright colors and layer them until you achieve the desired effect.
Project by Dans Le Lakehouse
Nautical Ball Monkey Fists
Using sisal rope you can easily make decorative nautical balls to place on dressers or shelving to add a coastal touch to your bedroom.
Also known as monkey fists, these neutral colored balls can be made large or small, depending on where and how you intend to use them. You can also use thick or thin rope to vary the size of the knot balls. These are simple, fun, and a great way to add a nautical touch.
Project by Sustain My Craft Habit
Colorful Oyster Shell Mirror
Whether you choose to paint the tips of oyster shells with a teal, green or blue tint, or leave them natural, this one-of-a-kind mirror will certainly add a statement on your bedroom wall.
Learn how to make the mirror sturdy enough for the shells and then get creative with attaching them with hot glue. It's a gorgeous way to bring the seashore inside.
Project by At Charlotte's House
Coastal Basket Makeover
It takes just minutes to create this coastal basket. Wrap rope around an inexpensive wire basket and secure with hot glue. Use neutral and white rope colors for visual interest. Glue a seashell or starfish to the front.
You can even add a rope handle as a final touch. Use it as a decorative room element and fill it with seashells and pebbles or use it as a magazine holder. (Try this with wicker baskets too!)
Project by Across The Blvd
DIY Watercolor Wall Art
An easy and fun way to have one-of-a-kind artwork in your bedroom is to use a beach or coastal photo from your personal collection. The fun part here is to turn it into a watercolor painting that you can frame for your wall or bedside table.
The online app used to create those paintings is discussed here. Learn how to frame these inexpensively and how to use a rope-look and dock cleat for hanging the artwork.
Project by The Lilypad Cottage
Rope Wrapped Candleholder
This simple yet highly effective rope craft will instantly transform a glass candle holder or even a vase with just a few natural elements. You'll wrap sisal or any natural looking rope around the lower third of the glass cylinder and secure with hot glue.
Use a decorative element from the sea, such as a starfish or shell, and hot glue it in the middle. Add a candle or even fill the cylinder with seashells or pebbles. Consider displaying these sea-inspired candleholders on a burlap runner on your dresser, a shelf, or nightstand.
Project by Stone Gable Blog
How To Recover a Lampshade With Fabric
Sometimes it's not the lamp that's the problem, but the shade. If you have lamps that you absolutely love, consider recovering the shade with a fabric that speaks to the theme of your beach-inspired bedroom.
Choose a patterned fabric that picks up the shades and design of the room. You'll measure, cut, and use fabric glue to attach. You can add rope trim, seashell trim, or other coastal-inspired elements for embellishment if desired.
Project by Sand Dollar Lane
Seashell Sand Dollar Art
Whether displaying on a nightstand or grouping as wall art, this DIY sand dollar craft is a great idea to add a touch of the ocean to your beach-themed room.
Recycle an old picture frame, which you can paint if needed, and add burlap to the cardboard backing and attach it with hot glue. To the burlap, attach your sand dollars with hot glue in whatever arrangement you like. It's instant art that's pretty, beachy and soothing.
Project by House By Hoff
DIY Sisal Rug
Create the perfectly-sized rope rug for your bedroom retreat with bolts of sisal and a glue gun. Here, a round rug is made with a contrasting border color. You can get creative with the designs and sizes. Use a non-slip rug liner as backing and attach it with hot glue.
Project by The Honeycomb Home
DIY Beach Sunburst Mirror
Using 1" thick wood scraps, stain them with tranquil tones of blue, grey and white to create a sunburst wall mirror. This mirror is a unique way to add a coastal statement to your beachy bedroom. The wood planks surround a round mirror with an attached braided rope for a themed detail.
It's a crafty project, so if you love working with tools, this is a fun piece of art that's both impressive and functional. Hang it across from a window to reflect the natural light.
Project by Lovely Etc
More Coastal Decor Ideas