Sunshine, sunlight and sunny days get us thinking about inspirational quotes. Here are 285 memorable quotes about sunshine to inspire you.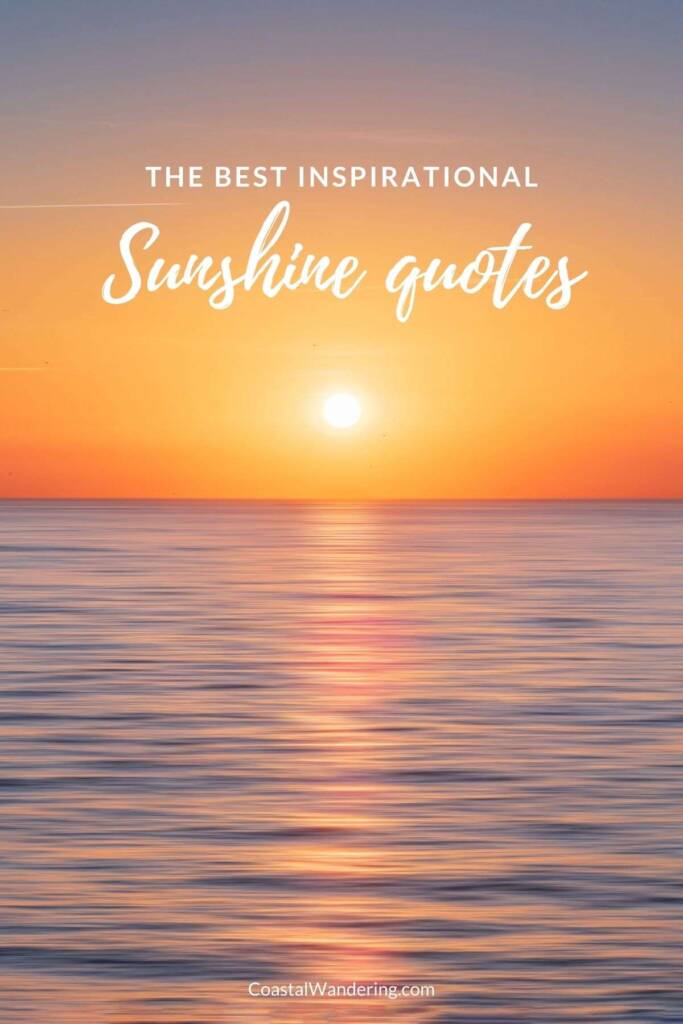 There's something about sunlight that feels motivational. The natural golden light wakes you up mentally and physically, sparks greater productivity, and helps you feel as if everything's going to be okay after all.
Whether you're going through a rough patch and need a reminder that, like the sun cresting a hill, there's always hope on the horizon. Or maybe you need a boost to get your day started or you're just in the mood for some sunny humor.
Jump to:
Regardless of the situation, we've got you covered! To help brighten your day, we've rounded up the best sunshine quotes - including short quotes and perfect quotes for Instagram.
Read on for our favorite sunny quotes, sunlight quotes, rays of sunshine quotes and more. All this to help you get in a good mood and find the perfect caption for your sun-kissed selfie.
Morning Sun Quotes
If you need a positive jumpstart to your day, try one of these good morning sunshine quotes.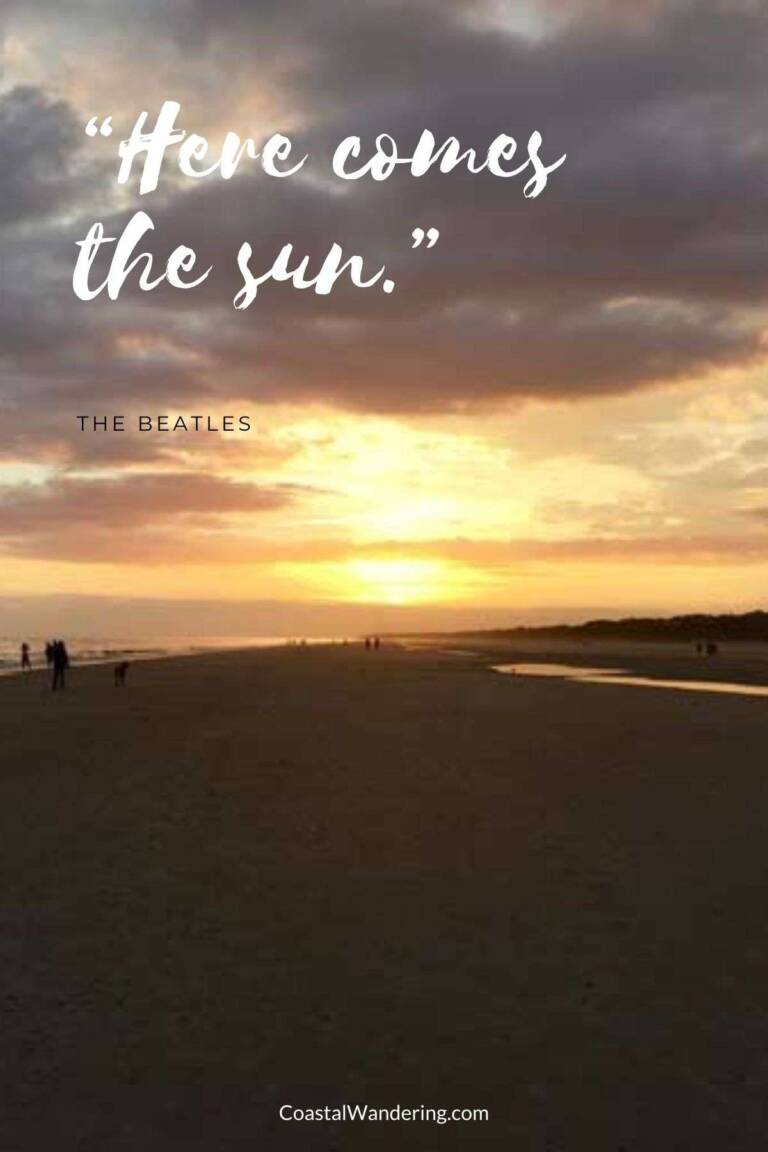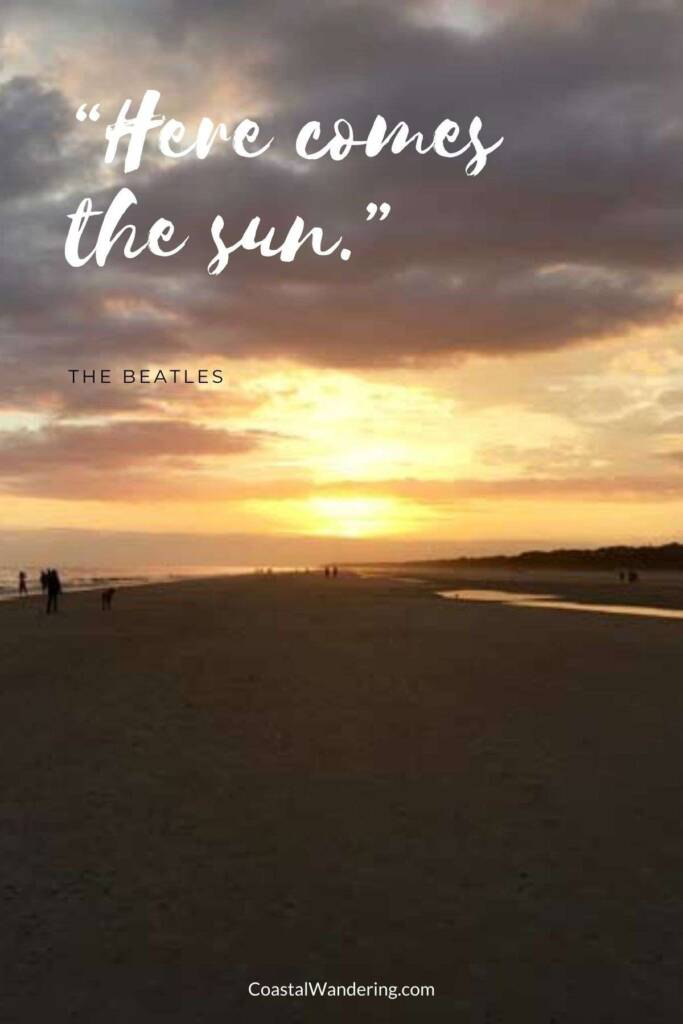 "May sunshine surround you each new day. And may smiles and love never be far away." - Catherine Pulsifier
"As the Sun peaks over the mountain, it's a new day on our miraculous planet. Reason alone for celebration." - Oprah Winfrey
"Make hay while the sun shines." - Miguel de Cervantes
"No sun outlasts its sunset, but it will rise again and bring the dawn." - Maya Angelou
"How glorious a greeting the Sun gives the mountains!" - John Muir
"The Sun himself is weak when he first rises and gathers strength and courage as the day gets on." - Charles Dickens
"Your smile is like a beautiful sunrise, your kindness a warm blanket." - Unknown
"But once in a while, you pick the right thing, the exact best thing. Every day, the moment you open your eyes and pull off your blankets, that's what you hope for. The sunshine on your face, warm enough to make your heart sing." - Sarah Ockler
"Here comes the sun." - The Beatles
"Sunshine is a welcome thing. It brings a lot of brightness." - Jimmie Davis
"Opportunities are like sunrises. If you wait too long, you miss them." - William Arthur Ward
"Sending you a day full of sunshine, a heaven filled with rainbows, and a pocket full of dreams. May the future ahead of you be as wonderful as you are." - Judith Wibberley
"Even the darkest night will end and the sun will rise." - Victor Hugo
"May the light of the morning sun shine upon you. May the deepest and sweetest love always find you." - Debasish Mridha
"The rising sun each morning isn't half as bright as your smile." - Unknown
"The light that shines from you is more vital to me than the sunlight in the morning. Rise and shine, my beautiful queen." - Unknown
"May the sunshine of comfort shine through the gloom of despair." - Irish saying
"The sunrise, of course, doesn't care if we watch it or not. It will keep on being beautiful, even if no one bothers to look at it." - Gene Amole
"To say goodbye, is to die a little. To say good morning, is a hope for a new sunshine in a cloudy winter." - Nabil Toussi
"When the sun came up… I couldn't tell where heaven stopped and the Earth began." - Tom Hanks
"Good morning, sunshine. You're the reason I wake up each morning." - Unknown
"Good morning is not just a word, it's an action and a belief to live the entire day well. Morning is the time when you set the tone for the rest of the day. Set it right!" - Fain Blake
Inspirational Sunshine Quotes
Some days are just plain tough. Whether the sun is actually behind the clouds, or things feel hopeless in spite of a beautiful day, the absence of golden rays feels heavy. There's a reason that "night" and "darkness" are metaphors for trying times. We all need that dose of vitamin D to keep us happy and moving forward.
If you're feeling down and need a pep in your step, these quotes will get you bouncing back to a state of optimism before you know it. Find the one that will help get you motivated!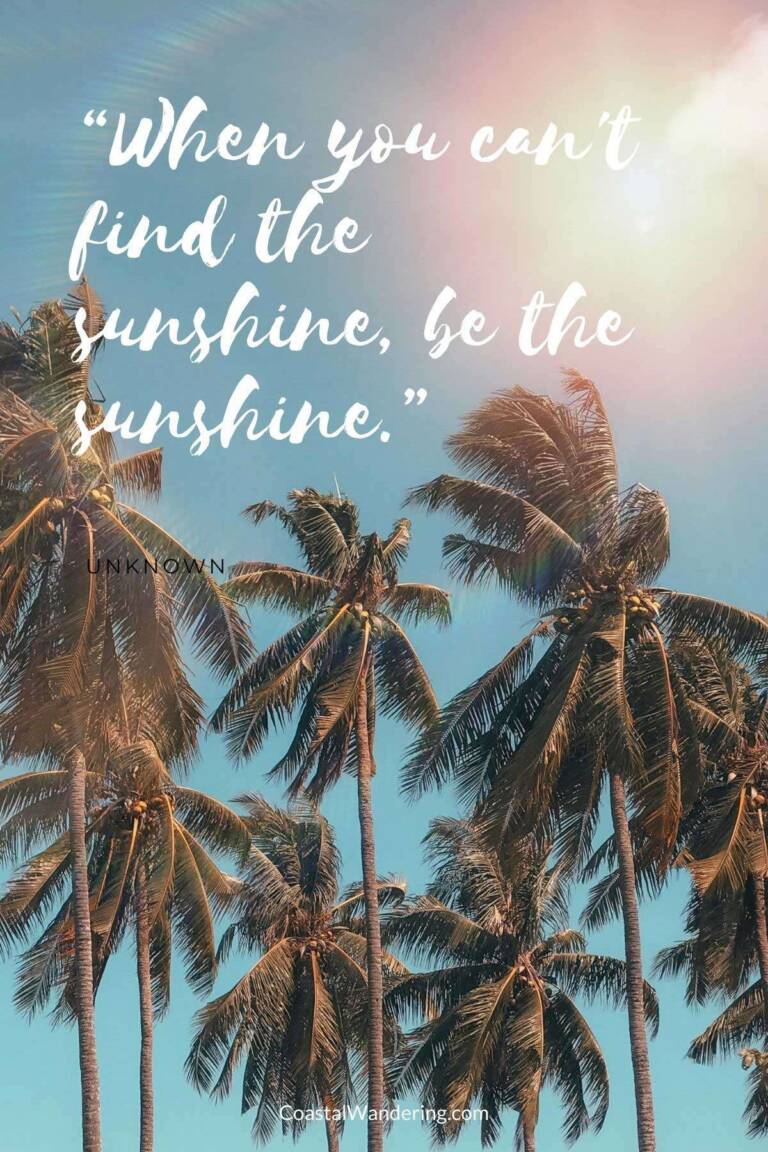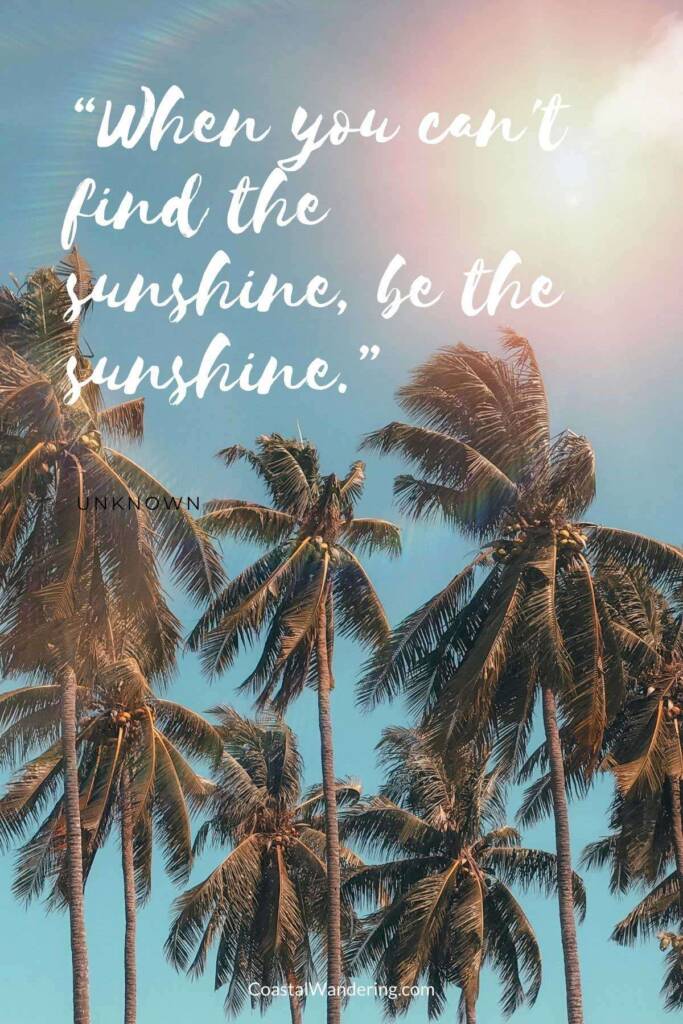 "Look at the sunny side of everything." - Christian D. Larson
'When the sun is shining I can do anything; no mountain is too high, no trouble too difficult to overcome." - Wilma Rudolph
"Staring up at the sky on a bright, sunny day makes me dream and gives me ideas." - Marc Jacobs
"Keep your face always toward the sunshine—and shadows will fall behind you." - Walt Whitman
"Never give up. Today is hard, tomorrow will be worse, but the day after tomorrow will be sunshine." - Jack Ma
"If you dance like raindrops, there will always be sunshine." - Curtis Tyrone Jones
"A sunny disposition is worth more than fortune. Young people should know that it can be cultivated; that the mind like the body can be moved from the shade into sunshine." - Andrew Carnegie
"To be happy, you must be your own sunshine." - C.E. Jerningham
"Far away there in the sunshine are my highest aspirations. I may not reach them, but I can look up and see their beauty, believe in them, and try to follow where they lead." - Louisa May Alcott
"The sun still shines, even when it's hiding." - Winnie the Pooh
"It never hurts to keep looking for sunshine." - Eeyore
"Keep your face to the sun and you will never see the shadows." - Helen Keller
"If you spend your whole life waiting for the storm, you'll never enjoy the sunshine." - Morris West
"If you want to see the sunshine, you have to weather the storm." - Frank Lane
"Don't let the shadows of yesterday spoil the sunshine of tomorrow. Live for today." - Nandina Morris
"Some days you have to create your own sunshine." - Sam Sundquist
"A sunny disposition is worth more than a fortune." - Andrew Carnegie
"Wherever you go, no matter what the weather, always bring your own sunshine." - Anthony J. D'Angelo
"A cloudy day is no match for a sunny disposition." - William Arthur Ward
"There is nothing more beautiful than a rainbow, but it takes both rain and sunshine to make a rainbow." - Unknown
"Change, like sunshine, can be a friend or a foe, a blessing or a curse, a dawn or a dusk." - William Arthur Ward
"Keep grindin' boy, your life can change in one year, And even when it's dark out, the sun is shining somewhere." - J. Cole
"Don't confuse your path with your destination, just because it's stormy now, doesn't mean you aren't headed for sunshine." - Unknown
"Think of the day alive with sunshine, not the dismal days of rain." - Robert E. Farley
"When you can't find the sunshine, be the sunshine." - Unknown
"When you do something beautiful and nobody noticed, do not be sad. For the sun, every morning is a beautiful spectacle and yet most of the audience still sleeps." - John Lennon
"If you want to shine like a sun, first burn like a sun." - A.P.J. Abdul Kalam
"Some people are making such thorough preparation for rainy days that they aren't enjoying today's sunshine." - William Feather
"None appreciates rainbow and sunshine better than he on whose parade it has rained." - Vincent Okay Nwachukwu
"He that will enjoy the brightness of sunshine, must quit the coolness of the shade." -Samuel Johnson
Friendship Sun Quotes
Some people have a certain presence about them that instantly perks you up. No matter what your attitude, being around them can lift your spirits and brighten your outlook. Hopefully, that je ne sais quoi is contagious, especially on a gloomy day.
Here are some quotes about the sun to help you value that person in your life - or be one yourself to someone else you care about.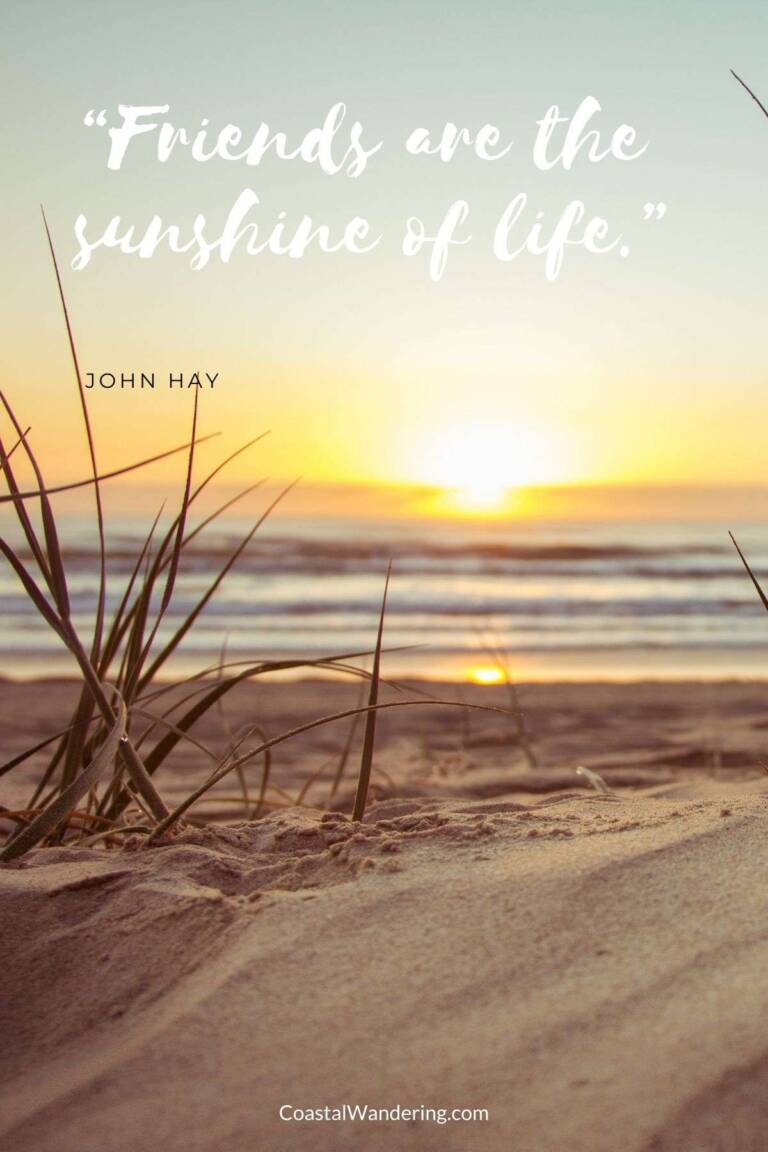 "Friends are the sunshine of life." - John Hay
"Today, give a stranger one of your smiles. It might be the only sunshine he sees all day." -H. Jackson Brown, Jr.
"What sunshine is to flowers, smiles are to humanity." - Joseph Addison
"But friendship is precious, not only in the shade, but in the sunshine of life, and thanks to a benevolent arrangement the greater part of life is sunshine." - Thomas Jefferson
"We never grow without the sunshine of warmth, positive thoughts, guidance from those who care and help us to meet challenges head on, from the rain that must fall so we know how to deal with adversity and failure, and from learning to give back just as much as we receive." - Byron Pulsifier
"False friends are like our shadow, keeping close to us while we walk in the sunshine, but leaving us the instant we cross into the shade." - John Christian Bovee
"Those who bring sunshine into the lives of others cannot keep it from themselves." - James M. Barrie
"Not until I felt your sunshine, did I realize that I had been in the shade." - Suzy Kassem
"I believe in Liberty for all men: the space to stretch their arms and their souls, the right to breathe and the right to vote, the freedom to choose their friends, enjoy the sunshine, and ride on the railroads, uncursed by color; thinking, dreaming, working as they will in a kingdom of beauty and love." - W. E. B. Du Bois
"We have been friends together in sunshine and in shade." - Caroline Norton
"Kindness is the sunshine in which virtue grows." - Robert Green Ingersoll
"A compliment is verbal sunshine." - Robert Orben
"Some people are so much sunshine to the square inch." - Walt Whitman
"There is inestimable blessing in a cheerful spirit. When the soul throws its windows wide open, letting in the sunshine and presenting to all who see it the evidence of its gladness, it is not only happy, but it has an unspeakable power of doing good." - Orison Swett Marden
"The friend in my adversity I shall always cherish most. I can better trust those who helped to relieve the gloom of my dark hours than those who are so ready to enjoy with me the sunshine of my prosperity." - Ulysses S. Grant
"Thoughtfulness is to friendship as sunshine is to a garden." - Unknown
"A smile is the same as sunshine; it banishes winter from the human countenance." - Victor Hugo
Love Sunshine Quotes
Sometimes we are fortunate enough to experience true love. Whether a stranger who captures our emotions, or a friendship that took another step forward, the blissful feeling of being in love can give us a burst of energy and positivity that lasts for a long time - or as long as the love is fresh.
Even love between family members or platonic love is a powerful emotion. It transports us from the mundane into a realm of the soul, with deeper meaning cast onto the world around us.
Below are some favorite quotes about love to share with your special person. Or as we like to call them: you are my sunshine quotes.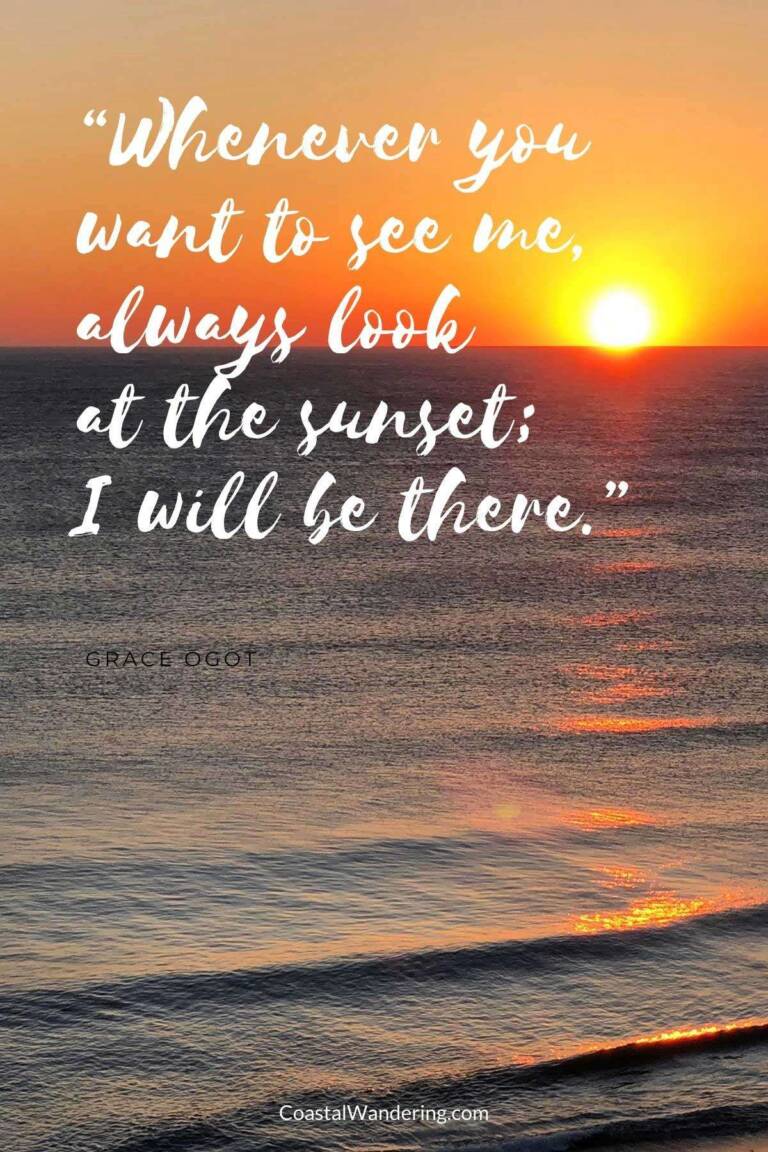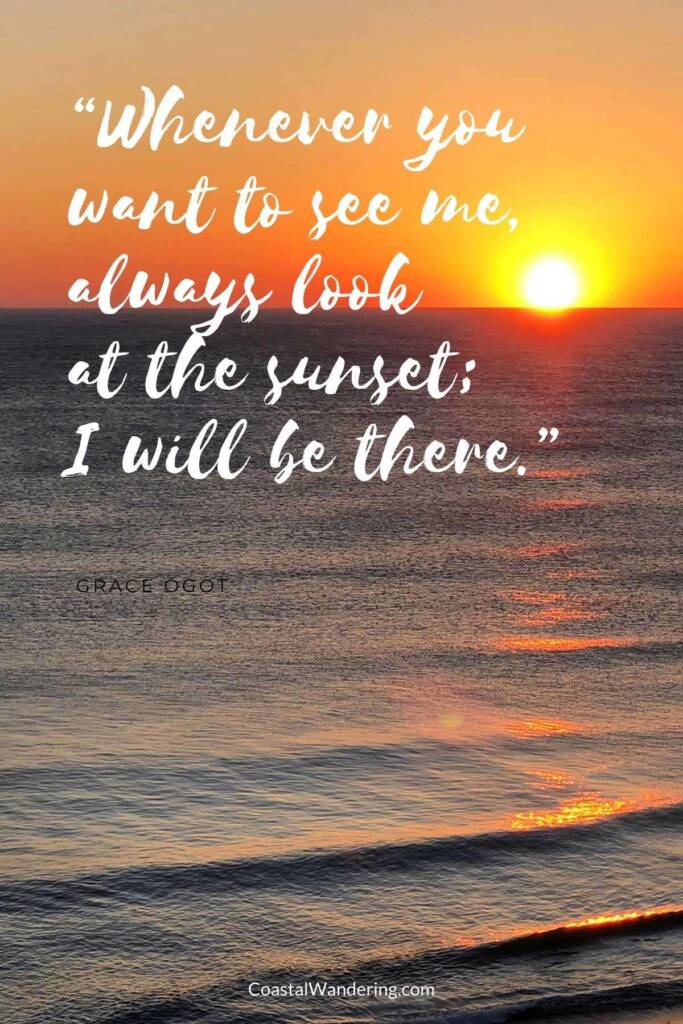 "May sunshine surround you each new day. And may smiles and love never be far away." - Catherine Pulsifer
"A flower cannot blossom without sunshine, and man cannot live without love." - Max Muller
"To love and be loved is to feel the sun from both sides." - David Viscott
"Love, whether newly born or aroused from a deathlike slumber, must always create sunshine, filling the heart so full of radiance, this it overflows upon the outward world." - Nathaniel Hawthorne
"Whenever you want to see me, always look at the sunset; I will be there." - Grace Ogot
"Your love shines in my heart as the sun that shines upon the earth." - Eleanor di Guillo
"Country songs tell you that life and love have a fickle sense of humor and drama, yet life is neutral; it provides us with sunshine and rain." - Linda Drevenstedt
"The water shines only by the sun. And it is you who are my sun." - Charles de Leusse
"Love comforteth like sunshine after rain." - William Shakespeare
"Keep love in your heart. A life without it is like a sunless garden when the flowers are dead." - Oscar Wilde
"When I am with you my world is so bright, I feel like nothing more is due, you bring sunshine and light." - Kate Summers
"My night has become a sunny dawn because of you." - Ibn Abbad
"Wake up my love. Flowers, smiles and laughter are waiting for you." - Unknown
"I swear I couldn't love you more than I do right now, and yet I know I will tomorrow." - Leo Christopher
"Love and work are to people what water and sunshine are to plants." - Jonathan Haidt
Happy Sunshine Quotes
You don't have to be a nature lover to appreciate the great outdoors. Who doesn't find optimism and happiness on a sunny day? These quotes to help you drink in everything nature has to offer and some more sunny day quotes.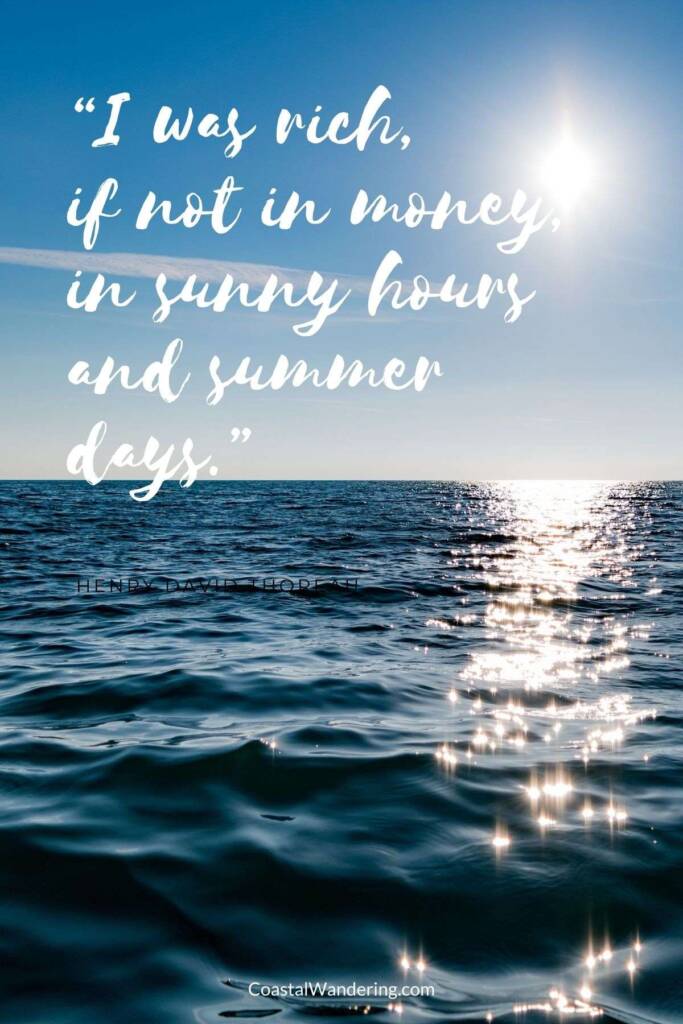 "Think about sunshine – what daily radiance is showered upon you through it, what immense golden goodness. Every single day, over so much of the planet." - John Eldredge
"Live in the sunshine, swim the sea, drink the wild air." - Ralph Waldo Emerson
"The Sun, with all those planets revolving around it and dependent on it, can still ripen a bunch of grapes as if it had nothing else in the universe to do." - Galileo Galilei
"I was rich, if not in money, in sunny hours and summer days." - Henry David Thoreau
"The sun is the giver of life." - Ramses II
"The rich sunset makes the most sterile landscape enchanting." - Eliza Cook
"I cannot endure to waste anything so precious as autumnal sunshine by staying in the house." - Nathaniel Hawthorne
"That the sky is brighter than the earth means little unless the earth itself is appreciated and enjoyed. Its beauty loved gives the right to aspire to the radiance of the sunrise and sunset." - Helen Keller
"The Sun, the hearth of affection and life, pours burning love on the delighted earth." - Arthur Rimbaud
"Any patch of sunlight in a wood will show you something about the sun which you could never get from reading books on astronomy. These pure and spontaneous pleasures are 'patches of Godlight' in the woods of our experience." - C.S. Lewis
"Learn from flowers - always angle towards the Sun." - Maureen Joyce Connolly
"There's no peace like the peace of an inner courtyard on a sunny day." - Yann Martel
"The Sun, center, and sire of light, the keystone of the world-built arch of heaven." - Philip James Bailey
"It was June, and the world smelled of roses. The sunshine was like powdered gold over the grassy hillside." - Maud Hart Lovelace
"Sunshine is delicious, rain is refreshing, wind braces us up, snow is exhilarating; there is really no such thing as bad weather, only different kinds of good weather." - John Ruskin
"Sunlight cannot bleach the snow, Nor time unmake what poets know." - Ralph Waldo Emerson
"Thou art the Sun of other days. They shine by giving back the rays." - John Keble
"She smelled of sun and daisies with a hint of river water." - Kate Daisy
"You don't waste October sunshine. Soon the old autumn sun would bed down in cloud blankets and there would be weeks of gray rain before it finally decided to snow." - Katherine Arden
"And so with the sunshine and the great bursts of leaves growing on the trees, just as things grow in fast movies, I had that familiar conviction that life was beginning over again with the summer." - F. Scott Fitzgerald
"The sun does not shine for a few trees and flowers, but the wide world's joy." - Henry Ward Beecher
"It's always sunny above the clouds. Always. Every day on earth - every day I have ever had - was secretly sunny, after all." - Caitlin Moran
"A light wind swept over the corn, and all nature laughed in the sunshine." - Anne Bronte
"If you truly get in touch with a piece of carrot, you get in touch with the soil, the rain, the sunshine. You get in touch with Mother Earth and eating in such a way, you feel in touch with true life, your roots, and that is meditation. If we chew every morsel of our food in that way, we become grateful, and when you are grateful, you are happy." - Thich Nhat Hanh
"Some old-fashioned things like fresh air and sunshine are hard to beat." - Laura Ingalls Wilder
"It's so easy to be grateful for a flower, for a bug, for a beautiful day." - Louie Schwartzberg
"Flowers always make people better, happier, and more helpful; they are sunshine, food, and medicine for the soul." - Luther Burbank
"No matter how long is a rainy day, it cannot beat the sun forever." - Alok Jagawat
"The flowers inside your body are more beautiful than the flowers outside – full with fragrance and love. They are the sunshine and the medicine of your soul." - Amit Ray
"Faith is the virtue of the storm, just as happiness is the virtue of sunshine." -Ruth Fulton Benedict
"The sun does not shine for a few trees and flowers, but for the wide world's joy." - Henry Ward Beecher
"O, Sunshine! The most precious gold the be found on earth." - Roman Payne
"A flower cannot blossom without sunshine, and man cannot live without love." - Max Muller
"She was like the sun, She knew her place in the world - She would shine again regardless of all the storms and changeable weather." - Nikki Rowe
"Just living is not enough... One must have sunshine, freedom, and a little flower." - Hans Christian Andersen
'Health and good humor are to the human body like sunshine to vegetation." - Jean B. Massillon
"It is eternity now. I am in the midst of it. It is about me and the sunshine." - Richard Jeffries
"Anyone's life truly lived consists of work, sunshine, exercise, soap, plenty of fresh air, and a happy, contented spirit." - Lillie Langtry
"I always assumed everybody shared my love for overcast skies. It came as a shock to find out that some people prefer sunshine." - Glenn Gould
"I've found that there is always some beauty left — in nature, sunshine, freedom, in yourself; these can all help you." - Anne Frank
Funny Sun Quotes
"Laughter is a sunbeam of the soul."
So said Thomas Mann, and he was right! When we laugh, it sheds light all around us and buoys those in our presence. Nothing cheers up a gray mood like a joke.
So go ahead, keep an eye out for things that amuse you - you may just make someone else's day in the process. Below are our favorite sun quotes about laughter and humor.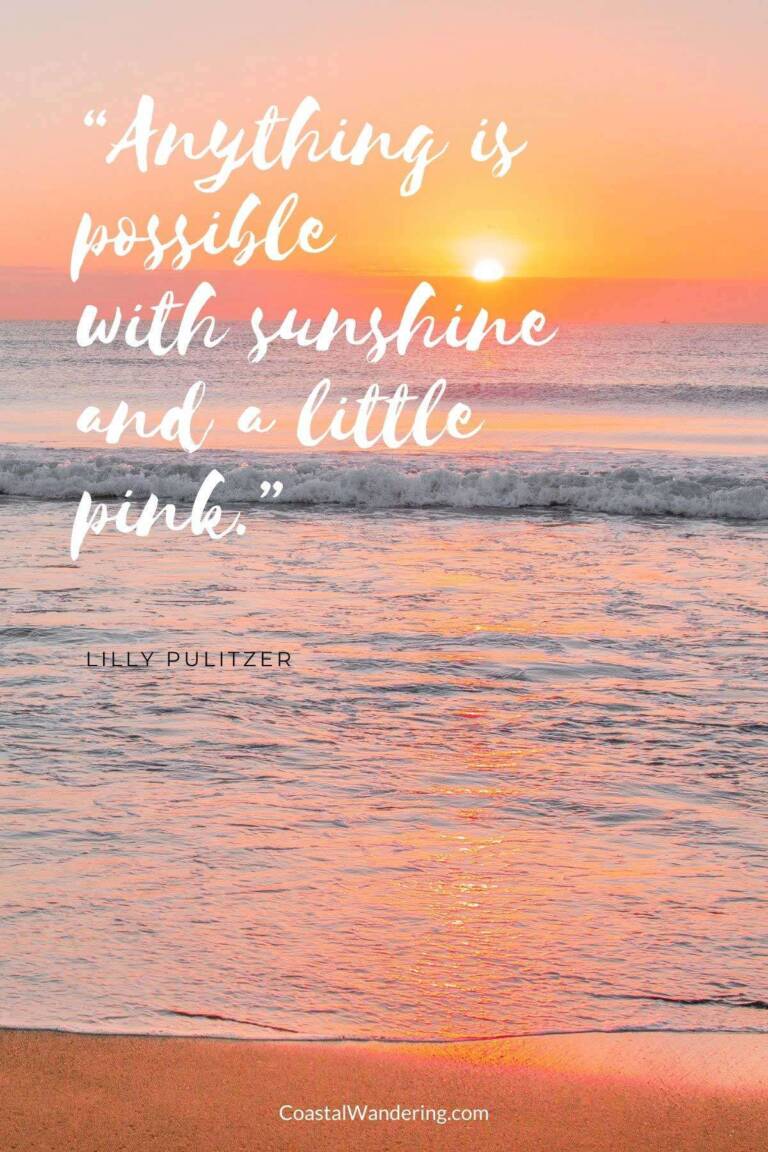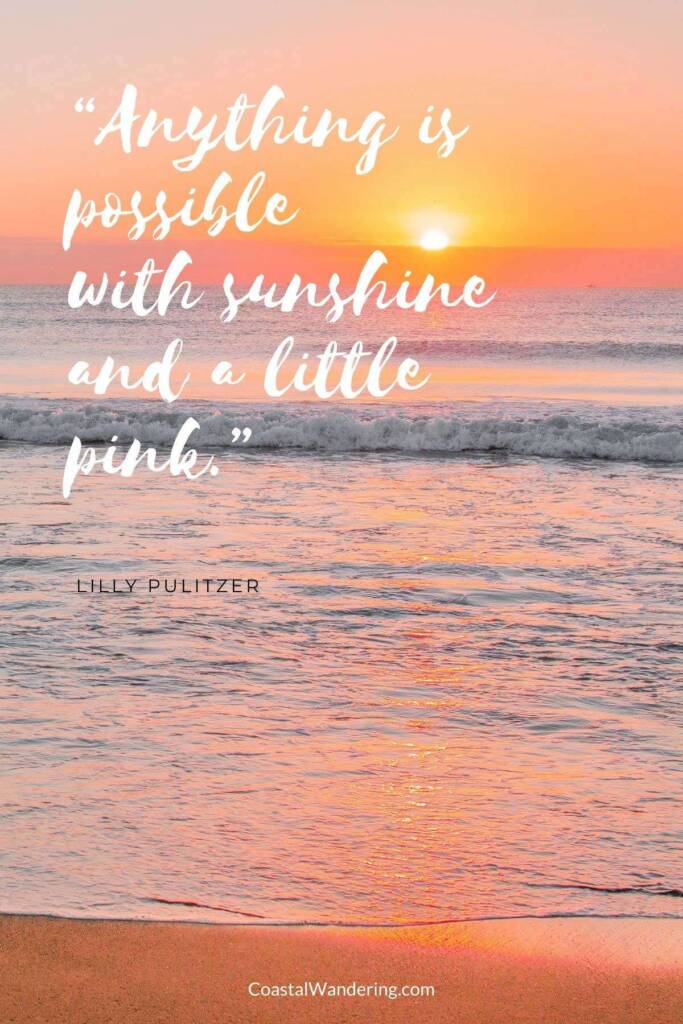 "A good laugh is sunshine in the house." - William Makepeace Thackeray
"Laughter is the sun that drives winter from the human face." — Victor Hugo
"Some sunshine is good for the soul, but I always make sure I wear a big hat." -Miranda Kerr
"Anything is possible with sunshine and a little pink." - Lilly Pulitzer
"A day without sunshine is like, you know, night." — Steve Martin
"A meal without wine is like a day without sunshine, except that on a day without sunshine, you can still get drunk." — Lee Entrekin
"Humor - the sunshine of the mind." - Edward Bulwer-Lytton
"The two basic items necessary to sustain life are sunshine and coconut milk." — Dustin Hoffman
"Whisky is liquid sunshine." - George Bernard Shaw
"Just remember, after they foreclose on your mortgage, you get a lot more sunshine in your life." - Jonathan Lockwood Huie
More Sun Quotes
Still need more? Here are a few quotes that truly stand out as independent, as they aren't easily categorized into the above lists!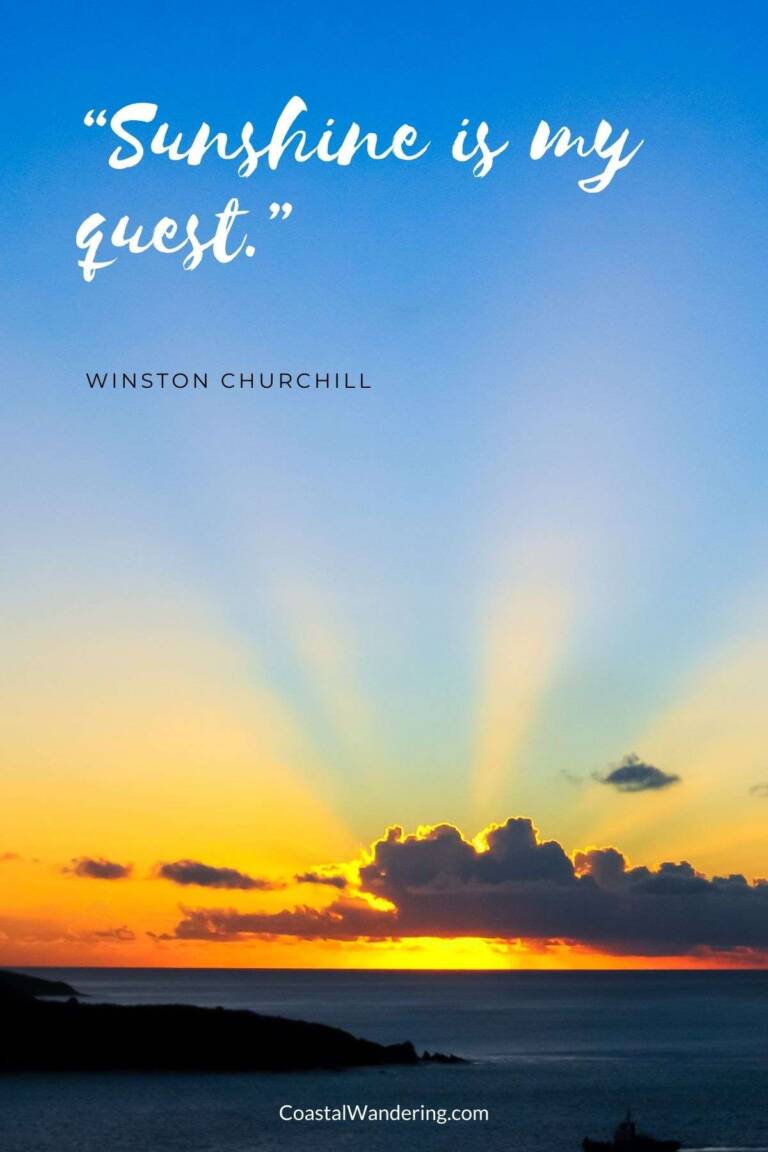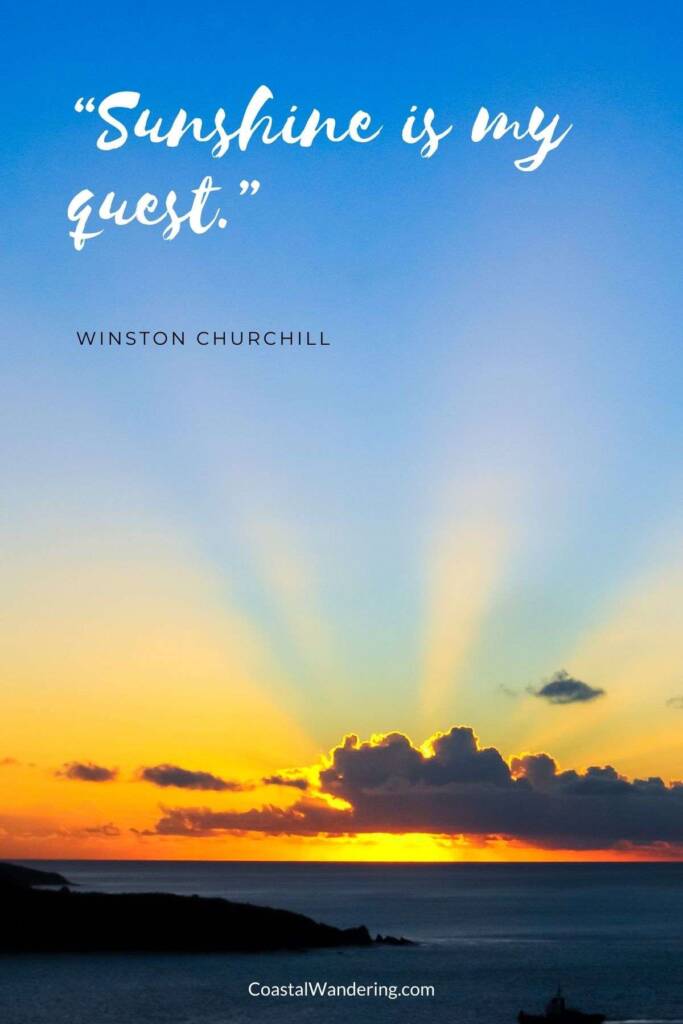 "It's the artist's business to create sunshine when the sun fails." - Romain Rolland
"Danger gleams like sunshine to a brave man's eyes." - Euripedes
"Sunshine is my quest." - Winston Churchill
"When the Sun has set, no candle can replace it." - George R. R. Martin
"A grandma is someone who's dear in every way. Her smile is like the sunshine that brightens each new day." - Unknown
"The glorious lamp of heaven, the Sun." - Robert Herrick
"The time to repair the roof is when the sun is shining." - John F. Kennedy
"The Sun. The bright Sun, that brings back, not light alone, but new life, and hope, and freshness to man-burst upon the crowded city in clear and radiant glory." - Charles Dickens
"I'm just a simple guy, I live from day to day. A ray of sunshine melts my frown and blows my blues away." - Jimmy Page
"Where there is sunshine, the doctor starves." - Flemish proverb
"Graciousness is like the sun shining through trees." - Unknown
"The Sun illuminates only the eyes of the man, but shines into the eyes and the heart of the child." - Ralph Waldo Emerson
"In the sun, I feel as one." - Kurt Cobain
"The Sun is not God, though his noblest image." - Robert Dodsley
"Get off the track of doubt and gloom. Get on the Sunshine Track - there's room." - Unknown
"I used to cover my windows in heavy curtains, never drawn. Now I dance in the sunlight on my hardwood floors." - Kimberly Novosel
"The Sun never repents of the good he does, nor does he ever demand a recompense." - Benjamin Franklin
"Even the Sun directs our gaze away from itself and to the life illumined by it." - Eberhard Arnold
These quotes about sunshine are perfect for any day you feel a little down. Like beach quotes, island captions and vacation quotes, they'll help you get through a cloudy day with a smile on your face.