If you dream of a deserted island paradise or a tropical beach getaway, you'll love this list of palm tree quotes and captions.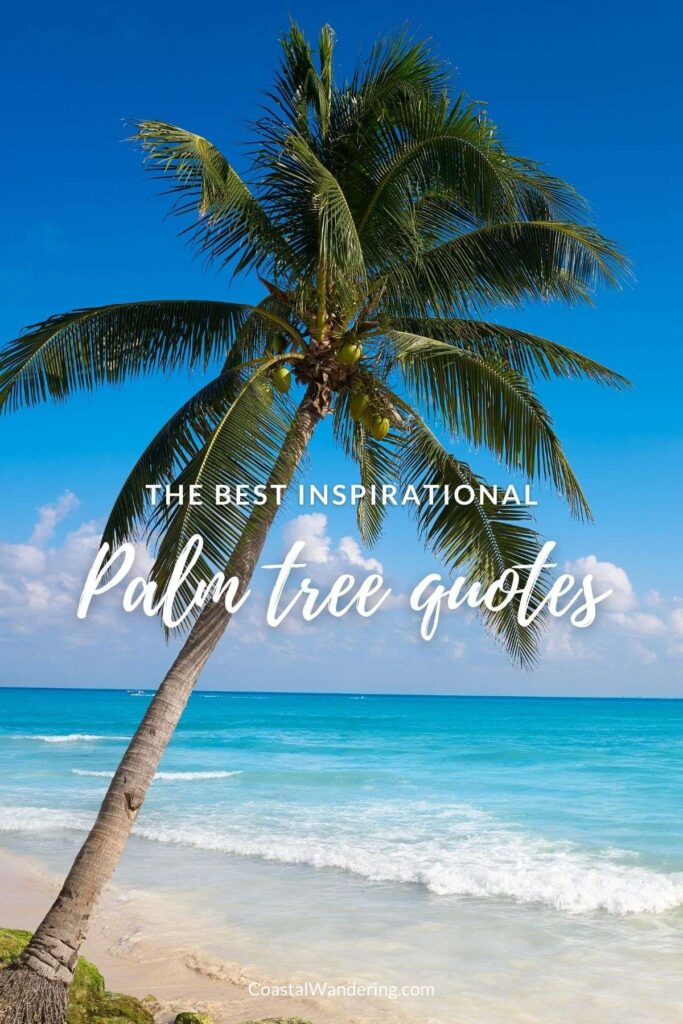 If the palm trees are swaying and the sun is shining, there's no better place to be than by the pool or on the beach. Whether in a tropical locale or not, these quotes will inspire you to chill out with a relaxed vacation vibe.
Palm trees are a hallmark of a tropical paradise. Maybe you need a caption for a Facebook post or an Instagram caption for a tropical photo. Or, maybe you just want a quote to remind you of your favorite tropical island. Try out one of these palm tree quotes to put you in a tropical state of mind.
Jump to:
Tropical Palm Tree Quotes
Most palm tree quotes will invoke thoughts of relaxing, tropical images and beach vacations. If this is what you are looking for, check out these tropic-centric palm tree sayings.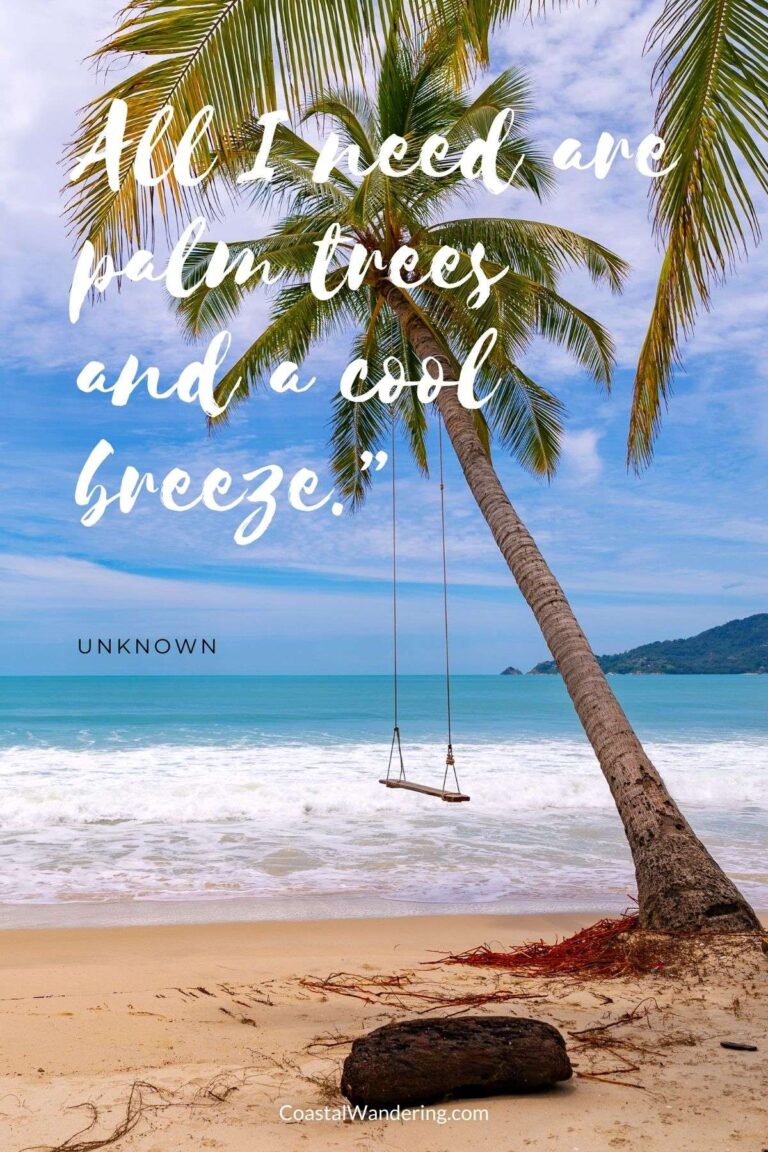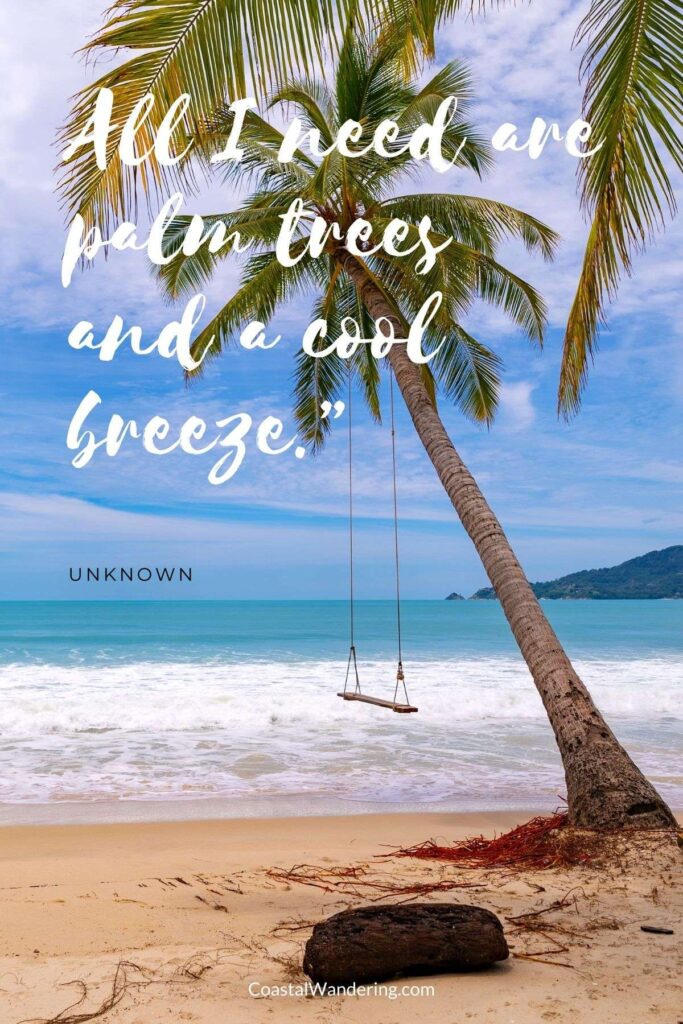 "It's hard to imagine a tropical paradise without palm trees." - Unknown
"Lately I've been dreaming about palm trees, feeling that cool breeze." - DJ Tazz Xx
"All I need are palm trees and a cool breeze." - Unknown
"Hanging under the palm trees." - Moonmanflo
"I'm all about the palm trees and 80 degrees." - Unknown
"Somewhere underneath a palm tree, on the island of Hawaii." - Tom Felton
"Palm trees are growin' and a warm breeze a-blowin'." - Blake Shelton
"Life's a breeze. You can find me under the palms, always chasing palm trees and ocean breeze." - Unknown
"As I watch the sunset on the palm tree beach, paradise is finally in reach." - Pere Pomme
"The first rule of hurricane coverage is that every broadcast must begin with palm trees bending in the wind." - Carl Hiaasen
"The sun is shining, mynah birds are chattering, palm trees are swaying…" – Kaui Hart Hemmings
"Some beach somewhere, there's a big umbrella casting shade over an empty chair, palm trees are growing, warm breeze is blowing, I picture myself right there, on some beach somewhere." - Blake Shelton
"Palm Trees, Salty Hair, Ocean Breeze, Clear Skies, Sunshine." - Unknown
"Beneath the sunset skies tall, silver-shafted palm trees rise." - William C. Bryant
"Palm trees. Coconuts. Tanned skin. Hot nights. Salty hair." - Unknown
"There are cities that get by on their good looks, offer climate and scenery, views of mountains or oceans, rockbound or with palm trees." – Elmore Leonard
"For me exotic means beaches, palm trees and sand and frolicking in the ocean." - Priyanka Chopra
"I'm a sucker for turquoise sea, white beaches, and palm trees." - Bruno Tonioli
"A coconut palm in your balcony and cool winds can spawn the most splendid vibes." – Saud Fadl
"Palm trees were fanned by a warm, light breeze, and they rolled down their windows to smell the sea." - Jude Watson
"Palm tree wishes and pineapple kisses." - Unknown
"Still time to start a new life in the palm trees." - Jimmy Buffett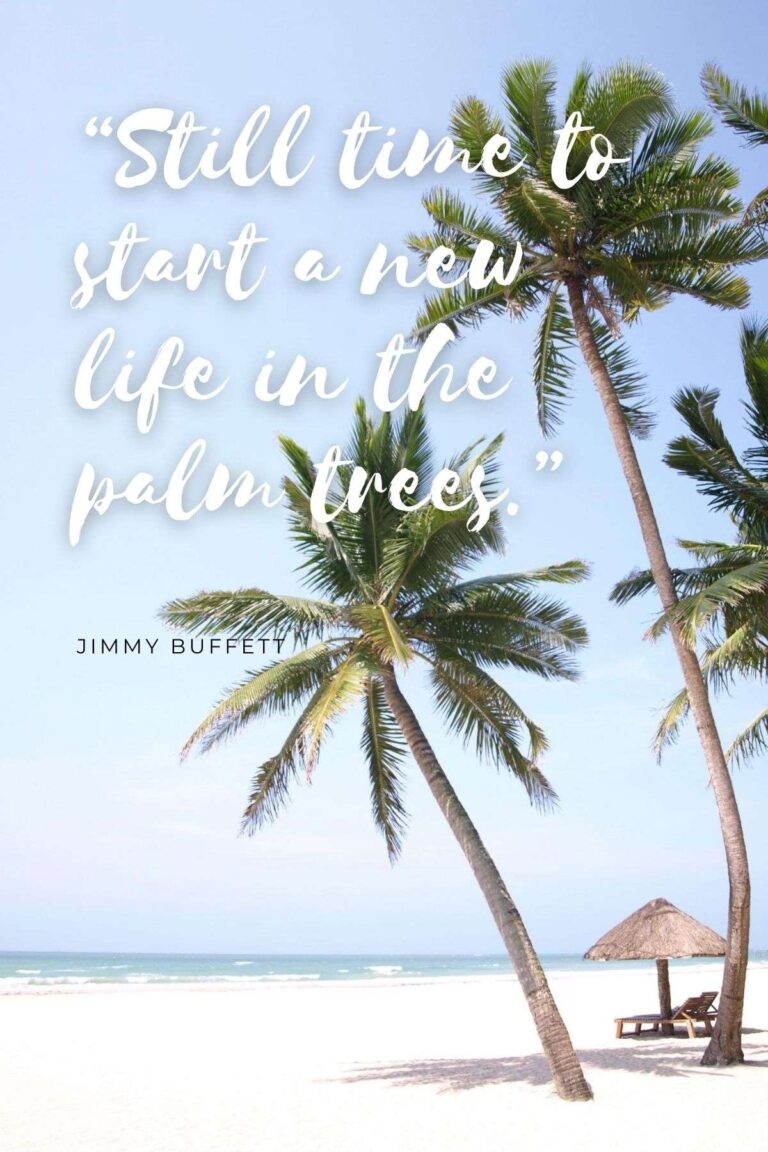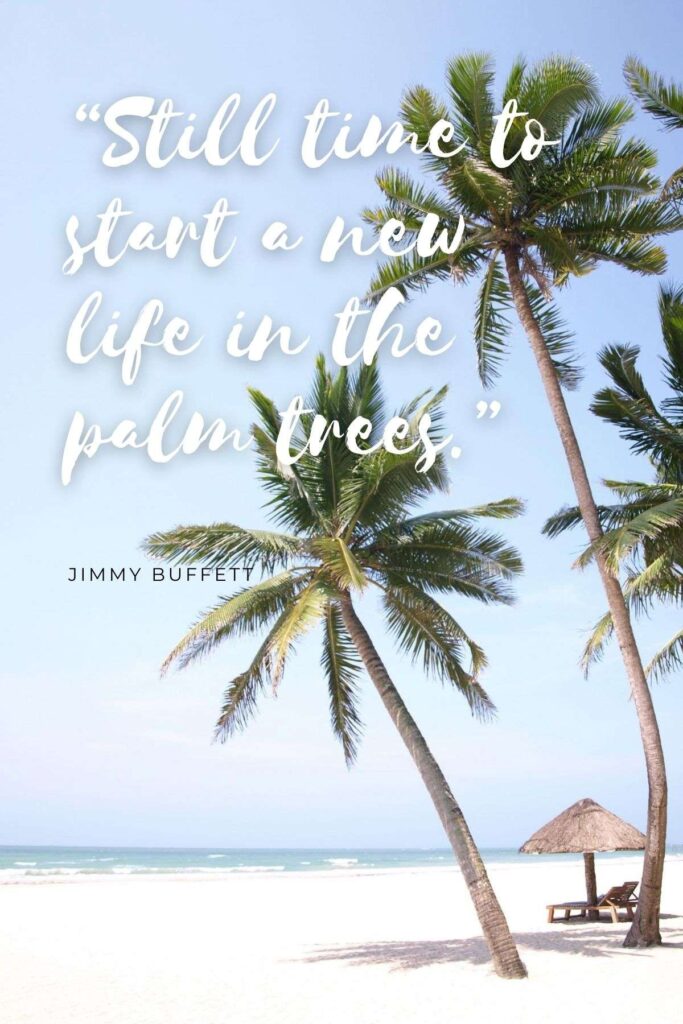 "Lights are glowing in the palm trees." - Jimmy Buffett
"Sipping a piña colada under a palm tree at the edge of the turquoise ocean is idyllic, but it just doesn't compare to the exhilaration he feels on the windswept ridge." - Mihaly Csikszentmihalyi
"I want people to think of Hawaii and think of palm trees and magical islands and Bruno Mars." - Bruno Mars
"Palm trees. High seas. Tropical state of mind." - Unknown
"Jessica stopped a few feet away so that Ken could get an optimal view of her body posed against the seductive backdrop of the sea, sand, and palm trees." - Francine Pascal
"The coconut trees, lithe and graceful, crowd the beach like a minuet of slender elderly virgins adopting flippant poses." - William Manchester
"The dance of the palm trees, the oceans calling, the first rays of sun, and heaven is here." - Michael Dolan
"I can also be a beach bum – I like to laze in the shade of a palm tree with a good book or float in a warm sea at sundown." - Cheri Lunghi
"A city where everyone seemed to live in a bungalow on a broad avenue lined with palm, pepper or eucalyptus trees, where there was never any snow." - Kevin Starr
"Under a palm tree is my favorite place to be." - Unknown
"I was in Cancun, Mexico, sitting in a disappearing-edge swimming pool, on a bar stool that was actually under the water, watching palm trees sway in a sultry breeze against the unmistakable aqua splendor of the Caribbean Sea; drinking coconut, lime, and tequila from a scooped-out pineapple, with salt spray of breaking surf and sun kissing my skin. Translation: I'd died and gone to heaven." - Karen Marie Moning
"Palm trees, ocean breeze, salty air, sun kissed hair, endless summer, take me there." - Tierney Paley-Powell
"I haven't bought a yacht or an island or even a palm tree." - David A. Siegel
"The only time I feel at ease is swinging up and down in a coconut tree." - Ray Daves
"They all went down in droves, because just scenes of palm trees and beaches can get pretty boring." - James MacArthur
"Home is where the sandy toes play and the palm trees sway." - Unknown
"I've got a palm tree in my garden. Oh, lucky me!" - Hooyoosay
"Dance like the sun and sway like a palm tree, Groove like a shark and surf out on the waves, That's how you play this game." - Emily Arrow
"Give me some sunshine, give me those palm trees, expand my horizons on Paradise Island." – Paul Maged
Inspirational Quotes
Palm trees are also a great metaphor. You may be able to find some inspiration in them with these palm tree quotes.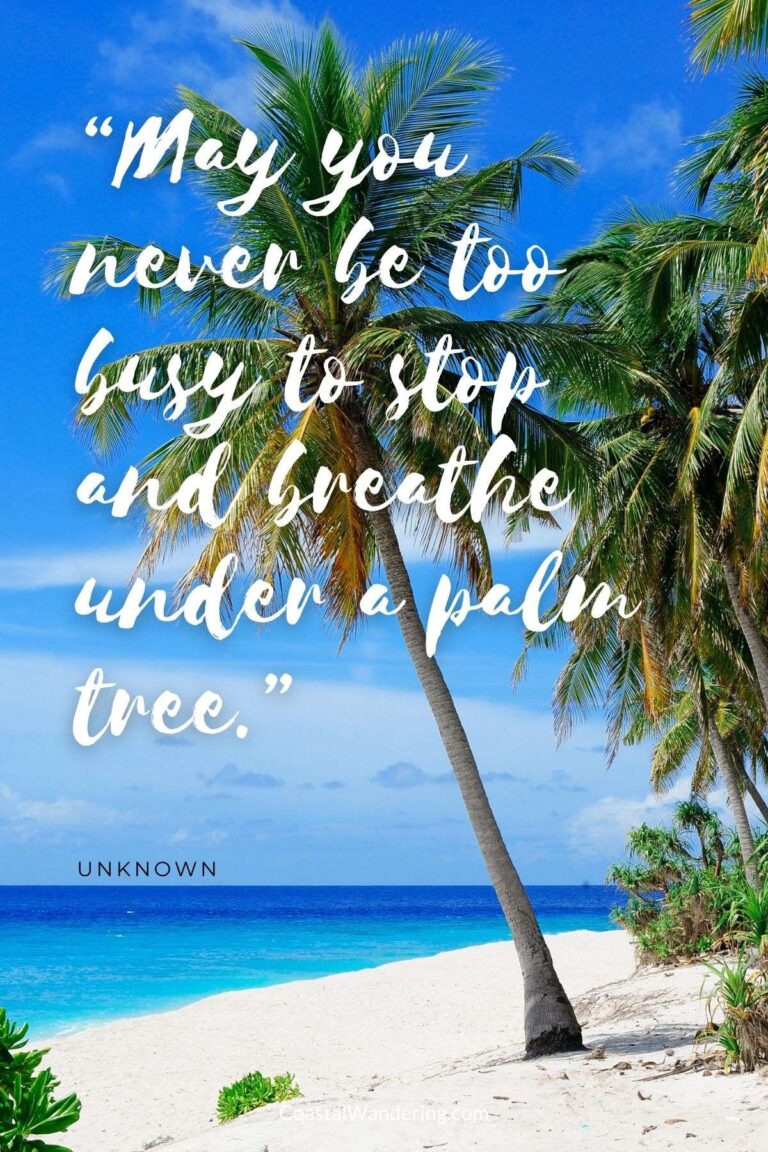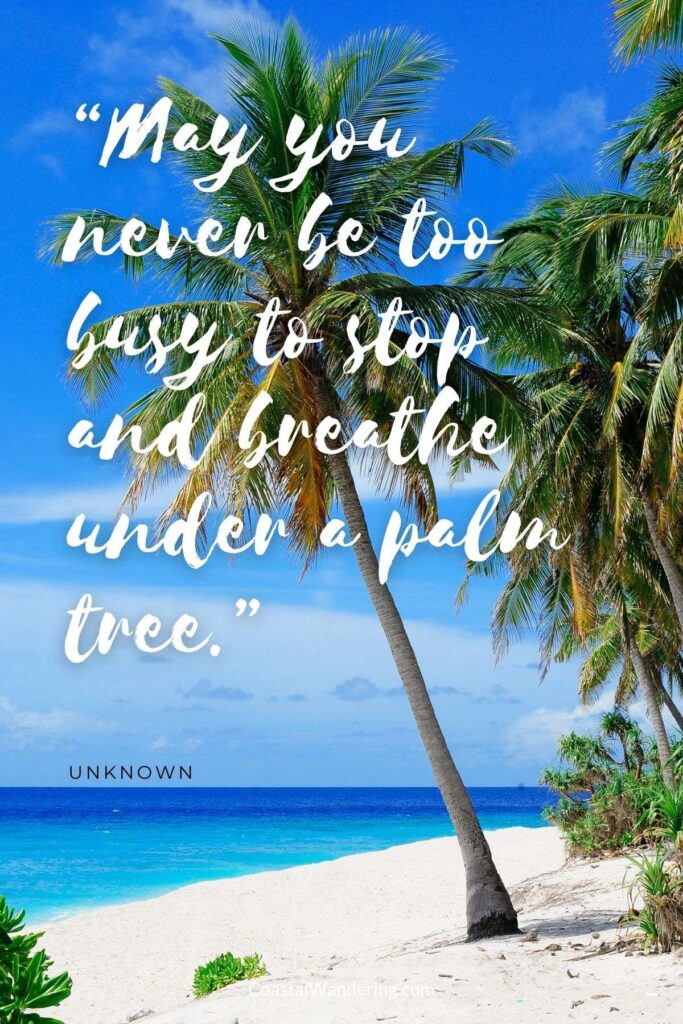 "If palm tree shade makes a perfect tent, then wasted time is time well spent." - Brett Eldredge
"The palm tree that sways in the breeze stays standing the longest." - Shay Mitchell
"Focus on this moment. Hold your hand and see what it feels like. Go look at some grass. Talk to a palm tree. Outrun a Ferrari. Experience life." - Frederick Lenz
"Underneath the palm trees, you can leave your worries. Between every two palms is a doorway to a new world." - Surfaces
"The strength and flexibility of palm trees is sacred inspiration to flow beautifully through it all and still remain gracefully standing." - Unknown
"I remember someone saying they had never really noticed the palm trees here until I painted them." – David Hockney
"Be productive like a coconut tree, the tree which has all useful parts right from its fruit, its leaf and its dried shell too. Make use of every bit of yourself." – Shivkumar
"The sight of a palm tree silhouetted against the sky made even his life feel like a movie." - Alexandria Marzano-Lesnevich
"A palm tree in the moon when a comet comes out to fall." - Brian Wilson
"Making love requires no thought. You move as the fronds of a palm tree move in the breeze. It is all instinct." - Chloe Thurlow
"It's the point at which, as we say in the language of the desert, one 'dies of thirst just when the palm trees have appeared on the horizon." - Paulo Coelho
"Soak Up the Sun. Be Flexible. Find Your Oasis. Weather Life's Storms." - Unknown
"It's an attitude and spirit of cooperation that should permeate our conversations. It's like a palm tree by the ocean that endures the greatest winds because it knows how to gracefully bend." - Stephen Kendrick
"It is the nature of the strong heart, that like the palm tree it strives ever upwards when it is most burdened." - Philip Sidney
"Life is like a coconut tree – just climb it." - Unknown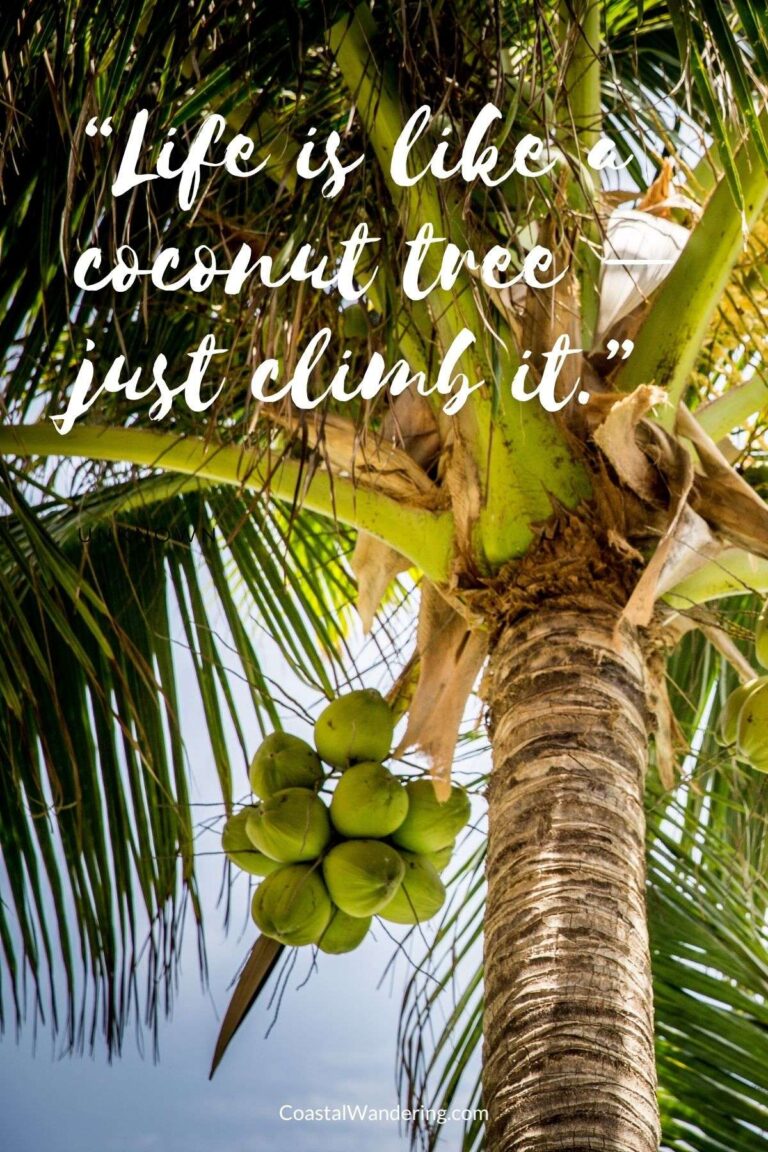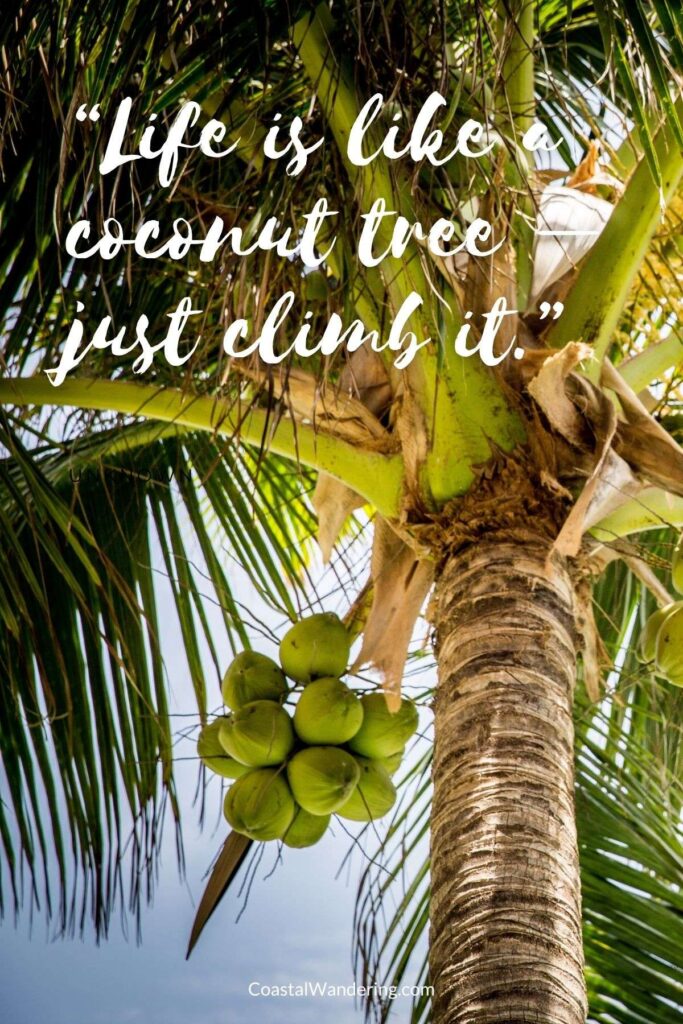 "Grow as a palm tree on God's Mount Zion; howbeit shaken with winds, yet the root is fast." - Samuel Rutherford
"It is not among the palm trees that I wish to die, but among the poor who are Jesus Christ." – Luigi Orione
"He who commences a [law]suit resembles him who plants a palm tree which he will not live to see flourish." - Marguerite Gardiner
"The roots of the aged palm tree exceed those of the young one; the old have a greater attachment to the world." - Saib Tabrizi
"Laying under the palm trees, waiting for the sunset. Thinking of the time with you." – Garvit Singh
"It dreameth of a Palm tree, which far in the East alone, in the mournful silence standeth, on its ridge of burning stone." – Heinrich Heine
"I grew up in an era of thinking of travel as escape. The idea that you could conceivably have a new life, go somewhere, fall in love, have little children under the palm trees." - Paul Theroux
"I don't consider myself an entertainer, but I can do that thing when I want to. My grandfather gave me my first guitar, an old acoustic with palm trees and dancing girls painted on it." - Dan Fogelberg
"As the palm-tree standeth so straight and so tall, The more the hail beats, and the more the rains fall." - Simon Dach
"A lot of people prefer to be alone. They would rather be a palm tree on an island." – Jose Andres
"Oh, the taller that the palm tree grows, the sweeter is the bark." - Tommy Makem
"I am a champion palm tree! I know that I can sustain the hurricanes in life, because I paid the price and my roots of faith have grown down deep." - John Di Lemme
"The righteous will flourish like a palm tree." - Psalm 92:12
"May you never be too busy to stop and breathe under a palm tree." - Unknown
"The desert came into view … sand and palm trees, a way of life that revolved around human beings without possessions or skills…" – Hanan al-Shaykh
"There are no shortcuts to the top of the palm tree." - African Proverb
"You're in the wind just like a palm tree in a storm but I'll be the only one to break and fall." – Andra Day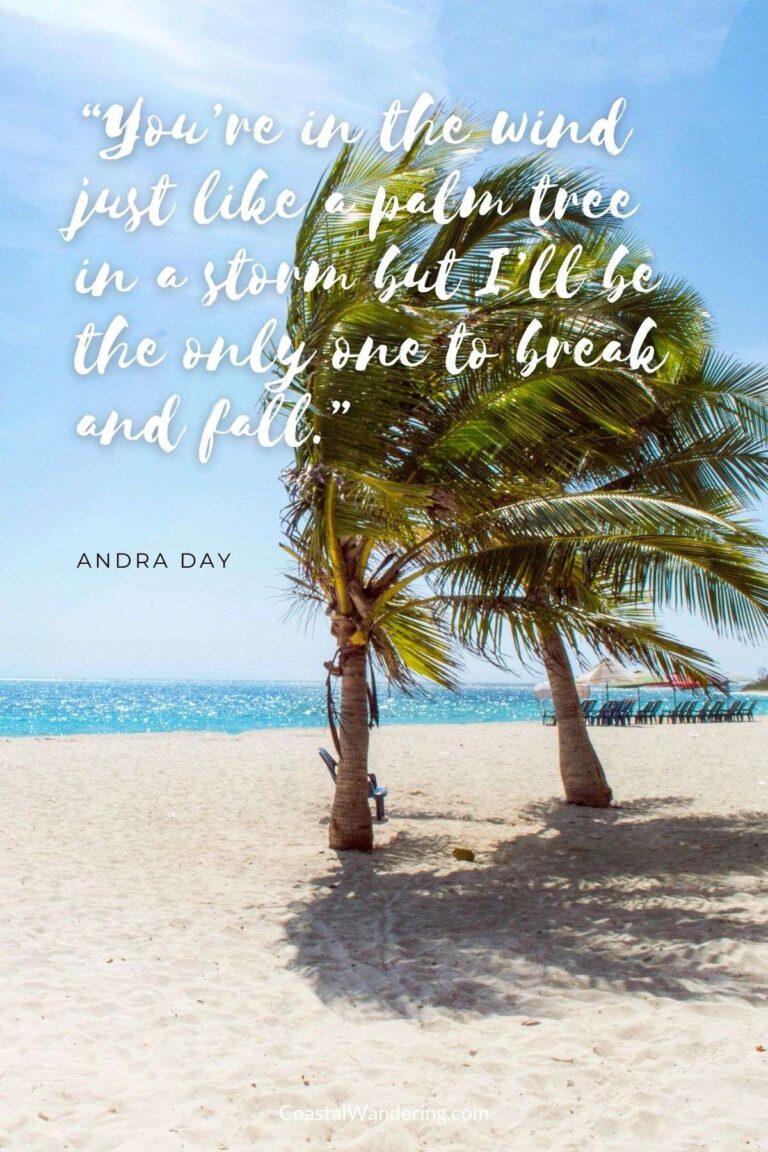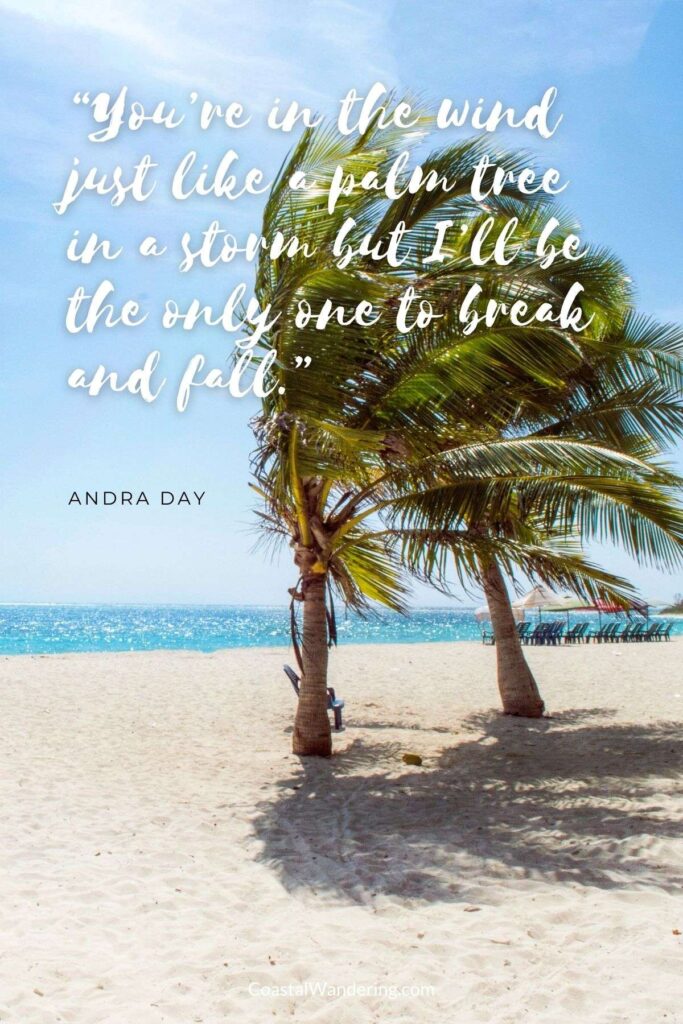 Fun Palm Tree Quotes
These quotes are a little more fun. They even include some palm tree puns. These are perfect if you are in the market for funny palm tree Instagram captions.
"These palm trees like my old homeboys, hella shady." - Chamillionaire
"This is the palm before the storm." - Unknown
"Keep palm and don't go getting your coconuts in a bunch" - Unknown
"I am a huge fan." - Unknown
"Palm tree is my favorite Christmas tree." - Unknown
"Talk to the palm." - Unknown
"The palm tree saw it's shadow today. We are expecting another six weeks of sunshine." - Unknown
"Advice from a palm tree: Stand tall, go with the flow. Don't be afraid to be a little nutty." - Unknown
"The grass is always greener underneath a coconut tree." - Unknown
"Not sure if this is a palm tree or a giant pineapple." - Unknown
"Palm trees and vitamin sea." - Unknown
"What does a palm tree say when it meets new people? Let's be fronds." - Unknown
"I've got paradise in the palm of my hand." - Unknown
"Keep palm and carry on." - Unknown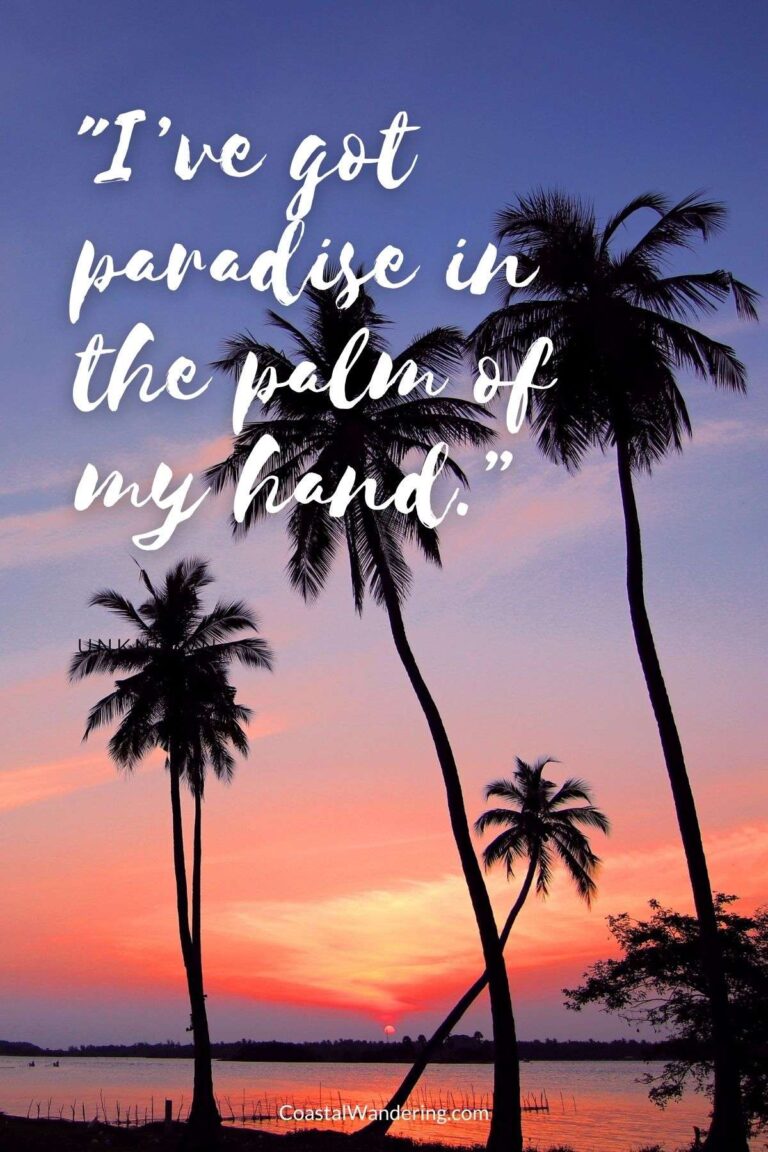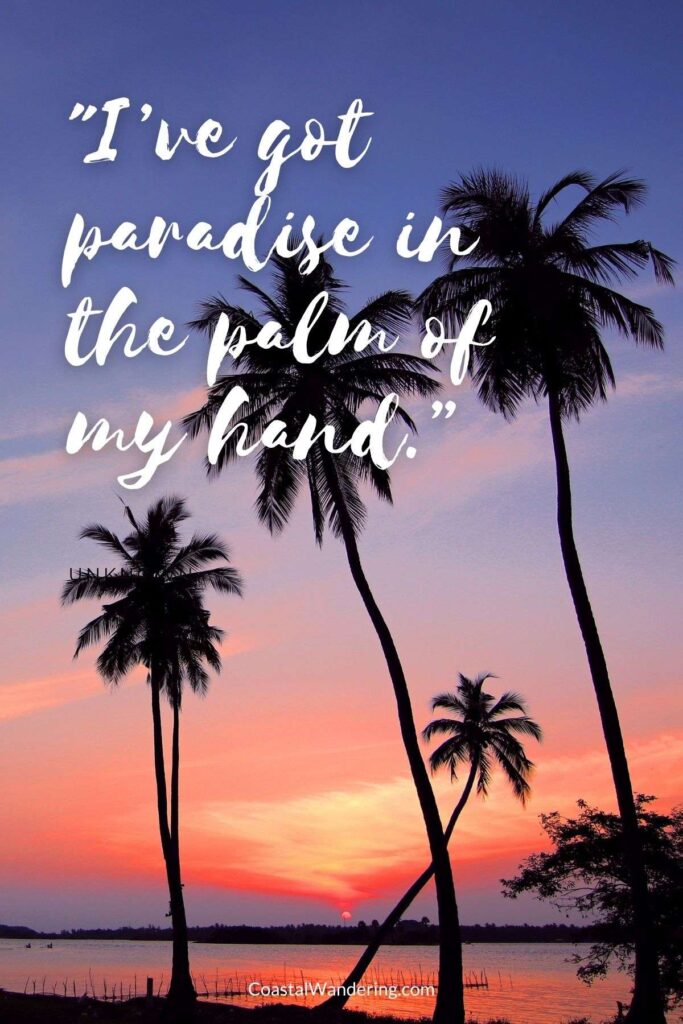 "What kind of tree can fit in your hands? A palm tree." - Unknown
"I remember when the palm trees were short and Tomorrowland was modern." - Taylor Negron
"Transplanting the ballet to the United States is like trying to raise a palm tree in Dakota." - Lincoln Kirstein
"Hurricane Mathew makes the Florida palm trees look like a new hit boy band." - Unknown
"It was my idea to do a two-hour course of barista training. I was keen to learn how to finish off my coffee with a picture of a heart or a palm tree or, perhaps, a swan." - Justin Cartwright
"Don't put blue Christmas lights on palm trees." - Unknown
US Palm Tree Quotes
When you think of a tropical paradise, you may think of those outside the USA. However, there are plenty of palm trees in the continental United States. These quotes prove that they are just as awesome.
"I suddenly realized I was in California. Warm, palmy air - air you can kiss - and palms." - Jack Kerouac
"I know they have palm trees in Southern California. I mean I'm not a complete moron, I've watched 90210, and everything." - Meg Cabot
"California to me as a concept or as an idea always seems like endless optimism and endless opportunity – when people think of California they think of palm trees and blue skies and gorgeous sunsets and beaches and everything else." - Mark Hoppus
"My favorite thing to do in L.A. is to be in a car with friends listening to music. The perfect time is twilight, when the setting sun is filtering through the palm trees." - Liz Goldwyn
"City lights and palm tree nights." - Unknown
"I love touring in the United States. It's dramatically different wherever you go. North to south, you're going from snow to palm trees." - Greg Lake
"See you in L.A., under the palm tree." - Fube
"Miami is just really fun whenever I go there. It's like this post-apocalyptic Barbie world: everything is pink, and there're palm trees everywhere." - Grimes
"Los Angeles, the sun shines a lot, and it's blue, and there's palm trees; it's a bit like Sydney, I guess, but the underbelly is a vicious, mean, cruel, awful place." - Loudon Wainwright III
"Venice Beach is incredibly quiet at night: no streetlights, no traffic, hummingbirds in the garden, palm trees everywhere." - KT Tunstall
Palm trees are beautiful sights, but they indicate even more beautiful things. They're symbols of tranquility and relaxation. Hopefully, you have found a favorite among these quotes about palm trees!