Here are the best vacation quotes, vacation sayings, vacation humor, and other phrases you can share or hoard for your vacay pleasure. From destination vacations to some downtime on the couch, these inspirational quotes on vacation will help you get ready for your next trip.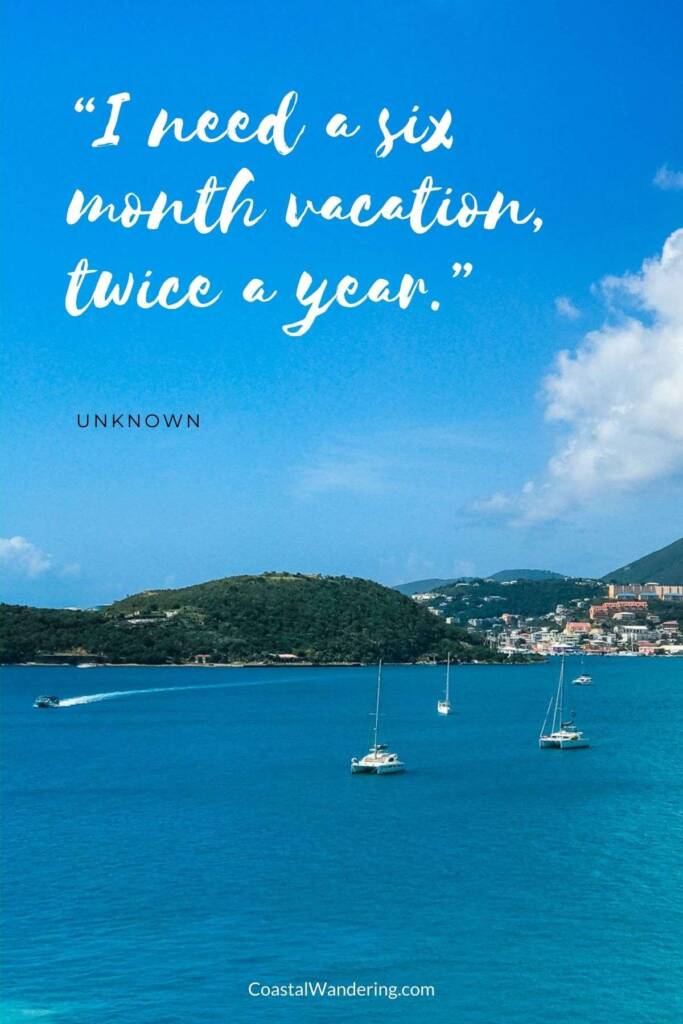 There are few things better in life than a memorable vacation. If you're dreaming about your time off or planning a daring adventure, you can motivate your vacay plans with vacation mood quotes.
I Need a Vacation Quotes for Captions
For pin boards, Instagram captions, and more, here are the best inspiring travel quotes that are short and caption-friendly.
"Travel makes you modest. You see what a tiny place you occupy in the world." ― Gustave Flaubert
"I may not have gone where I intended to go, but I think I have ended up where I needed to be." ― Douglas Adams
"Life's short. Eat dessert first, work less and vacation MORE!" ― Lea Mishell
"Here's to a vacation of no regrets!" ― Joan Rylen
"When all else fails, take a vacation." ― Betty Williams
"I haven't been everywhere, but it's on my list." ― Susan Sontag
"Extend your vacation whenever possible." ― A.D. Posey
"My favorite place to vacation is anyplace by the ocean."― Nina Arianda
"Vacations are necessities, not luxuries."― Linda Bloom
"Don't bother me, I'm on vacation."― Unknown
"Laughter is an instant vacation." - Milton Berle
"Jobs fill your pocket, but adventures fill your soul."― Jamie Lyn Beatty Thi
"It isn't how much time you spend somewhere that makes it memorable: it's how you spend the time." — David Brenner
"Jet lag is for amateurs."― Dick Clark
"Traveling—it leaves you speechless, then turns you into a storyteller."― Ibn Battuta
"You cannot discover new oceans unless you have the courage to lose sight of the shore." — André Gide
"A good traveler has no fixed plans, and is not intent on arriving." — Lao Tzu
"There is nothing like returning to a place that remains unchanged to find the way in which you yourself have altered."― Nelson Mandela
"The sun and the sand and a drink in my hand with no bottom. And no shoes, no shirt, and no problems."― Kenny Chesney
"A vacation is having nothing to do and all day to do it in." ― Robert Orben
"How you feel about home after a vacation says a lot about home." — Joyce Rachelle
"In order for a holiday to be a great holiday, it must somehow involve water-related activity, because water is a magician who relaxes our soul and body!"― Mehmet Murat ildan
"Your imagination is your preview of life's coming attractions."― Albert Einstein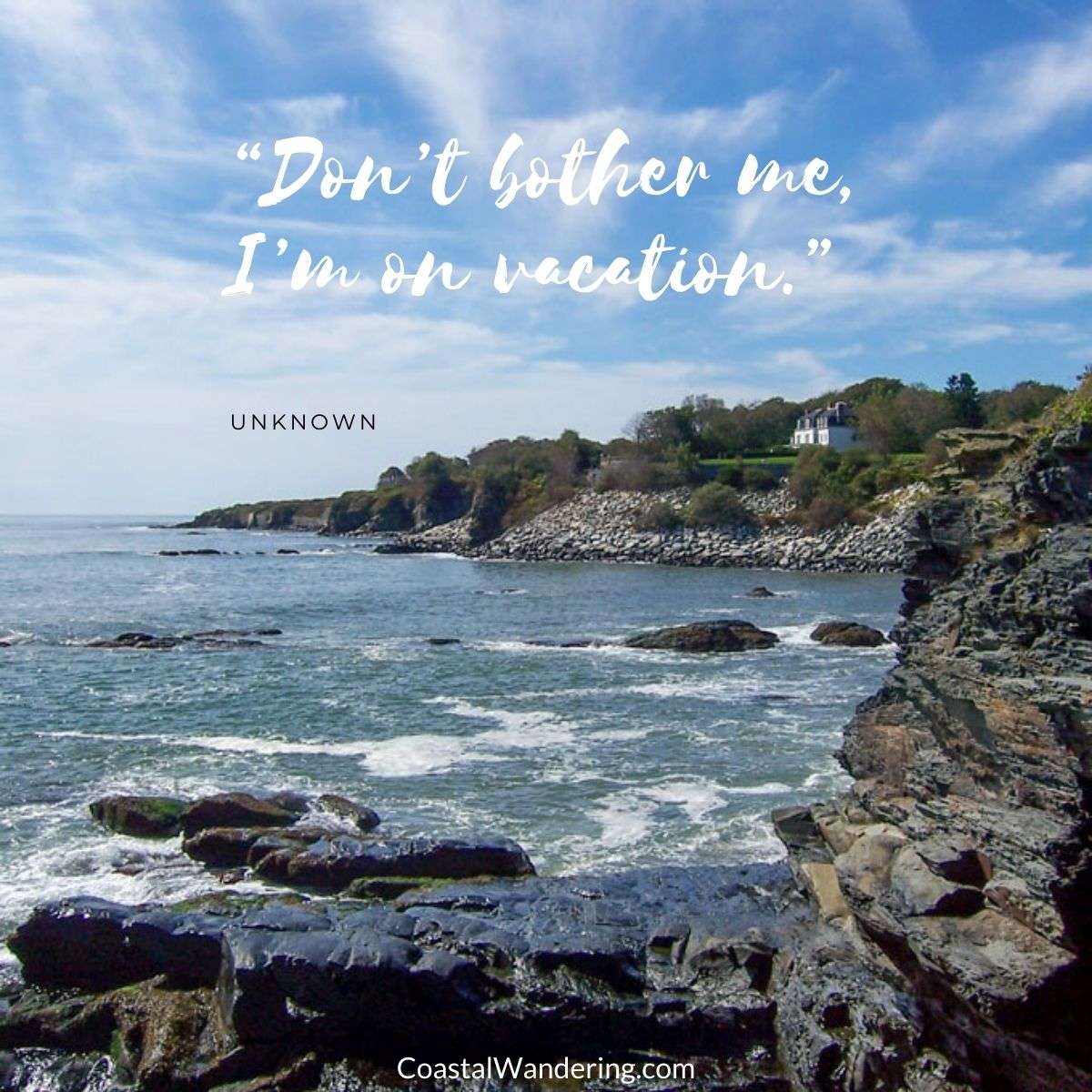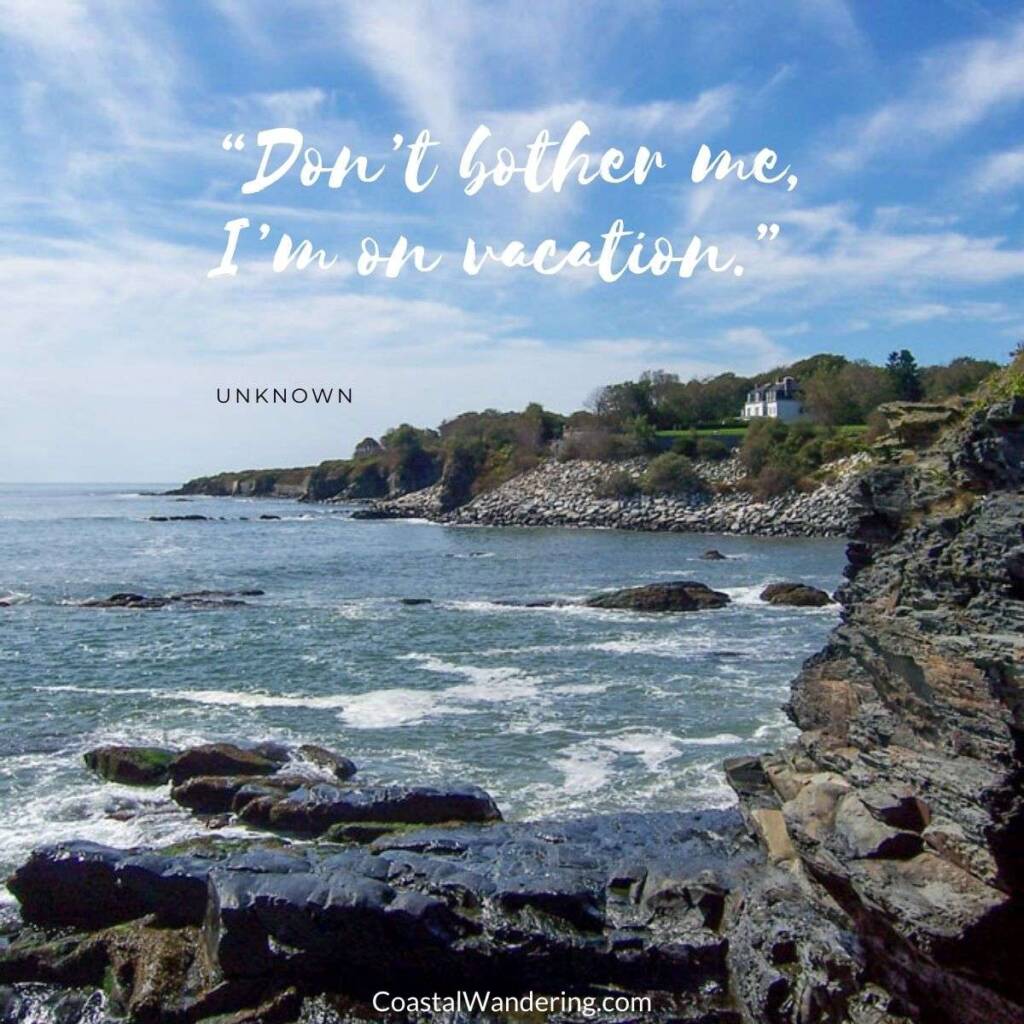 Vacation Quotes to Make You Laugh
Here are vacay quotes to motivate packing blues and make you chuckle.
"Vacation calories don't count." ― Unknown
"The average vacation is one-tenth playing—nine-tenths paying."― Arnold Glasow
"A vacation is a sunburn at premium prices." ― Hal Chadwicke
"Isn't it amazing how much stuff we get done the day before vacation?"― Zig Ziglar
"No one wants to die with vacation time on the books." ― Andrea Goeglein
"One of the biggest challenges about going on vacation is planning the trip."― Paul Brodie
"Just a reminder that I'm going on vacation and you're not."― Anonymous
"My goal is to hit the gym every day I'm on vacation. Usually I just end up sleeping and drinking beer."― Gary Allan
"A vacation is three times more work without the payment."― Debasish Mridha
"I need a vacation, not a stupid weekend." ― Unknown
"When preparing to travel, lay out all of your clothes and all of your money. Then take half the clothes and twice the money." ― Susan Heller
"Mind if I drive real slow on the way home? I'd like to pretend it's a vacation." ― Where the Heart Is
"I need a six month vacation, twice a year." – Unknown
"Enjoy your time off from telling everyone on earth how much you need time off." ― Unknown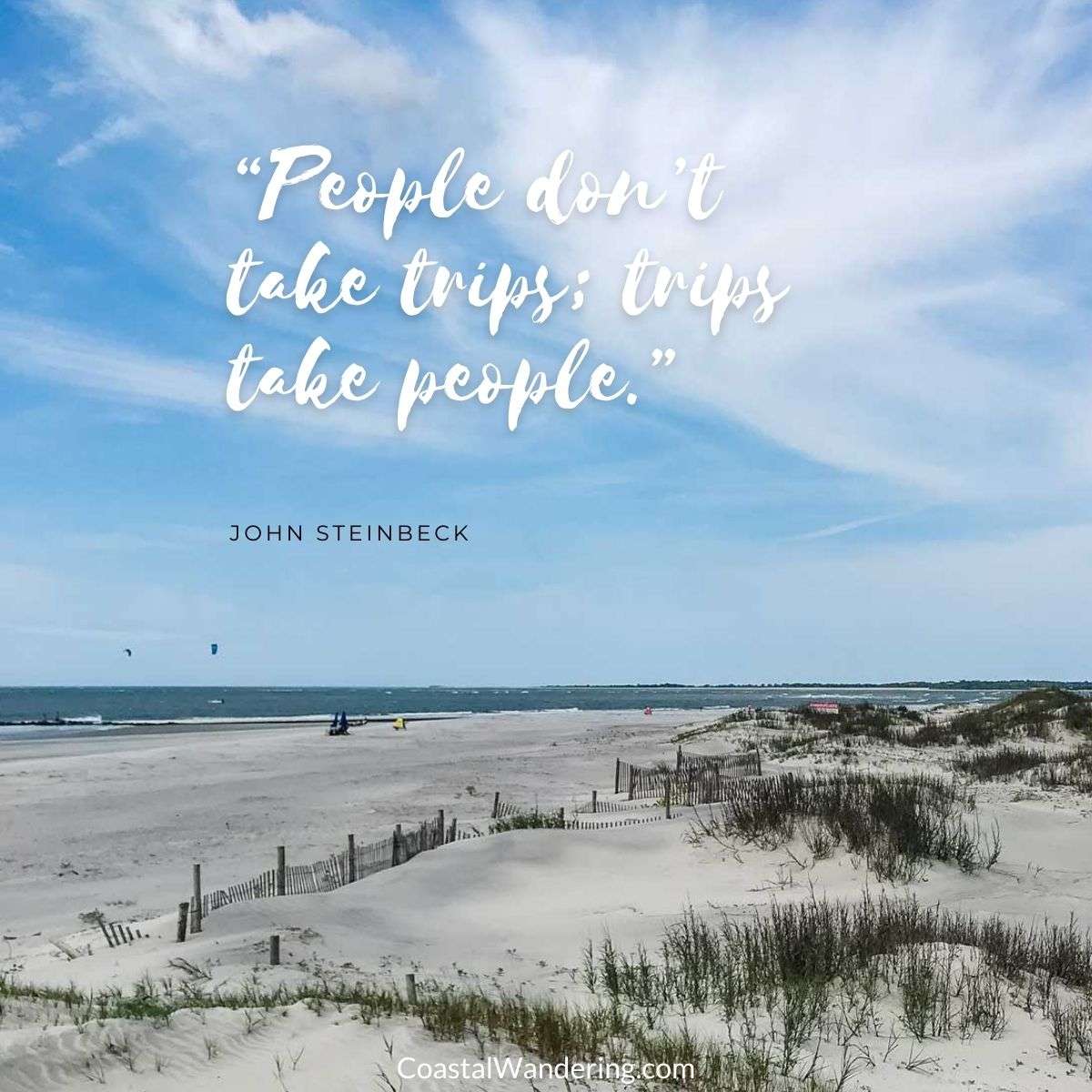 Quotes for Mental Vacations
Sometimes it's not about going anywhere. Whether you need a vacation from your vacation or need some travel inspiration for your desk, these quotations about vacation are introspective.
"People don't take trips; trips take people." ― John Steinbeck
"If you have lost your clarity and purpose, a vacation is a great way to find it again." — David Fuller
"What paradise and vacation have in common is that you have to pay for both, and the coin is your previous life." ― Joseph Brodsky
"Few vacations are as gratifying as those devoted to personal growth." ― Pat Koch Thaler
"Take a vacation from your stressful thoughts by changing your thoughts." ― Debasish Mridha
"The vacation we often need is freedom from our own mind." ― Jack Adam Weber
"Each person deserves a day away in which no problems are confronted, no solutions searched for. Each of us needs to withdraw from the cares which will not withdraw from us." ― Maya Angelou
"If you do not change direction, you may end up where you are heading." ― Lao Tzu
"No man needs a vacation so much as the man who has just had one." ― Elbert Hubbard
"After a while, just staying alive becomes a full-time job. No wonder we need a vacation." ― Michael Zadoorian
"A wise man travels to discover himself." ― James Russell Lowell
"Enjoy the vacation without going; enjoy the conversation without talking." ― Debasish Mridha
"A vacation is what you take when you can no longer take what you've been taking."- Earl Wilson
"If you think adventure is dangerous, try routine; it is lethal." ― Paulo Coelho
"Don't wait for a vacation to enjoy life. Start to enjoy it now, today, wherever you are." ― Debasish Mridha
"We need to develop a 'vacation attitude' every day by being focused on what we need to accomplish by the end of each day." ― Catherine Pulsifer
"Vacation is that time when you wish you had something to do while doing nothing." ― Frank Tyger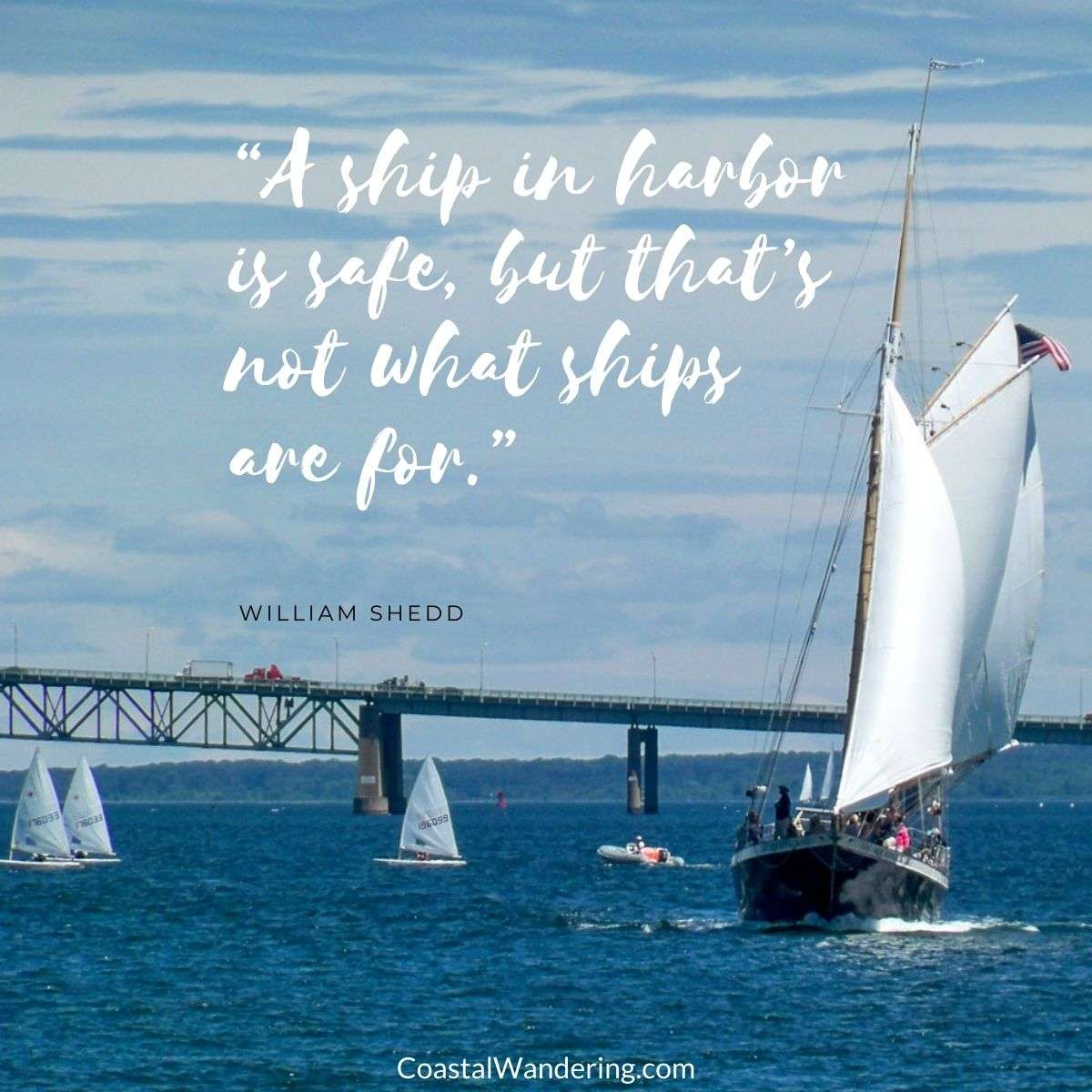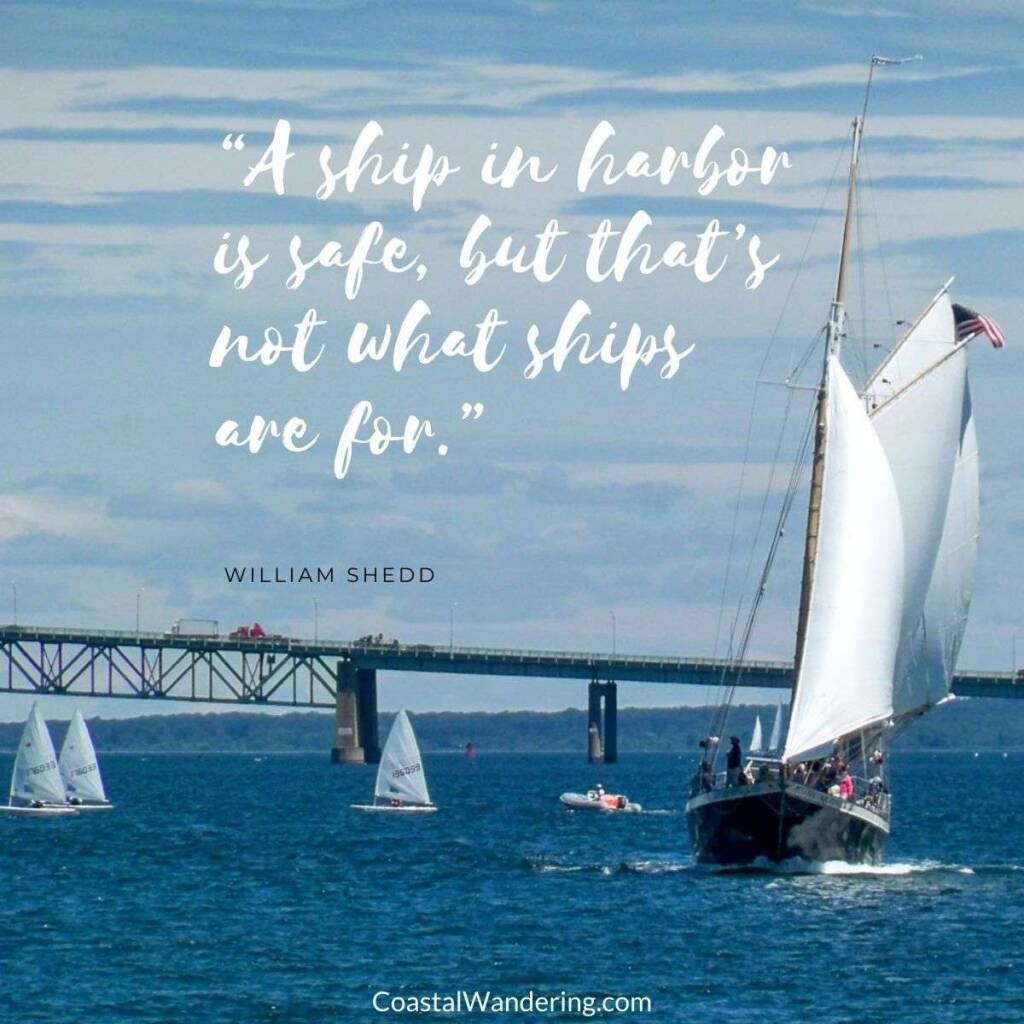 Vacation Quotes for Explorers
Here are quotes for great travelers, eager adventurers and those who long to spend their whole life traveling.
"It's better to see something once than to hear about it a thousand times." ― Asian Proverb
"A ship in harbor is safe, but that's not what ships are for." ― William Shedd
"Take vacations, go as many places as you can. You can always make money, you can't always make memories." ― Unknown
"An upcoming vacation gives us something to eagerly anticipate." ― Jaime Kurtz
"A vacation spot out of season always has a very special magic." ― Max von Sydow
"Every dreamer knows that it is entirely possible to be homesick for a place you've never been to, perhaps more homesick than for familiar ground." — Judith Thurman
"I travel not to go anywhere, but to go. I travel for travel's sake. The great affair is to move." ― Benjamin Disraeli
"Because in the end, you won't remember the time you spent working in the office or mowing your lawn. Climb that goddamn mountain." ― Jack Kerouac
"We live in a wonderful world that is full of beauty, charm and adventure. There is no end to the adventures we can have if only we seek them with our eyes open." —Jawaharial Nehru
Quotes About the Woes and Wonders of Work and Time-Off
Read through the quotes about why you love taking time off or why you want to come back.
"A good vacation is over when you begin to yearn for your work." ― Morris Fishbein
"Reaching the top requires taking a good break every time you need it! On the way up, you must never hesitate to stop for a while!" ― Mehmet Murat ildan
"Every man who possibly can should force himself to a holiday of a full month in a year, whether he feels like taking it or not." ― William James
"To get away from one's working environment is, in a sense, to get away from one's self; and this is often the chief advantage of travel and change." ― Charles Horton Cooley
"As you grow older, you learn a few things. One of them is to actually take the time you've allotted for vacation." ― John Battelle
"After all, the best part of a holiday is perhaps not so much to be resting yourself, as to see all the other fellows busy working." ― Kenneth Grahame
"The time to relax is when you don't have time for it." — Sydney J. Harris
"Vacation time is something we all accrue, but only the wisest of us recognize its importance." ― Andrea Goeglein
"Each day is a holiday, and ordinary holidays are grudged as enforced interruptions in an absorbing vocation." ― Winston Churchill
"One-week vacations are too short to prevent burnout; by the time you relax enough not to think about the office the week is almost up." ― Cecilia Mikalac
"Don't pick a job with great vacation time. Pick one that doesn't need escaping." ― Unknown
"The breaks you take from work pay you back manifold when you return because you come back with a fresher mind and newer thinking. Some of your best ideas come when you're on vacation." ― Gautam Singhania
"Only the traveling is good which reveals to me the value of home and enables me to enjoy it better." – Henry David Thoreau
"The secret of success is making your vocation your vacation." ― Mark Twain
"Neglecting vacation is neglecting success because every success needs an accumulated positive energy!" ― Mehmet Murat ildan
"Don't feel guilty about vacationing. What are you truly living and working for anyways? Death is all too real." ― Richie Norton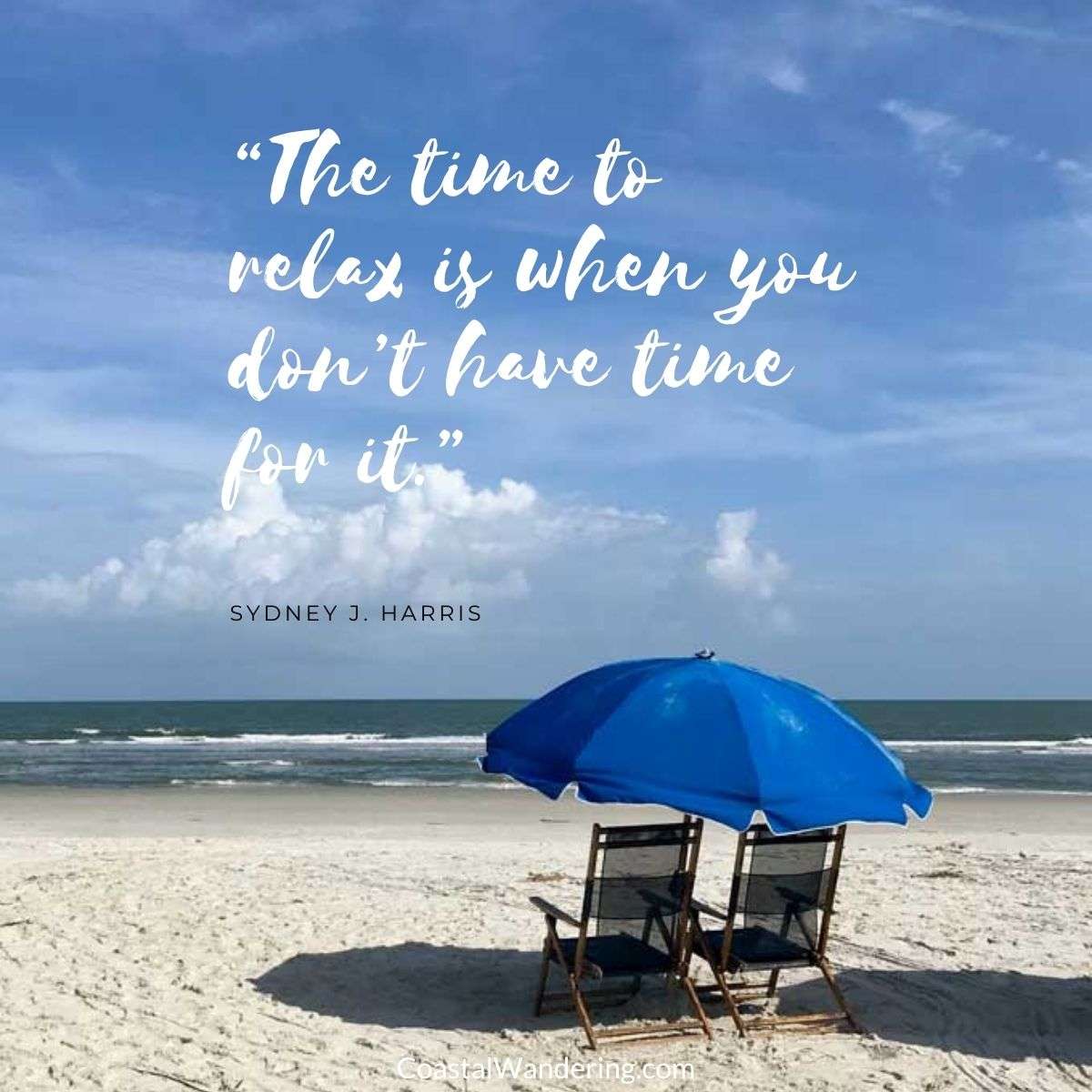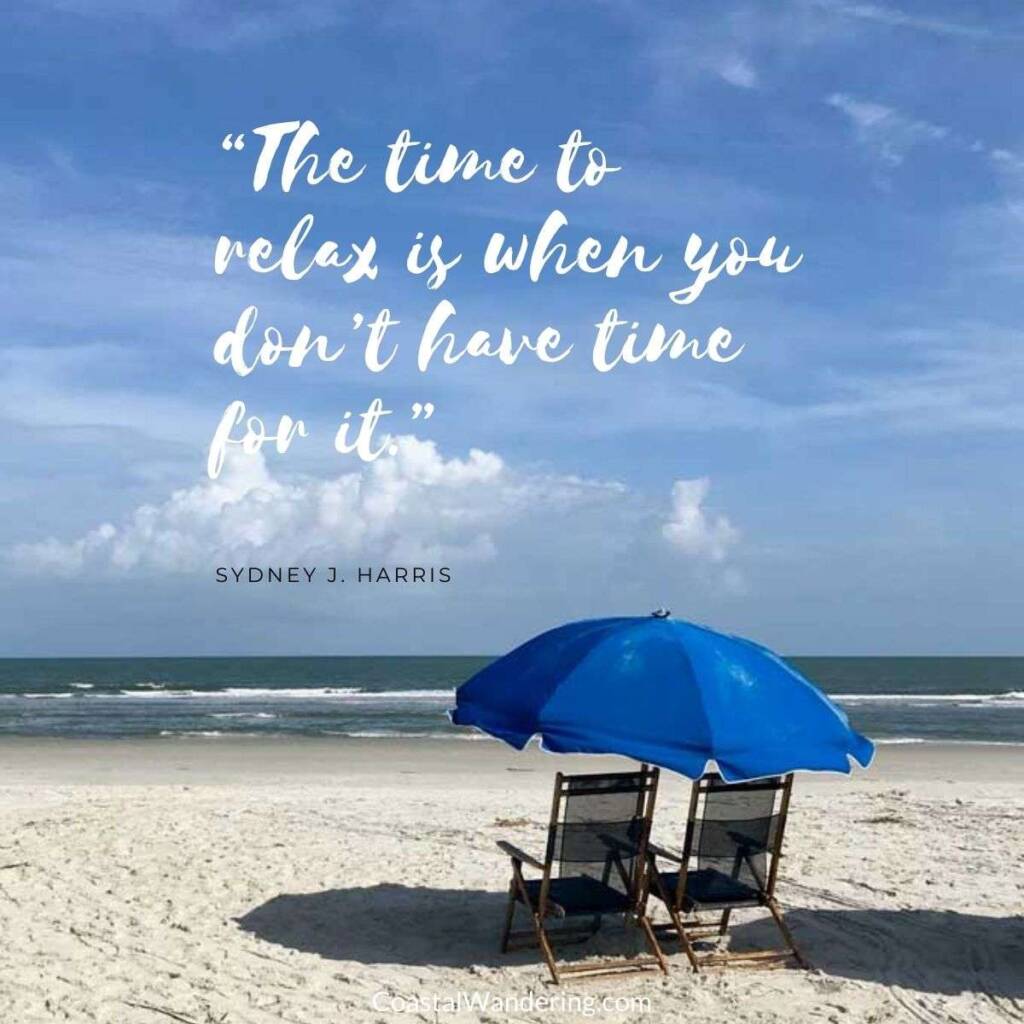 The Healing Power of Vacation Quotes
Relax and heal with these inspirational quotes.
"In matters of healing the body or the mind, vacation is a true genius!" ― Mehmet Murat ildan
"Happiness consists of living each day as if it were the first day of your honeymoon and the last day of your vacation." ― Leo Tolstoy
"Vacations mean a change of pace, a gentleness with ourselves, a time of rest and renewal, and a time to stretch ourselves and encounter new people, new lands, new ways, and new options." ― Anne Wilson Schaef
"The paradox of relaxation is the renewal of mind; rekindle of spirit and revitalize of strength." ― Lailah Gifty Akita
"If you live where you want to go on vacation, you will always be on vacation." ― Matt Fox
"Resurrection, rebirth, reincarnation, resprout, revive! All these words can be summarised only in one word: Vacation!" ― Mehmet Murat ildan
"After all, the function of a vacation is regenerative, not luxurious. It's to restore our equipment so that we can live our ordinary lives better." ― Malcolm Bradbury
Vacation Quotes for Lovebirds
Love is in the air, or on vacation. If you're prepping for a couples retreat or love love, you might find the perfect heart-warming quote here.
"I would like to travel the world with you twice. Once, to see the world. Twice to see the way you see the world." ― Unknown
"Never go on trips with anyone you do not love." ― Ernest Hemingway
"Traveling in the company of those we love is home in motion." ― Leigh Hunt
"The only time that love takes a holiday is when we go on vacation together." ― Anthony T. Hincks
"A journey is like marriage. The certain way to be wrong is to think you control it." ― John Steinbeck
"A vacation is like love―anticipated with pleasure, experienced with discomfort, and remembered with nostalgia." ― Unknown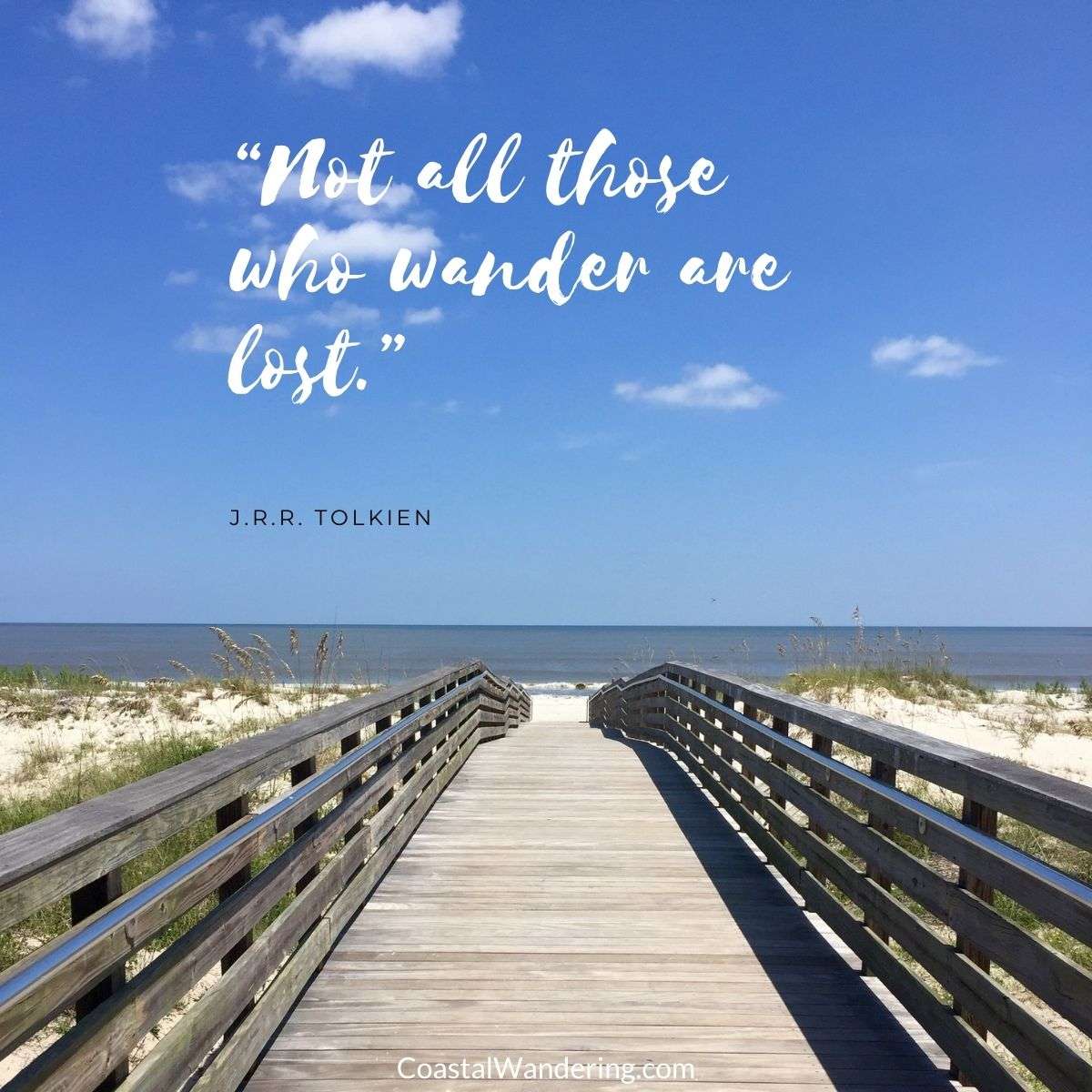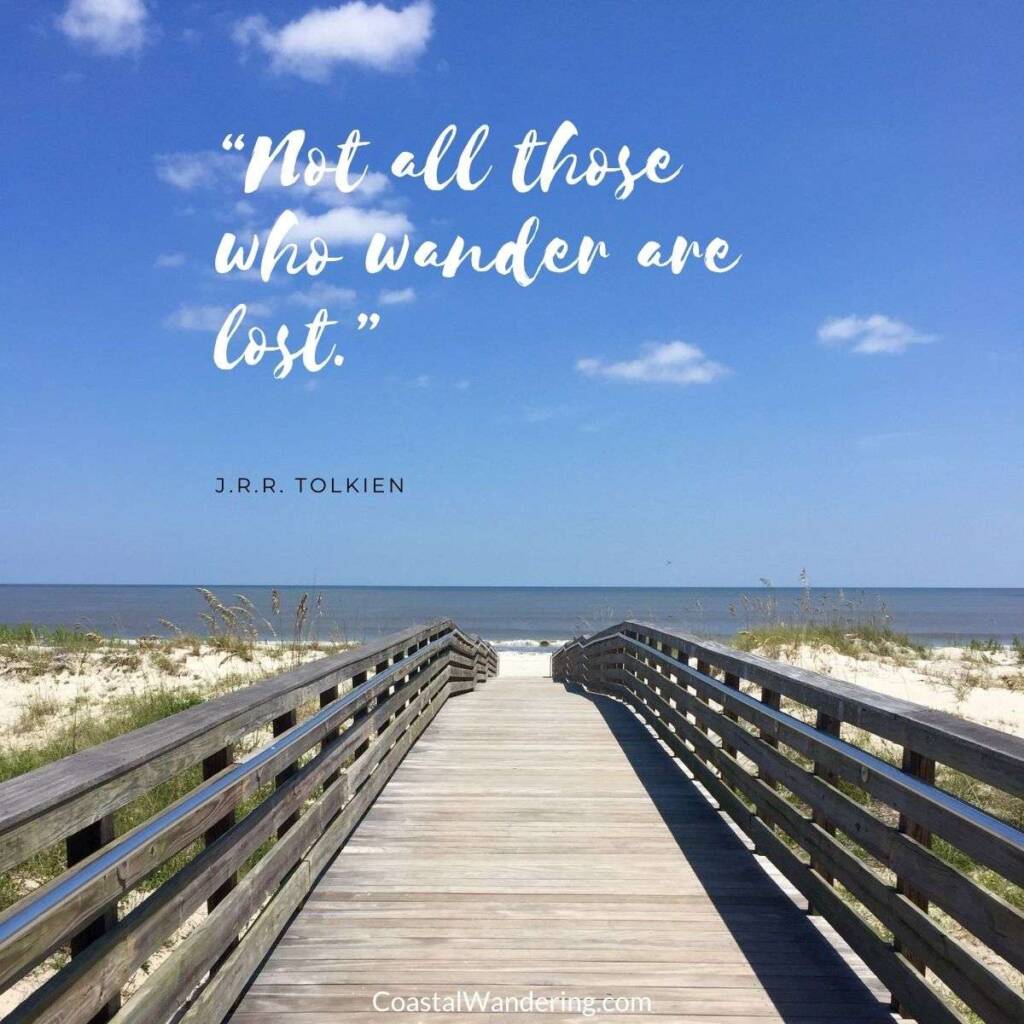 Literary Vacation Quotations
For bookworms and literary enthusiasts, get ready for a reading vacation with the wonders of the written word.
"Here's to books, the cheapest vacation you can buy." ― Charlaine Harris
"When people went on vacation, they shed their home skins, thought they could be a new person." ― Aimee Friedman, Sea Change
"It's a funny thing about coming home. Looks the same, smells the same, feels the same. You realize what has changed is you." ― F. Scot Fitzgerald
"Not all those who wander are lost." ― J.R.R. Tolkien, The Fellowship of the Ring
"I think the best vacation is the one that relieves me of my own life for a while and then makes me long for it again." ― Ann Patchett, This Is the Story of a Happy Marriage
"Let us step into the night and pursue that flighty temptress, adventure." ― J. K. Rowling, Harry Potter and the Half-Blood Prince
"That's why people take vacations. No to relax or find excitement or see new places. To escape the death that exists in routine things." — Don DeLillo, White Noise
"Maybe that's the best part of going away for a vacation-coming home again." ― Madeleine L'Engle, Meet the Austins (Austin Family Chronicles, #1)
"Like a good book or an incredible outfit, being on vacation transports you into another version of yourself." ― Emily Henry, People We Meet On Vacation
"I don't know if this makes me a bad person or whatever, but it's hard for me to get interested in other people's vacations." ― Jeff Kinney, Rodrick Rules (Diary of a Wimpy Kid, #2)
"I want a life I never want to take a vacation from." ― Penelope Douglas, Birthday Girl
"To travel is to live." ― Hans Christian Anderson
"What shall you do all your vacation?', asked Amy. "I shall lie abed and do nothing", replied Meg." ― Louisa May Alcott
"Read a lot when you're on vacation, but nothing that has to do with your business." ― H. Jackson Brown, Jr
"Adventure is worthwhile." ― Aesop
"The real voyage of discovery consists not in seeking new landscapes, but in having new eyes" – Marcel Proust
Quotes for Family & Friendship Adventures
Here are the vacation mode quotes that celebrate friendship, whether it's the people you set off with or the ones you met along the way.
"Having a best friend is like having your own little corner of the world to escape to." ― Unknown
"A journey is best measured in friends, rather than miles." ― Tim Cahill
"Life is meant for good friends and great adventures." ― Anonymous
"A good friend listens to your adventures. Your best friend makes them with you." ― Unknown
"In the end, kids won't remember that fancy toy you bought them, they will remember the time you spent with them." ― Kevin Heath
"As soon as I saw you, I knew an adventure was about to happen." ― A. A. Milne, Winnie the Pooh
"When you go on vacation with people, you learn a lot about them." ― Sarah Mlynowski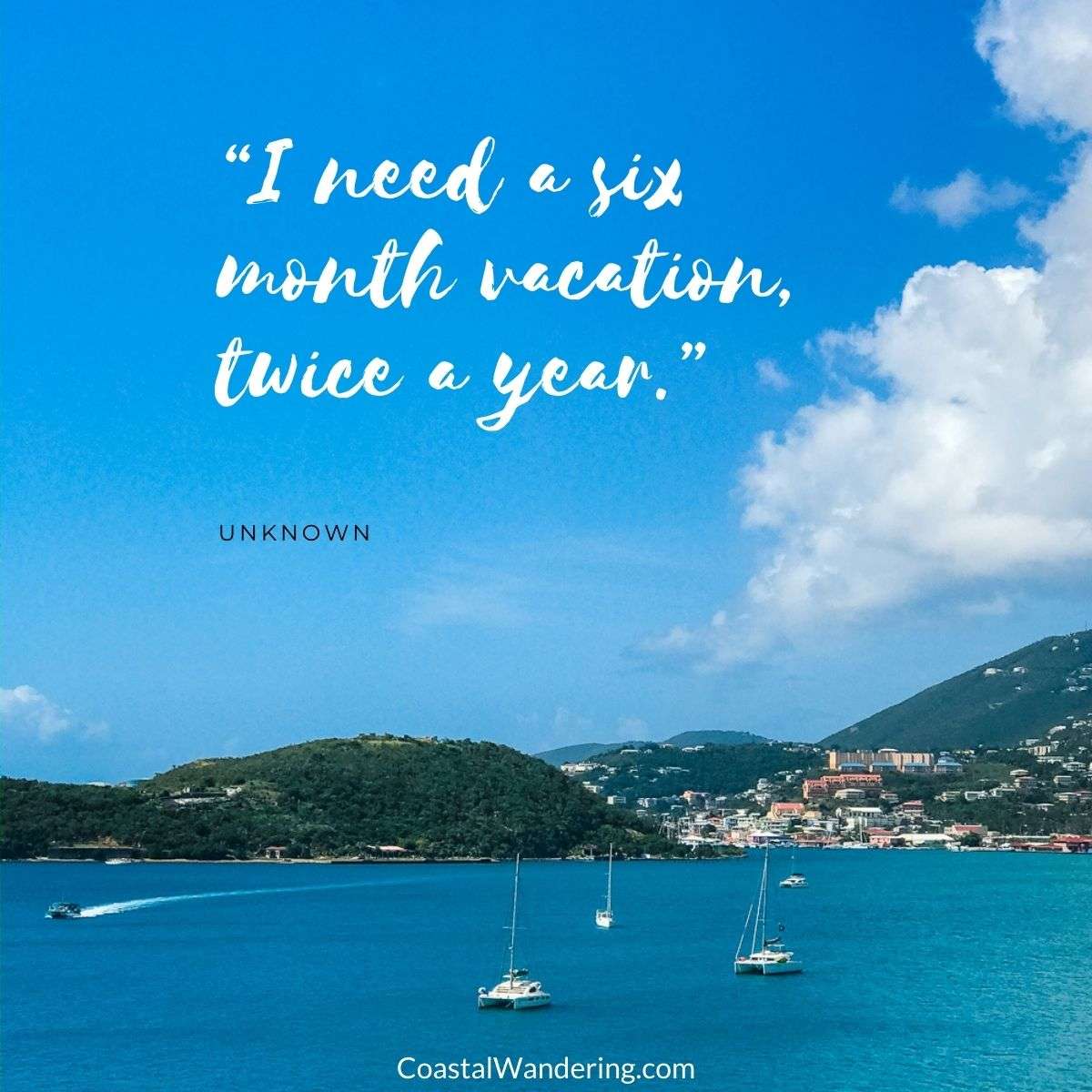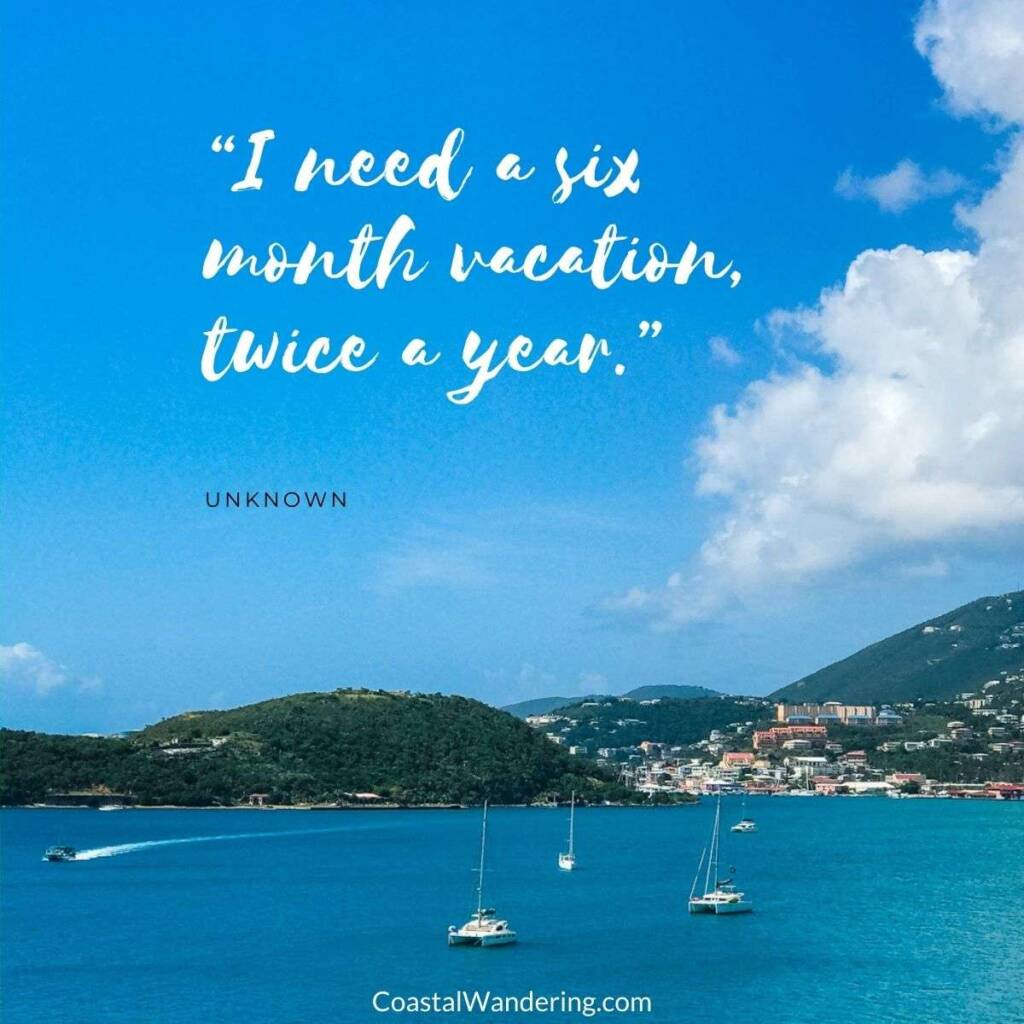 Quotes About Vacation Caught on Camera
Here's a fun vacation game: read the quote before reading who said it. How many shows did you guess correctly?
"Sometimes all you need is a great friend and a tank of gas." ― Thelma and Louise
"I do deserve a vacation. Sometimes Batman's gotta take off his cape." ― The Office
"The world is not in your books and maps, it's out there." ― The Hobbit
"You take me and I'll take a vacation. I'll need a vacation if we're going to get married." ― Duck Soup
"There are no crazy people, doctor, we're all just on vacation." ― Alone in the Dark
Quotes on Vacation Unplugging
When it's time to power down devices and live in the world, these quotes will remind you why you silenced your notifications and experienced a change of place.
"Do more things that make you forget to check your phone." ― Rebecca Cooper
"On vacation, I totally unplug. I don't bring a laptop with me." ― Will Wright
"Take those vacations and do not take your laptop or iphone or blackberry―you are on vacation and that means having a real break and not just going to a different location and doing much of the same thing." ― Byron Pulsifer
"My best vacation is somewhere I could hide, somewhere warm and not a lot of people around." ― Derek Jeter
"It's very refreshing to go away and take a break, to clear your head, and just get into something else."— Francois Nars
"A one day holiday can at times be better than a one-week vacation if you totally unplug for that one day!" ― Catherine Pulsifer
"No, I didn't get a thing done, but I sure soaked up every minute of the memory we were making, and I count it all as time well wasted." ― Brad Paisley
"A vacation helps to relieve stress and boredom, gives us a change of scenery, provides us with adventure, and helps to bring us closer to the people in our lives." ― E. S. Woods
"The opportunity to step away from everything and take a break is something that shouldn't be squandered." ― Harper Reed
What's Your Favorite Quote?
Did I miss your ultimate vacay quote? Did one of my featured quotes on vacation top your list? Whether you loved every entry or a handful are your go-to vacation mode quotes, I hope you found a few old and new favorites.
If you noticed a lack of sand and sea, you might check out my separate lists for the best beach quotes and island vibe quotes.