Mermaids have always been an elusive but enticing legend. Here are some of the most captivating mermaid quotes that will keep you under their spell forever.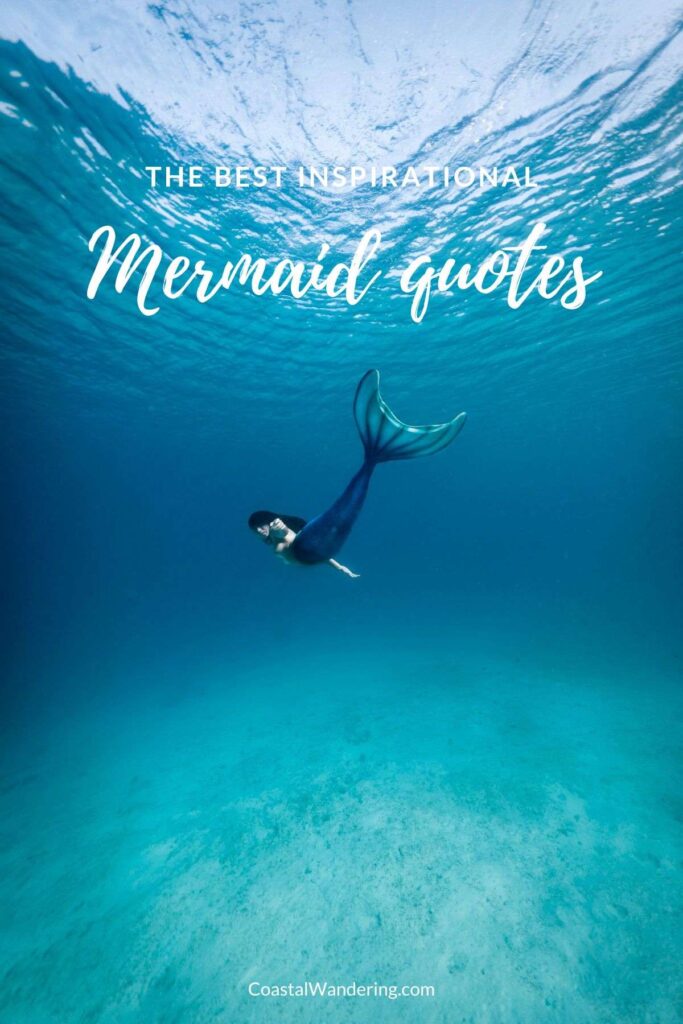 Mermaids have fascinated people for centuries. From classic literature to contemporary movies, they're an inspiration to many.
If you're looking for mermaid sayings, mermaid Instagram captions, or mermaid captions, here's an extensive list of some of the most mysterious, inspirational, and beautiful mermaid quotes. Plus, some humorous ones too!
Jump to:
Mysterious Mermaid Quotes
The main thing about mermaids is that they are mysterious creatures of the deep that lure sailors with their surreal beauty. If you have always dreamed of the mysteries of the sea, enjoy the mystery of the mermaid quotes below!
"The mermaid peeled away from him and emitted a sonar wail that woke drowned sailors from their oyster beds." - Kevin Ansbro
"The sea beckoned to me, and all reality was lost-swept away in the entrancing song of the tide." - Meredith T. Taylor
"Goddess of the deep. Yemaya. If you gave her a gift, she might grant a wish." - Kathi Appelt
"My sisters told me stories of humans. They said they sometimes sing to them to lure them underwater… I've been practicing. Want to hear?" - Julie Kagawa
"He would come up with mermaid scales still sticking to him, and yet not be able to to say for certain what had been happening." - J.M. Barrie
"She appears in many guises - ghost, witch, saint, mermaid, fairy, and sometimes in animal form, often as a sacred fish." - Colin Bord
"If you are curious you might never come home, like all the men who now live with mermaids at the bottom of the sea." - Jeanette Winterson
"Mermaid tears were treasure, meant to be guarded close to one's heart. They brought wishes of true love and kept you safe." - Kerry Lonsdale
"And I am here, the mermaid whose dark hair streams black, the merman in his armored body." - Adrienne Rich
"Where there's water, we find mermaids."- Mira Grant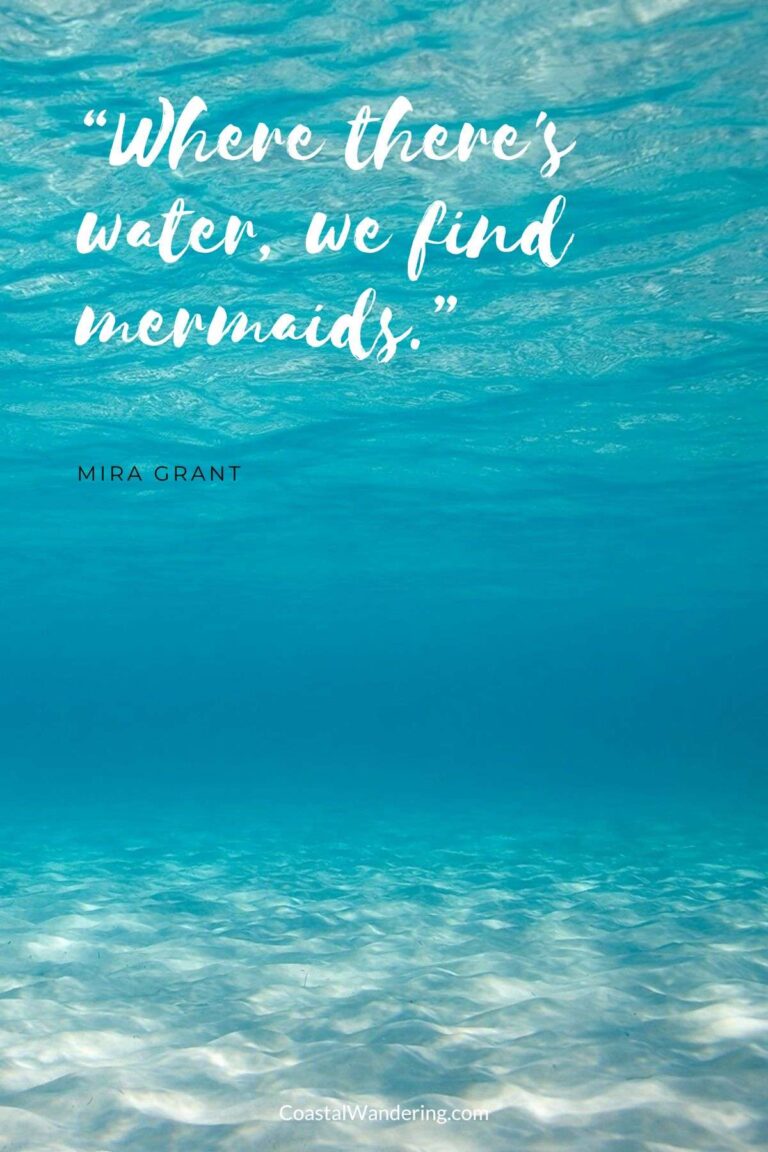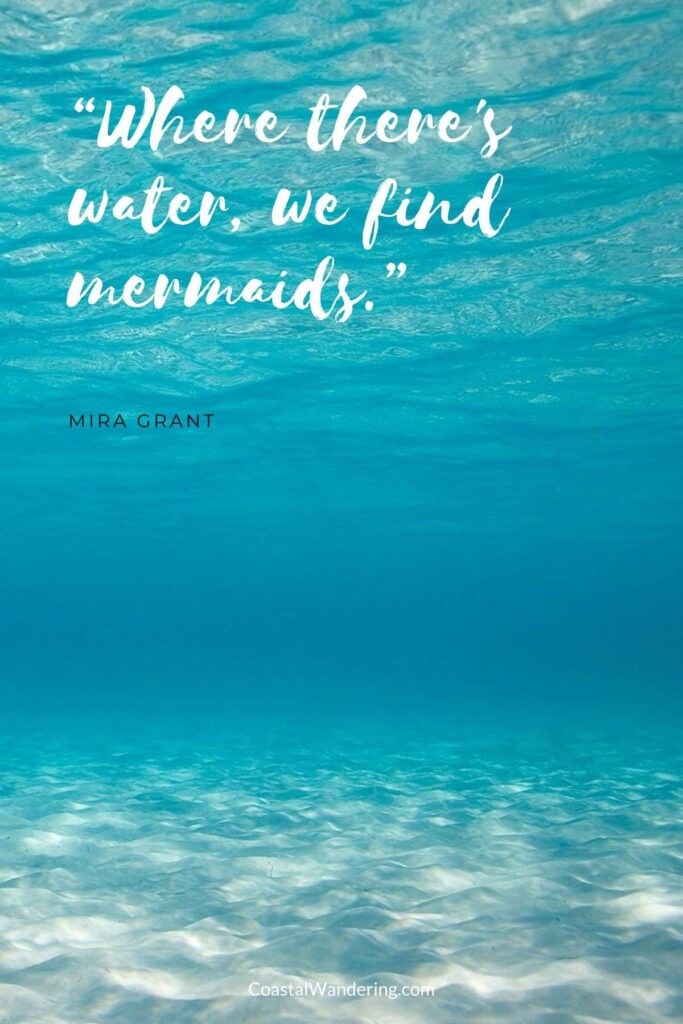 "It was like falling down an elevator shaft and landing in a pool full of mermaids." - Hunter S. Thompson
"She heard mermaids, so it follows that there is something rotten in the state of Denmark." - Diana Wynne Jones
"The difference between a Miracle and a Fact is exactly the difference between a mermaid and a seal." - Mark Twain
"No matter where you go, the mermaids got there first."- Mira Grant
"Write your secrets in the sand and trust them with a mermaid."- Unknown
"Keep swimming way, way down to the bottom of the ocean to find where the mermaids sang… where there was danger and beauty and light."- Marisha Pessl
"We have lingered in the chambers of the sea, By sea-girls wreathed with seaweed red and brown, Till human voices wake us, and we drown." - T.S. Eliot
"You don't know what it is to live and laugh and love and run a man through! You've never tasted salty air on your tongue or waved heartily at a mermaid!" - Gideon Defoe
"I have heard the mermaids singing, each to each. I do not think that they will sing to me." - T. S. Eliot
"And visited the sea; The mermaids in the basement Came out to look at me" - Emily Dickinson
"I've always been obsessed with things that are half animal and half human - like mermaids and Minotaurs - because they are trapped in an animal body." ― Riccardo Tisci
"Words like mysterious mermaids come and live permanently in the soft sweeps and scars of my skin." - Sanober Khan
Quotes About Love
Mermaids call to mind the charms of half-women that promise eternal love to mortals. If you have been captivated by the lovely feeling associated with the archetypal image of mermaids, you will find adorable mermaid quotes here to fall in love with and cherish!
"She was the mermaid enrapturing me the sailor with all her charms!" - Avijeet Das
"She left two mermaid tears, crystals with a bit of salt embedded in them, on his pillow." - Jane Yolen
"But my heart felt swollen… I was in love with a mermaid." - Tiana Warner
"They sleep with the mermaids, and afterwards, they sigh with regret for the warmth they have lost." - Moniro Ravanipour
"Any soul you are attached to is a mermaid for you because it slowly pulls you into the pond of its bad Karma." - Shunya
"She knows words that mermaids taught her… My heart aches because I wasn't you when you dreamed at the seashore." - Fernando Pessoa
"Come swim with me in the calming sea, let's be mermaids for a while." - Melody Lee
"If you were a mermaid, I was the sea." - Francesca Lia Block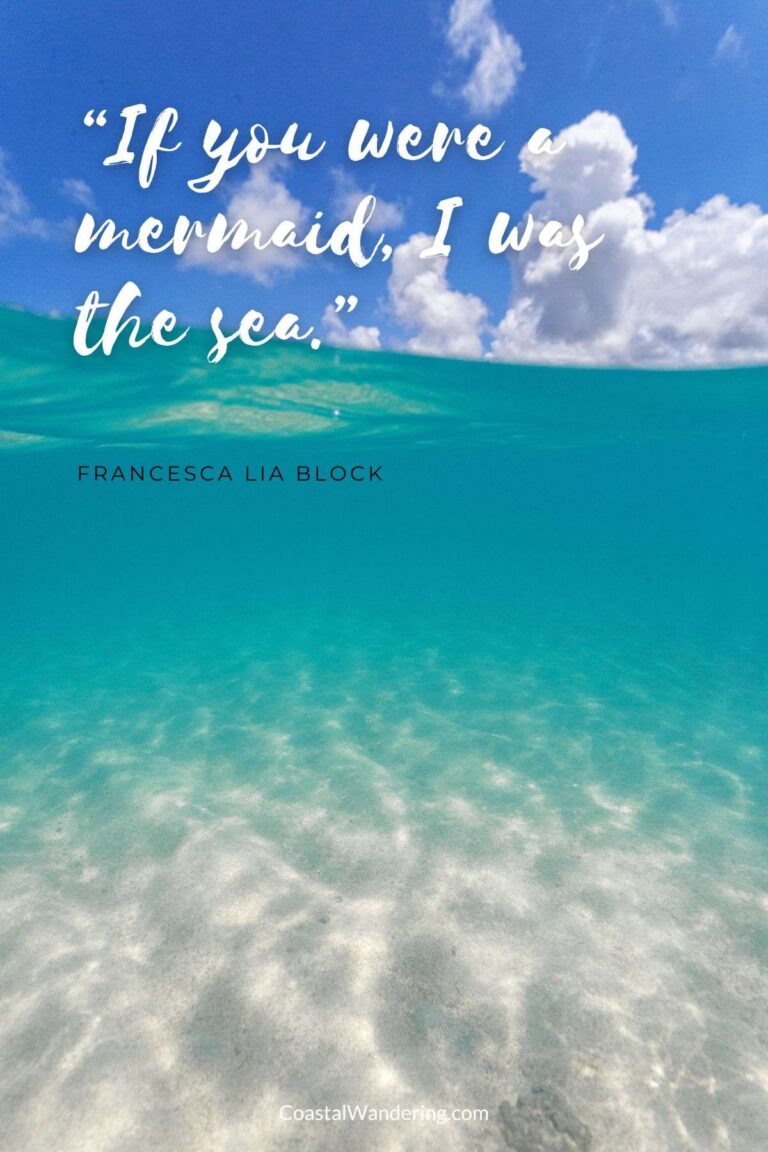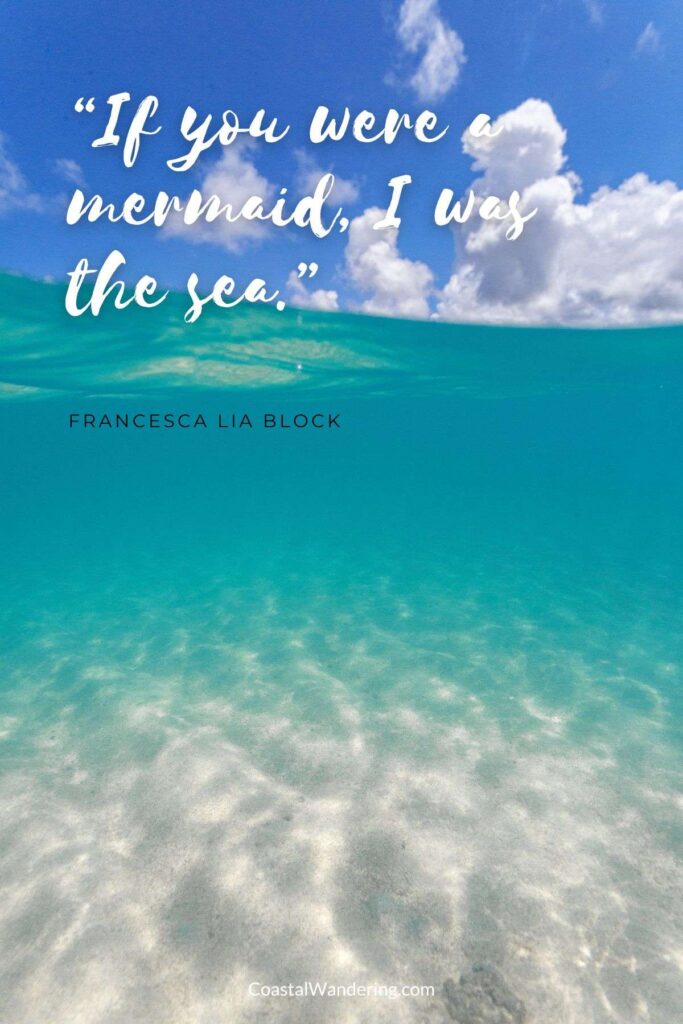 "Swim with me till those streamlines where there's no trace of the sea shore and I will submerge and breathe in them with you as a mermaid till eternity." - Spriha Kant
"Oh love, rose made wet by mermaids and foams." - Pablo Neruda
"I would be a mermaid fair; I would sing to myself the whole of the day… "Who is it loves me? who loves not me?" - Lord Alfred Tennyson
"I'll swim through the Earth, like a mermaid of the soil, just to be next to your bones." - Jeffrey McDaniel
"Dive deeper, my Siren, and sing, All I crave is feeling you within." - Talismanist Giebra
"Your heart is the ocean of love, I am the sailor looking for my mermaid, are you the mermaid I see in my dreams?" - Avijeet Das
"Maybe I'm still the mermaid. Maybe the ocean in your hand." - Kelli Russell Agodon
"She would be half the world away, floating in a turquoise sea, dancing by the moonlight." - Janet Fitch
"Because there's nothing more beautiful than the way the ocean refuses to stop kissing the shoreline, no matter how many times it's sent away." - Sarah Kay
"The ultimate corner of sugar and toast, where the mermaids catch the branches of the willows and the heart opens to a flute's sharpness." - Federico Garcia Lorca
Deep Mermaid Quotes
Mermaids are creatures of the deep, making them as dangerous as they are alluring. The danger of drowning keeps sailors away. So, what else lurks in the depths from which these deep quotes originate? Let us take a look!
"Tell us the one about the mermaid again… That one's so heart-breaking, it must be real." - Christina Soontornvat
"Because a man needs to swim with a mermaid while a boat feels safer. Lots of men want to stay in a boat because they're afraid of drowning." - C. Joybell C.
"A mermaid's heart is the most fragile thing in the sea." - Emm Cole
"Mermaids are never caught; they are only dreamt of, longed for." - C. Joybell C.
"Men are afraid of mermaids. They want to be near mermaids, but they're afraid of them." - C. Joybell C.
"If the mermaid had been an idealized projection of a human woman onto a marine mammal, she would have looked different every time." - Mira Grant
"Nobody wants to admit that mermaids who survive the dangers of the ocean can still be defeated by their own pain." - Emm Cole
"I felt a little like a mermaid, rendered voiceless by her own longing." - Seanan McGuire
"If you sing to the mermaids, they come when you're drowning." - Tori Amos
"Maybe when I die and I'm thrown overboard, I'll turn into a mermaid." - Aoife O'Donovan
"I know a sad little mermaid, Dwelling in the ocean, Softly, gently blowing, Her heart into a wooden flute." - Forugh Farrokhzad
"I've always been obsessed with… mermaids and Minotaurs – because they are trapped… And I felt trapped in my own life." - Riccardo Tisci
"She is a mermaid but approach her with caution. Her mind swims at a depth most would drown in." - J. Iron
"Mermaids are not the monsters you humans think we are." - Sarah Henning
"People want to believe in mermaids." - Christina Henry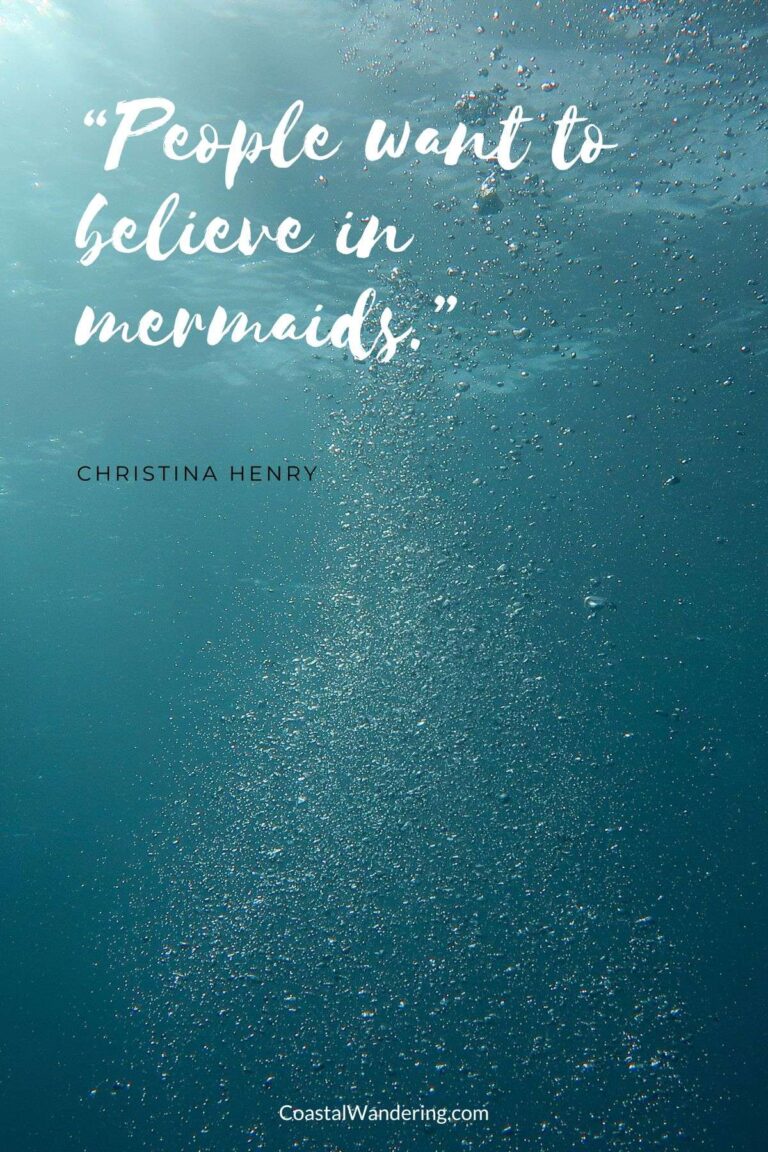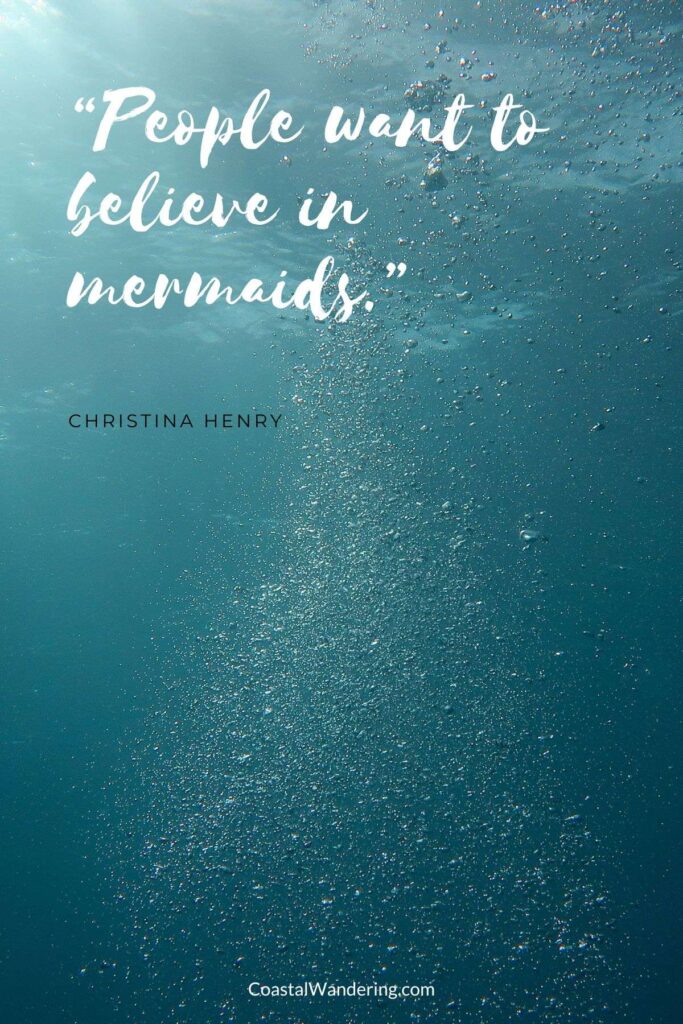 "I'll drown more sailors than the mermaid shall." - William Shakespeare
"She knew nothing. She was a mermaid who had lost her way." - Pablo Neruda
"I always wanted to be a mermaid but I never saw the sea." - Renee Thebeau
"Love for a handsome fisherman alone can separate a small mermaid from the sea." - Moniro Ravanipour
"I must be a mermaid, Rango. I have no fear of depths and a great fear of shallow living." - Anais Nin
"I understood those mermaids. I didn't care if they sang to me. All I wanted was to block out all the human voices… pulling me upward into light, to drown." - Sarah Dessen
"Like a mermaid in sea-weed, she dreams awake, trembling in her soft and chilly nest." - John Keats
"If you think you are the mermaid, think again. You are the ocean holding the mermaid afloat." - Kelli Russell Agodon
"If I fall into the ocean and I'm not drowning, do you think she'll bother to save me?" - Sarah Cross
"And then I cried a flood of tears as if I really were a mermaid who had absorbed too much sea into herself." - Francesca Lia Block
"A mermaid found a swimming lad, Picked him for her own, Pressed her body to his body, Laughed: and plunging down, Forgot in cruel happiness, That even lovers drown." - William Butler Yeats
"And heard a mermaid… Uttering such dulcet and harmonious breath, That the rude sea grew civil at her song." - William Shakespeare
"O train me not, sweet mermaid, with thy note, To drown me in thy sister's flood of tears!" - William Shakespeare
"Mermaids fought like humans, laughed like humans, and loved like humans." - Tiana Warner
Mermaid Inspirational Quotes
Mermaids are brave to live in the depth of the ocean. They do not fear the dangers that would terrorize men. Likewise, we can look for inspiration to be brave and withstand any storms life throws at us. Let us find a quote to motivate you today!
"We essentially all have to be mermaids, every day, to live this life." - C. Joybell C.
"I have a mermaid tattoo on my ankle because mermaids are not afraid of depths, of storms, and men." - C. Joybell C.
"The mermaid is, in my opinion, the most powerful archetype for the modern-day woman; courageously braving mental challenges and emotional storms in a world dominated by men." - C. Joybell C.
"Donald heard a mermaid sing… But all the magic I have known I've had to make myself." - Shel Silverstein
"I am a siren, a mermaid… I am beautiful while basking on the ocean's waves… I can eat flesh and bones at the bottom of the sea" - C. Joybell C.
"Make your story so beautiful, mermaids have trouble believing it's true."- R.I.D.
"But a mermaid knows: life is just not worth living if you're not ready to drown a few times." - C. Joybell C.
"A smooth sea never made a skilled mermaid." - Unknown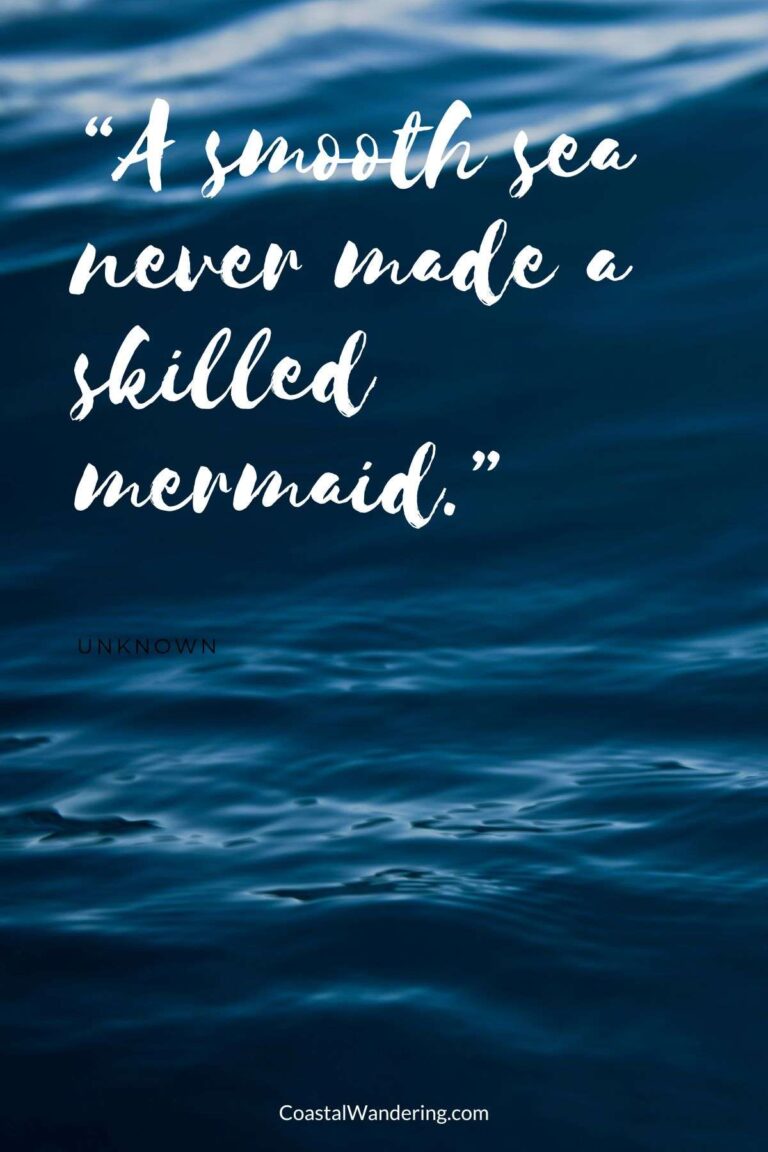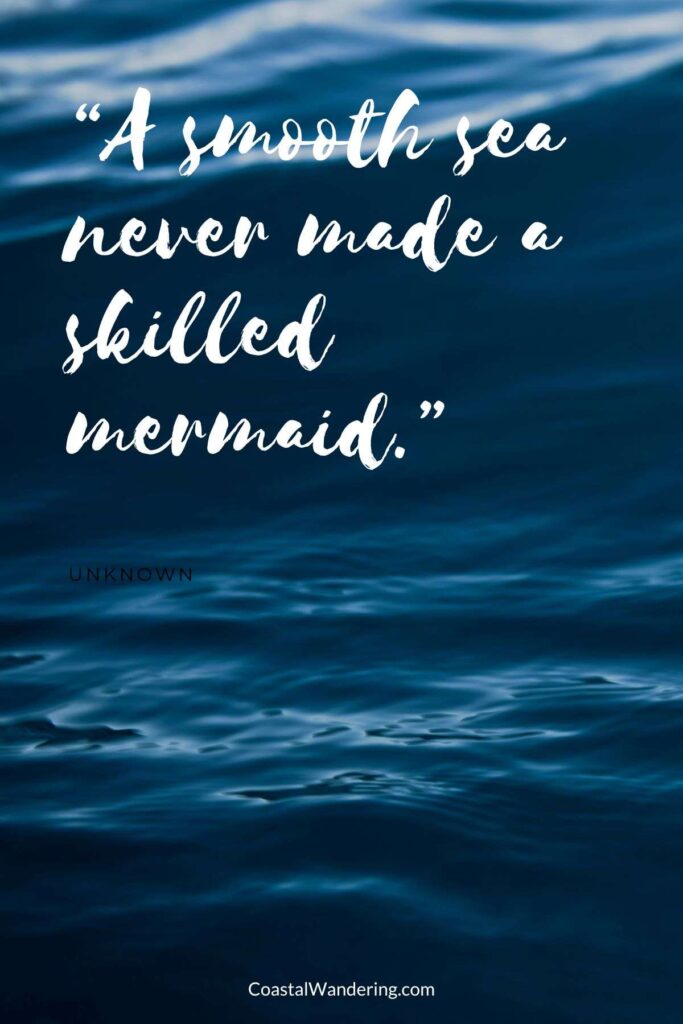 "The mermaid… represents a woman who is at ease in the great waters of life, the waters of emotion."- Anita Johnson
"She is water, powerful enough to drown you, soft enough to cleanse you." - Adrian Michael
"I have a new respect for the mermaids... because it's very tough what they do." - Gaz Coombes
"Be a mermaid who doesn't stop until she makes tidal waves. Be a mermaid who knows to stop before she devastates the world with her."- Amanda Lovelace
"Like a mermaid rising from an ocean of paper, the girl emerged across the room." - Brian Selznick
"Aye, tough mermaids are, the lot of them." - Blackbeard
"The sea, once it casts its spell, holds one in its net of wonder forever." - Jacques Yves Cousteau
"I address you all tonight for who you truly are: wizards, mermaids, travelers, adventurers, and magicians. You are the true dreamers." - Brian Selznick
Quotes About Beauty
Beauty and mermaids work hand in hand. Diaphanous and beautiful mermaids naturally call to mind the esthetically-pleasing forms of the ocean. Mermaid quotes about beauty come naturally.
"If they could, they'd drag you into a glass tank and chain you up because they don't want that kind of beauty around them, outshining them." - C. Joybell C.
"Sea-foam, And coral! Oh, I'll, Climb the great pasture rocks, And dream me mermaid in the sun's, Gold flood." - Adelaide Crapsey
"You don't want to be skinny when all of your cousins are mermaids." - Sofia Vergara
"Fishermen dream of great dripping trout, shapely and elusive as mermaids." - John D. Voelker
"There's always a woman somewhere… a mermaid… wicked as she is beautiful, or as beautiful as she is good." - Jeanette Winterson
"Slow sail'd the weary mariners and saw… Sweet faces, rounded arms, and bosoms prest, Two little harps of gold." - Lord Alfred Tennyson
"Surely woman rose from the frothy sea, as resplendent as Aphrodite on her scalloped chariot." - Margot Datz
"I have seen them riding seaward on the waves, combing the white hair of the waves blown back." - J Alfred Prufrock
"Even if they are fictional, I always thought that mermaids were beautiful creatures." - Daniele Lanzarotta
"The turquoise tide shimmered in shades of mermaid tails against the alabaster shore." -Karen Marie Moning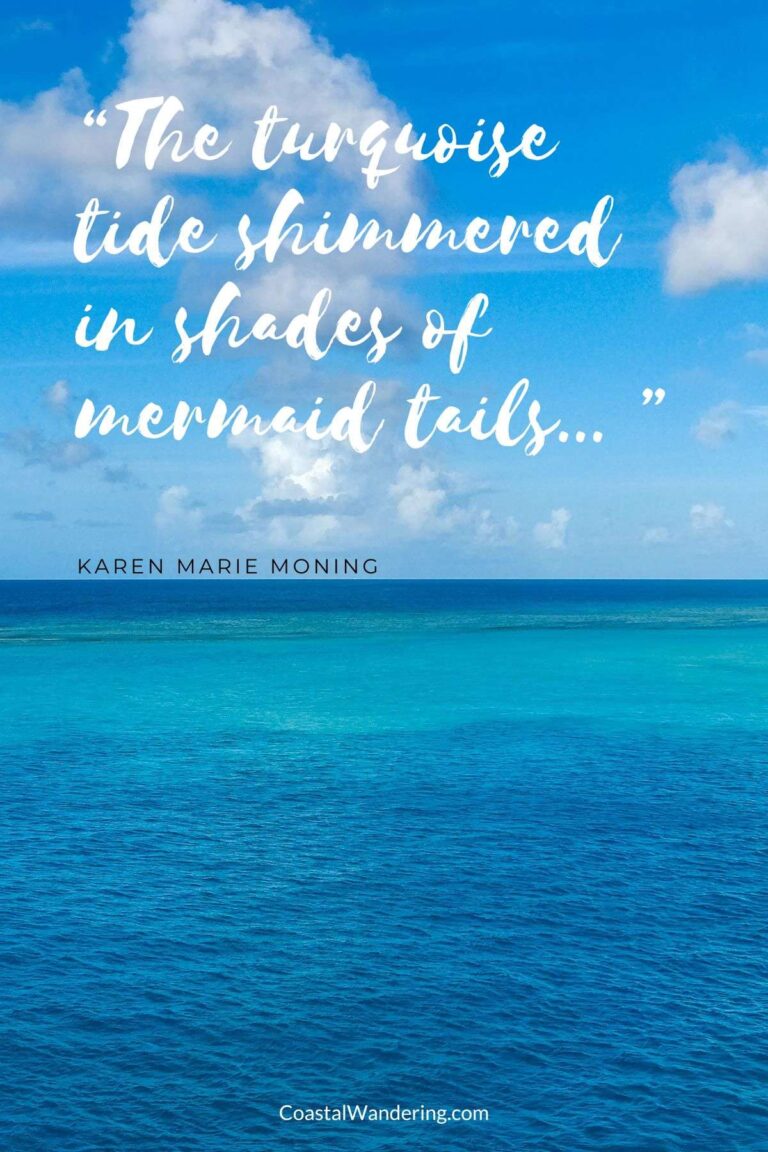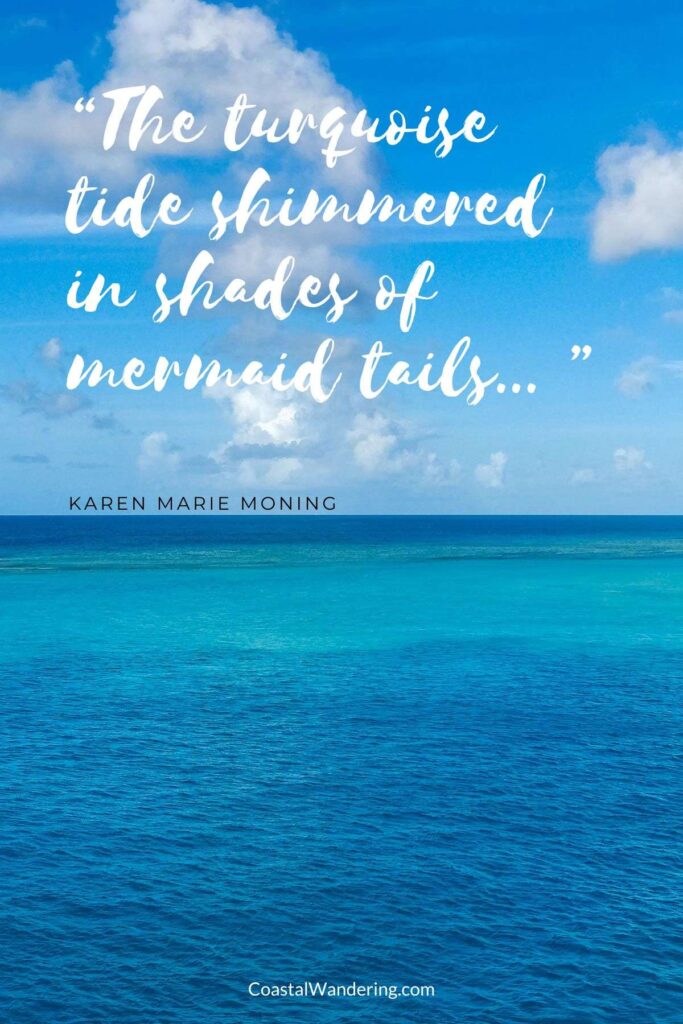 "This creature was so enticing that he guessed he might be chasing after her forever." - Tiffany Roberts
"She saw the darting flash of multicolored tails under the silvery skin of the water, the shimmer of long, pearl-strewn hair, and heard the high, rippling laughter of the mermaids." - Cassandra Clare
"Frightening and beautiful. The mermaid goddess who lived on in the soul of every woman who'd ever fallen in love with the ocean." - Sarah Ockler
About Being a Mermaid
What is better than quotes about mermaids? Quotes about being a mermaid! Let us see who feels like a mythical creature from the sea!
"I'm always happy when I'm surrounded by water, I think I'm a Mermaid or I was a mermaid. The ocean makes me feel really small and it makes me put my whole life into perspective…" - Beyonce Knowles
"I WAS a mermaid in my past life! Maybe I was a fish or a dolphin." - Ella Henderson
"Clark Gable was the first to have called me a mermaid." - Esther Williams
"You asked me who I thought I was before. I said maybe I was a fish because I love water." - Francesca Lia Block
"Everyone has a secret. Mine's a little different. I figured out I am a mermaid." - Liz Kessler
"I have also always wanted to be a sultry mermaid or a badass fairy." - Katrina Law
"Maybe I would become a mermaid… I would live in the swirling blue-green currents, doing exotic underwater dances for the fish, kissed by sea anemones, caressed by seaweed shawls." - Francesca Lia Block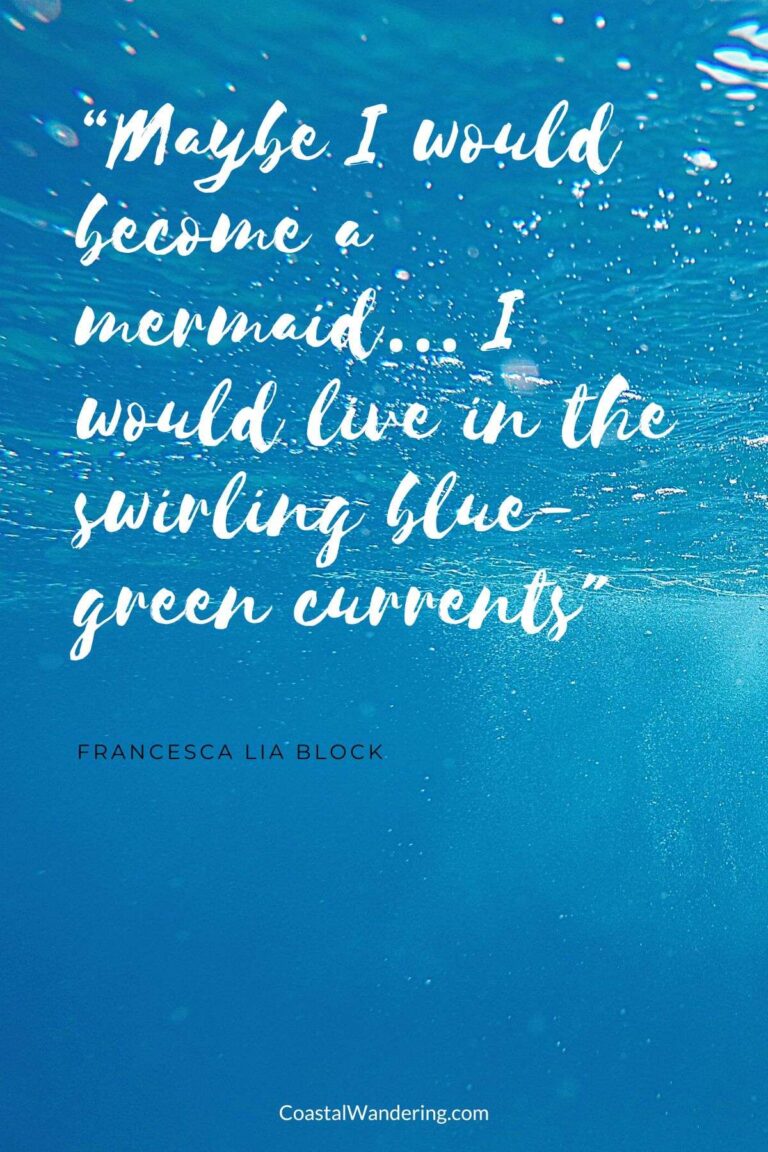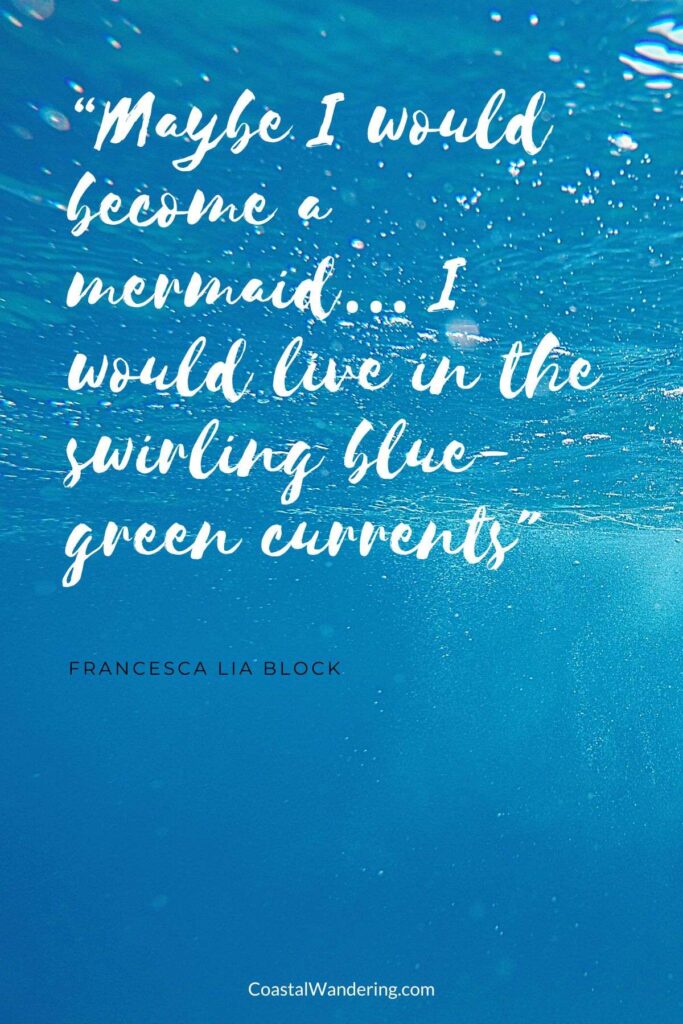 "I think I was a mermaid and I used to swim the shores of Hawaii and used to pop up and see coconuts and pineapples everywhere." - Ella Henderson
"There are people all over the world who carry the mermaid inside them." - Carolyn Turgeon
"We are the glamorous mermaids in the ocean that offers us another magical journey." - Cinda Swalley
"The water calls out to you until it causes you physical pain unless you come to it." - Nadia Scrieva
"I often have the fantasy that curly girls are mermaids who have had to adapt to life on dry land." - Lorraine Massey
"I think every little girl's dream is to be a mermaid or to see a mermaid." - Emma Roberts
"In your veins flows a mermaid's blood, so be a mermaid." - Anton Chekhov
"'I'm a princess and sometimes I'm a fairy, and I'm a mermaid too.' …She knew her own worth, she insisted on it." - Elizabeth McKraken
Little Mermaid Quotes
The Little Mermaid was a smash hit when it came out in 1989. Quotes from and about it live on today. Let us find your favorite!
"Who says that my dreams have to stay just my dreams?" - Ariel, The Little Mermaid
"When the world says 'give up', hope whispers 'try one more time'." - Ariel
"I don't see how a world that makes such wonderful things could be bad." - Ariel
"What would I pay to spend a day warm on the sand." - Ariel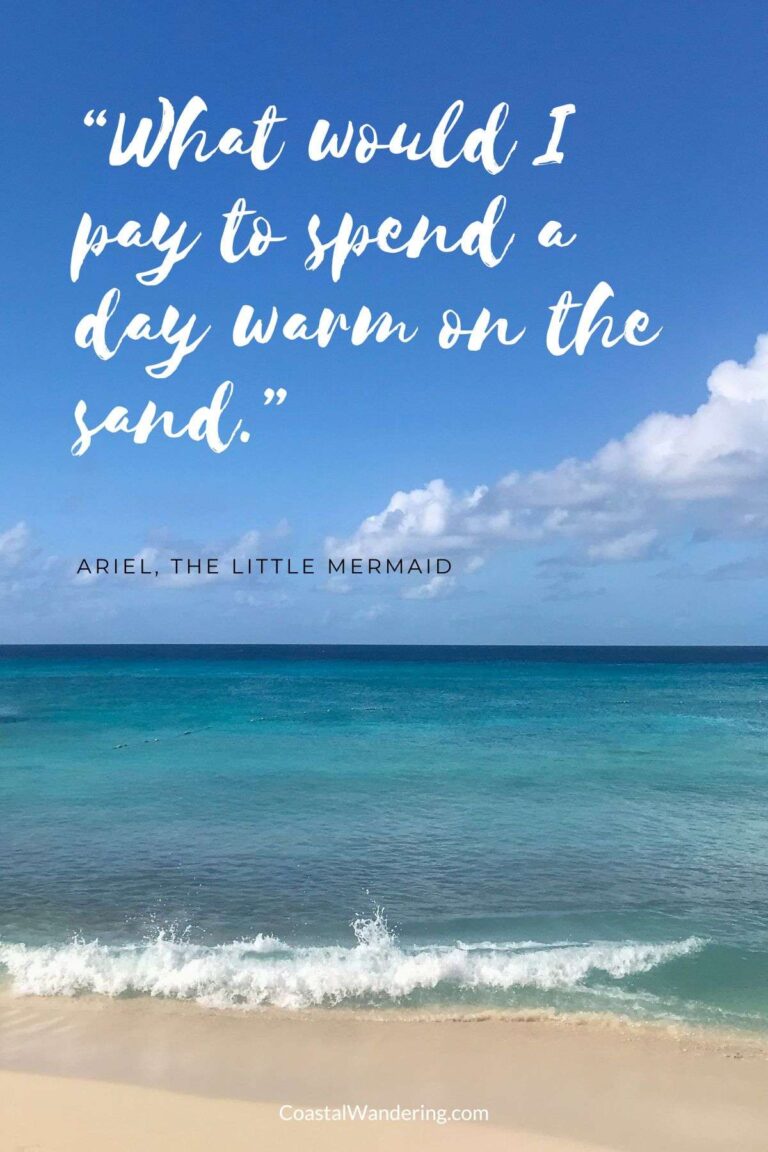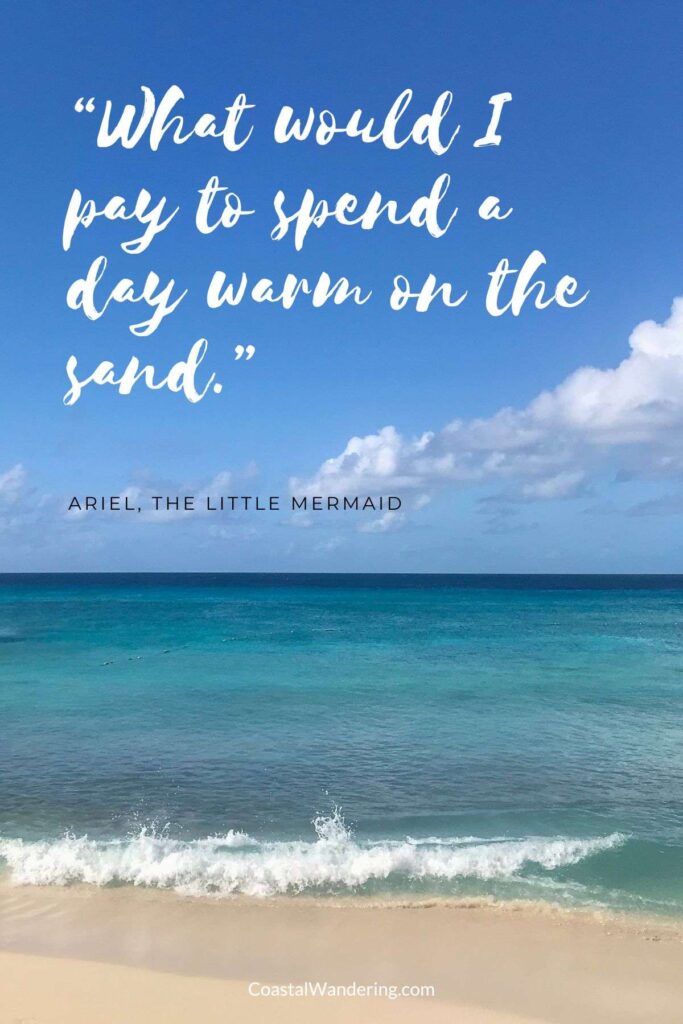 "You're the one, the one I've been looking for." - Prince Eric, The Little Mermaid
"The human world is a mess. Life under the sea is better than anything they got up there." - Sebastian, The Little Mermaid
"Life's full of tough choices, isn't it?" - Ursula, The Little Mermaid
"Most people think of Ariel when they think of mermaids. What they don't know is that she's surrounded by really hot-tempered mermaids." - Edward Kitsis
"I think of Ariel, my local neighborhood mermaid, how she only had twenty-four hours to turn her life around..." - Shannon Celebi
"But a mermaid has no tears, and therefore she suffers so much more." - Hans Christian Andersen
"A mermaid has not an immortal soul, nor can she obtain one unless she wins the love of a human being. On on the power of another hangs her eternal destiny." - Hans Christian Andersen
"They swam before it, and sang most sweetly of the delight to be found beneath the water." - Hans Christian Anderson
Funny Mermaid Quotes
Do not forget to laugh. Even when thinking about ethereal beings like mermaids, we can find something funny to brighten our day. Have fun!
"The first rule of cannibal mermaid fight club is don't talk about cannibal mermaid fight club."- Kali Wallace
"First of all, never call a mermaid a fish unless you're trying to insult her." - Tiana Warner
"Being a mermaid might seem like all fun and games, but it was a job like any other." - Mira Grant
"When you kiss a Mer-male, does it taste like fish?" - Nadine Christian
"I've got a swimming pool and I pretend to be like a mermaid." - Rebel Wilson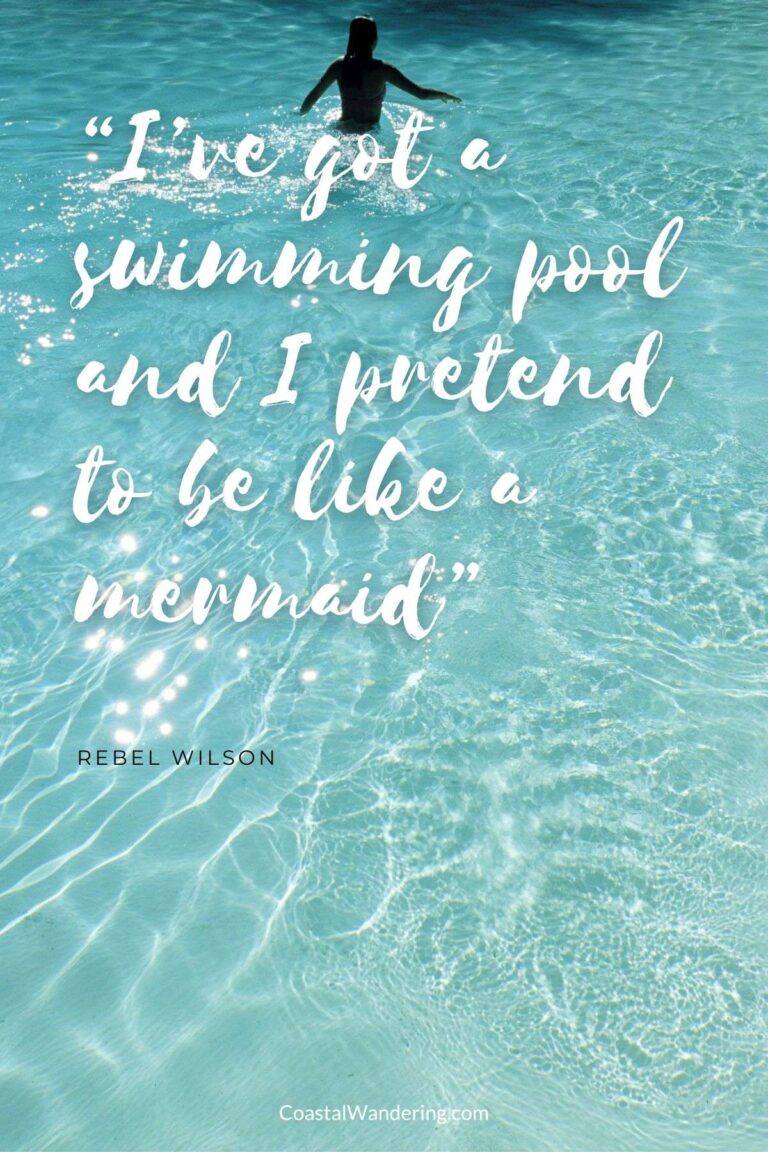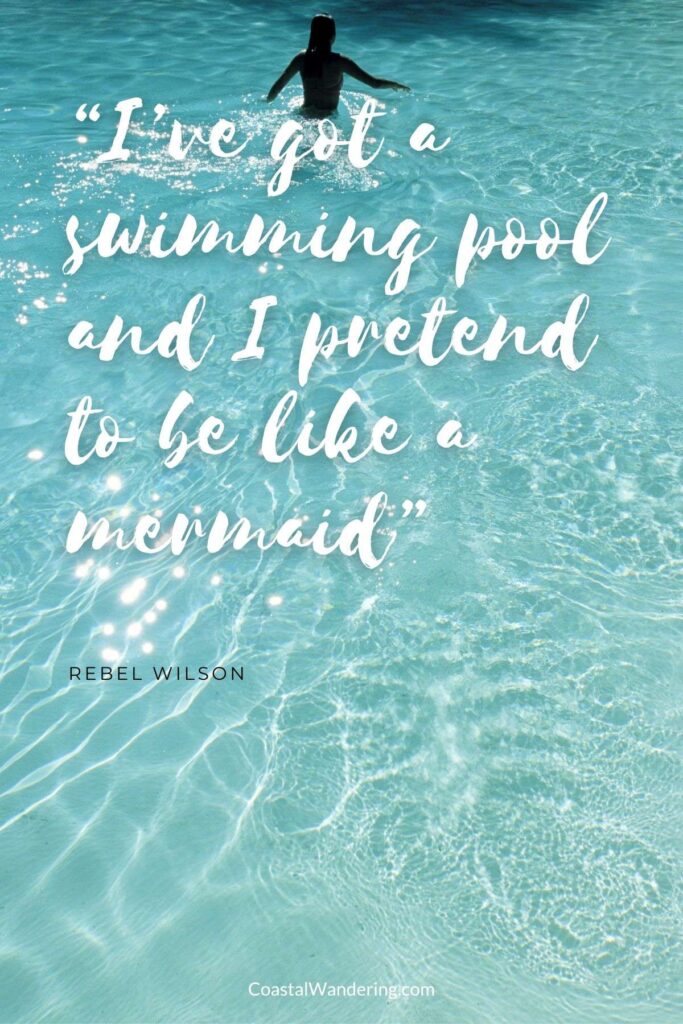 "Old ladies in wheelchairs with blankets over their legs, I don't think so…retired mermaids." - Milton Jones
"You know that's why mermaids swim around topless all the time, right? It's because their boobs are too big and all bras are C shells." - H.M. Ward
"Never ask a mermaid if you can borrow her tail." - Mira Grant
"We gave you an atomic bomb, what do you want, mermaids?" - Isidor Isaac Rabi
"I'm thirsty as a bloody mermaid!" - Random Riggs
"I'm not a goddamned mermaid either, so don't get any ideas about shell-bras or selling my voice to a sea-witch." - Catherynne M. Valente
"Sirens do well at singing the sirens' song and dragging vile people to their deaths, and for good reason!" - C. Joybell C.
The best mermaid quotes, short or long, are perfect for a fun Instagram capture or inspirational poster. There is a mermaid inside all of us!