These quotes will make you want to get away to an island, whether you're planning a quick escape or a dream vacation.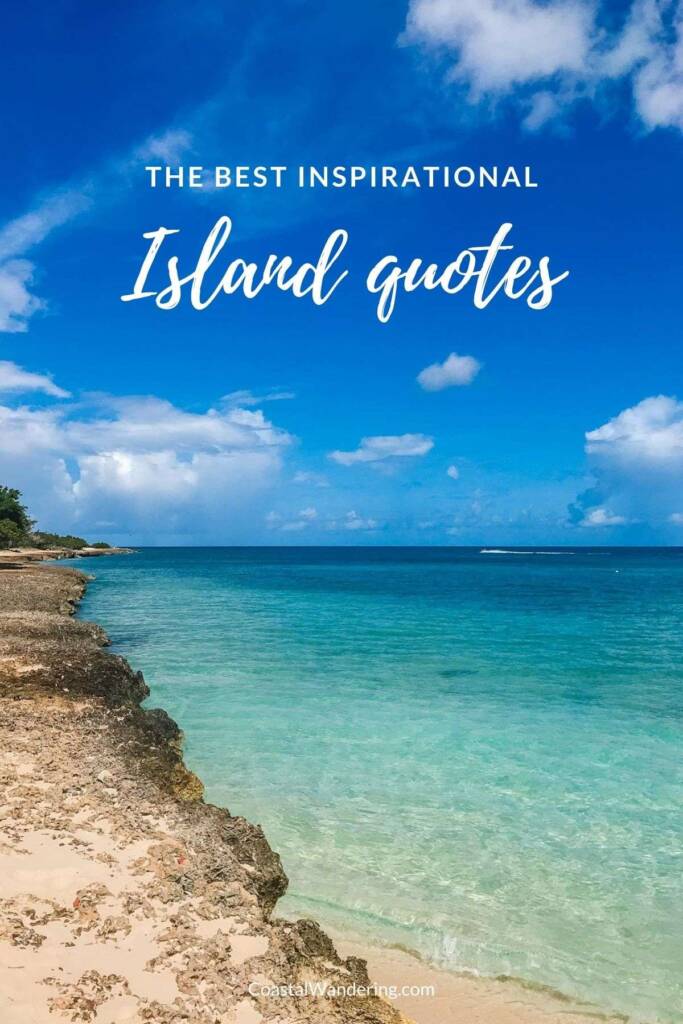 As you read these quotes about island life, paradise, and even the tropical captions that are Instagram-worthy, prepare for an adventure and memories for a lifetime.
Island and Paradise Quotes
With or without reason, escape from it all. Whether you are looking to relax, unwind, or need a change of scenery, life on a tropical island is just what you need.
"It is better to have your head in the clouds, and know where you are…than to breathe the clearer atmosphere below them, and think that you are in paradise." —Henry David Thoreau
"Paradise is not a place, it's a state of mind." —Frank Sonnenberg
"Mind on a permanent vacation, the ocean is my only medication, wishing my condition isn't ever going to go away." —Jimmy Buffett
"The beach is not a place to work; to read, write or to think." —Anne Marrow Lindbergh
"How I wish that somewhere there existed an island for those who are wise and of good will." —Albert Einstein
"Take me to the ocean. Let me sail the open sea. To breathe the warm and salty air and dream of things to be." —Erica Billups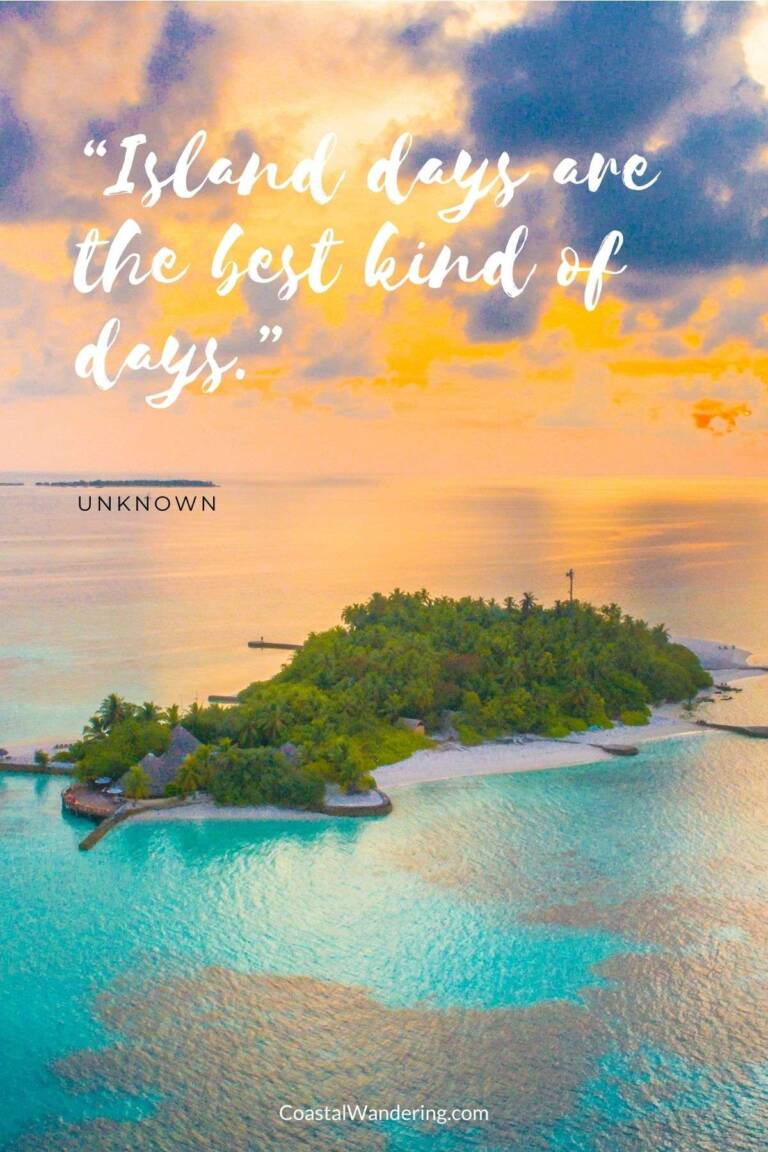 "Islands are natural workshops of evolution." —Richard Dawkins
"Everyone knew that all islands were worlds unto themselves, that to come to an island was to come to another world." —Guy Gavriel Kay
"I feel we are all islands—in a common sea." —Anne Marrow Lindbergh
"No man is an island, entire of itself; every man is a piece of the continent, a part of the main." —John Donne
"Life is an island. People come out of the sea, cross the island, and return to the sea. But this short life is long and beautiful. In getting to know nature man exalts the wonder and beauty of life." —Martiros Saryan
"Little islands are all large prisons; one cannot look at the sea without wishing for the wings of a swallow." —Sir Richard Francis Burton
"We live on an island surrounded by a sea of ignorance. As our island of knowledge grows, so does the shore of our ignorance." —John Archibald Wheeler
"The larger the island of knowledge, the longer the shoreline of wonder." —Ralph Washington Sockman
"Knowledge is an island surrounded by a sea of mystery." —Chet Raymo
"Small islands of coherence in a sea of chaos can shift the whole system to a higher order." —Barbara Marx Hubbard
"Would you learn the secret of the sea? Only those who brave its dangers, comprehend its mystery!" —Henry Wadsworth Longfellow
"The sea does not reward those who are too anxious, too greedy, or too impatient. One should lie empty, open, choiceless as a beach - waiting for a gift from the sea." —Anne Morrow Lindbergh
"The beauty and mystery of the ocean fill our lives with wonders, vast beyond our imagination." —M.L. Borges
"When you grow up on an island, what matters is how you stand to the sea." —Roddy Doyle
"When you're on one of the Caribbean islands, sometimes it's hard to picture how they fit with the rest, but when you see them all joined together like a necklace from space, you see the natural geographic connectedness of them all." —Chris Hadfield
"I love living my life in flip-flops. I met a guy in the islands a while ago who told me he hadn't worn a pair of shoes in three years! I thought, 'Man, that's the life!'" —Kenny Chesney
Tropical Vibes Instagram Captions
Any one of these quotes would be the perfect caption for your memories.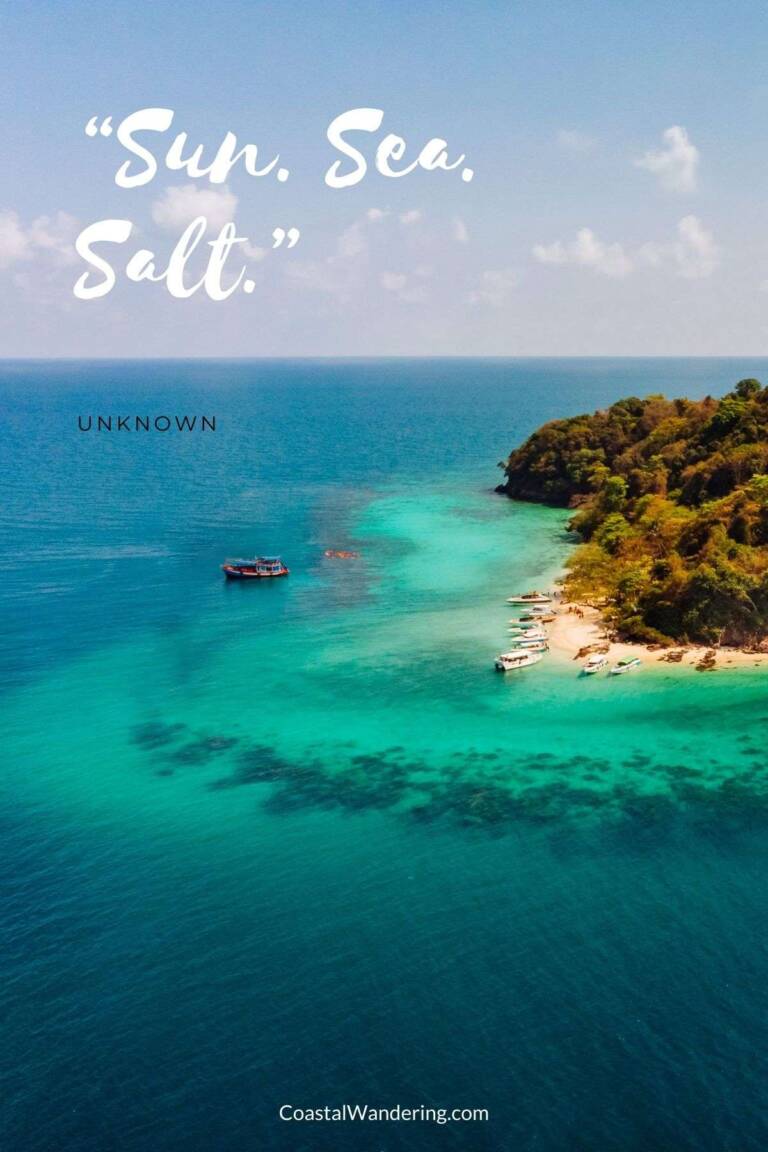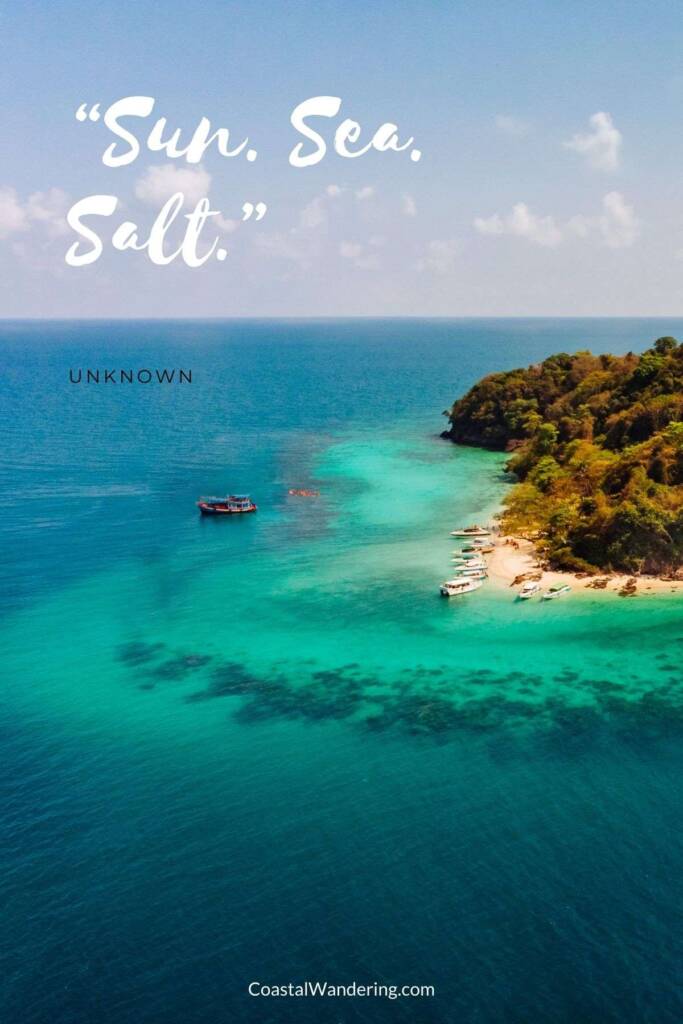 "A pineapple a day keeps the worries away." —Unknown
"Tropical state of mind." —Unknown
"Living on island time." —Unknown
"The ocean is everything I want to be. Beautiful, mysterious, wild, and free." —Unknown
"Good vibes happen on the tides." —Unknown
"Book the ticket, buy the bikini, never look back." —Unknown
"Island days, island ways, surf, sun, and sunny rays." —Unknown
"Be a pineapple: stand tall, wear a crown and be sweet on the inside." —Unknown
"Palm trees, ocean breeze, salty air, sun-kissed hair, endless summer, take me there." —Vanessa Rodriguez
"Changes in latitudes, changes attitudes." —Jimmy Buffett
"Paradise found."—Unknown
"Sea la vie." —Unknown
"In an island state of mind." —Unknown
"We may be a small island, but we are not a small people." —Edward Heath
"Umbrella drinks and island time. Perfection." —Unknown
"I'm in paradise. Water you doing?" —Unknown
"Cold coconuts and palm trees." —Unknown
"Pineapple wishes and tropical dreams." —Unknown
"Take only memories, leave only footprints." —Chief Seattle
"Passports and tropical beaches." —Unknown
"Dear tropical island, I think about you all the time." —Unknown
"Sun. Sea. Salt." —Unknown
"Dreams are made of sun, sand, and coconuts." —Unknown
"Life happens, coconuts help." —Unknown
"The two basic items necessary to sustain life are sunshine and coconut milk." —Unknown
"The tan will fade, but the memories will last forever." —Unknown
"You are the piña to my colada." —Unknown
"A Mai Tai with a pineapple. It's like a vacation in a glass!" —Katie Lee
"Only worry in the world is the tide gonna reach my chair." —Zac Brown Band
Island Lovers Quotes
Some things are much sweeter when shared with others. Things like adventure, food, life, and even love. These love island quotes are for those with an open heart.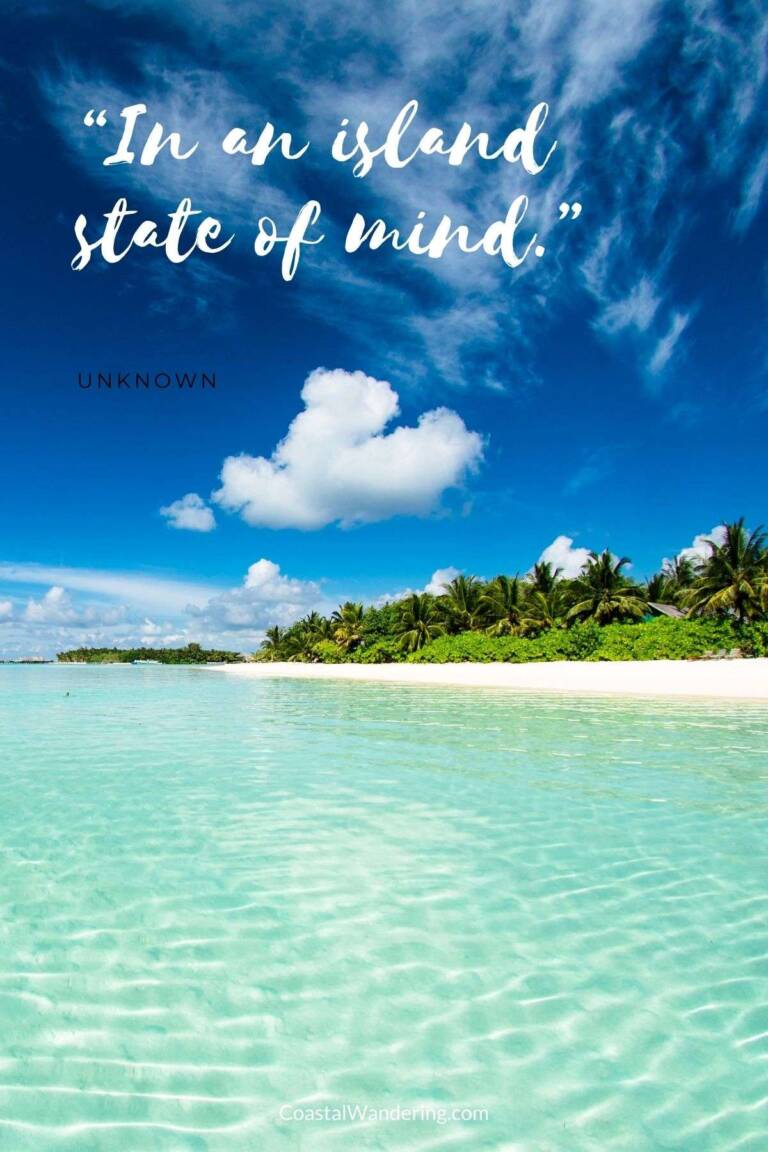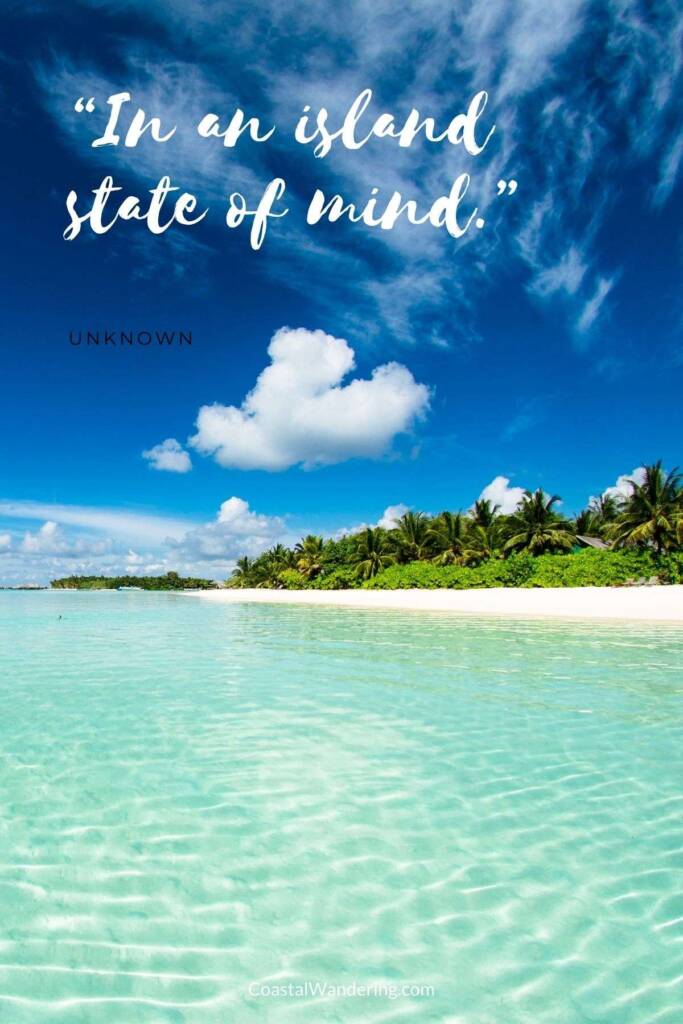 "When you look at me, when you think of me, I am in paradise." —William Makepeace Thakeray
"Islands are metaphors of the heart, no matter what poet says otherwise." —Jeanette Winterson
"Every man is an island, and every heart seeks to ferry to cross the main." —Mykyta Isagulov
"Cherish sunsets, wild creatures, and wild places. Have a love affair with the wonder and beauty of the earth." —Stewart Udall
"Love and eggs are best when they are fresh." —Russian Proverb
"The heart of a man is very much like the sea, it has its storms, it has its tides and in its depths, it has its pearls too." —Vincent Van Gogh
"I know I am but summer to your heart, and not the full four seasons of the year." —Edna St. Vincent Millay
"Love can consign us to hell or to paradise, but it always takes us somewhere." —Paulo Coelho
"When the heart speaks, its language is the same under all latitudes." —Ella Maillart
Inspirational/Motivational Island Life Quotes
Here are some quotes to help you steer those choppy waters of life.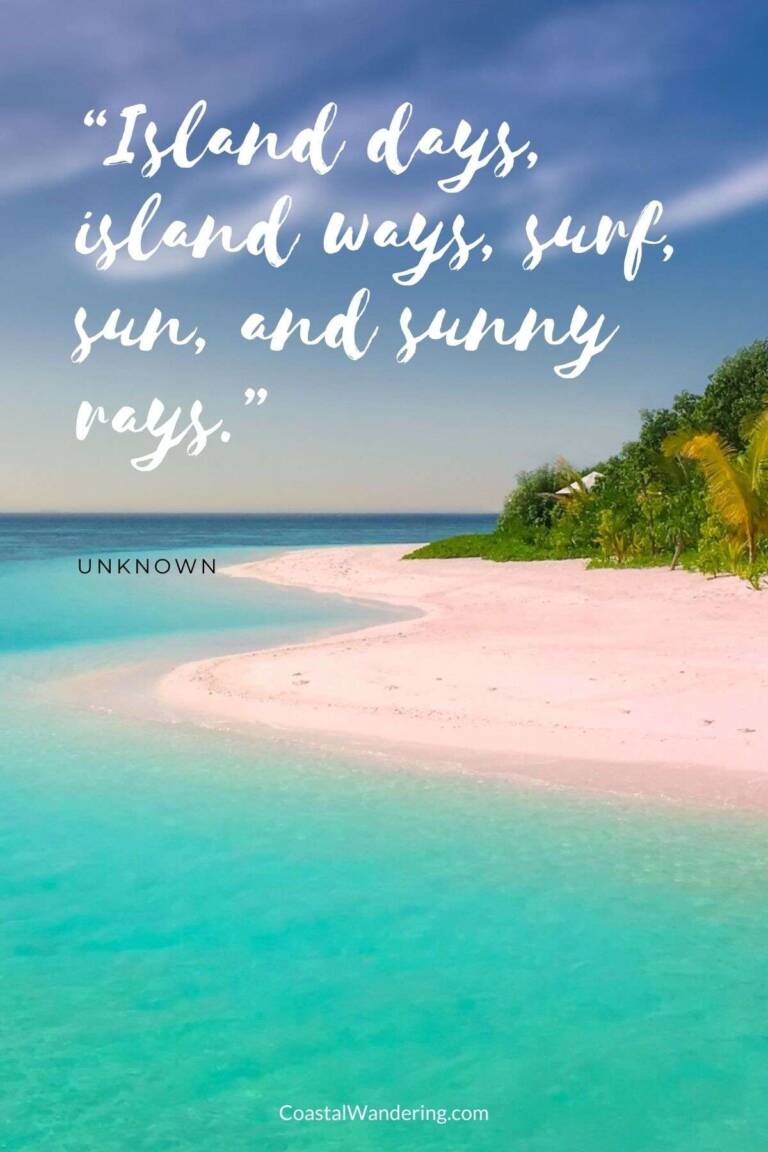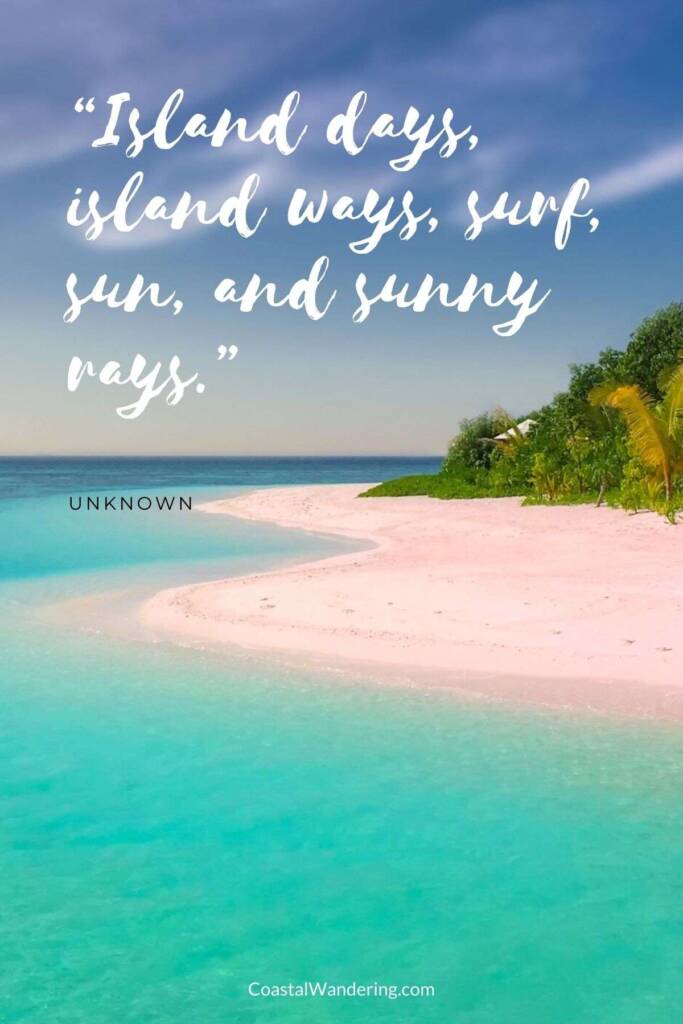 "Be alone with the sea for it is there that you will find answers to questions that you didn't realize exist." —Khang Kijarro Nguyen
"You must not lose faith in humanity. Humanity is like an ocean; if a few drops of the ocean become dirty, the ocean does not become dirty." —Mahatma Gandhi
"You can't cross the sea merely by standing and staring at the water." —Dena Haines
"Your life is an island separated from all other islands and continents. Regardless of how many boats you send to other shores or how many ships arrive upon your shores, you yourself are an island separated by its own pains, secluded in its happiness." —Khalil Gibran
"You can't stop the waves, but you can learn to surf." —Jon Kabat-Zinn
"You must live in the present, launch yourself on every wave, find your eternity in each moment. Fools stand on their island of opportunities and look toward another island. There is no other land; there is no other life but this." —Henry David Thoreau
"A smooth sea never made a skilled sailor." —Franklin D. Roosevelt
"The wise man makes an island of himself that no flood can overwhelm." —Gautama Buddha
"Make an island of yourself, make yourself your refuge; there is no other refuge. Make truth your island, make truth your refuge; there is no other refuge." —Buddha
"Best of an island is once you get there- you can't go any further… you've come to the end of things…" —Agatha Christie
"We are like islands in the sea, separate on the surface but connected in the deep." —William James
"Our knowledge is a little island in a great ocean of nonknowledge." —Isaac Bashevis Singer
"I've got to be where the wind and the water are free" —Jimmy Buffett
"Advice from a palm tree: soak up the sun, stand tall and proud, remember your roots, drink plenty of water, be content with your beauty, and enjoy the view." —Unknown
""Love the life you live, live the life you love." —Bob Marley
Funny and Punny Tropical Quotes
Laughter is good for the soul. A smile radiates for miles. While you enjoy your escape to paradise physically or mentally, be sure to bask in smiles and laughter.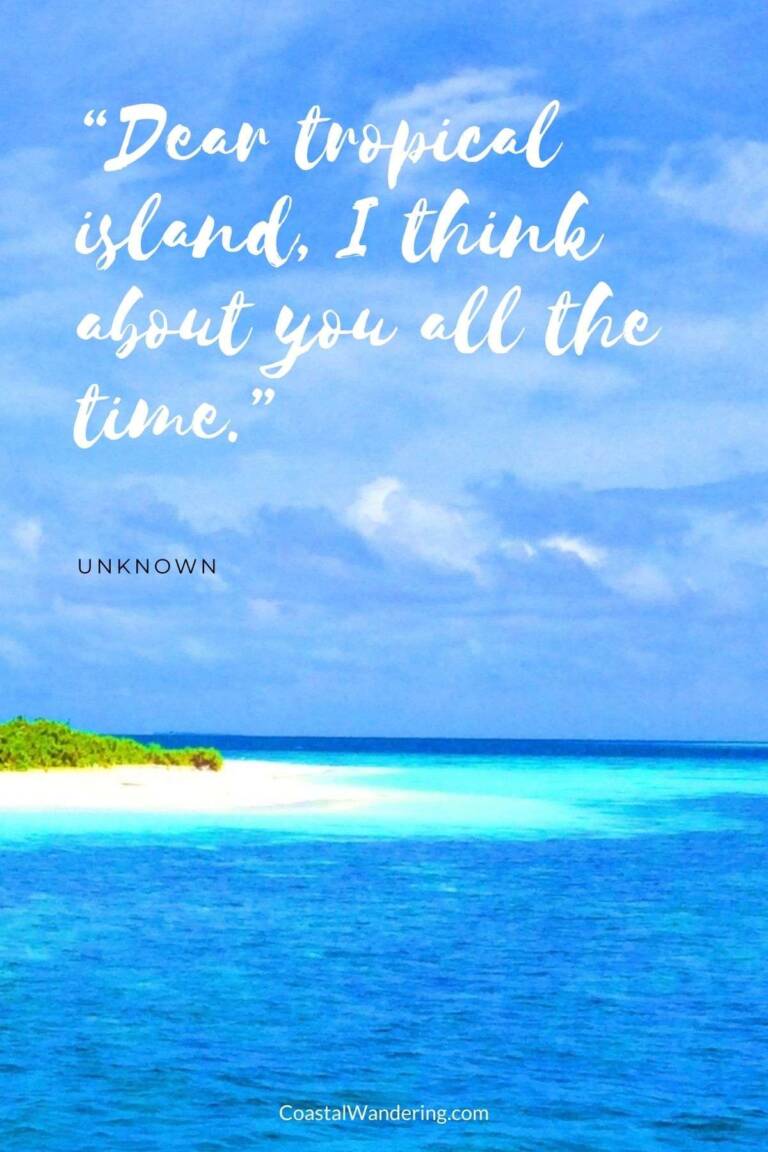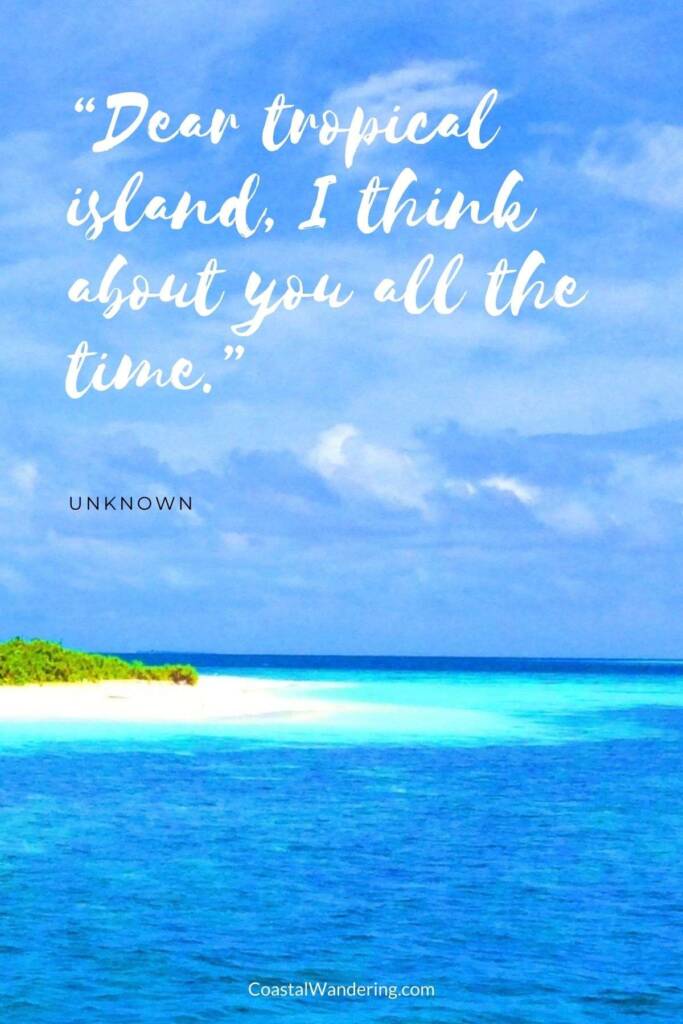 "I miss being on a beach vacation and never knowing what day of the week it is." —Vanessa Rodriguez
"Leave your worries under the palm trees." —Unknown
"Watch more sunsets than Netflix." —Unknown
"When life gives you lemons, sell them and buy a pineapple." —Davin Turney
"Sea you soon." —Unknown
"Shell yeah." —Unknown
"Tropic like it's hot." —Unknown
"Island days are the best kind of days." —Unknown
"I've got a tropical paradise in the palm of my hand." —Unknown
"Shake your palm palms." —Unknown
"Life is a tropical beach." —Unknown
"Let's shell-ebrate." —Unknown
"Just keep palm." —Unknown
"Sunset chasers." —Unknown
"When the skies turn pink, it's time for a drink." —Unknown
"Who painted the sky?" —Unknown
These island vacation quotes can help turn a bad day into a good day. Escape to paradise and let your worries wash away as you're transported to where sun-kissed beaches meet turquoise waters.
Or capture the essence of island life with the best island captions and let your Instagram feed transport your followers to the magical world of sun, sand, and sea.