Whether you're looking for inspirational quotes or beach day captions for Instagram, these beach quotes have you covered. You'll find everything from funny quotes to motivational quotes and everything in between. You'll even find a few one-liners!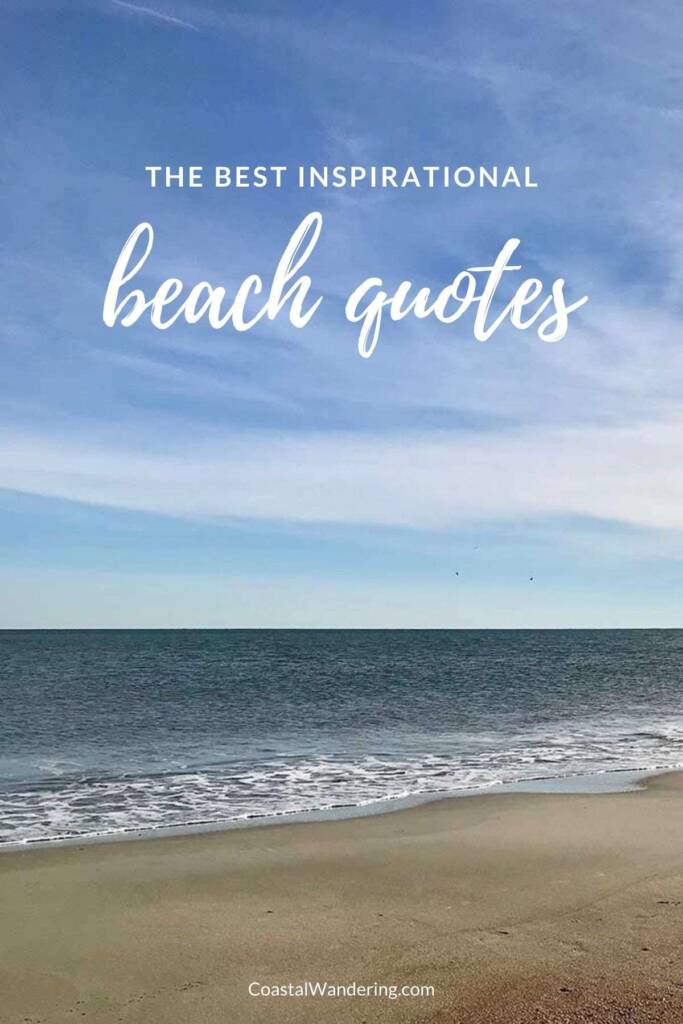 I think we can all agree that beach days are the best days... but most of us can't spend every day at the beach. What do you do when you're missing the sound of the waves and know that the only way to put a smile on your face is the sight of your favorite beach?
My solution: beach quotes.
I've pulled together some of my favorite beach quotes to brighten your day and put a smile on your face. Whether you're in the mood for something short, funny, inspirational or motivational, you'll find at least a few beach quotes that fit the bill in this list.
No matter which category of beach quotes you choose, you'll find one that reminds you of your favorite vacation days spent with your toes in the sand.
See a quote image you love? Hover over the image to pin it to your Pinterest boards.
Funny Beach Quotes to Put A Smile On Your Face
How happy I would be if I could spend every day at the beach. On the days I'm stuck inside I turn to these funny beach quotes to lighten my mood, remind me of my favorite beach days and provide a chuckle (or two). And they're great beach captions!
1. "Currently pretending I'm at the beach." - Unknown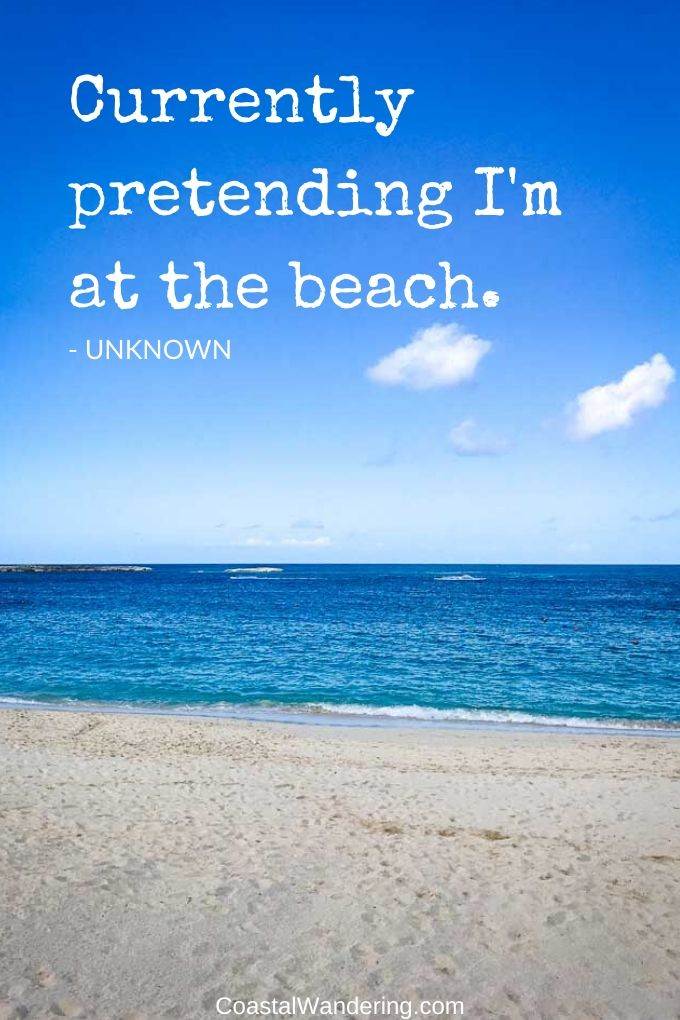 2. "All you need is a little vitamin sea." - Unknown
3. "I'm going to change the world, but today I'll just be a mermaid." - Unknown
4. "I'll have a side of beach with my morning coffee." - Unknown
5. "Everyone should believe in something. I believe I should go to the beach." - Unknown
6. "Eat. Beach. Sleep. Repeat." - Unknown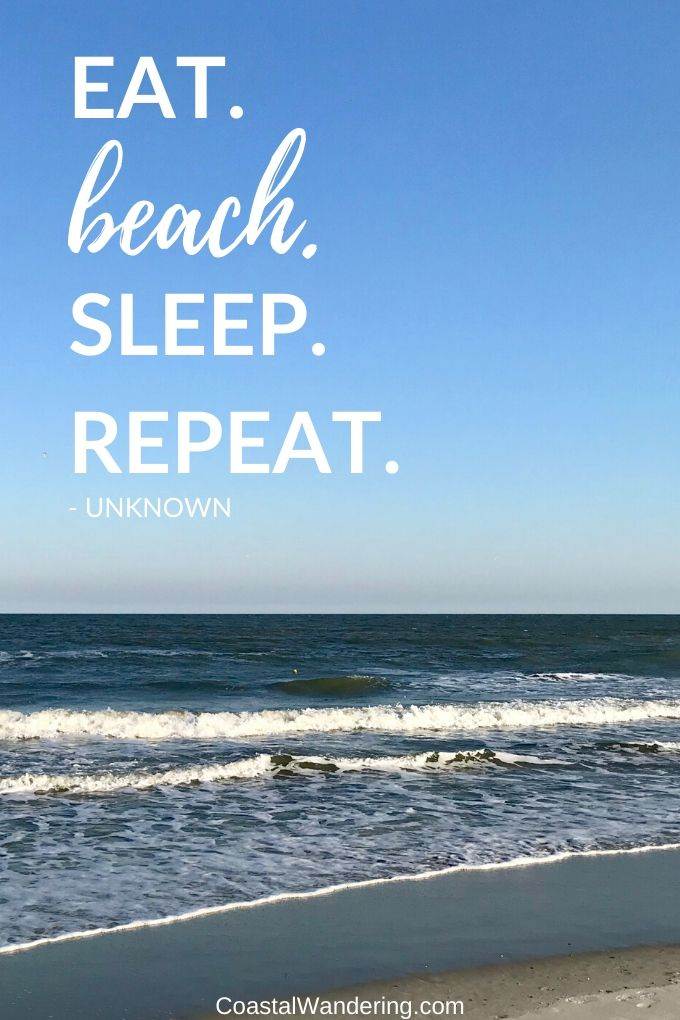 7. "I followed my heart and it lead me to the beach." - Unknown
8. "If you need me, call me on my shell." - Unknown
9. "Beachology. Be shore of yourself. Don't be crabby. Let the worries drift away. Drown out pier pressure. Soak up positive energy. Seas life's moments." - Unknown
10. "Go where the wifi is weak and the rum is strong." - Unknown
Short Quotes About the Beach
Sometimes you just need a one-liner, right? These short beach quotes make perfect summer captions for Instagram posts. They're also perfect for reminding you of your favorite summer beach days!
11. Breathe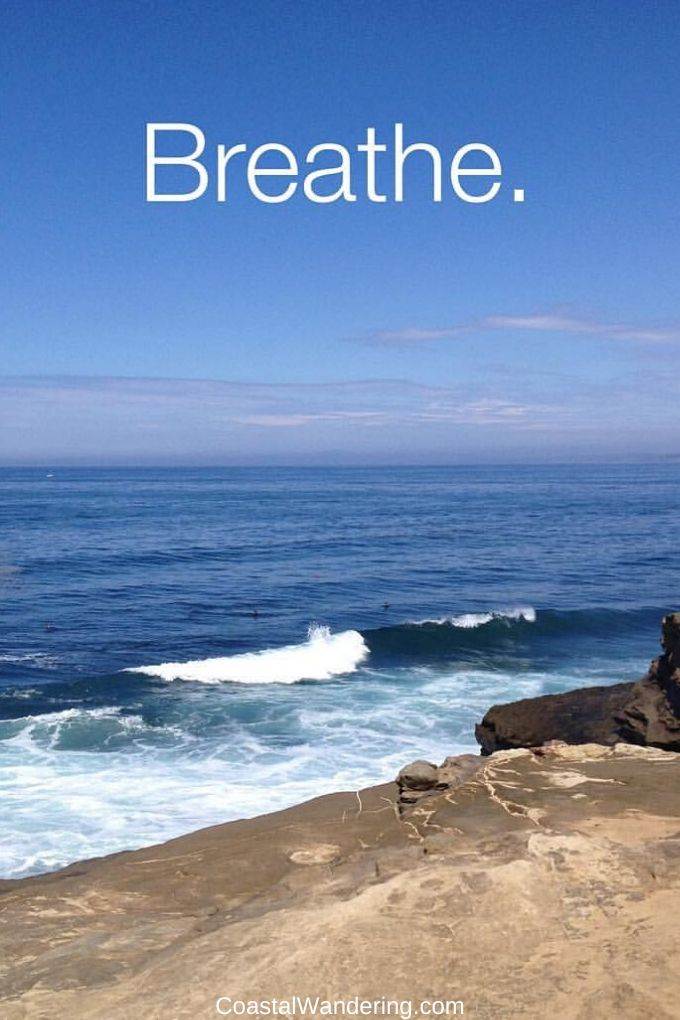 12. "Life is simple. Just add water." - Unknown
13. "White sand, white foam, blue water-it's not a fantasy, it's real." - Marty Rubin
14. "Nothing is softer or more flexible than water, yet nothing can resist it." - Lao Tzu
15. "Land was created to provide a place for boats to visit." - Brooks Atkinson
16. "High tides & good vibes." - Unknown
17. "There must be something strangely sacred in salt. It is in our tears and in the sea." - Khalil Gibran
18. "I have seafoam in my veins, I understand the language of waves." - Le Testament d'Orphée
19. "If there's a heaven for me, I'm sure it has a beach attached to it." - Jimmy Buffett
20. "It's time for some beach therapy." - Unknown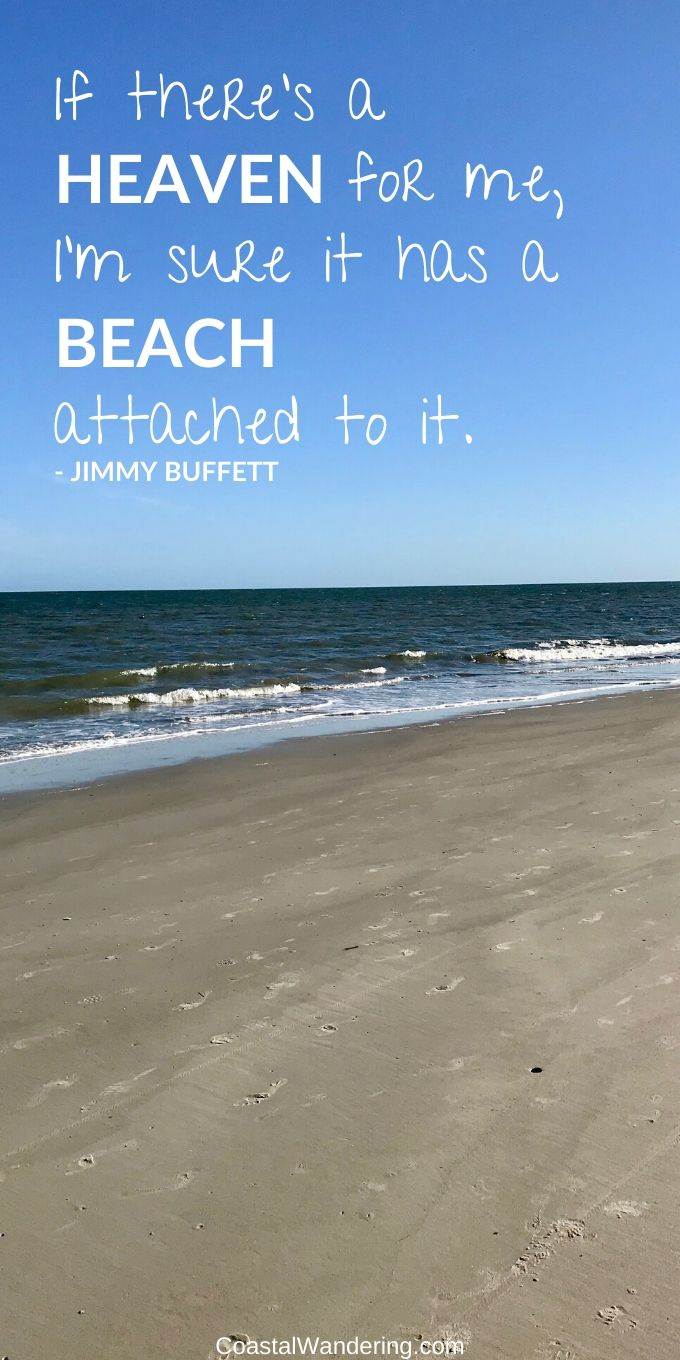 21. "Life takes you down many paths but my favorite ones lead to the beach." - Unknown
22. "I like anywhere with a beach. A beach and warm weather is all I really need." - Rob Gronkowski
23. "Human nature is like water. It takes the shape of its container." - Wallace Stevens
Vacation Captions for Instagram Posts
Whether you're vacationing in Daytona or the Bahamas, here are a few more short beach quotes that would make perfect beach Instagram captions for your vacation posts.
24. "The sun shines everywhere, not just at the beach." - Brande Roderick
25. "The sea is a desert of waves, A wilderness of water." - Langston Hughes, Selected Poems
26. "To escape and sit quietly on the beach – that's my idea of paradise." - Emilia Wickstead
27. "The sea! the sea! the open sea!, The blue, the fresh, the ever free!" - Bryan W. Procter
28. "The cure for anything is salt water – sweat, tears, or the sea." - Isak Dinesen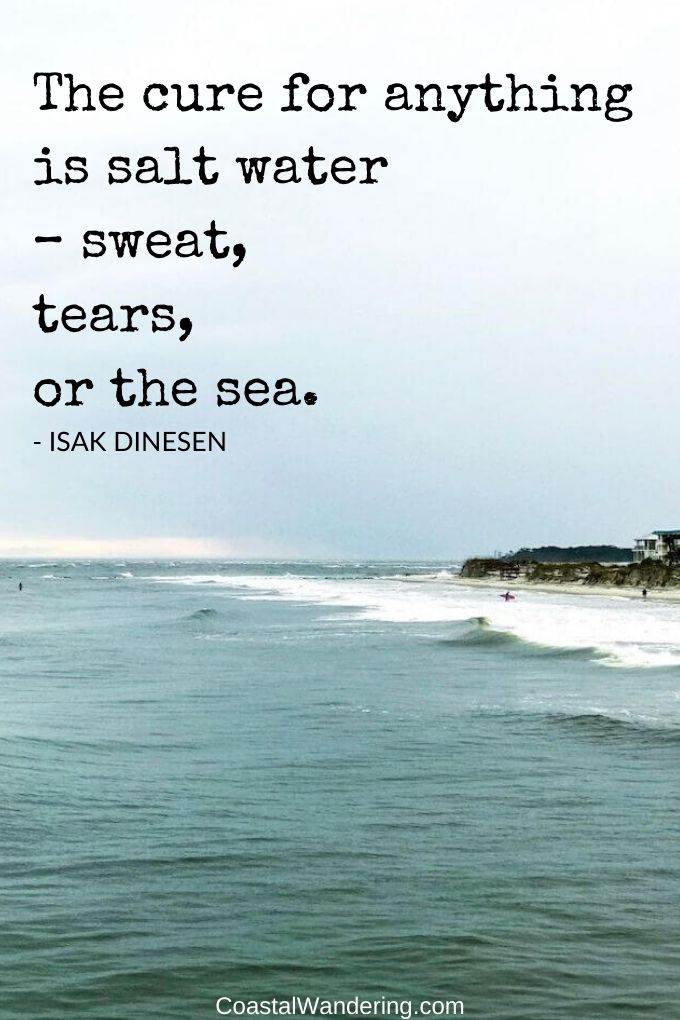 29. "Her happiness floated like waves of ocean along the coast of her life." - Santosh Kalwar
30. "Your heart is like the ocean, mysterious and dark." - Bob Dylan
31. "The waves of the sea help me get back to me." - Jill Davis
32. "I am the shore and the ocean, awaiting myself on both sides." - Dejan Stojanovic, Shape
33. "After a visit to the beach, it's hard to believe that we live in a material world." - Pam Shaw
34. "Eternity begins and ends with the ocean's tides." - Unknown
35. "Sand lines my soul which is filled with the breath of the ocean." - A.D. Posey
36. "Our memories of the ocean will linger on, long after our footprints in the sand are gone." - Unknown
Beach Life Quotes
It's funny. Throughout the years so many prolific authors have written about the similarities between the beach and life. There's something incredibly thought-provoking found in sitting along the shore watching the waves roll in onto the beach, isn't there? These beach quotes will remind you of those quiet moments.
37. "I could never stay long enough on the shore; the tang of the untainted, fresh, and free sea air was like a cool, quieting thought." - Helen Keller
38. "The three great elemental sounds in nature are the sound of rain, the sound of wind in a primeval wood, and the sound of outer ocean on a beach." - Henry Beston
39. "To go out with the setting sun on an empty beach is to truly embrace your solitude." - Jeanne Moreau
40. "Time is the wave upon the shore. It takes some things away, but it brings other things." - Amy Neftzger, War of Words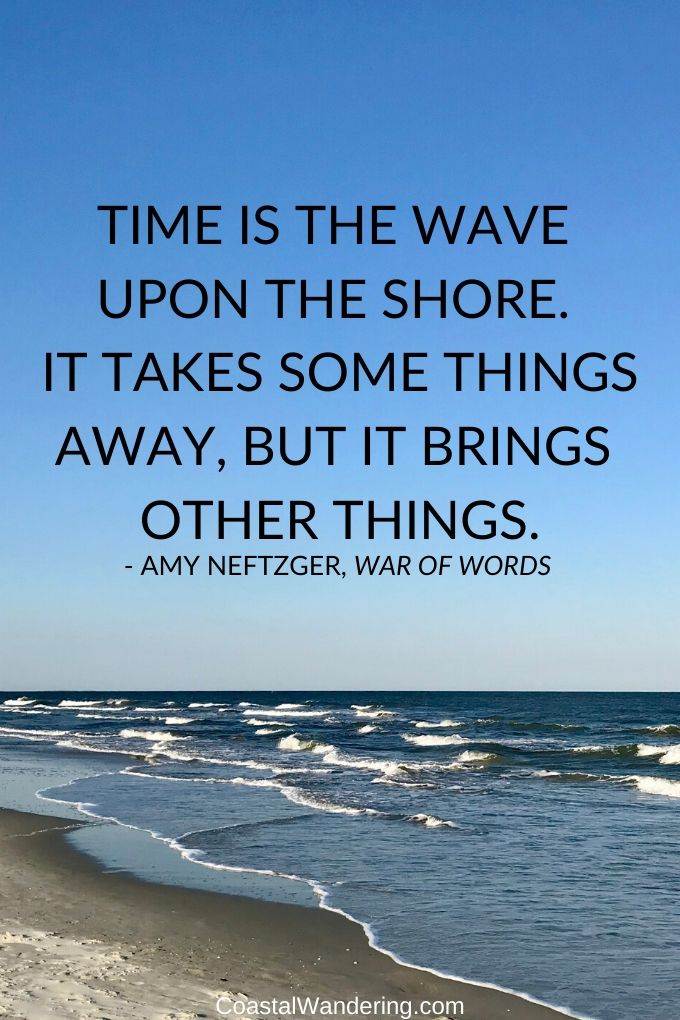 41. "For whatever we lose (like a you or a me), It's always our self we find in the sea." - e.e. cummings, 100 Selected Poems
42. "There's a sunrise and a sunset every single day, and they're absolutely free. Don't miss so many of them." - Jo Walton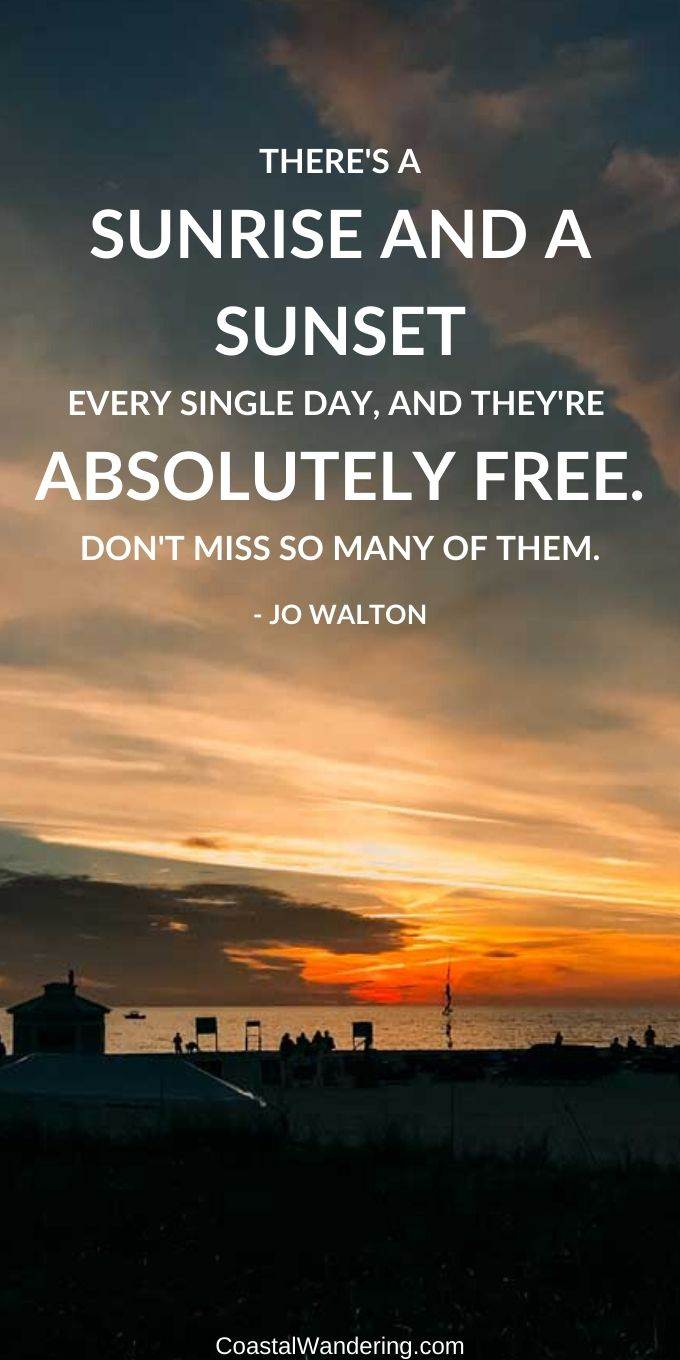 43. "Many a calm river begins as a turbulent waterfall, yet none hurtles and foams all the way to the sea." - Mikhail Lermontov
44. "One learns first of all in beach living the art of shedding; how little one can get along with, not how much." - Anne Morrow Lindbergh
45. "At the beach, life is different. Time doesn't move hour to hour but mood to moment. We live by the currents, plan by the tides and follow the sun." - Sandy Gingras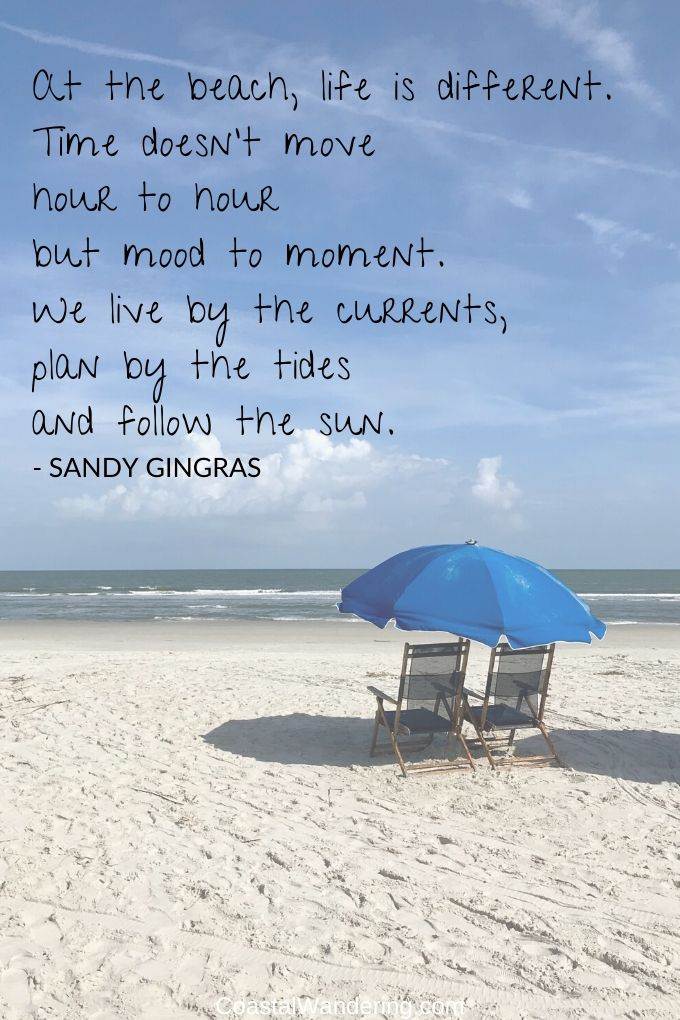 Inspirational Quotes About the Beach
Whether I need a little reminder about my love of the beach or need a little push to conquer the blues, these inspiring beach quotes never fail to motivate me when I'm feeling down.
46. "You never really know what's coming. A small wave, or maybe a big one. All you can really do is hope that when it comes, you can surf over it, instead of drown in its monstrosity." - Alysha Speer
47. "My dream is to have a house on the beach, even just a little shack somewhere so I can wake up, have coffee, look at dolphins, be quiet and breathe the air." - Christina Applegate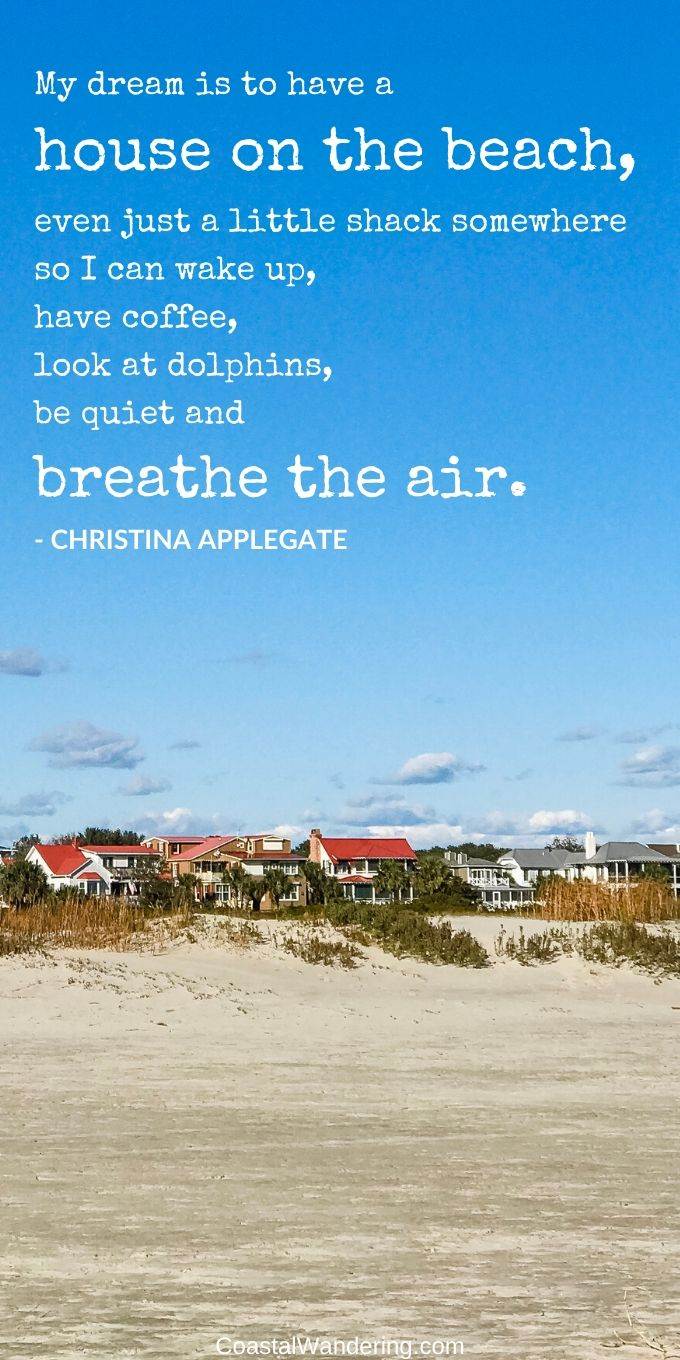 48. "Every time I stand before a beautiful beach, its waves seem to whisper to me: If you choose the simple things and find joy in nature's simple treasures, life and living need not be so hard." - Psyche Roxas-Mendoza
49. "The ocean stirs the heart, inspires the imagination and brings eternal joy to the soul." - Robert Wyland
50. "Beach Rules: Soak up the sun. Ride the waves. Breathe the salty air. Feel the breeze. Build sandcastles. Rest, relax, reflect. Collect seashells. Bare-feet required."- Unknown
51. "Thoughts will change and shift just like the wind and the water when you're on the boat; thoughts are no different than anything else." - Jeff Bridges
52. "Always be like water. Float in the times of pain or dance like waves along the wind which touches its surface." - Santosh Kalwar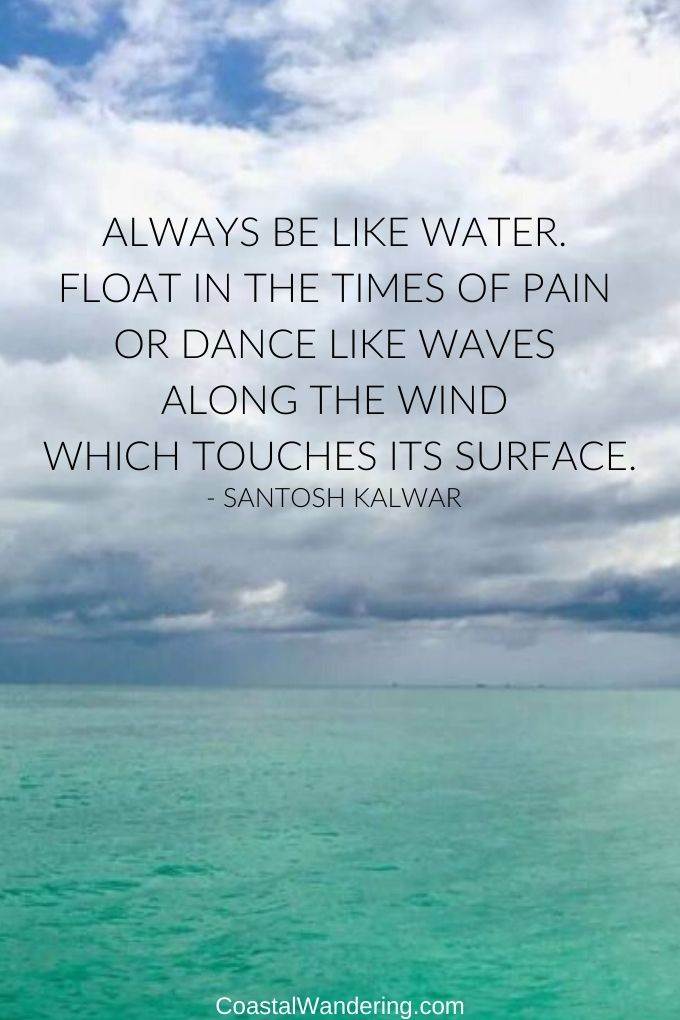 53. "Because there's nothing more beautiful than the way the ocean refuses to stop kissing the shoreline, no matter how many times it's sent away." - Sarah Kay
Sea Quotes That Will Remind You of The Ocean
There's nothing like looking out across a vast ocean seascape, is there? These quotes about the sea remind me about the beauty of the ocean and the peacefulness that I feel watching it from the shoreline.
54. "When anxious, uneasy and bad thoughts come, I go to the sea, and the sea drowns them out with its great wide sounds, cleanses me with its noise, and imposes a rhythm upon everything in me that is bewildered and confused." - Rainer Maria Rilke
55. "The sea is the same as it has been since before men ever went on it in boats." - Ernest Hemingway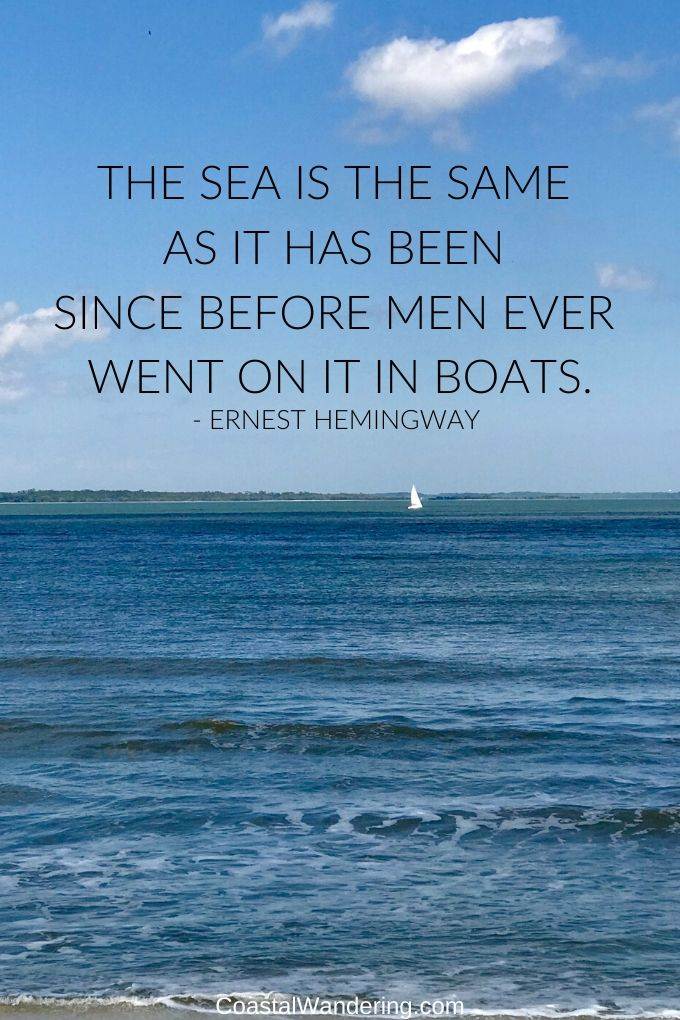 56. "A beach is not only a sweep of sand, but shells of sea creatures, the sea glass, the seaweed, the incongruous objects washed up by the ocean." - Henry Grunwald
57. "The sea, once it casts its spell, holds one in its net of wonder forever." - Jacques Yves Cousteau
58. "The sea is emotion incarnate. It loves, hates, and weeps. It defies all attempts to capture it with words and rejects all shackles. No matter what you say about it, there is always that which you can't." - Christopher Paolini, Eragon
59. "Those who live by the sea can hardly form a single thought of which the sea would not be part." - Hermann Broch
60. "To me the sea is a continual miracle; The fishes that swim–the rocks–the motion of the waves–the ships, with men in them, What stranger miracles are there?" - Walt Whitman
61. "Why do we love the sea? It is because it has some potent power to make us think things we like to think." - Robert Henri
62. "Live in the sunshine, swim the sea, drink the wild air." - Ralph Waldo Emerson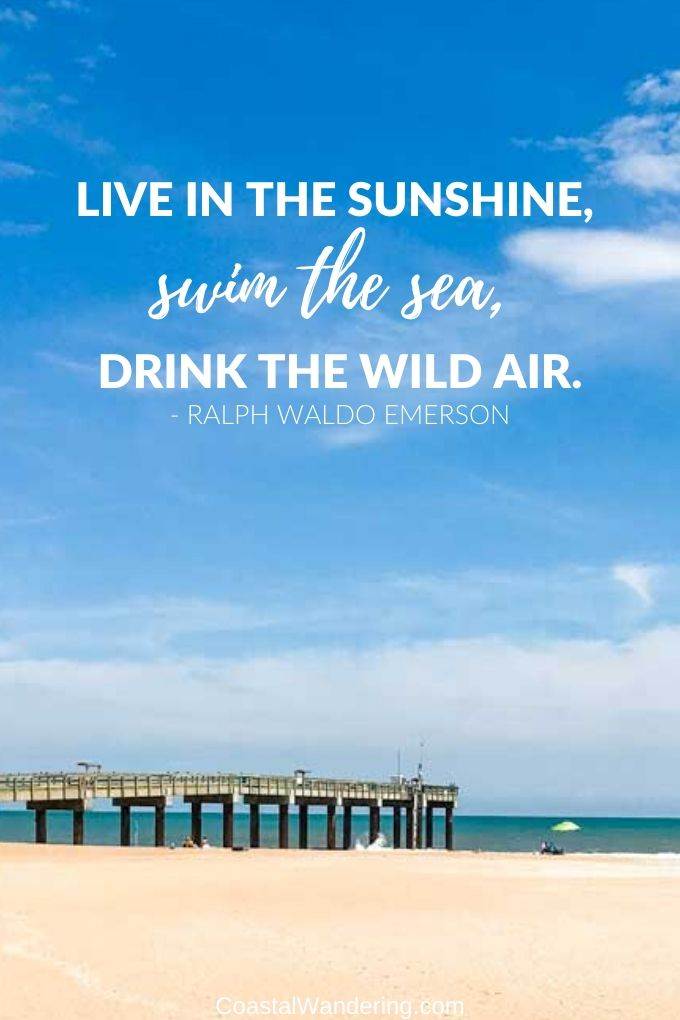 63. "Dance with the waves, move with the sea, let the rhythm of the water set your soul free." - Christy Ann Martine
64. "An ocean breeze puts a mind at ease." - Unknown
65. "In every outthrust headland, in every curving beach, in every grain of sand there is the story of the earth." - Rachel Carson
66. "In one drop of water are found all the secrets of all the oceans." - Kahlil Gibran
67. "In high seas or in low seas, I'm gonna be your friend… I'm gonna be your friend. In high tide or in low tide, I'll be by your side… I'll be by your side." - Bob Marley
68. "My life is like a stroll upon the beach, as near to the ocean's edge as I can go." - Henry David Thoreau
69. "On the beach, you can live in bliss." - Dennis Wilson
70. "Some beach, Somewhere, There's a big umbrella casting shade over an empty chair, palm trees are growing and warm breezes blowing, I picture myself right there." - Blake Shelton
71. "No words can express, The depth of her contentment, As she walks along the beach. As the waves lap against the shores, They create the rhythm of her life. Balmy breeze kiss, Her sun-bronzed skin, And she wonders… Could there ever be a greater destiny, Than to be born with a love, For the treasures of the sea? Here, she is home" - Suzy Toronto
72. "You're not a wave, you're a part of the ocean." - Mitch Albom
73. "The ocean makes me feel really small and it makes me put my whole life into perspective. It humbles you and makes you feel almost like you've been baptized. I feel born again when I get out of the ocean." - Beyoncé Knowles
74. "I love the beach. I love the sea. All my life I live within – in front of the sea." - Rafael Nadal
75. "Man cannot discover new oceans unless he has the courage to lose sight of the shore." - Andre Gide
76. "Avoid pier pressure. Sea life's beauty. Don't get so tide down on work that you miss out on life's beautiful waves." - Unknown
Did we miss your favorite quote?
Whether I'm looking for a short little caption for Instagram or a little extra motivation, these beach quotes are some of my favorites. They always put a smile on my face as I remember the feeling of my toes in the sand looking out across the waves. Or look for inspiration for my next beach vacation.
You may also like these holiday quotes from the classic vacation movie.
Did I miss your favorite beach quote? Drop me a note about it in the comments below.