Whether you're renovating your kitchen space or looking for more efficient ways to organize, these kitchen corner cabinet ideas will help you make the most of your kitchen design.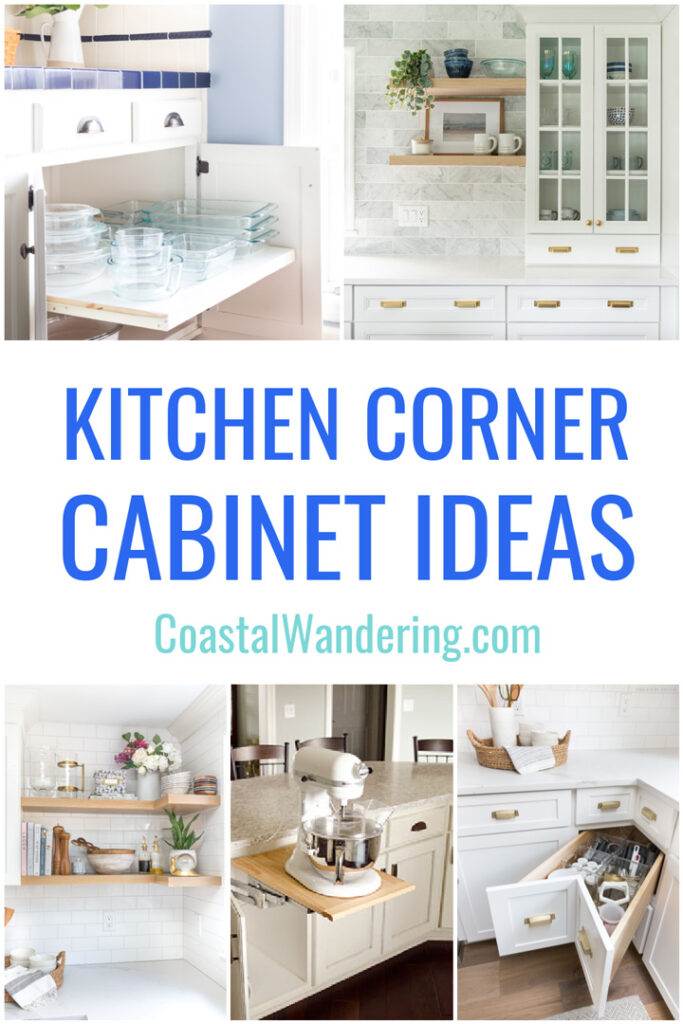 Corner kitchen cabinets can be challenging because they tend to fall into the black hole of space where awkward angles often prevent them from being utilized in a helpful way.
Sometimes, the best idea is to get rid of a corner cabinet altogether and replace it with something more functional or aesthetically pleasing. Other times, adding diagonal cabinets, organizational racks or custom-made units will help solve storage space issues.
Determining how you use your kitchen will go a long way in helping you figure out the form versus function aspect of your corner cabinets.
Looking for more kitchen design inspiration? Check out these beach kitchen design ideas and these beachy kitchen paint colors for stunning coastal style.
And don't forget to accessorize with the perfect coastal kitchen accessories to complete your look.
How to make the most of your kitchen corners
Whether you have an accordion cabinet, diagonal corner cabinet or blind cabinet, this collection of ideas will give you inspiration when planning your kitchen corner makeover projects.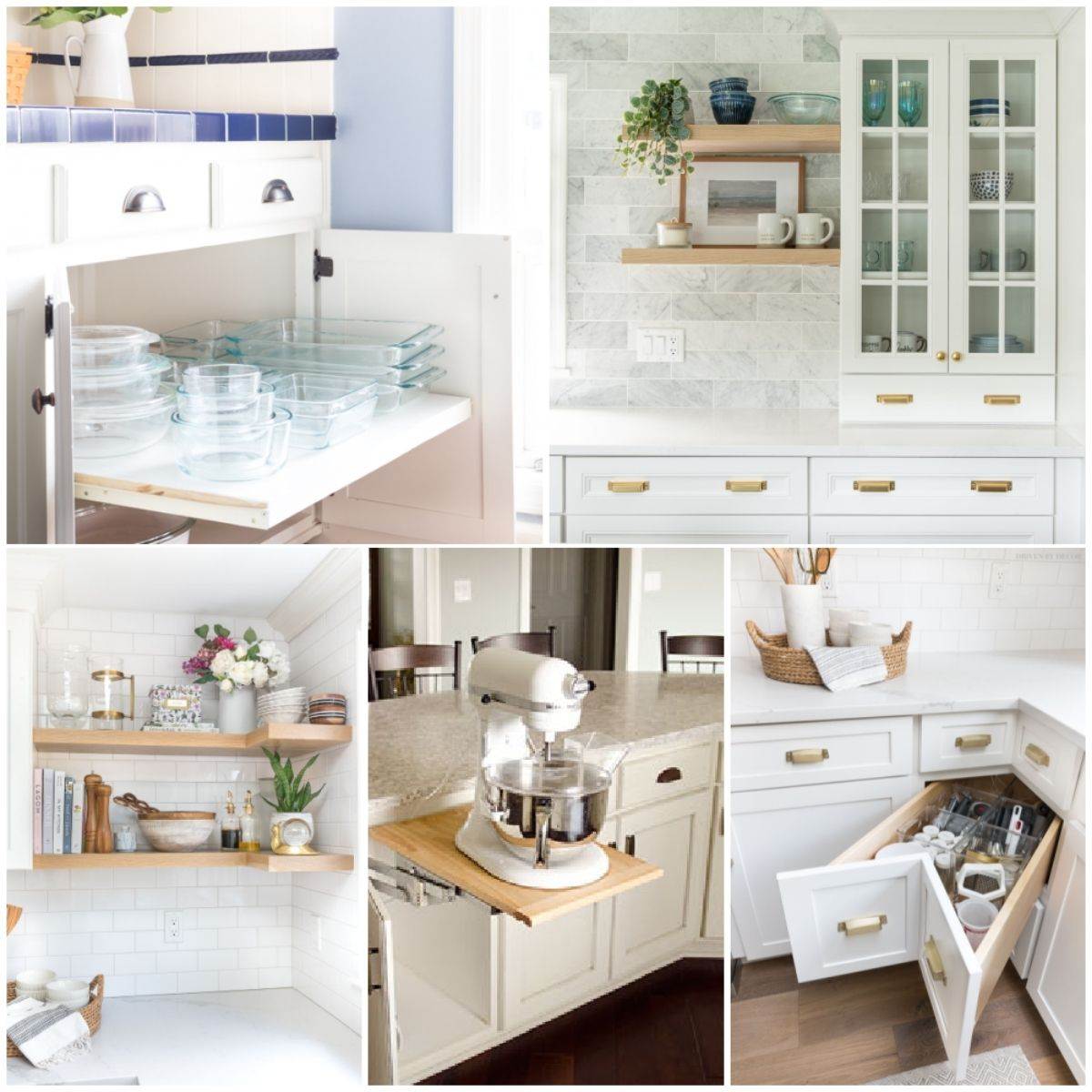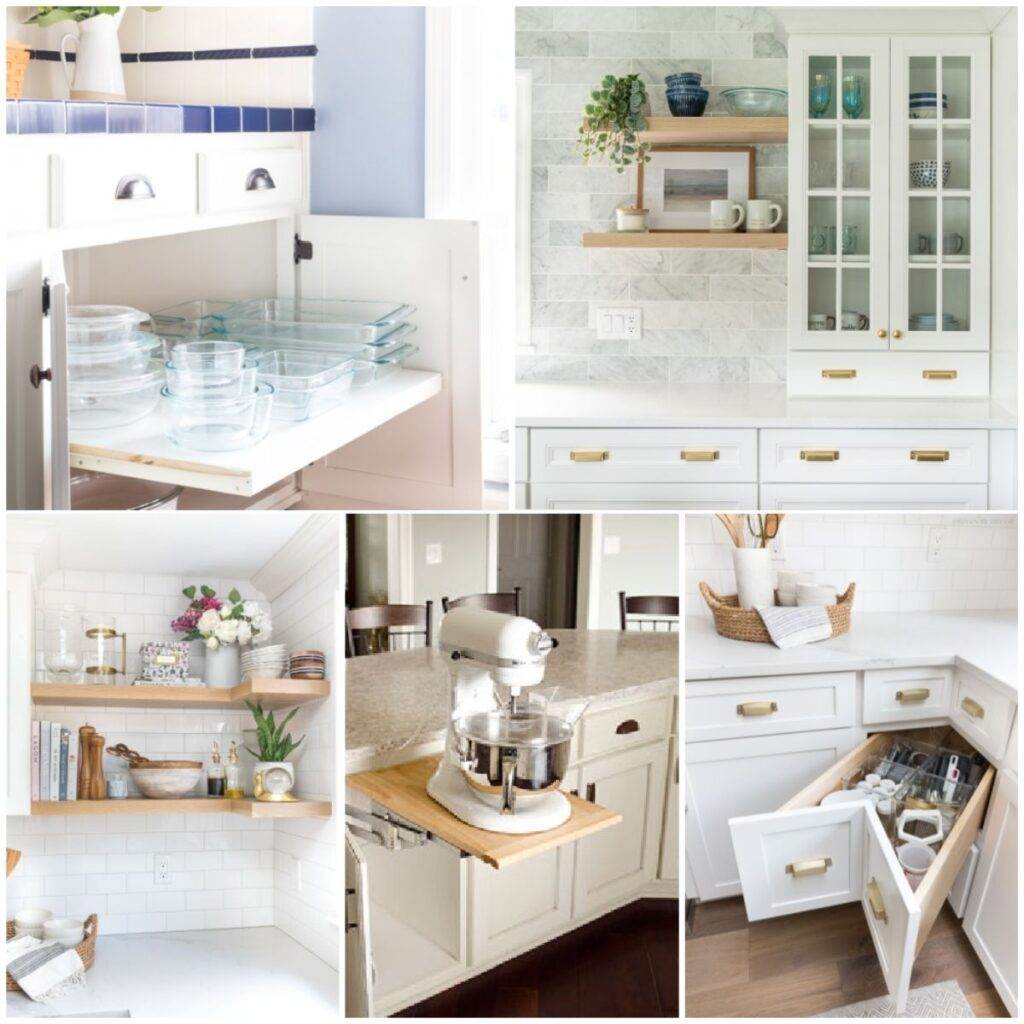 Organizing Pots And Pans
Snuggled in a corner between the stove and sink is the dead space of a lower corner cabinet that gets a new purpose with this handy idea.
Installed in this cabinet are rotating double-deck shelves that make it easy to add and retrieve pots and pans. No more unloading the cabinet just to find a particular pan. Perfect for a small kitchen!
Inspiration by Smallish Home
DIY Floating Corner Shelves
This kitchen renovation opted for utilizing the floating shelves concept to modernize and help accessorize a new look for a ninety-degree corner space where the shelving would extend to both walls.
With no pre-made options available for their situation, a DIY was in order. Here, the project was as simple as sourcing the shelving boards, staining them, installing floating brackets, hanging the open shelves, and then decorating.
Inspiration by Driven By Decor
Pull Out Trash Bin
This gorgeous kitchen makeover added a hidden pull-out trash bin in a lower corner cabinet. The cabinet's narrow width made it the perfect size to accommodate a trash can - two in fact! Use one for recycling and one for garbage. It's a handy hack that helps keep your kitchen looking spotless and clean.
Inspiration by Inspired By Charm
Corner Kitchen Drawers
If you're undertaking a kitchen renovation, consider installing these unique V-shaped corner drawers. Not only will they be aesthetically pleasing, but the pull-out drawers are functional and organization-friendly.
They pull out, exposing all the space that you can use. The lower corner cabinet drawers are deeper while the upper drawer can still hold utensils and smaller items.
Inspiration by Driven By Decor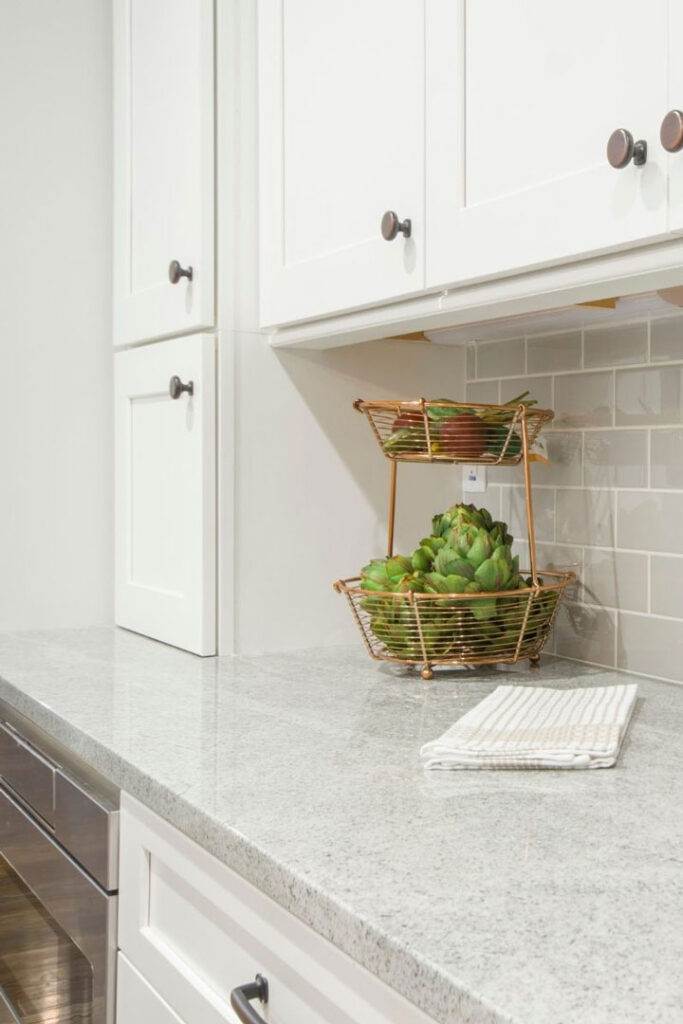 Appliance Garage
This hidden solution turns a corner cabinet into a countertop appliance garage. With its vertical swing lift mechanism, the cabinet door opens upward revealing those counter appliances that can remain out of sight until ready for use.
Toasters, blenders, coffee makers and more can still be accessible but remain in their garage until it's time to put them to work.
Inspiration by Design Dazzle
Lazy Susan Organization
If you're the owner of an angled upper corner cabinet, don't despair! While it may look charming on the outside, often the organizing capacity of that particular cabinet can be challenging. Instead of shoving rarely used items in there and shutting them away, organize that cabinet with a lazy susan or two.
This simple addition will get your creativity flowing as you imagine the items you can use on those rotating tables that will actually be useful for your kitchen and cooking needs.
Inspiration by I Heart Organizing
Pull Out Shelf In Lower Cabinet
Corner cabinets, whether they adjoin on a wall or are sandwiched at a 90-degree angle are always a bit tricky in terms of useful organization. Installing pull-out shelves solves the problem of getting on your hands and knees to paw through items to find just the one you're looking for.
Just pull out the heavy-duty shelves and choose your item. It's an efficient and useful organization strategy for base cabinets.
Inspiration by On Sutton Place
Popup Appliance Shelf
Located on the lower corner of a bank of cabinetry, this homeowner took advantage of a renovation to include a pop-up appliance shelf for one of her most-used and heavy appliances - a stand mixer. This cabinet features a shelf that when lowered with the door closed, hides this appliance.
The pop-up heavy duty spring-loaded mechanism can be a DIY install project, along with the wooden platform to hold the mixer. It's a great solution for freeing up counter space and using a lower corner cabinet.
Inspiration by The Creative Bite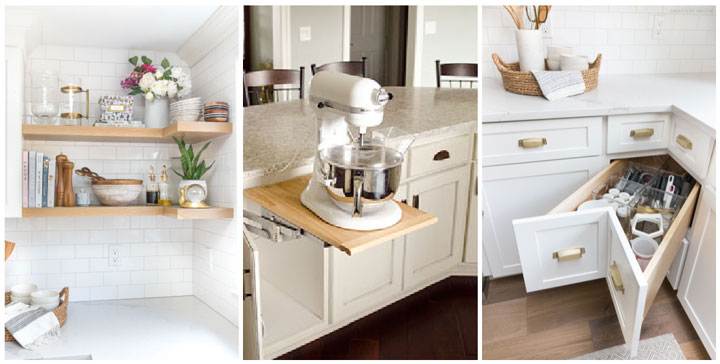 DIY Kitchen Jar Shelves
If you have a blank wall at the end of your kitchen cabinets that could use some decor, consider this creative idea. Here, the homeowner made a bank of floating shelves that acted as an open pantry of sorts for jarred ingredients.
The trick here is to have the same size jars for visual continuity. It's a great way to showcase pantry items as well as utilize blank wall space to include both organization and kitchen decor.
Inspiration by Elle Claire Inspired
Plate Rack Cabinetry
A lovely way to display your dinnerware is to use a plate rack. Here, due to limited upper cabinetry, an open cabinet was custom made to include a plate rack with upper shelves as well as a cup holder rail underneath. It's a custom idea that could work in almost any kitchen for a corner cabinet idea.
Inspiration by Home Glow Design
Separate Corner Cabinet Beverage Station
With this kitchen renovation, a separate bank of upper and lower cabinets that were tucked in an adjacent corner of the kitchen became a beverage station. The lower cabinets now house a wine refrigerator and a lower cabinet microwave. The counter holds a coffee maker while the upper cabinets hold cups, glasses and coffee supplies.
Inspiration by Jolynne Shane
Corner Sink And Windows
Whether you inherited this design element or are considering it during a renovation, a charming way to bring light into your kitchen is to position your sink at a 45-degree angle in a corner with windows on either wall for light and interest. Positioning the sink in a corner, you free up more kitchen counter space for prep work and cooking.
Inspiration by At The Picket Fence
Open Flank Wood Shelving
This minimal kitchen makeover had the goal of raising the upper cabinets to allow for more cooking space below. The homeowners also took this time to remove each of the small corner cabinets (and the adjacent wall cabinet) on the side walls.
They replaced those upper cabinets with floating shelves which now flank the raised cabinetry and allow for more decor and functionality.
Inspiration by At Home The Barkers
Pantry Cabinet
Rethink classic pantry design and how to use corner wall cabinets in a new and innovative way. Here, this kitchen renovation opted for pull out shelving on a tall vertical corner cabinet.
It becomes part of the wall cabinetry rather than a separate closet in the kitchen. It's visually hidden but efficient and can be organized to the fullest with the use of clear bins on each shelf.
Inspiration by Driven By Decor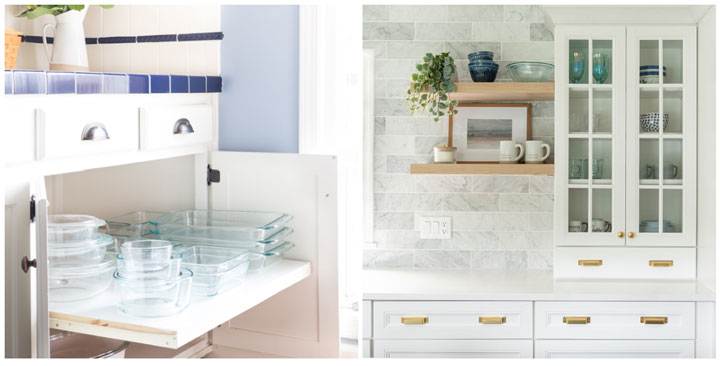 Open Shelving
This kitchen renovation lost two walls of upper cabinets due to a widening of windows, so open shelving was added instead of cabinetry. The rustic wooden shelves span the entire length of one wall and adjoin the ninety-degree turn on the wall with the window.
It's a clean and modern look that's perfect for displaying books, accessories or dinnerware.
Inspiration by Bigger Than The Three Of Us
Glass Door Corner Cabinets
A bank of upper cabinetry adds a touch of glass panels to each angled corner unit for a symmetrical look. The addition of glass breaks up the monotony of white while also adding a decorative element.
Adding accessories, glasses, cups or dinnerware in complimentary decor colors make these an anchor and focal point of the upper cabinets.
Inspiration by Craft Berry Bush
Vertical Side Cabinet
For a refrigerator that's housed in its own corner cabinet, consider this innovative idea. Here, the homeowner added a tall cabinet on the side of the fridge to house her hanging brooms, mops and cleaning supplies. They're handy and right there when you need them and the cabinetry blends seamlessly with the design.
Inspiration by The Cottage Mama
Glass Corner Cabinet And Cookie Sheet Pullout
Along with upper floating shelves, this remodel includes an eye-catching corner glass cabinet perfect for housing and displaying pretty dishes and glasses. A lower corner cabinet received a custom-made pull-out cookie sheet organizer for this baker's convenience.
Inspiration by Jenna Kate At Home
Open Spice Rack And Shelves
Upper cabinetry was removed in this kitchen remodel and replaced with floating shelves. Where a cabinet once held spices and herbs, this creative makeover includes a DIY custom-made spice rack, attached like an open cabinet with mini shelves. It's a handy idea, located next to the stove so that it's easily accessible when cooking.
Inspiration by Home Made Lovely
Cabinet Garage For Appliances
Housed in the middle section of a floor-to-ceiling cabinet, the middle section with double doors boasts a large and deep pull-out shelf. It's a great idea for small appliances like the coffee maker, coffee grinder and blender.
Shelves above the pull-out hold cups, glasses and other beverage items. It's a perfect place to hide the appliances when not in use.
Inspiration by Lemon Thistle
An organized kitchen can make your life so much easier. If you want to make the most of your kitchen, consider these creative ways to use your kitchen corner space. They provide extra storage while giving everything its own designated place to keep it organized.
You can't afford not to take advantage of every inch of free space in the kitchen!