Planning a weekend getaway to Newport, Rhode Island? With a wide selection of waterfront restaurants, architectural gems, historical landmarks, and fun water activities, there are so many fun things to do in Newport, RI. There's something for every type of traveler!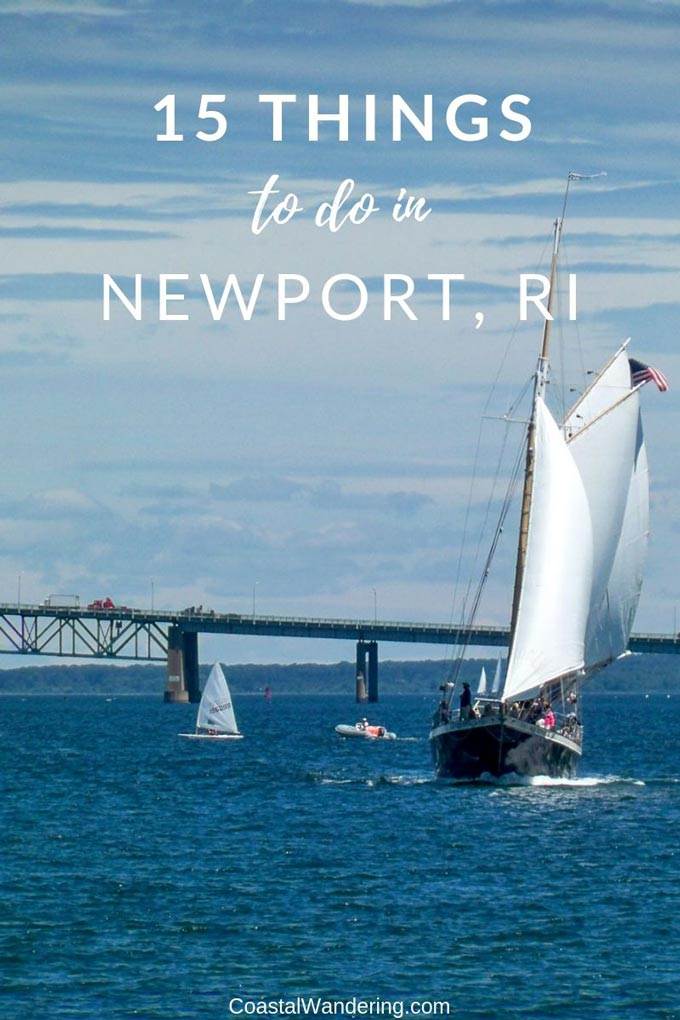 Located on Aquidneck Island in the state of Rhode Island, Newport is the beautiful seaside city with plenty of things to do and see. Particularly famous as a New England summering destination, this location has a rich and colorful history dating back to the Colonial period.
Things to do in Newport this weekend
No matter whether you're an architectural enthusiast, foodie traveler with a penchant for seafood, or self-proclaimed history buff, there'll be plenty of fun for you to find in Newport, Rhode Island. From the Newport Mansions to the Cliff Walk and beyond, Newport is the perfect waterfront destination for the whole family.
So, without further ado, here are 15 fun things to do in Newport, RI.
Tour the Newport Rhode Island Mansions
If you love architecture, you'll need to go and check out the Newport Mansions. These incredible historic homes look like something you'd picture in The Great Gatsby and are open daily year-round. The Preservation Society of Newport County maintains an updated operating schedule, so be sure to check their tour admission timings out as you plan your visit.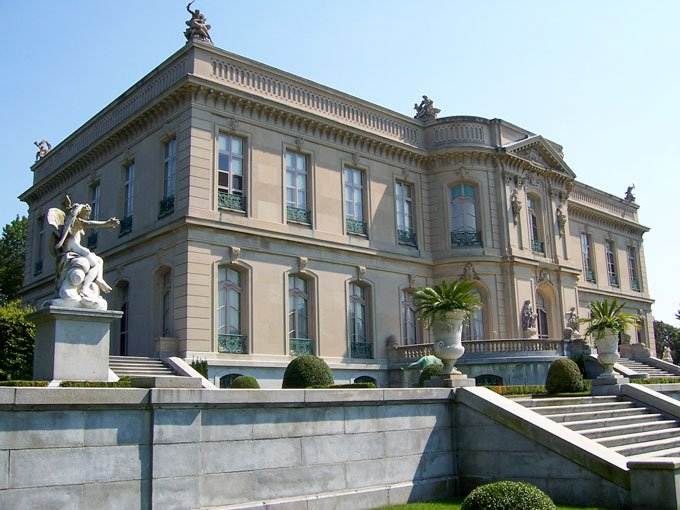 There are 10 properties in total to explore, but I'd recommend choosing from the following if you only have time to visit a few:
1. The Breakers
This is certainly the most extravagant of all the Vanderbilt family's Newport summer homes. After the original wood-framed house on this property burned down in 1892, this new villa was commissioned to be built. Modeled after an Italian Renaissance-style, the architect was inspired by the 16th-century palaces of Genoa and Turin to create this 70 room mansion.
If you visit The Breakers, you'll also want to save a little time to take a look at the stable and carriage house. Both are located just a short walk away from the main mansion.
2. Marble House
Another Vanderbilt mansion, this "cottage" was one of the first Vanderbilt residences to appear in Newport and quickly set the bar for the shift from sleepy summer colony of quaint wooden homes to the extravagant palaces we now see standing in Rhode Island today. This mansion was designed by the same architect as The Breakers, but this time inspired by the Petit Trianon of Versailles.
This lavish residence was gifted to Mrs. Vanderbilt as a 39th birthday present!
3. The Elms
The Elms was the summer home of coal industry tycoon Mr. Edward Julius Berwind. He and his wife requested that their architect design a house inspired by the mid-18th-century French chateau d'Asnieres nestled outside Paris.
Decor and furnishings imported from Paris provided the backdrop for the Berwinds' collection of Renaissance ceramics, 18th century Venetian and French paintings, and highly valuable jades.
The Elms is certainly extravagance at its maximum.
4. Chateau-sur-Mer
Prior to the Vanderbilt residences, Chateau-sur-Mer was the grandest mansion in Newport. Built as an Italianate-style villa, it's an exquisite example of some of the most popular (and highly decorative) design trends of the late 19th century.
Its expansive grounds and ornate interior decor hosted many large gatherings, including over two thousand guests for the "Fete Champetre." Imagine the spectacle of that elegant seaside picnic!
Sail on America's Cup Yacht Charters
If you love getting out on the water, America's Cup Yachts is a must-do. That's right. The largest fleet of America's Cup 12-meter yachts in the world calls Newport its home.
If you find yourself swooning over varnished mahogany, scrubbed teak, and brightly gleaming brass, you'll absolutely love these gorgeous restored yachts. Through ongoing preservation, they're maintained in peak condition for both historical integrity and performance.
5. Daily Harbor & Narragansett Bay Sail
Rain or shine, you'll be able to sail with a professional crew and captain throughout the spring, summer, and fall. Feel free to sit back and enjoy the ride on the daily Harbor and Narragansett Bay Sail, but, if you're feeling a little adventurous, you can participate as one of the crew! They'll assign you a sailing position and provide you with your instructions.
6. Racing Experience
Every Sunday, America's Cup runs the 3-hour Sailing Experience. This is an especially fun option if you're around Newport on a weekend. While the Daily Harbor Sail is optional participation, the Sunday Racing Experience has everyone up on their feet.
You'll head out on the water, polish up your sailing skills alongside your team, and then run at least 2 races against the other teams out on the water. Will your team win? You will only know if you give it a try!
(Make sure to book your tickets in advance. Their summer dates fill up quickly!)
And if you'd rather tour the latest sailboats, catamarans and cruising yachts, the annual Newport Boat Show is a great way to see everything from daysailers to powerboats to round the world cruisers! And one of our favorite things to do if you're in Newport in September.
Explore the Newport Cliff Walk
Love to get out, about and enjoy the fresh ocean air? If so, you should give the Cliff Walk a whirl.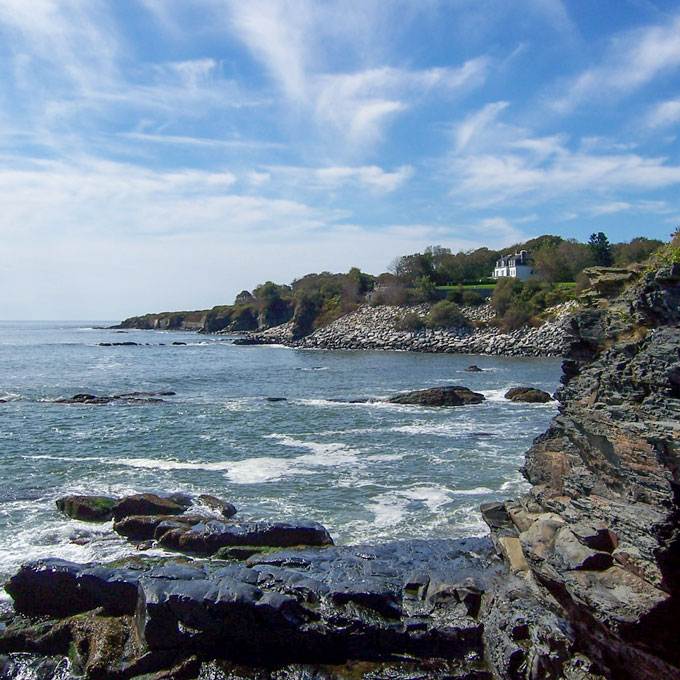 In its entirety, the Cliff Walk stretches about 3.5 miles along the eastern shore of Newport. Open all year long from sunrise to sunset, this free public access walking trail offers (in my opinion) the best of both the natural and historic beauty of Newport.
7. Stroll the Cliff Walk Green & Gold Line
While the terrain and walking difficulty vary, two-thirds of the trail are rated as easy. You'll find parking at Easton's Beach or along Narragansett Avenue. The easiest trails are located at the beginning of the walk. And if you're interested in taking a closer peek at the mansions, you'll want to walk the Gold Line.
8. Hike the Cliff Walk Red Line
That said if you're looking for something a little more challenging you'll want to head to the southern half of the walk. The segment between Belmont Beach and Ledge Road is noted as "most rewarding for serious hikers not afraid of heights."
(You may want to steer clear of this area if you're just after a casual stroll.)
A word of warning: watch for poison ivy. It grows especially well during rainy summer weather, so it's best to add good walking shoes and comfortable long pants to your carry-on packing list.
Dine at the Best Waterfront Restaurants
You'll want to grab some grub after your busy day enjoying all that Newport has to offer. My top recommendation? Head to the waterfront to discover some of the finest restaurants that Newport has to offer. And while you're at it enjoy the view over your favorite seaside cocktail.
9. The Mooring
Located along Newport's historic waterfront, The Mooring is an excellent spot to stop if you're looking for the perfect combination of panoramic Newport Harbor views and delicious sustainably caught seafood.
Wondering what's on the menu? You'll find dishes like crab cakes, mussels zuppa, New England lobster roll, scallops, Maine lobster, and even Atlantic swordfish. You'll also find an award-winning wine list and a plentiful selection of raw bar offerings.
And if you're gluten-free or vegetarian, The Mooring also offers a full menu for these dietary requirements as well.
10. 22 Bowens
Check out this classic harbor-side tavern if you're looking to enjoy your harbor front dinner al fresco. 22 Bowens is the perfect choice if you're after a restaurant that's a little bit casual, a little bit elegant, and a whole lot of delicious.
What's on the menu? You'll find fresh oysters, shrimp, New England shellfish sampler, steak bruschetta, 22B clam chowder, surf & turf burger, 22B filet mignon, and (of course) Maine lobster.
Gluten-free? That's no problem here. You'll find a gluten-free menu for both lunch and dinner.
11. Fluke Newport
Fluke Newport is just the place to visit if you love a menu that changes along with the seasons. This restaurant is known for its fresh, local approach to dining, so you can take full advantage of whatever is currently in season.
What's on the menu? You'll find dishes like the lobster & George's Bank Scallop "stuffie", oysters, lobster bisque, grilled striped bass, seafood cassoulet, and even a lemon tart. Oh, and don't forget to order one of their beautiful hand-crafted specialty cocktails. They make them with their very own fresh-pressed juices.
If you arrive around sunset, make your way to the third-floor bar to sip a glass of wine as you enjoy the beautiful panoramic view.
12. Newport Restaurant Week
If you're a real foodie traveler, you may want to consider timing your trip with the annual Newport Restaurant Week.
The Newport Restaurant Week first began in 2006 to encourage both locals and visitors alike to enjoy the wide variety of culinary talent within Newport. If you're in town during Newport Restaurant Week, you'll be able to enjoy very affordable two-course prix fixe lunches for $20, three-course prix fixe dinners for $35 or a three-course premier prix fixe dinner for $50 at any of the participating restaurants.
The restaurant list is released in October of each year. Typically, there are over 50 local restaurants to visit. This is a foodie traveler's dream come true!
Visit Newport Historical Landmarks
There are plenty of things to do in Newport, especially if you're a history buff. Whether you decide to check out the previously mentioned Newport Mansions or the historic landmarks listed below, there are so many options available to you. Enough to fill at least a whole weekend!
13. Fort Adams, the Summer White House & the Bay Walk
Once called "The Rock on Which the Storm Shall Beat", Fort Adams is located at the entrance to Narragansett Bay. You can tour the nooks and crannies of this fort in a 75-minute long guided tour, which will cover everything from the top of the Fort walls to the depths of the underground tunnels for a comprehensive look at over 190 years of American history, military culture, and architecture.
Of course, there are more sites to see at this stop. You'll also want to check out the newly opened Eisenhower "Summer White House." Originally built in 1873, you can take a self-guided tour through the same halls that President Eisenhower walked in 1958 and 1960.
Last but certainly not least, make sure you save time to check out the Fort Adams Bay Walk. This 2.2-mile trail is touted as the best sunset view in Newport. Take a walk on the West Side if you fancy a look at the picturesque East Passage of the Narragansett Bay and beautiful clear sunset views over Jamestown. Meanwhile, you'll want to check out the East Side of the Bay Walk if you'd like a different perspective on the Newport Harbor and downtown waterfront area, as well as Brenton Cove.
14. Redwood Library
Here's another historical landmark to check out, especially if you love architecture because this library was the first Neo-Classical public building in the colonies.
The Redwood Library was first established in 1747 with the goal of making written knowledge more widely available to the Newport community. And while the library was open to the public, it was not "free." It was – and continues to remain – a subscription-based library.
Initially comprised of a single room, the Redwood Library's originally modest collection of 751 titles has grown to a much broader collection of more than 200,000 holdings. In addition to their vast collection of books, you'll also find an impressive collection of paintings, sculptures, and furniture dating back to the 18th- and 19th-century.
15. Wanton-Lyman-Hazard House
This is the oldest surviving house in Newport, but don't visit this house expecting the lavish looks of the Newport mansions. Instead, expect to see a curated appearance of the many styles and periods that this house went through with each new resident family.
Originally built circa 1697 as a single room house, this residence underwent a wide range of updates, including a large two-story addition. The Newport Historical Society chose to restore it in a way that showcases how the Wanton-Lyman-Hazard House remained a constant reflection of the current tastes and aspirations within Newport throughout its history.
There's so much to do in Newport
As you can see, there are plenty of fun things to do in Newport. Whether you plan to spend most of your time sampling the local cuisine or marveling at the lavish historic landmarks, make sure you save at least some of your time to enjoy the water. Newport Harbor is absolutely beautiful, so getting out on the water is a must!
It's also a great home base for exploring Narragansett Bay and the local area. Don't miss a day trip to nearby Block Island! It's just a short one-hour trip by ferry from Newport.
Want to add a couple of days onto your trip to Newport? Here's a great itinerary for 2 days in Boston - it's just a 90-minute drive and there are so many things to see and do.
Did we miss one of your favorite things to do in Newport RI? Let us know in the comments below!