Whether this is your first Carnival cruise or your first cruise ever, there are lots of things to know about this popular cruise line.
Here are 26 of the best Carnival cruise tips that will help you plan, pack, dine and relax like a pro.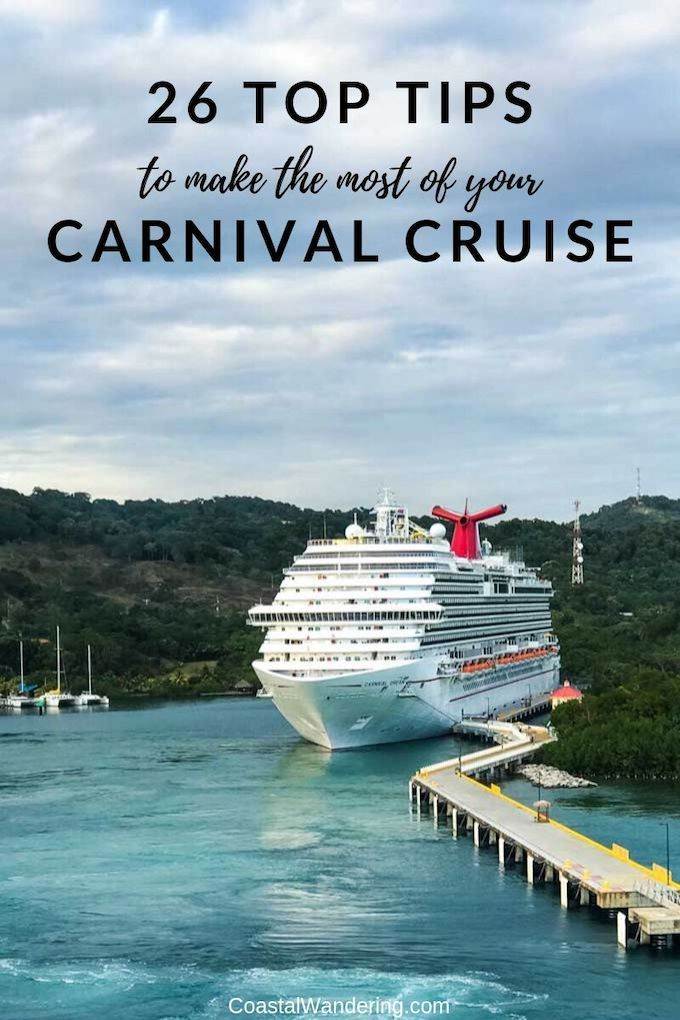 While every cruiser should know these things, most don't. With these tips for planning, packing, dining and relaxing on board, you'll get more mileage out of your vacation, excursions and travel budget! All while having the time of your life onboard.
Whether this is your first time cruising or not, there are plenty of places to see...and equally as many places to get lost. And no matter what stage of the planning process you're at, there's a lot to know in order for you to make the most of your time and money while onboard.
Here Are 26 Carnival Cruise Tips To Help You Plan, Pack, Dine & Relax
Carnival ships are big. Ginormous even. Their fleet of over 25 ships serves a guest capacity of anywhere between 2,000 and 4,000 people on board.
It can feel overwhelming to say the least (I know from personal experience).
Of course, you don't want to waste time making rookie mistakes while onboard.
The good news? You're here and doing your best to know the insider tips and tricks of Carnival cruise lines before you set sail. So you can make the most of your vacation, cross off big bucket list excursions along the way, and know where to spend (and save) your money while you're sailing.
Haven't started planning your cruise yet? To search for the best Carnival cruises, click here.
Tips For Planning Your Carnival Cruise
Knowing the ins and outs of Carnival cruises can pay off long before you set sail. Here are a few key tips to keep in mind during your cruise planning.
1. Score Carnival Cruise Deals By Traveling Off-Season
You've probably already guessed this, but you'll find the absolute best Carnival cruise deals when school is in session. Carnival's primary target market is families, so any time that you can travel when it's typically more difficult for families to set sail is a good time to score a deal.
2. Research The Ship You're Booking
This is a big one. Not all of the ships in the Carnival fleet are created equally. For example, you'll find a brewery on board the new Carnival Vista, but this may not be the case if you're traveling on an older ship.
This is particularly important if you're banking on having amenities (like Guy's Burger Joint) available to you while you're at sea. Knowing what is (and isn't) on your Carnival ship will help you plan your time onboard and help you avoid any disappointments during embarkation.
3. Book Everything (Excursions & Dining) Early
If you wait to book your specialty dining venues and shore excursions until you're on board you may already be too late. Again, the Carnival fleet sails large ships and there is always limited capacity.
Bottom line: if you have must-do or must-see venues and excursions on your list, book them early!
So, where do you do this?
The first place to look go is your online Carnival account. That's where you can schedule specialty restaurant reservations and shore excursions well in advance of your embarkation date.
And be sure to read the promotional emails you get from Carnival as they are often discounts on things you can book in advance like 20% off spa treatments or 10% off of shore excursions if you book them during the promotion.
Yes, you can also book these while onboard by visiting guest services. But better safe than sorry, right?
4. Dine At The Steakhouse on the First Night
Want a free bottle of wine? Dine in the steakhouse on embarkation day or the first elegant evening and get a free bottle of house wine or half off any other wine at the steakhouse. If you're a wine lover, this is a chance to try that high-end wine you've been eyeing at 50% off!
If Carnival is running this promotion for your cruise, you will likely see it in one of their promotional emails (for my last cruise it was in the email three weeks prior to sailing). And following suit from the previous tip, Carnival recommends you book specialty restaurants at least two weeks before your cruise date.
5. Take Advantage of the 110% "Best Price Guarantee"
If you're shopping around for the best deals on excursions, know that Carnival offers a 110% price match guarantee. Shop around to your heart's content, but I'd recommend booking with Carnival directly.
The biggest upside to booking your excursions (besides this guarantee) is that Carnival also guarantees that the ship will remain in port until all guests are back on board. So there's no worry of being stranded onshore as you watch your ship sailing away on the horizon.
6. Know That Not All Excursion Days Need to Be Spent On Shore
Excursions are fun. But so is having the ship to yourself!
Know that not all of your port days need to be spent onshore. If you're sailing on a longer cruise you may want to plan for spending one port of call day on board! No lines. The hot tub might as well be a ghost town. Enjoying a good book on deck in complete silence might even be possible. And there are usually promotions at the spa for even more relaxation. Sounds like a great alternative to me!
7. Buy Cruise Insurance
Yes, you definitely want to have cruise insurance in place no matter what time of year you're traveling, but make sure you look at a couple of third-party policies before you book.
Carnival Vacation Protection is an option, but you'll usually find policies with more coverage at the same rate (or cheaper) when you shop third-party.
8. Choose Your Boarding Schedule
Carnival typically boards through a staggered check-in. This allows you to select a 30-minute window for your boarding and gets you on the ship smoothly and controls the total flow of passengers arriving at once.
You can select your arrival appointment time as soon as you see the online check-in option in your Carnival dashboard (usually 90 days before departure). Choose your time slot as soon as this option is available as time slots will fill up as it gets closer to your departure date. I like to schedule the earliest time available so we can enjoy the ship before it sails.
Don't try to board before your allotted time though, you'll be asked to wait. (But don't worry if you're running a little behind schedule. You'll be able to board if you arrive after your arrival appointment.)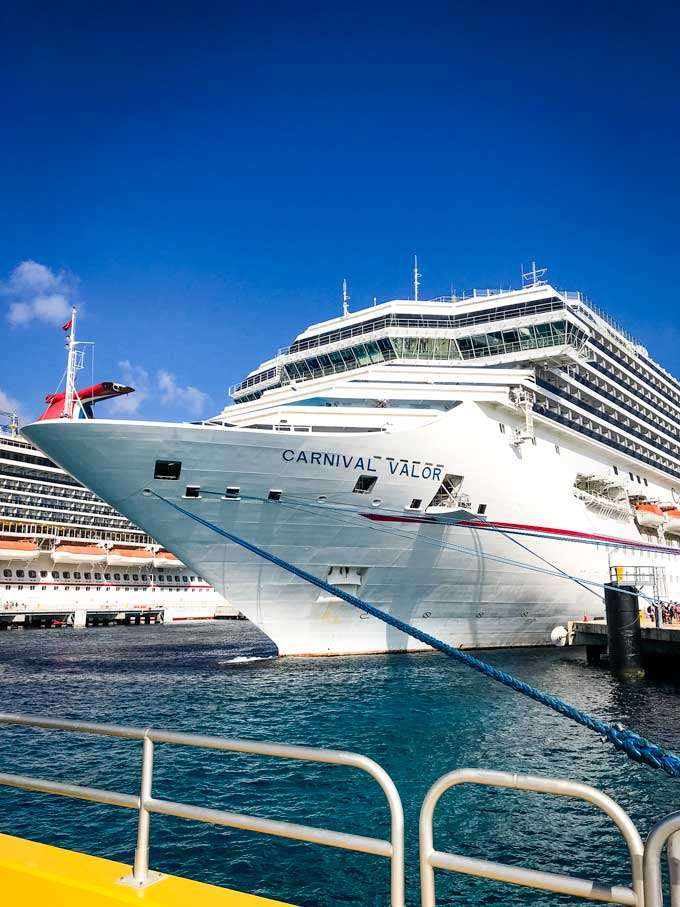 The Best Carnival Cruise Tips For While You're Onboard
From getting to know your ship, to knowing how to skip the lines, these are some of the best ways to make the most of your time onboard your Carnival cruise.
9. Get To Know Your Ship
Depending on which Carnival cruise ship you sail on, your ship could be over 1,000 feet long and have 15 - 19 floors. With so much space on board, you'll want to get acquainted with the layout of your ship so that you can navigate more easily to restaurants, the pool, spa and anywhere else you may want to visit.
Sometimes there are guided tours on the first day of your cruise, but you can access the ship layout in advance through virtual tours and PDF deck plans. On Carnival cruises, you can also access your ship layout through the Carnival Hub App (more on that later!).
10. Skip The Lines With "Faster to the Fun"
You didn't go on vacation to wait in lines, did you? No, of course not. To make the most of your time onboard (and skip wasting time in lines) you'll want to purchase the "Faster to the Fun" program.
For just a little extra money (typically under $100), everyone in your stateroom gets front-of-the-line access on embarkation, debarkation, and at guest services---and most importantly for water shuttles in ports where you have to tender to shore (take a small boat to the dock rather than walk off). So you have more time to actually enjoy your vacation!
"Faster to the Fun" is not available on all cruises (see where here) and it can sell out early. So again, book this as soon as possible if you're interested. You'll find it under shore excursions for your departure port.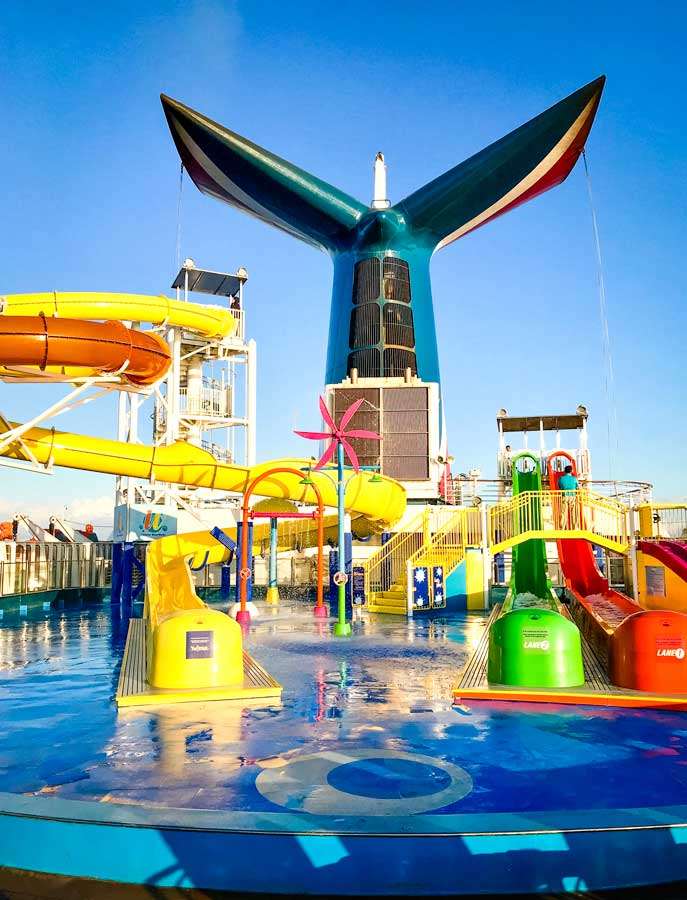 11. Decide If (And How) You'll Be Connecting To Wifi
Planning to disconnect during your cruise? No problem. But if you're planning to stay connected to your life back home, you'll want to decide how you'll be connecting to Wifi.
If you're staying connected, you have two main options:
Purchase an internet package through Carnival. They offer reasonable daily rates.
Pre-purchase an international cell plan directly through your service provider.
Of course, you can always look for free public wifi when you're in port. You'll often find it in restaurants near the dock.
12. Bring Cash To Avoid ATM Fees
Carnival cruises are cashless – your onboard account balance is attached to your Sail & Sign card. Even still, there will be times that you'll want a little bit of cash for things like your shore excursions and tipping.
While Carnival has ATMs on board, you'd be best to bring cash with you if you want to avoid high ATM fees (some travelers report fees as high as $6 per transaction!). Aim for small denominations – for tipping and for paying for purchases with exact change. While many places will accept US dollars, they'll often give change in local currency.
13. Use the Carnival Hub App
This tip is simple: download and use the Carnival Hub App.
This app is useful before and during your cruise. You can do everything from check-in and prepare your boarding documents to access the day-to-day schedule for onboard activities. And you'll even have up-to-date information about your Sail & Sign account balance as you travel.
You can also use it to message the people you're sailing with while you're on the ship. This is a must-have while you're cruising!
14. Relax On The "Secret" Decks and Adults Only Retreat
The Lido Deck is always popular, but there are quieter decks onboard if you're looking for a relaxing spot to read a book. You'll find these quiet spots at the very front of the ship, though the exact deck will vary depending on which ship you're traveling on.
You will typically access these secret decks through a door located on either side of the ship all the way forward. Usually, these doors will be unmarked as to where they lead.
You can usually also find a quiet spot on the Serenity Adult-Only Retreat. This area of the ship is 21 and over and has lots of space for lounging while you watch the waves---and a bar to get your frozen drinks.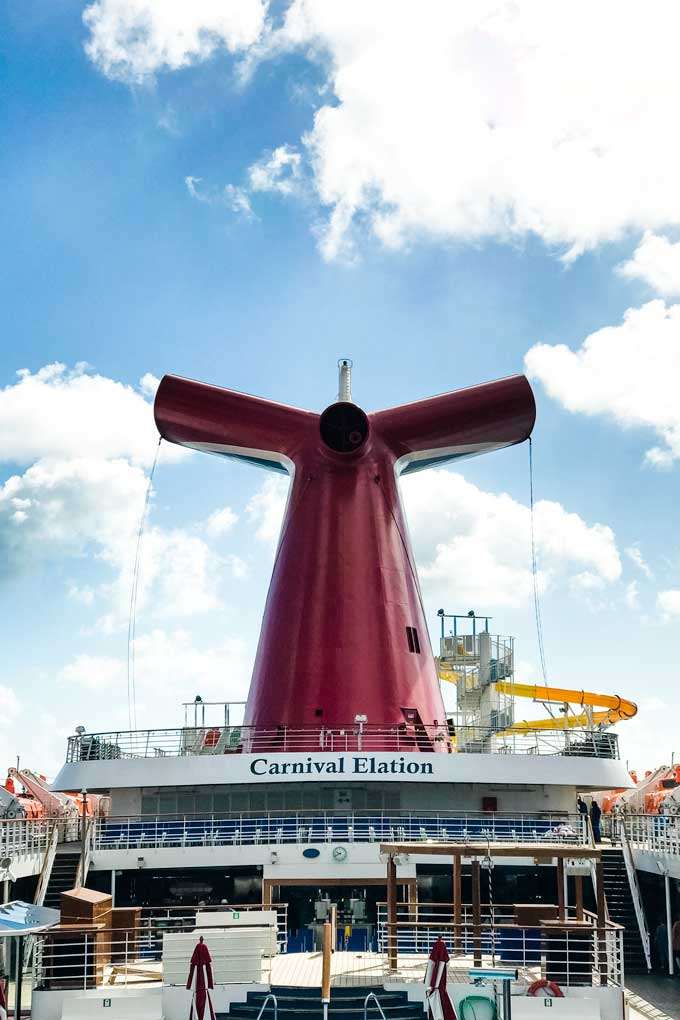 Carnival Cruise Tips To Help You Pack Like A Pro
Here are a few essential packing tips to help you make the most of your cruise.
15. BYOB On Board Carnival Cruises
Here's the good news: you can bring both non-alcoholic drinks and/or wine or champagne onboard your Carnival cruise.
But there are rules to follow. Here's a high-level look at what you can bring with you:
1 x 750 ml bottle of sealed wine or champagne, per person
Up to 12 sealed cans or cartons of 12 ounces or less, per person
Whatever you choose, know that those sealed drinks need to be packed in your carry-on!
16. Pack Your Carry-On Bag Strategically
Whether you decide to travel carry-on only or not, there is an art to packing a clever carry-on. Here's what you'll want to make sure is inside your bag before you set sail on your Carnival cruise:
Any beverages you're bringing on board (review Carnival's beverage policy above)
Bathing suit and sunscreen
Change of clothes
Essential toiletries
It might take some time before the stewards are able to get your luggage to your room, so packing a carry-on with these items helps you begin enjoying the ship as soon as you step on board!
17. Bring A Corkscrew
On the topic of beverages (wine!), if you'll be bringing some on board with you make sure to pack a corkscrew or bring wine with a screw cap. Corkage fees onboard Carnival cruises typically run about $15.
18. Pack A Cruise Lanyard
This is one of my essential cruise packing items! Your lanyard will hold your Sail & Sign card, which functions as a cabin key and your primary purchasing method while onboard. Keeping your card on your lanyard means that you'll always have it handy when you need it. There'll be no need to dig around at the bottom of your beach bag for it!
19. Bring A Cruise Outlet Adapter
This is another cruise essential that you'll always see in my suitcase when I'm packing for a cruise. Depending on the ship you may only find one outlet in your cabin, so cruise power strips (like this one) can be a lifesaver if you've got multiple electronics to charge every day.
20. Pack Flip-Flops With A Tread
Remember that not all flip flops are created equally. Your favorite pair might be perfect for kicking around on the beach, but be sure to take a look at their tread while you're packing. Cruise ship decks can be quite slippery. If the tread is worn off, you'll want to purchase a pair with a little more tread before you set sail.
21. Skip The Ball Gown For Formal Night
Yes, it's a formal night. But that doesn't mean you need to waste precious packing space on a gown.
Typically formal night isn't as formal as you might think. Officially, Carnival defines "cruise elegant" as cocktail dresses, pantsuits, or elegant skirts and blouses.
My suggestion? Pack your favorite little black dress and call it a day.
Carnival Cruise Tips & Tricks For Dining In Style
Here are some of the best ways to enjoy all that Carnival offers in the way of restaurants and dining experiences.
22. Treat Yourself And Order Room Service
Room service on Carnival ships is typically free, so go ahead and order breakfast in bed!
That said, be careful if you're watching your onboard budget. Premium items like pizza or wings might run up an extra delivery fee (in addition to the tip for your room service attendant).
23. Know How To Pay And Tip Onboard Your Carnival Cruise
You'll be cruising cashless with Carnival. No need for a wallet (especially if you pack a lanyard!), because your Sail & Sign card is all you'll need to pay for onboard expenses.
And tips? Those can be paid in advance through the Carnival Hub App. That said, understanding what is covered with your automatically applied service gratuities can feel a little confusing. I'd recommend checking out Carnival's gratuities guide for more information.
24. Check Out Specialty Venues For Complimentary Lunch
You'll find that there are plenty of great specialty venues onboard that charge a reasonable fee for dinner. If you want to try specialty venues without the fee, look to see if those venues offer complimentary lunches. You'll sometimes find complimentary meals at Cucina del Capitano and JiJi's Asian Kitchen.
25. Plan Your Guy's Burger Joint Visit Outside Of Peak Hours
If this is your first time on a Carnival cruise, you'll quickly learn that this is a popular spot. Guy's is a free restaurant onboard and serves some of the best burgers you'll have while sailing or onshore. If you're wanting to avoid lines, try heading to Guy's for dinner.
Also, be sure to check out Guy's Pig & Anchor Bar-B-Que if there is one on your ship. This is the perfect place to grab lunch on embarkation day and avoid the crowds at the buffet!
26. Explore Your Breakfast Options
You'll typically have more options than the buffet and main dining room, even though that's where many of your fellow cruisers will eat. Watch your daily newsletter to know which restaurants are open for breakfast. Blue Iguana Cantina is rumored to be the best breakfast on Carnival ships!
Now You Know The Best Carnival Cruise Tips – It's Time To Set Sail!
With these tips in mind, you'll be sure to have a fantastic time onboard your Carnival Cruise, no matter which ship you're sailing on.
Looking for more cruise tips, tricks, and guides? Here are a few other posts you'll like:
Ready to start planning your cruise vacation? Start searching for the best Carnival cruises here.