Looking for the best breakfast in Hilton Head Island? Whether you're craving a full breakfast or coffee and bagels to take to the beach, there's a perfect spot for you on the island. Here are the best restaurants to get breakfast in Hilton Head, South Carolina.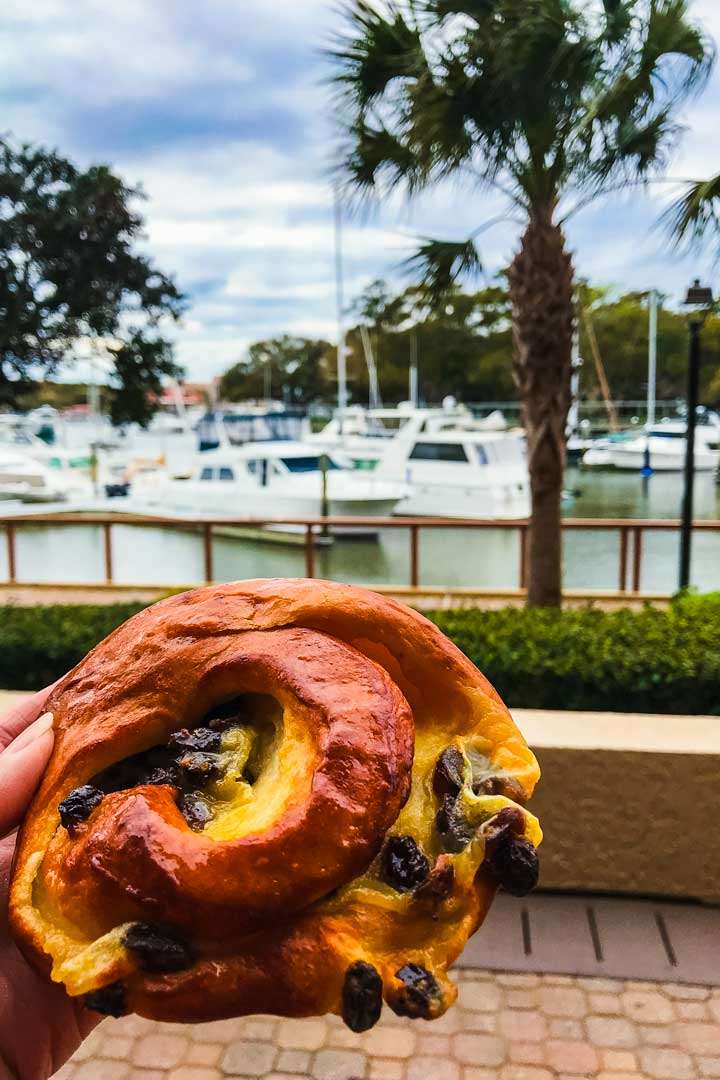 No matter what type of breakfast you're looking for, you'll find it on Hilton Hea Island. From coffee and pastries to pancakes to crab benedict to avocado toast, the island is full of great food and great breakfast places. One of the best things is you have more than 250 restaurants to choose from on Hilton Head.
Here are the best places to try while you're visiting the Lowcountry - all with outdoor seating and so many with a water view!
Best breakfasts on the island
Palmetto Bay Sunrise Cafe
The Palmetto Bay Sunrise Cafe on the south end of the island has something for everyone. Their breakfast menu includes everything from French toast to a breakfast burrito to crab cake eggs benedict. With delicious food and plenty of outdoor seating on their wide southern porch, you'll want to sit and enjoy a leisurely breakfast.
Location: Palmetto Bay Marina (86 Helmsman Way)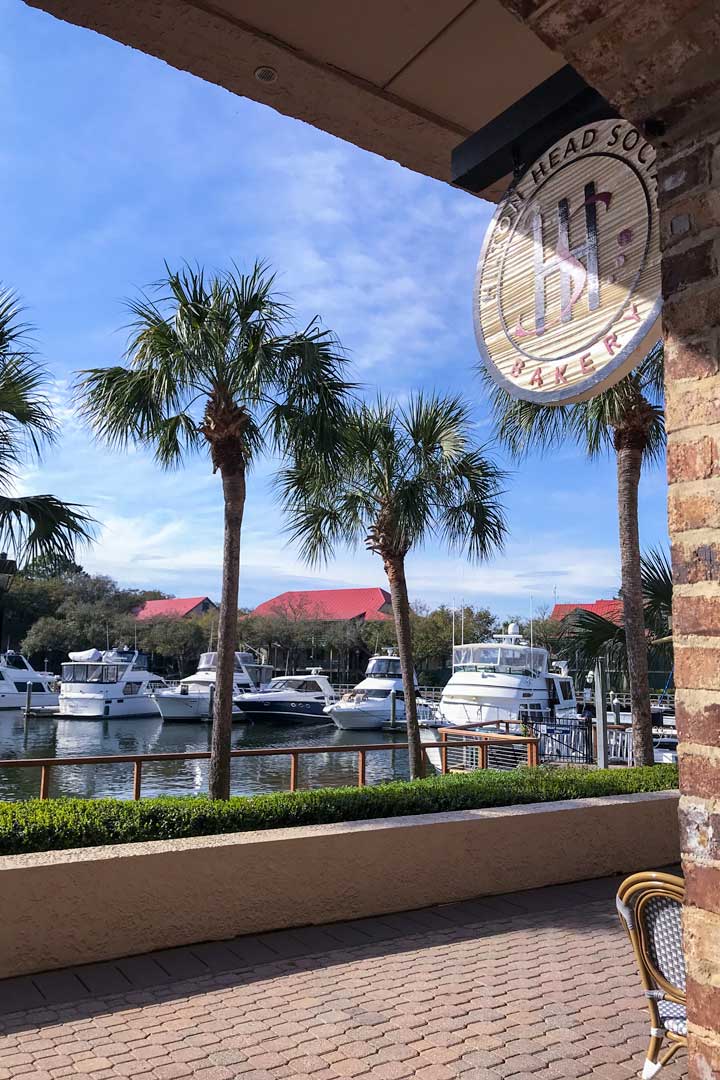 Hilton Head Social Bakery
There's a reason Hilton Head Social Bakery is top-rated for breakfast on Tripadvisor! This is little bakery has it all - a spectacular view, authentic French pastries, great coffee, and a friendly vibe. The pain aux raisins (in the photo above) is brioche dough with a cream filling with raisins. The croissants are a favorite and they have savory options as well.
This hidden gem does not have indoor seating, but they have tables outside facing the marina for breakfast with a view! There are also several bike trails that lead to Shelter Cove so it's a perfect destination for a morning bike ride.
Location: Shelter Cove Harbour (17 Harborside Lane). You can't see it from the road or the parking lot, but follow the walkway past the statue of Neptune and turn right. It's just before you get to Scott's Fish Market.
Southern Coney & Breakfast
This is the spot to go to for an authentic diner and the best southern-style breakfast and the best pancakes. They also have vegetarian options and vegan options. Sit inside at the counter or booths or outside at their sidewalk tables. Don't miss the banana pancakes - be sure to check the daily specials.
Location: 70 Pope Ave, Hilton Head Island, SC
Java Burrito
If you love coffee and breakfast burritos, this is a great spot for you. They take breakfast to a whole new level with everything from a breakfast sandwich to breakfast bowls and, of course, burritos scratch-made with local ingredients and fresh fruit and vegetables. Get it with your choice of protein (including eggs and fish cooked fresh to order), toppings and extras. They have gluten-free and vegan options as well as a full coffee shop.
Location: 1000 William Hilton Parkway, Hilton Head Island, SC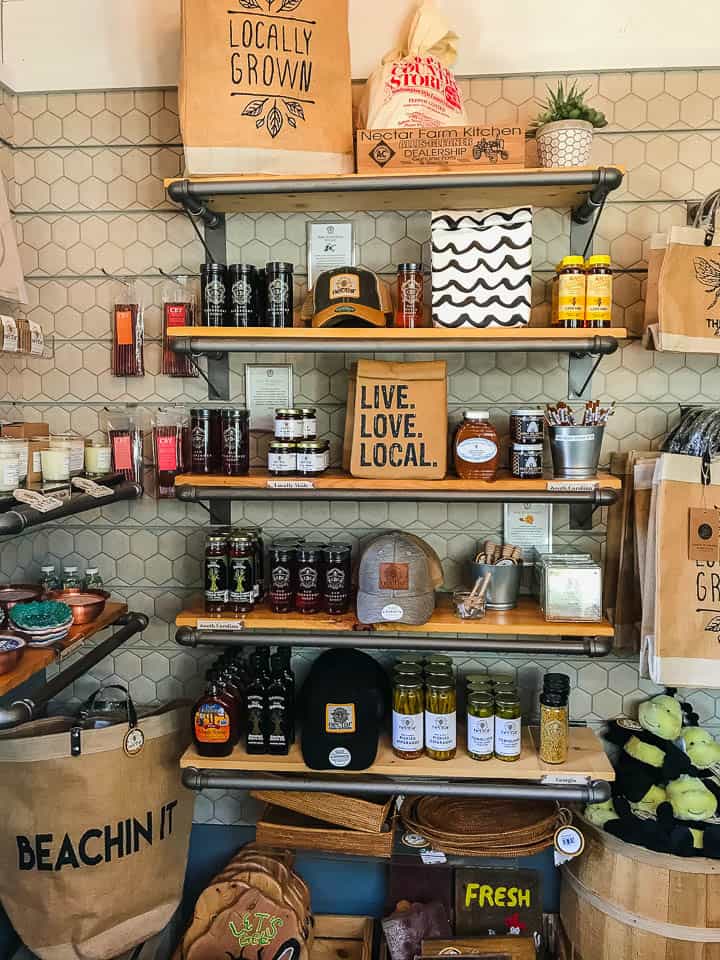 Nectar Farm Kitchen
Nectar is one of the newest restaurants in Hilton Head. They have a full breakfast menu from appetizers to cold brew coffee cocktails. Favorites include sweet potato pancakes and southern benedict on a house-made sweet potato biscuit. For a healthy option, try the avocado toast (pictured below), a yogurt bowl or stone-cut oats. Be sure to check out the gift shop!
Locations: 35 Office Park Road (outside the Sea Pines resort front gate) and Old Town Bluffton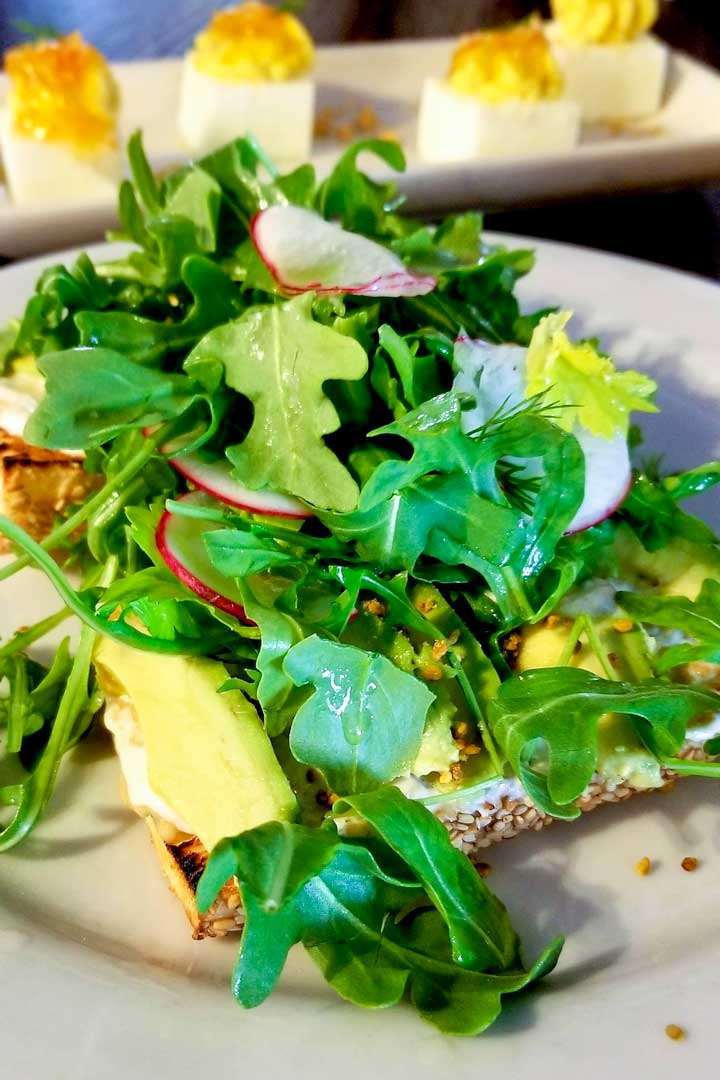 Watusi Cafe & Coffee Bar
Breakfast is available all day at the Watusi Cafe so you don't have to worry about rushing. Choose from biscuits and gravy to breakfast sandwiches to seafood omelets to Belgian waffles with berries and whipped cream. They even have a dog-friendly patio menu!
Location: 71 Pope Avenue, Hilton Head Island, SC
Palmetto Dunes General Store
For a quick breakfast mid-island at reasonable prices, you can't beat the general store. They have homemade cinnamon rolls baked fresh daily. Or get a full breakfast to go for one of the best bargains on the island. Take a picnic to the beach or eat at the counter on their porch.
Location: 1 Trent Jones Lane (in Palmetto Dunes across from the tennis courts)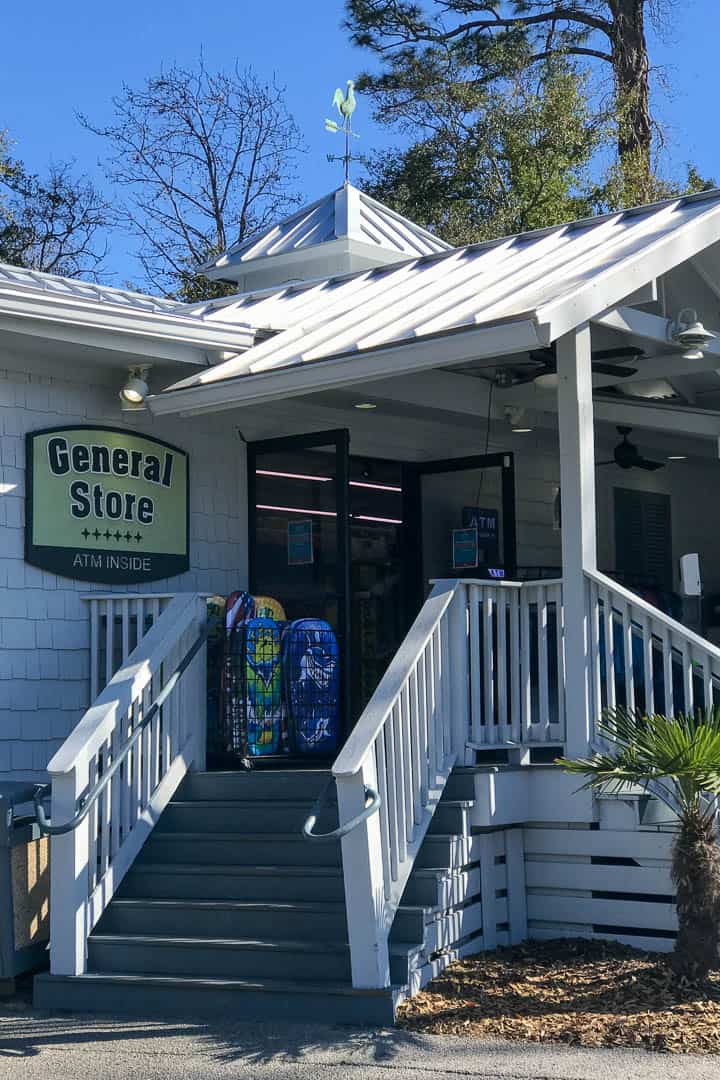 The G-Free Spot
If you're looking for a gluten-free breakfast, the G-Free Spot is a must. They have a full bakery with gluten-free pastries, muffins, and bread - plus breakfast sandwiches. And they have two separate kitchen lines - gluten-free and regular - so the whole family can enjoy breakfast together.
Location: 1511 Main Street (in Main Street Village)
Island Bagel & Deli
If you're missing your bagel fix, Island Bagel & Deli has the best bagels on the island. They make their classic New York-style bagels daily and pair them with plain or flavored cream cheese or sandwich fillings like eggs, cheese, bacon, sausage, smoked salmon, and more.
Locations: 841 William Hilton Pkwy (mid island) and 17 Sherington Dr in Bluffton
Hilton Head Diner
If you're looking for a late breakfast or breakfast for dinner, the Hilton Head diner has you covered. You'll find everything from steak and eggs to Benedicts, omelets, pancakes, waffles and French toast served all day. And of course, they have all the typical diner favorites like burgers, deli sandwiches, biscuits gravy, and potatoes.
Location: the address is 6 Marina Side Drive but you can see it from Highway 278, just across the street from Palmetto Dunes
Smoothies & Juices
I have two recommendations for the best smoothies and juices.
Delisheeyo
Everything here is plant-based or vegetarian, so this is also my recommendation for the best vegan breakfast options. They have a great selection of smoothies and juices, as well as salads, wraps, frozen yogurt, protein balls, and other interesting things to try.
Location: 32 Palmetto Bay Road
Healthy Habit
While Healthy Habit is primarily a salad place, I love their smoothie bowls! My go-to is the acai bowl with almond butter and fresh strawberries. They also have great smoothie options, overnight oats, bagel sandwiches, and bakery items. They also have fresh juices from a veggie-based detox blend to orange carrot to vanilla oat milk.
Location: 33 Office Park Road, Suite 227
Best brunch spots

Skull Creek Dockside
For brunch with beautiful views overlooking the water, you can't beat Skull Creek Dockside. They have full brunch and Sunday lunch menus including favorites like steak and eggs, lobster quiche, fried chicken and waffles, and brunch cocktails from their outdoor full bar. Dine on the deck or indoors in their dining room.
Location: 2 Hudson Rd, Hilton Head Island, SC
Skull Creek Boathouse
Just next door to Dockside, Skull Creek Boathouse is an island favorite of both locals and visitors that's known for the best happy hour. Their weekend brunch menu has a Sunday brunch buffet as well as breakfast sandwiches (including a prime breakfast burger!) and all the traditional brunch dishes. It's a perfect spot to sit by the water on their patio and watch for dolphins. Or have a tropical cocktail in one of their Adirondack chairs on the shore.
Location: 397 Squire Pope Road, Hilton Head Island, SC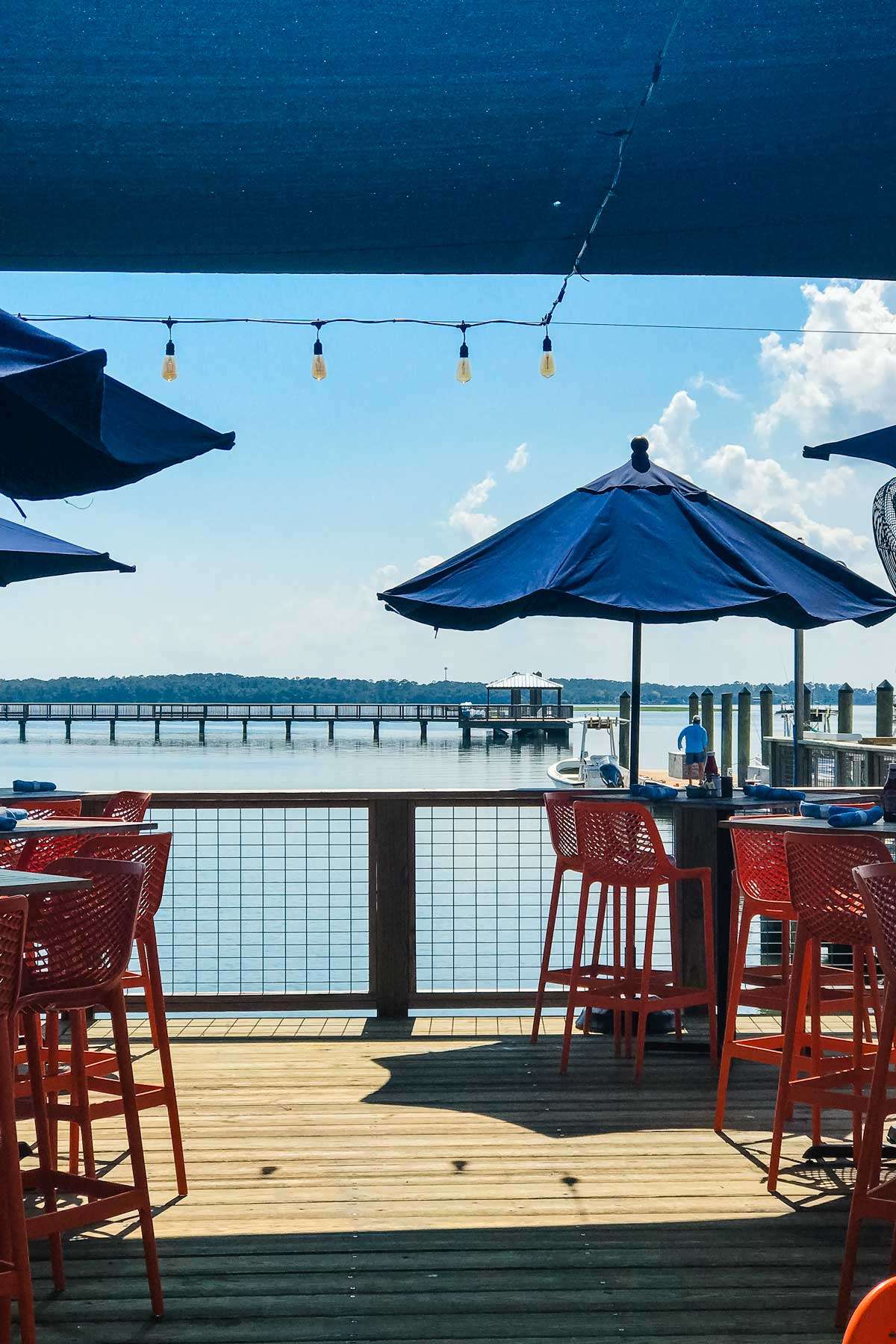 Hudson's Seafood House on the Docks
On the other side of Dockside, is Hudson's Seafood. This is the place to go for fresh seafood and shrimp right off the boat. Brunch offers everything from fried oysters benedict to cathead biscuits and gravy. Don't miss the seafood from the oyster bar - always local when it's in season. You can eat inside, or on the dock next to the shrimp boat.
Location: 1 Hudson Road, Hilton Head Island, SC
Kenny B's French Quarter Cafe
Kenny B's is a Tripadvisor Travelers' Choice award winner. With cajun and New Orleans recipes like beignets, blackened redfish and crawfish dishes, you'll feel the southern hospitality. This Creole restaurant has indoor and outdoor dining and you can get takeout as well.
Location: 70 Pope Ave Ste A, Hilton Head, SC
The Black Marlin Bayside Grill
At the Black Marlin Bayside Grill, brunch includes everything from breakfast tacos to their bloody mary bar. Try the traditional favorites like pancakes, French toast, crab cake benedict, or an all-American breakfast with cheddar cheese hash browns, eggs and bacon. Or check out their appetizer menu with sushi nachos and the southern must-have hush puppies. It's also the home of the Hurricane Bar so frozen drinks are the specialty. Grab a table in the shade next to the water for a relaxing brunch.
Location: 86 Helmsman Way, Hilton Head Island, SC (at Palmetto Bay Marina)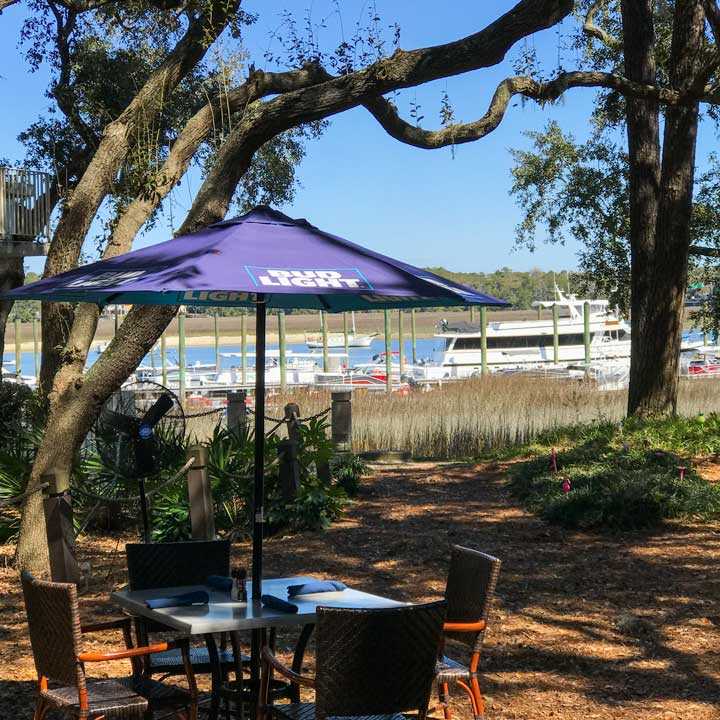 Great places in nearby Bluffton
Cahill's Market
Cahill's farm market is a must-see if you head across the bridge to Bluffton. It's set on the farm and you can buy all kinds of fresh produce in the farm store. The restaurant specializes in southern fried chicken and has a full breakfast menu including giant breakfast biscuits, hash and eggs, huevos rancheros, and more.
Location: 1055 May River Road, Bluffton, SC 29910
The Cottage Cafe, Bakery & Tea Room
Go for the breakfast scramble and mimosas - and be sure to try the homemade cakes from the bakery. You can dine in the cottage, on the porch or in their front yard garden. This is also a great lunch spot if your exploring downtown Bluffton.
Location: 38 Calhoun Street, Bluffton, SC
Corner Perk Brunch Cafe
The Corner Perk Brunch Cafe and Coffee Roasters is located in downtown historic Bluffton. Omelets, veggie toast, skillets, and breakfast sandwiches are on the menu. Dine inside or outside, or take your coffee drink and breakfast to go and walk down to the May River for a breakfast picnic.
Locations: 1297 May River Road, Bluffton, SC and a new location on Hilton Head next to Publix on the north end at 45 Pembroke Drive
With so many great restaurants to choose from, you can easily have breakfast somewhere new each day of your vacation.
Do you have a favorite place for breakfast or brunch in Hilton Head? Share in the comments below!