Who else loves mimosas? Here's a delicious and festive spin on the champagne cocktail made with pomegranate juice and sparkling wine. It's so good you'll wonder why you haven't been making pomegranate mimosas all along!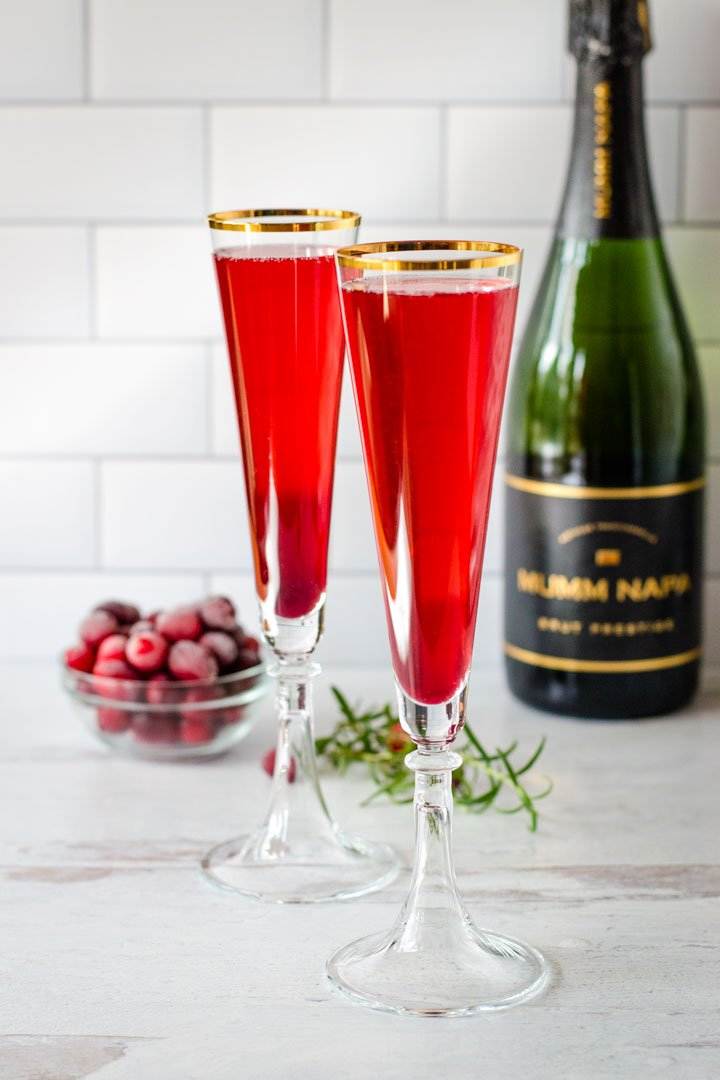 Everyone is familiar with the classic mimosa brunch cocktail. Traditionally it's made with orange juice and champagne and served at every restaurant and beach resort brunch buffet.
For the holidays, mix it up with a seasonal red juice for a beautiful and different sparkling drink. It's the perfect mimosa to serve with Christmas breakfast or to celebrate New Year's Eve or New Year's Day brunch. The pretty red color makes it perfect for Valentine's Day too!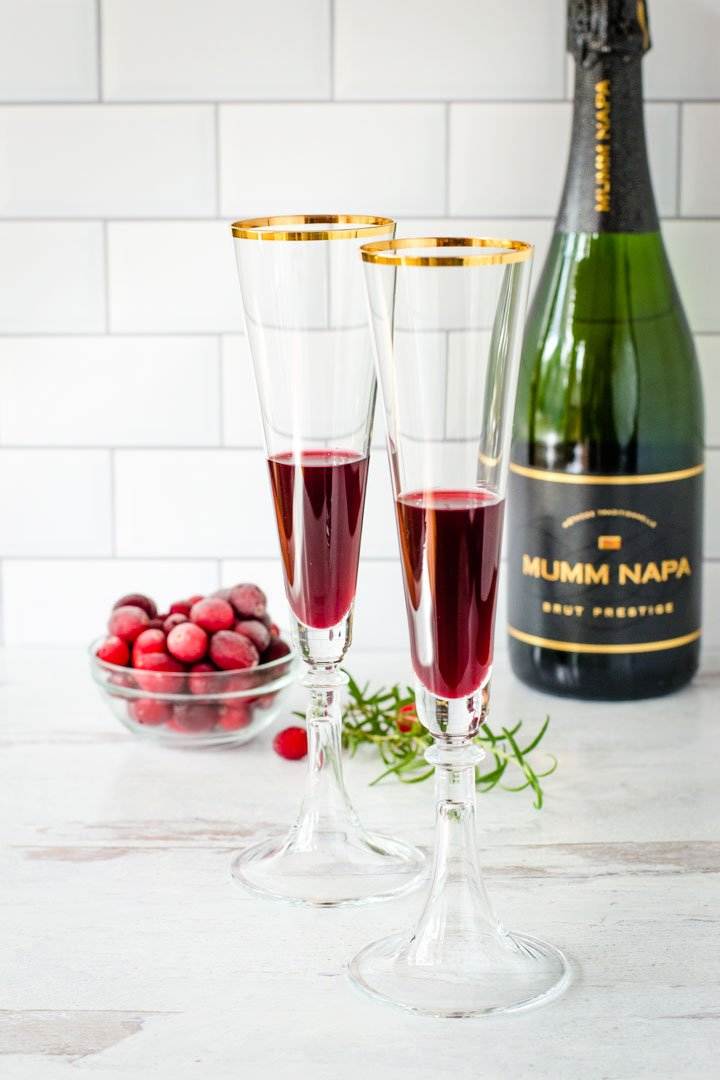 How to make it
The combination of naturally sweet fruit juice and sparkling wine is a classic. Here's what you'll need to make it:
Pomegranate juice - look for 100% pomegranate juice (like this one). Be sure it has no added sugar or other ingredients for the best flavor.
Champagne or sparkling wine - the possibilities are really endless on this one. You can use actual champagne from the Champagne region of France, a Cava from Spain, a Prosecco from Italy, or a sparkling wine from California.
Look for one that is dry to offset the sweetness of the juice. In champagne terms, Brut is the driest (drier than Extra Dry on the sweetness scale).
Whichever one you choose, I recommend a mid-price Brut. There's no point in buying expensive champagne to use as a mixer, but a cheap bubbly is likely to be too sweet.
The best thing about mimosas is they are so easy to make. You can make individual drinks in the glass---no cocktail shaker needed---or mix up a pitcher for a large batch of drinks.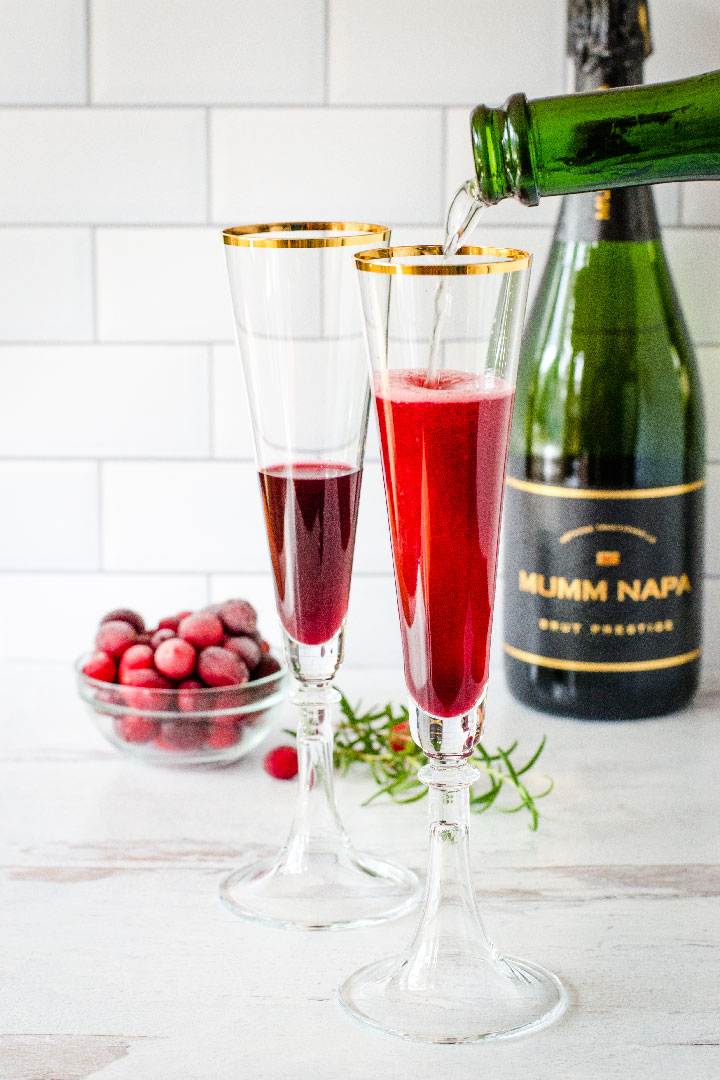 Variations
Starting with these two basic ingredients, you can change up the ingredients and add flavors to make so many different sparkling drinks for every occasion!
Try a poinsettia cocktail with cranberry juice instead of pomegranate juice.
Add a splash of Grand Marnier for a more complex flavor with a hint of orange.
Mix up a cranberry orange mimosa with orange juice and a splash of unsweetened cranberry juice.
Add a squeeze of fresh lime juice for a pomegranate lime mimosa.
Mix in your favorite silver tequila with a splash of lime for sparkling pomegranate margarita.
Add rosemary simple syrup for a fruit and herb pomegranate rosemary cocktail.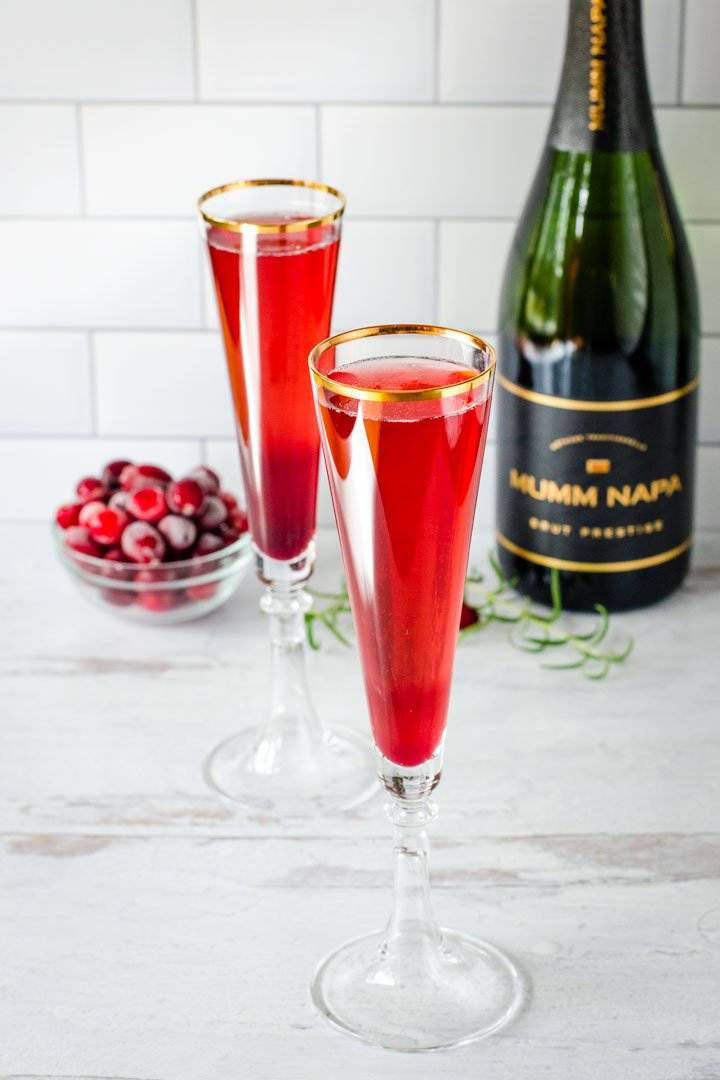 How to serve
Serve your festive cocktail in a champagne flute or a traditional champagne coupe like this one. (Bonus, coupe glasses can also be used for classic cocktails like a martini, Manhattan, cosmopolitan, or Daiquiri.)
Garnish with pomegranate seeds or frozen cranberries to help keep your drink cold. Add a mint leaf or sprig of rosemary for a festive winter touch. If you'd like to rim the glass to make it even more festive, just rub a lime wedge around the rim of the glass and dip in sanding sugar.
More easy cocktail recipes: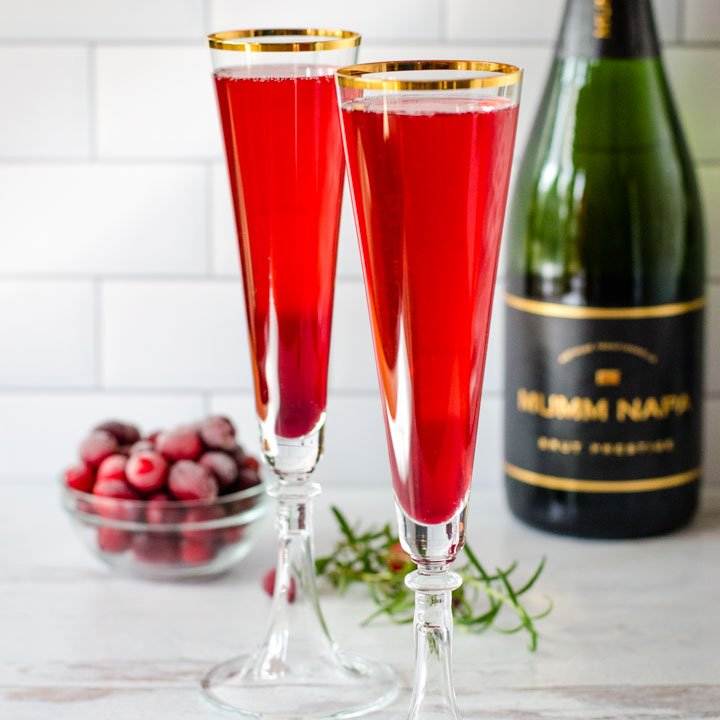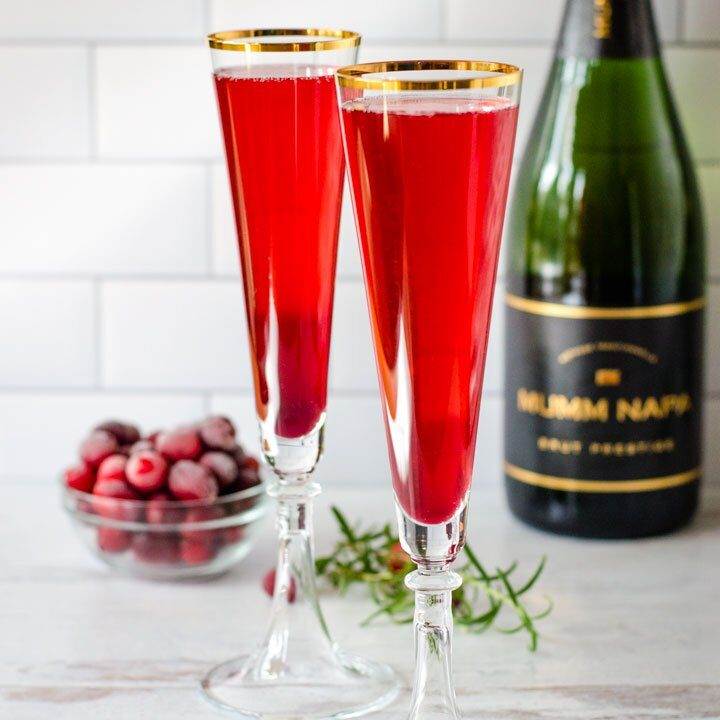 Pomegranate Mimosa
Try this festive champagne cocktail with pomegranate juice to celebrate the holidays!
Ingredients
1 ounce pomegranate juice
3 ounces champagne or sparkling wine
pomegranate seeds, frozen cranberries, mint or rosemary springs for garnish, optional
Instructions
Add pomegranate juice to champagne flute and fill with sparkling wine.
Recommended Products
As an Amazon Associate and member of other affiliate programs, I earn from qualifying purchases.